Director Kazutobu Susakin and this historian Mr. Fumiyo talked about "" In the corner of this world "release memorial! Spoiler explosion danger talk! Osaka ed.」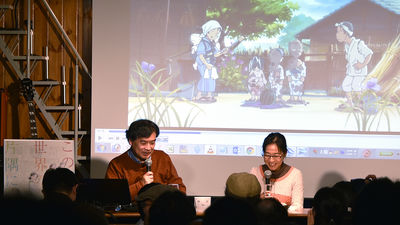 On November 24, 2016, a talk event was held by Louboutin plus one WEST on "Covering this world" director Susumu Komabuchi and authors · historian Konomi. In the event entitled "spoiler explosion drunk talk!", The two talks saying "It's as if a relative is talking about" is a very good tempo, and the contents are quite basic talk about work making And the story of Chie Uradeya who worked on making a work as director Kobuchi 's right arm, the question time to Mr. Komibuchi from Mr. Kono was widely expanded.

November 12 (Saturday) Official site for feature films for nationwide public theaters "In this corner of this world"
http://konosekai.jp/

Loft Plus One WEST became the venue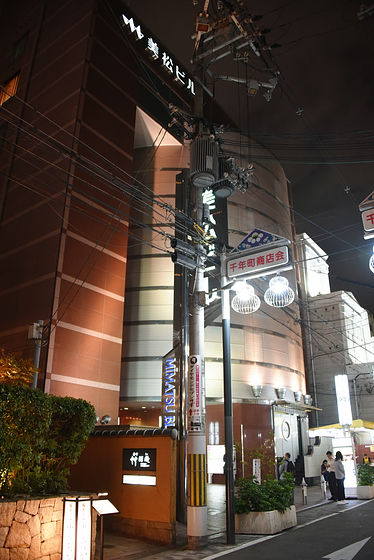 Advance tickets sold out, and the day tickets also got a lottery.




Loft plus one on the 3rd floor Matrix filling up in front of WEST. In addition, there was a queue in front of the elevator hall.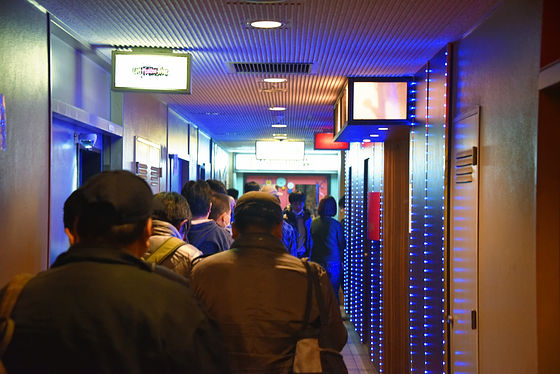 Mr. Suzu listening at the venue.



"Boiled sardine of plum" and "Potato rice" were offered as special menus.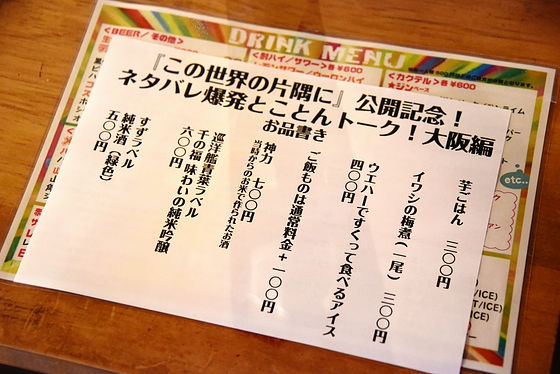 And at Loft Plus One West, "Opening a memorial in the corner of this world"! Memory explosion and danger talk! Osaka edition "held!

Today is the origin of this place, Director Koshiba Susaku and this historian Professor will talk about it!Pic.twitter.com/ uGAVcBxTHt

- "In one corner of this world" 11/12 (Saturday) Public (@ konosekai_movie)November 24, 2016
Loft plus one waist.
People who are lined up with today's tickets are already so.
The person of the day ticket seems to be a lottery.
It was good to buy advance tickets.# In one corner of this worldYoshiwabu SasakaPic.twitter.com/xQgmjTQpGk

- Yaokin (@ yaokinz)November 24, 2016

◆Part 1: Director Komibuchi and Mr. Kono talk about roughly
Directed by Kobuchi and this historian Mr. Fumiyo, this event was held with only two people without a host of chairpersons.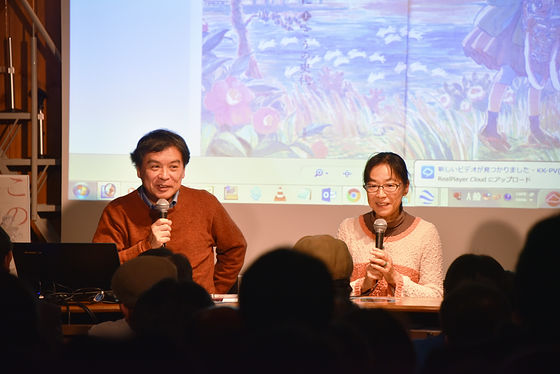 The venue was packed, thanks to the last row of standing seat. As the shooting was OK, the figure of the person turning camera and smartphone. However, there were many people concentrating on listening to talks in the second half.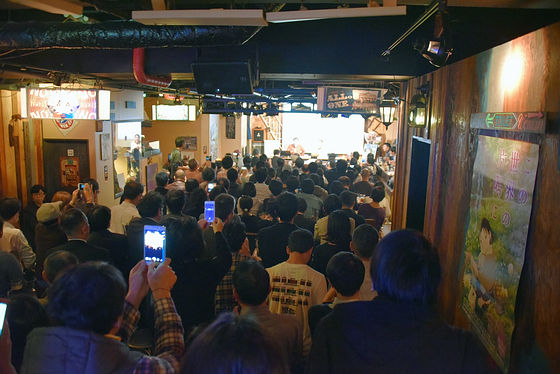 The packed reward is amazing.# In one corner of this worldPic.twitter.com/yOc3BsUlyR

- Ashin (living in Osaka) (@ asuyan)November 24, 2016
Yesterday, Minami in Osaka# In one corner of this worldA lot of people love you, Mr. Suzu!
It was good to win the draw of the day ticket.Pic.twitter.com/lII6g0OyDP

- Chiharu (@ Chiharu Gevaru)November 25, 2016

Go a toast and start the event.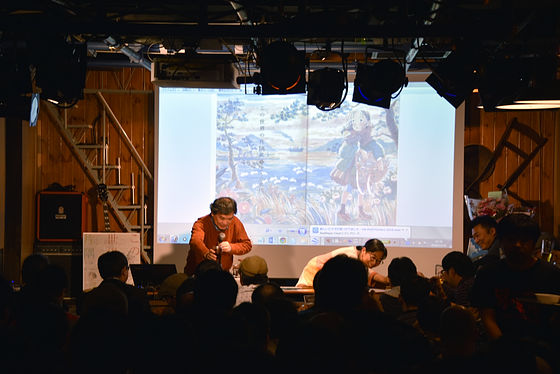 · What is the color of the Kure city bus?
Director Kobuchi who packed a lot of materials in the PC showed me the bus picture first.

Actually, with regard to the Kure bus, it seems that it was difficult to determine how the coloring was narrowed down to 2 patterns because the material was only black-and-white photos or postwar photographs. As a reference, I saw the movie 'Yamato of men', but to Mr. Kobuchi who seemed to be suffering a bit even now because its coloring is not always correct, Mr. Kono said, "At the moment no complaint has come From now, it is OK as it is now "It seemed that he was divinely.

A record of 1,300 days [Kazutoba Susumu] One of the painful feelings concerning the color of the 20th bus | WEB animation style
http://animestyle.jp/2013/01/28/3710/

The Kure City bus has a city chapter, but the city chapter of Kure isThere are nine. Fukuchiyama city where Mr. Kono lives now alsoThere are nineThat unusual coincidence was inviting the laughter of the hall.

· Progress of planning "in one corner of this world"
In the work of Kono, "Yukari no Machi Sakura no Kuni" has been made into a movie, but in reality, Director Kobuchi is also presenting a proposal for animation to be here, Mr. Kotobuchi in the document He seems to have seen the name of the director. However, this will not be animated, in 2007Live filming by director Kiyoshi SasabeIt is being done.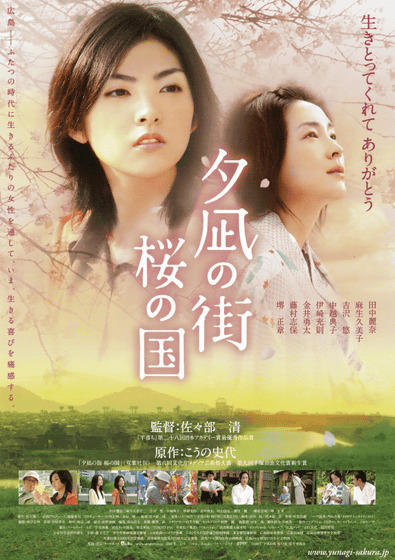 As Mr. Kono, I thought that "in one corner of this world" is more like myself from the good technique of laughing patterns and daily life in the short story series, so "I was thankful for Mr. Kobuchi for finding it."I said. Originally, like Mr. Komibuchi's director's work "Dog Lassie", Mr. Kono who was looking forward to every time saw "Mae Mai Shinki", "This person grew growing along the unknown way, I heard that he was being found by this person. "

Relative data "in one corner of this world" piled up at Kobuchi's desk. At the time of the Great East Japan Earthquake it was tough that this collapsed to the director.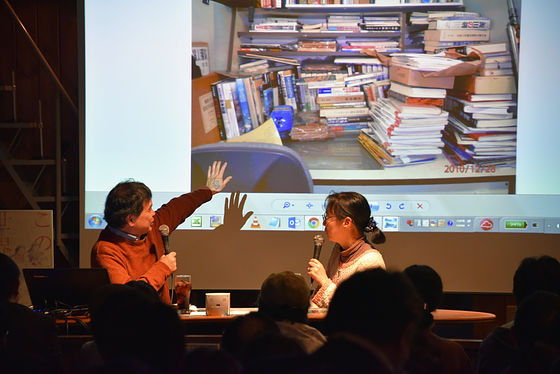 One Mr. Kobuchi's meeting "One corner of this world" met was because Mr. Katsuyasu Yoshise, director of the Hofu City Cultural Heritage Regional Documents Director, who was actually unearthing the national government of Hofu that appeared in "Mai Mai Shinko"Mai Mai New child's data was put in another manga's clear filewas. Another manga is "the country of the cherry blossoms in Yunagi", and Mr. Yoshise is the same village as Sasabe. And Mr. Yoshise thanked Mr. Kobuchi "It is a work of this historical era," was recommended "in one corner of this world". Director Kobuchi who quickly looked through the first volume saw that Tsuzu got a pair of kimono, made bamboo, battleship Yamato came out, picked up weeds and cooked "This is no longer possible. You have to do it yourselfHe said that he felt like I was feeling.

Clear file that became a trigger.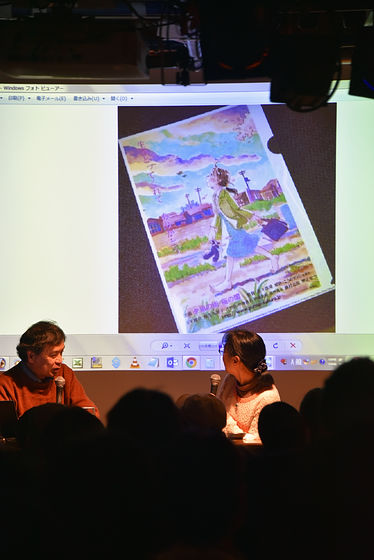 Just around this time director KobuchiPlanning of different worksIt became useless, MAPPA's Maruyama producer asked "How do you do?", So I planned to have fun at the bedside for the rest of my life "Planning in this corner of the world" planning for Mr. Maruyama It was decided to be submitted.

Mr. Maruyama said "I guess this book has hands here and there already?As I looked at it, actually itJapanese TV drama TVIt was decided. But,It is as a director's plan for "Maingai Shinki and Millionaire of the Millennium", but as I said something like thatSuddenly the story turned positive.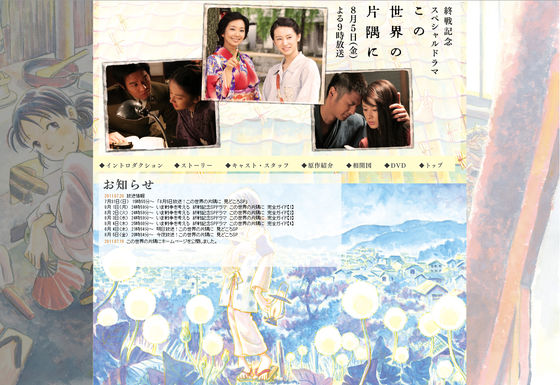 According to Mr. Kono, although the story of real life is coming, there seems to be never a story of trying to make animation too much, in fact, "In the corner of this world", but the animation plan was the only one . So the director sent letters and DVDs of Mai Mai Shinki to Mr. Kono, who also received an answer, "The authors say "destiny"It will be promoted as a project called "

· Mr. Suzu and Uradeya
In the first meeting, as preparations are already advanced, in order to hear what Mr. Kono does not understandChie UrataniIs also present. Greeting greetings, spreading aerial maps and so on, it seems that the meeting started like a strategy meeting. Mr. Kono told Mr. Uratan who draws a little while speaking a little, and felt close to the image of Suzu, when pointing to "Mr. Uraya when asked" What is it like tin? "From the director "I feel like this". In Mr. Tsuzu, I never painted Tin somewhat smaller, which is about the same as Masako than the average, and that it may be that there is a small image because the crafting is "tasty, bitter" In response to Mr. Kono's answer at this time, it seems that it was supposed to be "to do it".

Regarding the birth of Suzu, firstly there is a premise that "drawing life during wartime" with war things, "It is easier to proceed because the surroundings explain the stupid person" If you go to a different city to go to a different city The state of the city comes in with a fresh impression "" Born because "This person is not a daily routine" but because it came here, it is more likely that the motivation to do this will fit in as a reader " It is said that it is a character. It seems that it is similar to Mr. Uratani that we are drowning out and that the core is still strong.

By the way, Mr. Uratan is in charge of "one corner of this world" layout by almost one person. In addition to doing more than half of Mr. Suzu's move, Yamato and the picture of Aoba of the poster are also drawn. Since I originally liked Mochizuki Sanjya, he also entered works like "BLACK LAGOON" and he worked with almost one person on "Ace Combat 04 Shuttered Sky" and even drew Soviet fighting machines and the like. According to Mr. Kobuchi, "I am not good at it, but it seems I can draw it if I saw it," I saw Urawa-san's superman for the first time.

Aoba painted by Mr. Urayan. In addition, this poster is not only the director and Mr. Kono but also the product signed by Maruyama producer of MAPPA. It is exhibited in Cine · Libre Kobe.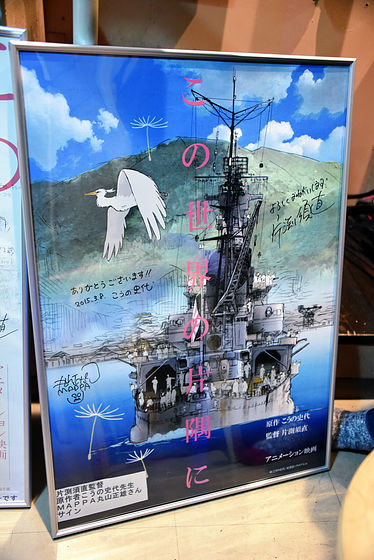 · Mr. Suzu and Mr. Nan
The person responsible for Suzu was known for "Ama-chan" Amano Akano and "Hot Road" Kazuki Miya, "Princess Hikarin" known as Kurashita TsukihiroDoMr. According to Mr. Kobuchi, it is an ordinary girl except when he is on the stage, and that time is similar to Mr. Suzu. Mr. Kyoga of "The city of Yunagi Town" is also blurred with a mistake or failure, and the director seems to feel that if it develops from it, it may become Tsu.

Mr. Suzu will make a few mistakes in Hiroshima after the atomic bombing, in what is called "Mr. Ota" because Mr. Kono will connect this work and "The country of the cherry blossoms in Yunagi" I put in only the name in the thing.

Mr. Kobuchi and Mr. Kono who talks while spreading setting materials.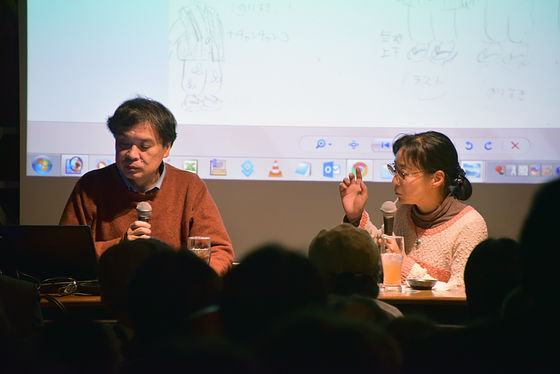 · Cimetry and Coward
"I thought that I had to enter a story caught by the gendarmerith absolutely," says Mr. Kono. It came out from the story of the military police that it was a story about the armored door.

Although it is drawn also in "a corner of this world", at that time, a train heading for Kure, which is a military port, had a moving gendarme riding. That's why Mr. Kobuchi suffered from that, "Would you close the shuttle door or not shut down as Kure approaches it?" As a result of examining this point by Mr. Kono as well, since the wall which comes up in the movie was made from Kawahara Stone Station which is the station in front of Kure, it is said that it is time to close from Kure towards the wide direction I came to the conclusion. I asked Kure for a group of people in their 70s to 80s who gathered and the opinion was splendidly "closed" or "not closed" to two. Therefore, since it is not understood by Kure, when I heard the case at Yokosuka which is also a military port, I understood that I did not close. Because of this, is not it that the Army was closed rather than the Navy? It was that.

◆Part 2: Mr. Kono's question to Director Kobuchi
The second part is a question and answer section. Mr. Kono prepared a large amount of questions to Mr. Kobuchi, and it brought me in a form to bump into it steadily.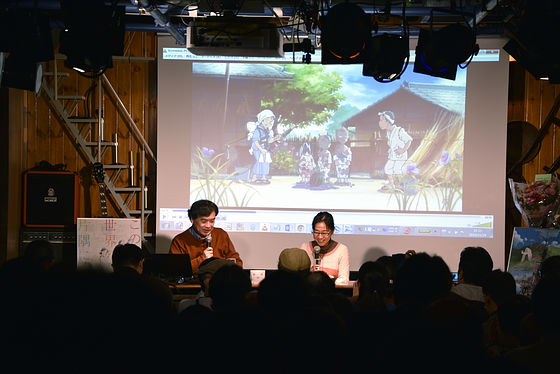 · Why "Allete Hime" animated?
This of:
The story of why he decided to animate Shincho Mai Mai was because Madhouse's Maruta was born in Yamaguchi Prefecture, so he told me that there was a story saying "How?", So why is Allete the principal of animation Did you choose?

Princess Allete = PRINCESS ARETE =
http://www.arete.jp/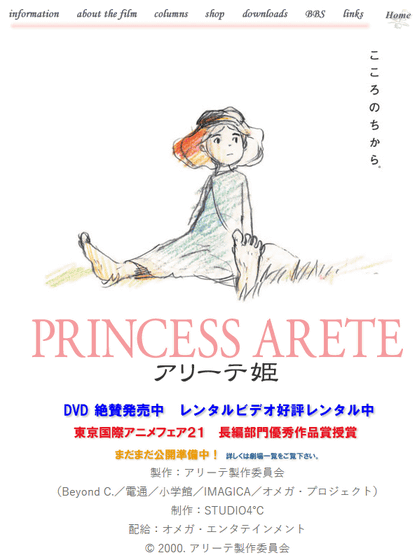 Katabo
There is a person who walks with the plan as "Do not you animate this?" "Princess Allete" is a studio 4 ° C producer Eko Tanaka like these works, because the content is feminist colorful, so I decided that male director would be good. It took me about 8 years to get into shape, but since I was doing "Dog Lassie" in the interval, I was concentrating about the last 2 years. On the other hand, in the case of "in one corner of this world" I devoted from July 2011 of six years, so I do only this work for about 5 years.

This of:
The few other jobs were "flowers bloom", were not they?

· Why do you need a Mr. Suzu role?
Katabo
By the way, why was he asked Mr. Tinu's role as Mr. Suzu in the interview of the press, but somehow I answered it, but from a person who always took a taking make me say "From the beginning It was said. I thought about that, but probably the order has been reversed. In the period when they said that they wanted to do "in one corner of this world" in August 2010, they were doing the original exhibition of Mr. Hatsukaichi in Hatsukaichi.

This of:
Yes, there was.

Katabo
I went to see the exhibition "in the city of Yunagi cherry blossoms" and "in one corner of this world" on the last day. On this day there was a television appearance at Hofu, I went out with Mr. Takuko Takagi, the original creator of "Mai Mai Shinko", with Mr. Takaki's mother. This person is one down from Suzu, who is the same as Mr. Suzu who went to the bride at the age of 19. So after moving from Hofu to Tokuyama station, if you go to Hatsukaichi from now on the last day of the original exhibition, it will be in time 30 minutes before closing. Tell Takaki about it "Please leave me."When

(All lol)

Katabo
As it was said that if the connection was successful at Hiroshima station, I ran a Hiroshima station with the producer of avex and somehow arrived before closing. When I was talking while watching an original picture, it was told that "By the way, what is the voice of Suzu?" ...... The name of the actress came out, but from that time a bit more naive entered I thought that was better. As I was having trouble with Mr. Suzu 's voice, in the shape attached with a fire. Mr. Uratan comes out there, she is diving and going to the mountains, sea girl / mountain girl.

This of:
I knew that it was a mountain girl, but it is also a sea girl.

Katabo
For Mt. Takao it is about to climb the second time after taking a walk with a walk. Because the classroom where Mr. Urayan goes to practice diving is said to be a rest since it will be a practicing place for the sea ladies who appear in continuous television novels, so that the drama seems interesting and so we will see it I got up early, now.

This of:
I did not have a habit of seeing the drama series in the morning.

Katabo
It was not. When seeing the drama there, a person came out saying "This guy can be with Suzu," and asked Mr. Uraya if he heard it. So, it is the other way around. I was not a fan of "Ami-chan", it was Nan-chan who found out while consciously searching for Suzu. At this point already, music: Kotoringo, Circumcision: Yoshimasa Hosoya, Suzu: Nanchan, was hardened in myself during the first half of 2010.

This of:
Mr. Kotoringo thought that the voice was similar to "Neighborhood" and Dan.

Katabo
Everyone is saying that, but I do not think so at all. When I heard the dialogue between Mr. Kotoringo and Donchan, I thought that it would be "fluffy", but thought that it would not be alike at all in the waiting room of the first day stage greetings. Duncan, because it 's an ordinary girl when you are normal.

· What is the work that Director Kobuchi wants to make next?
This of:
What kind of work do you want to make next? Although a story told that I was thinking about a monster thing in another work.

Katabo
Mr. Uraya wants to do it, but it is a painful thing (laugh). Because I often inspect it. And I answered that drawing a war in me, doing "in one corner of this world". When "flowers bloom", I did not touch the tsunami at all, though I thought of things like thinking about the afflicted areas, but what I do in "this world" is that "a tsunami comes" It will be bloom. " I saw a screen with sound and thought of letting me stop showing public when the anti - aircraft firearms rang.

This of:
You also feel like pulling trauma from experienced people.

Katabo
It became my own trauma, the feelings of Suzu stained out, and it seems that Tsuzu is not recovering at the time the movie is over ... .... So I thought about doing something earlier and listening to Kotlingo's song "Dandelion" in the ending, because the soul of Mr. Suzu was a song that seems to be resurrected, "If you put a picture on it, you may be resurrected I thought that, "On the next day I returned from dubbing, I took Mr. Urayan to the work place 30 minutes earlier and asked to draw a picture. I made it to the rough in a day and I felt saved when I went there. Even if there is a war, I think there is a future.

This of:
I was touched by the fact that Yoko was getting bigger.

Katabo
His hair is growing also in Shusaku.

This of:
I did not notice it, I will see it again (lol)

Katabo
So, I always thought that the war is bad.

This of:
I think there is a demand for war things. Although there are many people who read it, it is not easy for people to draw because there are too many painters to draw.

Katabo
If only one thing like a trilogy work of childhood was made, if I thought that war would not come out, it suddenly became a big case thought from this time. From when I thought that "movies are entering customers".

(All lol)

This of:
A big masterpiece that was warming up now (laugh)

Katabo
When I was doing "Princess Allete", there are things I wanted to do, but even that alone will end for the rest of my life, so I have to take some of them to the grave. I wonder if I can do any of them if I do it now, I think that it will be forgiven to say that I will do.

This of:
There is "credit savings". I also feel that I have run out savings made in Yunagi in "this world" (laugh)

Katabo
I understand. So, why should I do the hardest guy? Something like moving around with music.

This of:
Is it like a musical?

Katabo
Because it will not stop for a long time, it costs a lot to do. If planning goes through, I think I'm going to do it, I guess I can do it even after I get older. ...... I think like that, but to be honest it still hits "this world".

This of:
I heard that I have to go abroad. As I mentioned earlier, it seems that cloud funding is going to be tough.

I want to send Mr. Kobuchi to the field so as to make the screening of the movie "Inside the corner of this world" exciting overseas screening | Cloud Funding - Makuake (Makuake)
https://www.makuake.com/project/konosekai2/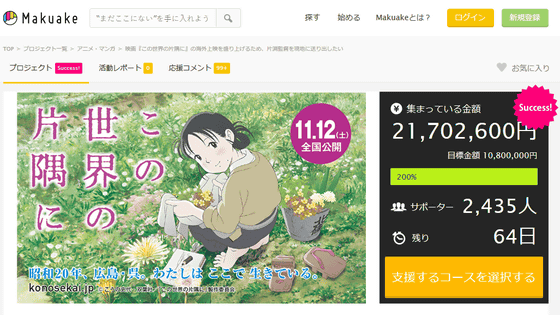 Katabo
I have a schedule until about December 20, but there are not many holidays ... (lol) If I try to eat rice at the producer and Shinjuku, I will be outtaing a stage greeting a bit before that. You know. But while I am doing this, I heard that Tsuzu is on the screen, so I think it is important.

This of:
Thank you very much.

Katabo
I thought that it would be a big cleaning this year.

This of:
However, I will not know if I clean up. As the materials gather, it is a waste to use something.

Katabo
Materials, this is it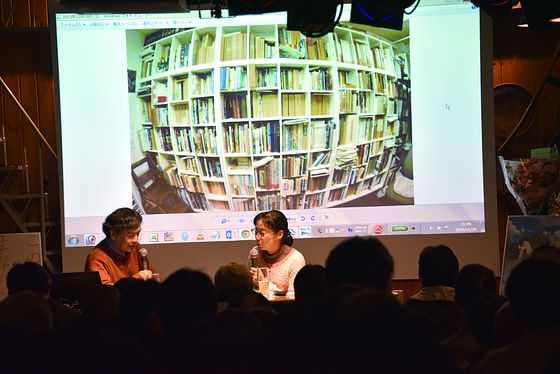 This of:
I already feel that I would like to have a war object. But there is demand, but there is no supply, so all the stories of war things may come to the director.

Katabo
This is how to do it. It is also selling to a secondhand bookstore ... ....

This of:
I also have something I donated to Kure. I have lost almost all of it from my hand for the intention to say "I will not draw anymore". I hope this is ... ... Ikobo Bunko.

· What would you do if you get a break?
This of:
Then, what do you want to do after taking a day off for a month?

Katabo
Er ... I can not imagine anything to be surprised.

This of:
Is not there a hobby? Mr. Uratani has mountains and the sea, but does the manager go together?

Katabo
I will also follow you. It is fun to let a dog take you around.

This of:
Dog-walking. Certainly one French bulldog.

Katabo
Also, there are 4 cats. There were six in the past, but since the population density is higher for the cat than for the person, two to the daughter.

This of::
Have you read a book or ...?

Katabo
Since my eyes got worse, I do not read much books, and I only have comics. Recently I am reading Masami Yuuki.

· Director Kobuchi is from Osaka
This of:
The manager is from Osaka, but when was it until then?

Katabo
I think that it is 1969 years. Since then I moved to Kanagawa Prefecture and came to Osaka for the Expo.

This of:
Do you have something like Osaka's memories?

Katabo
I do not know much about Osaka city. What I lived was Hirahama, about the middle of Kyoto and Osaka.

This of:
Me,Hirakata ParkI want to go. now,Dragon Quest MuseumYou are doing it.

Katabo
My image is Chrysanthemum dolls when I call Hirakata Park. Also, there was a monkey land and the monkey was stinky. Roses are in bloom, there are monkeys, sometimes a chrysanthemum doll is played, but it was rather plain amusement park. We had a little place from the entrance.

This of:
How long have you been going?

Katabo
I have not been around for about 40 years.

This of:
I never came to Osaka, and I had my previous life look at the former cafe in Shinsaibashi. As an interpreter when I went to France he liked occult and bought a book of witches and taught me about the past cafe. It is said that if you go back three years to the previous life you will know what to do. He will look at the previous 1080 yen.

Katabo
Consumption tax is made.

This of:
It was about two years ago. One woman was a Thai agricultural woman, before that a Tibetan monk, and three before was a Portuguese village warrior (lol) Tibetan monk practiced for disengagement from the cycling I guess ... I'd like to go there and tell me, "You will turn around two more times".

(All lol)

This of:
It will become a story of the story. Also, I am not very good at history and geography, but thinking if I think that I am interested if I consider it to be a previous life. Also, it is still better if you can remember things of the previous life.

Katabo
Can you remember?

This of:
I do not remember though (laugh)

Katabo
In terms of the impression of Osaka, there are three Takoyaki restaurants on the short way to get here from the hotel, and that means I like powder. I live in Tokyo now, but sometimes dinner is Takoyaki.

This of:
Huh? Is Takoyaki going to be dinner? I know if it is lunch.

Katabo
As I eat only such things, it is there that I came to Osaka and have a nostalgic feeling.

This of:
My husband, born in Osaka, was raised in Fukuchiyama and bought it because he wanted a Takoyaki equipment, but he said "I'm still around", "It is still a long time ago," you are very picky about how to bake.

(All lol)

This of:
It is a feeling that the same position food in Tokyo is a soba restaurant. But, it was sweet and I was disappointed. Because I like udon ...... I wrote that I like udon in my composition, my mother got angry. When I read the composition at school, I wrote that all the other children were hamburgers, but I wrote "I like udon." But, "I thought that I should write udon noodle because I wrote udon, so I should have written udon" (laugh) ...... What are you talking about, udon no talk only, spoiler explosion is dangerous talk There is not it.

(All lol)

· About Kure
Katabo
Mr. Kono is how much "Kure" is your own land?

This of:
Since I had my mother's homeboy, I used to go several times a year when I was young. So I liked it very much, so I lived around 18 or 20 years about 2 years. I went to the university by Kure Line, but after stopping the university I bought a bite in Kyu to save money and went to Tokyo.

Katabo
During the war, I attempted to use the Kure line as a Sanyo main line, but I tried to make it double, but I lost it because I lost.

This of:
There are tunnels which are not in use.

Katabo
That seems to be using the new one. When Suzu goes to marry me to the Hokujyo family, I examine it in various ways and have him get on a train bound for Osaka. How is the image of Kure at that time?

This of:
There is an image of "an elegant city". When I landed in front of the station, the auto three wheel passed through and it was fun. The Kure Line seems to have been a steam locomotive when I was a baby, but I do not remember it.

Katabo
There are many insufficient materials because the photographer who I am shooting at the moment was shooting around Hosayura. The Kure line was electrified so slowly that "The man is toughEven Steam locomotive of Kure Line comes out.

This of:
By the way, the pronunciation of "Kure" is different between the people of Kure and those outside. Outside people say "ToBefore putting an accent on it, the people of Kure areReI strongly tell the back.

Katabo
That's right.ReOkay. " Actually, when I told Danchan during this recording, I was talking about Suzu only the last scene.

This of:
Really.

Katabo
Always from "HiroshimaToI came to Ao ", but the last" KokakuReOnly "that it is a place where it is said that it is Kureta saying" It is OK with this, is not it? " Oh, I thought that it is something to blow into various things.

(All lol)

·Finally
Katabo
Suzu took seven years from planning, 9 years if coming from manga, and finally it is running on the screen. Though Tsuzu will become obsolete when it starts to notice, since the customer has entered quite a lot, I think that it will be as long as it is. As Mr. Suzu who came this far, I will do my best to make you stay on the screen for a while, so please continue your continued patronage.

It was an impression that the director and the original author both talked happily about the work rather than a talk event "Oh, it is a terrible spoiler!"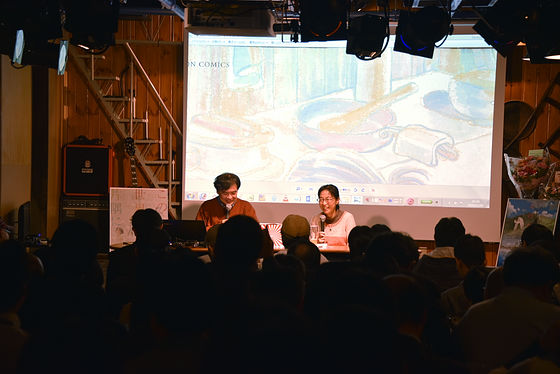 On November 27, a stage greetings was held in Miyagi prefecture that also included Mr. Sumi's sister, Sumi-chan's role as Mami-chan.

"A corner of this world" Great hit thank you for the stage greeting in Miyagi!

I am in the stage of greetings by Chin · Lavita, director Koshiba Susaku, planning · Masao Maruyama, Sumi chan · Megumi Ban.

We are welcomed by a crowded guest and this one is hot too!Pic.twitter.com/YOWjOdhzRX

- "In one corner of this world" 11/12 (Saturday) Public (@ konosekai_movie)November 27, 2016
[# In one corner of this world】
109 We finished the stage greetings at Cinemas Tomiya! This is also full of people! Thank you very much! Last, last week, things that I got up, I could not hold down, I am sorry. Three weeks to see this response, the power of human thoughts on this spread. But more, go ahead. How about with your hands.Pic.twitter.com/yWT 1 Wju A 66

- Megumi Han (HAN MEGUMI) (@ han _ meg _ han)November 27, 2016

In December Ice Cinema Omihachiman and Ion Cinema Kyoto Katsuragawa are also deciding the stage greetings. As further stage greetings may be held, if you have an event at a nearby cinema, please do come and see.

【Great hit lecture stage greetings, one after another! It is! 】 | November 12 (Saturday) official site for feature films for nationwide public theaters "in this corner of this world"
http://konosekai.jp/report/1053/