I've been listening to tasting & development secrets of a new type of Tsubame made by French chefs "Onion soup noodles with pie wrapping"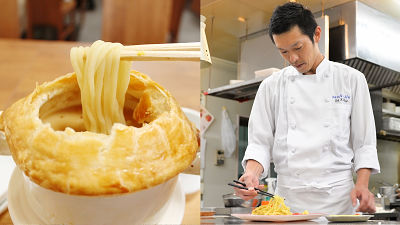 A new type of Tsukemen which realized matching of different colors "French dish x tsubame", which is often thought not to have much contact point "Pie wrapped onion soup tsukemen"Is born. Listen to the secret story of development while actually tasting the taste noodles that had been introduced after a development period of two years, but a ramen restaurant "Kurosu" opened a long-established restaurant offering French cuisine I have done it.

Kurosuru - Takada City / Ramen [Eat Log]
https://tabelog.com/nara/A2903/A290302/29010199/#title-rstdata

Arrived at the shop "Kurosu" offering French noodles. It is a new shop just opened on October 21, 2016.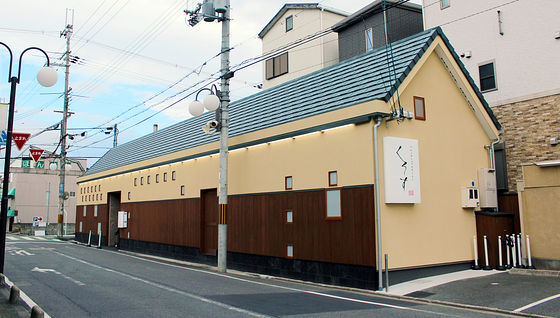 The location of the store is Namoto Town, Nara Prefecture 10-22 Minamihonmachi. There is a private parking lot next to the shop, and you can use the coin parking nearby for free when you eat. The opening hours at the time of article posting are from 11:30 am to 14:30 last order, but from January 2017 it is said that business will start at night, so the opportunity to visit is greatly expanded.


Signs written "French chef 's ramen kurosoru" are landmarks.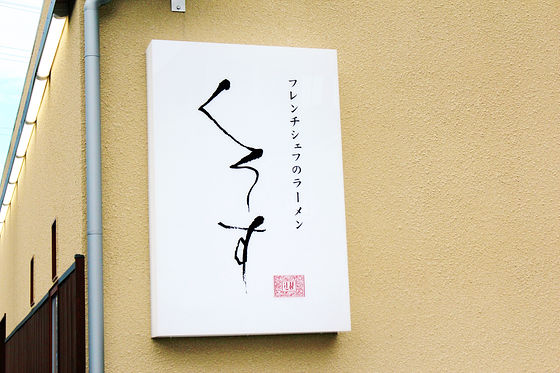 Before the store, there is a French restaurant Ryotei which has a history of 400 years, and now there is a French restaurant "Verde Tsuji" which can also wedding. Kurozu is a shop offering new genre ramen and Tsukemen noodle which was developed by the Verde Tsujiro Chef.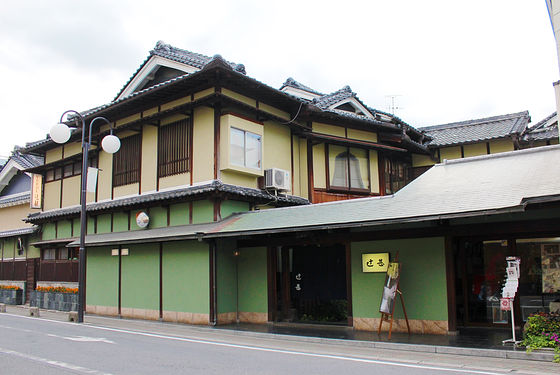 Inside the shop are table seats with 2 to 4 guests ......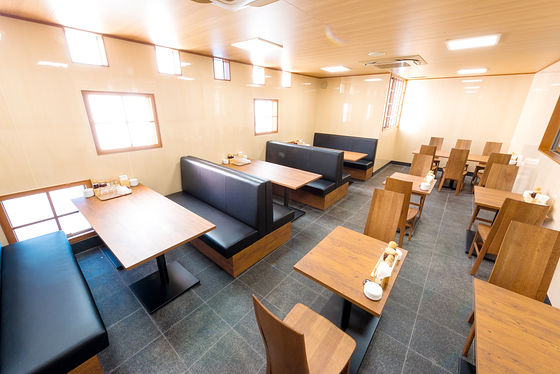 Horizontal side counter seats are prepared.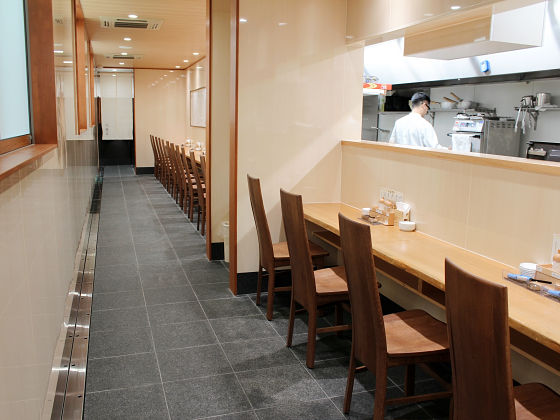 Before the counter seat, there was a writing brush written with the attention of Kuroze.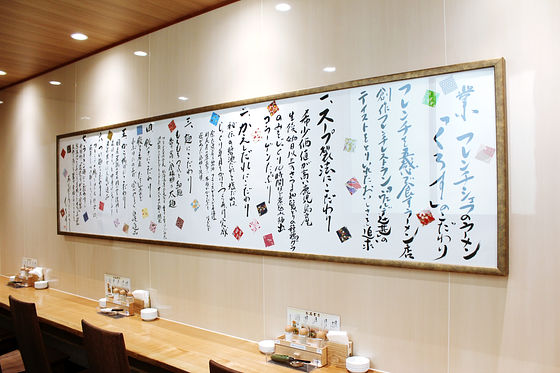 The menu that is offered is like this. The menu which the feeling of French strongly appeared was "Pie wrapped onion soup clothing noodles", and the rest was "chicken simmered salt ramen noodle ramen" and heavy system "chicken salt ramen", "chicken soy sauce ramen", "chicken soy sauce ramen", "chicken Boiled soy sauce ramen "and so on. Anyway, this time I decided to eat "Pie wrapped onion soup tsukemen" and a slick series "chicken salt ramen".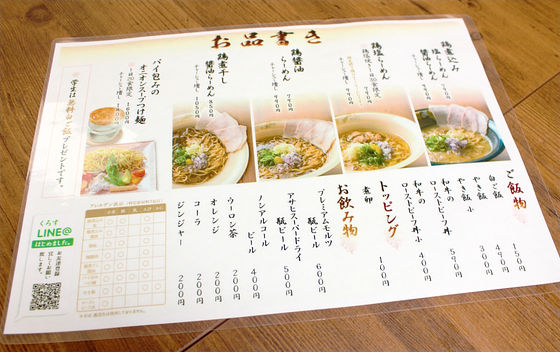 When ordering Tsukemen, the starter was first brought.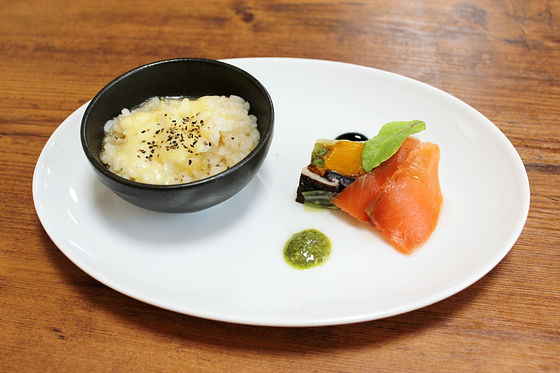 As an appetizer, onion soup with cheese risotto ......



Salmon and Terrine of the seasonal vegetables.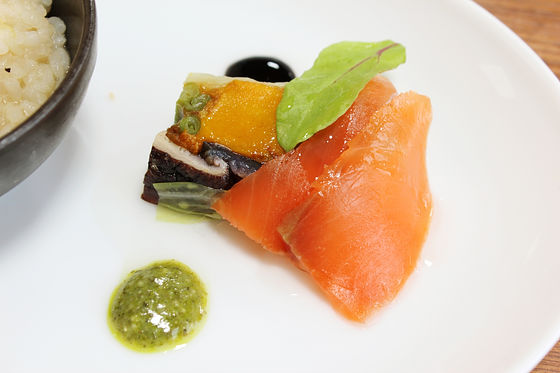 Risotto is a seasoning that feels a subtle sweetness of onion soup, cheese and black pepper add rich flavor and aroma.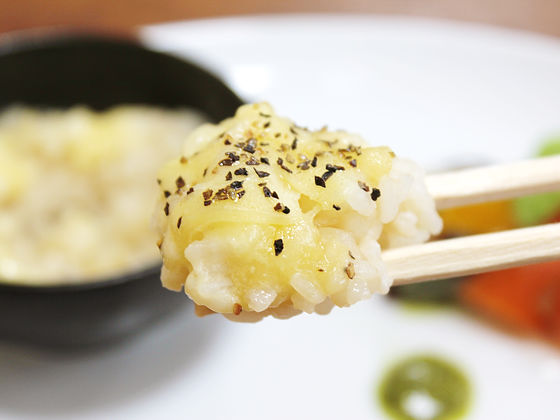 Salmon to eat with chopsticks can enjoy a refreshing taste when eating with a basil or sauce that is attached to the plate.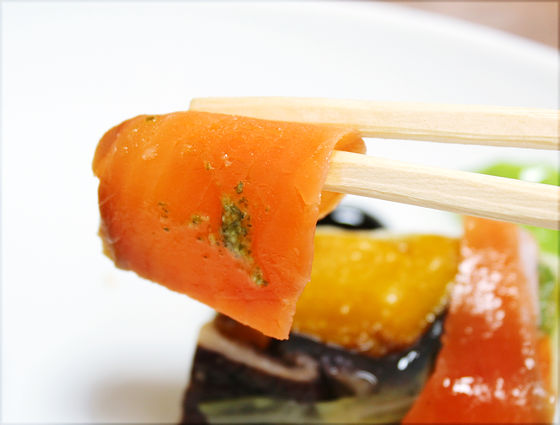 Terrine of seasonal vegetables using pumpkin, eggplant, shiitake mushrooms, carrots, okra are finished moistly, and the flavor of the material is felt well each. It's just like a ramen shop and it's a place like this place where French is on the foundation as expected.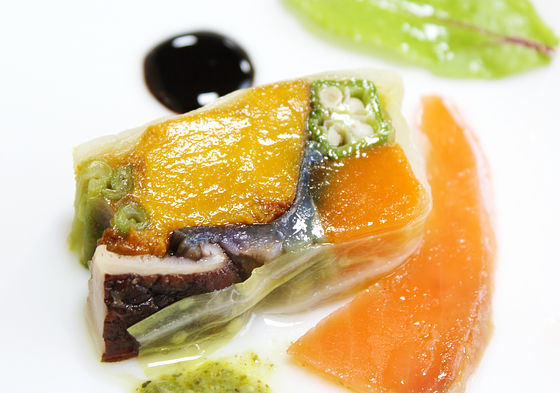 When we finished eating our appetizer, main dish noodles were carried. I have never seen such a tsukemen.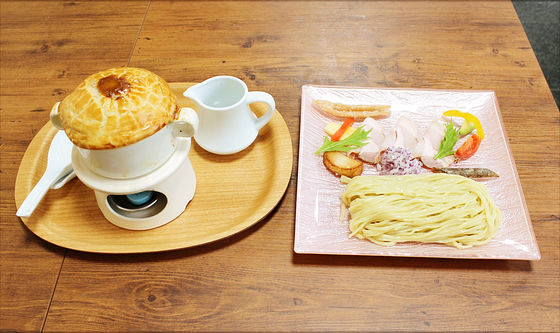 As noodles are garnished as vegetable fried, two color paprika, vacuum cooked pork, tomatoes, avocado, pineapple, etc. are well arranged and colorful atmosphere, such as how to operate French perfectly. According to what I hear, this plate is a special thing that I made lacquer on glass containers, and even in Japan, it is only made at "Filling Factory Fuji" in Hainan city, Wakayama Prefecture.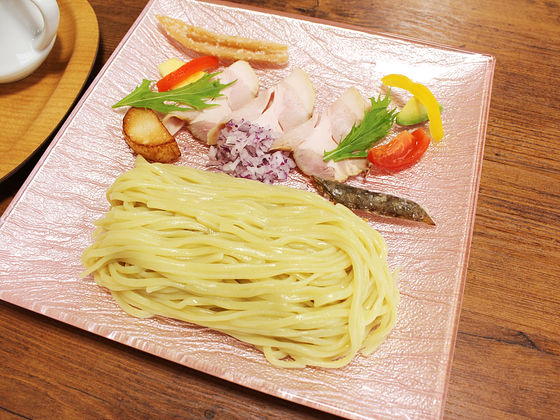 And "Onions soup of pie wrapping" is this. In onion soup developed for wearing noodles in a pot covered with pie cloth is contained, and in the pot stand solid fuel which can warm the cold soup is placed.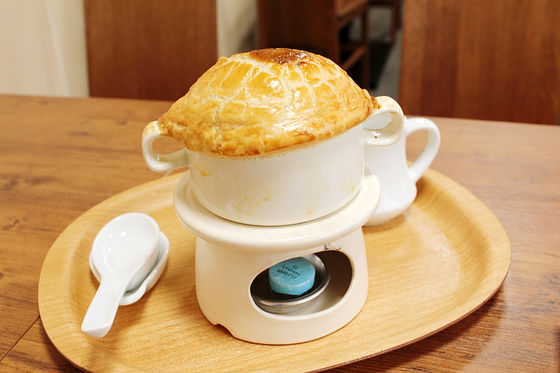 While holding down the pleasant feeling, I opened a pie with chopsticks and tasted the soup.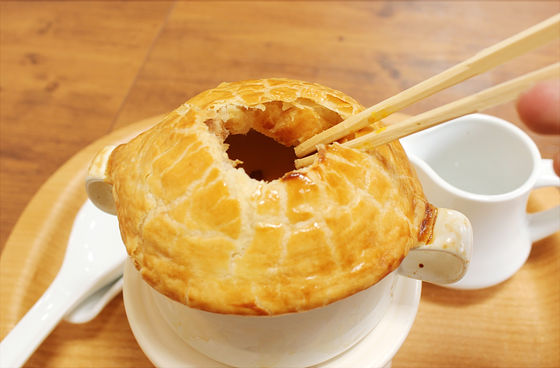 The fragrance of the soup drifting from the pie is just "onion soup", but when you taste it, you can see that a firm flavor is plus in the gentle taste of the onion soup. This taste is exactly from 'the world of ramen noodles' and it seems that it took two years of development time to deliver this taste with secret special sauce.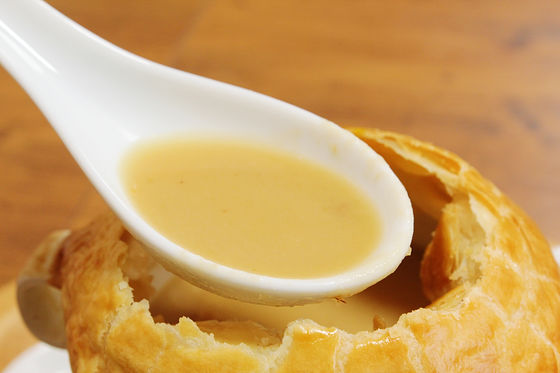 The amount of noodles is 180 grams, which is a little as a tsukemen. However, because there are ten kinds of ingredients attached, after having finished eating enough satisfaction was obtained.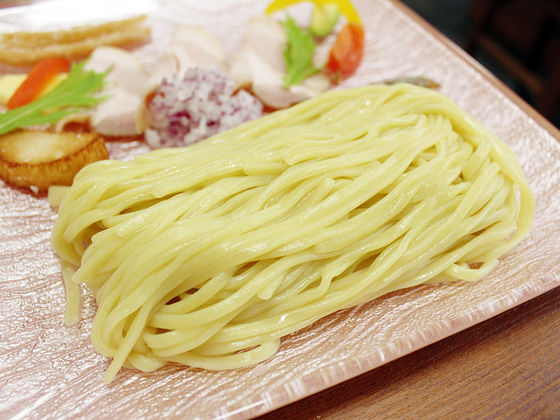 Tasting the noodles on onion soup, this is exactly the taste of expressing "a new experience" exactly. As it is based on onion soup, there is no way it can not be delicious, and in fact it is a taste that can be said to be "ah, tasty" obediently, but if you turn around the idea in hardiness and standards "tsukemen", there is nothing special, so how delicious it is I notice that I can not find the criteria to express. When trying hard to express it, the richness and sweetness that came from "the world of ramen" came from the smoothness of a clear onion soup, and the transparency of the onion soup, the sweetness and fragrance, and the feeling of coming in with the ramen saga 's guts It is a place that both work well. Once you talk to your mouth, the difficulty of this expression is sure to be understood by Has. Nonetheless, it is not necessarily an esoteric taste, but simply seems to be "Oh, it's delicious", so people who are interested should try it out at once.



And I will try to eat the garnished vegetables etc where the explanation of Tsukemen becomes longer. Lotus root is not a common type of slice type, but an unusual cooking method that puts a kitchen knife in the longitudinal direction is used. This is to make the best use of the crisp texture of lotus root, and when we try to eat it actually, the existence of fiber of lotus root is good and it feels crispy feeling good, besides, a little mochi texture There is even it.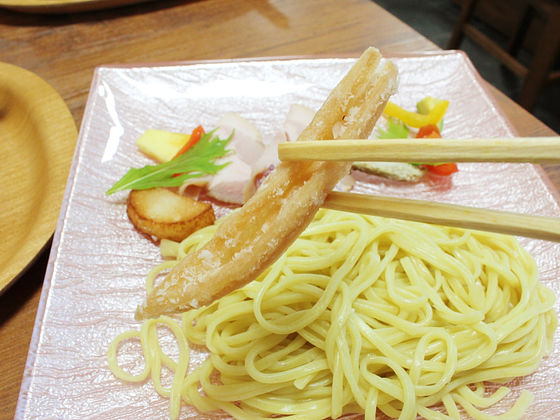 A long finish is also finished to feel the taste of crisp yam. A good part of the material appears delicately in a well-balanced manner.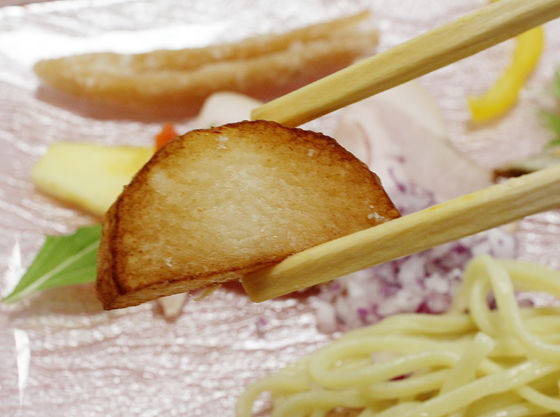 Deep-fried burdock is tasty with crisp and crispness. It is also good to eat any vegetables on onion soup.



When I was doing that, the soup was getting cold, so I ignited the solid fuel with a lighter.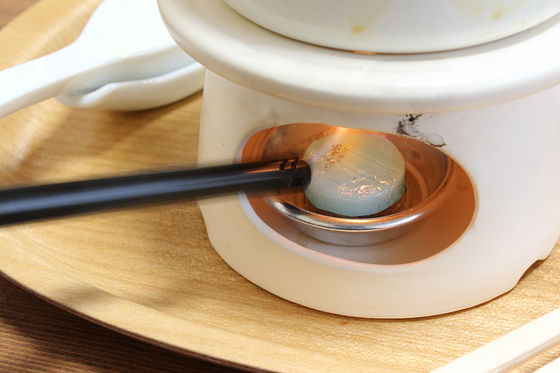 Then the soup bubbled with Pocopoko in less than one minute. By doing so, we could eat with our soup forever, and we enjoyed the change of soup which is slowly boiling down.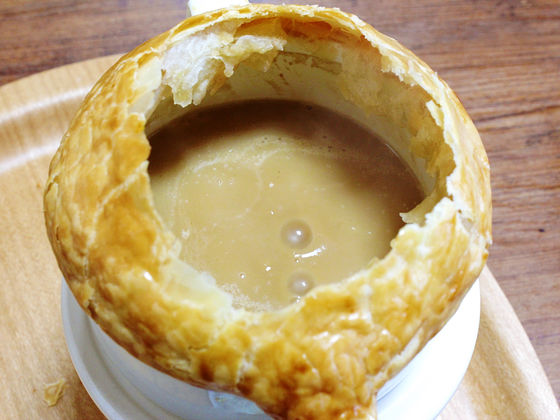 Chef Hagi, Verdet Tsuji / Kurosuri who engaged in menu development. The reason I decided to put out a ramen shop was that I put a noodle as a shime in the soup of "chicken pot" that we offered at Verde Tsuji Noriyoshi was finished to a great extent from customers That's right. We developed ramen based on chicken pot and "Tsukemen noodle soup" with unique taste of French over 2 years and it was able to reach the quality that we can offer to customers.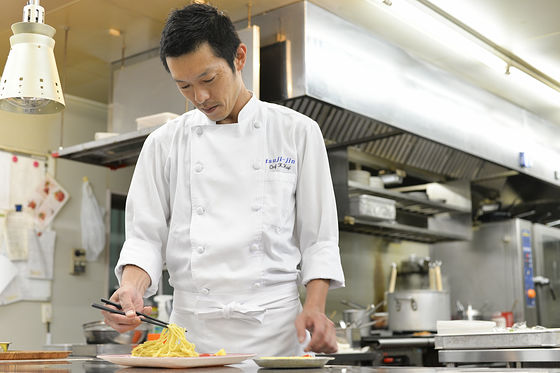 The biggest point is that it is "secret salt dare" added to onion soup. Sauce of characteristics using sea salt from France gelland etc was that it was not going out of the door, even I could not even show it without taking a picture.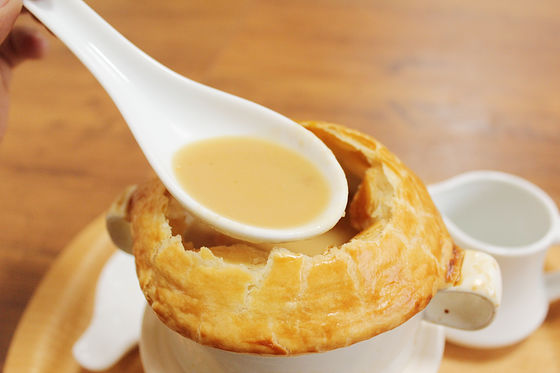 One "chicken salt ramen" is based on soup which is cleared transparently using French method. It is surprising that French and ramen are fused even in such a place. The citrus skin put on top is giving a good fragrance.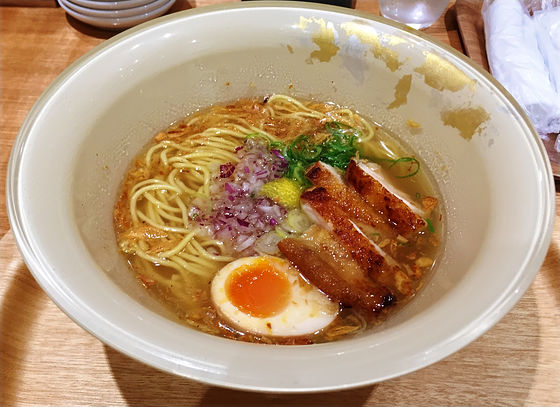 The phrase "Onion flies are on soup ... ..." came across the head, but what I was frying when I heard it was "Rakkyo". By using raccoon, it seems that plus a different flavor from onion, and by using various ingredients, exquisite taste balance is made. When asking "Does it work, is not it hard?", The answer "It is serious (laugh)" comes back with immediate answer.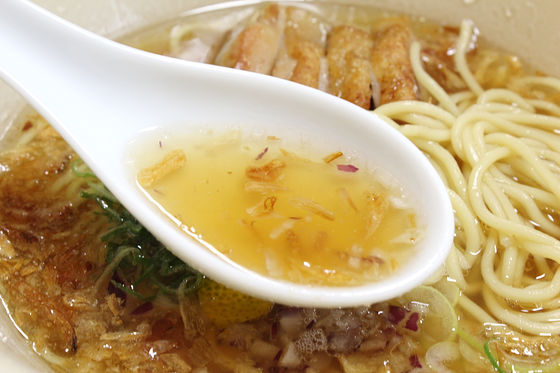 Custom-made noodles that mixed French powder were also completed perfectly by repeated trial production, and it is completely original that is used only here. It was a noodle that felt touches and touches and unique peculiarness, and it was a ramen that exquisitely balances the gentle flavor of the soup and the gentle eating feeling of the noodles. There were many ramen in the world, it was the first time for me to taste ramen while feeling "balance" so much.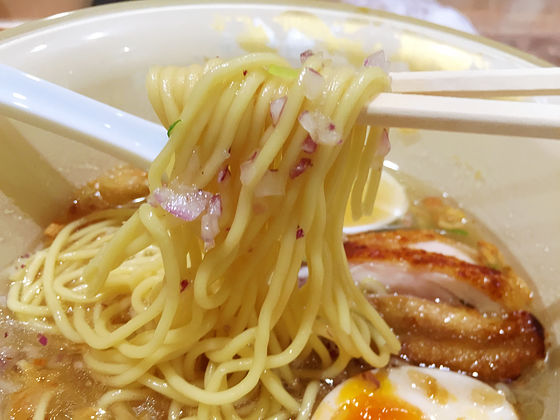 For Chicken Salt Ramen, "Chicken Salt-grilled" is topped with 30 meals a day, so you can taste the crispy and delicious chewy chicken. In case of out of stock it is said that it will change to a barbecue.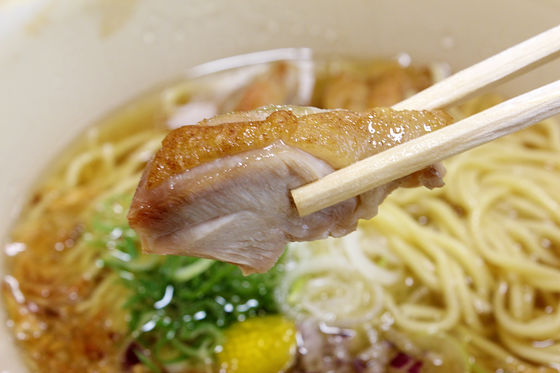 It is good to soak the pie cloth firmly on the onion soup of Tsukemen and eat it. "Pie wrapped onion soup" is limited to 20 meals a day, the price is pretty high, 1600 yen, but it is possible to enjoy with appetizer, delicately cooked ingredients, and to experience unexperienced wearing noodles People who find value can try to challenge. In addition, the "chicken salt ramen" I tried this time was 790 yen.