I tried to see what kind of picture can be taken with "RICOH THETA SC" which is easy to use and low price but can shoot high resolution 360 degree photograph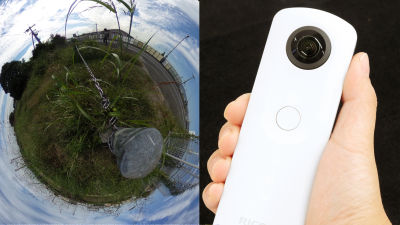 It was announced in 2015High performance celestial sphere camera capable of live streaming "RICOH THETA S"Was a price that made it slightly difficult to give out as much as 42,800 yen including tax, but while maintaining high image quality with a high performance CMOS image sensor (effective about 12 million pixels) equivalent to RICOH THETA S and large aperture lens of F 2.0 , Excluding the live streaming function and shortening the continuous movie shooting time from 25 minutes to 5 minutes realized the price of 32,800 yen including tax "RICOH THETA SC"is. Since I was able to borrow the real machine before the launch, how long can we use it? I tried to make sure.

Product introduction | RICOH THETA
https://theta360.com/ja/about/theta/sc.html

RICOH THETA SC arrived.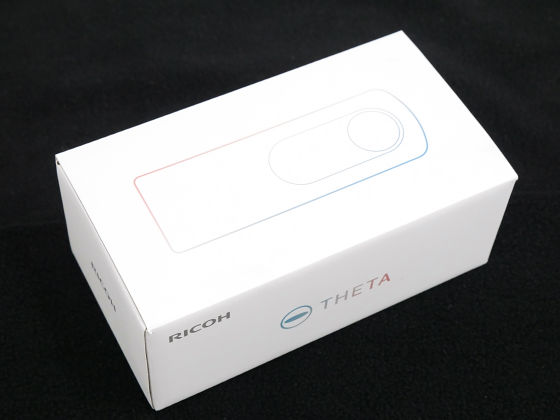 Inside the box were RICOH THETA SC main body, quick starter guide, important notice to customers, soft case, USB cable.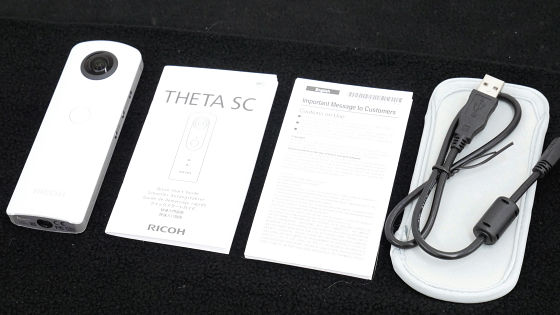 The size of the main body is 45.2 mm × 130.6 mm × 22.9 mm. The weight is 102 g lighter than THETA S, but it is not a device that you care about weight originally, so I do not feel the difference when I have it. It has a size and shape that can be gripped firmly even by the hands of women. The exterior uses a resin frame instead of metal.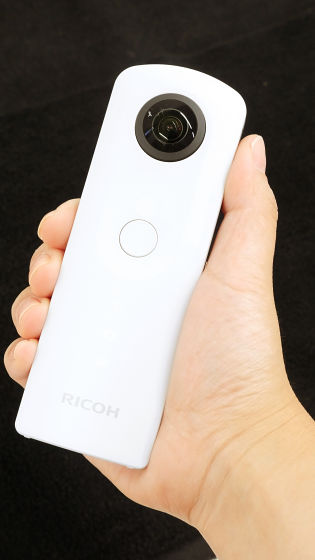 Compared to the iPhone SE with a total length of 123.8 mm, it looks like this. Because it is about the same size feel as a smartphone, carrying it in a bag or pocket seems convenient.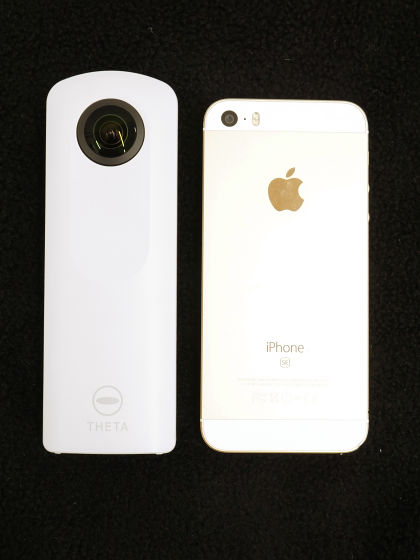 The right side is as follows. Switch camera / movie from left Shooting mode button, wireless button, power button.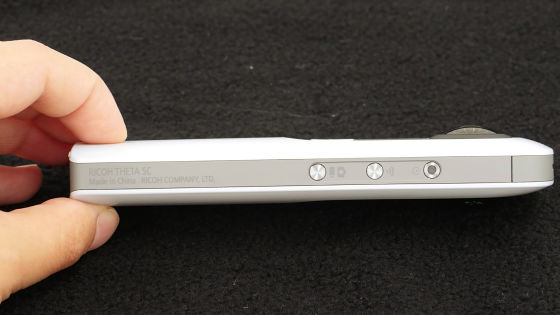 There is nothing particularly on the left side.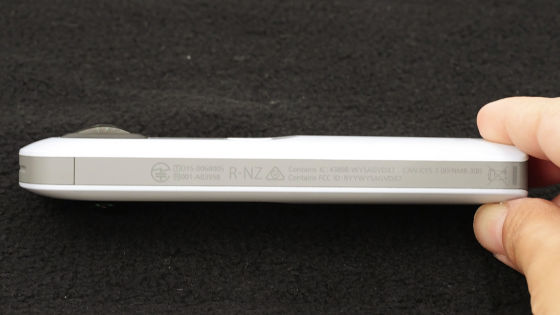 There is Micro - USB port on the bottom and password for Wi - Fi under it, and a tripod hole in the middle. THETA S has an HDMI port, it was possible to live sleep, but THETA SC has one feature that there is no HDMI port.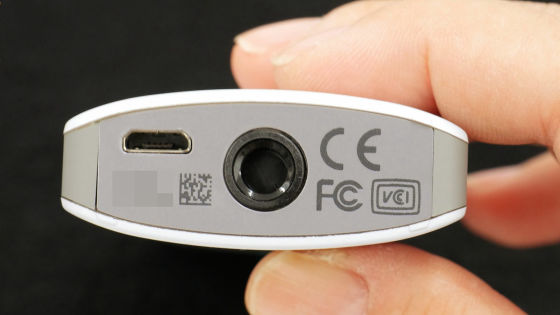 Mike and speaker on the top. You see from the top that the celestial lens protrudes.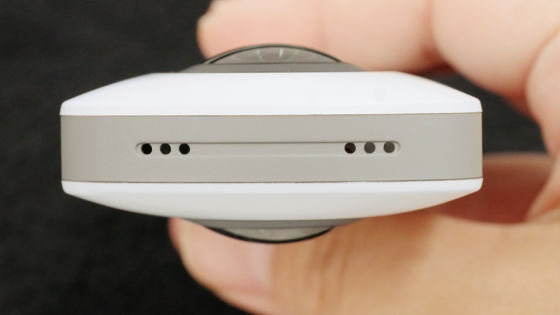 There is a shutter button in the center of the front of the main unit, a camera status lamp above it, a wireless lamp and shooting mode lamp below.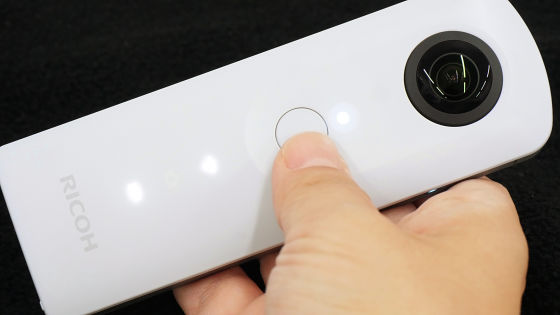 THETA SC can shoot even by pressing the shutter button on the main unit, so you can use it without smartphone, but you can make more detailed settings by using the smartphone application. The applicationIOS versionWhenAndroid versionSince I have it, this time I tried shooting using the iOS application.

When trying to install the application of THETA SC, it turns out that it has already installed in the past. Because THETA SC app isRICOH THETA S reviewed in 2015It is to use the same thing as. Tap the icon surrounded by a red frame ......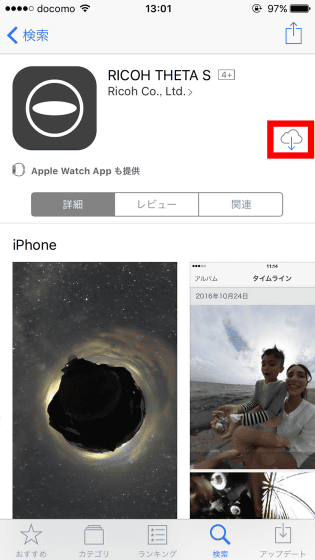 Tap "Open".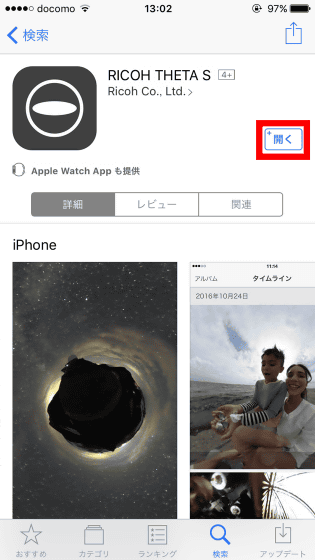 "It is said that" THETA S "is seeking access to the photo", so tap "OK".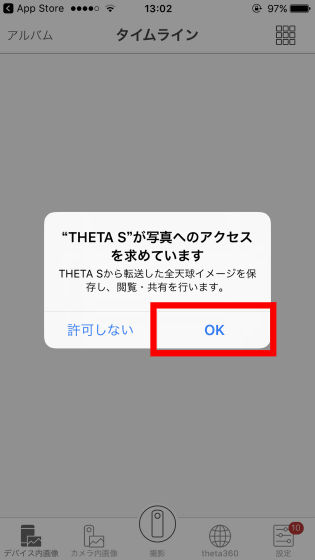 Tap "Yes" ......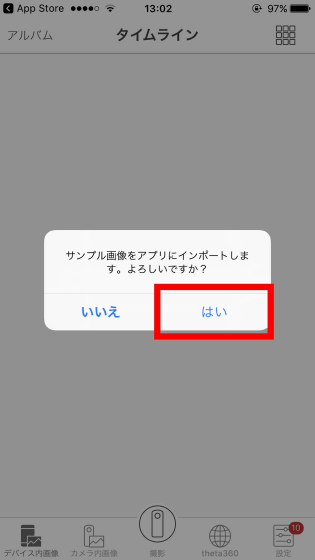 The timeline where sample images are arranged is displayed. UI is quite different from when reviewing THETA S in 2015 and icons are displayed at the bottom of the screen along with the menu titles of "Japanese in-device image", "in camera image", "shooting", "theta 360", "setting" Because it is lined up, it became easier to understand where and where. First of all, when you tap "shoot" ... ...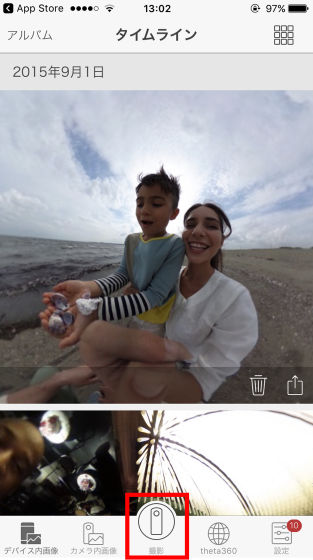 "Can not connect to the camera, please check the Wi-Fi settings." Tap "How to connect with THETA".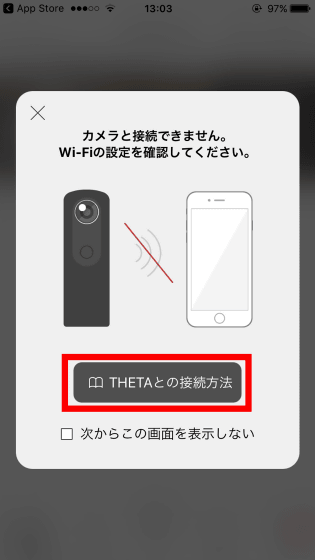 The following tutorial is displayed, and sliding the screen will explain how to connect with illustration.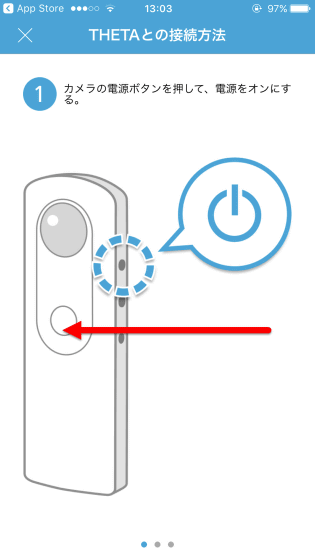 Follow the tutorial, first push the wireless button with the main unit turned on.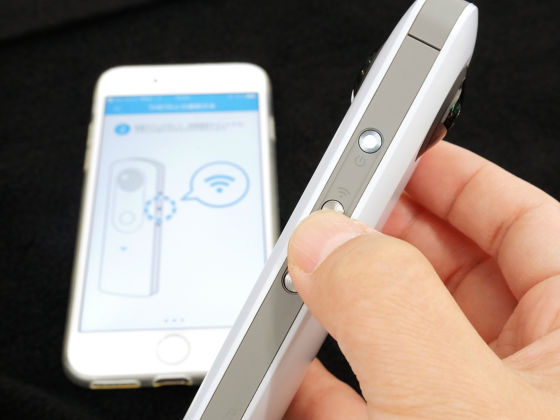 In this state open "Settings" → "Wi-Fi" of iPhone, select "THETA ....... OSC" network and enter the password written on the bottom of the main unit.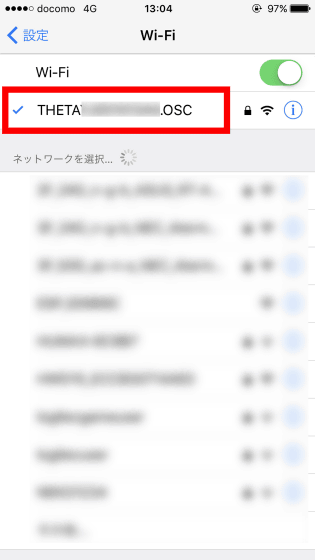 When the password input is completed, tap "permission" because you are asked "Do you want to use location information while using" THETA S "?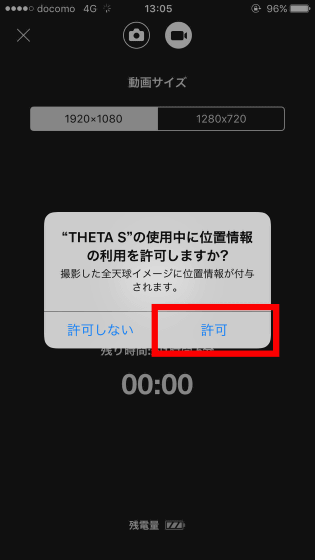 Then the shooting screen appeared. The big THETA logo in the middle is a shutter button.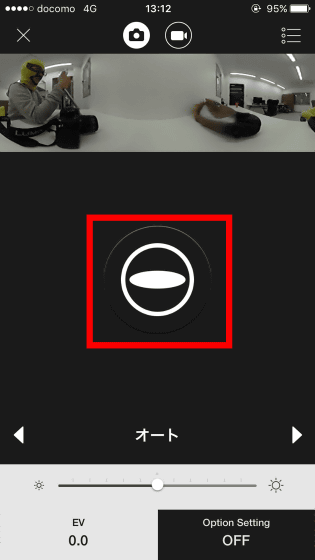 By default, the shooting mode is set to "AUTO", and as you move the brightness slider, the settings are reflected in real time on the display at the top of the screen.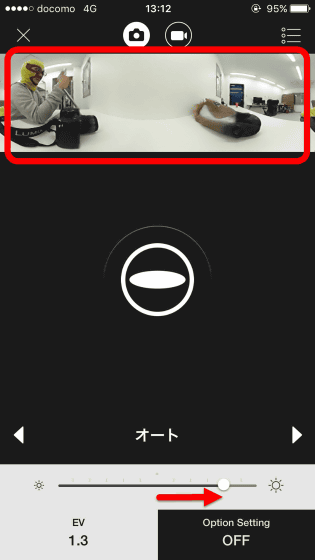 In addition to this, "Shutter Priority" or ...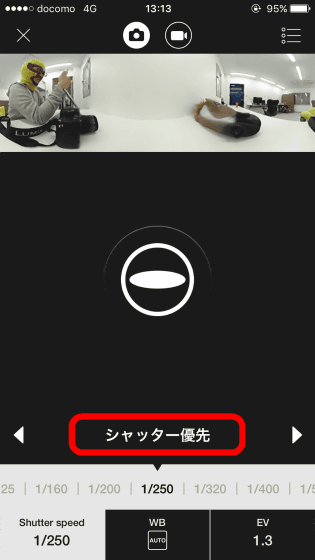 "ISO priority"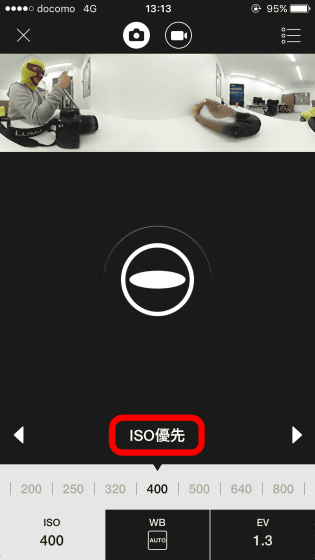 "Manual", etc. In each mode, it is possible to finely set the shutter speed, white balance, exposure etc according to shooting situation.



That means that the still pictures actually taken inside the room are the following.

Post from RICOH THETA. -Spherical Image - RICOH THETA
Subsequently, the still picture taken with sunlight using THETA SC looks like this.

Post from RICOH THETA. -Spherical Image - RICOH THETA
On the other hand thisTHETA S in 2015It was taken using. Although THETA SC is cheaper, you can see that there are almost no differences and it is possible to shoot clearly.

Post from RICOH THETA. -Spherical Image - RICOH THETA
Taking a night view with THETA SC is like this. The following is taken with auto.

Post from RICOH THETA. -Spherical Image - RICOH THETA
Optional settings such as "noise reduction" and "HDR shooting" are available when shooting with auto. The following things set with auto + noise reduction using THETA SC are certainly cleared than when shooting with only auto. If it is set to manual mode, long-time exposure shooting etc. are also possible, but even in auto it is likely to be able to shoot nightly enough.

Post from RICOH THETA. -Spherical Image - RICOH THETA
When you display "image in camera" after shooting it looks like the following. These images are still stored only in the camera and are not captured in the smartphone.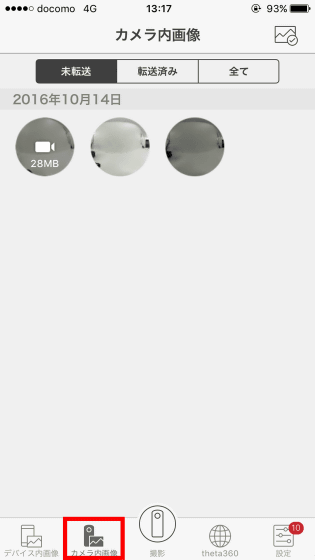 Tap the image if you want to capture it in the terminal OK.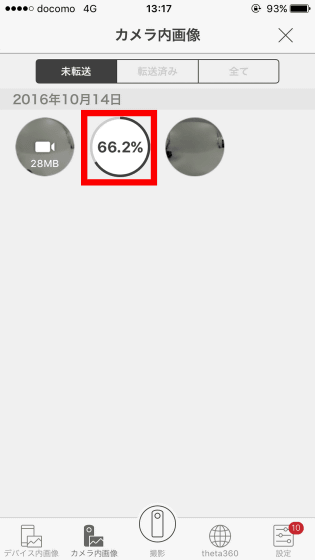 Then, the captured photos will be displayed not only in the "in-camera image" but also in the "device inside image" section.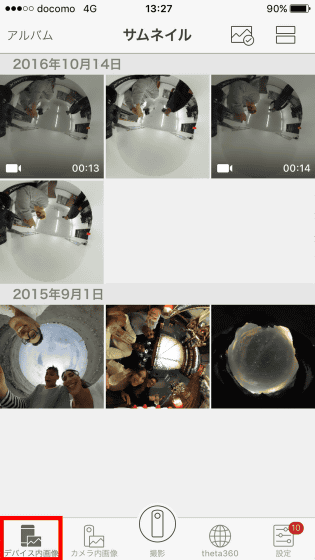 Easy editing of images etc. is possible here. Tap the pen icon at the bottom right ... ...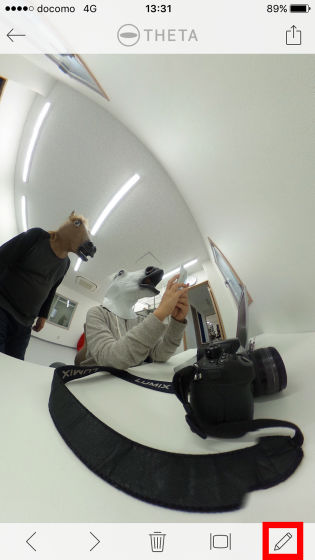 Two choices of "blur" and "edit with THETA +" appear, so tap "blur".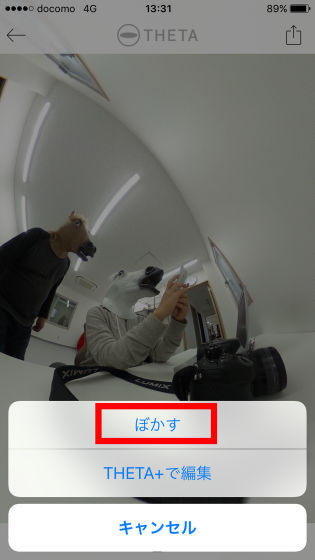 Just by tapping the screen with your finger, it became easy to blur the part you do not want to show. In addition to the application for shooting, the editing "THETA +By installing an application called "Filter," you can filter on 360 degree images, press stamps and put letters.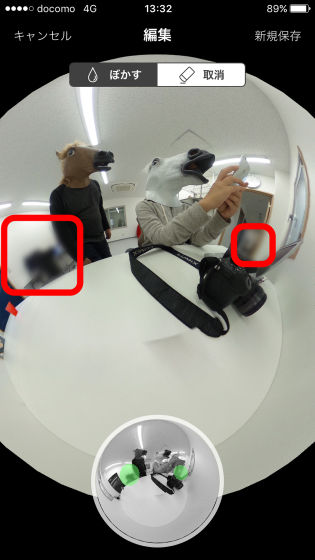 It is also possible to publish images taken by SNS etc. For example, to post an image on Twitter, you have to associate an app and a Twitter account from "Settings" ... ...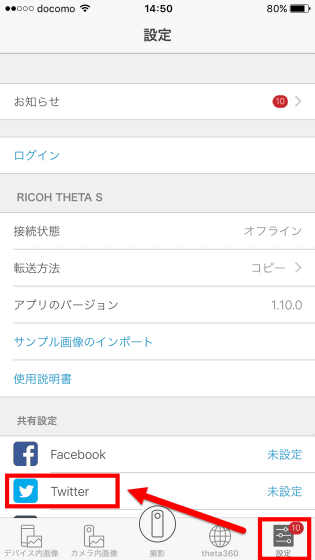 With the captured image open, tap the icon in the upper right of the screen and select "Share without specifying orientation" or "Share in current orientation". This time, I chose "Share without specifying direction".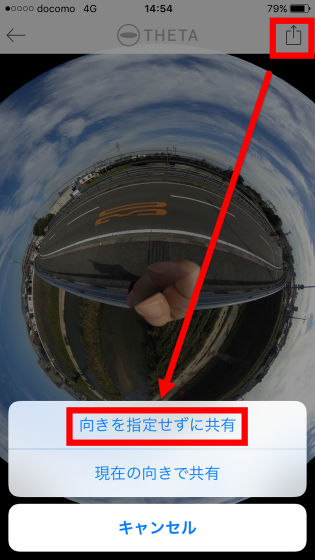 After that, enter comments arbitrarily and tap "Done" to complete.



Also, when I tap the movie icon at the top of the screen, I switched to movie shooting mode. Movie sizes are 1920 × 1080 (30 fps / 16 Mbps) and 1280 × 720 (15 fps / 6 Mbps). In the following image, there is "remaining time: about 1 hour 5 minutes", but in the case of THETA SC, the continuous shooting time of full HD video is up to 5 minutes.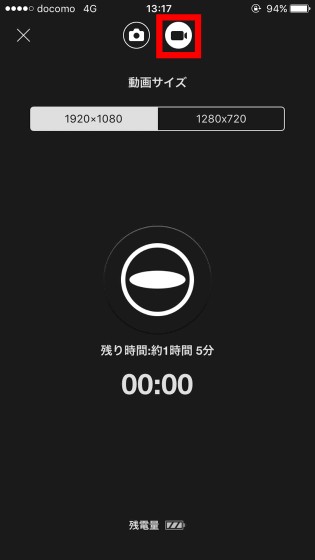 You can upload movies you have uploaded directly from YouTube. Select "YouTube" from "Setting" ... ....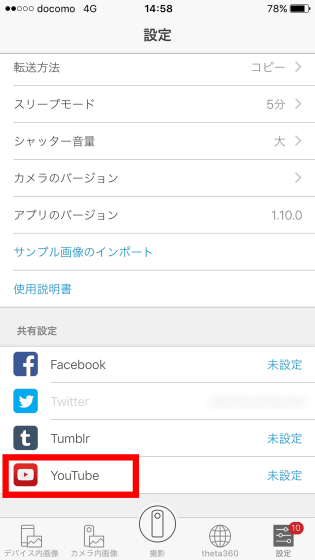 Tap "Yes" at "Authenticate Google Account".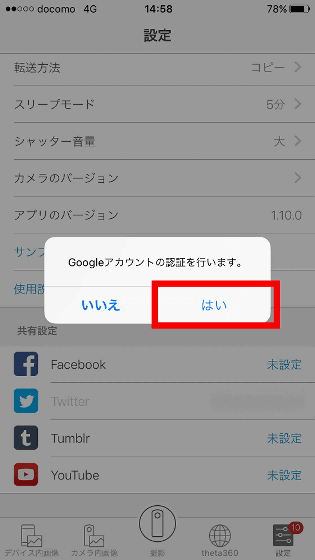 Enter account and password and tap "Login".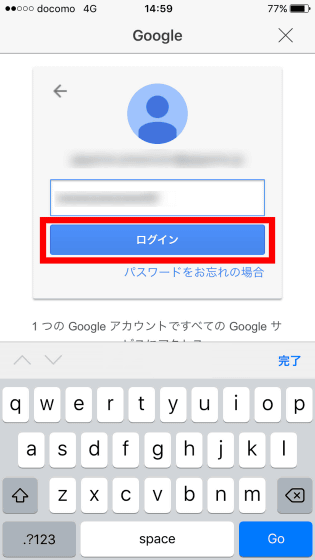 Select an account ......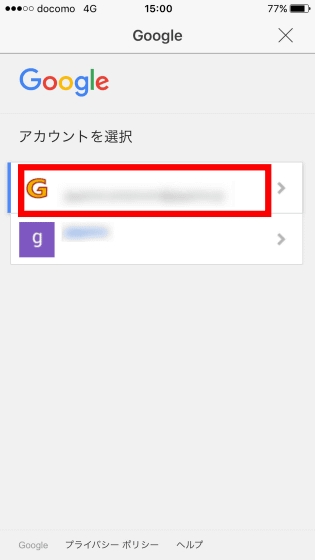 Press "Allow".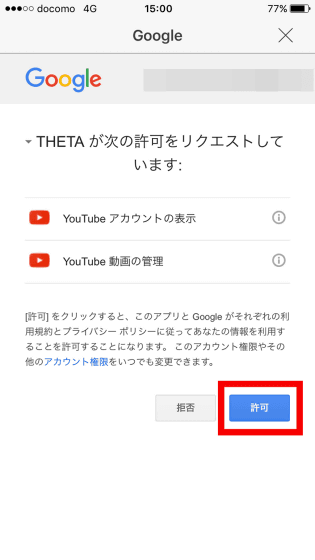 Then select "Share on YouTube" from the share icon at the top right of the movie you shot ... ...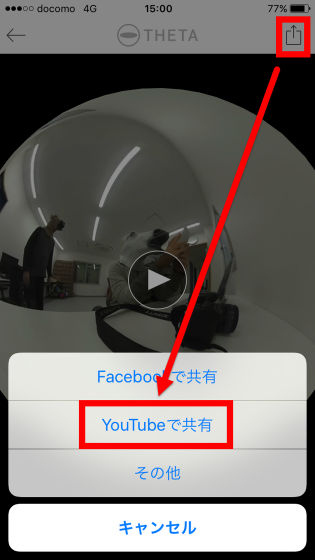 After entering title · description · privacy settings etc, tap "Done".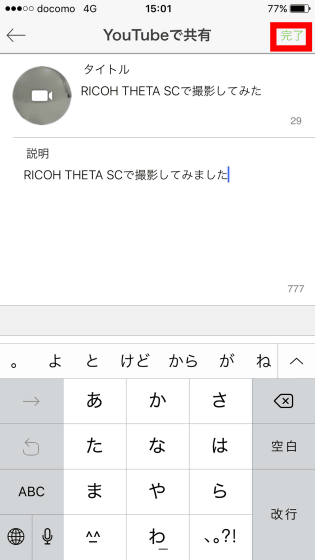 The movies uploaded directly from YouTube to YouTube are as follows.

Shot with RICOH THETA SC - YouTube


I shot with RICOH THETA SC 02 - YouTube


I shot a night view with "RICOH THETA SC" - YouTube


RICOH THETAWhen the first aircraft appeared in 2013Though reviewing from THETA SC, THETA SC has overwhelmingly improved image quality compared with the first generation, it is also capable of clear nighttime shooting, as well as special shooting modes such as long exposure shooting It is. Though THETA S is capable of live streaming and full-blown movie shooting in addition to them, since the price is suitable for it, people who did not extend their hands "The function may be overwhelmed ..." There should be also. Because THETA SC can be said to be a model specialized for photography, people who want to take pictures that changed with a 360-degree camera, and those who are interested in 360-degree cameras but who had difficulty getting a price with a bottleneck It is recommended.

The release date of THETA SC is Friday, October 28, 2016, and the specifications are as follows.


【Body color】 Blue · Beige · Pink · White
[Shooting distance] Approximately 10 cm ~ ∞ (from the tip of the lens)
[Shooting mode] Still images: Auto, Shutter priority, ISO priority * 5, Manual / video: Auto
[Exposure control mode] Program AE, shutter speed priority AE, ISO sensitivity priority AE, manual exposure
[Exposure compensation] Still image: Manual correction (-2.0 to + 2.0 EV 1/3 EV step)
[ISO sensitivity (standard output sensitivity)] Still image: ISO 100 to 1600 / Movie: ISO 100 to 1600
[White balance mode] Still image: auto, outdoor, shade, cloudy weather, incandescent lamp 1, incandescent light 2, daylight fluorescent light, day white fluorescent light, white fluorescent light, bulb color fluorescent light / video: auto
[Shutter speed] Still image: (other than manual mode) 1/8000 second to 1/8 second, (manual mode) 1/8000 second to 60 seconds / video: (L) 1/8000 second to 1/30 second, M) 1/8000 sec - 1/15 sec
【Recording medium】 Built-in memory: Approx. 8 GB
【Number of recordable images, time】 Still images: (L) about 1600, (M) 9000 images / movie (one recording time): up to 5 minutes / video (total recording time): (L) about 63 minutes, (M) about 171 minutes
[Lens _ F value] F 2.0
[Image pickup device _ size] 1 / 2.3 CMOS
[Number of effective pixels] Approximately 12 million pixels
[Number of output pixels] Approximately 14 million pixels equivalent