I tried using the application "VANISH 360" which can erase people and unnecessary things from the landscape of 360 ° free of charge free of charge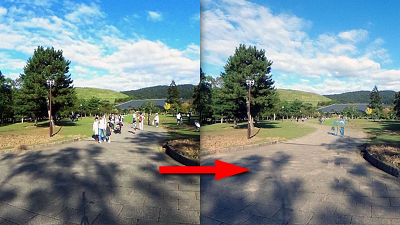 A celestial spherical camera that can shoot 360 degrees around with one button "RICOH THETA SIf you shoot with a camera like the one shown in the picture below, there are times when people are reflected in the scenery because the shooting range is too wide, or the photographer himself may be reflected. Applications that can shoot only the landscape by erasing such things by using image processing only moving things "VANISH 360Because it was that there was ", I decided to try out that effect.

VANISH 360 | ViRD Co., Ltd.
http://vird.co.jp/product/vanish360/

Let's compare the 360 ​​degree photograph taken with RICOH THETA S and the image taken with VANISH 360. First of all, the state of the image shot normally is such a feeling that many passers-by persons are reflected ... ...

Deer of Nara Park -Spherical Image - RICOH THETA

Processing with VANISH 360 looked like this. Due to the processing time at the time of shooting, it is not exactly the same timing as the shooting above, so you can not directly compare the number of pedestrians, but you can see that most people shadows are gone. On the other hand, it seems that there are places where processing traces are visible in places and places. By the way, we select "5 K" (5376 × 2688 pixels) as the image quality selected for setting.

Shooting at Nara park's deer · VANISH 360 -Spherical Image - RICOH THETA

◆ Installation of VANISH 360
I actually install the application. In addition, in order to proceed smoothly, it is better to connect the smartphone and THETA S in advance. Since I work with iPhone 6 this time, turn on Wi-Fi from "Settings" → "Wi-Fi" screen and connect to AP starting with "THETAXS". Please be aware that VANISH 360 is exclusively for THETA S.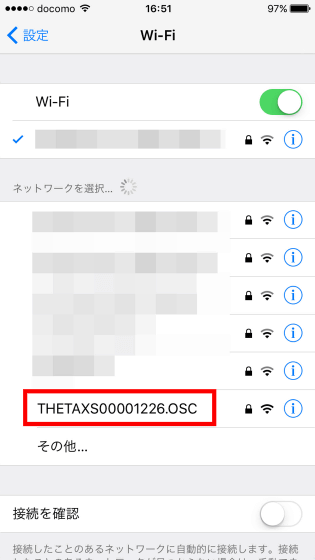 VANISH 360Android versionWhenIOS versionHas been released. Since I will install it on iPhone 6 this time, I access the App Store and tap "Get" to install.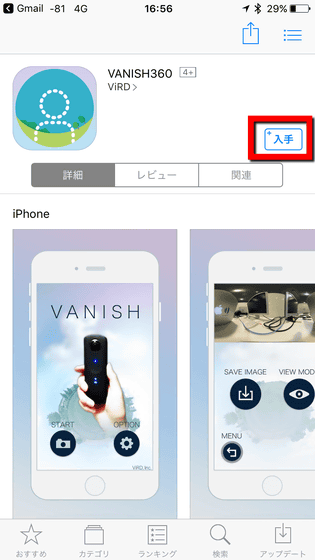 When the installation is completed, tap on the screen icon to start up.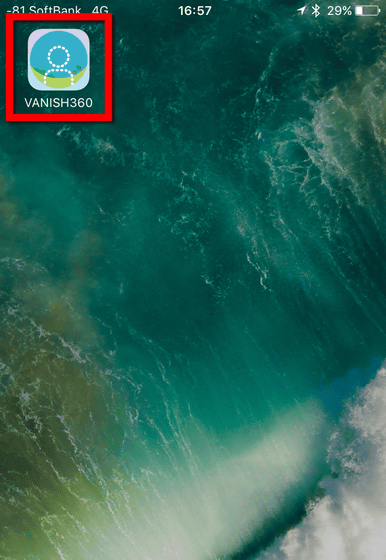 In the case of the first activation, tap "OK" as it asks for approval of access to "photo".



The startup screen is displayed. Tap "START" to proceed to shooting screen.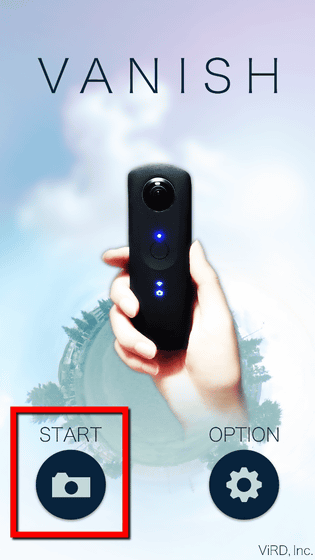 Important points are displayed before shooting. It is recommended that you confirm that you are connected to THETA S and Wi-Fi and fix it on a non-moving base such as a tripod while taking a picture. Also, even if you do not have a place to hide yourself, it is convenient to remember that if you are moving while shooting it will automatically be erased by processing. After checking all, tap the check mark to enter the shooting screen.



On the shooting screen, the shutter button is displayed in the center of the screen, the shutter speed and ISO setting at the bottom, the number of shutters, and buttons for selecting "2K" "5K" image quality are displayed at the bottom. The shutter speed can be set to 17 levels from "2/10000 seconds" to "1 second" according to the surrounding situation.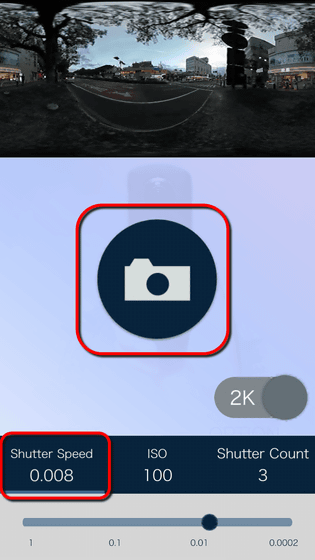 ISO can be set to 13 levels from 100 to 1600.



The number of shutters can be set from 3 times to 6 times in 1 time increments.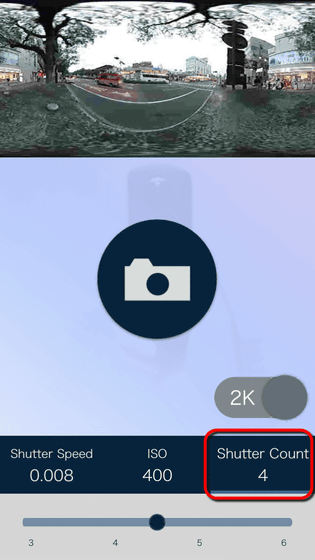 By tapping the image quality selection button, it is possible to select 2K image quality and 5K image quality. However, high-quality shooting is limited only on iPhone 6 or later.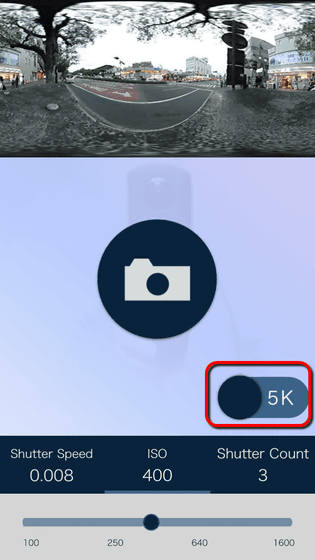 Also, while setting the image quality to 5 K, the number of shutters is fixed at 3 times.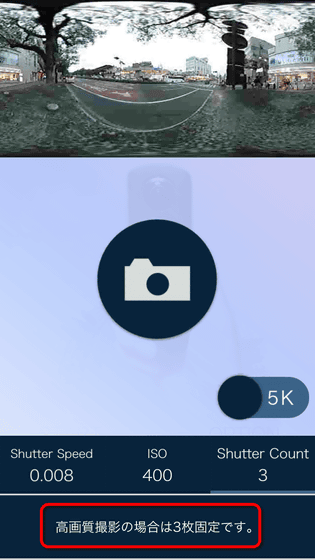 When you press the shutter button, the number of shots set automatically is done ... ....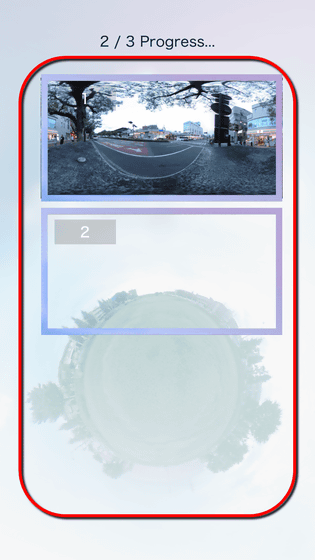 Processing starts immediately.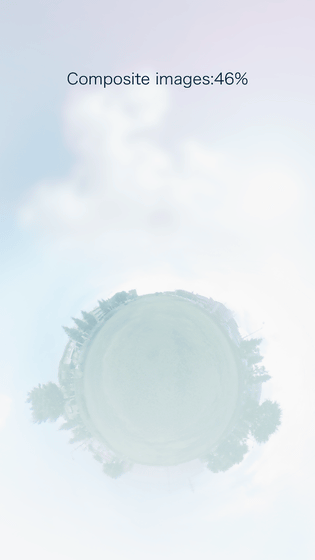 Processing is completed in a few seconds, and landscape pictures with nobody completed. However, since you can not view it immediately as it is, you must first save the image in the smartphone terminal. Tap "SAVE IMAGE" and save.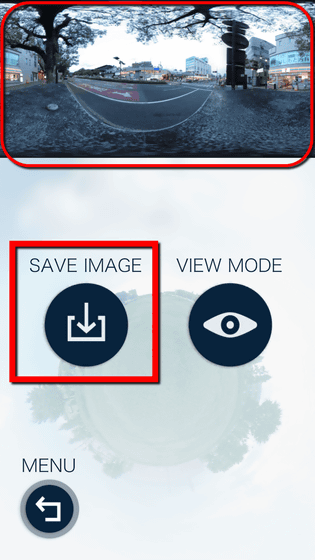 Next, start the RICOH genuine THETA S application and tap "Photo" where the image is saved.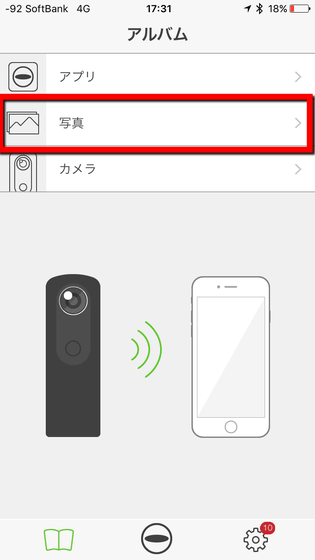 Then select the saved data.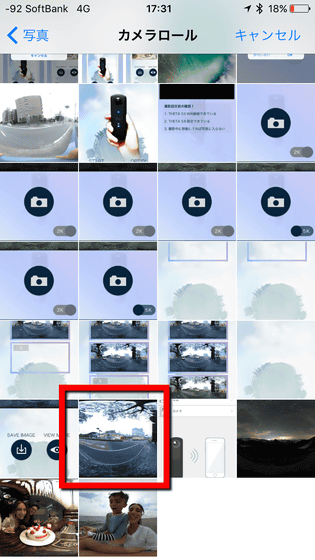 So the image actually taken is like this. The image quality is taken with "2K", and it may be unreasonable to see distortion of image quality compared to "5K" at the beginning of the article.

Post from RICOH THETA. -Spherical Image - RICOH THETA

In actual use, some processing residues sometimes occurred, but this is likely to be able to adjust to some extent by setting the brightness at the time of shooting. Nonetheless, it seems to be quite difficult to erase completely at the article creation stage, so I'd like to expect more updates since around here. Since the application itself can be used for free, if you are using RICOH THETA S, it is likely to be good to install it for the time being.