Pokemon GO Maintaining approximately 30% of the charge for the entire application industry despite the sharp decline in population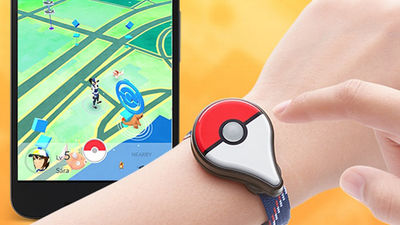 ByIphonedigital

Pokemon GO's play time and number of active users declinedAlthough it was reported that it is being reported, the latest survey found that the population of charged users of Pokemon GO in the United States has decreased by 79% from the peak time.

Pokémon GO's paying population dropped 79 percent still is the most profitable mobile game - Slice Intelligence
https://intelligence.slice.com/pokemon-gos-paying-population-dropped-79-percent-still-profitable-mobile-game/

According to a report on the Pokemon GO published by Slice Intelligence of the digital market survey company, the charged user population of Pokemon GO peaked on July 15, 2016 and then recorded a 79% drop as of August 30 You can see that it is.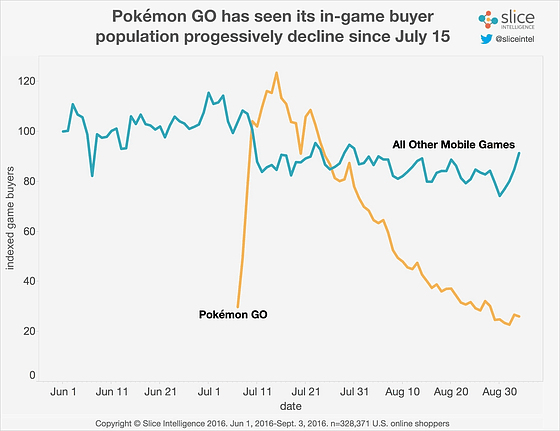 On the other hand, the total amount charged by users for the Pokemon GO application is tremendous, and around the peak July 15, the number of charged users across the mobile game industry has nearly doubled. In September it finally settled to the average value before Pokemon GO appeared.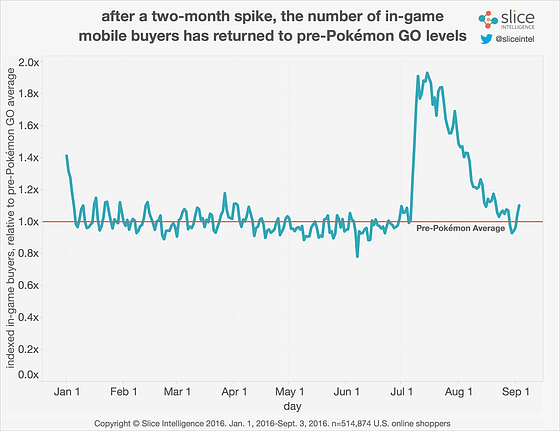 Looking at the revenue of the mobile game industry as a whole, revenues from Pokemon GO account for 28.4% of the mobile gaming industry, despite the fact that 79% of accounting users have disappeared from the peak hour. The revenue of "Candy Crush Saga" which is the super hit title before Pokemon GO is 4.5%, and Pokemon GO is still maintaining 1st place in the industry in the industry. According to the survey as of September 3, we know that a quarter of the mobile gaming industry's total billing users are purchasing poket coins etc. from the Pokemon GO application.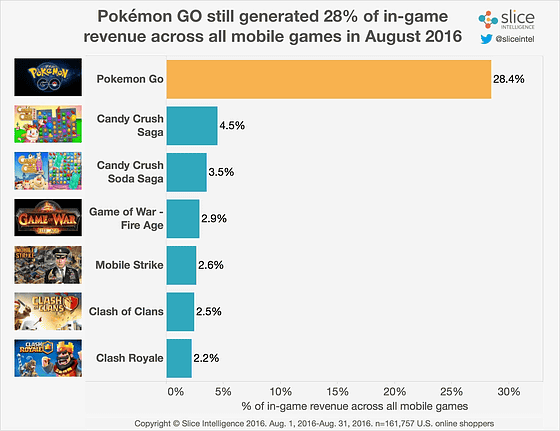 By combining "Pokemon", "AR game" and "GPS game", Niantec succeeded in skipping a phenomenal hit, but the game media · GameSpotThe hit of Pokemon GO also has a positive effect on NintendoNintendo's 3DS is in the USA and PS 4 holds the Xbox OneDevices sold in the US in July, The sales of "Pocket Monster Omega Ruby Alpha Sapphire" improved by 80%, and the sales of "Pocket Monster X · Y" doubled since 2015.

The official collaboration device "Pokémon GO Plus" will appear on September 16 (Friday), Apple's special event also announced support for Apple Watch. It is a Pokemon GO that seems to be still popular yet, but distribution of updates that implement the new function of "Aibo Pokemon" has been started overseas, and the details of the update are also released in Japan. In addition to being announced as follows, new functions are not available for terminals that are Rootized or Jailbreaked as a fraud countermeasure.

Pokémon GO
http://pokemongo.nianticlabs.com/ja/post/ver-update-091316/

Updated Pokémon GO version 0.37.0 (Android), 1.7.0 (iOS) began last weekend. Please acknowledge that it takes time to spread to all people. Details are as follows.

We implemented the function of Aibo Pokemon. You will be able to choose your Pokemon as a buddy. When you walk a certain distance together, you can get an American bonus.

Smaller Pokemon is easier to tap on map view

Fixed bug that animation was not displayed when eggs froze

Improved stability when connecting network switched

Other bug fixes

We are continuing our efforts to obtain illegal acquisitions of bots and data. As a part of it, Pokémon GO is no longer available on devices that are jailbroken, more rooted than this version. Please use Pokémon GO by downloading the regular application from Google Play, the App Store.