Due to a huge hit by Pokemon GO (Pokémon GO), an unofficial chat application "GoChat" has also exploded on the number of users and rapidly rise in server fee and the author is on the verge of bankruptcy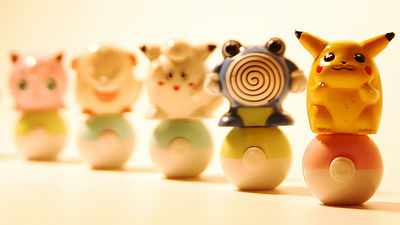 ByShannon | Flickr

The smartphone game "Pokémon GO" which searches for Pokemon in the real world has undergone beta testing and has been on service from July 5, 2016 abroad. Since Pokémon GO does not have a chat function, it is necessary to use a third party application to exchange information between users, but a chat application that can share location information such as Pokemon's appearance location "GoChat"As a result of increasing users at a stroke, the server fee rose sharply and the author crisis in bankruptcy.

This man's Pokémon GO chat app is so successful that it's driving him bank bank | The Verge
http://www.theverge.com/2016/7/11/12153370/gochat-pokemon-go-chat-app-jonathan-zarra-interview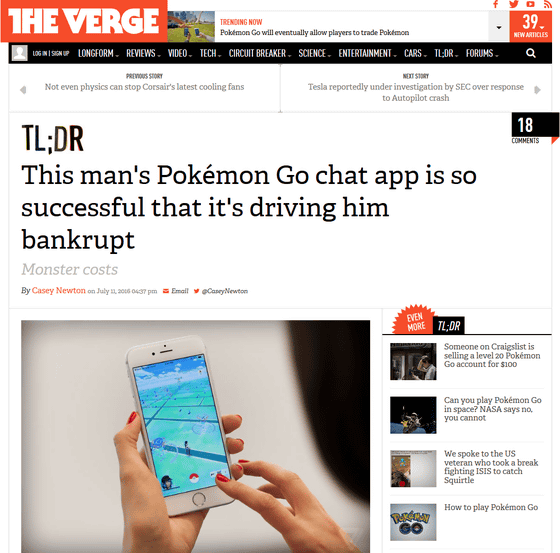 Jonathan Zarra, a freelance developer who developed GoChat, developed a chat application from noticing that "Pokémon GO does not have a chat function that allows users to talk with each other" while participating in the beta test of Pokémon GO I heard that he decided. GoChatIOSWhenAndroidIt is a free chat application for Pokémon GO users can exchange messages with position information in the game so it is possible to exchange information on the place of Pokemon and the information of "Pocket Stop" that can get items I can do it.



GoChat was released one day before Pokémon GO was released. GoChat has gained 1 million users in 5 days from publication and 600 requests per second to the server. Mr. Zarra posted it to Reddit "In the opening day of GoChat, it was installed a total of 10,000 times." After Pokémon GO has been released, GoChat has further expanded the number of downloads and is gaining in popularity to the top ten in the App Store rankings.

GoChat said that the server is getting down because the number of users has increased too rapidly. Problems such as the inability to register a new account and the application crashing while updating a message even after registering an account have occurred. Also, Mr. Zarra said that the server fee may go bankrupt.

Zarra says, "Because Pokémon GO is a game based on location information, the chat function should be installed in the application," he said. According to a survey of Sensor Tower analyzing smartphone applications, the number of downloads of Pokémon GO has reached 7.5 million, 10% of users use some third party chat application to play Pokémon GO It is said that there is.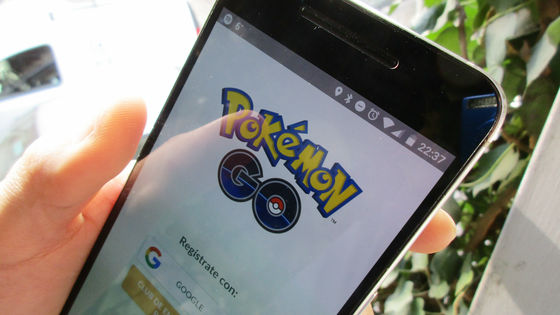 ByEduardo Woo

Also, although GoChat has already been downloaded 1 million times, it seems that no profit has occurred. Mr. Zarra is currently applying to the App Store for a version that added the advertisement to GoChat, Zarra said, "I dislike advertisements, and by raising revenue with GoChat, some legal I am worried that there may be some measures. "

Mr. Zarra does not disclose the development funds of GoChat, but according to Abdoelrhman Eaita of Upwork, a company that develops applications in collaboration with Zarra, it costs $ 4,000 to construct a new server of GoChat It will take about 410,000 yen). Mr. Zarra says, "We are currently thinking of server augmentation first".

In the United States, on the second day of Pokémon GO's service startInstall on 5% or more of Android deviceIt was said that it was done. Active soldier who installed Pokémon GO in the United States is starting the Pokémon GO at the forefront of the fight with ISIS spreading in Iraq and getting the turtle.

We spoke to the US veteran who took a break fighting ISIS to catch Squirtle | The Verge
http://www.theverge.com/2016/7/11/12149510/pokemon-go-fighting-isis-kurdistan