Although Android has 100% more application DL than iOS, iOS is 75% higher than sales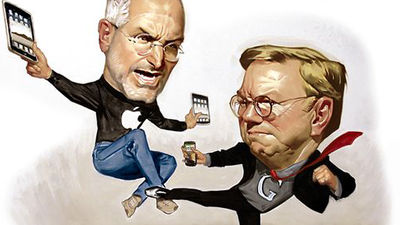 ByKim Støvring

Perform data analysis of the app storeApp AnniePublished a report on Android and iOS apps in 2015 and Google Play has more than doubled the number of App Store downloads but reveals that sales are 75% more on the App Store.

App Annie 2015 Retrospective
http://blog.appannie.com/app-annie-2015-retrospective/

App Annie 2015: Google Play saw 100% more downloads than the iOS App Store, but Apple generated 75% more revenue | VentureBeat | Mobile | by Emil Protalinski
http://venturebeat.com/2016/01/20/app-annie-2015-google-play-saw-100-more-downloads-than-the-ios-app-store-but-apple-generated-75-more-revenue/

The following graph published by App Annie shows the trend of the number of downloads on Google Play (Green) and App Store (Blue). As of 2013 the number of downloads was nearly the same for both, but Google Play increased the number of downloads with Gung Nun and increased the number of downloads by more than twice in iOS in 2015.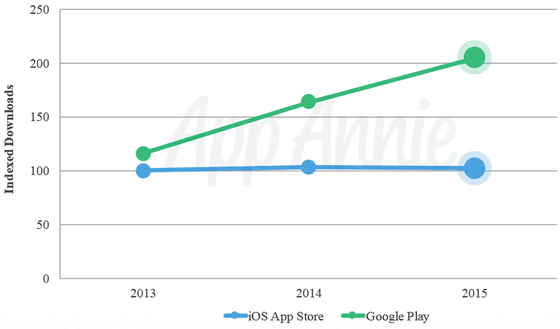 On the other hand, when you look at the graph on the sales of the application, the ranking of Google Play and the App Store is reversed. In 2014, the App Store had 70% more sales than Google Play, but the difference did not shrink, it increased to 75% in 2015.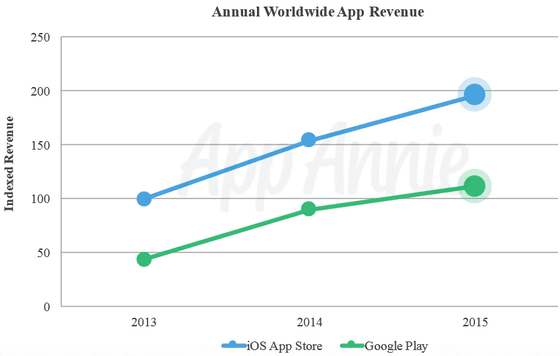 Based on this result, IT-related media VentureBeat predicts "Although iOS has greatly drained on Android due to market share, iOS users may have more money to spend on apps." I will.

Another noteworthy point in App Annie's report is that Brazil, India, Indonesia, Turkey and Mexico are contributing to the increase in sales of iOS in the markets of Brazil, India, Indonesia, Turkey and Mexico That is the market of China and Japan.

Please note that the report does not contain any data on Windows Phone application for Windows Phone.