"Microsoft has lost user selection and privacy on Windows 10," the Electronic Frontier Foundation criticized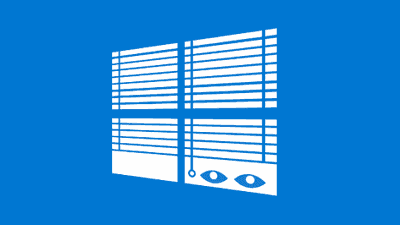 "Windows 10 will be the last WindowsIt is a special OS, also said to be said, Microsoft has been promoting its spread more than ever, including doing a free upgrade campaign from the old OS a lot. However, the Electronic Frontier Foundation (EFF) is complaining about Microsoft's way of spreading that Windows 10.

With Windows 10, Microsoft Blatantly Disregards User Choice and Privacy: A Deep Dive | Electronic Frontier Foundation
https://www.eff.org/deeplinks/2016/08/windows-10-microsoft-blatantly-disregards-user-choice-and-privacy-deep-dive

◆ A series of Windows 10 free upgrade promotions
Microsoft has set the goal of spreading Windows 10 to 1 billion devices by the end of 2018, has carried out a free upgrade campaign from an old OS such as Windows 7, pushed Windows 10 violently. However, criticism was raised from users against Microsoft that adopted a method that can be said to be too aggressive. The transition of the method adopted by Microsoft is as follows.

Pop-up advertising program of 'Will not you upgrade to Windows 10' is further aggressively changed - GIGAZINE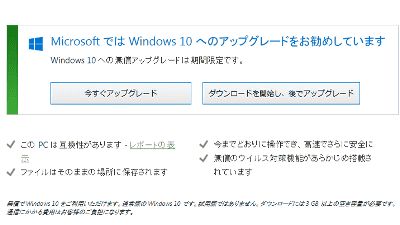 Reports that automated upgrading to Windows 10 will be on the verge of Windows 10 without permission from users - GIGAZINE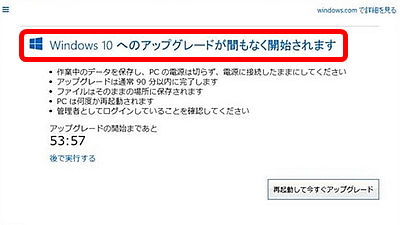 Automatic upgrade schedule notification to Windows 10 became even more aggravated, integrated with Windows Update, CELL - GIGAZINE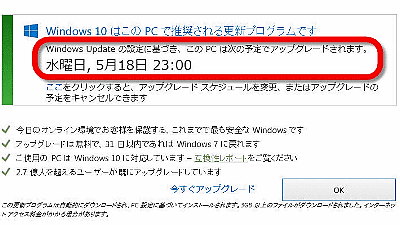 For this aggressive Microsoft method, volunteers created a tool to delete automatic update programs, whereas Microsoft will take countermeasures such as incorporating an automatic update tool into Windows Update security patches, Itachi between Microsoft and Microsoft continued.

Multi-function tool "GWX Control Panel" which can delete icon "Do not upgrade to Windows 10?" With one click - GIGAZINE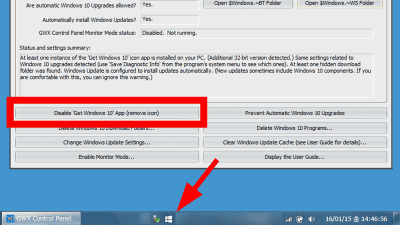 Automatic upgrade to Windows 10 tool to prevent terrorism with one click "Never 10" - GIGAZINE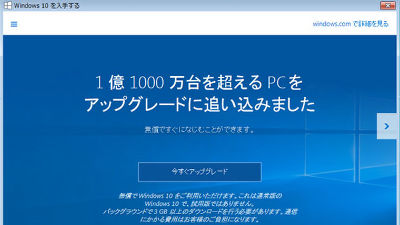 EFF, in a series of Microsoft strategies, clicking on the "X" button to close the popup notification window prompting update to Windows 10 which appeared in May 2016 interpreted as "agree" and Windows 10 I criticized himself severely as "very deceitful" about the means of automatic downloading.

◆ Disrespect User Privacy
EFF says that Microsoft's bad response is not limited to just the free upgrade campaign of Windows 10 that is easy to get into. Windows 10 sends unprecedented user data to the server. This is because Windows 10 is designed assuming an environment that is connected to the Internet all the time on the premise of using the cloud, and the representative new service is the voice assistant function "Cortana".

There is no doubt that there are a certain number of people who think Cortana's convenience conveniently, but personal information sent to use Cortana includes location data, text input, voice input, touch operation, web browsing history, Due to a wide variety of user-specific telemetry data and so on, due to balance with privacy protection, there are certain users who choose the road "Do not use Cortana function". However, the big problem is that there is no guarantee that the transmission of user data stops even if you opt out of the Cortana function. Although Microsoft says that user data is being aggregated and anonymized, EFF criticizes that it does not explain how to do it.