Insertion of Windows 10 upgrade advertisement into security patch of IE & advertisement to encourage system administrator to upgrade appears Appearance of Microsoft's seriousness revealed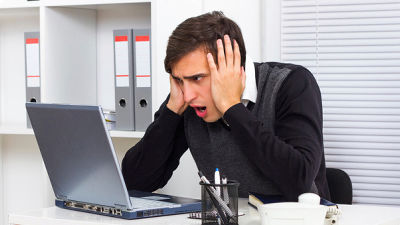 Although it is Microsoft that forbids the free upgrade to Windows 10 midway for the old OS user such as Windows 7 / 8.1, it turned out that it was newly included the Windows 10 upgrade advertisement in the security patch for Internet Explorer (IE). In addition, advertisements that prompt the system administrator to report the Windows 10 upgrade advertisement without permission on the client PC appear, and some system administrators are in a state of intense emergency.

Windows patch KB 3139929: When a security update is not a security update | InfoWorld
http://www.infoworld.com/article/3042155/microsoft-windows/windows-patch-kb-3139929-when-a-security-update-is-not-a-security-update.html

Admins beware: Domain-attached PCs are sprouting Get Windows 10 ads | InfoWorld
http://www.infoworld.com/article/3042397/microsoft-windows/admins-beware-domain-attached-pcs-are-sprouting-get-windows-10-ads.html

Patch distributed on monthly Windows Update "KB 3139929According to Microsoft, it is a program to fix several vulnerabilities included in IE.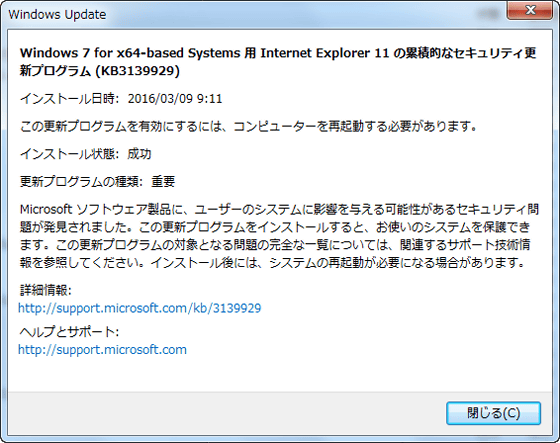 However, there is a provision in the explanation of Microsoft and it means "this security update includes several nonsecurity-related fixes for Internet Explorer. (Some updates not related to IE security restoration are included)".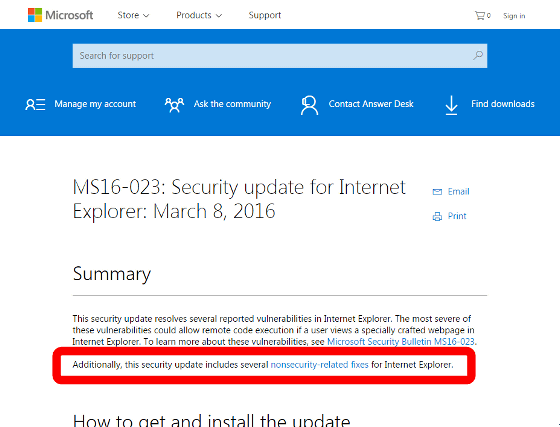 Further examination of the details, KB 3139929 contains "KB 3146449" patch.InfoWorldAccording to KB 3146449, when a user who is not migrating to Windows 10 added a new tab in IE, he / she seems to have the function to display that advertisement "Would you like to upgrade to Windows 10?"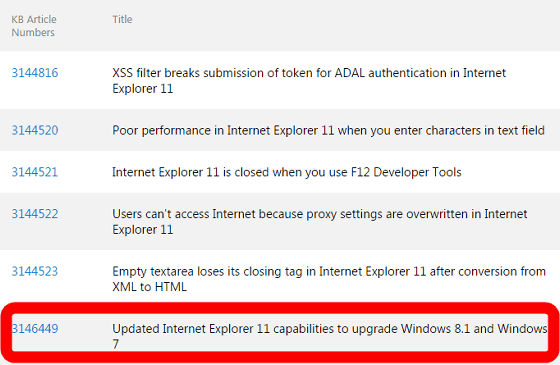 The troublesome thing is that KB 3146449 which displays the advertisement of Windows 10 is not displayed in "Windows Update" installed, so it can not be deleted individually. If you want to delete KB 3146449, you have to uninstall the entire security patch KB 313929 which fixed the vulnerability, and it is imperative to accept the vulnerability without accepting the vulnerability instead of displaying the advertisement. There is also a means to apply "patronize IE, do not use," after applying the patch of KB 3139929.

It is also known that Microsoft has put more pressure on IE users' pressure. According to some system administrator posts confirmed by InfoWorld,WSUSWhen I click the icon to display "Advertise to Windows 10?" Advertisement in the system tray on the PC of the user who does not have the administrator authority who accessed the server and patched it, the system administrator "Windows We are blocking the upgrade to 10. Please check your system administrator about upgrading to Windows 10. If you are an administrator you can find the way to upgrade to Windows 10 on the following page " It turned out to display advertisement saying. System administrators who have been forced to respond to client users thanks to this advertisement are getting angry with Microsoft's way of doing things.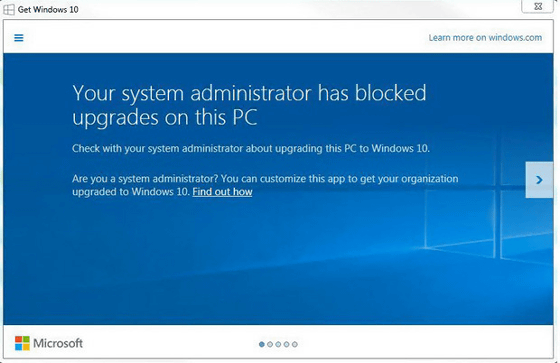 Microsoft's aggressive stance to push the upgrade to Windows 10 is barely. Until July 28, 2016, the free upgrade deadline for Windows 10, the intersection with users who do not want to upgrade to Microsoft and Windows 10 is likely to continue.