Automatic upgrade schedule notification to Windows 10 became even more aggravated and integrated with Windows Update, canceling method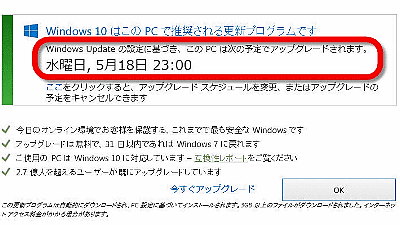 Insert Windows 10 upgrade advertisement into IE security patchOr,Automatic upgrade to Windows 10 tool to prevent terrorist with one click "appearedYou want to upgrade users to Windows 10, but we are continuing the battle against users who do not want to upgrade with Microsoft, but now we found out that automatic upgrade schedule notifications to Windows 10 integrated with Windows Update .

Microsoft Auto-Scheduling Windows 10 Updates
http://www.tomshardware.co.uk/windows-10-auto-schedules-updates,news-52980.html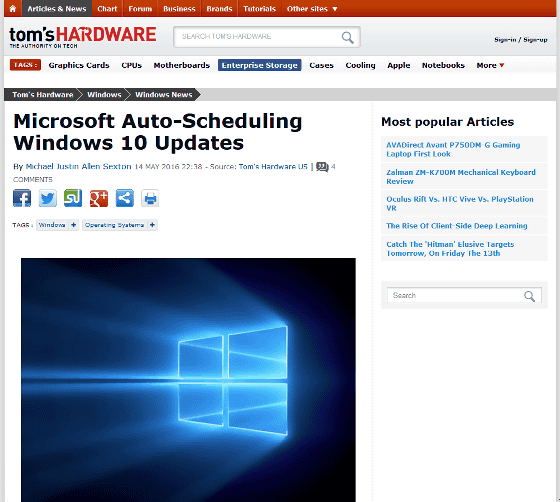 Microsoft is now providing a time and date that PC will auto-upgrade to Windows 10 [Update]
http://www.neowin.net/news/microsoft-is-now-providing-a-time-and-date-that-your-pc-will-auto-upgrade-to-windows-10



When you click on the Windows 10 upgrade icon or reboot the PC it will appear as follows. There seems to be a user who appears this display on the PC about two months ago, but in the past few days, the pop-up which I was asking "Do you want to upgrade to Windows 10?" On May 18th This PC will be upgraded with Windows Updates done ", said the number of users who are foretelled have increased rapidly. Click "here" to cancel.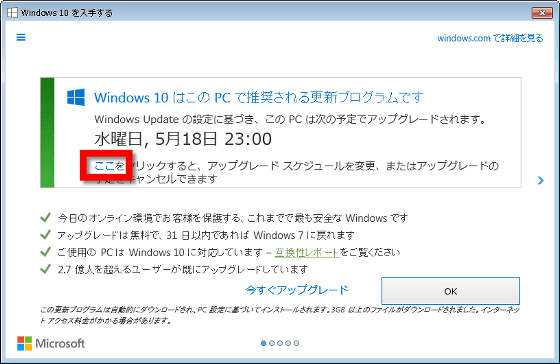 Please click on "I will cancel the upgrade schedule" under the date designation because it is said that please select the date and time of the upgrade.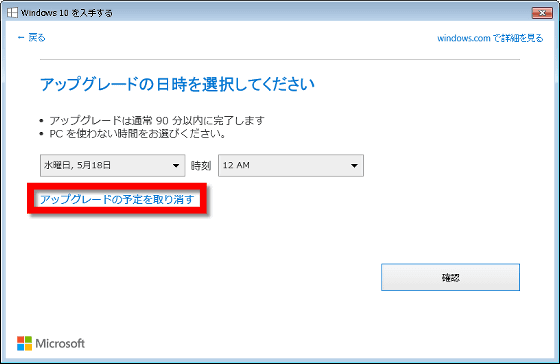 Click "Cancel the upgrade schedule".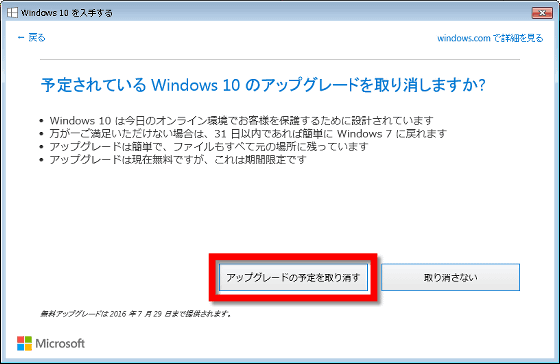 The automatic upgrade schedule seems to occur when "Update is installed automatically (Recommended)" as below, so if you are having trouble keeping up with the same automatic upgrade schedule in the future, please use the control panel Choose one of three things except "Automatically install updates" (recommended) "from Windows Update".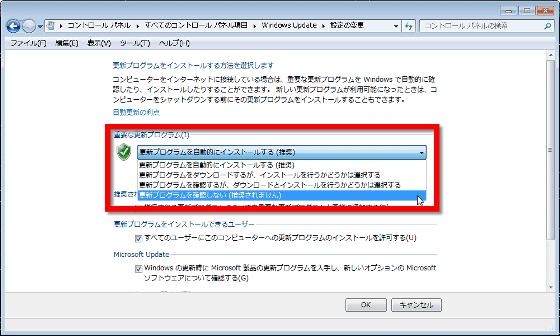 Of course, there is a choice to change the date of the upgrade or cancel the automatic upgrade schedule display, so it is not impossible to force it. However, some people may upgrade without noticing this display without noticing,Tom's HardwareMichael Justin pointed out.

The free upgrade period for Windows 10 is up to July 28, 2016, which is less than three months until the end of the term, but there is also a rumor that Microsoft will offer free on and after July 29 .

2016/05/23 added
A way to cancel after the black screen "officially upgrading Windows" is displayed from Microsoft has been released.


# Windows 10We released a video summarizing the cancellation procedure after the upgrade tohttps://t.co/3FkNqj4o1h※ It is a method to do after a black screen of "Upgrading Windows" is displayed.#MSHelpsJP

- Microsoft Support (@ MSHelpsJP)May 21, 2016