A countdown screen appears when upgrading to Windows 10, and it approaches the time of judgment day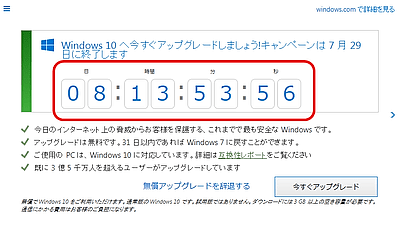 As the July 29, 2016 period, a deadline for free upgrades from Windows 7 / 8.1 to Windows 10, is getting close to ever, Microsoft will continue to refuse upgrades, prompting users to upgrade their free upgrades by displaying a countdown at the end I struck it in my hand.

Get Windows 10 app now shows a countdown to July 29; icon shows an alert
http://www.neowin.net/news/get-windows-10-app-now-shows-a-countdown-to-july-29-icon-shows-an-alert

Get Windows 10 app adds a countdown to July 29 deadline for free upgrade | Windows Central
http://www.windowscentral.com/get-windows-10-app-adds-countdown-july-29-deadline-free-upgrade

The battle between Microsoft wanting to upgrade to Windows 10 and users refusing to upgrade free will eventually cease on July 29th. On July 20th, after ten days to the deadline of the free upgrade, Microsoft will display a countdown to the deadline and call for users to do a free upgrade.

This is the new upgrade screen that appeared. The remaining time until the due date is displayed under the message "Please upgrade to Windows 10 now! Campaign ends on July 29", you can see that the time is getting worse.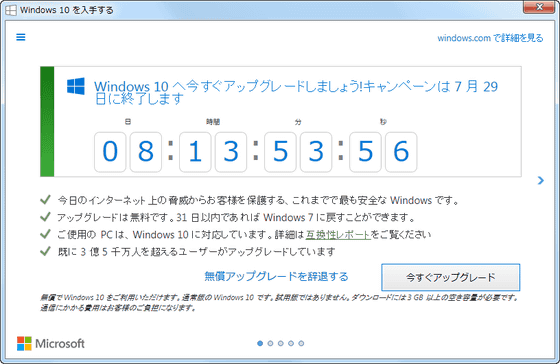 There are two menus on the upgrade screen: "I will decline a free upgrade" and "Upgrade now", and it seems that the upgrade will start when you click "Upgrade Now".

Microsoft also announces the deadline for a free upgrade on Twitter.

【9 days left until the end of the free period】

So far# WindowsYou can see the itinerary of the improvement of function from the list in a summary!
↓ ↓https://t.co/9HlrMy8tAB# Windows 10Pic.twitter.com/x2ACFg4pGB

- Windows_ Japan (@ Windows _ Japan)20th July 2016
Those who do not want to upgrade free of charge and who misunderstood do a good job if you refer to a movie that summarizes the cancellation procedure published by Microsoft.

# Windows 10We released a video summarizing the cancellation procedure after the upgrade tohttps://t.co/3FkNqj4o1h※ It is a method to do after a black screen of "Upgrading Windows" is displayed.#MSHelpsJP

- Microsoft Support (@ MSHelpsJP)May 21, 2016