I have asked the developer how it was born in the Southern Alps of Yamanashi, a cheap discount commonly owned laser processing machine "Smart Laser"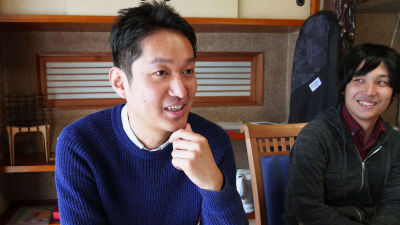 Hold the base in Yamanashi PrefectureSmartDIYsCreates a self-made type CO2 laser processing machine that realized the price of 1/10 of the price of a self-made type of laser processing machine with hand reached price of 50,000 yen range and high output of business level, I am tempted by Makers. We started talking about how startups of only two employees could realize the laser processing machines for professional class at super-discount prices, and where they are going in the future.

SmartDIYs of laser processing machine (cutter)
http://www.smartdiys.com/

You can understand what kind of hardware the smartDIYs' own home-made CO2 laser processing machine is, by looking at the following article.

I tried to use "Smart Laser CO 2" which realized the home laser cutter for professional level output & 1/10 price - GIGAZINE



I tried various processing with CO2 laser processing machine "Smart Laser CO 2" which realized output of business level at super price cheap - GIGAZINE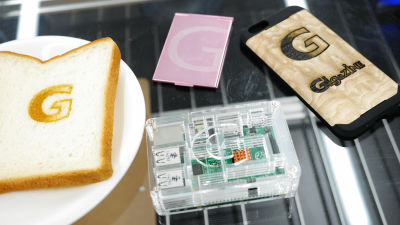 ◆ To Yamanashi Prefecture Minami Alps City smartDIYs
Arrived at smartDIYs ... ... but it was a fine residence with a garden in a quiet residential area.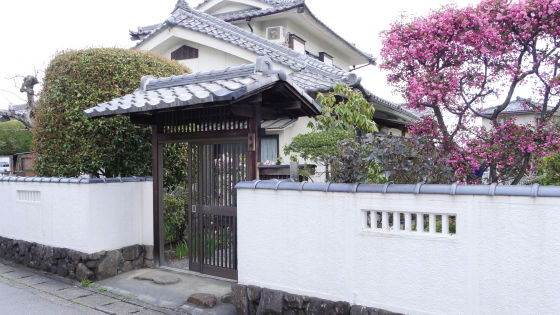 There is also a nameplate.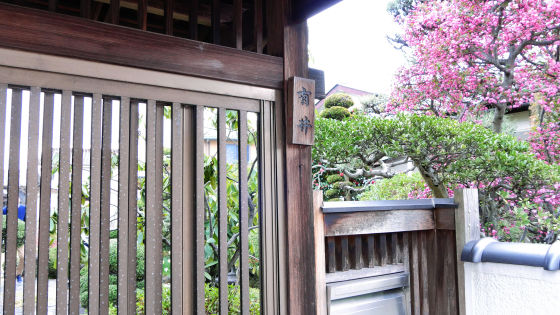 I definitely will not mistake smartDIYs as I go through the gate.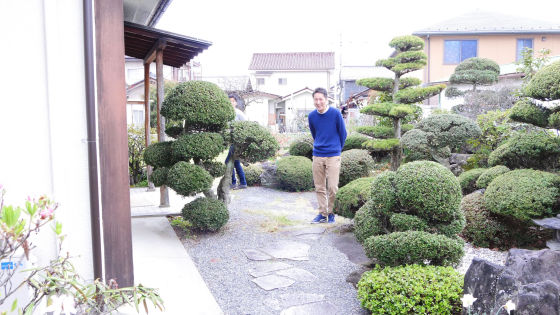 A well-maintained garden tree.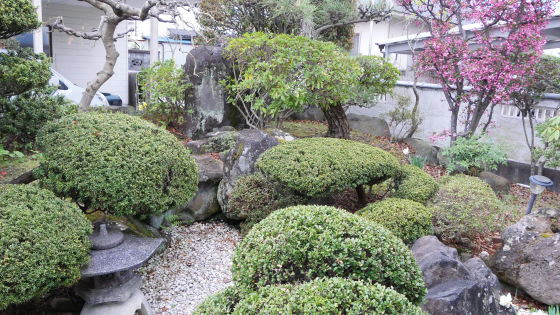 There is even a grape 's own vegetable garden.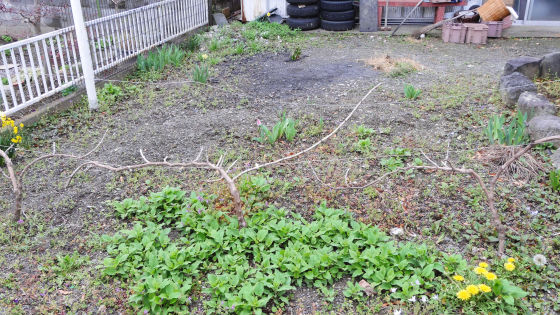 This is the building of smartDIYs.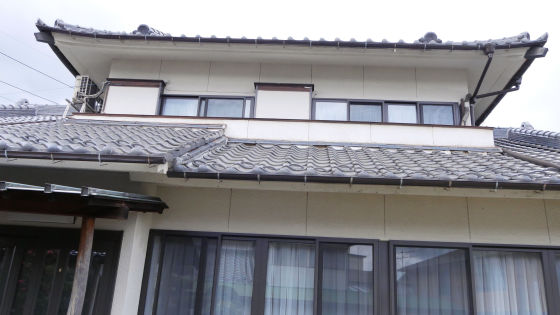 Sneak into the inside.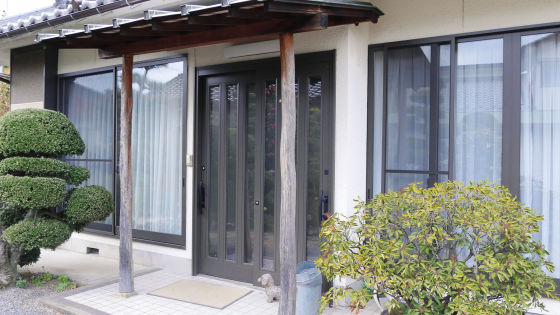 Beyond the corridor that entered the building ... ...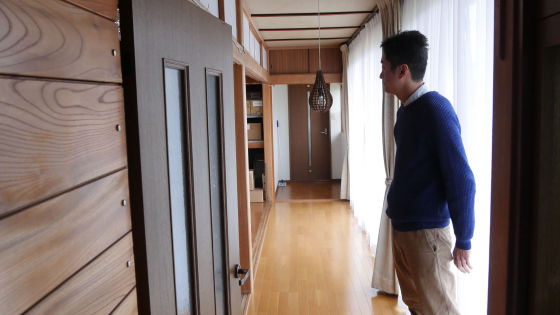 Development site.



Household assembled laser processing machine realizing affordable price and size "Smart Laser MiniI was born here.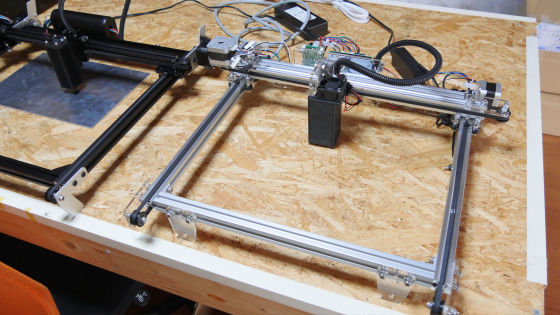 Work bench is also handmade.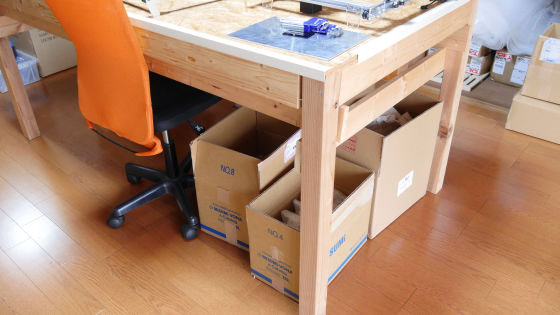 In the vicinity of the entrance there was a 3D printer used to manufacture the laser processing machine.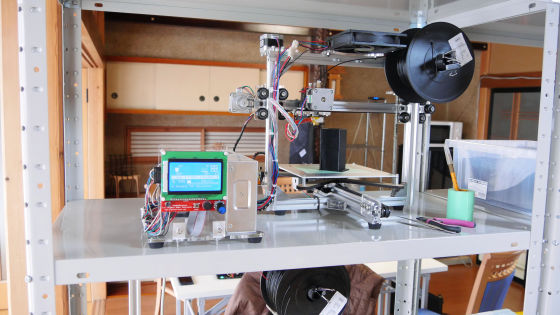 Apparently it seems to be making a laser protective cover.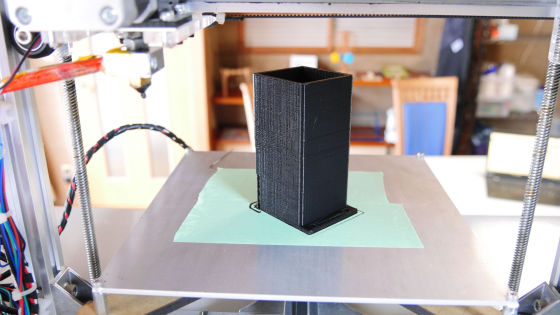 This is a part of the arrow in actual machine.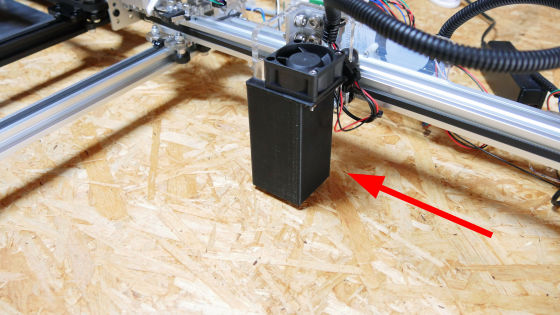 Space where the back room checks the quality of the product.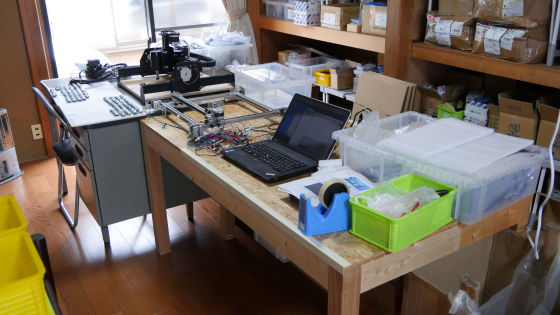 There is also Kimwipe of science-based wisdom.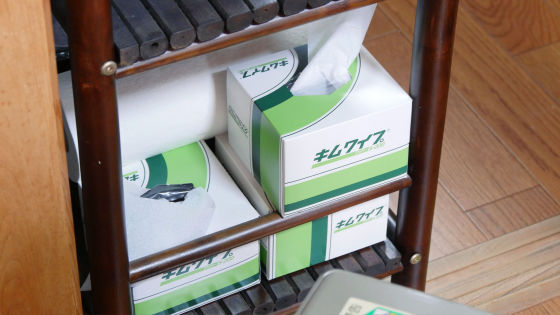 Chips waiting for inspection are sliding on the desk.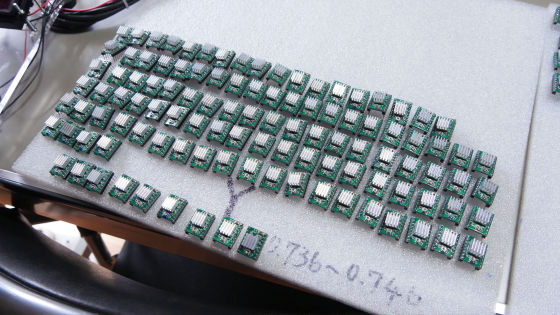 We inspect with various special jigs.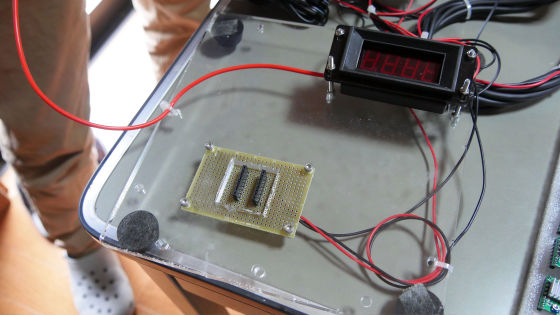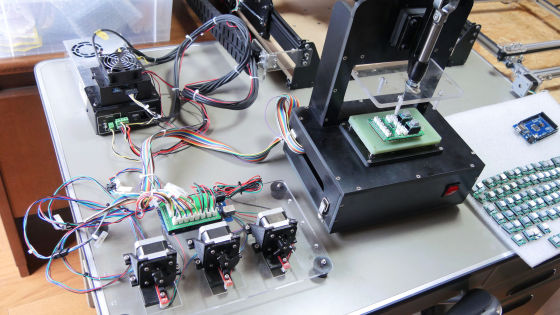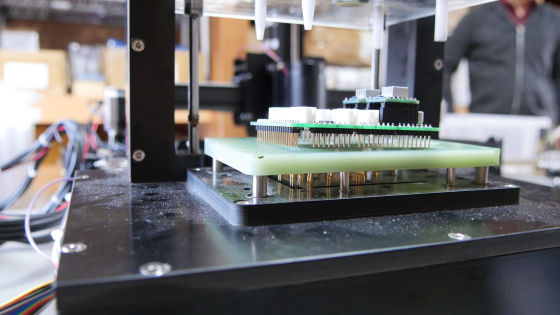 ◆ I asked about the background of laser processing machine development
In Yamanashi Prefecture Southern Alps City, we talked about how the laser processing machine was developed, Yoshiya Arii, CEO of smartDIYs, Makoto Ari of CMO and Mr. Hirokazu Shiojima of CTO I asked for it.

From the left, Mr. Makoto Ariel, Mr. Hiroaki Shioshima, Yoshiyoshi Arii.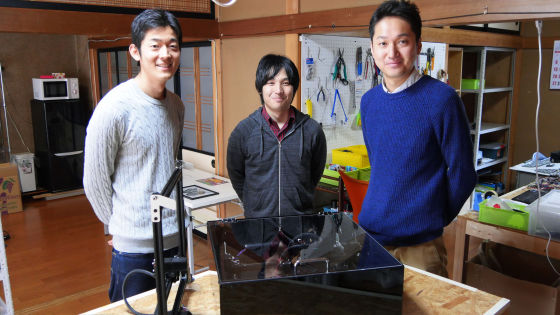 GIGAZINE (hereinafter referred to as "G"):
Today I will tell you about laser processing machine development. Thank you.

Yoshinari Ariyi (hereinafter referred to as "Arii (佳):"):
Thank you.

G:
SmartDIYs is a startup founded in March 2012 by Mr. Arii and Mr. Shiroshima.

Arii (Kei):
Yes. Me and Shijima worked for electronic parts manufacturer in Yamanashi prefecture. In the previous job, I mainly conducted LED inspection business for corporations.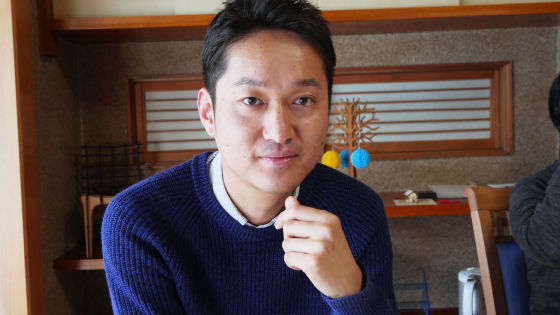 G:
What kind of work does LED inspection mean?

Arii (Kei):
It is the job of inspecting the products of LEDs used in electric lamps. Even if it says "white light" of an LED, in fact a slight color difference will occur. We manufactured a device to measure and classify it. You can see the variation by examining the chip of the LED light.

G:
After that, it was said to be independent.

Hiroyoshi Shioshima (hereinafter referred to as "Shiojima"):
The job is not as interesting as it is now, smoldering. It seems to have been independent for the time being without thinking about the future (laugh)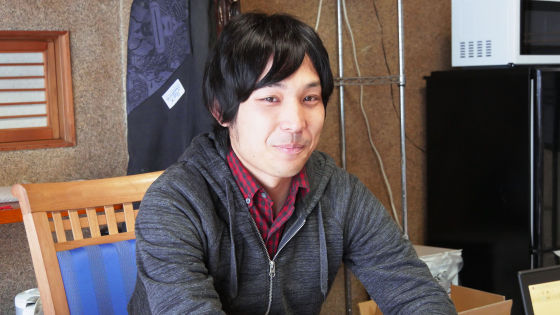 Arii (Kei):
I began a business to sell LED inspection equipment to Chinese manufacturers taking advantage of my previous experience, but it did not work.

G:
What is the cause?

Arii (Kei):
Large enterprises do not buy inspection equipment from two ventures, do they? If you think carefully.

G:
For how long did the situation not go wrong?

Arii (Kei):
"Smart Laser Mini"(Hereinafter referred to as" Mini ") was released in March of 2015, but it was smoldering until then (laugh)

G:
Is that the whole three years?

Arii (Kei):
Yes. While bringing LED inspection equipment to China, I repeated business trips, but it did not go well. Next, I went to Shenzhen, China to bring Chinese LED lighting to Japan. But it also does not work.

G:
He said that it was a terrible start.

Arii (Kei):
There was nothing to do but two of us stayed in the company with the company and was doing the net (lol)



G:
The company is this building.

Arii (Kei):
Yes. Originally my grandparents lived, but since I moved to the next place, I was able to use it as a company building.

Shiojima:
I live in the neighborhood, but I attended the company and stayed at the Internet all the time (laugh)

Arii (Kei):
I was able to see the outside world surprisingly than going to China when I was staying in the company. For me it was like a Silicon Valley here. Just around that timeKickstarterIn the world of cloud funding like "I have such an interesting product!" I was really stimulated. In the Kickstarter neighborhood,HAXLR 8RThere is a specialized team supporting hardware startup called "Hakuserator". It is a company supporting "startup" that says "100% success rate with Kickstarter".

Mr. Makoto Ariel (hereinafter written as "Arii (Makoto)"):
Accelerators with different fields such as manufacturing and marketing are located abroad. It is a business that is not familiar yet in Japan. I have an office in Shenzhen and I will take Americans there.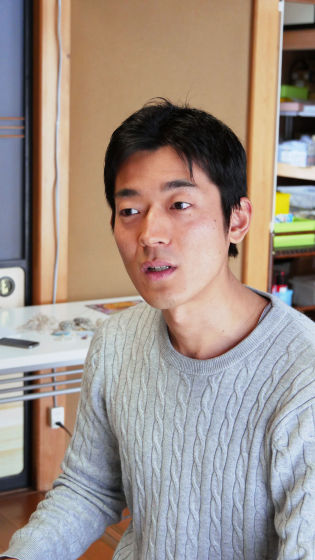 Arii (Kei):
Americans stayed in Shenzhen for only three months, and they made products there. It is shocking that such a thing happens in Shenzhen we were doing. At the same time, I wanted to make their own products (products) thinking "We can do it!

G:
Is it the laser processing machine I thought to make first?

Arii (Kei):
House. Initially I had imported and sold parts of 3D printers, and thought about making 3D printers. And it was what was in the workplace that was completed.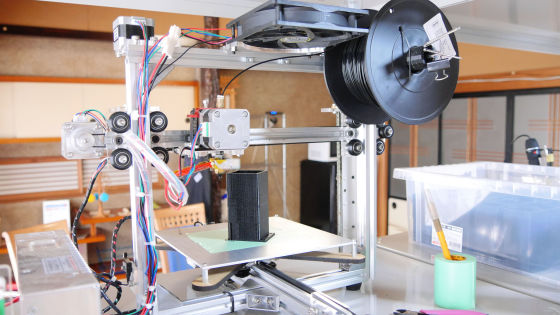 Arii (Makoto):
In the end, it was decided not to sell the 3D printer as a product, but to manufacture Mini's head cover. Accuracy and speed are also quite good ... ....

G:
Indeed, with 3D printing stopped. Why did it shift to laser processing machine development?

Arii (Kei):
When making 3D printers, we often use acrylic parts, so we need a laser cutter to cut acrylic parts. However, because I had no money, I tried to make it by themselves.

Arii (Makoto):
It is also due to the fact that there was no money and the location is Yamanashi. In Tokyo there are places where acrylic can be processed including Fab cafe etc, but because it is not in Yamanashi.

Arii (Kei):
The cost of cutting acrylic is high even if it is outsourced. Nonetheless, the laser processing machine cost me a million yen, although it is not very good, I could not buy it.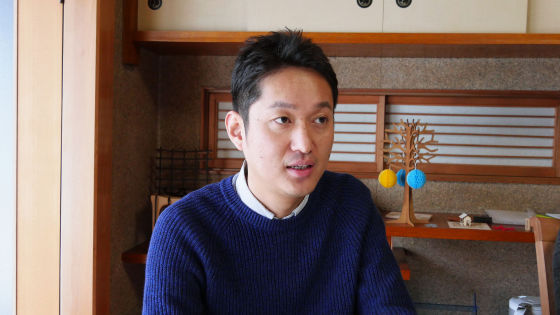 G:
Then, let's make it on our own. Is it suited to make a laser processing machine yourself?

Shiojima:
It was possible (laugh). When I was staying in the company, I was investigating the communities of European and American people who liked DIY quite deeply, so there was a lot of information up to the core part.

Arii (Kei):
While I was plucking, I studied each other quite a bit. I also made the first HP by themselves.

G:
It's all handmade.

Arii (Makoto):
It is because Yamanashi is not having money (laugh). Everyone in Tokyo has engineers, web designers and so on.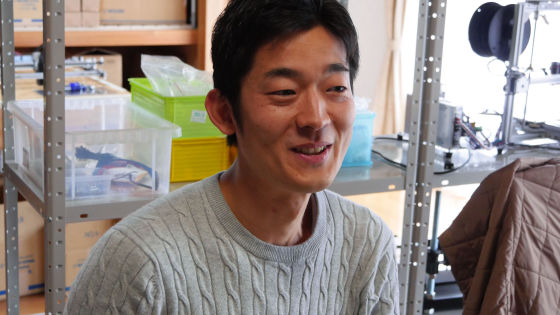 Arii (Kei):
It was also great to have tools to develop. CAD also has free tools, and there are also frameworks for making HP. I think that the environment that it is easy to do anything by themselves was in place.

G:
How long was it from the time the laser processing machine became necessary until completion?

Shiojima:
It began development around August 2014. GIGAZINE also made a 60 W CO 2 laser processing machine larger than the 40 W "Smart Laser CO 2" which I reviewed also as an internal machine. The first aircraft is in the garden shed and I am still using it.

Arii (Kei):
A large processing machine is necessary so that large acrylic boards can be cut, and since it is not for sale at all, it is full of handmade feeling (laugh)

Shiojima:
We began development in August and we finished it once at the end of the year.

G:
Did you move from the beginning?

Arii (Kei):
House. It was bad at all. At first it did not move at all. Actually, when we decided "I will make a laser processing machine!", We have never actually seen a laser processing machine. So I went to see the real thing at the Fab cafe in Shibuya by two people (lol)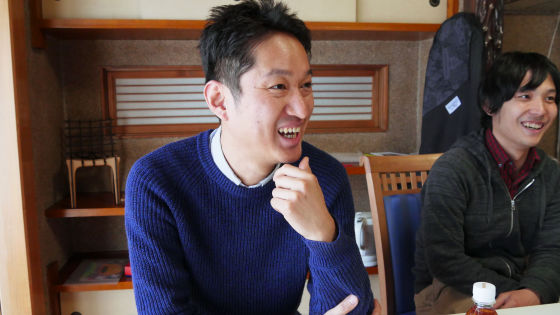 Arii (Makoto):
Originally the purpose was the manufacture and sale of 3D printers, but when prototypes of 3D printers were in place, it was extremely cheap products on the market and it was completely red ocean so we can not sell 3D printers . So, "I will sell this laser processing machine" was.

Shiojima:
As a matter of fact, 3D printers are talkative, but at that time I thought that there were not so many scenes that I could actually use.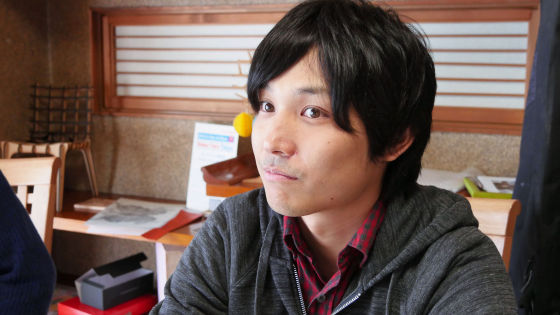 Arii (Kei):
The low price we were aiming for had problems with accuracy and sometimes we could not do good things there. Rather, the laser processing machine that I made to make 3D printers had come to feel that acrylic can also be cut and the application is broad.

Arii (Makoto):
In many cases, you do not know what to make with a 3D printer. It is also difficult to make 3D data. 2D laser processing machine is far easier to handle.

Arii (Kei):
Laser processing machine first started development from CO2, but indeed I thought that this processing machine could not be sold and worked on the development of a small Mini.

G:
Did you really want to sell CO2?

Arii (Kei):
That's right. For the time being, I tried trying the market reaction with Mini.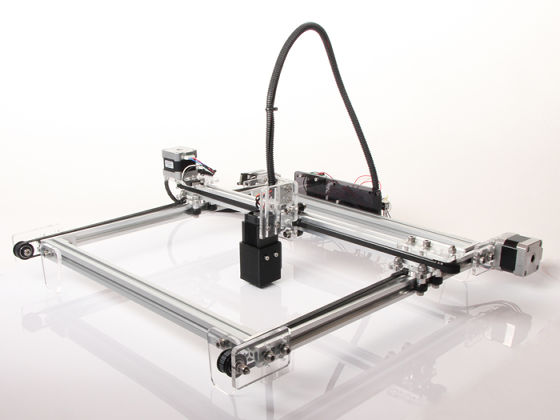 G:
It is interesting that the name of the product is not "Smart Laser" but "Smart Laser Mini". Normally, there is a product called "Smart Laser", and another version is "Smart Laser Mini" in that order. But I got it from "Mini".

Arii (Kei):
I agree. However, since I really wanted to emit a CO 2 laser, the order was from "Mini", but I decided to issue Smart Laser CO 2.

G:
How did you sell the first product, Mini?

Arii (Kei):
We made a small advertisement such as Twitter and Facebook advertisement. Although the inflow of HP by search increased from the middle, it seems that it was better to have the manual created on HP as a user guide, or to be higher in the search word such as "laser processing machine" It gradually leads to sales.

G:
Did Mini sold soon after it was released in March 2015?

Arii (Kei):
Although it was released in March, it was actually sold in the form of reservation sales as of February. Sales persons are individuals and laboratories of universities. Since then the order has increased, we gradually reviewed the manufacturing process, transferred the manufacturing process to China, and was developing Smart Laser CO2.

G:
It was said that there was a response at Mini, so the next is a big Smart Laser CO2.

Arii (Kei):
That's right. However, when I was about to release Smart Laser CO2, there were sales of Mini, there were exhibitions in the exhibition, etc. I had a hard time to sell it.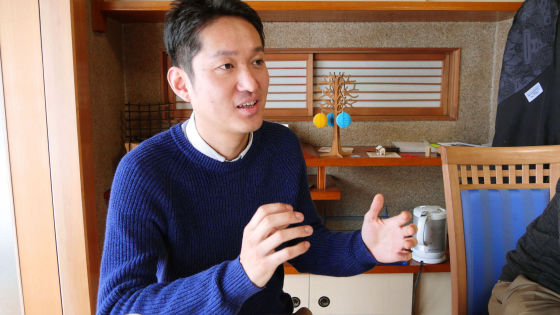 G:
The thing itself was completed, is not it?

Shiojima:
It was nearly complete. We are still doing manufacturing of Mini by two people, while also developing Smart Laser CO 2.

Arii (Kei):
At first I was making two boards and making cables.

G:
Mini's order is starting to increase, right?

Arii (Makoto):
Yes. Mini is also producing its own cover for now, but soldering it, attaching a board, and making a harness. Things are the same, but as sales volumes increased, we decided to move production to China.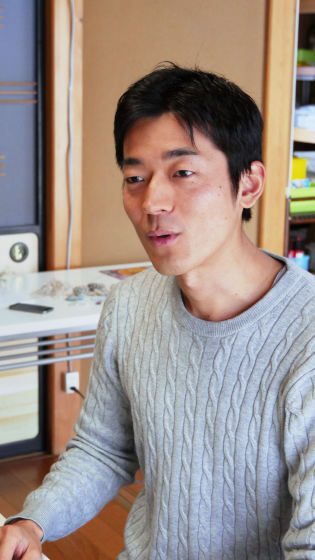 Arii (Kei):
The only check is still in Yamanashi.

G:
Even after the launch of Mini, was the employee system of two people?

Arii (Kei):
In August of 2015 I joined a person who was proficient in English and became three people. Even though my younger brother had been asked to get advice etc ... ....

Arii (Makoto):
Originally I was also involved in web marketing as a consultant, but I was advising because I heard that my brother sells it on the web. When I came home from the phone or Tokyo, I felt like "I do not want to do this".

Arii (Kei):
Although it had been saved quite a bit, it was sometimes called a brother, it was not a formal affiliation feeling, it was an ambiguous form somewhere.

G:
How was the sales?

Arii (Makoto):
(Show the graph) It is like this.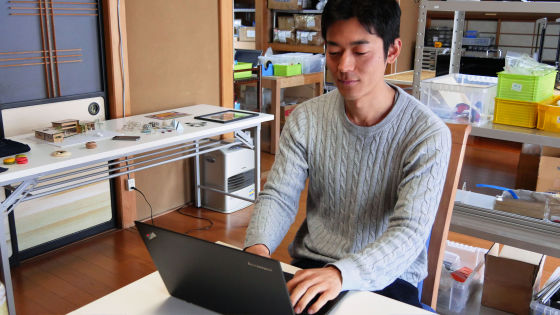 G:
It is a wonderful right rising.

Arii (Makoto):
With the addition of Smart Laser CO2, sales have increased dramatically. I also officially joined smartDIYs looking at this sale (lol)

Arii (Kei):
Now my sister is helping me. Inspection etc.

G:
What do the inspection work do?

Arii (Kei):
We will check the board etc using a dedicated jig. Experience in the previous job has greatly helped in developing jigs.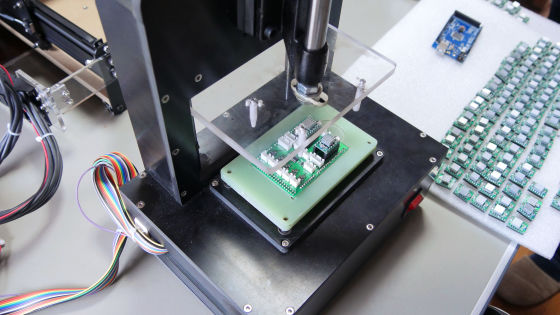 Arii (Makoto):
Also, as you know, you know Smart Laser CO 2, you know, I packed a lot of screws. However, since the amount handled is increasing, the inspection work is gradually completed on the Chinese side.

G:
When succeeding in selling Mini and now it is time to release Smart Laser CO 2, the CO 2 laser processing machine is also cool! Have you heard of such a response?

Shiojima:
As the number of units sold increased in Mini, I thought that it would be accepted. The user who actually purchased Mini's initial lot was the first customer who ordered Smart Laser CO 2. That person is an individual.

G:
Person's that size ... ....



Arii (Kei):
From the person who bought Mini I was getting a voice saying "I am unsatisfactory!" A question "Are you thinking about things with more output?" Received, "Actually ... there is something like this". Then, when announcing about the second product mart Laser CO2 for Mini users, please inquire as "When is it released?"

G:
Have you made reservations before Smart Laser CO 2 was released?

Arii (Kei):
I agree. From the university laboratories that purchased the Mini, we had a reservation before the launch.

G:
What is the initial sales volume?

Shiojima:
It is 30 units.

G:
Suddenly 30 units?

Arii (Kei):
I know that Smart Laser CO 2 was assembled, but as expected Smart Laser CO 2 was large in number, so the number of parts was so large that it was hard to manufacture compared to Mini. At the beginning we packed it with our company, but this is really heavy work.

G:
There were about 10 boxes in big packing items.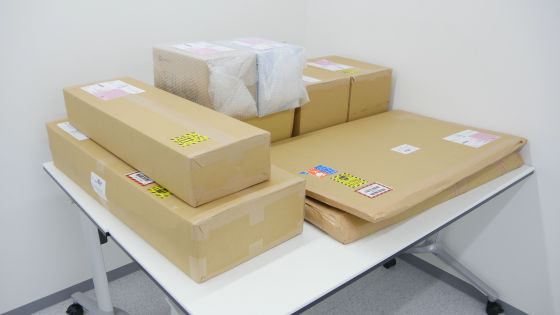 Shiojima:
From the person who bought it, I was told that the size and quantity of packed goods was too large "mail bomb!" (Laugh)

Arii (Kei):
Heavy parts such as sheet metal and aluminum frame in that are now packed in China.

Arii (Makoto):
The quantity has increased since the release of Smart Laser CO2. There are about 1 ton in 50 sets of Smart Laser CO2. I brought from China to Japan from a container lease, but it became export customs clearance and import clearance, it took a while at the beginning. It was also said that time was not able to be read out for the first time.

G:
How big is the container?

Arii (Makoto):
It is 20 feet in size. It enters 50 Smart Laser CO2.

G:
I do not enter as much as I expected.

Arii (Makoto):
"I will try to make it 40 feet this time!" (Laugh)

G:
Depending on the timing, it seems difficult to purchase if it becomes 50 units and 100 units.

Arii (Makoto):
Container size is also a problem, but there is a stock problem. Now I prepare a warehouse for big parts. In Saitama warehouse, we are considering a method to ship heavy and large parts from there. This will ensure a certain amount of inventory, and it is likely that the posture of immediate shipment will finally be finished.

SmartDIYs who started with just two people said that he plans to increase more members in the future.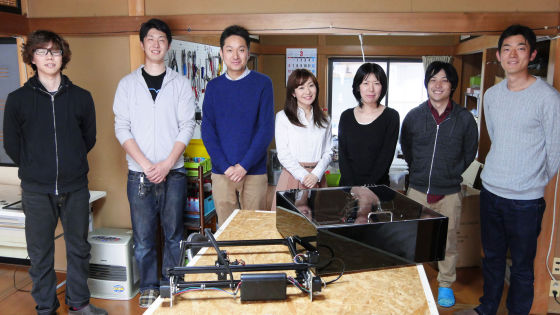 G:
As long as you listen to the story, it's really well. Without major failure.

Arii (Kei):
The first three years is a mass of failure (laugh). Now I thought that I was taking over from my previous job, so I could not concentrate on the product itself. Now I am concentrating on the product.

◆ New model "FABOOL Laser Mini"
G:
After overcoming the suffering of birth, it is smooth smartDIYs, but this time it seems that cloud funding will be tackled.

Arii (Kei):
On 12th April 2016READYFORsoprojectWe will launch. I believe that this project will enable us to further disseminate laser processing machines in Japan. If it goes well in the country, I would like to expand it overseas in the summer.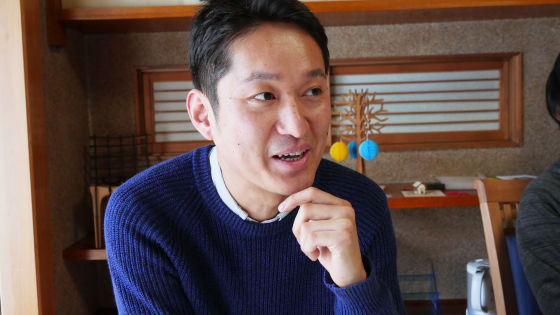 G:
Specifically, what kinds of products are issued?

Shiojima:
The product is an improved version of Mini. The performance is the same, but the number of parts is reduced to make it easier to assemble, making it more usable for more people.

G:
What is the price?

Arii (Kei):
Final adjustment is in progress, but it is going to be similar price.

G:
Mini is in the 50,000 yen range, is not it? Is it a guideline that the 50,000-yen range?

Arii (Kei):
It was the same as when developing Mini, but in our case, "price that we could reach" was about 50,000 yen. I value the thing that they want, I can buy it.

Arii (Makoto):
Those who had bought up to now, I think that there were many early adapters, makers, kikes who were OK even with bare boards. There are more elderly people than expected.

Arii (Kei):
I am helped by being taught variously (laugh)

Arii (Makoto):
I am told that "This place is better here."Facebook groupParticipants in attendance exceeded 500 people the other day, a very good community is in place.

G:
I see. You can receive feedback from the community.

Arii (Makoto):
Yes. There are quite a few aspects of a new aircraft that really made use of such a voice. Mini thought that it could be used in various ways more easily. In terms of both price and size, I think that "laser processing machines can be used by individuals for the first time" and I think that the needs of designers and other people are great. When that happened, I attempted to improve the part that it was hard to assemble and the substrate was exposed. I think that it looks cool as well.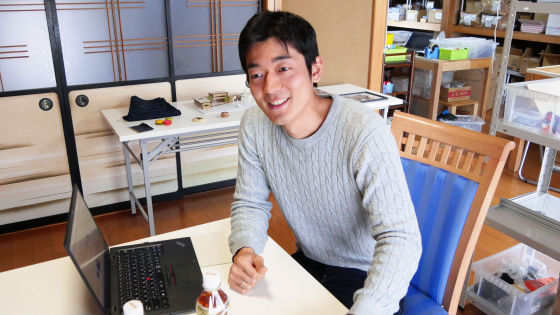 G:
Is that because you want to change the sales target for the reason you launched Crowd Funding?

Arii (Makoto):
It is a situation that you are now familiar with searching the Web, but the one who searches for "laser processing machine" is Rare. We think that you can use laser processing machines for designers, creators and semi-professional individuals so we thought that the place called crowdfunding is suitable for approaching those people from here . I thought that it was better as a channel of sales rather than seeking investment.

Shiojima:
It is a challenge how much we can accept.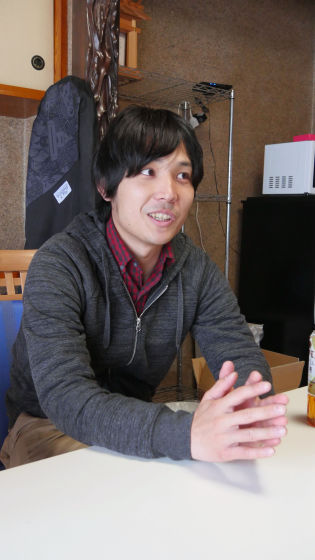 Arii (Makoto):
Actually, we had done "preregistering of cloud funding" at our HP, but there were applications for about 250 people in 2 days. I personally thought that I should go about 100 to 150 in about 3 weeks, so it is more than I expected, and I wonder if this would be a good idea.

G:
Is the name of the new Mini decided?

Arii (Kei):
"Fabool Laser Mini"is. I coined "Fab" + "Cool" as "Fabool". The conventional Mini (Smart Laser Mini) will end at this timing and Fabool Laser Mini will be the successor model.

So, I have checked the new model "Fabool Laser Mini" which will appear as next generation Mini. It is an improved version which keeps the same performance as Mini, making it easier to assemble.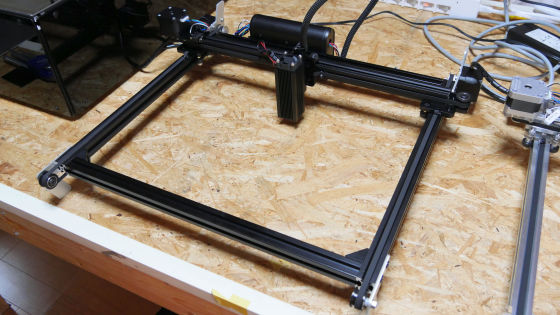 Traditional Mini used acrylic parts frequently with stay, stand etc ... ...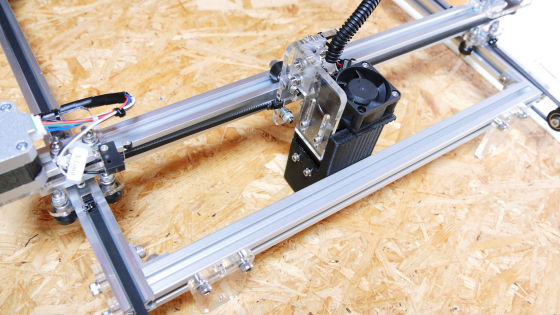 Fabool Laser Mini eliminates acrylic parts as much as possible and reduces the number of parts.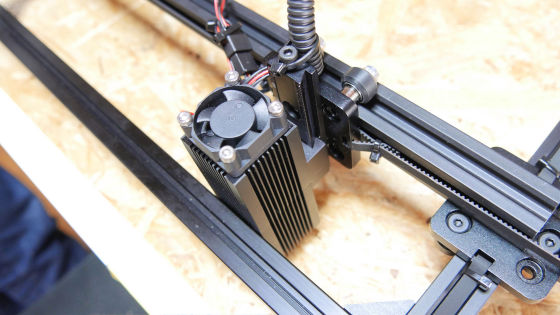 Four rollers to move the laser ......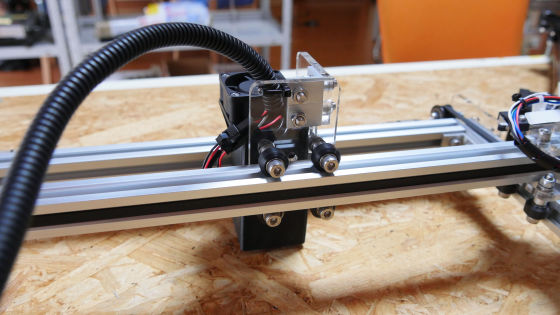 Changed to three. By reducing the number of rollers, stability is rather increasing. It does not simply reduce the number of parts, but also improves performance.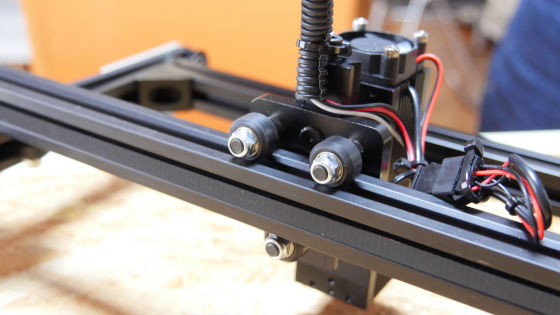 Laser cover changed from 3D printed resin case to metal sinking heat sink. While reducing the size, heat dissipation is also being enhanced.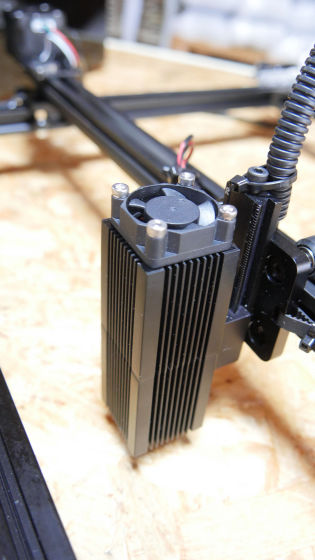 Adjustment mechanism in Z axis direction which was difficult to adjust has also been reviewed ... ...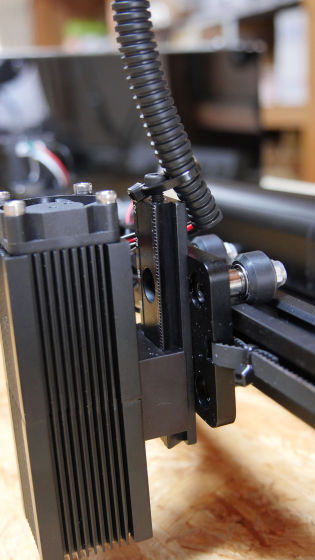 You can easily change the height with screws.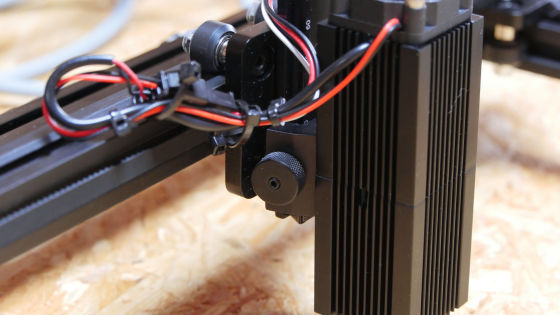 In the Mini board and wiring that was bared ......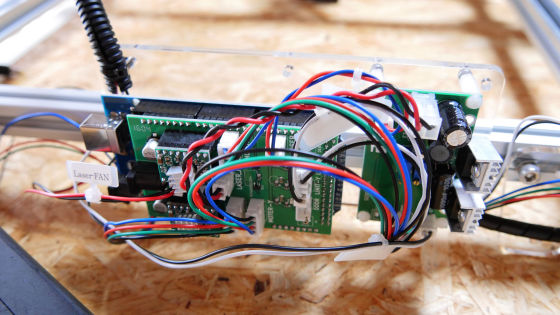 Clear with a protective cover.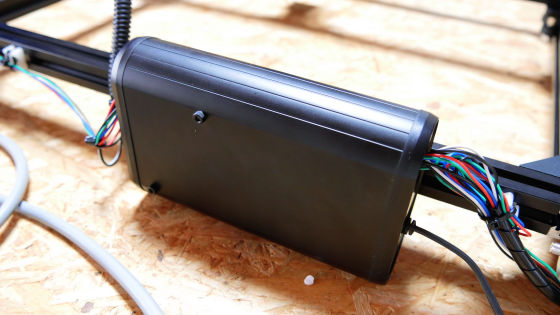 The stand is also changed to metal design and clean design.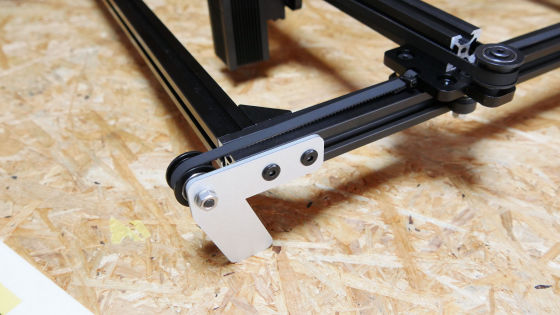 And also improvements that can be installed vertically. It is structured to take up space when not in use.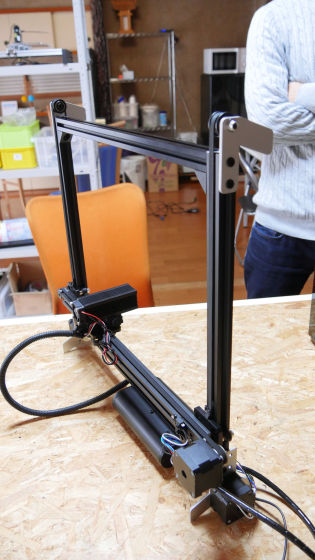 In addition, Fabool Laser Mini has its own "safety cover" as an option.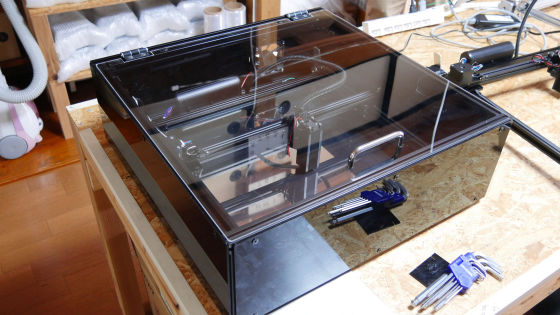 When Fabool Laser Mini is stored, it looks like this.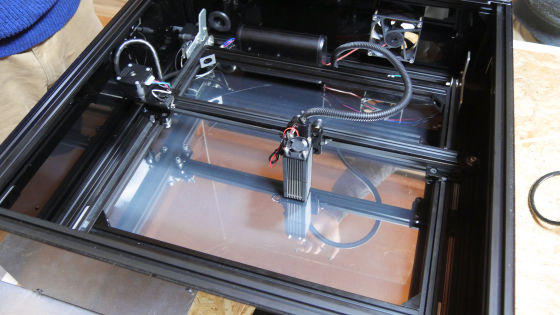 It is the same as Smart Laser CO2 that the laser irradiation stops automatically when the door is opened.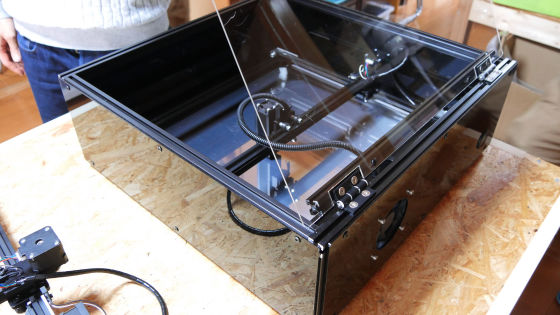 The transparent acrylic case of black color is a luxury ant. The Fabool Laser Mini is greatly enhanced in safety as well as design by safety cover.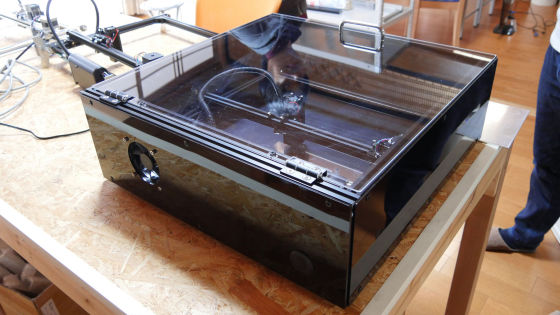 An example processed with Fabool Laser Mini looks like this.

Model for building. I make wood instead of styrene board and make it.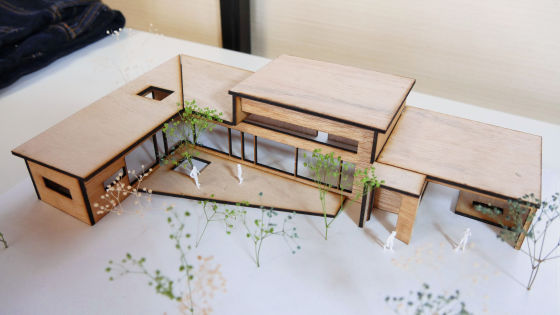 A fine cut which is difficult with manual work is also handy.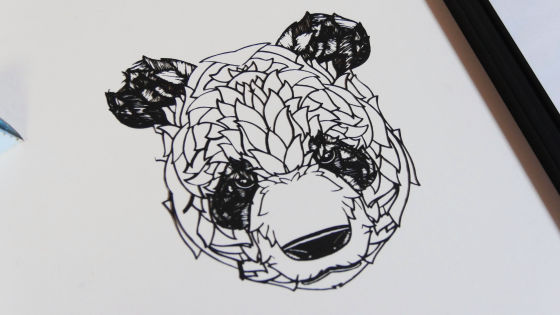 Making puzzles ......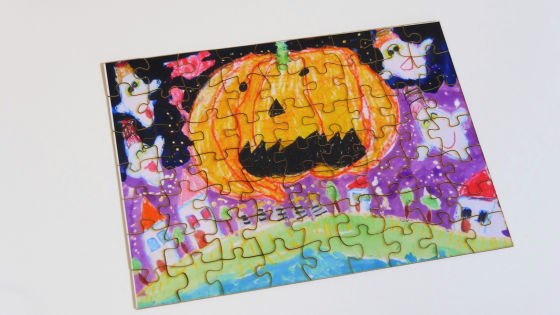 I made small articles.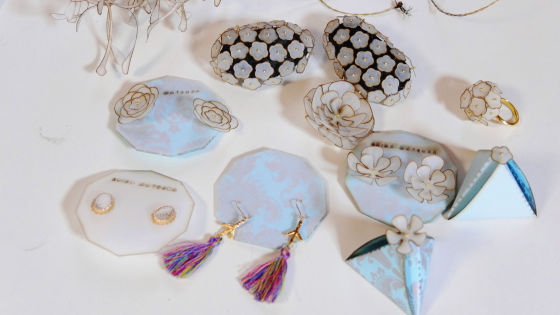 It is also possible to carve the name of the designer into the quilt decorating the accessory.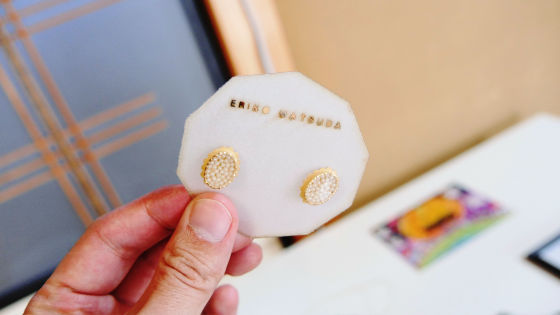 Not only cutting but also various laser processing OK. It's like an iPhone.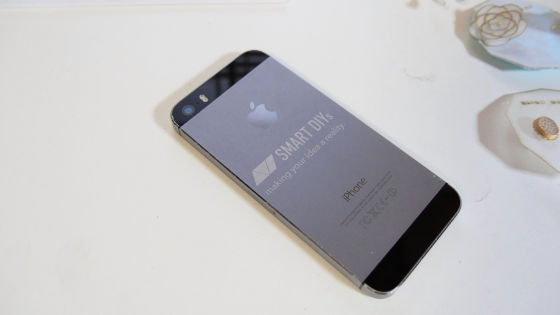 denim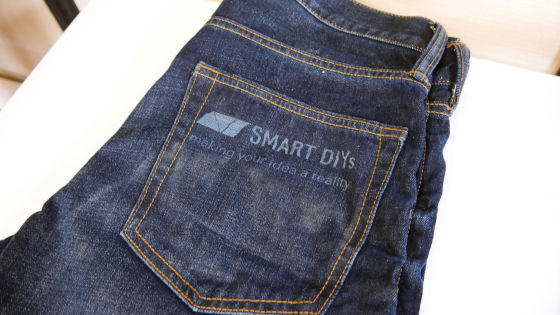 leather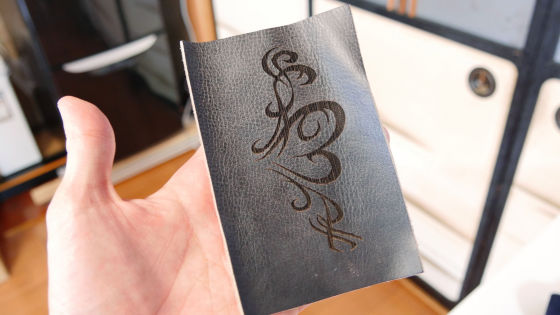 It can also be applied for making sweets.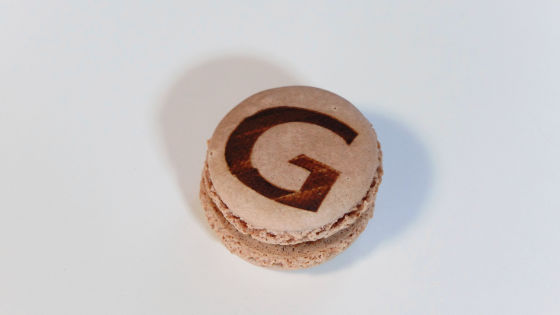 ◆ future of smartDIYs
Arii (Kei):
In the future, we will have a system called Smart Laser CO 2 as a large model and Fabool Laser Mini as a small model. And we are also considering a larger version of Smart Laser CO2.

G:
I listened to the talk of output 100 W class tightly ....

Arii (Kei):
Yes (haha). I believe that it is a platform like Kickstarter and that we can send out overseas. For high-end products that can cut to an iron plate for overseas (laugh). Basically they just make what they want.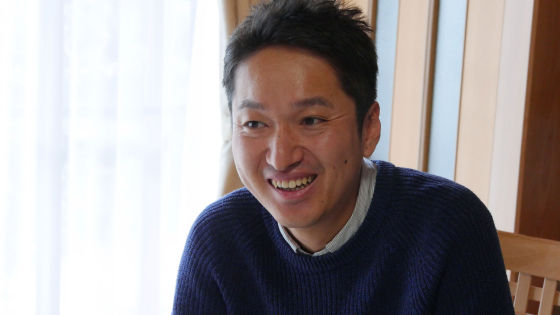 G:
I see. It changes the cloud funding platform according to the characteristics of the product, is not it? Currently it is only a laser processing machine, but it is not originally a laser specialty, is there no plan to put out other products? An existing 3D printer etc.

Arii (Makoto):
Actually there are already (laughs) because the 3D printer is Red Ocean.

Shiojima:
If it is something that changes the method (epoch - making), it is a feeling that it might sell.

Arii (Kei):
I can get something of the same price with the same price ... .... I would like to make out if I can make their own convincing things.

Arii (Makoto):
I have a big theme "digital machine tool". There are various kinds of 3D printers, laser processing machines, CNC processing machines and so on, but I would like to cherish them as a business domain. It happens to be a laser processing machine by chance, but what we are making is to make things that were expensive industrial products of several million yen so far, narrow down the functions with open source and even make it user assembled type I think that it is a simple thing, to make it tens of thousands of yen. I think that there are many machine tools still remaining in industrial products.

Arii (Kei):
Eventually I'd like to do an injection molding machine and so on.

Arii (Makoto):
Coolly speaking, "I want to democratize manufacturing" is what we want to do. If that is the case, if there is a milling machine, an injection molding machine and a laser cutter, you can make aluminum molds, make plastic by injection molding and cut with laser. It is interesting if it is a world like "It will become a factory with 3 points set of 150,000 yen".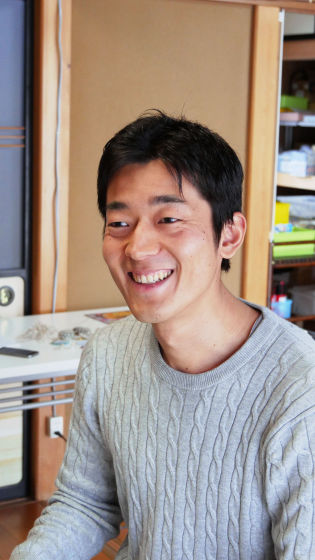 Shiojima:
I think the world will change a lot.

Arii (Kei):
I do not need to have all of them alone. Digital Fabrication is a world connected with data. I think that it will be a while ahead, I think that the world will come up to make things using my machine and someone's machine. I want to make smartDIYs "Personal Fabrication Device" for that time. I wanted that kind of environment for them, so I would like to realize that world.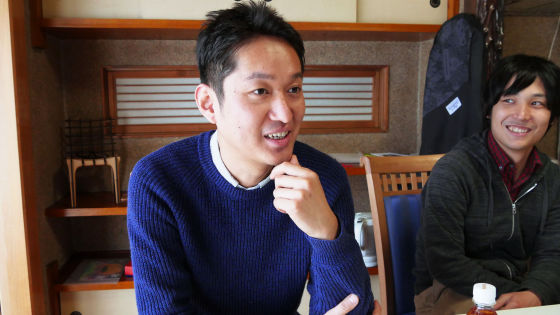 G:
Thank you for today.

◆ "FABOOL Laser Mini" Cloud Funding
From 10:00 am on April 12, 2016, the smartDIYs cloudfunding project has started with READYFOR.

Monozukuri changes. Laser processing machine of Five thousand yen FABOOL (smartDIYs (representative Yoshinari Aii)) - READYFOR (Lady Four)
https://readyfor.jp/projects/fabool-laser-mini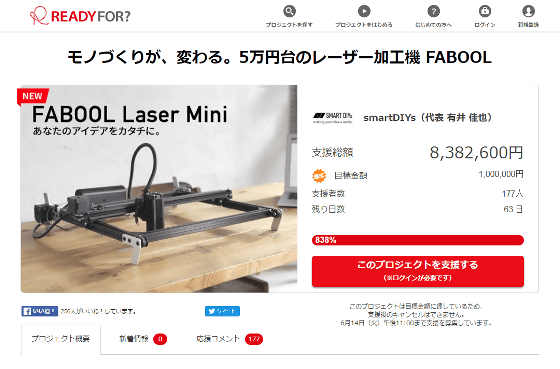 You can understand what you can do with FABOOL Laser Mini by seeing the following movie in one shot.

Monozukuri changes. Laser processing machine of 50,000 yen range (cutter) FABOOL Laser Mini - YouTube


In the "FABOOL Laser Mini" project showing a good start, such as achieving the target amount of 1 million yen at the beginning 26 minutes and exceeding 7 million yen by 6 hours, at the time of article creation, "Super Early Bird" It is possible to select a plan, and you can get a set of FABOOL Laser Mini assembly set with a contribution of 49,800 yen.

·bonus
SmartDIYs In the warehouse across the garden from the company building ......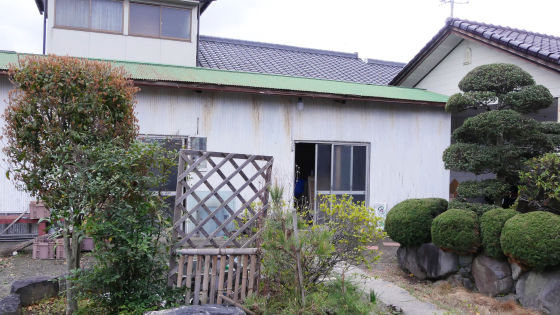 Laser processing work was done quietly.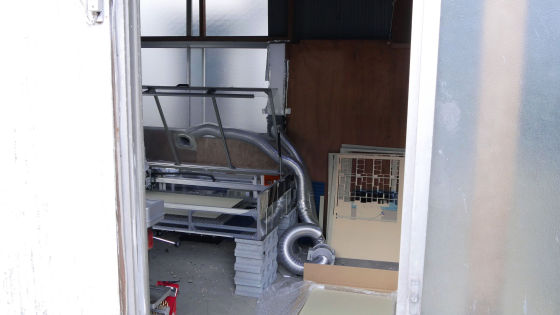 This huge laser processing machine is the first machine of smartDIYs.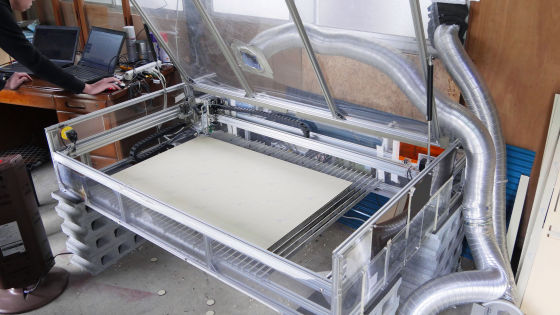 Concrete block stacked in turn.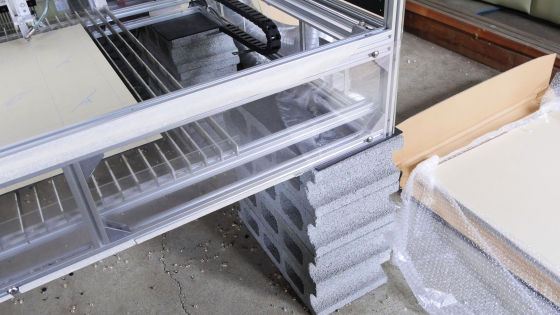 The output of a CO2 laser tube that is likely to be 1 m in length is 60 W.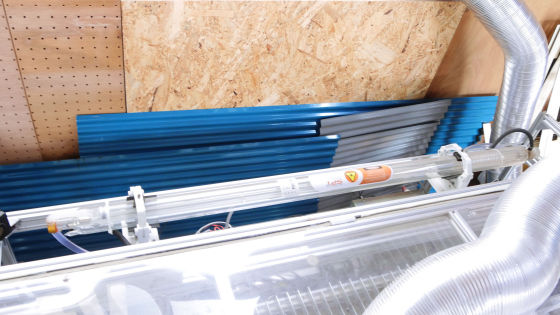 The mechanism of reflecting the laser with three mirrors is the same as Smart Laser CO2.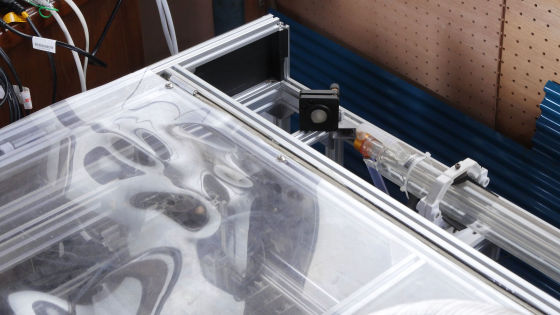 Even now the first active machine of Bali Bali is going to cut acrylic until the day of the birth of the new 100W class CO2 laser.