Interview with "Commitment to the design studio" photo collection & design which embodied the feeling which Fenrir of tab browser Sleipnir put on design


Taking "Happiness to users" as a philosophy, the tab browser of domestic No. 1 share "Sleipnir"We are developing applications and web services, including"Fenrir"is. We celebrated our 10th anniversary in 2015 and stuck with "to create innocent design"Fenrir DesignAnd I decided to show inside of the studio that a special design studio was newly established.

Making innocent good design - Fenrir design
http://fenrir.design/

This is the "Fenrir Design" Design Studio just completed in 2015.Fenrir Osaka head officeIt corresponds to the second floor below,Granfront Osaka [OFFICE BUILDINGS]It is a design which entered the 12th floor of the hotel, excluding any extra things, and tried very simple.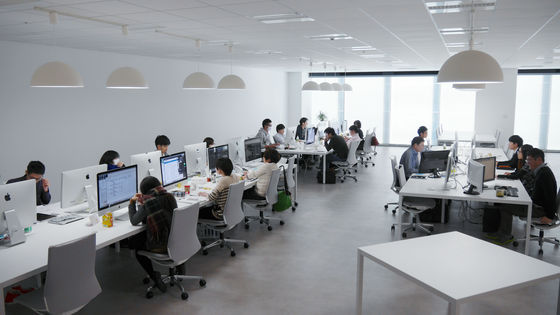 It is pure white with no seams, a huge one-sheet desk is characteristic. It was made exclusively for design studio, custom made.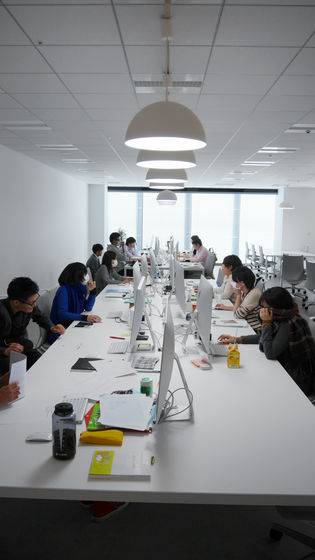 The space for one person is as follows.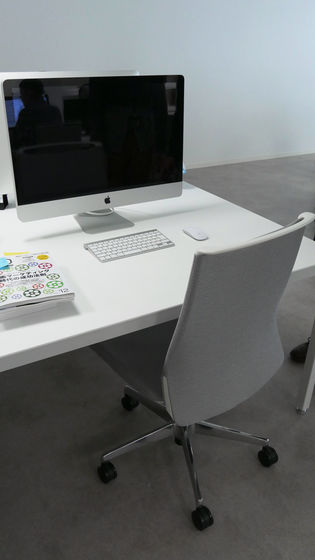 Both width and depth are fairly broad, and the design of commitment that designers can work extensively.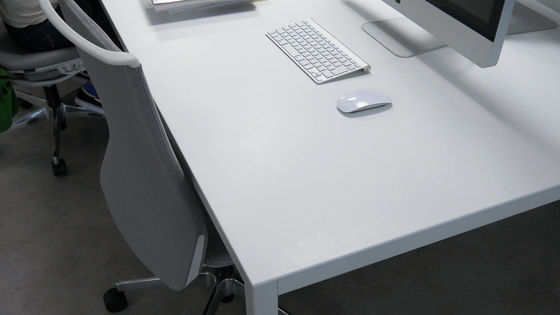 By wiring the wiring under the desk, the top of the desk is refreshing.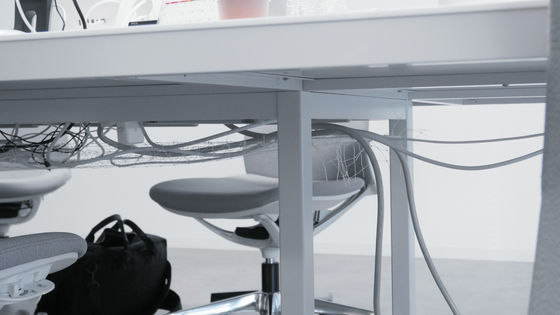 Chairs are like this, all in the studio are unified with chairs of the same type.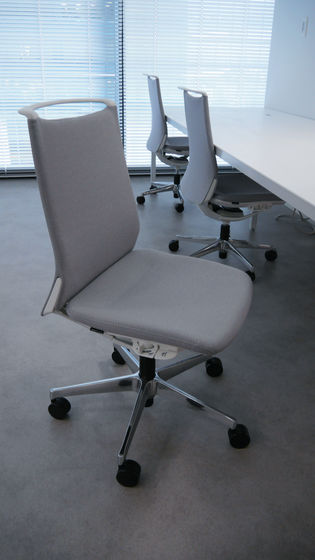 Hemispherical lighting is very unique.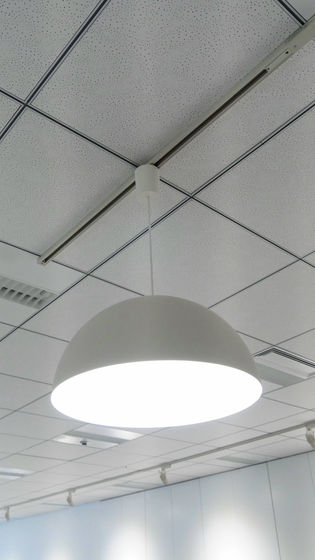 A special order hot water counter is installed next to the entrance.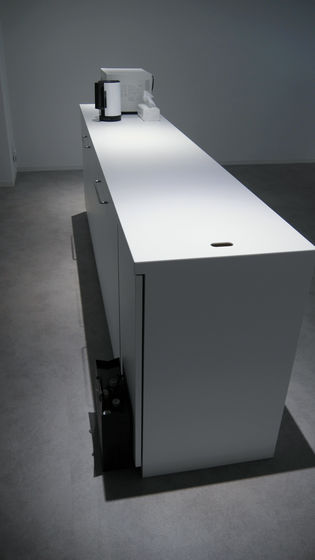 In order to solve the problem "The lid is necessary as measures against smell of the garbage can, but the lid becomes dirty and the lid becomes full and the lid is full," the lid is attached to the hot water counter and we decided to install the garbage can That's right.



Making white panels to the side panel.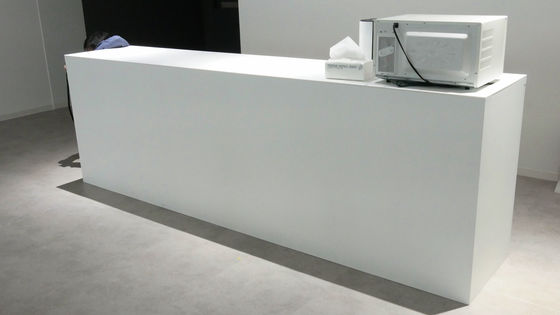 The microwave oven and the pot which are placed on the top of the counter are also unified to the monotone tone.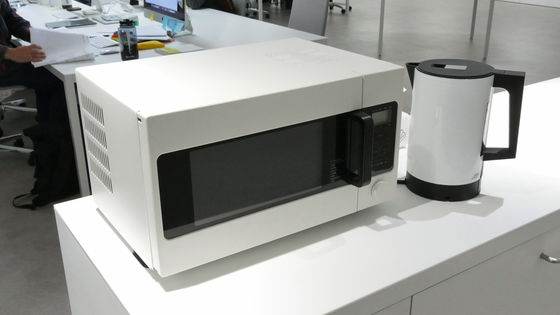 This is a shared workbench. It is made of the same white white material as the desk.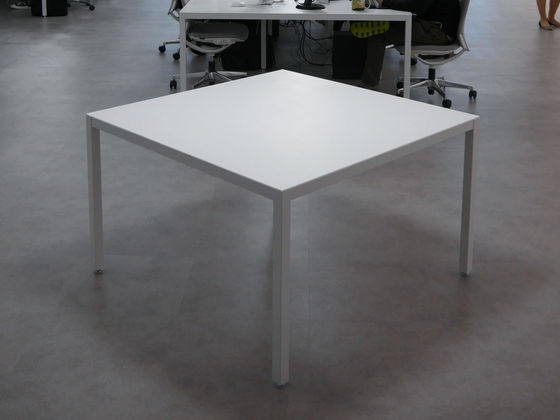 In the back of the workbench, the warehouse space where the ceiling was blown out.



A built-in bookshelf is installed on a part of the wall. This bookshelf was also made custom made like a desk.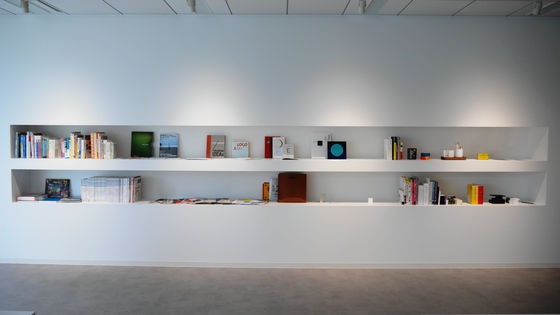 It is possible to decide the layout of the shelf freely without any support pillars or partition boards.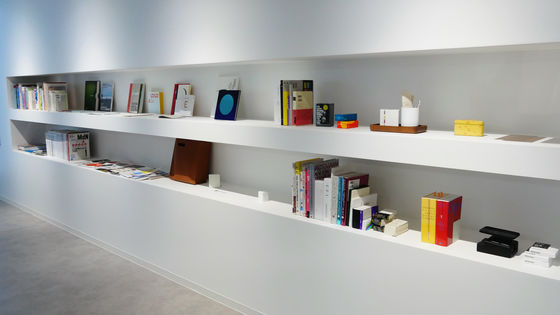 Books related to design were lined up in a row.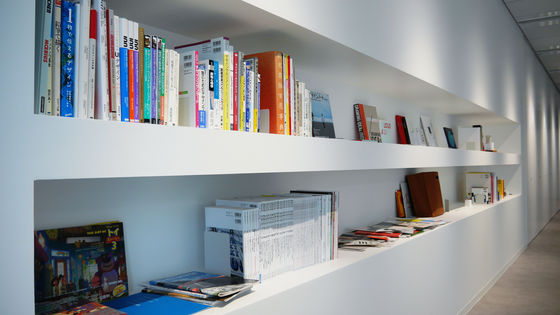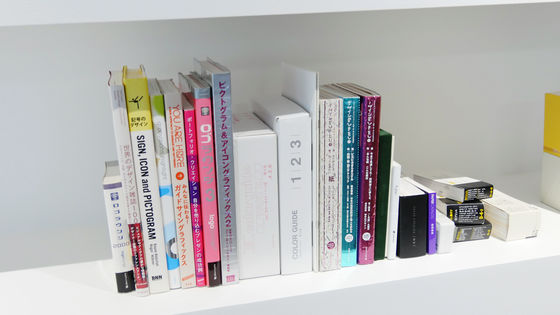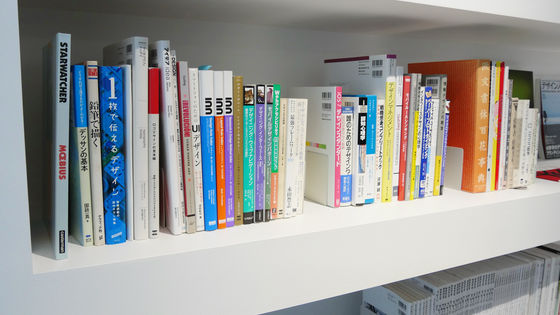 In addition to books on design, there are flyers who gathered in town ......




Disney animation book as well.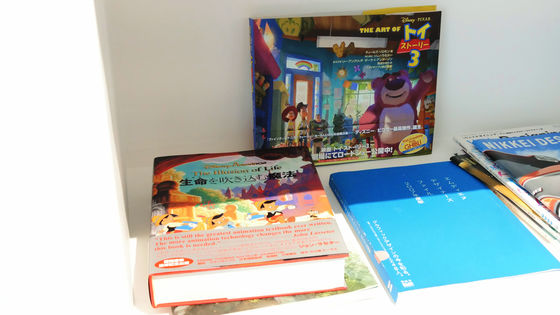 In addition, small items such as card games and board games were also placed.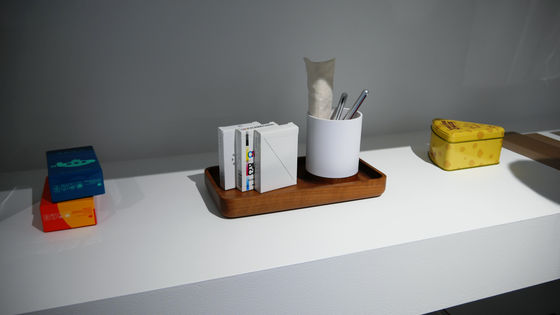 In order to know who is bringing out which book, who is using a loan card is a bit like analogy.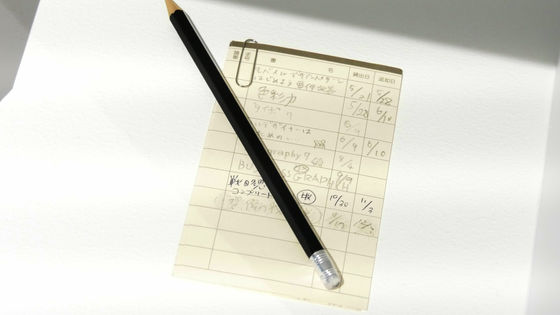 Fenrir 2015 Christmas card supervised by chief designer Matsuno was also on the bookshelf. There is a white card in the envelope and a transparent panel with a diagonal pattern of gold color in combination, and when you draw out a white card, it is a commitment card that you can see the pattern turning round.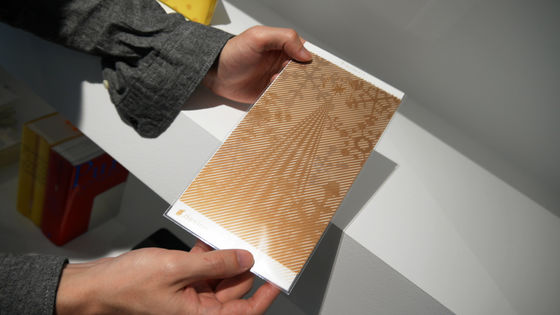 You can check the appearance of actually pulling out a Christmas card from the following movie.

Christmas card of "Fenrir" where the pattern turns round as you pull out the card - YouTube


Mr. Matsuno's recommendation in what is on the bookshelf is a sample collection of fonts, one of the design team brought. It seems that it is not for sale.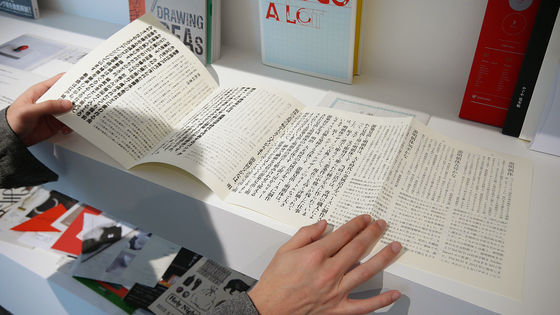 In addition Mr. Matsuno brought in his recommended book. A circle of light blue that shines brightly on the cover is drawn.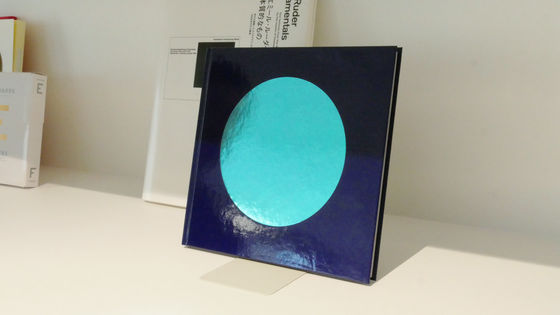 This book is a picture book that expresses the phases of the moon using various colors, and no letters are written.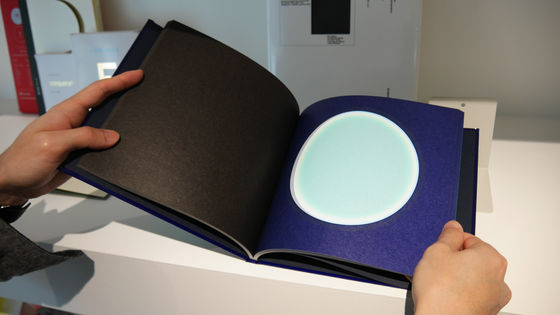 The spine of the moon is printed on the back cover and it is quite fashionable.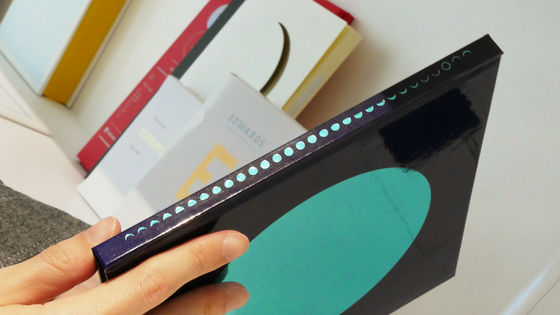 Locker seems to be using a single locker by several people.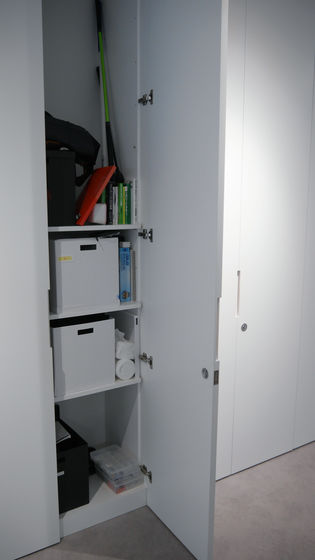 It is said that it is distinguishing the locker with the pattern engraved on the handle.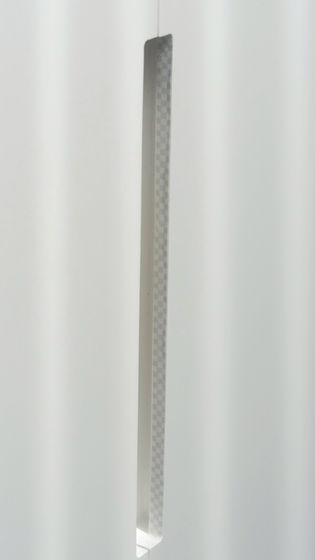 There is also a locker dedicated to the court.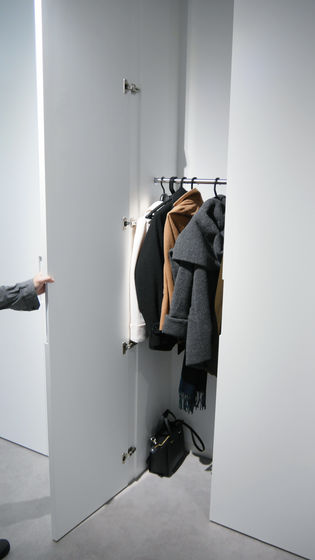 I tried overlooking the office from the other side of the entrance.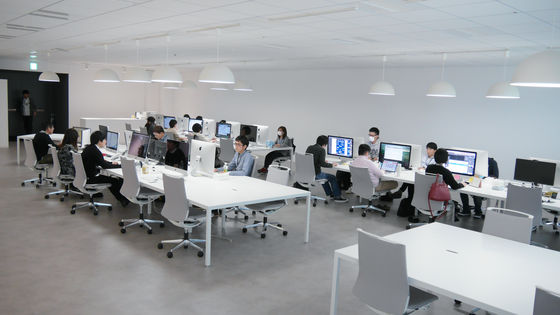 It was an impression that the whole office is very quiet and the environment is ready for focusing on work.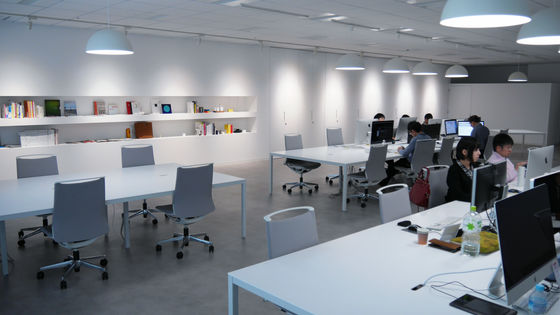 The window side seat is like this.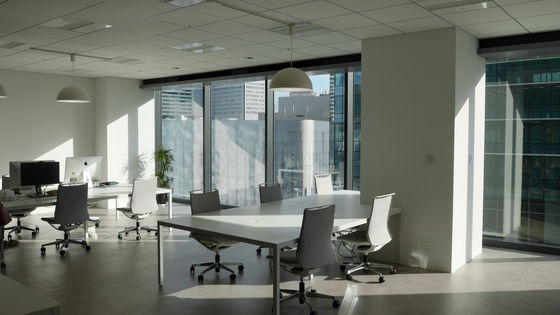 It is possible to put a desk closely along the pillar of the window, if it is a custom-made desk. It seems to be used in the future when the number of personnel of the design team increases.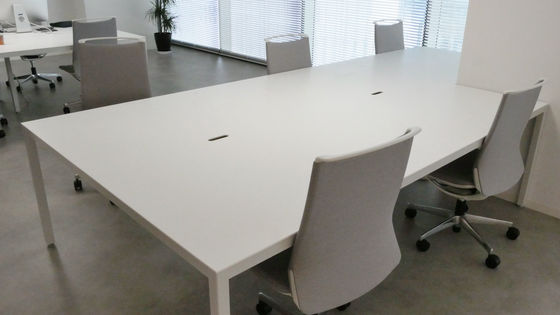 Looking out the window, I could look over the groan redevelopment second season site where there was a cargo station originally from JR.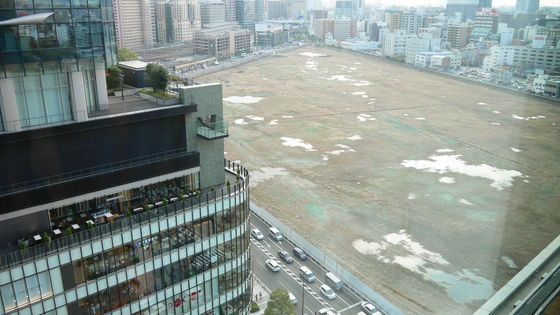 You can see Yodobashi on your left.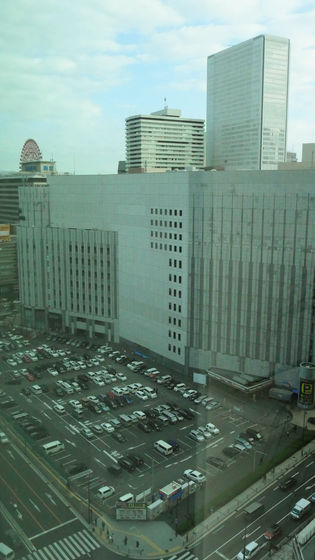 So, I asked Mr. Matsuno of Fenrir Design Chief Designer and Kimuchi of Public Relations Division about his commitment to designing Fenrir.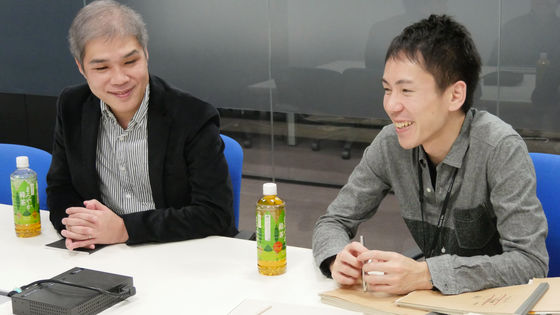 GIGAZINE (hereinafter, G):
I showed the design studio, but even so, it's a great studio. When was it finished?

Fenrir Design Chief Designer Mr. Hiroaki Matsuno (Matsuno):
It is June 2015.

G:
How long have you been planning to make an office like that?

Matsuno:
The first story began around December 2014 and the image came quickly, but from there we considered it from the point of choosing a building, "Where should we go first?" The location was decided at the end and the end. After the place was decided, there was a work to make a plan according to the place, and the trader sweat variously to the trader (lol)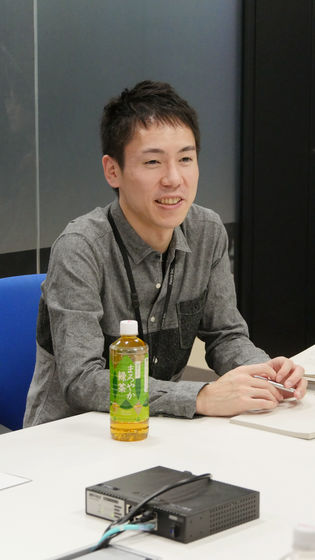 G:
By the way, what standard did the supplier choose? Have you tried to make something or did you find a place with a proven track record?

Matsuno:
What I requested this time is a trader who has been doing construction work so far.

G:
Because familiar trader generally knows selfishness, even if saying an unreasonable request, "Oh, I said something again, something to do," somewhat unreasonableness is also effective.

Matsuno:
Well, it was good to ask you in the end. Even if you asked any merchant, there are plenty of things to stick to in the end, so I think that it got the shape to do a lot of eyes.

G:
In terms of the capacity of the studio, are you made with the number of people you are currently in the company and images with plus alpha and a few people in it?

Matsuno:
That's right. The capacity is decided largely at the outset. However, the extent to which capacity is expanded from there is advantageous because more people are included as many as it is, of course, "I want to make it a spacious space", "Minimalist expressing innocence and stoicness" Impression "and taking into account the capacity now.

G:
What is the width of the desk per person assuming it is about?

Matsuno:
It is 120 cm.

G:
It is quite large. I would like you to learn about 80 cm or 100 cm in one office somewhere (laugh). Indeed, there are quite a few offices packed tightly. Compared to it it was clear that I had a good time to see it.

Matsuno:
Actually, it is the same width as the conventional desk on the 14th floor. However, there is no partition between the desks, we use the table as a concept from the beginning that we will not establish a boundary with people next to it. Although it is originally 120 cm and it is a sufficient space, I try to make it feel more widely.

G:
I felt the depth was quite large, but how much depth are you making?

Matsuno:
The depth is 80 cm. It is taking considerably bigger than a general desk.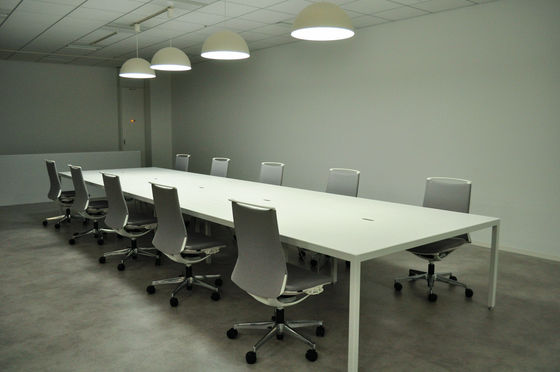 G:
It is quite deep.

Matsuno:
Yes. I made it on the premise that designers enter and work. The display used by the designer is large. When the display is large, it is difficult to work while looking at the whole, and it is hard to see unless you take a little distance. In order not to cause such problems, I try to keep the display properly at proper distance. Besides, because we can take a very wide area in front of the table, even if we put sketch and keyboard side by side, it is enough area and there is enough space even if we put pentab and so on.

G:
After all, it is thought very closely. I have to emulate the design office around the world (laugh). Even GIGAZINE thought about the width and the depth considerably when choosing the desk, before making the depth completely sacrificed.

Mr. Tetsuya Kanai (Director of Public Relations Division, Management Department, Fenrir Co., Ltd.)
I actually design the place where I am working, so I know it well (laugh)

Matsuno:
Until now, I've been designing from the beginning, trying to solve all what I had thought "I should do this" and "There is such a problem". I made the table itself as original, so I was able to make it as much as I wanted (lol)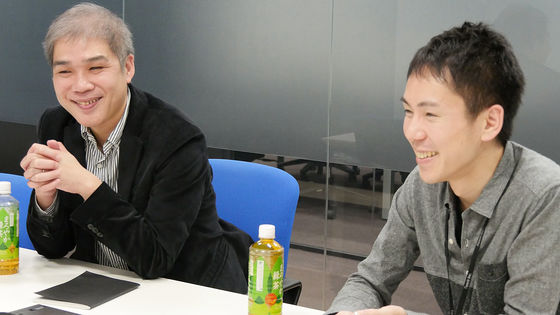 G:
It is terrible. Next is the bookshelf part, is that concept feeling thought at the same time?

Matsuno:
I agree. First we decided that "I need a bookshelf" and "I want to share materials from each designer" from the beginning. Considering finally putting it in the impression of the studio, "I want to make it a long, thin, large and large bookshelf just by hollowing a square into a square" was decided from the first person in proportion. I am leaving the actual sketch, but this is what I drew on the first person in proportion.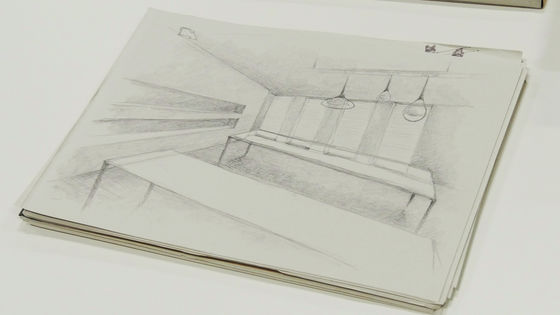 G:
Looking at the sketch, it was pretty much a thing close to the image was completed.

Matsuno:
I agree. There are many things studied and plans are different. For example, the following design is a design that was drawn when it might be borrowing the space of a triangular shaped building. Even with this sketch, there is already an idea of ​​a shared table like everyone uses.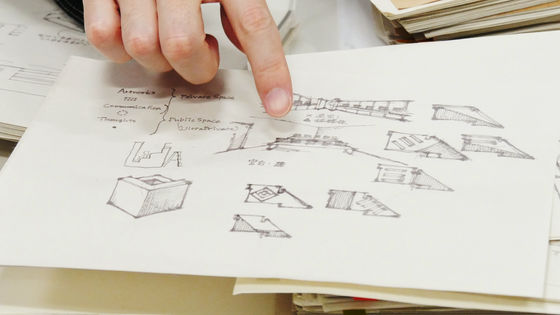 G:
The previousInterview articleAlthough it was very popular from readers, is there any other interesting sketch?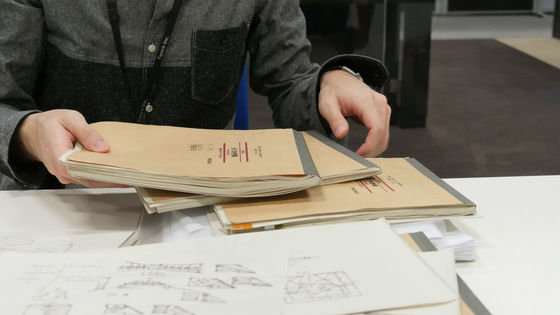 Matsuno:
This is a bookshelf. It is a sketch that shelves and storage are lined up on the wall.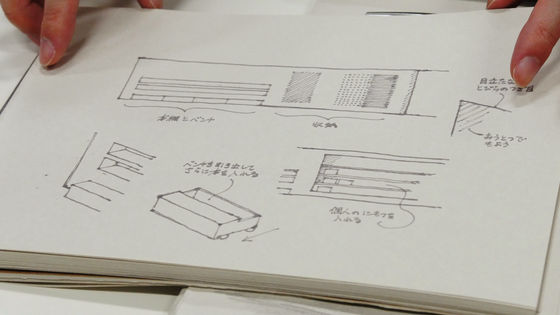 G:
This is also close to the image of the actual studio, is not it?

Matsuno:
The shape changed little by little. There was a bench in the sketch at this time, I was considering putting something in the bench. The idea of ​​distinguishing the surface of the storage by distinguishing the pattern is actually to distinguish by the pattern of the handle, but it is a feeling that there is a remnant of it.

Matsuno:
This is the initial plan of the counter. At first, we ordered litter on the trash can, but in the end it was designed to put all of it inside.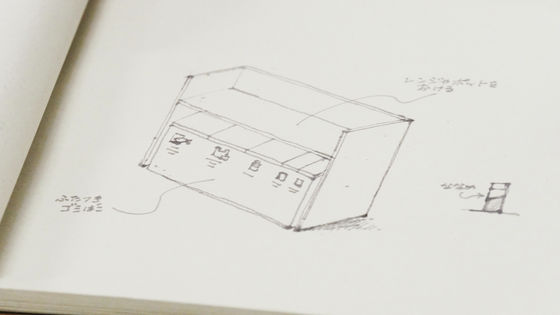 Matsuno:
This backyard is intact. The upper part is opened.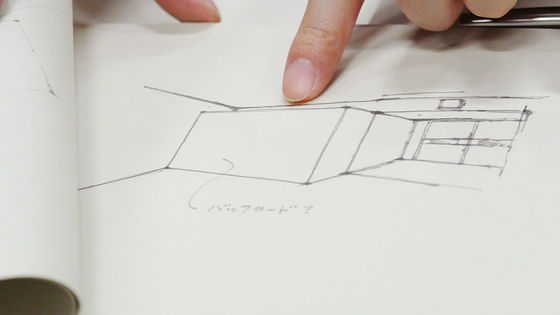 G:
It is amazing! I made such a detailed part as an idea, did not he? When I see this sketch, it seems that Mr. Matsuno's thoughts are all shaped.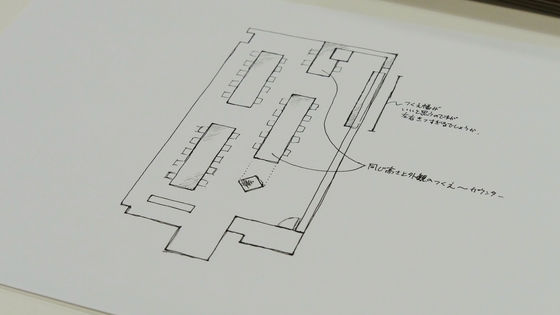 Matsuno:
Well, there were various difficult things (laugh)

Before putting desks and chairs, the studio in the state without anything seems to look like the following. From this state, I designed the studio from scratch.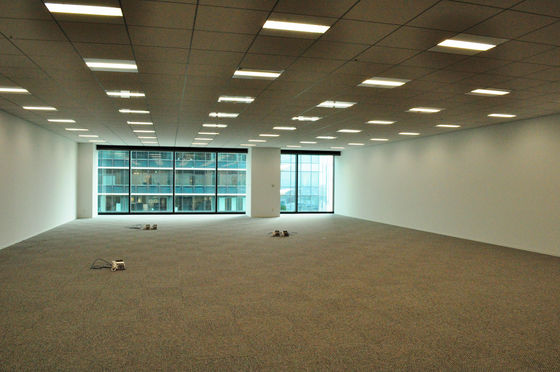 G:
What is it like to not go as you expected or what was difficult if you actually tried it?

Matsuno:
I was talking about the weight of the bookshelf earlier, but at the beginning I was told by the dealer "I can not do such a bookshelf." It was a story that the book is heavy and can not be supported absolutely. If it is not the worst case, I had prepared a plan to put the support post on the inside as much as possible so that it would be inconspicuous as much as possible, but I finally got it working hard (lol), and the bookcase that I wanted was completed properly.

First of all, in bookcases, we set up a frame along the wall ... ...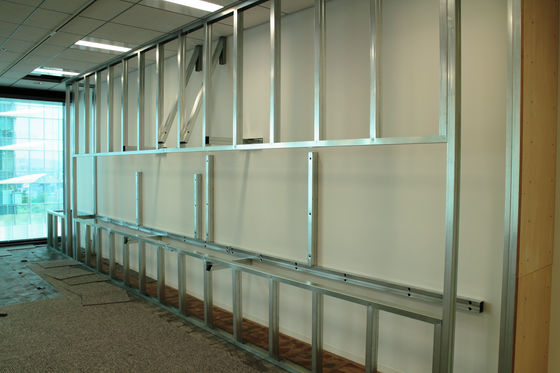 I will stick the board.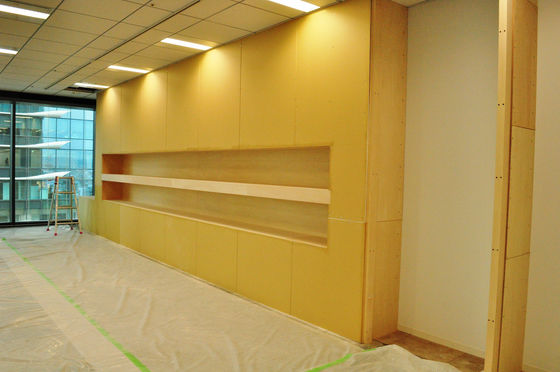 Finished with urethane paint from the top, complete a completely white built-in bookshelf.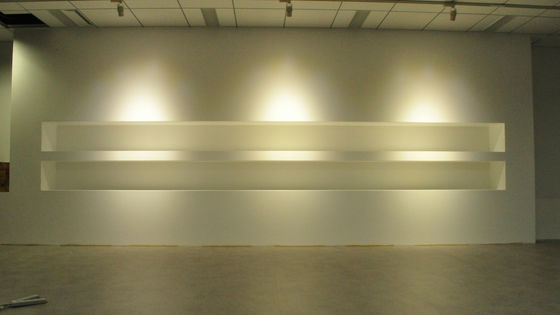 Matsuno:
Besides the bookshelf, the table was still the most difficult. Although it was able to be found in the last person quite a bit, "It can be made into a single-plate table if made into an artificial marble, but until that time it was said that seams will enter like an ordinary melamine board table It was.

G:
I heard that seams disappear when polishing an artificial marble for the first time.

Matsuno:
I also knew for the first time with this desk design this time. After that, I was consulting that it was neither trader nor ah that it was nothing to do with how thin it is, or how to make it fit perfectly until the end of the last. I think that the deadline has already passed. (Laugh). Even if it is said that we have to decide, we had consultations like "Do you do this?" (Laugh)

In the production of the desk, we first brought a huge artificial marble board into the room.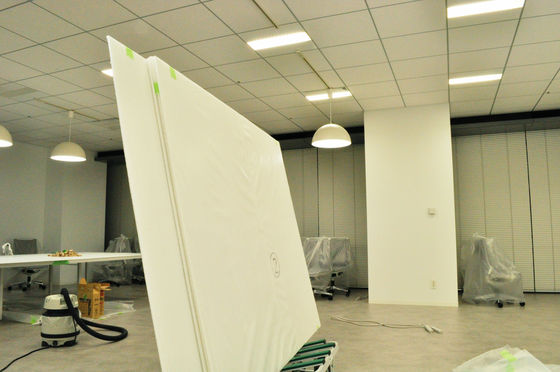 Place the boards next to one another ... ...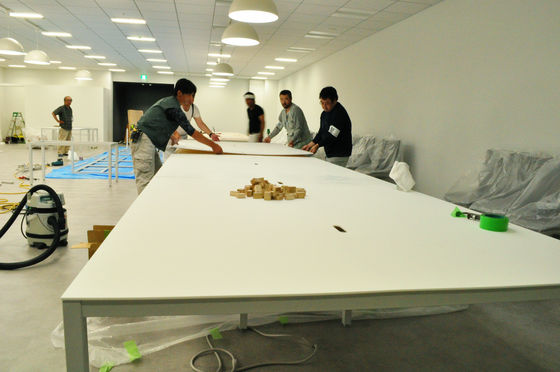 After coalescing, I heard that the top surface was polished so that the seam could not be seen.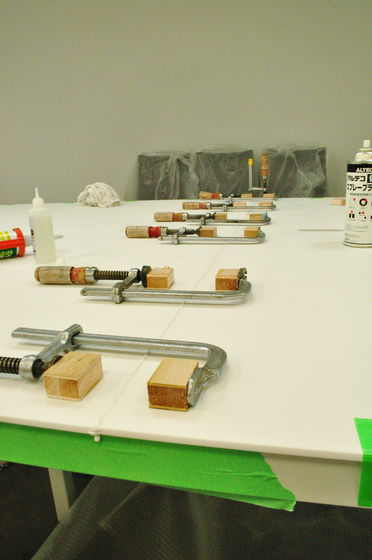 G:
It was sticky (laugh). Although I came out in a blur with the previous story, is there a concept of "minimal" as an overall theme?

Matsuno:
I agree. This studio, "Fenrir DesignIncluding expressing as it is. Fenrir design is "Make innocent good design"It is said that there is an image of" innocence "" stoic ". I thought about just a good design, and when I expressed in the space of a studio the idea that I would take seriously just that, I became an image.

G:
I also thought that how to use the studio itself imagined the thought of Fenrir design blatantly. The idea of ​​not putting anything on the feet is one of them, and it is messy when putting things underneath (laugh). Is that why there is no drawer on the desk?

Matsuno:
Well, it's like I try not to put things as possible. Since it should not be necessary to put things in the first place.

G:
I see.

Matsuno:
If it is it, thinking about a method not to put it, if it does not sacrifice it as a function, if it does not sacrifice it to the storage space, it makes it okay so that it will be okay, and I will keep the key locked properly.

The situation that the storage space is being produced looks like the following. It is designed to change the plate height later.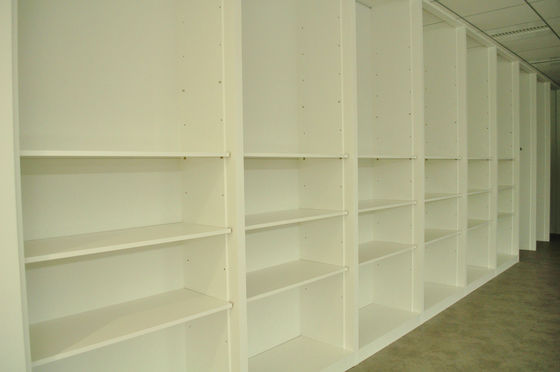 G:
That means you do not put a cabinet on your feet. Is there anything else I have noticed in order to make the overall atmosphere a minimalistic atmosphere?

Matsuno:
White cubeIt makes me feel like I like to take plenty of space.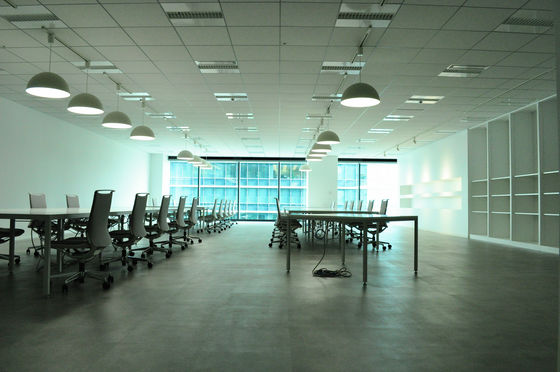 G:
Certainly, when I pulled a chair it took quite a lot of space so that it would not hit the wall behind. Have you changed something in everyone's work since you actually moved to the design studio?

Matsuno:
It is quite quiet, and there are only 35 people at maximum, so it is a quiet space. There is a voice saying "I can concentrate because of quietness".

G:
Do you feel that it would be nice to appear gradually in the quality of the product?

Matsuno:
Yes. In fact, there are times when 14th floor engineers work on the 12th floor looking for quiet space (laugh). Besides, if it is so wide, the table is wide and the chair can move, so you can freely do something like "going near someone's seat and lightly meeting". There seems to be active discussion.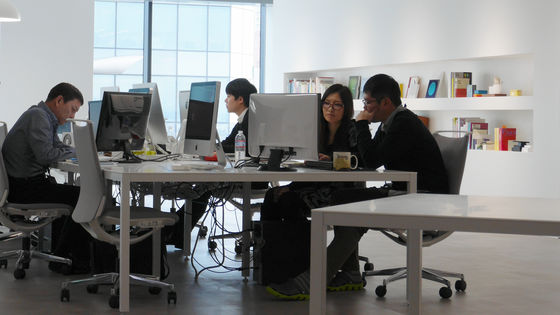 G:
As I was talking about, I was moving a chair and conversation was taking place. It is a story that only design-related people are working at the design studio, but is there a voice like "Envy!" From other departments?

Matsuno:
There is (laugh)

G:
Are other departments going to be distinctive rooms from here onwards?

Kinouchi:
I hope that will happen. I made an "engineering studio" or something (laugh)

G:
I see (laugh). Among them, maybe a story like "Let's design" engineering studio "with Fenrir Design!

Matsuno:
Well, in that case I will rethink the room design. As this design stuff drops in from the place where the designer will work when working as a fenrill design, I think every one of them, so if there is a new request, it will be different again.

Kinouchi:
This time it is the studio that I thought that I wanted to focus on design again as Fenrir, so it may be that the "technology" of "design and technology" comes around this next.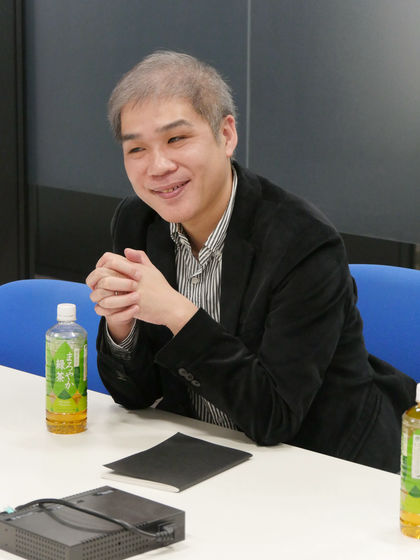 G:
Although the minimalist concept is very easy to understand when looking at the studio space, is there any experience or experience that Mr. Matsuno thought as "minimalistic thing is good"? Since I think that it is not a minimal person since I was born (lol), I think that it has reached now through some transition, but the experience of becoming to shift to the idea that minimal is good is to look back on Is there anything?

Matsuno:
Well ... well, I can not remember what it was tiring concretely, I think that the design that has been in design for as long as the design has been in shape is an excellent design. When trying to make a function purely as it is, I think whether it will become a form that it really got ah. One of the functions is that I want to make a fun feeling in that function. I think that various kinds of designs in the world are so, but considering what it will become if purely designing it, it is daily that it is an excellent design that concentrates on the function only and removes extra things I feel it.

G:
What is the reason why Mr. Matsuno thought about designing it as a job? Please tell me if there is something like an original experience I realized that this is a design.

Matsuno:
It is a pictogram of the Olympic Games, as I thought to mind.

G:
Pict is a guide signboard for the Olympic Games.

Matsuno:
I remember being cautioned by Pict.Lillehammer OlympicsI think that it was.

G:
Certainly the pictogram of the Olympic Games is universally designed and made considerably simpler, so there are points that lead to the current minimalistic point.

Matsuno:
Yes. Moreover, they also featured features at each Olympic Games, expressing each game very briefly, so I remember having thought it interesting.

G:
Although I can talk a bit, I heard that pictograms gained worldwide from the 1970 Osaka World Expo in 1970, just as I happened to know when I went to Osaka Expo Memorial Park. Actually in Expo Memorial ParkEXPO '70 PavilionPictogram of the time was exhibited in the memorial hall called Shibuya, and I was shivered that most of the prototype of the current pictogram is in here. It used to be the original pavilion of Iron & Steelhouse, it was interesting.

Matsuno:
Pictograms and icons alone are also funny.

Also on the bookshelf of the design studio, there was a graphics book of pictograms.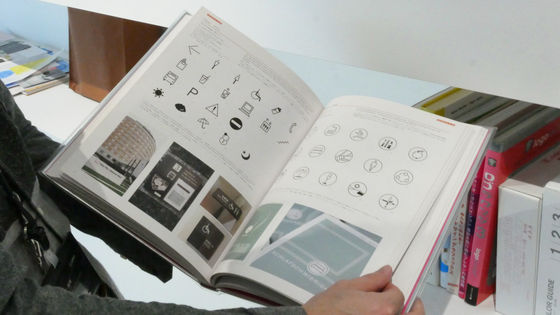 G:
I think that it would be a feeling of the design studio if you make such a design three-dimensional.

Matsuno:
The work I've been doing with Fenrir until now has a lot of application design, but I also feel that it is connected to the design of the studio. It was a common task as it is a task of "putting what it needs and how can we solve it" into the form as it is.

G:
When drawing a design sketch, I think that I will shape what I imagined myself, but what kind of feelings do you work in?

Matsuno:
What does it feel like?

G:
In short, I think that the feeling of flowing state or concentration is different depending on the individual designer, but what kind of feeling does Mr. Matsuno concentrate on?

Matsuno:
Well ... There is an image that puts each necessary thing together into one piece. In most cases, it is not a solution to solve if only one something is made, so for example in this time I decided to put a trash can in the hot water counter from the thought of "I want to manage the trash box", but at the same time There was a requirement to make it fit the impression of the whole studio, to put a range and pot on the counter, to have the function of storage and so on, so that each one will not get in the way after solving in one place I thought it was the best. It is an image that all these requirements are arranged side by side, and it becomes one shape again.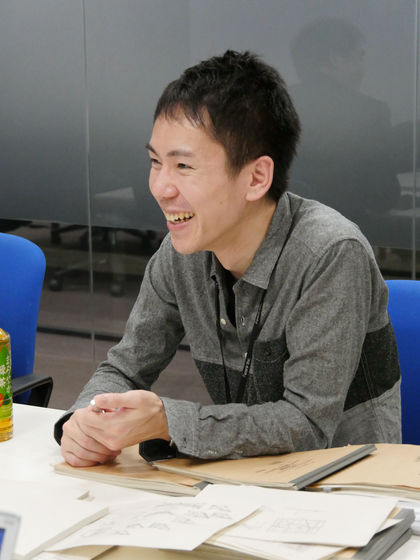 G:
It is an image that piles all things like one kill two birds, three birds, four birds together.

Matsuno:
I think that there is a need to think about ideas without being caught by common sense.

G:
Is it an idea to take in from the usual, or is it feeling like putting together the ideas that came out when problems occurred as it is now, how do you think of ideas?

Matsuno:
There are both. However, there are many ideas that come up when solving something when actually forming it.

G:
Even if it is said that "to put out ideas" suddenly there is no idea from where there is nothing, so from now on I think that I am inputting like books on that bookshelf, Are you trying to keep in mind, or are not you conscious that everything will be input, even if you do not try?

Matsuno:
I am doing it without consciousness.

G:
It seems to be from various places in everyday life.

Matsuno:
I do not care anything. For example, if strange protrusions are coming out from the walls of the station, I will think that "Why are these protrusions out? Besides, as you look at the door, ideas such as "You should do it like this when you want to hide the door opening mechanism" are naturally taken into account, and ideas are required for some time signature I feel like being alive.

G:
Is it intelligent curiosity stronger from usual? I am interested in various things.

Matsuno:
I guess so.

G:
It is an image of the feeling that it gathers various points and points and connects it to a line.

Matsuno:
There are also such images. I am having fun (lol)

G:
There were many books chosen by Mr. Matsuno on the bookshelf of the design studio, but are you going to a bookstore to find a chance by chance, are you going to wander the net and find it?

Matsuno:
I found the picture book for that month at a bookstore.

G:
When going to a bookstore, why do not you worry about any book regardless of the genre?

Matsuno:
I agree. It is a feeling to look for things you care about and liked.

G:
I feel the book store itself matches Mr. Matsuno. Because Amazon is on the opposite side of an ordinary bookstore.

Matsuno:
I agree. If you need it, you can not find it easily if you go with a sense of purpose. It is more important to find out by chance.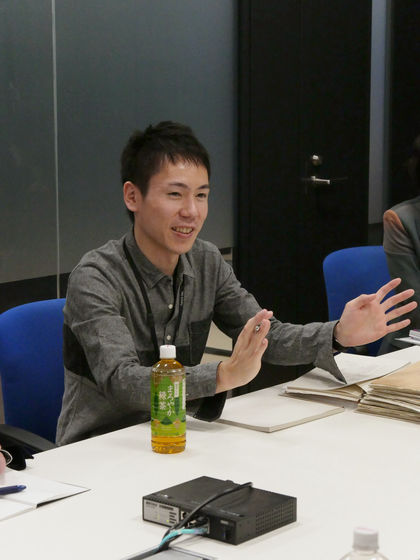 G:
I see. Why are you listening to these questions, there are some people saying "There is no idea" or "No plan to go out" to the world, and as for me, "What are you saying, It's a story that the material is rolling ", but I do not understand it easily. The design and the idea feel the same. There is something I think that "why are you sleeping with your eyes open?" Even though everything there is designed and there is no meaningless thing (laugh). It is necessary for us to get interested in various things from such things.

Matsuno:
I agree. Since all the artifacts in the world are designed by someone, there is also fun to clarify the reason why it was in such a form. For example, even if there is a boring design, it is fun to think about the reasons why you got boring. Everything, both good and bad, is fun.

G:
Certainly, there are designs from the design "Why did this happen", thinking that "I am being evaluated but something different from what I meant was made". Whether an excellent design can be evaluated is another problem. It is too good to blend in with natural, and there are things that "everybody does not notice too much penetration". Although the talk changes again, I thought that "This design is super failed" before, is the design of a new model of the Hankyu train. The functional design of the door between the vehicles has changed, so far it opened when pulling the door sideways, but it changed to a method that automatically opens with a sensor attached to the handle. Just with a handle, the sensor reacts and opens, but due to the handle type, everyone got in trouble to pull out and it was impossible to "open!" And when you release your hand, you can not sense it with the sensor, There is a vicious circle in which more and more clogs are occurring, so I am watching when it will become popular. It's been around 10 years since the introduction, but as everyone is still doing it, I think that it would be better to change the design any more and install a button and push it.

Matsuno:
For such designs, we need descriptive text, and something is written.

G:
Although the explanation is written, since the handle is a natural design on a daily basis too, no one reads it (laugh). I have never seen a man who has ever been opened suddenly. It is a design that is too high. vice versa,Hanshin train's latest vehicleIt is a design that does not automatically open the door even if it stops at home, what he has got stolen. Initially I thought that "This is for the professional and no one can open it" by the way that the person who enters the door pushes the button by himself and opens the door. Hanshin train is also freaked out, it operated only about 1 day per day at the beginning of the operation, under the timetable, "Since the train at this time is a new model vehicle, press the button and get on and off" was written . However, when you are watching a person getting on and off, that button is pushed by everyone properly. Since I do not open the door when I tried to ride, as I look around around the circumference, the buttons are installed properly in the direction of the line of sight, so everyone presses the button without reading the explanation. Since November 2015, the number of new model vehicles has increased, I think that it is something unexpected that designs that can not be designed are unreasonable. By doing so, it is possible to do user testing to some extent after actually making software designs, but in what situation will the decision to actually "go with this design" be done?

Matsuno:
As the design studio did in order to solve the problem you are having troubled from the usual, it reached the image stage quickly.

G:
When I was talking to you, it was rather difficult for those who actually made it. I was told to the person who made it "This was serious", and was there a part saying "I was, I did not understand just by designing"?

Matsuno:
Well ... well, it's easier to use ready-made items when making. There is a proven track record, construction is easy, and it can be cheaply budgeted, but since all requests were little by little, it was only what I could not do with ready-made items. However, this was a range of imagination to some extent. I know that it is hard but I am stuck with everything, so many things like "I want to make it a point!" The most impressive thing is the thinness of the desk. The dealer was struggling to work "thinning the top board and fitting it into the leg properly". There is a limit to how far you can thin the top board. The trader thinks that it should not be broken at the time of carrying in or safety, so I would like to make it slightly larger. I first said it was said to be "thickness 1 cm", saying "I want you to make it 3 mm" and consulted and eventually finally reached 6 mm It was thought that "in the mind" in the mind However, during the consultation, I informed the image while mixing with requests such as "I can not make it thin, why can not you do it?" (Laugh)

G:
I see, i see.

Matsuno:
In that table, the frame is steel and the top board uses artificial marble. Although the artificial marble is very strong, if one size of the dough is placed on top of the size, there is a danger that the middle part will not be able to withstand its own weight and will crack. So we have a panel of wood to think about how far the plate next to the frame is passed through, or to support it not only on the frame but also on the surface.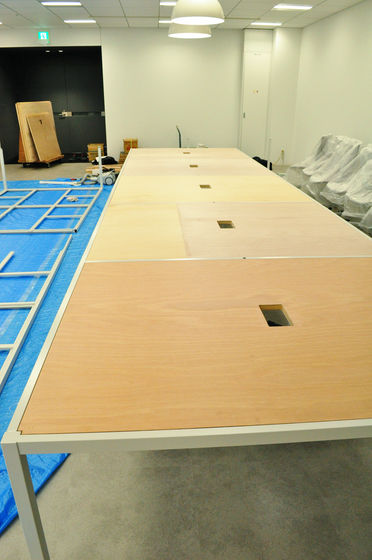 Matsuno:
The frame and the wooden panel were made by another vendor and combined with Gauchang on the field, but it is a work that does not fit if it does not fit in millimeter units. Combining the frame and the panel was a work in the middle of the night, I also met, but the shape of the pillars and columns was jagged and it was the task of making and holding a board that fits perfectly here. There was deflection of the board, so you got it done with great precision.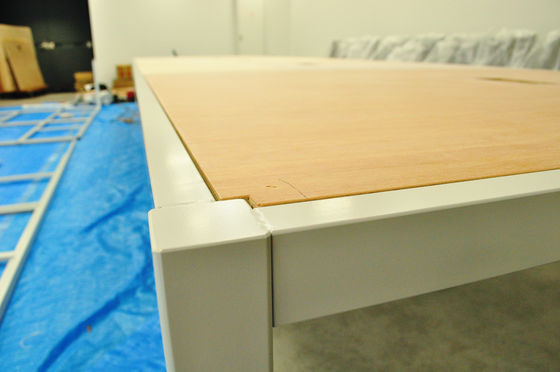 Matsuno:
In addition, in order to make the top board thinner, the inner side has to be made thicker, but even though I want to show it thinner, Idea that "thin the only outermost layer and cut it obliquely and set the thickness on the inside" Also it was issuing. In the end, there were various factors, such as whether other methods are better than the method, or it is difficult in terms of strength and budget, and now it is in the form.

G:
It is amazing to give a desire for a thin desk (laugh). Even at GIGAZINE Editorial Department, I have studied desks of Italian manufacturers made for similar purposes. It was cut obliquely deeply from the outside of the top board towards the inside and it seems to be thin when looking at the height of the eyes, but in fact it was the type of synthetic processing that the middle is very thick, so "I will make this making up I thought that, I piled plywood in the same way and asked me to make a desk. It is surprising that the desk of the design studio is all made thinner.

Matsuno:
There are things made because it is an artificial marble.

G:
In our case, I used a simple tree.

Matsuno:
I think it is too hard work.

G:
I could not do it with a plywood board, so I used a plate at the stage before making a veneer board. Plywood andLauan woodI tried and finally reached the conclusion that just accumulating material should not be warped the most. I tried stacking five elongated stacking materials and placing a melamine processed plate on top of it, then it became a story that "it is better to process the stacked material rather than place the plate", let the board infiltrate the resin It was finished in the way that it makes it tight and polishes the surface to slippery afterwards.

Matsuno:
That is interesting, is not it?

G:
I was surprised to see that "Can you do this?" Like the design studio, as the board breaks when bringing it into the room it is serious as GIGAZINE brings the material into the room and working. It was like sculpture, as I made a board and cut it into a desk shape. The vendor person said "I made it for the first time". Then, as my request, when saying "I want people to be able to ride with a load of 80 kg" so that they can ride on the desk to replace the fluorescent light, by connecting the desk and the steel frame, the triangular parts I made it and welded the steel frame to the desk. It became a messy and sturdy desk so insecure that it was time to break away from home if the desk broke with this (laugh)

Matsuno:
It is really interesting, is not it? (Laugh)

G:
Everyone was cooking and making it. The work of opening a hole to pass the cable through the desk also asked us to actually open the laptop on the desk and ask "Open here" and let Barrybird open the hole.

Matsuno:
It is a great worksite response.

G:
Then, since the steel frame was bare under the desk, I made the LAN cable inside, made the cover coincident so that the cable could not be seen from the outside. However, it was hard to change the LAN cable later. I never thought that the cable would be disconnected, and it was hard to rewire it. It was hard to work while saying "buying electric machinery stores!" Such as NTT or some other kind of equipment like a pipe through which cables pass. In the design of the design studio, is there a part that did not work out unexpectedly? Although I looked like it was going well when I was watching ... ....

Matsuno:
A similar story is about cables, but research on how to hide the cable under the desk and hide it well was necessary. I responded by themselves afterwards, so it was tough for me. Inevitably, cables can not be lost.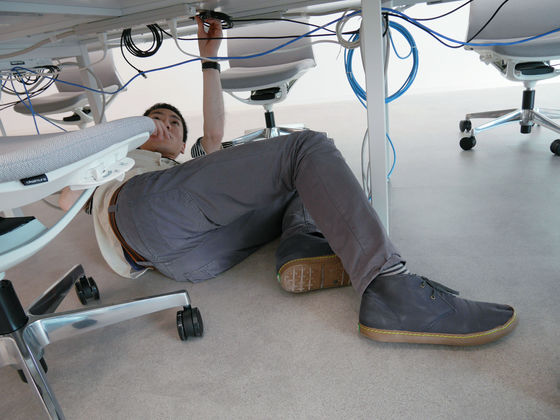 G:
At GIGAZINE, there was also a story "At the new headquarters are we going to lose the wired LAN?", But in the end it is doing with a wired and wireless hybrid. I knew from the last lesson that I did not go well if I laid the cables first, so I only decided to make a hole at the end of the line.

Matsuno:
However, there is fun unique to the original that it can be handled on site.

G:
Even when I worked for Livedoor before, it was serious and the office was under the floor wiring. Although wiring should be done on the ceiling and the cable should be turned, the Mori Building was a method of hiding all under the floor with super-obsession. As it was not sophisticated as it is now, every time you break, you have to move the desk and remove the huge 2 m x 2 m panel. Just by changing the cable, it was big construction every time, Horiemon was running out (ha ha). There is space in the floor under the current building, but there was no space under the floor at that time.

Matsuno:
I wonder if the hand will get in the end.

G:
That's right. Construction under the floor was tough again, the inside was getting messed up and there was something like "How I lost it?" Since Livedoor is an IT company, it was a time when Bill did not assume that though it used a personal computer more than usual. It was said that "It is unbelievable that all employees have a LAN cable", but after that all the buildings were undergoing refurbishment, it seems that Rakuten who moved in afterwards was affordable (laugh)

Kinouchi:
Thanks to the pioneers (laugh)

G:
Livedoor made only hard work with hard work, but it is convenience store that I think is the most strange.

Kinouchi:
Oh, I've heard of it.

G:
Horiemon made a convenience store inside the company. In the office building of the Grande Front, if you plan to get down to the first floor you have to transfer 2 elevators, but the Mori Building stops on each floor with one elevator from the first floor to the 30 th floor, so down It took 5 minutes to get off and complaints were rushing if it was not enough for 60 minutes to go to eat meals. So Horiemon spokes out to the person who is selling lunch on the first floor of the Mori Building, saying, "Would you like to do a lunchbox and a convenience store on my floor?" Since there was only one case, it was amazing to think about wiring, walls and decorations in any way. Unlike ordinary convenience stores, rice is the top priority, so there are two huge pots, and it was a free convenience store with rice. Then it was troublesome to take over the change, so it was a one-coin 500 yen lunch box, people who paid 1000 yen had to buy two side dishes (laugh). I thought about it now and it was interesting because it was in various layouts. I think that it is incredible to make a room dedicated to design inside the company. By the way, do you have any designs or layouts that you used to make a design studio?

Matsuno:
I saw a variety of materials that gathered fashionable offices.

G:
Is there any office design remaining in the impression? Please tell me if there is something "that office was interesting".

Matsuno:
It seems to be similar to any office and not similar, so it is difficult ....

G:
Certainly, it is unlikely that these office designs are like that.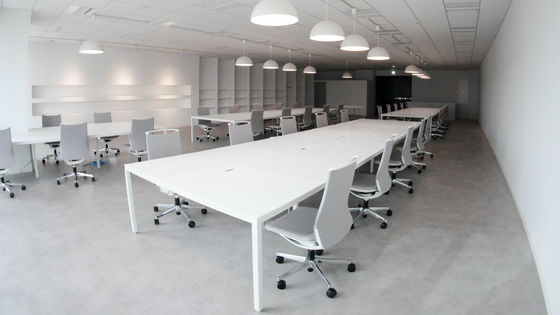 Matsuno:
As for the West Coast design, it is popular (laugh). It seems like it will be fun, but this design studio made it with a different concept. I wanted to shape the concept properly rather than just making it beautiful simply, so I had to look at all the designs what I had and I forgot to forget and think about afterwards.

G:
I had a story saying that I was making a work bench earlier, but what kind of work station are you planning to be?

Matsuno:
The appearance is the same as other tables, the height is also matched, the grade of the material of artificial marble and steel is also the same, but the top is a cutting mat of glass, draw a grid on the inside. Since I can not print glass, I will attach a film from the bottom and I will fix it on the desk. Originally I selected a transparent one with a vinyl cutting mat and tried to make the top plate of artificial marble shine, but since there is no cutting mat of huge size, it is supposed to inherit several cutting mats I tried various kinds of materials because I wanted to avoid having seams. Among them, "I heard there is a glass cutting board, there seems to be a glass that can withstand the cutlery", and now it is preparing as the sample glass is reaching at hand, trying to work lightly and it will succeed .

G:
It is impressive that the workbench is making it necessary, but does it take a bit of work to cut off the stuff?

Matsuno:
Although it is not frequent as a frequency, it is necessary when making paper ones. For example, the Christmas card you saw earlier is also so, but make sure to cut it to the actual size at the production stage. After that, work to handle paper is necessary also when making materials to be brought to customers, so we use it at such times. Even if I use it only occasionally, I'm in trouble if I do not have it, so I'm thinking about preparing it properly as a design studio. Since it is also a symbol of "design studio" where the designer is located, it is not necessary if it is an ordinary office, but it also includes the idea of ​​preparing it properly as a furniture unique to the design studio.

G:
When I used a super sky workbench in the same way in my own work as a design work, I did not have a cutting board suitable for the table, so I bought it abroad. It seems that there were cutting boards of all sizes, A sized together, overseas. After that, because there is one piece of iron for tatami mats, we also used iron plates. When I bought it I felt like "when I used this!", It looks like I needed a space to spread one newspaper and work. Since it was still not enough at the end, I did it directly on the flooring. Even if scratches are attached, it means that you can brush up later, it is already a messy idea.

Matsuno:
There is such a solution. That is also interesting.

G:
To the end, we reached the conclusion that the cutter 's skill is injured because the cutter' s skill is inadequate (lol), so that the cutter can now be pulled with the cutter in a way that will not scratch the floor It was.

Matsuno:
It's like cutting out a single page without hurting the magazine.

G:
Now it is said that paper can do anything, saying "Technology victory!" With free hand using scissors. In my case, I used a laser cutter when I need to cut something at work. Even now, the editorial department is preparing a review article of our own laser cutter. Since there are also DIY's open source laser cutter makers that I make by themselves in Japan, it has been several days since I started to assemble them, actually they have sent the products, but they have not completed yet "something funny, ordinary I can not assemble it as a human being, although it is in accordance with the manual it will not work. "

Matsuno:
I am looking forward to it.

G:
Are there any plans to increase the office in addition to the workbench for future plans?

Matsuno:
It is a form that the work bench is completed and all kinds of things come together. Since the number of personnel is going to increase, the desk which is now surplus is running properly, and it seems that something will happen again.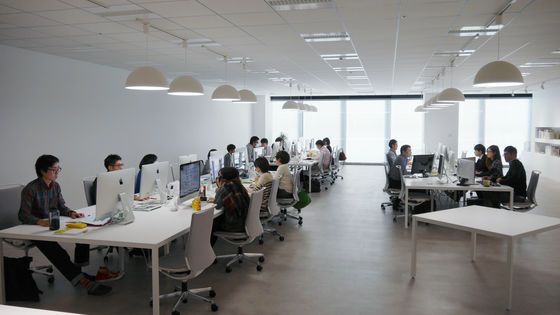 G:
Mr. Matsuno is also in charge of recruiting designers?

Kinouchi:
Regarding the designer, Mr. Matsuno does not touch personnel personally though it corresponds to the person in the company site on the way.

G:
Is there hope like "Would you like to come to people like this?"

Matsuno:
After all it is a pure person to design.

G:
Is it pure?

Matsuno:
We call it "to design innocently", but Fenrir has always been "making things to deliver happiness to the user", and when you design that idea with design, what matters is the user's I think that it is an attitude and a stance that we can pursue a good design for just one thing. Of course if you are doing as a company, various circumstances will definitely come out, but it is a strange way to become a 'good-hearted adult' to understand it and to strike a good design for the user I think that it is difficult. Then how do I do, then it can not be done without innocence. With that kind of attitude, we will just stick to thinking only about "doing good design for the user" and making things. With the power of design, the person who can meet it is necessary personnel.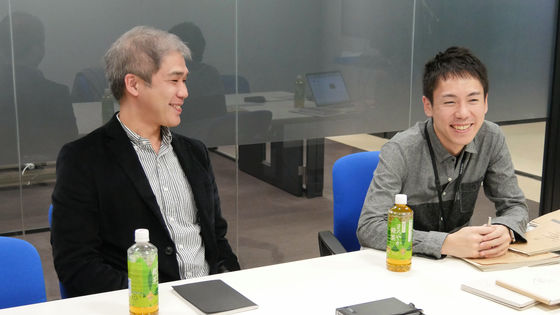 G:
That's a good story!

Matsuno:
Thank you very much.

G:
Do you have anything else to say?

Kinouchi:
Is it the brand itself of Fenrir design?

G:
What is a brand?

Matsuno:
Fenrir design was launched to focus on the fact that Fenrir cherished the design so far, to get to know more widely.

Kinouchi:
We also have new websites. We are making efforts to excite a part of Fenrir and Fenrir as a new brand "Fenrir Design" centered around Matsuno.

G:
Fenrir has a business called software co-development, but will it be ants to receive design work from now on?

Matsuno:
Yes. I think the word "design" is very wide.

G:
For example, starting with the request "I want you to design the management screen", is ultimately the request like "asking Fenrir of the car design" like ant? Like "This car was designed by Fenrir!" (Laugh)

Matsuno:
Sounds fun (lol)

G:
Because it is called Fenrir design, is it a feeling that it makes me glad that such work can be done?

Kinouchi:
I do not have a specific story as a business yet, but I would like to enhance "Fenrir of Design" eventually, so I think that it will be interesting if you can also do a work that is not technology only.

G:
I thought about talking, but I want something like an icon collection of Fenrir. I am handling various original icon designs, so I think that it is interesting if you can collect only the aya icons and download them. "Fenrir material collection, if you combine this you can make a mockup of Fenrir!" It looks like (laugh). Since Fenrir is president Kashiwagi Mr. making software, it tends to be such a tendency, and as there is an idea that "I do not like standard components so much", the selection of talent is also on that extension line I think. Please let me know if such exciting material is released (laugh)

Matsuno:
I am planning to update Fenrir Design's website steadily as I am still launching and I'd like to further promote the commitment and back-story of the design I worked on with Fenrir Design.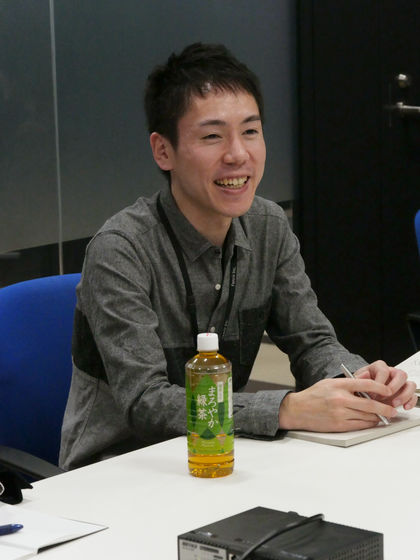 G:
It looks interesting!

Matsuno:
There are lots to talk about (laugh)

G:
I see (laugh). Thank you for today.