An unknown office photo collection of "Fenrir" in the tab browser "Sleipnir" & a story from one individual to growing to more than 100 companies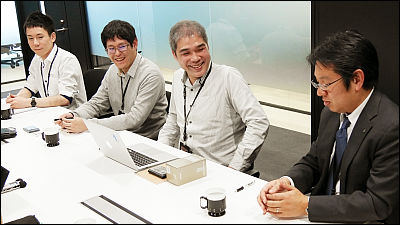 While there are a lot of "start-ups" and "entrepreneurs" that are often watched at first at the beginning, but after that the state of flying does not continue, the state of flying continues, most of them disappear unnoticed, whereas only one individual develops In addition, becoming a corporation further, most companies steadily grow steadily little by little in the 10 years collapse within 10 years, finally boasting the 10th anniversary as the domestic browser as the largest share of the market YesSleipnir"Developers of"Fenrir"is. Because we have overcome various difficulties that are bumping in the middle of growth, since we have continued to grow and continue to grow up to this point, there must be various things before now! So I succeeded in shooting the inside of the company 's "Fenrir" wrapped up in a secret veil, and I also succeeded in interviewing the stakeholders not only about the various story that I had never known before .

Design and technology Fenrir - Happiness to users with free software
http://www.fenrir-inc.com/jp/

Fenrir Osaka head officeGranfront OsakaIt is in the north tower of.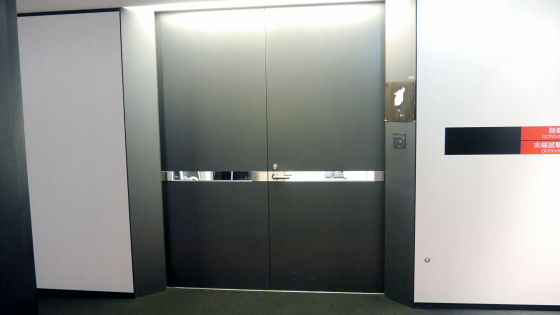 The wolf is barking at the upper right, Fenrir 's logo.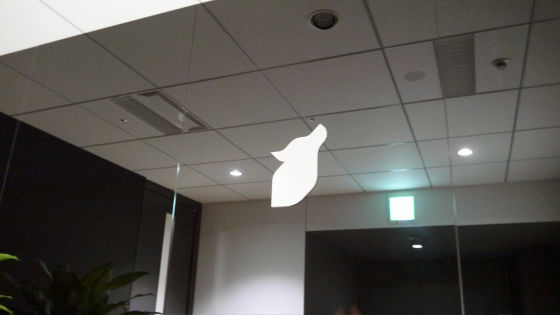 Prior to the interview, I had the office show a little.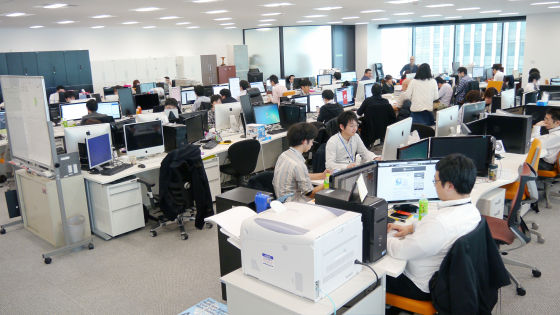 A standard desk surroundings looks like this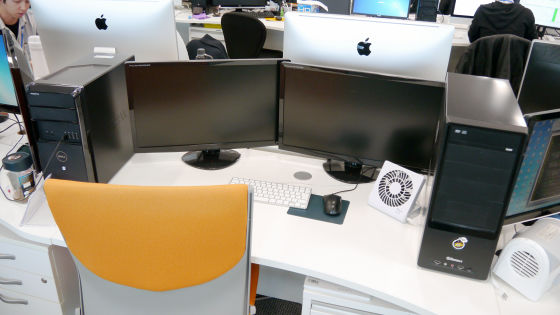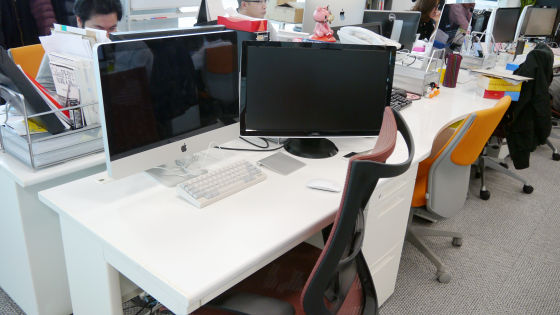 It seems that it is not "unless it is dual display"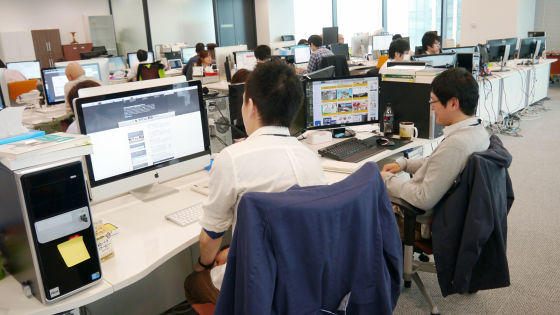 The aisle width is somewhat lowered the chair but it does not get in the way.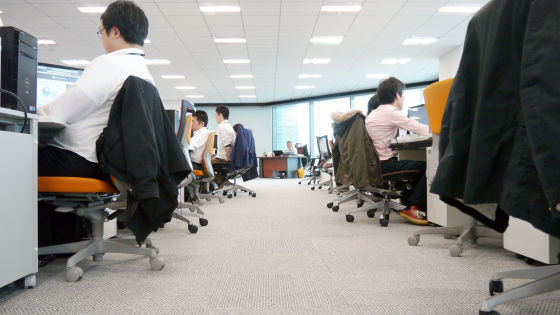 Some people put digital gadgets and calendars around the desk, but they were basically an impression that was clearly organized.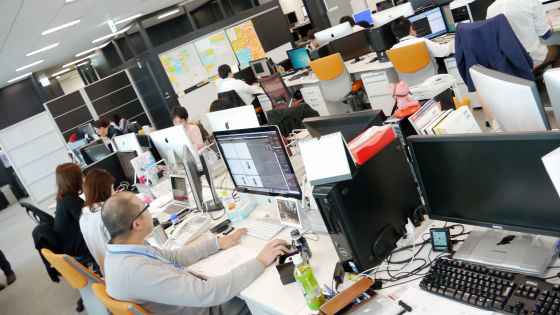 People sticking "explosion" stickers too.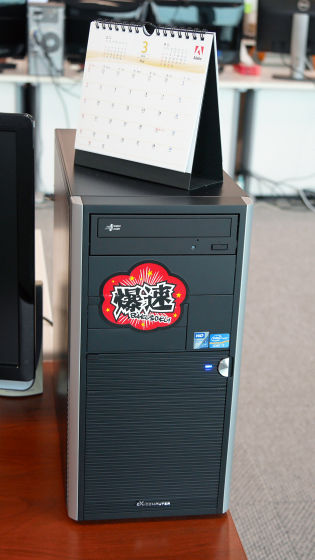 It is a place where there is no place for the back side to become full of cables.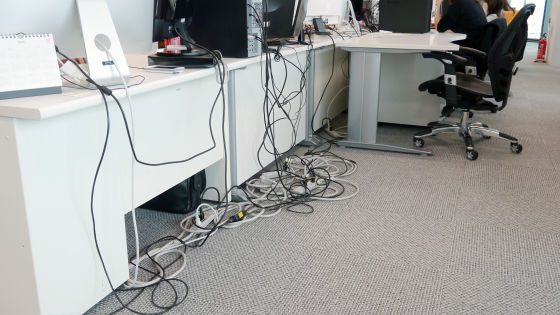 Reference books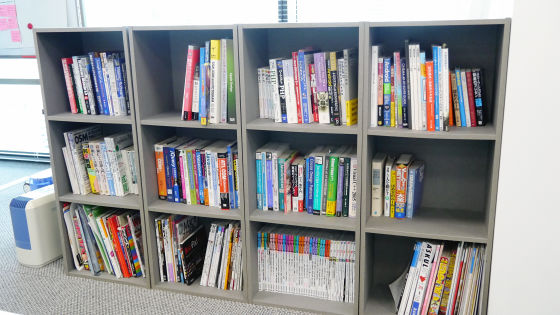 There is a white board at the side of the wall, and sticky notes with tasks and ToDo etc. are stuck firmly. Although it is touched also in the interview, it is said that it is adopting such analog method by saying "I notice it when going through the front".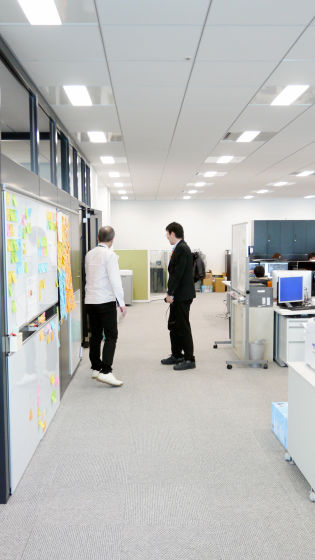 This is also an analog white board. It seems that it is using it for grasping the progress of work from "requirement" "estimate" to "delivery".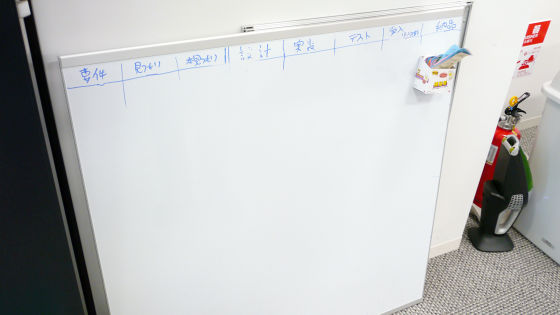 Simple hot water supply space in the corner of the office.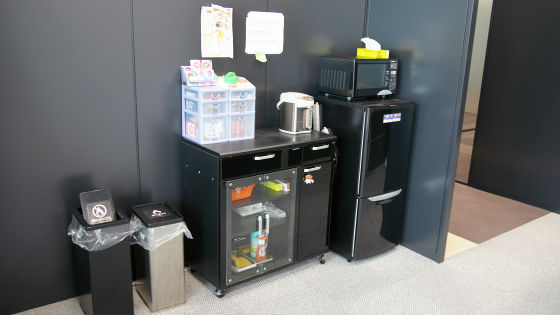 Office Guriko hot water pot 2 units - microwave oven - It is compatible with refrigerator, but due to the electric capacity used, use of microwave is prohibited during pot boiling.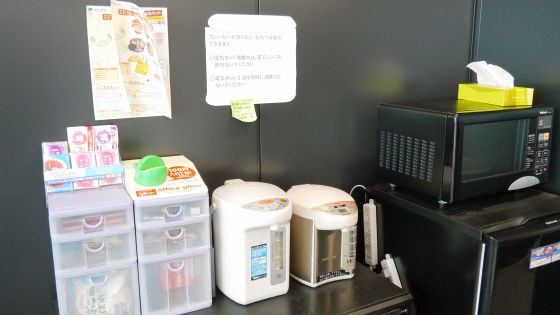 Six kinds of garbage are sorted finely.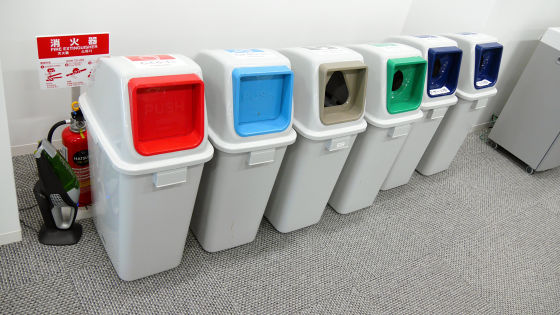 By the way, from the window ......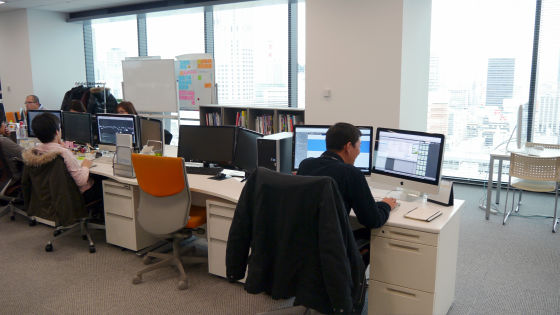 You can see Hankyu Umeda station and Yodobashi camera on the east side of the Grand Front.



It is convinced that there was an individual goal of "making Yodobashi lust" in the whiteboard.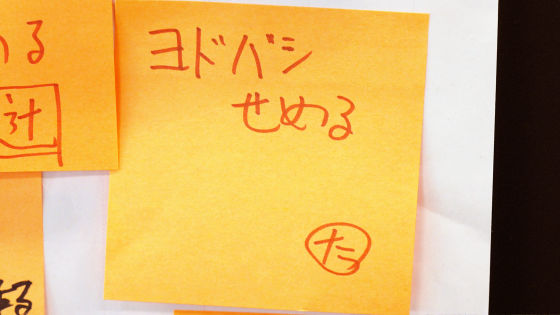 This is a conference room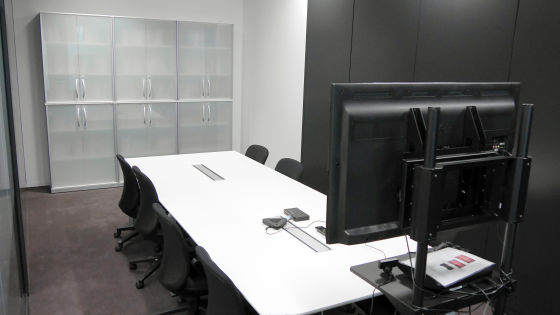 Reference books and the like also slide on this bookshelf.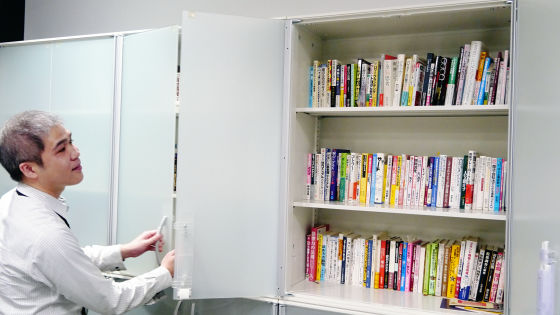 Because Fenrir has offices in Tokyo and Shimane in addition to Osaka, it seems that video conference is done often.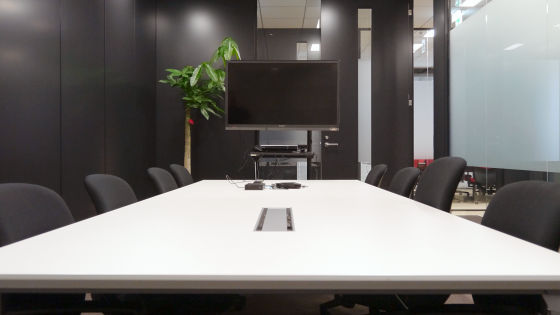 Another conference room is like this.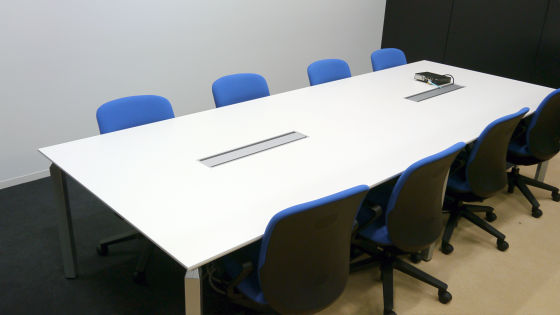 Naturally, since everyone uses a PC, the power strip is housed in the center of the table ......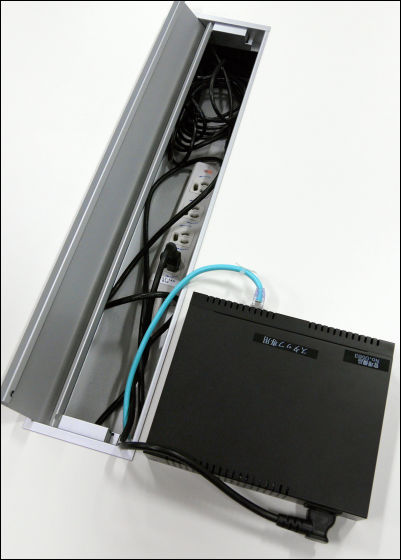 Tap with a lot of mouth at the corner of the room.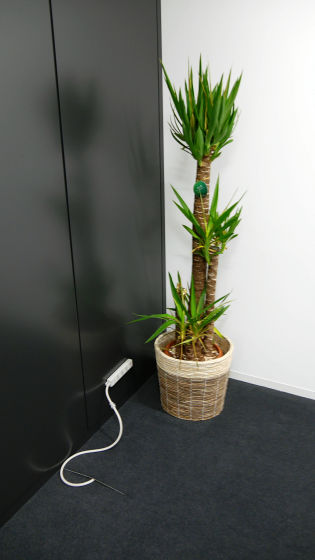 So, this time we conducted an interview about the flow that the company made for Fenrir and the commitment to products and design.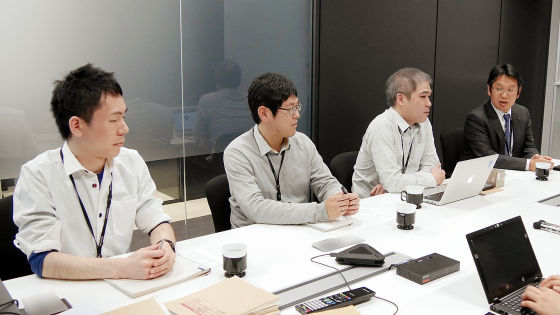 Mr. Tetsuya Kanai (Manager of Sales Division, In-House Development Division, Business Division)
I will briefly introduce our members today. First, Nakanishi is the business unit manager who is in charge of self-developed products such as Sleipnir, who is in charge of the BtoC business division. Nishida was originally an engineer and was developing those including Sleipnir 's Android version and Windows version, and now he plays the role of making together the next planning and direction of the product with the president Kashiwagi at the Planning Division. Matsuno of the designer has been doing the design of the product all the time, Matsuno has designed most of the parts visible to the user, including the website, over the past many years. Especially, regarding Sleipnir 5, which is the latest version, we have taken the concept of the Mac version to a large extent, but originally it was in the form that Matsuno adopted what was realized with the Mac version, and in the design part Sleipnir He is the one who leads.

Mr. Matsuno from the left, Mr. Nishida, Mr. Kanechi, Nakanishi.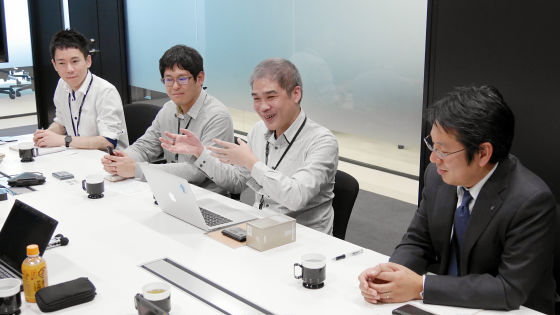 GIGAZINE (hereinafter, G):
When I got to see Kashiwagi president quite a long time ago, I heard about the interview this time, "When I make the company bigger, what kind of order should I have done if I can start making the company from the beginning? "When I first made a back office I think I did not have any difficulties as I did.When everyone was small, everyone else was doing other chores besides programming, but I did not hire to chores So when I decided to make a back office, I got the programmers' productivity got higher and I got the answer, "I remember," I remember that! So what was the initial Fenrir feeling like? I thought of telling a story from where.

Nobuo Nakanishi, manager of in-house development division of business division (Nakanishi):
Well, that's why I have a lot of people to manage. I thought that there were many in this scale, but it was said that it was such an idea. I see.

Kinouchi:
Matsuno, the oldest member of this group, joins the company in the fall of 2008.

Mr. Hiroaki Matsuno, Head of Planning Division, Corporate Development Division, Business Division (Matsuno):
I agree. It was in November 2008, so it's about 5 years ago.

Kinouchi:
At that time the president was commuting to work with T - shirts.

G:
Oh, it's still a T-shirt era (laugh). It was such a time that I also saw that time.

Kinouchi:
Another thing is that "overtime work is prohibited". It was a time when the overtime was banned very strictly. About 30 people as a staff?

Matsuno:
Well, about 30 to 40 people.

Kinouchi:
So it was because everyone knew the face, most of them were in the Osaka office, so it was common for people to go drinking.

G:
Indeed, it was that kind of era. I think that Fenrir was design-oriented since the beginning, but is there any reason for that? For example, even if it is an official website, if it is the development main company, firstly there is "technology" and then "design", but in the case of Fenrir, "design" comes first, so it changed very much I thought you were there, why is it so much design-oriented?



Nakanishi
One is sticking to president Kashiwagi. We believe there is superiority. In order to deliver happiness to customers and various people, design is to occupy a large weight. In our company, the proportion of the designer population as a proportion as compared with the general development company.

Kinouchi:
I agree.

G:
What is the ratio?

Nakanishi
It is about 10% higher.

G:
That's an amazing number.

Nakanishi
I think that this is a lot. From about 2013, there are also customers who say that they do something like a new business of design or talk about consulting, among others, "Can you make only the design?"

G:
Is such a story coming up? (Lol)

Kinouchi:
But it is really nice if you can have an image like "Fenrir is amazing design". Design thinks that there are various ways of catching by people, but "design" by Fenrir is quite wide. Although there are cases where it is only looking at design by all means, it is not so, Fenrir is a company that originally made software, so when you use it it gets some kind of result and fun time, efficiency It becomes that it becomes realized by the design that it becomes something. It is what Fenrir is working on how to design towards it, and what is valuable to the user while making it realize at the fastest speed. So, "All the things users touch is design".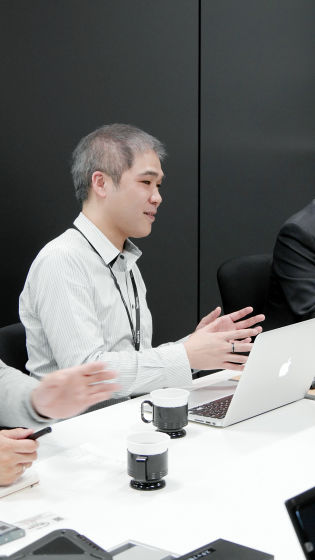 G:
I see. So on the official website like that "Design philosophyIs published in the "is not it?

Kinouchi:
Although we are starting the consulting business of the UX part as a business within the company, although we think that there is discussion as to whether it should be called UX or UI should emphasize design on that side as well ... I think that it is the policy to provide know-how as a result to other companies and others.

G:
The official website's "About Fenrir"There is an item called" Fenrir's philosophy ", and at the beginning," Fenrir promises to fulfill the purpose of "Happiness to the user" is written. This "Happiness to users" is a phrase to be seen around here in the site, but how did this word come out?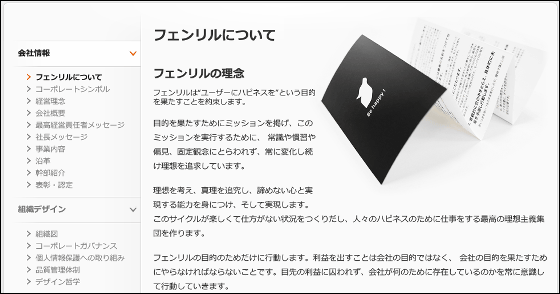 Nakanishi
While I am talking with the management team, it is a company, so I can not exclude the point of earnings, but rather, there is an image like 'Happiness than profit'.

Kinouchi:
Originally when Kashiwagi president made it individually, I think that I was probably making money without thinking at all at the mind. At that time, I experienced that it was good to interact with users and create a happy pleasure for themselves, so I understand that the desire to realize more such things is put in place I will.

G:
I see. By the way, what on the spot site is "happiness" what is it supposed to be? Because I did not write until the point of concretely what I regard as happiness.

(All lol)

Mr. Takeshi Nishida Deputy Manager, Corporate Planning Division, Corporate Development Division, Business Division (Nishida):
Well, after all we think that it is happiness that we are able to convey such things as enriching our lives such as "useful", "fun", "touching and pleasant" using products and software we made.

G:
By the way, how did Nishida go into Fenrir in the background?

Nishida:
Originally developed by another software development company in-house, but since it was wholesaling to the company, the voice and face of the user can not be seen, so much reaction is made .... I heard from a sales person, "There was such a voice", but I did not hear the voice of the end user at all and I thought that it was not fun. I was a user since Sleipnir was version 1, so when I was looking for another company, I thought "There was Fenrir in that way" and as I looked it just has my As job seekers asking for something similar to skills appeared, I thought that I should accept it, so I accepted it.

Kinouchi:
I heard it for the first time (laugh)

G:
That was how it happened. What kind of happiness is from Matsuo of design?

Matsuno:
I think that getting pleased will lead to happiness, so I make it as a starting point from how to realize it and what kind of design should be done to shape it for the purpose. Whatever you do, I value the design by keeping that start.

G:
The official site has "Design philosophyBy saying"1. Practicality" "2. Properly convey the image" "3. Individually while following the standards" "4. Beautiful mathematically and culturally" "5. Organize functions according to abstraction level" 6. Number of actions and exposure suitable for frequency of use "" 7. Reduce memorization "" 8. Make the function passively experience "" 9. Do not get rid of details "" 10. Consider future potential "" 11 Get user empathy "" 12. Understand technical aspects "In such a way, "I wonder if I can protect all of this?" Is written, but is that the guideline for "user's happiness" on the design side?

Matsuno:
I agree.

G:
By the way, I have the same question as Mr. Nishida, how did you join Fenrir?

Matsuno:
I originally worked for a company that is designing advertisements for printed materials and I was able to do my job and good work that will be beneficial at that company, but I was concerned about the field of user interface since I was small. I had no idea until I got a job, but I wanted to work it for a while and I found out that there is a company that is doing such a job in Osaka, I found Fenrir, I am an engineer and a designer of iOS It was the timing that I was looking for it, so it felt like I jumped in.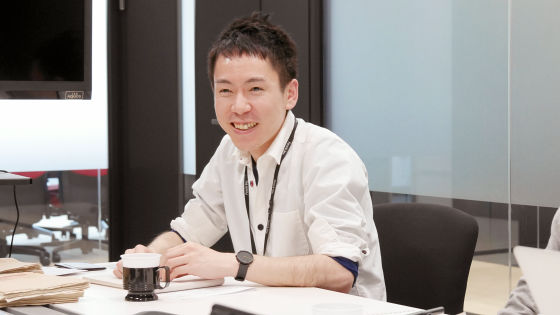 G:
I see, i see. By the way, what were you stacking up when you came earlier?

Matsuno:
This is a Mu- ru good product's slate book, I brought with it if I used it for 5 years I used it all the time since I joined the company and talk about it.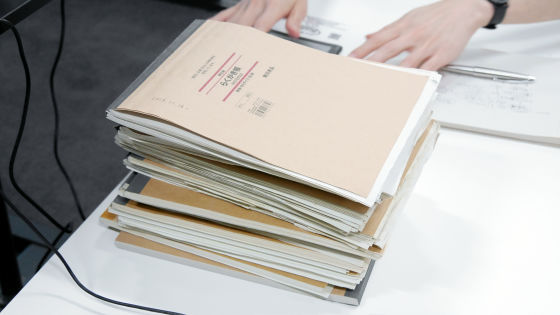 G:
Everything since I joined the company!

Matsuno:
Yes, That's right. It has five years' worth of date on the front cover.

G:
All are the same without mark.

Kinouchi:
It is MUJI MANIA.

G:
(Lol)

Matsuno:
You can also see where the paper quality changed in the middle (lol)

G:
Wow, there is also a change in design.

Matsuno:
This is the earliest sketch of Sleipnir Mobile and it tells you what you were thinking.

G:
Is it because you are looking back at a later time to leave everything?

Matsuno:
I can not throw it away somehow (laugh)

G:
This is right answer without throwing it away!

Matsuno:
Looking at such opportunities it is interesting myself.

G:
Even just looking at this accumulated material, the story that I was talking about "Can you only do the design?" Seems to come.

Matsuno:
this isInkinessIt is the first concept when I made a memo app.



G:
By the way, how was Inkiness born?

Kinouchi:
That tried to realize paper and pen, did not he?

Matsuno:
I agree. It seems to be Fenriru, there are also verifiable and experimental parts of the iOS application, and it is starting from what it can do.

G:
When I first saw it, was it made for use inside the company? No, it should not be meaningful to pursue accuracy so far, so it does not mean that everyone in the company is using it ... No, I think a lot I have gone.

A memo written with a gisslie. Mr. Matsuno has this slate book at hand and I write various things from product idea to a little idea.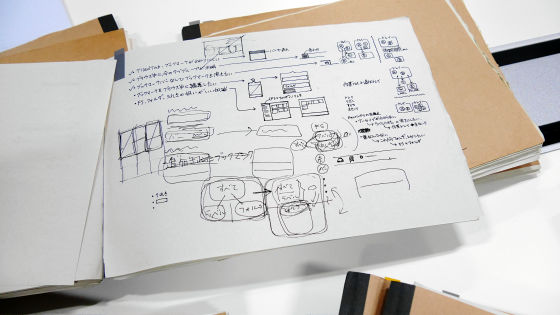 The thing which is currently used is the 19th book, and it seems that it fills in about two months in about a moment when looking at the use period of the cover. Since it is 80 pages per book, it is almost the same as one page per day, but I do not mean that I write "one page a day".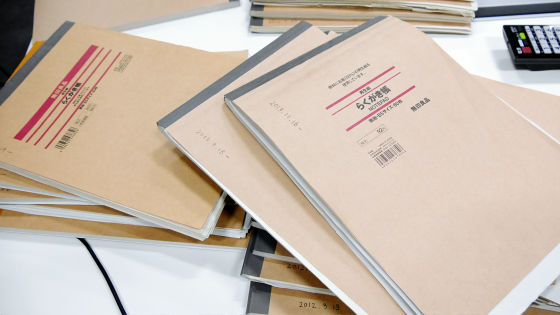 G:
Some things like 'Was this done in a way!' "There are some things like," Having said "Ooooooooo!?" Just reading this, I feel that half a day will pass (laugh) . According to the official website, "As of April 2013, the number of employees is 82" as shown before the office, how is it at this time?

Nakanishi
It's already over 100 people.

G:
It's amazing, you are in 3 digits.

Nakanishi
Yes, people are rapidly increasing. Somebody is coming in like every week, and it seems like he came to greet me.

G:
Yeah, that is amazing.

Nakanishi
It is a place where we are honored to be able to talk with such business speed, though it is a place we have to respond to.

G:
I see. About 100 people at the present time, I heard that about 10% of designers ago, what is the other breakdown?

Nakanishi
The number of entrusted departments is increasing. There is a considerable increase in the needs of consignment projects. We are pleased to hear from our designs and to have a big client tell us about our achievements and call out to others. In their information systems department, we are doing to respond to voices like "it is itchy but not reachable".

Kinouchi:
There are also sales after that.

Nakanishi
People who call "sales of cottage" are not entering when it is open.

G:
It is that there are people who are not "sales of cottage", what kind of person is it?

Nakanishi
It is like half SE seems like sales.

G:
I understand the technology, I do not.

Nakanishi
I agree.

G:
I was looking for Fenrir's history, etc. for this interview, but in April 2013Techno Ark ShimaneYou are making a branch office in the South wing. Why is this in Shimane?


Nakanishi
Based on the current situation that Tokyo and Osaka are in talks with engineers in addition to needs, we are planning to put excellent talent into our troops while also looking for local and regional revitalization.

Kinouchi:
Well, Shimane has skilled staff in Ruby. From the personnel department, saying "If you do not mind, Shimane branch office also gathers information".

G:
I see, i see. Looking at Makino CEO 's Twitter, when I made Shimane branch office "Four out of the first 5 people were Matsue Nakadori CollegeAlthough it was written, it is whether it is the aim of taking the person of Matsue Nakadori College or who gathered excellent talented people, was it by chance that Matsue Naka College was many people?

Kinouchi:
Of course, I think that they are using excellent people (laugh)

Nakanishi
There are also some aims of shooting. Clerical affairs are taking place with the school. Next year, I will have 2 new graduates for the first time, but I am going around the school based on such a place.

G:
"First time I will enter a new graduate", what is this "first"?

Nakanishi
It is the story I heard for the first time.

Kinouchi:
People who can come in next year are the first to say so-called "new graduate recruitment". Some people say that he has worked as a bachelor since he was a student and has just entered a graduate as a result (laugh)

Nakanishi
There is no such thing as it came from the hiring process.

Kinouchi:
I agree.

G:
In this episode of Shimane, "Shimane is appreciated because the subsidy is thickWell, I also wrote something like "What is assistance?"

Nakanishi
Is it about the subsidy that the country gives?

Kinouchi:
Matsue city itself is working on developing Ruby engineers and is actively attracting offices to do Ruby business on site. So, I heard that the city's backup is powerful.

G:
I see. "Recruitment of developers! We will establish Fenrir Shimane branch office"In the article on the developer blog that says" I started co-development (development) of web application ", I wrote that Shimane is recruiting those feelings, but the rest What kind of relationship does the relationship between Osaka and Tokyo, which is the base of the two, be divided into division?

Kinouchi:
(To Mr. Nakanishi ...) How is it? (Lol)

Nakanishi
This shook a difficult place (laugh). After all, Tokyo has a lot of entrustment, but we do not feel remoteness, that is distance problem, we are doing information exchange / exchange making full use of the net, "Because it is a Tokyo project, There is not much feeling that "It is a member who has it." The number of people in the company has increased to the unit of 100 people, but there is a flat feeling since the start, so I do not feel the wall of the section much.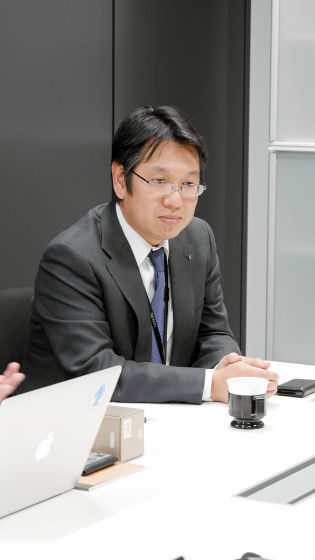 Kinouchi:
As for sales, it is still moving in Tokyo center, it is B to B business. Also in Sleipnir the spokesperson is in Tokyo, but development, design and planning are done in Osaka. Tokyo has sales and development of the consignment team, but development is probably done in Osaka main. So, Shimane is a development team on Ruby and web apps, so there is no sales there, it is feeling that you are writing purely Ruby.

G:
Although I talked about the distance of the office, the official blog about Osaka and Tokyo official blog "It is written that it is possible to communicate without problems with various tools by using various tools" What kind of software and equipment do you communicate remotely?

Nakanishi
I usually do a video conference normally. There was also a very strange feeling of doing a job interview at a video conference, though (laugh), there are also such things as people coming to the Tokyo office and getting in and they are asking questions from Osaka . Regarding information, development tools also use the cloud to share information, so there is no image inside that member as remote. However, there are certainly places that we have to talk to the face with the customer, but there are also some customers who use the video conference to communicate.

G:
If you show me the conference room Polycom or PlayStation 3, there are a variety of equipment, but what else do you use?

Kinouchi:
There are also cases where you are using Skype or doing FaceTime. I usually have phone, e-mail ... ....

G:
About this, how do you remotely do development?

Nishida:
Because development is in Osaka, including designs.

Matsuno:
That's true with Sleipnir.

Nishida:
Is it Tokyo feeling that you are doing with TV conference or Mac Skype?

Kinouchi:
I agree. Using Skype or something. I wonder if they are using FaceTime when they are Macs.

Nakanishi
After that Redmine is pretty much penetrated. Truly, the person in charge of the office is also shared with Redmine.

G:
That is amazing.

Kinouchi:
I'd like to issue a ticket.

Nakanishi
I do not even know the people who are a little older in management.

(Lol)

G:
It is unusual to call Redmine until clerical work.
Just around the end of 2013 I have moved to this Grand Front Osaka, but I have had a background that various offices have moved so far. What is the reason for finally choosing the present place here?

Nakanishi
Well ... when all the employees came in the exhibition, everyone was happily shooting pictures.

G:
(Lol)

Nakanishi
Everyone came into a flat floor where there was nothing yet and became "Wow ~". As the motivation of these employees rises and the viewpoint of the customer also changes as it enters the Grand Front Osaka, I think that there is also such a part. While the top was just saying this week's morning meeting (laugh), as a company aiming to continue for a long time in the future, I have to invest in these kinds of things. I already have arguments like "Would you do next if you become narrower?" It quickly became small (lol)

Kinouchi:
Well (laugh), the former office has inevitably gone tranquil, but the desk which protrudes somewhat out of the original space is coming out. There used to be more places in the past. So, you may have to move if you become something like "Yaroi Yaro" (lol)

Fenrir office of Grand Front where Gissiri and desk stand side by side.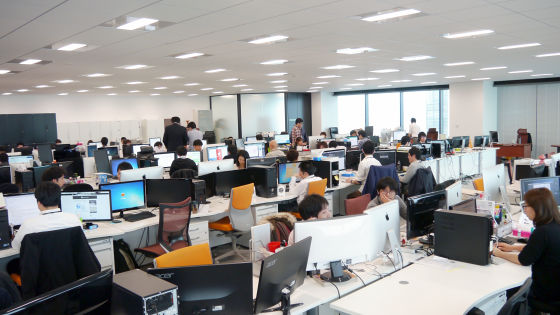 Nishida:
I heard the story that adoption became easier as I came to the Grand Front. Thanks to that, it came to protrude again (lol)

G:
It was a story that people are increasing at one pace per week (laugh) I have just come out for a moment but what does morning assembly do?

Nakanishi
I think that this area is "flat and na ~", but I am morning every week. Connecting Osaka, Tokyo and Shimane, the CEO tells a story, and the progress report of each department is shared by all. Such a little old chick, there are places like analog chick. Everyone is an engineer or a designer, "PC is my friend" ... I get angry, but (laugh)

G:
(Lol)

Nakanishi
I am conscious of the place that it is human. I'm thinking "I like to talk every week" (laugh)

G:
By the way, before, Kashiwagi president remembered "I want to do something like a morning bug at some point". You really started to play morning.

Kinouchi:
Certainly, when I got in there was not a whole company morning ceremony ... ....

Nishida:
There was about as I entered.

Matsuno:
There was a party that gathered in the morning to talk about each word, but it was not like a whole company morning meal.

Kinouchi:
Perhaps it is 2009 or 2010.

Nakanishi
It is quite a continuation.

G:
It has not started recently, about four years have passed.

Nakanishi
I do not have to say "I will stop this week already", every week.

G:
When I heard the story of this morning assembly, the president Kashiwagi who was a cool and rough former until that time was a suit, so when asked "Will you go somewhere from now?" " I thought that I was going to wear it.I think that the inside of the company is slacking or what kind of thing like entering from such form is also important, "and if you look at today Because there was nothing more than a suite, I thought what kind of flow was there.

Matsuno:
Even now, even for such software companies and design companies properly, although it is not so dress code, there are provisions and there are regulations, "Jeans banned" or "T shirt alone not allowed" or "Wear shirt with collar properly There is something like "Koi", it continues.

G:
As expected, President Kashiwagi, I thought what the suit was like (laugh)

Kinouchi:
Everyone did not have a suit, but when the company president comes to work from around that time, it is almost like a suit, suits are coming.

G:
I see, there must have been something within president Kashiwagi surely (laugh)
In FenrirAsahi Newspaper digital select news headlineYaTele Drama news,Jump camera !!,Mimamori GPS only application, And became a topic at the end of the yearNHK red and whiteWe are making smartphone applications such as. Originally from the browser called Sleipnir in the first place, we are also receiving orders for these applications, and recently it has grown to be a user interface and user experience research design project, but what is this Was it thought that "Next time is like this" by the feeling?

Nakanishi
There are parts that I do not understand about decision making, but I feel that I feel that it is easier for customers to talk about consignment by recognizing that customers are "Fenrir of Sleipnir". Even a person named "Fenrir ??? ...?" May know that "Sleipnir ...... Oh, a browser of a horse's sign". So, I also make stickers for Maji.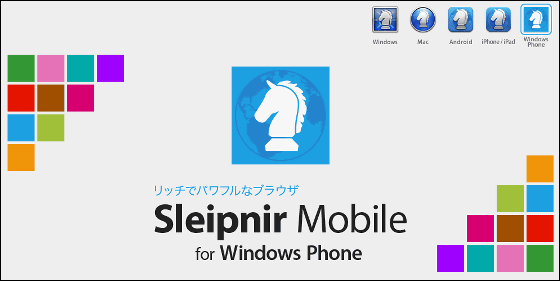 G:
Oh, I see. (Lol)

Nakanishi
If we think of that, we will go to the development of a web application and a smartphone application from a policy that adheres to design only when we have a track record of Sleipnir, so we have become "a company named Fenrir who has selected and evaluated by major customers" To .... And on the contrary, I also have come back to try newly using my experience of consignment to challenge my own applications. There are designs and technologies on the foundation, and various businesses are increasing in the mesh type from there, and I think that this spread will continue still more.

G:
It is said that Sleepnir's horses are symbolic, but what percentage is currently involved in the development of Sleipnir internally?

Kinouchi:
Going throughout the company ......

Nakanishi
It is about 20% to 30% less.

G:
I am taking a lot of resources! Does this include Android and iOS?

Nishida:
I agree.

G:
Although the story is flying, if you are watching Makino's Twitter, "Fenrir designers recently used for work" photos are posted, but what is this Is it?


It is an accessory the designer of Fenrir recently uses for work. It seems to be a small article to be used for "paper prototyping", before you actually design the interface or programming, you can make a two - dimensional prototype to print out the opinions with the client.Pic.twitter.com/tx6j9J7guU

- Kanefumi Makino (@ kazushi _ makino)2013, April 1

Nishida:
It is a paper prototyping guy.

Matsuno:
It takes quite a long time to actually make things, but if you cut and paste paper on a desk, you can experience crispness on the spot, I think that it is a part for that.

G:
When I saw the office, things like "To Do, doing lists" were huge on the walls stuck with sticky notes, but is Fenrir having its analog part in its part? Is it?

Nakanishi
I think it is analog (haha)

G:
Because everyone is on the same floor, is that easier to do?

Matsuno:
Well, it is because we tend to see it even if you do it online, there are unseen watching and misunderstandings. If that point is pasted over it surely will go through before and you can see it even if you do not have it.

G:
Fenrir does exactly what information sharing and intention sharing in the whole company do?

Nakanishi
I think so. There is also a laboratory in the university, laboratory or semi-like lily. It's business but it's different from business.

G:
It's written as a page on the page, is not it "profits are only results"?

Kinouchi:
Because there is also research and development that it is making things. I feel a lot of discussion and something.

G:
What is the argument?

Kinouchi:
Even if I make it to a design, even if I ask the user to know more, I wonder what is now a problem, whether it is not ah (lol). This area is quite exciting.

G:
When there is something inside the company, is it more like a discussion rather than a conference?

Nakanishi
I think there are many discussions. One of the things I'm thinking about "Flat is outdated" mentioned earlier is there, there are top down and bottom up communication methods, everyone is truly discussing flatly, for example, the story only fell from the manager There is no such thing as not coming or people in the field do not agree.

G:
Is there something like a mechanism for gathering opinions from the people in the field?

Nakanishi
Mechanism ...

Kinouchi:
You are sticking it.

G:
Is it pasted? (Lol)

Nakanishi
There are also teams that take a style like Peta and Putt it when speaking at the meeting.

G:
Is it a team that feels like a team, depending on each app or consignment?

Nakanishi
Well, if it's me, I am a team of engineers rather than by product, and when sharing information it is just like "post it if something happens." I call it a ticket.

G:
It feels like you are doing development development system in real, it is very different. The word "flat" came out from the previous time, but that's what it is.

Matsuno:
Everyone, everything I thought is quite right environment.

G:
It is transmitted from the site that Fenrir places emphasis on design, but the designers who are in the company have graduated from the art university as a background, or whether such things are not much related, from other companies Is it emphasis on experienced people such as head hunting, is there something like rules or policies?

Matsuno:
How is that? As a member I am currently in, it is really out of the arts university · Regardless of whether it is out or not, there are various people. Is there a lot of people out there?

Nishida:
Well, most of the people, such as Geijyo and vocational schools, are studying as they are.
G:
I see. Moreover, although it is from Makino 's Twitter, there is a thing written when the article "Shimane branch office opened" in the Sanin Shinkin Brawl was written,It seems that sales in March 2013 are expected to be 900 million yenI was surprised to see how far he has been going to go so far, but has been increasing the number of people has been coming up from this sales right up all the way? Or is it feeling that there is a mountain valley and managed to reach this?

Nakanishi
I think that it is going to rise sharply on the scale of sales.

G:
That's great.

Nakanishi
Thanks to you ...... Also, since I have overlooked my profits (laugh). A little recently I started to be conscious of the profit, thanks in advance to be included in the Grand Front, I do not know if the next stage is the second stage or third stage, but ... and more .... However, Kashiwagi and Makino are still in high places, whether it is a goal or the direction of a company that I want to move forward. And what I think most about Makino's words is "Do not absolutely discount" (laugh)

G:
(Lol)

Nakanishi
My department is not the direct development department, so it's not direct, but I always said the policy "do not discount customers".

G:
That is a good policy.

Nakanishi
I think that it is a manifestation of aiming for something that can be highly evaluated at the highest.

G:
Why did you ask about this kind of thing because you do not understand well how you are establishing the whole company from the outside, I am worried.

Many people thought the browser was not conscious until the version of Android came up as there was a person who used to think that IE's blue "e" icon was "the Internet" in the past. However, from a certain place, it seems that dialogue "Which browser do you use?" Comes up, and interest in browsers has increased and it seems that you began to be conscious of "What is a browser?" This also overlaps with the epidemic period of social games, the service which does not raise profits quickly disappears, that is, everyone knows that "There is absolutely no free", and what is said to be free, where I guess I have to earn money with.

Fenrir also holds various jobs other than Sleipnir and puts out an app, and it has ten years passed since becoming a corporation. It is said that many of the companies are collapsing after 10 years, so still want to hear about how Fenrir who came this far got over the hardship and got bigger.

Nakanishi
In 10 years, it is "spread of business" as I said earlier. I think that it is a big thing that it is a contract or a design work, or a smooth spread around such a place is a big place, I think that there is synergy being created at the place where it is expanding. As for browsers, there is a part called "not only profit", but I still want to use it for many customers, and I am pleased that we are pleased with our products and are expanding more and more to sticking people, information necessary for those people There are also collaborations in parts that will convey something to say something ... .... Interestingly, it seems to be a bit like B-to-B, I think that the browser is a bit different from parts or OEM, but I'm increasingly getting a story saying "Can I collaborate like this as a member?"

G:
It is amazing that a story will come from the other side.

Nakanishi
We do not do business almost (laugh), but still we expect customers to see it in such a way that our technical capabilities are expecting, and customizability as a so-called member and the burden of development process I think that there are schedules and schedules, but that spread is emerging.

G:
Fenrir has its own development business centering on Sleipnir, there is a joint development project of smartphone applications, there is a joint development project of website and web application, the joint development project of OEM that just came out talked about There are five main parts, such as there is the newest user experience research design project, but in what proportion do each of them hold?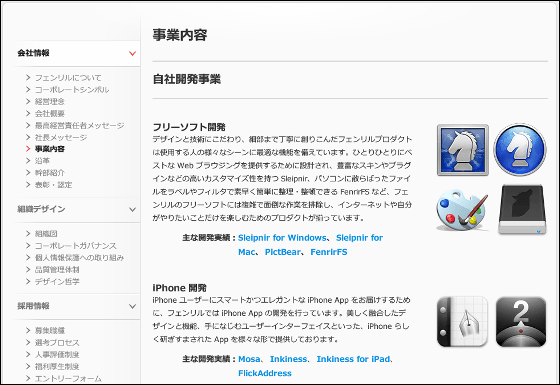 Nakanishi
Since there are customers, there is no such thing as "special emphasis on this", so I think that each role is important. In the moment there are lots of things which are many. At present, there are more entrustees than our own development, but we will develop tactics by considering the strategy of bringing this ratio up to about 5: 5 with the effect of this consignment. Among them, I would like to take advantage of Sleipnir to try new challenges, or to monetize products other than Sleipnir I am making now, individually.

G:
I see, i see. As for what I would like to ask, as a result of putting out various hands, Sleipnir has not disappeared any longer? That (laugh)

Nakanishi
That's it, the thought of the top is quite strong (lol). The product is like the president's child. Because my thoughts and expectations for what I've found are quite high for us as well.

Kinouchi:
I feel ashameda (lol)

Nakanishi
You feel ashamed. We have heavy luggage on our back (laugh)

G:
I guess everyone knows that kind of thing even in the field, right?

Nishida:
Well, I understand ... ... What to say (lol)

Kinouchi:
When I am making products with the president, I'm pretty sticky everywhere, I think it is amazing. I am an engineer from the beginning, so I think that it is "Yoshi Yoshi" if it functions in general according to specifications, but from the president "Please make this a little earlier, half an hour earlier" "Fingers reach a little further down "I want you to do it." After receiving the indication that this is from a distance, as a result, it often happens. It is easy to use.

G:
Well written on the page "sticking to 1 pixel" is rather the president's commitment to say that (laugh)

Kinouchi:
Of course there are also designers' prestige.

Nakanishi
Perhaps I am committed to the company, but after all I think the president's thought is originally great. I do not compromise.

G:
Is there any episode that knows that "Do not compromise" around that? Not limited to the president, it seems to be various.

Nishida:
Where the president thinks "This is important", I often asked "What happened and what happened?" "What's going on? What's going on?" Every time "It is like this".

Kinouchi:
You feel a sign of it.

Nakanishi
What I think is to make people of development also users. Even the product we made this past, the president told Nishida "Does it touch Saturdays and Sundays?" If you answer "No, I do not touch," "No, I do not want to spend 24 hours with that browser."

Kinouchi:
You say "Become the best user", do not you?

Nakanishi
Then it comes out that Kimuchi said "How many pixels is increased here, and how fast it is better to raise the speed by several inches." "Once you really lay down and touch it, the pitch here will be different." It is a feeling that "focus more on system tests". I think that this will lead to "user comfort, happiness" that has appeared many times, but it seems like it really feels good to use it. If so, I wonder if some of these bugs can be forgiven.

Kinouchi:
I will concentrate on the place to use everyday, the place everyone uses, and the place with high frequency. The president also knows that it is impossible for everything to be completely perfect.

G:
Indeed, the division is solid.

Kinouchi:
I feel that the sense of "where to put power" is different.

Matsuno:
I came along with the president all the time, so that every one of them has been penetrating everyone in the team. So I will gradually be able to say "I have done this" with such a point of view gradually that I had to be told at the beginning.

Kinouchi:
Also, not only software but also pretty much stick to words.

G:
Words?

Nakanishi
Press releases, copies, etc. "What do you want to tell me?" Whether it is easy for customers to understand or not, it seems like "Are you getting numb with expressions?"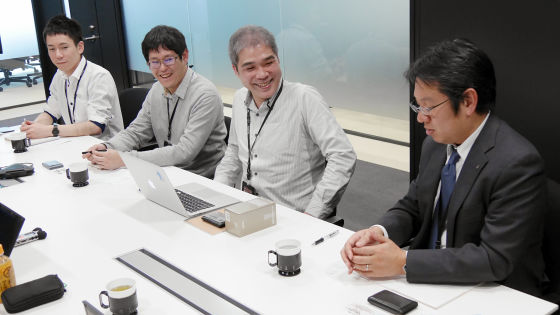 (All lol)

Kinouchi:
I feel that I have to motivate, and I feel pretty stuck to the rhythm.

G:
rhythm?

Nakanishi
A place like a psychedelic place.

Kinouchi:
When you read it "Yeah, yeah, yeah." Somewhere a part is long, "Rhythm is not that good for a while".

G:
You put your hands around there all the time.

Kinouchi:
I agree. Mr. Matsuno is doing the longest time with the president as a density, probably most difficult (lol)

Matsuno:
I agree. Originally I made an iOS version together with the president, and I have released "Sleipnir Mobile for iPhone" with the exchange like now. Since that time all the time, it is recently organized as well as a team, so we are left to leave it to the team, but after all the points I was tossed in as "Why is this here?" I will do it.

G:
When the iOS version of Sleipnir came out, it felt like "Oh, it came out at last!", But is there something like an episode left in the impression on the design side when releasing?

Matsuno:
There are lots of things ... (laugh), feeling touch and comfortable feeling, everything is watching for millimeter second and so on, size and position ......

Kinouchi:
Anyway it was to reduce the number of steps.

G:
Number of steps?

Kinouchi:
I was stuck with how many times the user had to operate when I tried to perform an operation, and Safari was the main thing at the time, but one of the big differences is "How many taps are needed to switch tabs?" It was that. At that time, Safari first took the three steps of switching to tab switching mode, picking it, and pressing it, but in Sleipnir it's really a swipe operation with a lucky puppet if it's the next tab. It would be nice for the user to reduce it even in one step, so it is worth reducing as it is a frequently used part, so it probably was sticking to it.

I used to program mainly on the iPhone version, but at the beginning there was also a part that does not come with an honest pin as to why I have to make it (laugh), while I am making it, "Oh, this can go "It turned into wind like" Is this amazing? " There was also a problem of review, the release was the day before entering winter break, that is, the day of paying work. As I released it on that day, but as soon as I got something if there was something, I had all submitted a schedule like where I was going to be from where, but so long as I could get in touch, even during the winter vacation, but after all I had no problem so I had a good rest at winter vacation And, the response from the user was also very big, it became a good New Year 's holiday.

G:
Fenrir has distributed various applications for smartphones, but which one is the best selling ... is saying hen, but what is the main?

Kinouchi:
As a Fenrir brand application Sleipnir is amazing as it does not have anything to compare.

G:
After all Sleipnir is amazing. Also, what criteria do you decide on price?

Kinouchi:
One thing that is clear,600 yen for Black EditionThere is quite a lot,I also wrote it on a blog for a whileAlthough I really want to use the free version in various circumstances, there is a desire to switch search engines, so it's a stance of "I prepared it for once as an option." So, do not mean "actively pay 600 yen", but if you can, I would like you to use the free version so it feels like I'm making a hurdle for using somewhat higher.

G:
There is such a reason.

Kinouchi:
Well, as there are business reasons, I believe that even a free version has provided enough charm.

G:
With InkinessIPhone versionWhenIPad versionAlthough there is a slight difference in price, why is that?

Nakanishi
Why is not it?

Matsuno:
Is it the size difference (laugh)

G:
(Lol)

Nakanishi
Materials and raw materials are different (lol)

Matsuno:
Is it an area?

G:
Inkiness said that there was an experimental purpose, but at the time of release it remained quite impressive that "Oh, this app comes out." How did you become this application in the background?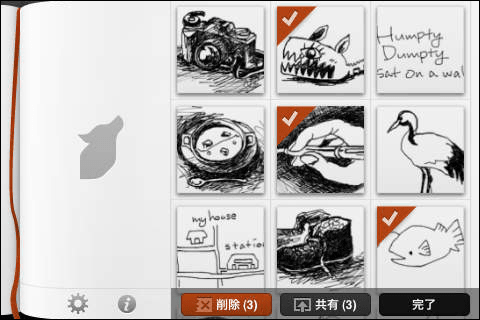 Kinouchi:
At that time it was a time to enter the development of the iPhone application and it was about what I could make without cost as a practical tool in the "What should I make?"

Matsuno:
I agree.

G:
Was it that the meaning of getting experience was great?

Matsuno:
Well, it was the first time.

G:
At that time, I remember becoming a topic of "Do you come out with such a crazy app at the beginning?"

Matsuno:
In an application that made use of multi-touch in Notepad, it was decided to put out a proposal of how it would be handwritten notes, and let's make it. However ... ... It is not so easy, not only is greedy, but as it all seems to be Fenriru and adhering to designs properly, if it comes to saying something that can only be done with us but not elsewhere, sticking to curves (lol ), To make it feel like a fountain pen ... ....

Inkiness for iPad 1.0 - iPad Memo Pad and Sketch Book App - YouTube


G:
Was it quite time consuming?

Matsuno:
Well, how long is it ...?

Kinouchi:
Perhaps, I started making from February to March, and it was June or so.

G:
By the way, before we decided on Inkiness, what happened to the proposal?

Kinouchi:
It's about 5 years ago. It may be in that neta book (haha)

G:
(Lol)

Matsuno:
I have it, but I can not remember it a bit ... ...

G:
Although it is said that it became a collection for the purpose of acquiring experience from among a number of plans, "Why did it suddenly have issued such an advanced application?" Because I was concerned whether it was trying to make something difficult suddenly or another plan was more difficult.

Kinouchi:
When you start making it you can see that it is tough to go after all. When trying to realize commitment.

Matsuno:
At first it was only "to make handwritten notes".

G:
The handwritten memo has become such an advanced thing, does not it? I was stuck with writing taste, and directional things like that at that time were rare, so it remained in the impression. Because there was a feeling like "Truly is Fenrir".

Kinouchi:
This "manipulating the screen freely by hand" is later linked to the know-how of the so-called UI part, such as dragging tabs to a favorite place in Sleipnir, so in the technical accumulation I think that there is a part that was quite useful. The programmer who made Inkiness is still developing a lot with Sleipnir.

G:
Among various applications, Sleipnir's related applications send links for example "Sleipnir LinkerThere are plenty of such things going on, but is there any future Sleipnir related or anything else that will come out further?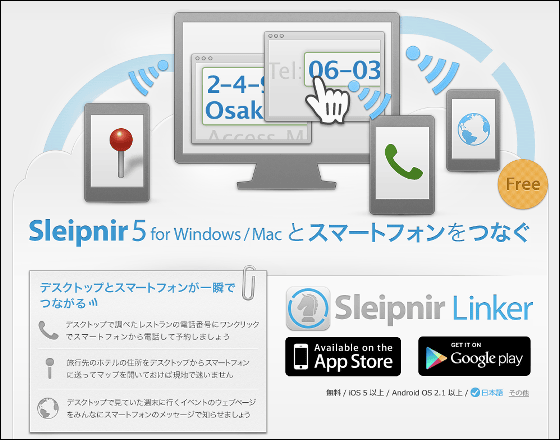 Nakanishi
I think that I do not do it. Because it is a place where we do not mean "which segment" as we said earlier. There are things that we are already developing.

G:
Well then what is outrageous?

Nakanishi
Because the concept is outrageous.

G:
The concept is outrageous! To be surprised, it was FenrirFS who thought that the most outrageous thing that Mr. Fenrir issued, though (laugh)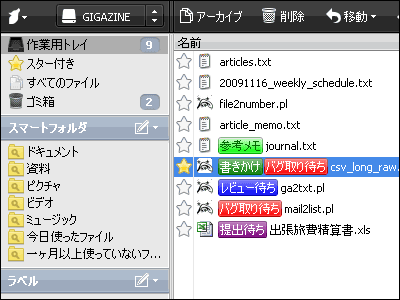 Kinouchi:
It is still easier to understand than that one.

G:
I see (laugh). After all I saw FenrirFS so I was shocked by too much flying.

Nakanishi
As that BtoB, as one of the members I told you earlier, I can not say anywhere but some companies have asked us for such inquiries.

Kinouchi:
Practical application.

G:
I do not know what the Fenrir says are saying, because there is no uniformity, how do you know how to create something like this?

Nakanishi
Because we are such characters, it is a compliment word or something (laugh)

G:
SnapCrab who thought that "It is not updated anymore" after a while since the last update corresponds to TwitterAPI version 1.1, "Oh, it was not forgotten".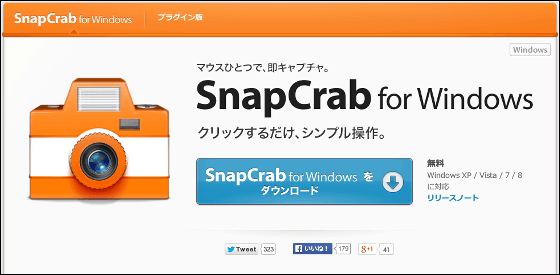 Kinouchi:
That neighborhood is working quite seriously.

G:
Does maintenance work on things you made inside the company? There is a feeling that even if more and more software is increasing, I feel that it is not forgotten, but how do you manage it?

Nishida:
When a new service comes out or service changes and the situation has changed, even things that are not putting much emphasis on moving existing ones, going to make mountains, and thinking about that Right.

G:
How long is the request from the user?

Nishida:
No, I can not wait a long time (laugh)

G:
A lot (laugh)

Kinouchi:
A lot will come.

G:
Is there something like something that will be helpful if the user makes a request and makes it like this?

Nishida:
Well, I guess it's okay if a word saying "Thank you always" enters. ... ... It is a joke (lol)

G:
Do you have something that you do not want you to abuse too much? (Lol)

Nishida:
Well (laugh). The terrible bad guy is fresh to the contrary though. I wish I could be clear.

Nakanishi
Love's turned inside out.

Nishida:
Well, it is already in front of love.

G:
I see, I see (laugh)
About 9 years have passed since Fenrir founded in June 2005, but it was inside, so was there something like "This was hard work, can you tell me now?"

Kinouchi:
Well, I can not tell you a bit ... (lol)

G:
I hope in the range that can be said (lol)

Nishida:
Personally I was struggling,Development of Windows version of Sleipnir 3It was a time when it was prolonged, that was a bit painful. Quality did not come up easily ... ....



Kinouchi:
It was very hard to make iPhone version of Sleipnir correspond to iPad. From the president I got a windy story saying "What is awesome features! Not just making the iPhone version the iPad but also an amazing feature", so I thought about tweaking your head with everyone, but I will show it to the president Every time it is said to be "no good" ...... I managed to implement it somehow, thinking that it might be a little impossible, I managed to get OK with the president, but stopped as "on the way" on the way forward I made it once more. In the current iPhone version and iPad version "Swipe tab switching function", but at first it was a feeling that it switched to switchable mode when pushed with 3 fingers, will switch when you just swiped, "That is It is kind of spicy "(laugh). As I was experimenting with various things, it became a feeling that I could get even one finger, and once I rebuilt it and put it out, I was highly appreciated by the user. If three fingers were left out, the iPad version might have gone wrong ......

Matsuno:
It was hard work.

G:
(Lol)

Matsuno:
A lot of other ideas have been put up to that, "How many fingers is this"

Kinouchi:
Just when Mac OS X Lion or something, the Mac side gets a little iOS tick, so it is not yet on the OS whether it can be consistent with that gesture, so while watching the demo video "This should be this" Three fingers are like this ... ... "I felt like I was imagining.

Matsuno:
Every time the beta version is renewed the specification changed, I reviewed the picture again once more (laugh). Thinking now, when scrolling with one finger and bringing your fingers to the end, going to the next page tab is also done with other applications and it is normal, but since that was not there " I can not do this kind of thing "at all, until it comes up with it, it was truly really difficult.

G:
Although it may be natural if you look at it now, it is a guy who thought of the situation at that time.

Kinouchi:
I agree.

Matsuno:
Perhaps it was good to give up once (laugh). I think that everyone is not good, but once it got to the idea that I thought that this is the only way, it is only this, it was once left. It is schedule and decided, and it is only to make it and to put it out, it will be rescued when you dare to make one finger that you think is good. I have to go through it properly.

Kinouchi:
That was turned over in a moment, was not it?

Matsuno:
I agree.

G:
That seems tough.

Kinouchi:
But at that time, when I showed it to the president, he said "Oh, it feels good" and that there was a successful result.

Matsuno:
I still remember the situation at the time of suggesting Risuke even now (laugh). I went to a place where everyone is headed to a small meeting table, "There are better ideas than this ..." Well, it is a good memory now (laugh)

G:
Mr. Nakanishi said "Is this the biggest difficulty"?

Nakanishi
It may be the hardest thing right now (laugh). But I think that all of our employees are also seriously serious and happy. Also, since Sleipnir does not conquer the world (laugh)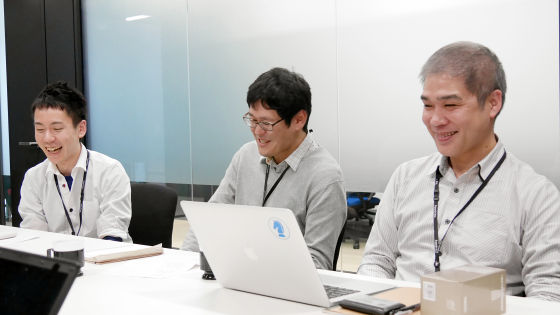 G:
What is that story (haha)

Nakanishi
From the point I saw the icon of IE that I mentioned earlier, it seems that "This is the Internet", it seems that the browser has come to be selected. Among them, there are so-called two big big heads and three biggest heads, and I think that Slepinir is, as it were, a market challenger. Among them, I continue to make a function that is very comfortable if you use it, how to tell it, to build a culture or to change a lifestyle, I think that's my mission Well, I think it is painful how I respond to this mission every day (laugh). However, although there is spicy, I think that it is also a rewarding one.

Kinouchi:
It is a very good story to say that when you release it will be good from the user, even if it's bad, but a lot of echoes return.

Nakanishi
I really appreciate fans. It is our strength that being a product with such a tight language used without leaving or that product is also our strength, and making opportunities to spread out and use it ... .... We stick to the product development considerably. There is a thought of the top that "good things can be sold", but there are various problems to get used yet, so I hope to be able to realize that.

G:
Is there anything in the category that you can say now, thinking about these things as future plans? Although it may be the cause of "This is the most difficult" (laugh)

Nakanishi
Kimuchi said earlier that it is "R & D-oriented", but it is exactly "researching", although it is product development (laugh). There are things that we want to implement and change it. Somewhat I have time to think, "Do you make iPS cells?" (Laugh). I feel that the laboratory is not a mouse, but everyone and we are changing in that way, different from the products of other companies, like changing culture. ___ ___ 0 .

G:
Is that such a thing going out?

Nakanishi
Please expect it. Although rats may die on the way ... (lol)

G:
Are you feeling a lot of confidence and pressure?

Nishida:
Well (laugh). We are not that big for the big brand that makes what can be used by anyone in the greatest common denominator, and we can not win even if we are doing the same thing, so I am always thinking "I do not do different things". Among them, "How to win" and so on, as expressed in Sleipnir as "advanced" design, etc., I got something out of it. What we are aiming for is to review web browsing from 1 and not to say that this is a familiar piece of software so it is not okay for this to happen, thinking something really comfortable, concretizing it, changing everyone's lifestyle and " It became more convenient with "It is like giving happiness. ...... For that I am suffering from day to day (laugh), I think that I would like to put out something like that in the near future.

G:
It is amazing to hear what you are talking about now, what kind of things are going out? When.

Kinouchi:
Looking at the picture, I feel pretty awesome.

G:
That is a big expectation. ...... This is an okay part to write in the article, are not you? (Lol)

Nakanishi
It is okay to write there.

G:
relieved. It will be shut down, "I started to say something amazing!"

Nishida:
Thank you very much. Please do.

Nakanishi
As I write it "Does not do it" and I feel like that (laugh)

G:
(Lol)

Nishida:
If you put out something you do not have ...

Nakanishi
I wonder if I could be beaten up (lol)

G:
I am looking forward to it. Thank you for today.

By the way, announcements distributed when Fenrir relocated the office to Granfront Osaka. Although it looks like an ordinary message card if it is closed ... ...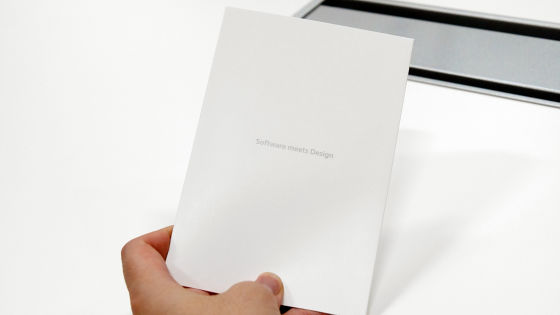 When opening it, there is a mechanism to understand at a glance that "Fenrir's office is here!" Fenrirrichness which is sticking to design anywhere has come out.