I tried to compare "iPhone SE" size with the past iPhone 4s · 5s · 6s · 6sP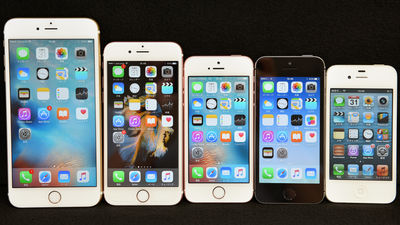 Speaking of iPhone for the past few years, it was 4.7 inches and 5.5 inches in size, but new products that appeared in March 2016 ·IPhone SEIt is 4 inch size after a long absence. Compared with the iPhone 4s · 4 inch model iPhone 5s · 4.7 inch model iPhone 6s · 5.5 inch model iPhone 6sP as much as I can.

IPhone SE - Apple (Japan)
http://www.apple.com/jp/iphone-se/

Please refer to the following article from the opening of iPhone SE to the photo review.

"IPhone SE" real world photo review - inheriting the 4 inch size genealogy - GIGAZINE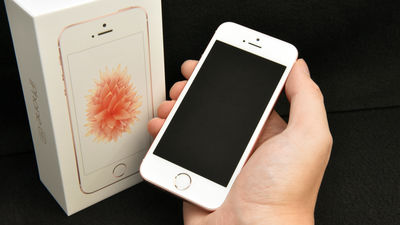 From the left I tried iPhone SE, iPhone 6s, iPhone 6s Plus, iPhone 5s, iPhone 4s, iPhone 4 and so on.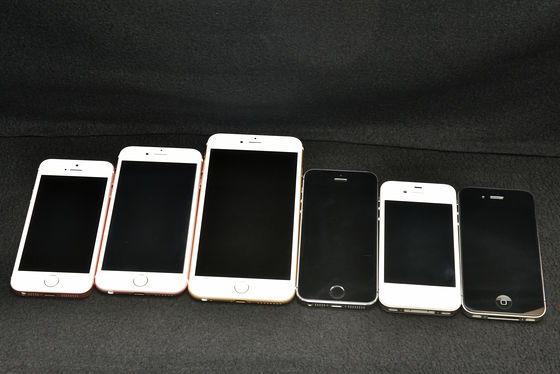 From here we will try to compare with only 3 new models of 6s · 6sP · SE. 6 s Plus (5.5 inches) · 6 s (4.7 inches) · SE (4 inches) in that order, it seems as if it is shrinking as much as the bezel.



Compare the left side of the body with the volume button. Just like 6s and SE are the same rose gold, I feel the difference in shape distinctly.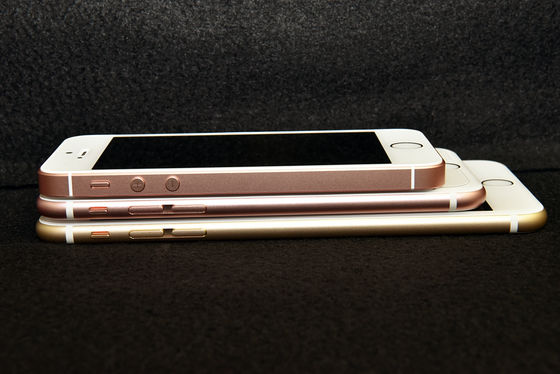 Bottom side. The thin 6s · 6s Plus has only one speaker hole, the SE has the difference that the hole of the speaker and the bottom microphone are lined right and left with the Lightning terminal in between.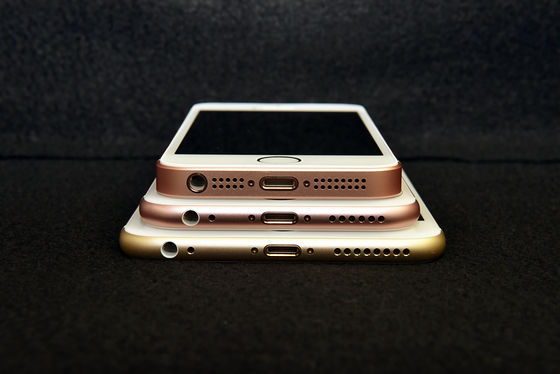 On the right side, SE is only SIM card slot, but 6s · 6sP has power button.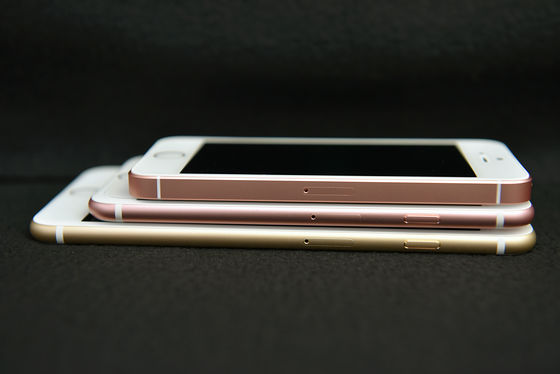 Instead, the power button on the SE is on the top surface, the 6s / 6sP top is slippery.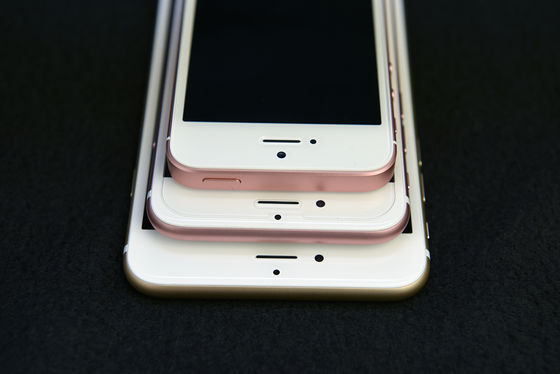 So what happens when compared with past models? I tried stacking from the bottom in order of 4s · 5s · SE. 4s is slightly smaller than 3.5 inch size, 5s and SE are the same 4inch size.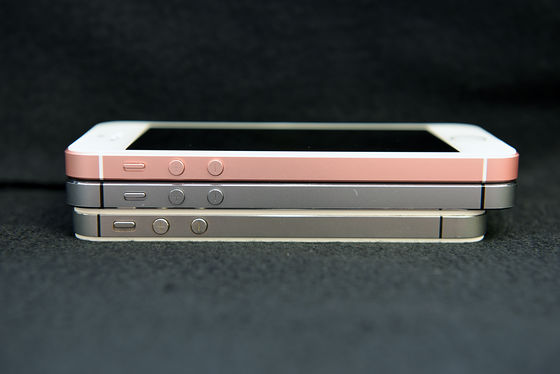 The bottom is still around 4sDock connectorwas.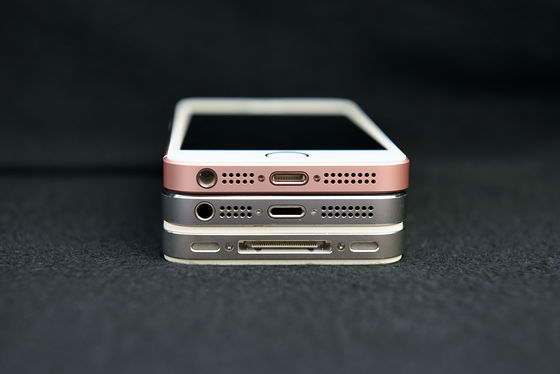 The right side is similarly SIM card slot only.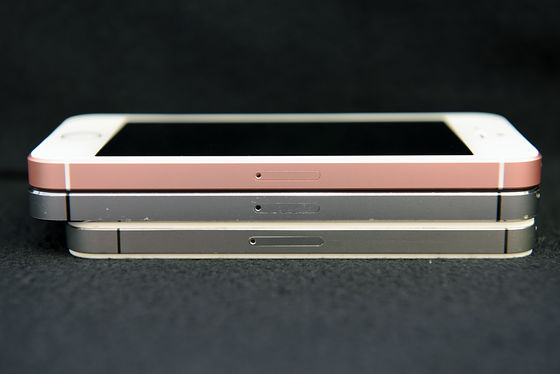 4 s earphone jack was on the top. As you can see, the 5s and the SE are almost identical in appearance.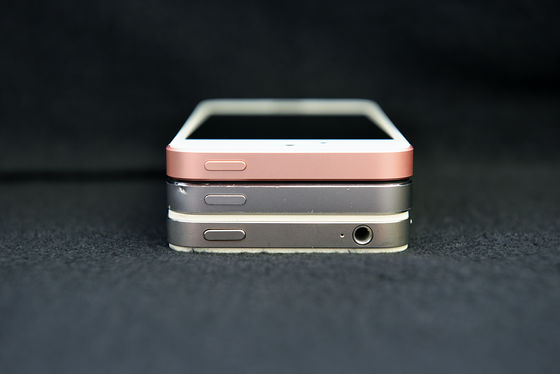 6s Plus · 6s · SE · 5s · 4s, so that the screen size is small. Compared with 6s, the distance between the icons of SE is near, almost the same as 5s.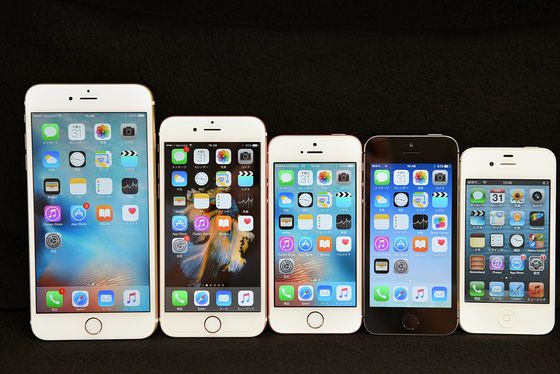 The only big difference that you can say is that nothing is written below the letters of the "iPhone" on the back, or "SE" is written. The photo is 5s · SE · 6s from the left.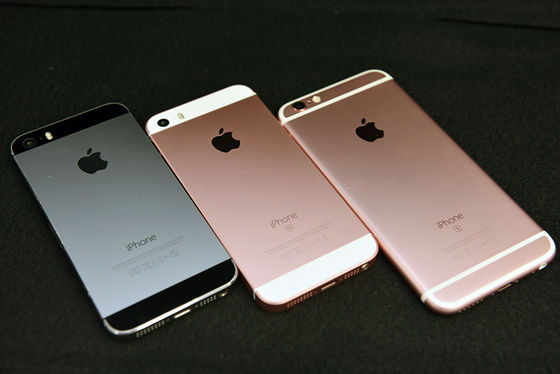 The appearance is 5 s and SE are the same, and around the lens a little around 6 s. However, while camera performance of 5s is 8 megapixel · HD video, camera performance of 6s and SE is 12 megapixels · 4K video. In other words, the SE is a model that "the appearance is 5 s, the inside is 6 s".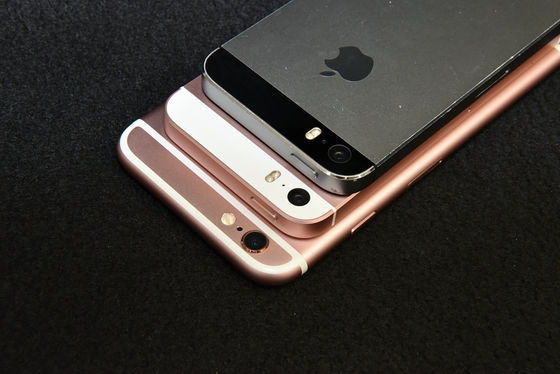 After that, I will challenge the benchmark to see if the contents are really close to 6s.

· Continued
Performance comparison of "iPhone SE", benchmark test and compare numerical values ​​with iPhone 6s etc - GIGAZINE