Tools to test whether VR works on my PC "Oculus Rift Compatibility Tool" & "SteamVR Performance Test"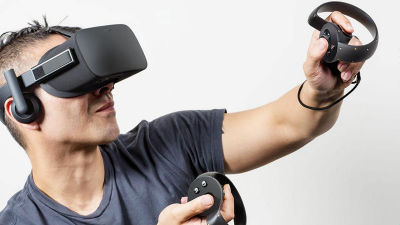 From Oculus, VR headset on February 28, 2016 "Rift"From HTC on February 29, 2016"HTC Vive"Is released and the curtain of the VR era opens at last. Whether you can comfortably use such a VR headset with your own PC is a special tool "Oculus Rift Compatibility Tool"&"SteamVR Performance TestYou can check it easily using '.

◆ Oculus Rift Compatibility Tool
First of all, I will try using "Oculus Rift Compatibility Tool" to check if Oculus Rift can be used.

Compatibility Tool | Oculus Support Center
https://support.oculus.com/help/oculus/1633938460220125/?ref=hc_fnav

Click "Click here" in the middle of the above page.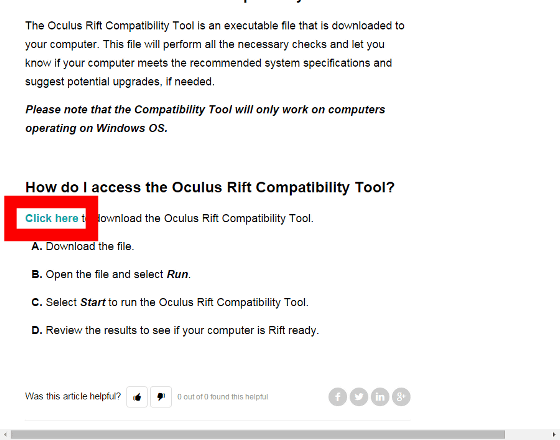 Oculus Rift can be added to the cart without permission, ignoring, click "Download" and download the EXE file to a place such as the desktop.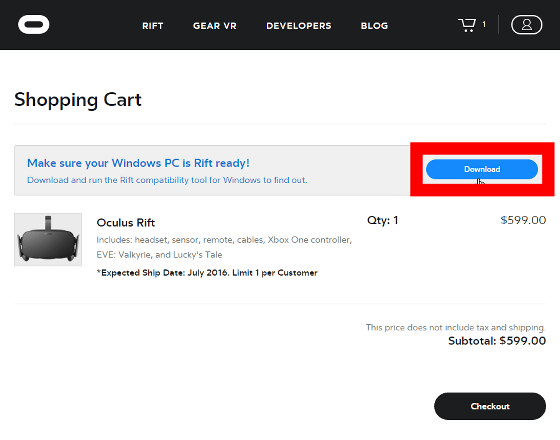 Run the downloaded "OculusCompatChek.exe".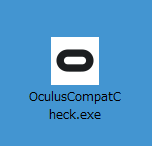 When security alert comes out, click "execute".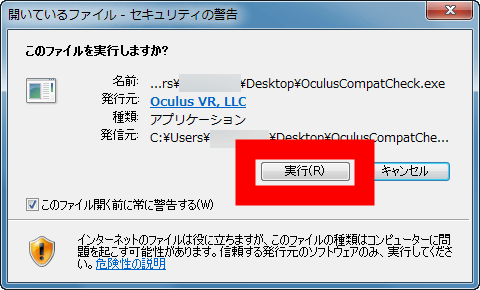 If you do not need a guide from Oculus, remove the check mark and click "Start".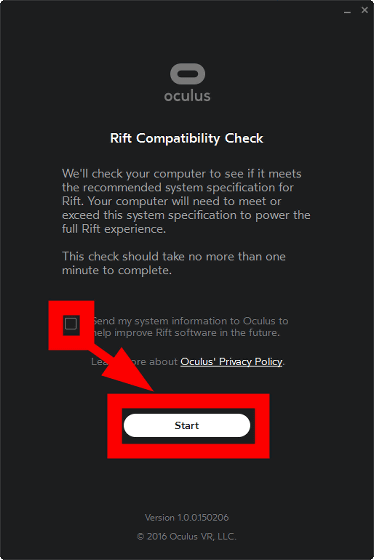 Wait for a while as CPU, memory, graphic board etc checks start.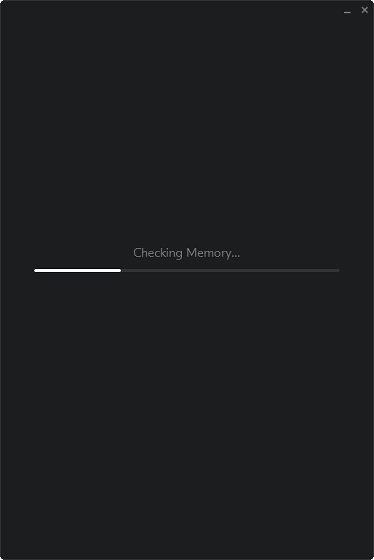 The check is over in about 1 minute. It turned out that the result can not be used with "x". That was supposed to be, "Let's Note CF-SX 2In a notebook called "Graphic boards can not be attached externally, it does not seem to be a talk.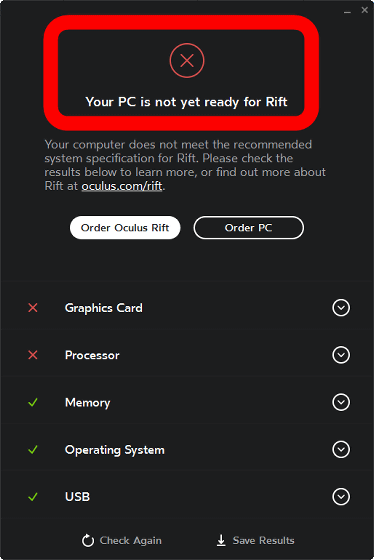 In addition, you can click on the pull-down menu of each item such as "Graphics Card" to know details. "Your GPU is Intel HD Graphics 4000, but you need a NVIDIA GTX 970 / AMD R9 290 or higher graphics board."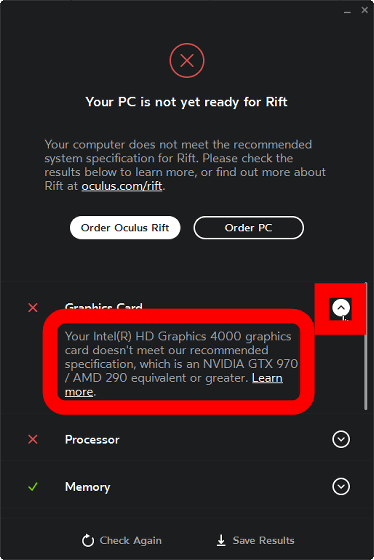 Click "Learn more" ......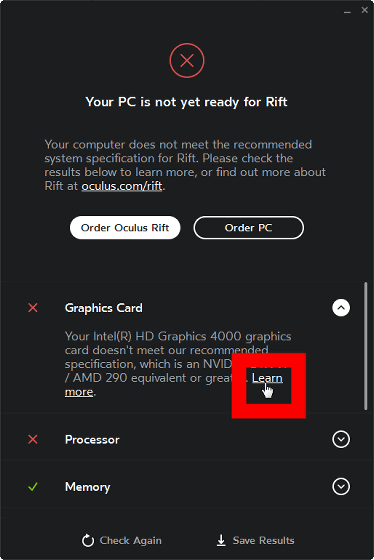 A dedicated page with more detailed information will be launched.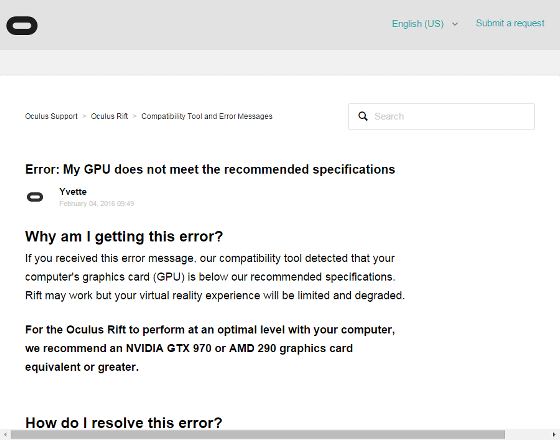 Recommended graphic boards were stated in line. Hurdles to introduce Oculus Rift seem to be high.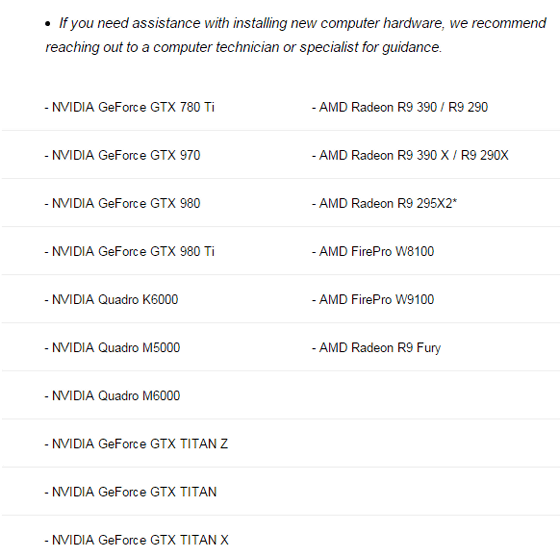 Also, looking at "Processor (CPU)", "Your CPU is Intel Core i7-3520M, but you need Core i 5-4590 or more CPU". By the way, the item of "Memory" was cleared with 16GB DDR3 memory.



In addition, I also tried a desktop PC with GeForce GTX 670 × 2 (SLI) on Intel Core i7-3770K, but it was sorely sunk.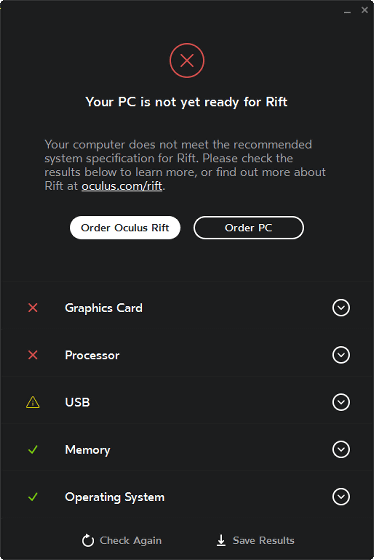 In order to comfortably experience VR with Oculus Rift, it seems that the performance of a graphic board alone is required rather than constituting with SLI or CrossFire.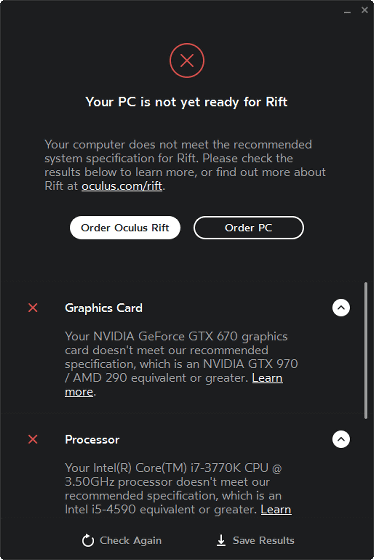 ◆ SteamVR Performance Test
Whether HTC Vive can be used comfortably can be examined with the software "SteamVR Performance Test" released by the game platform Steam. Please be aware that SteamVR Performance Test can be used only in the environment where Steam software is installed.

Steam: SteamVR Performance Test
http://store.steampowered.com/app/323910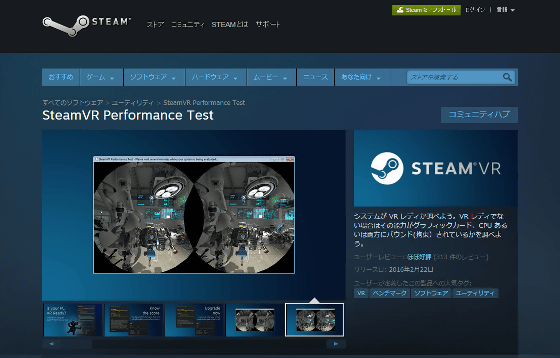 Click "free" in the middle of the page above.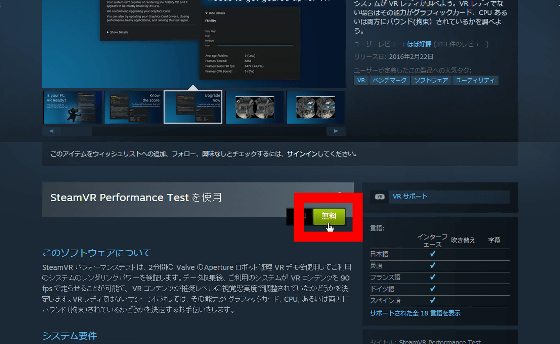 Click "Yes, Steam is installed".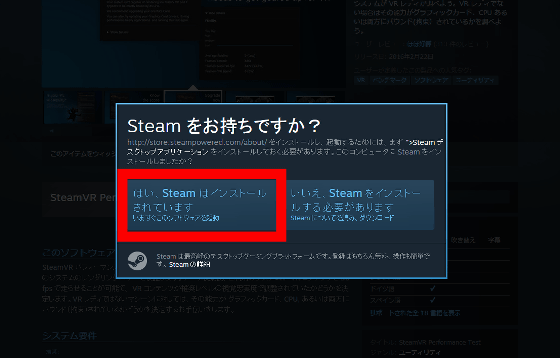 Click "Next" to download approximately 1.9 GB of SteamVR Performance Test.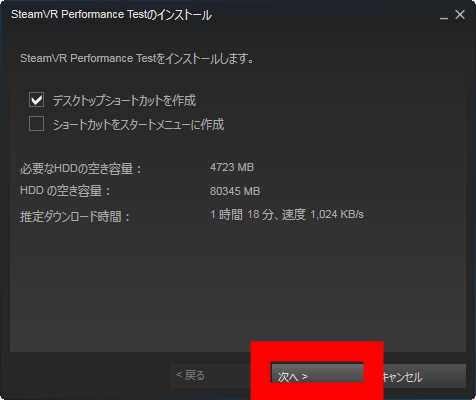 If you click "Manage Download" ...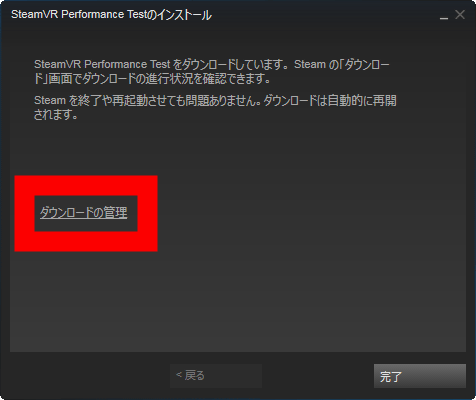 Steam will start and you can check the progress of the download.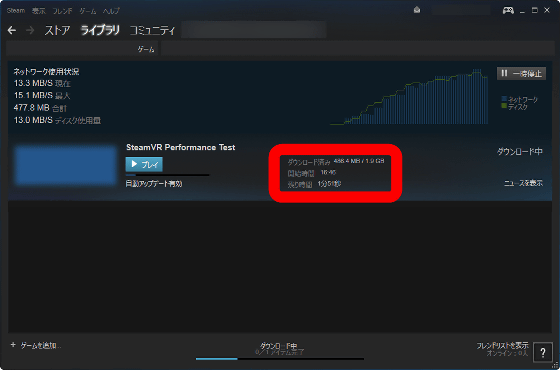 When downloading is completed, click "play".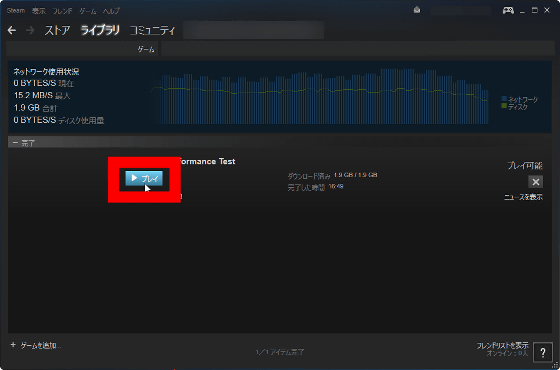 Then a separate window will be launched and ready.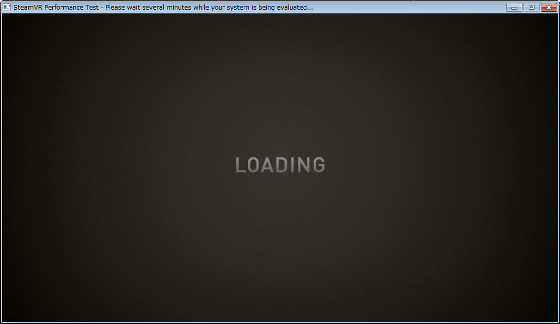 After waiting for a while, the image that seemed like VR image was displayed.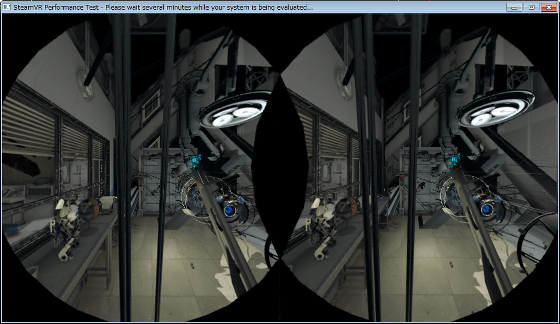 The result of the video being ended is "VR unusable". Let's Note CF-SX 2 is the level which does not talk about being the left end of the bar. Click "Show details" ......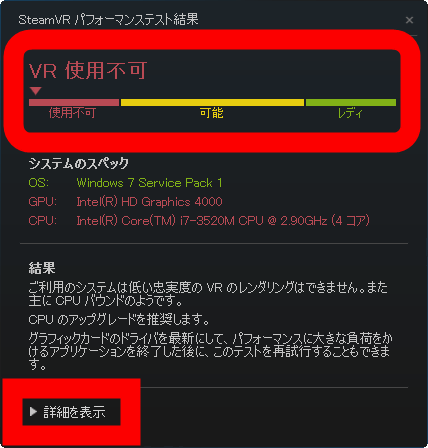 A more detailed explanation was displayed. "Fidelity" is a flat zero state, and it is difficult to use a VR headset in a notebook PC which does not have a built-in graphic board.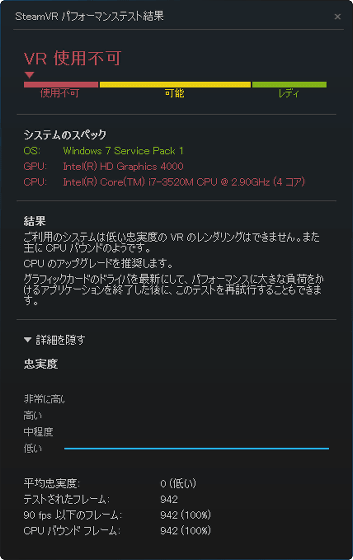 By the way, if you are a laptop like the one below, there is a possibility that the story is different.

World's first water-cooled gaming notebook PC "ROG GX 700 VO" appeared from ASUS - GIGAZINE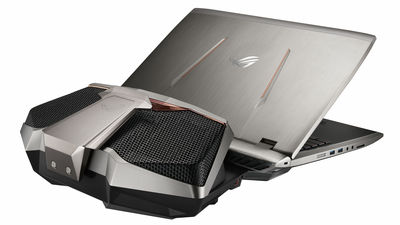 I also tried it on a desktop PC configured as Intel Core i7-3770K GeForce GTX 670 x 2 (SLI), the VR image was displayed. It looks like a rather smooth drawing ... ...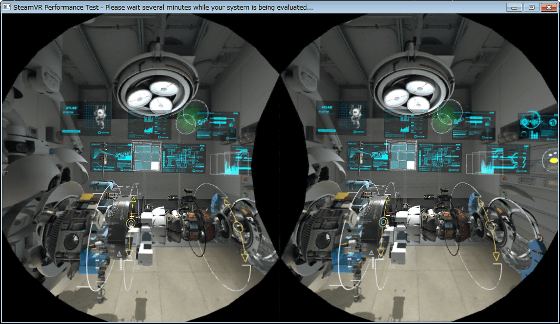 As a result, "VR unusable" again.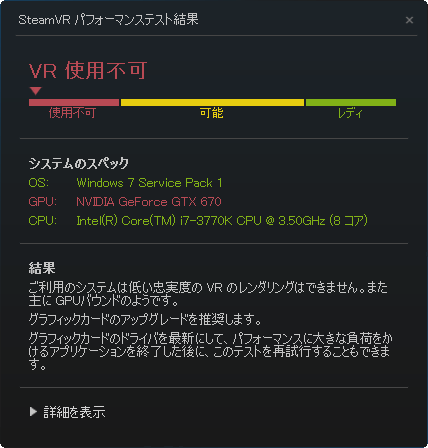 "Fidelity" is better than laptop computer, but it seems to be a level that is not talked about.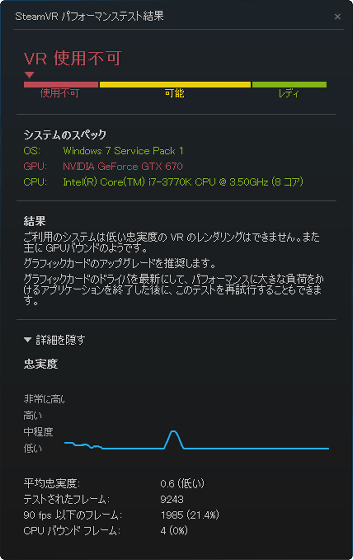 In order to get a comfortable playing environment of the VR headset, a high performance desktop PC with a high performance graphic board is essential and it seems quite high. For those who are not confident in the performance of their own PCs or those who want to introduce a VR headset even if they newly renew their VR game PCs, it may be that Oculus gets a certified PC that is granting certification I do not.

Official PC which can comfortably use VR headset "Oculus Rift" Oculus Ready PC All models summary - GIGAZINE