I played a VR game with "Razer Core" which can attach a full size grabo to a notebook PC externally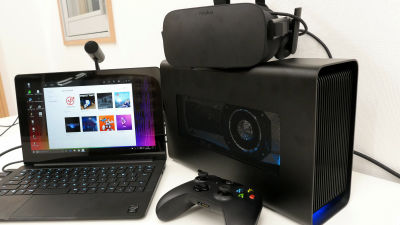 A new gaming PC is proposing that a graphic board is externally attached to a notebook PC. Extended BOX corresponding to external GPU first "Razer Core"I tried trying to play VR headset" Oculus Rift "comfortably on a notebook PC.

Razer Core External Graphics Dock
http://www.razerzone.com/jp-jp/store/razer-core

Razer Blade Stealth - 12.5-inch Ultrabook ™ ultra-thin laptop with Core i7 and 4K LCD
http://www.razerzone.com/jp-jp/gaming-systems/razer-blade-stealth

High Performance Ultrabook 'Razer Blade Stealth' You can see how to attach the NVIDIA graphics board GeForce GTX 1080 externally using the extended box 'Razer Core' in the following article.

I tried to explode the GPU performance of a high-performance notebook PC "Razer Blade Stealth" with an expansion BOX "Razer Core" that can attach a graphic board externally - GIGAZINE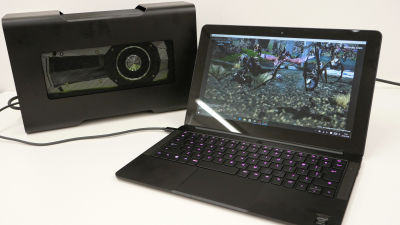 ◆ Enjoy VR on laptop
· Setting up Oculus Rift
If you use Razer Core which can attach a graphic board externally, you can enjoy VR content on a notebook PC. Try out the VR game using the VR headset Oculus Rift.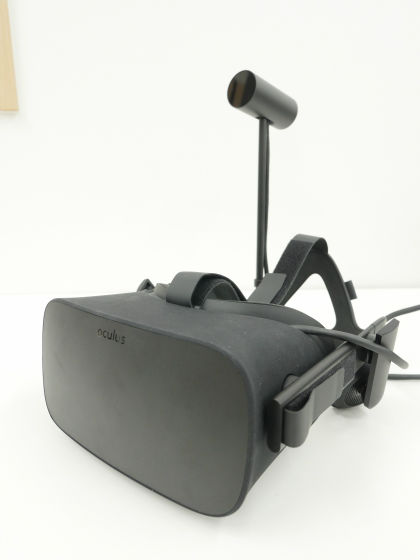 The method of setting up Oculus Rift can be confirmed in the following article.

Hardware & software setup procedure of VR headset "Oculus Rift" Summary - GIGAZINE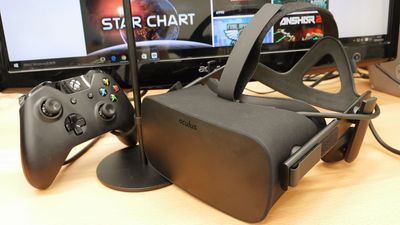 While installing Oculus Setup, you are prompted to connect the Rift main unit and sensor, so connect to the USB 3.0 port on the Razer Core side.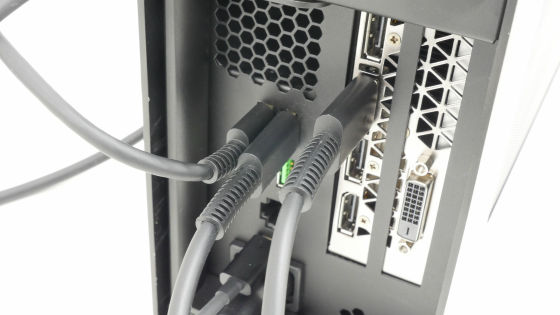 However, I can not recognize the Rift body and the sensor well, waiting for me to live.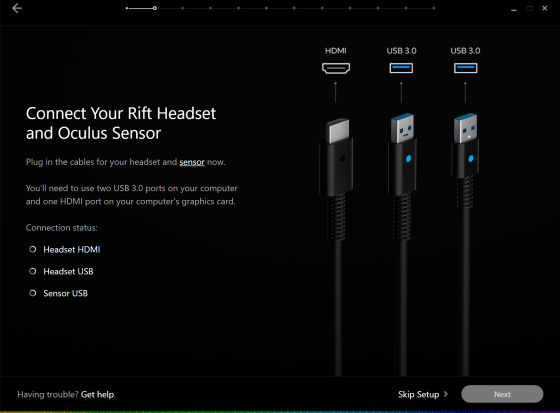 So, when you connect the cable to the USB 3.0 port on the laptop PC · Razer Blade Stealth side ... ...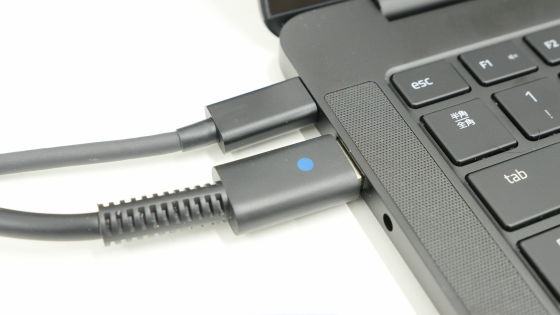 I was able to recognize USB and HDMI of the Rift main unit. However, the sensor is still not recognized.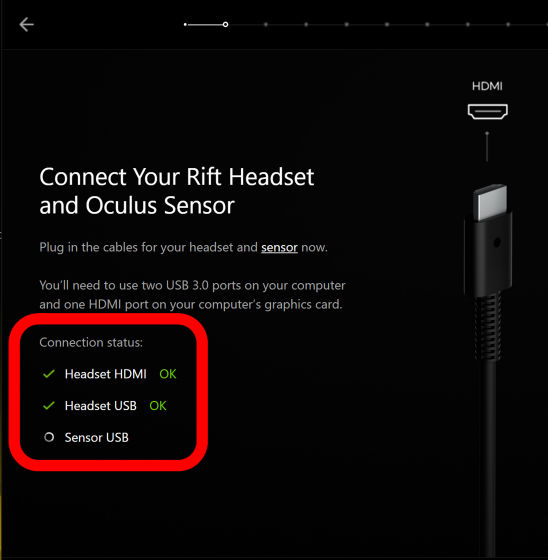 Apparently, depending on the PC there seems to be a case where the sensor driver of Rift can not be successfully installed automatically. Therefore, with reference to the following forums,Sensor driverDownload.

"Check Your Setup" CV1 External Camera "Searching Windows Update ..." - Oculus
https://forums.oculus.com/jp/discussion/33534/check-your-setup-cv1-external-camera-searching-windows-update

The downloaded ZIP file isExplzhIt is safe to recognize the sensor successfully by unpacking it with etc and running OculusRiftSensorDriver.msi in the folder and installing the driver. The sensor was able to use even if it inserted in USB 3.0 of Razer Core side.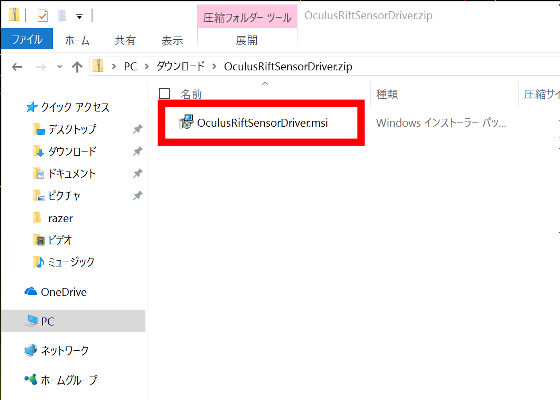 · Play games with Oculus Rift
Let's play VR game with Razer Core on Razer Blade Stealth with GTX 1080 attached externally. I played the following article VR game "EVE: Valkyrie".

"EVE: Valkyrie" Review - Oculus Rift flying around space in a sense as if he is really in a cockpit of a fighter aircraft - GIGAZINE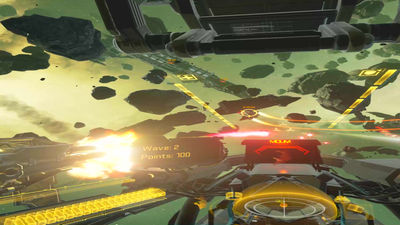 On the play screen, the display "Your computer does not meet Rift's recommended specifications ~" came out. Apparently, it does not seem to meet the recommended specifications of Rift. Although I actually played for about an hour, I was hit by an error that the screen got stuck once but in other scenes I was able to play normally without dropping frames.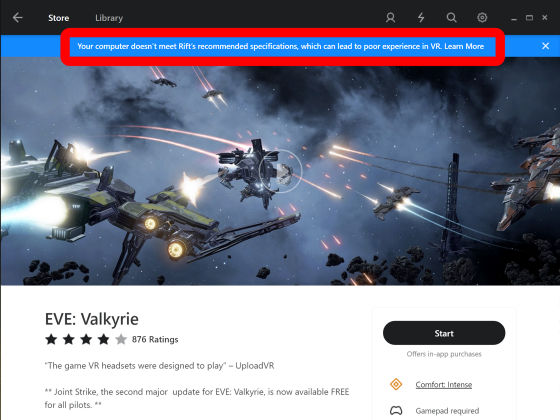 Check whether Rift can be used Oculus genuine checking tool "Oculus Rift Compatibility ToolIf you examine it using "the CPU" only lack specifications. Nonetheless, I got the impression that by adding a graphic board externally to Razer Blade Stealth, we can secure the performance enough to enjoy normal VR content.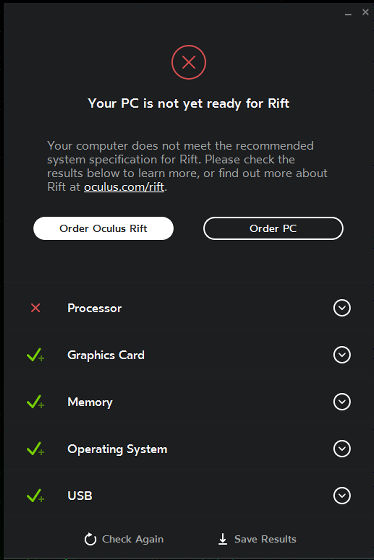 · Temperature & operation sound in VR game
Temperature of Razer Core while enjoying VR game is "FLIR ONEI measured it with.

The temperature of the surface where the graphic board can be seen is 40 degrees or less.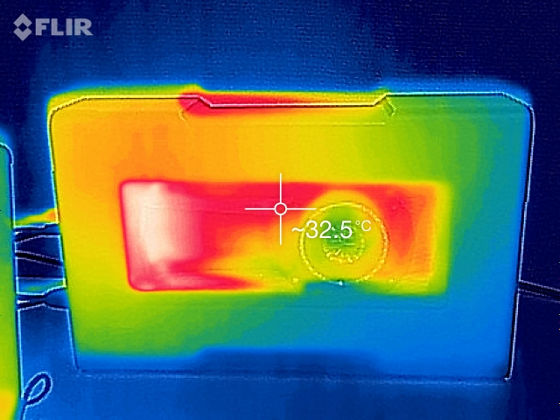 The heat sink on the top surface is about 45 degrees in the back and the temperature is high.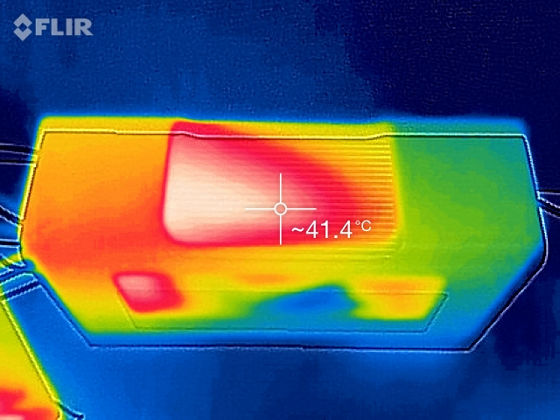 The front is cold.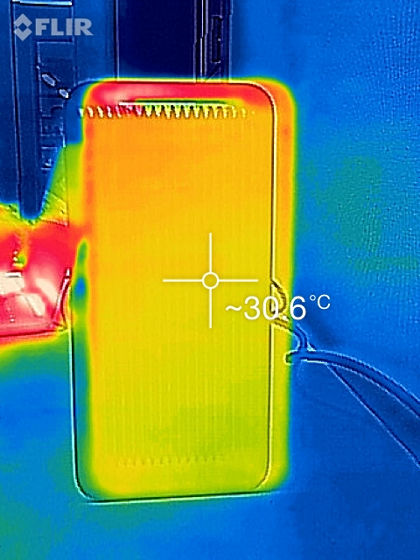 The temperature of the back panel with waste heat from the graphic boat is relatively high. However, it seems that it does not become so hot as to make the operation unstable at the level that it is slightly warm even if you touch it with your hands.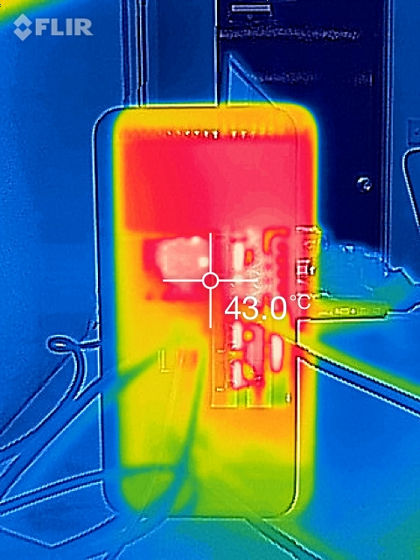 Operating sounds during playing the VR game can be checked with the following movie. It is quiet that does not hinder playing.

When using GTX 1080 with external Gravo BOX "Razer Core" it's quiet noise - YouTube


◆ Summary
In Razer Blade Stealth + Razer Core, images can be output to an external monitor, and mirror mode and extended mode are also freely available. When tried with the 3D game "Grand Theft Auto V" as a trial, the sub monitor side was not output during play, but by using the external monitor as the main monitor, I was able to play on the big screen without problem.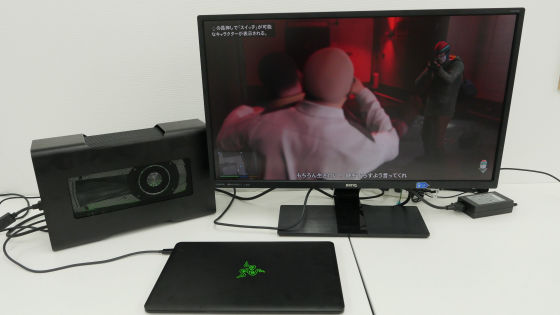 If you have a Razer Core that allows you to add graphic boards to a laptop with a single cable, you can usually use the notebook PC taken out as a mobile note as a high-power gaming PC at home. Since you do not have to prepare a dedicated desktop PC for the game, it is a perfect hardware for gamers who want to keep everything on one laptop. Also, with the display of Razer Blade Stealth closed, you can also play games in a powerful state with an LCD monitor with a large screen as an external monitor. However, because Razer Core itself is huge and heavy, deferment is the premise, and the one who gives up giving up for mobile use is safe.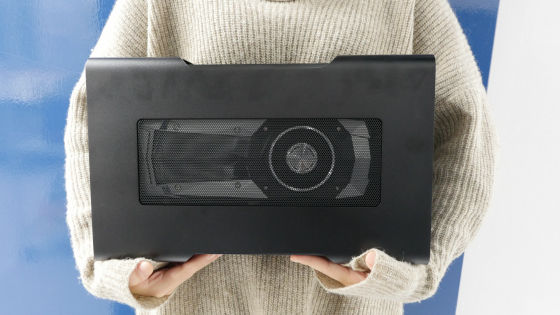 Although Razer Blade Stealth (256 GB storage model) is 139,800 yen for tax and Razer Core is 61,800 yen for tax, at the time of article creation, it is campaign which becomes 12,800 yen OFF when purchasing it as a set.

Razer Blade Stealth - 12.5-inch Ultrabook ™ ultra-thin laptop with Core i7 and 4K LCD
http://www.razerzone.com/jp-jp/store/razer-blade-stealth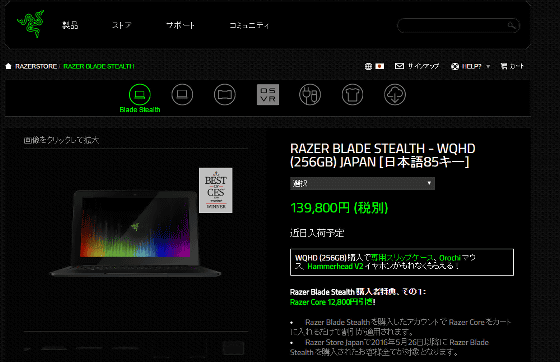 Razer Core External Graphics Dock
http://www.razerzone.com/jp-jp/store/razer-core