I tried to add Grabo to a compact cube PC to play 3D ballistic game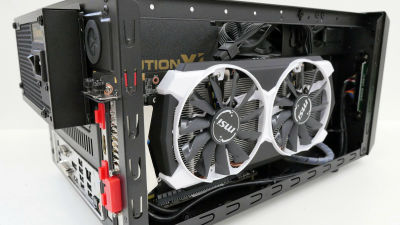 One of the real thrill of challenging "self-made PC" that assembles PC by oneself is "Because you can get a high-performance gaming PC".Assemble a small cube type PCAlreadyOver-clocking by CPU coolingSo I decided to add a graphic board (video card) as a second step of my own PC utilization technique and use it as a gaming PC.

You can see how to assemble your own PC by looking at the following article.

Guide for easy creation of original PC even for beginners [Hardware Assembled Edition] - GIGAZINE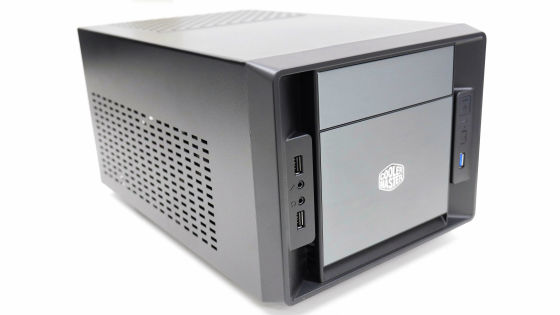 ◆ Expansion of graphic board
The graphic board to use is MSI "GTX 960 2 GD 5 T OC". The power of PC last time made is "ERMAX ERX 430 AWT"Maximum 430 W output correspondence, among the graphics board adopted" Maxwell "architecture relatively relatively power-saving TDP 120 W"GeForce GTX 960I tried picking it.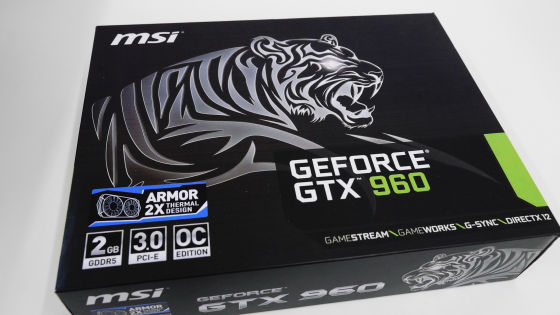 This is "GTX 960 2 GD 5 T OC". The white fan cover is cool.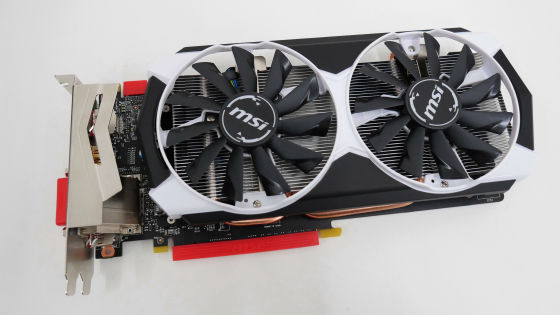 Efficiently cool the graphic chip with a heat sink with a heat pipe + two large fans.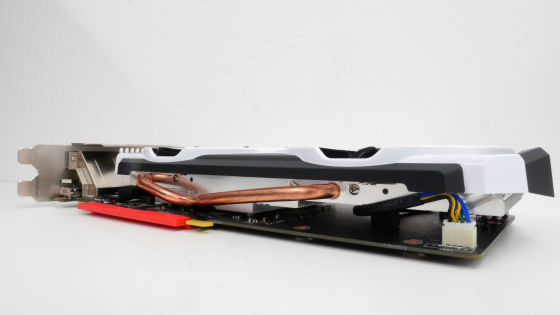 The auxiliary power connector is mounted on the upper side of the front of the card.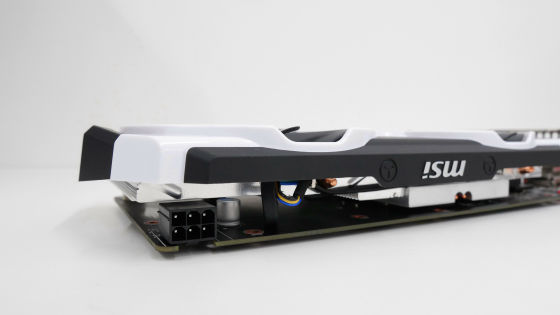 The terminal of PCI - Express (16 ×) is covered with a red protective cover.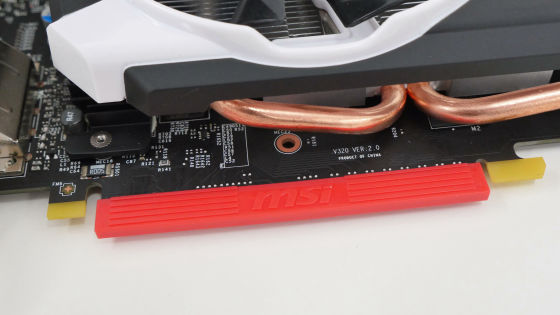 SLIAlso a red cover for the terminal for. Since there is no space to install two graphic boards in a cube type PC, this terminal is not used.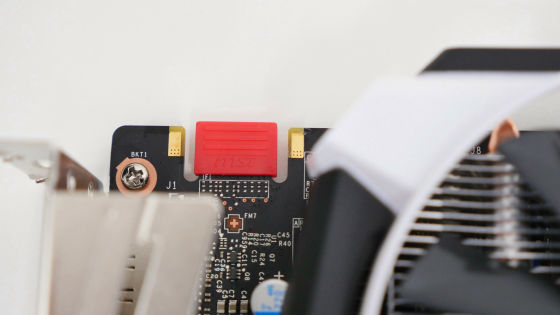 Also cover each terminal of the back panel.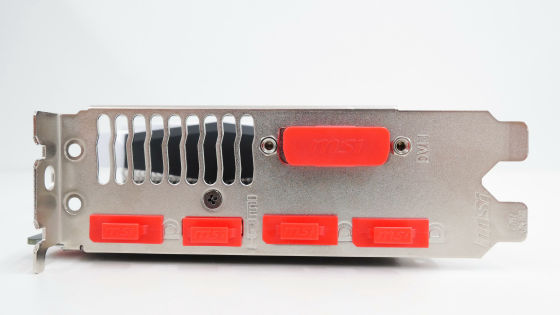 DVI terminal, DisPlay Port × 3, HDMI port are carried.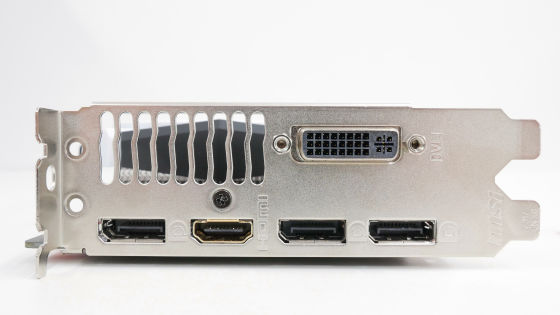 In order to install the graphic board, first remove the cover of the U-shape.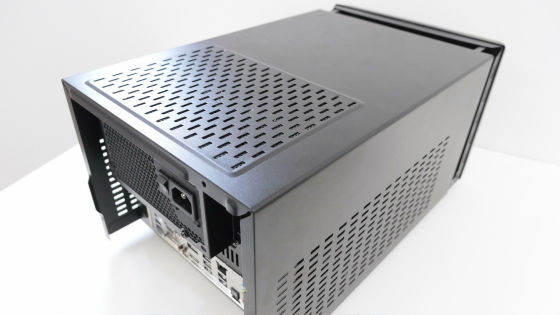 There is a hose of a simple water-cooled CPU cooler beside the PCI-Express slot, but it is an exquisite arrangement that does not barely interfere with the graphic board.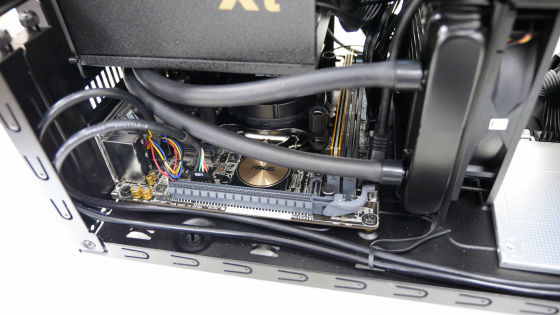 In addition, you can check how the small PC is water cooled in the following article.

I tried overclocking by making the small cube type homebrew PC crisp and water cooled - GIGAZINE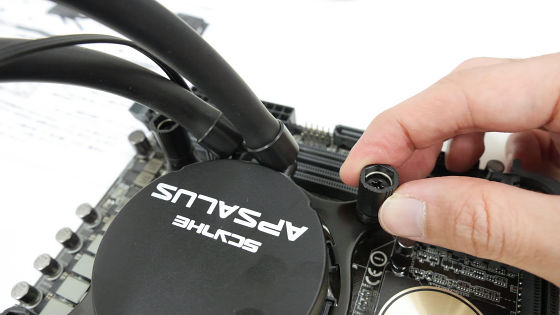 Remove both metal covers by removing the thumbscrews on the expansion slots.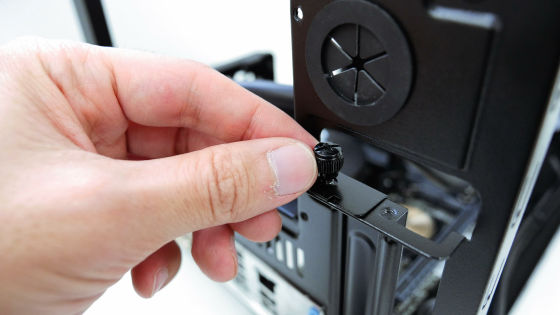 While paying attention so that the cable for USB and audio passes well through the gap, slowly insert the graphic board into the PCI - Express slot from above.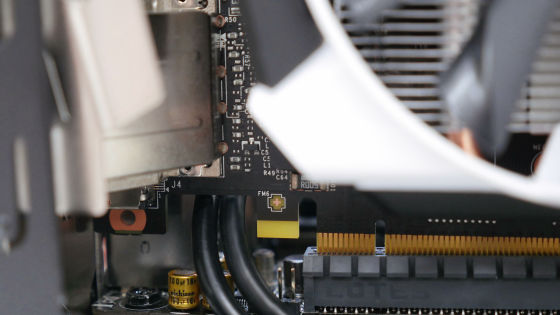 When the position is fixed, the graphic board is brought from the top.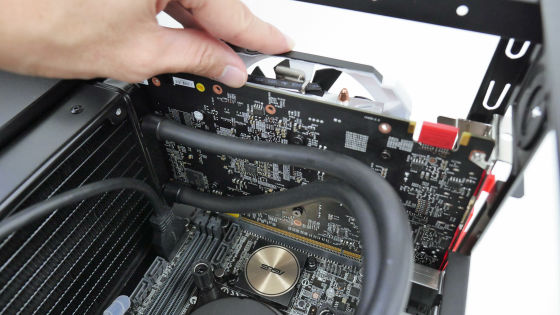 OK if it can be confirmed that it is inserted until the metal contact is not visible.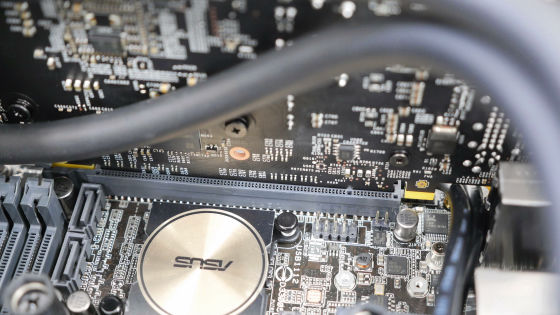 Firmly fix the graphic board with the thumb screw removed earlier.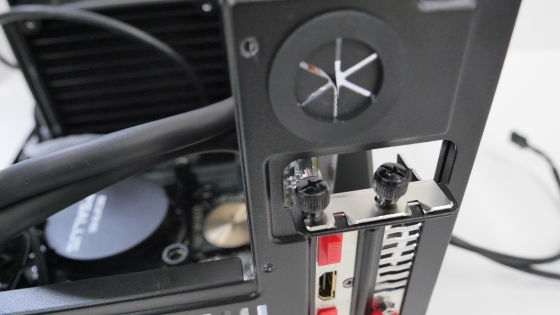 Finally, if you connect the auxiliary power supply cable to the connector of the graphic board, the expansion of the graphic board is completed.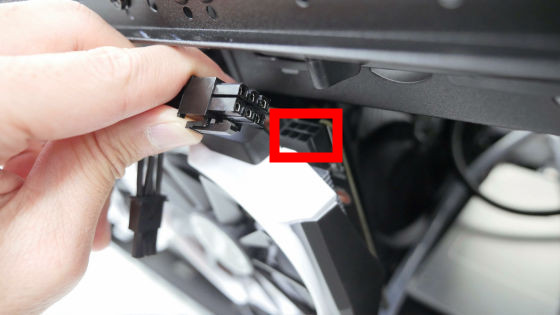 Looking from the side like this. PC case used "Cooler Master Elite 120 CubeThere is still space in front of it, so it seems to be able to load even quite large graphic boards.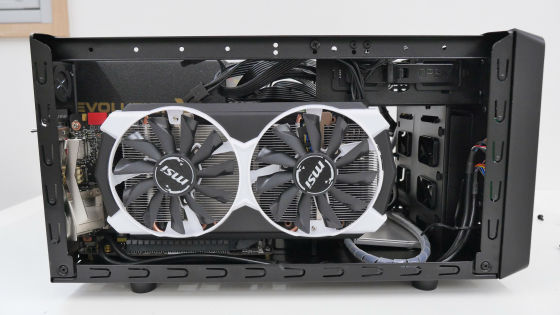 Air flow (air flow) when looking at the PC from above is like this. It is important to efficiently cool each of the two heat sources, graphic board and motherboard + CPU, by replacing air.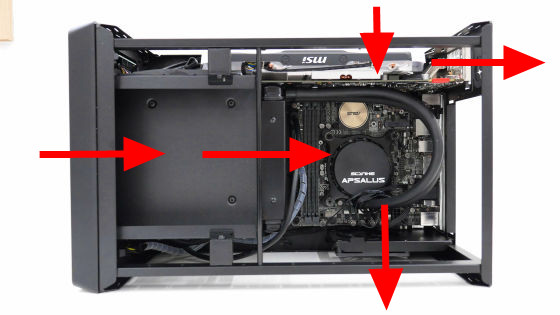 When you close the cover it looks like this. It is designed to allow air from the side slots.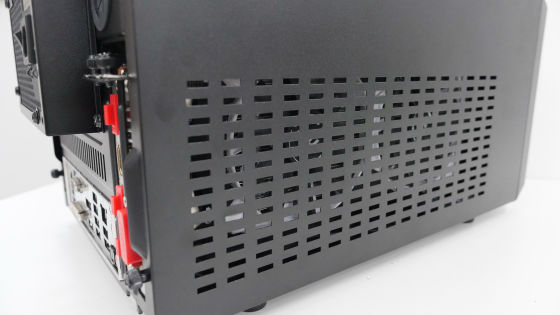 After installing the graphic board,Windows Experience IndexTaking a benchmark with this is like this. Both Graphics and Graphics for Graphics are "7.9", the highest score in Windows 7, achieving a score of 7 for all components. The CPU's "Intel Pentium G3258 (Anniversary Edition)"Overclocked to 4.0 GHz.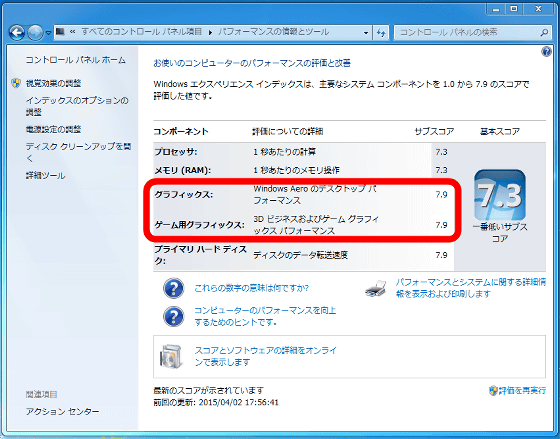 ◆ Download games with Steam
Popular as PC game platform "SteamLet's download the game with.

Welcome to Steam
http://store.steampowered.com/?l=japanese

Go to the above site and click "Install Steam now".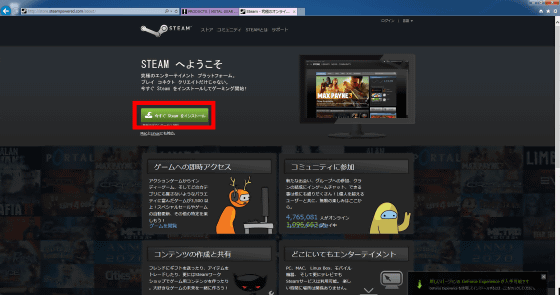 Click "Execute" if security warning is displayed.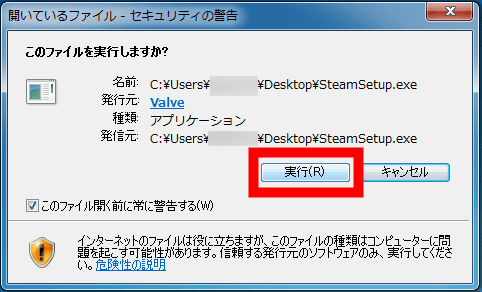 Click "Next".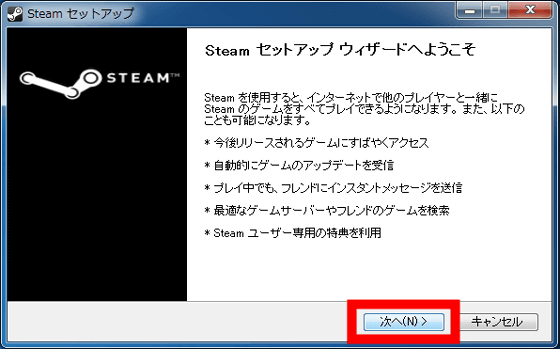 Please check and click "Next".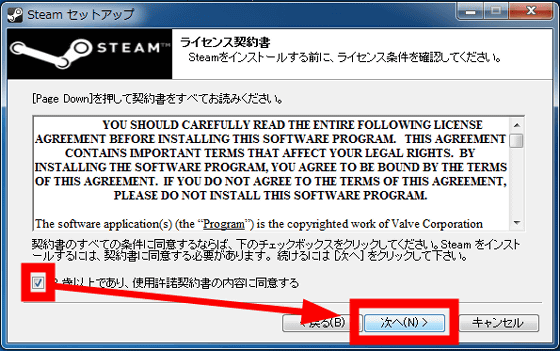 Please check "Japanese" and click "next".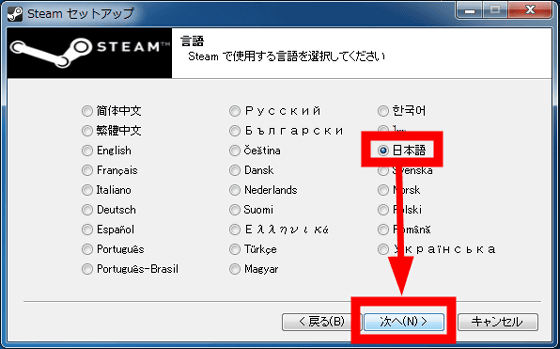 Click "Install".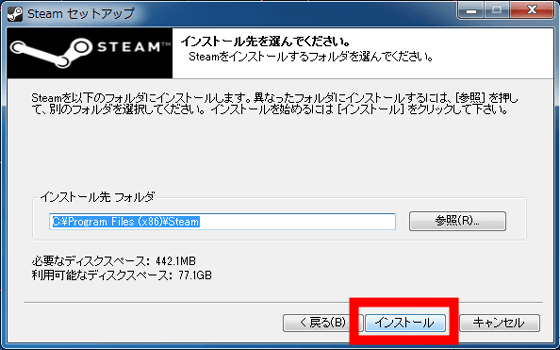 Click "Finish" to finish the installation work.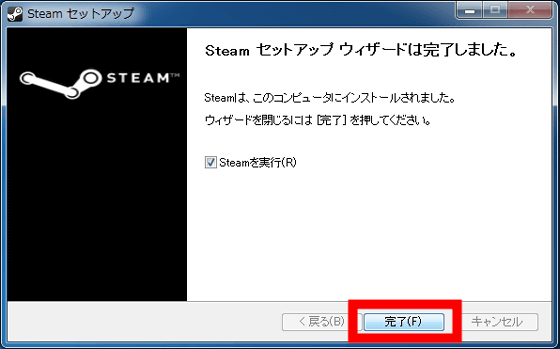 Steam will start automatically, so log in if you already have an account. To create an account, click "Create a new account".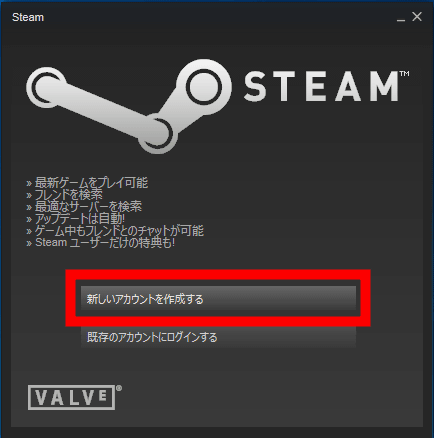 Click "I agree".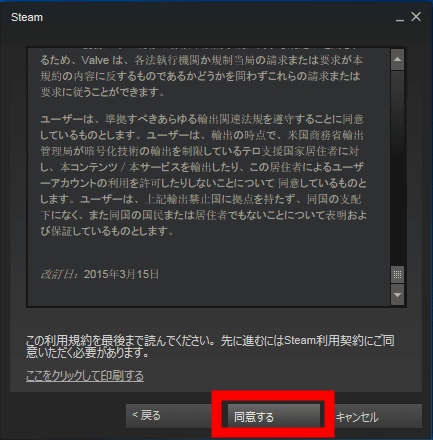 Enter your favorite account name and password, then click "Next".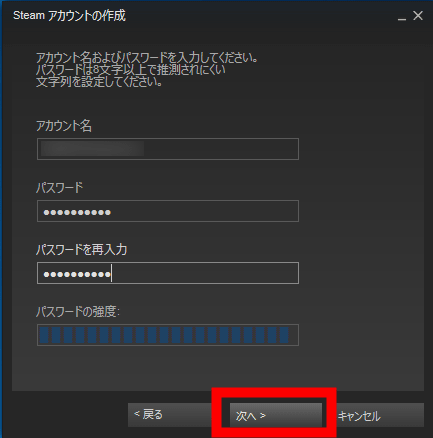 Enter your email address and click "Next".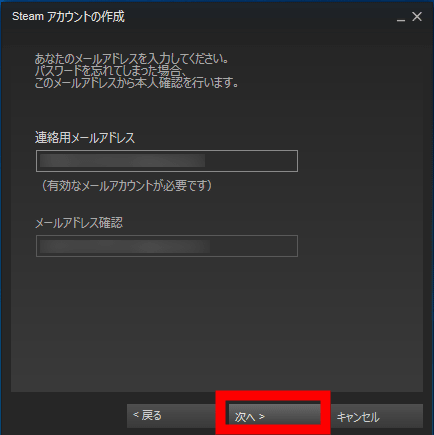 After registering secret question and answer, click "Next".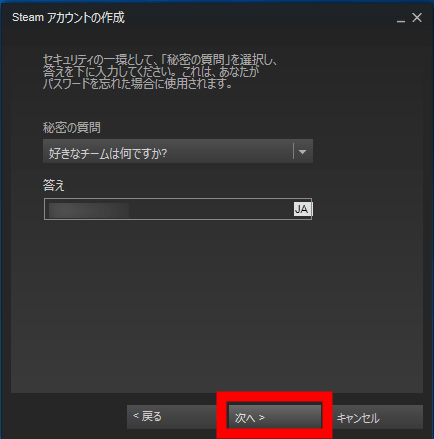 Please check "I will not participate" and click "Finish" OK.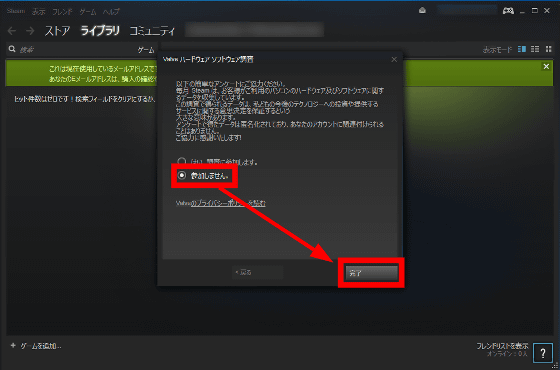 This is the top screen of Steam. You can download and play various game titles.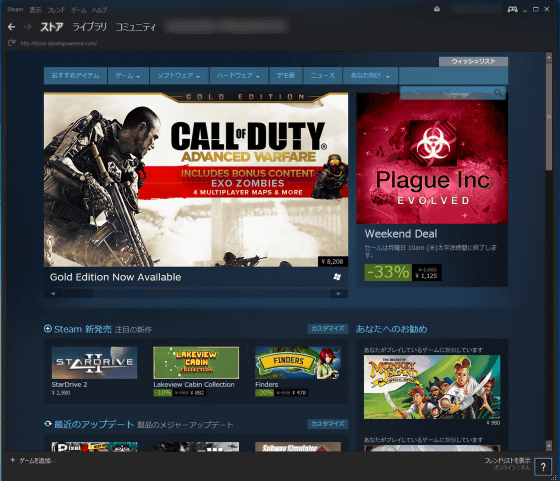 Steam has "Assetto Corsa"Or"Grand Theft Auto VNot only popular titles such as "HAWKEN"Or"Copa Petrobras de MarcasYou can enjoy free 3D games such as.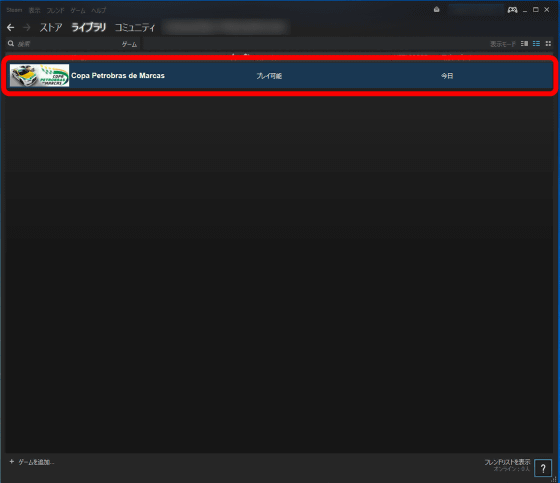 When I play a little bit of racing game "Copa Petrobras de Marcas", it looks like this.

I played free racing game "Copa Petrobras de Marcas" - YouTube


Driving with the keyboard is very difficult, unintentionallySuch peripheral equipmentI wanted it. Gaming PC's great advantage is that such game peripherals are moving from their own taste. In any case, because you can enjoy this quality game for free, it is recommended for gamers to make your own PC as a gaming machine, not a gaming machine like PlayStation 4 or Xbox One.