The prospect that ATM will be able to make money with Apple Pay and Android Pay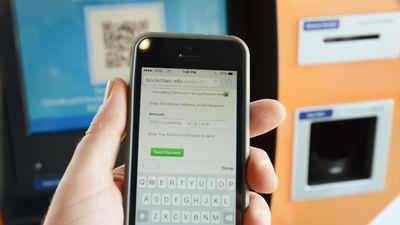 ByBTC Keychain

Apple PayYaAndroid PayAlthough services that allow settlement through smartphones are launched in other countries, such as Apple Pay and Android Pay, it is reported that a service that allows withdrawal of deposits from accounts by smartphone's fingerprint authentication only starts in the United States.

Your Phone Will Replace Your Wallet at the ATM, Too | WIRED
http://www.wired.com/2016/01/cardless-atms/

Apple Pay Is Coming To ATMs From Bank Of America And Wells Fargo | TechCrunch
http://techcrunch.com/2016/01/28/apple-pay-atm/#.krsvgw:NHJF

You can now use Apple Pay and Android Pay in the US, and if you have a smartphone you can now make a payment without a credit card or debit card. This trend will further accelerate and we expect to be able to withdraw money from ATM without using a smartphone and cash card.

There are two types of card-free ATM flow, one is Bank of Montreal (BMO) has started installation in the United States since March 2015, reading bank special application and QR code, exchange with account with iPhone's TouchID It corresponds to possible smartphone compatible ATM. WIRED says that it is important that cost is not involved as this can be accommodated by existing ATM software updates.

As another flow, BMO is planning to respond to Apple Pay by NFC equipped ATM from the second half of 2016. You need a hardware upgrade to support NFC, but you can easily withdraw money via Apple Pay just by touching the iPhone. It is not only convenient that cash cards are unnecessary, but also prevents skimming and secret shooting of secret codes, etc. It is a point that secure interaction can be done by fingerprint authentication. According to TechCrunch, American banking institutions such as Bank of America and Wells Fargo are planning to install ATMs compatible with Apple Pay and Android Pay.

In Japan, smartphone settlement such as Apple Pay and Android Pay is not introduced, but in the future if there is a smartphone, you can do from payment to bank account operation and deposit withdrawal without having to carry more than one card The future that is to come is getting closer.