Introducing 'Google Pay balance', a virtual card that allows you to use your Google Pay balance in reality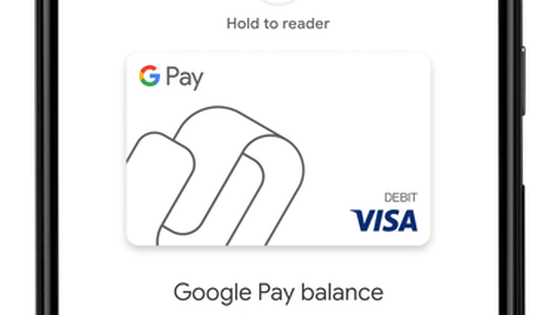 The development of the virtual card 'Google Pay balance ' that allows you to pay the balance of Google Pay
with NFC
that communicates just by holding it up has started in the United States. According to media reports, Google replied, 'It will soon be available to'all'Android users.'
Google Pay balance card allows NFC payments on Android --9to5Googlehttps://9to5google.com/2021/07/07/google-pay-balance-card-nfc-android/
New Google Pay debit card lets you actually spend the money people send you | Ars Technica
https://arstechnica.com/gadgets/2021/07/new-google-pay-debit-card-lets-you-actually-spend-the-money-people-send-you/
9to5Google, a Google news site, reported that an update made in the second week of July 2021 allowed Google Pay to add a 'virtual Visa card whose balance can be paid by NFC' in the United States. .. Prior to this update, Google Pay balances only supported app purchases on Google Play, product purchases on the
Google Store
, and deposits to bank accounts (US only)
, but with the advent of Google Pay balance. , You will be able to pay your Google Pay balance directly at compatible stores.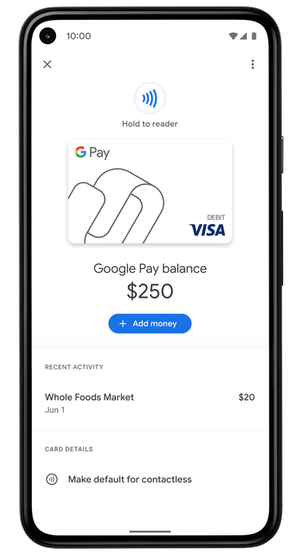 It is reported that Google Pay has a function that allows you to send the balance to others, so you can easily use the funds obtained from interpersonal remittances.

Google plans to collaborate with financial institutions such as Citigroup to provide a function to 'make bank account services available via Google Pay' by the end of 2021. It is predicted that these efforts will eventually turn a Google account into a 'digital bank account' and eventually a physical Google card.

The newly added Google Pay balance will be available by applying from the Google Pay app. As of July 9, 2021, it is said that it is limited to the United States, but 9to5Google reports that it got a reply from Google that 'it will be available to'all'Android users soon'.