Doraemon is a popular character in Thailand that is used as a ceremony for rain pilgrimage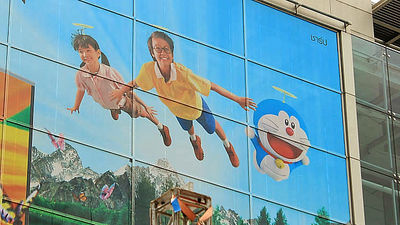 Trust me as a "godly priest when I am in trouble". Doraemon's stuffed toy was put in a cage from criticism that "It is an animal abuse" should use a cat for the rain rush in the northeastern part of Thailand where the drought continues. Such news became a hot topic on the Internet.

Hello, I'm a bit familiar with DoraemonTakuya Sudo @ circle around the world bicycle @ Charridermanis. Recently, in October 2015, before that was September 2014, in either case Doraemon was in Thailand. Why did Doraemon play a big role in "rain falling" among a number of cat characters? The reason is that answers will come out except Thai people's daily lives.

Ritual of rain begining
The following news flowed on June 30, 2015.

Thailand village conducting rain in rain at "Doraemon" to avoid animal abuse | Xinhua News China Business Information
http://www.xinhuaxia.jp/social/73481

According to the Thai paper Bangkok Post, a traditional rain ceremony was held in the village of the prefecture play northern Thailand. Originally it puts a black cat in the wooden basket carried by the villagers, keeps watering the cat while raining to the god of rain, but this is a stuffed animal of Doraemon this year as it is likely to lead to cat abuse I decided to put on my prospect.

แพร่ - ใช้ ตุ๊กตา โด รา เอ มอน แห่ ขอ ฝน แทน แมว ข่าว สังคม - ครอบครัว ข่าว 3
http://www.krobkruakao.com/%E0%B8%82%E0%B9%88%E0%B8%B2%E0%B8%A7%E0%B8%AA%E0%B8%B1%E0%B8%87%E0%B8%84%E0%B8%A1/130539/%E0%B9%81%E0%B8%9E%E0%B8%A3%E0%B9%88-%E0%B9%83%E0%B8%8A%E0%B9%89%E0%B8%95%E0%B8%B8%E0%B9%8A%E0%B8%81%E0%B8%95%E0%B8%B2%E0%B9%82%E0%B8%94%E0%B8%A3%E0%B8%B2%E0%B9%80%E0%B8%AD%E0%B8%A1%E0%B8%AD%E0%B8%99%E0%B9%81%E0%B8%AB%E0%B9%88%E0%B8%82%E0%B8%AD%E0%B8%9D%E0%B8%99%E0%B9%81%E0%B8%97%E0%B8%99%E0%B9%81%E0%B8%A1%E0%B8%A7.html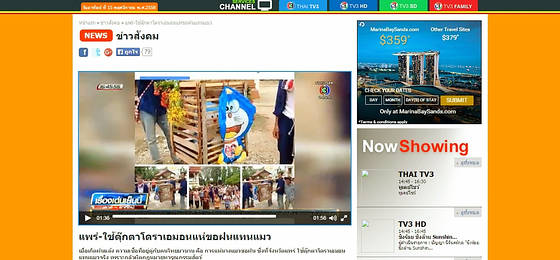 The Internet became a big fuss on this surreal scene.

Actually, Doraemon has a story that "old days were good." Nobuta, who was exhausted from contemporary life, is going back to old times with pursuing the ideal, but in the past it was an episode that there was a hard time unique to the past. In that story there was a scene that Doraemon would rain with a secret tool to help the villagers suffering from drought, perhaps they also knew Thai people. By the way, Doraemon was not treated as a cat in the episode, "God has planned to send inari shrines to raccoon dogs."

◆ Thai and cat
"Cats with high density of catsI wrote in an article called Bangkok, Thailand. Even in this visit, which was the first time in about a year, the cat was melting in the town. Because it is too dignified, it seems to miss if you are careless. I tried looking for cats this time as well.

A figure that is mixed with the items of the stalls.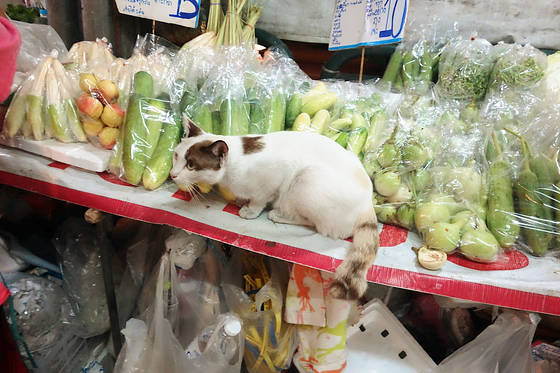 There seems to be bedding on the roof.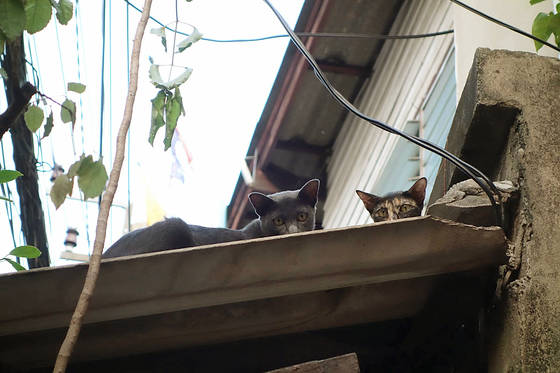 Introduced as "Gokudera"Wat Pyron HuaThere is also a cat. I was peeking in hell.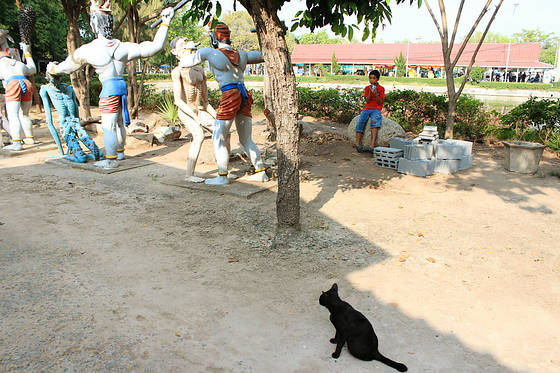 It seems that there are Buddhist countries only and cats know the borders of Buddha.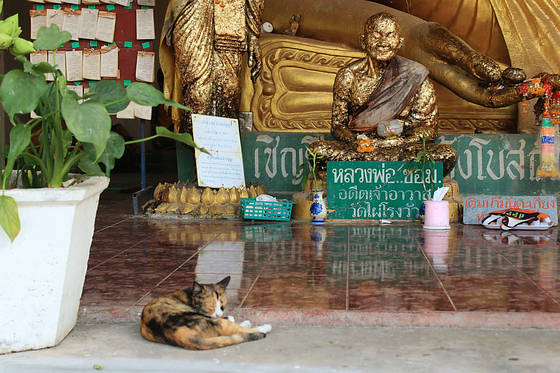 A sleeping face like an angel of a newly born kitten.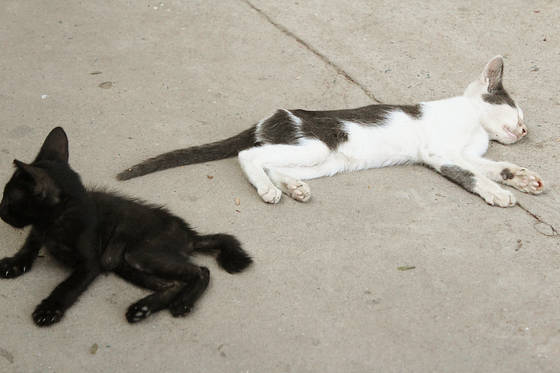 In rituals ceremonies that became news, it is the original practice to use live female cats. Just putting it in a cage and walking around the streets is a considerable stress for the cat. Doraemon's stuffed toy was used as a substitute as there was also pointed out as an abuse of animals. By the way Doraemon is a male cat.

It is a country close to humans and cats so far, so I am convinced that criticism will happen.

◆ Thailand and Doraemon
That Doraemon, like a cat, grabbed the hearts of the Thai people and was not released. Doraemon's face also in a cylindrical coin purse held by an aunt who collects freight by bus. It seemed that he decorated himself. People who wore Doraemon 's T - shirt at the temple, Doraemon the case of the smartphone. Doraemon, which I found in Thailand so far, is like this.

At the visit in September 2014, at the Casio Bank, we had a campaign using Doraemon.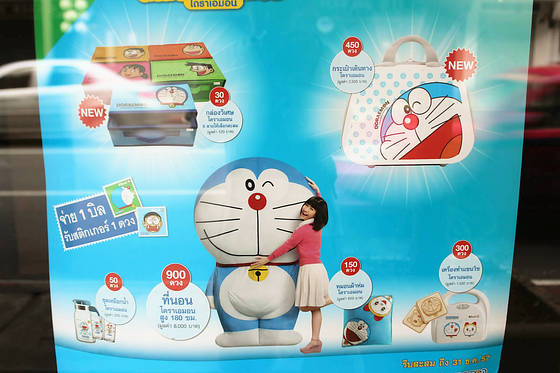 Even at the visit in October 2015, Casian Bank is doing a campaign for Doraemon.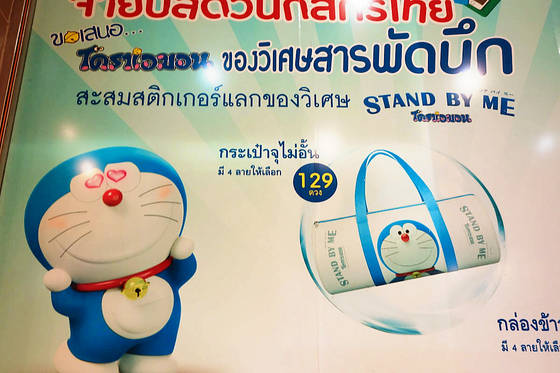 In Sharp 's LCD advertisement, Doraemon' s character was also used. It was flying freely with Takekopta.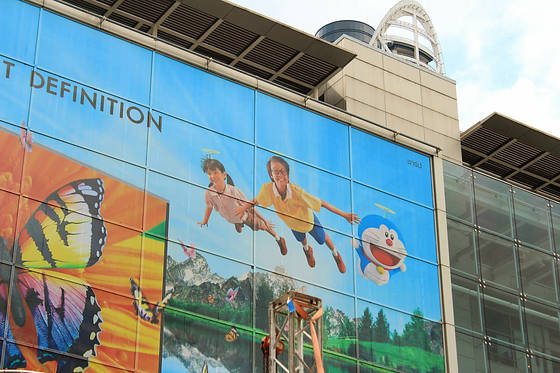 A futon that a child seems to be pleased with.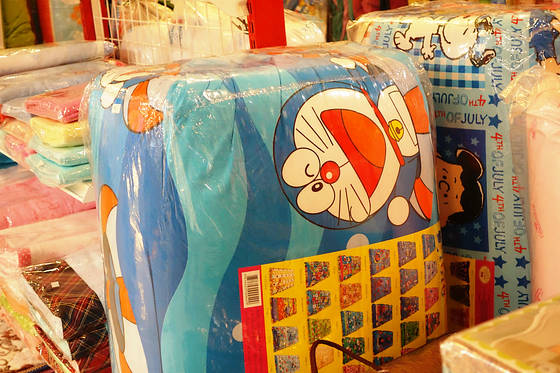 Soap case.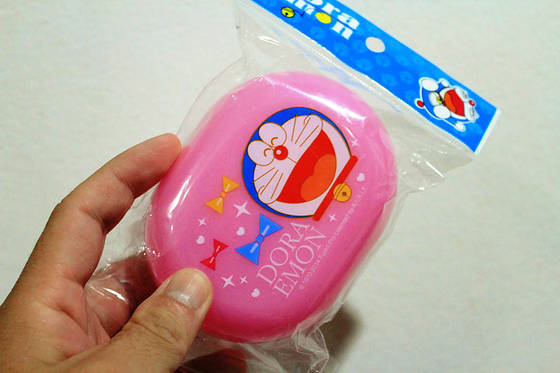 The story behind this stuffed animal is probably ... ....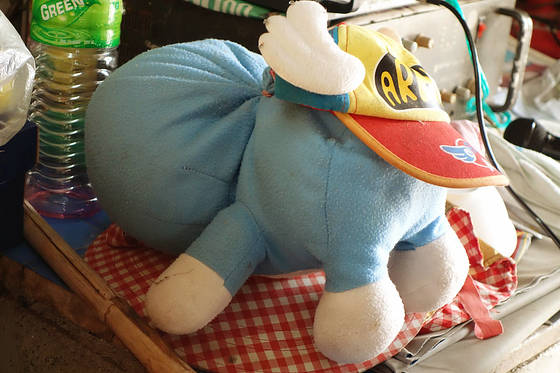 Of course, the book is also sold.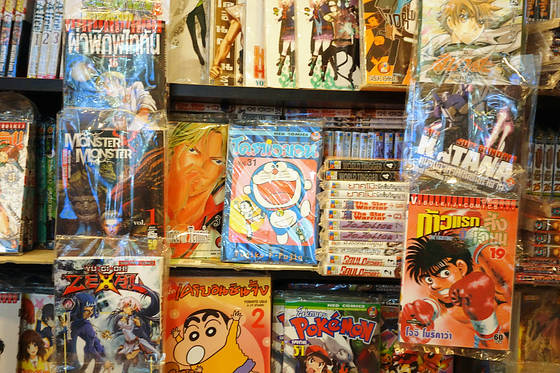 I did Doraemon's campaign even this year's Mr. Donuts.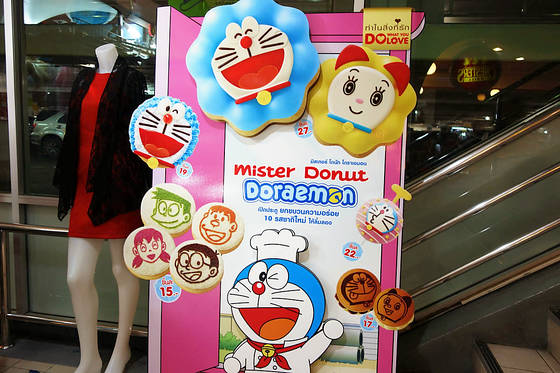 Donuts sold are full of Doraemon.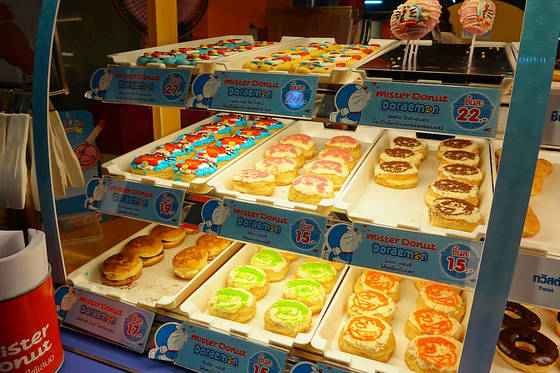 Pet bottle juice with Doraemon shape.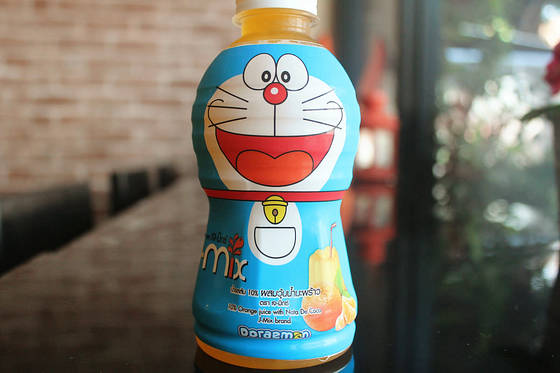 The illustration of Doraemon was drawn also in the bottle of milk drink.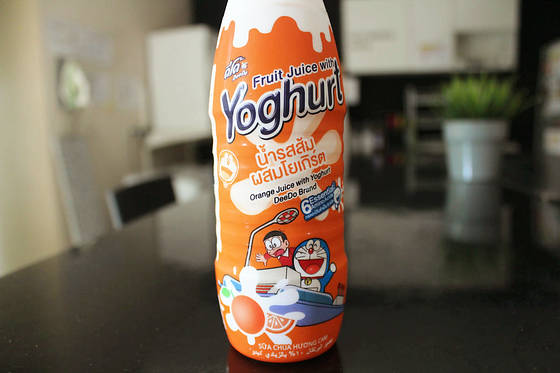 Also in the package of sweets.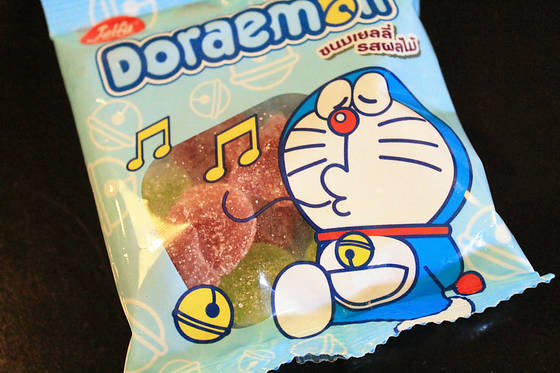 Now, in Bangkok, the exhibition "Doraemon comic world" is held in a large shopping mall in the suburbs. The route bus wrapped in the advertisement of this event was running in the city and it was written as "August", so I thought that it was over already. It seems to be held until January 10, 2016. I wanted to go somehow, but I gave up because access was also complicated and time was not enough. Regret remains.

Comic 45th Anniversary Doraemon Comic World
http://aithailand.co.th/doraemoncomicworld/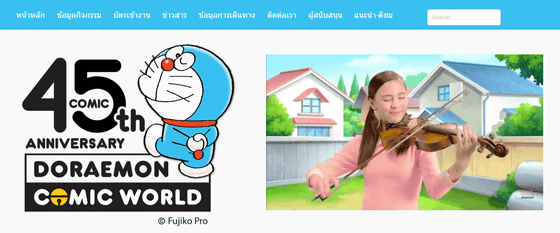 The commercial of this exhibition can be seen on YouTube, but it is a must-see content.

Doraemon Comic World ตอน ผ้า คลุม กาล เวลา - YouTube


Doraemon Comic World ตอน คอ ป เตอร์ ไม้ไผ่ - YouTube


Doraemon Comic World ตอน กล้อง เปลี่ยน เสื้อผ้า - YouTube


Doraemon Comic World ตอน ขนมปัง ช่วย จำ - YouTube


Doraemon Comic World ตอน ประตู ไป ไหน ก็ได้ - YouTube


◆ Thai and Character
The rice of the lunch box at the supermarket was shaped like a bear and made me smile. First of all Thai people do not feel like loving cute things. State-owned Thai mailOfficial Page of Thailand PostAlso a loose atmosphere. As a result of these circumstances, not only Doraemon in Thailand, characters from Japan are active.

In Mr. Donut it was also doing Kitty's campaign.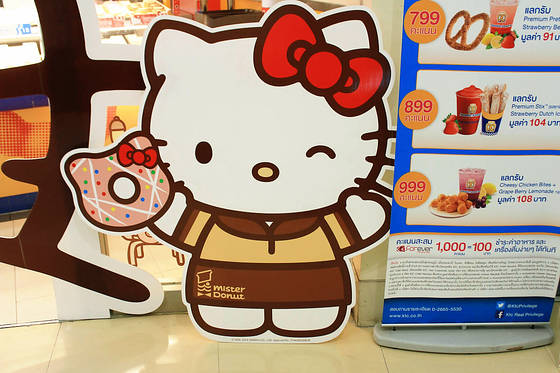 This year 's Cebu Eleven had a campaign for Rilakkuma, every store had a grand chic look.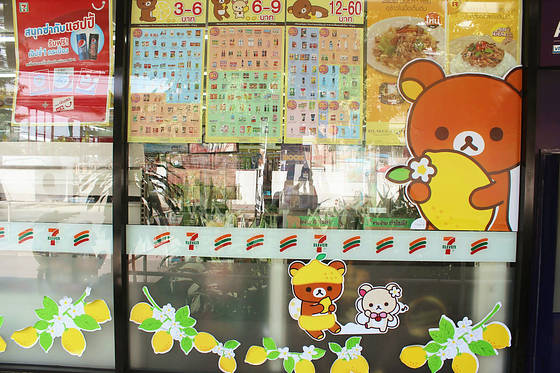 "Bear moments" is also arranged in the loft which is also in Bangkok.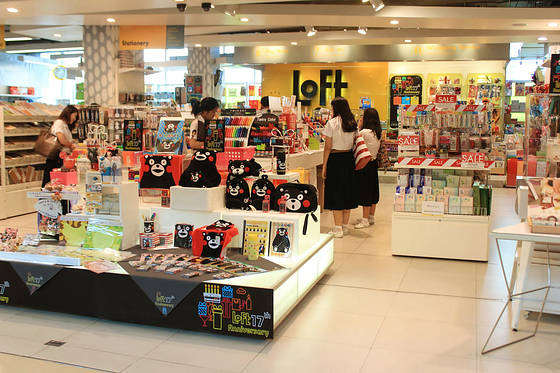 ◆ Doraemon even overseas
While I was taking a break at the shopping mall in Dubai, I was thinking deeply about "Dubai Manga" which will provide useful tools with oil money in my pocket, "If you want to fly freely, yes helicopter" Or "Song of DoraemonIs not he heard? My father who had an Indian face next to me was letting a small son at a smartphone. As I was a bit happy, I talked to him, "My son loves Doraemon, and when I hear this song I will fall asleep."

The popularity of Doraemon is not limited to just Thailand, and Doraemon is also on the package of sweets in India. Cricket is popular in India, so if you thought that it was "Doraemon playing cricket" ... ... I was pointed out that he is playing hockey Doraemon.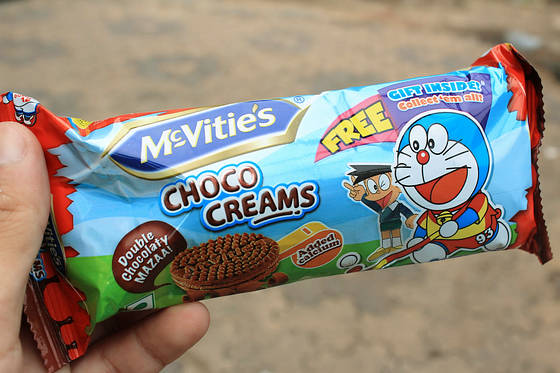 Bangladeshi mini snack confectionery.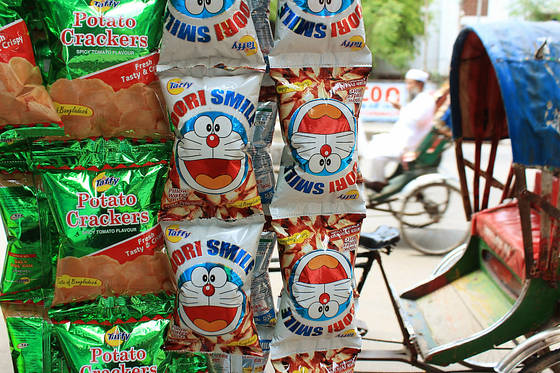 In Malaysia it was used for advertisement of consumer finance.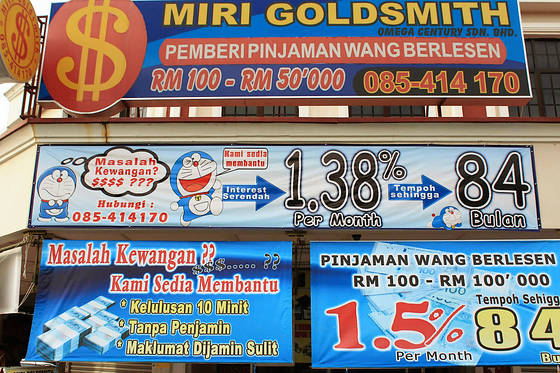 A book of Doraemon that was also in the Philippines.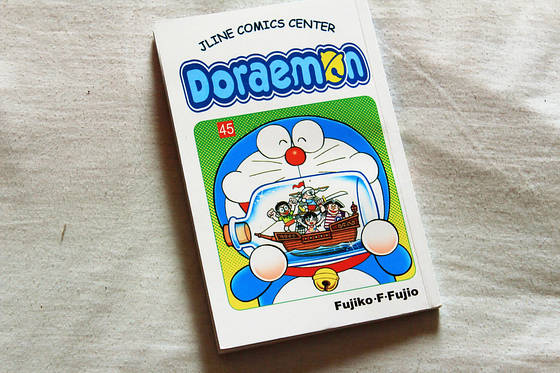 I also collect Doraemon's books in China, as well as mastering Chinese. Because the English version of Doraemon has a translation of Chinese, it is an excellent one that allows two languages ​​to study without a dictionary.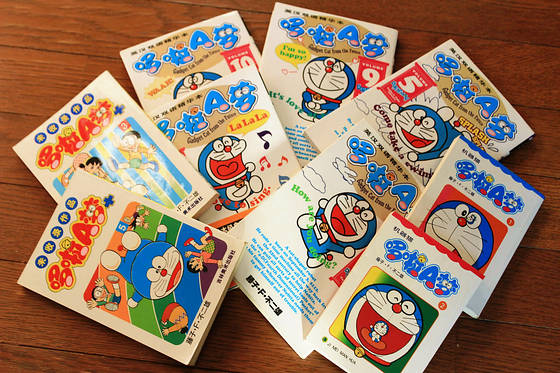 Characters from Japan including Doraemon have also gained popularity overseas. Character business that gives added value to everything. It is about America where Mickey and Spider-Man are active, and characters that hit more than Japan come out.

If you go abroad please pay attention to Japanese characters including "Doraemon". You can find unexpected appearance in unexpected places.

(Sentence / photo: Takuya S. Narou Charriderman
Cycling around the world for a bicyclehttp://shuutak.com
Twitter@ Shuutak)