The world of hell in Wat Pylon Uwa "Thug 's" Gokudera "is considerable chaos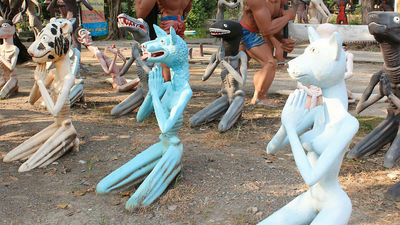 The line "I will fall into hell" was popular for a while, but there should be few people who know where that is. In Wikipedia "Eight big hellReading the article is a terrible world that I can not think of this world. Well, it is a story of the other world. Hopefully, I want you to take me to paradise.

Hello,Takuya Sudo @ circle around the world bicycle @ Charridermanis. It is a flight from Ethiopia via Doha, I came to Thailand, my 4th time in a year. And I did not do sightseeing this year ... except for one place only. I just wanted to go there just since I found it on the net.

◆ To Hell Temple
Only I decided to go here is "Wat Phai Rong Wua (Wat Pyron Hua)It is a temple named. alias,Dead Temple. I thought that it was in Bangkok city, but when I looked at the place, it was quite a suburb. Still, because it is a popular place, someone's information on traffic access is left.

This is Wat Pyron Hua.


First, head to South Bus Terminal. It is in the place which went west beyond the river from Khao San gathering backpackers.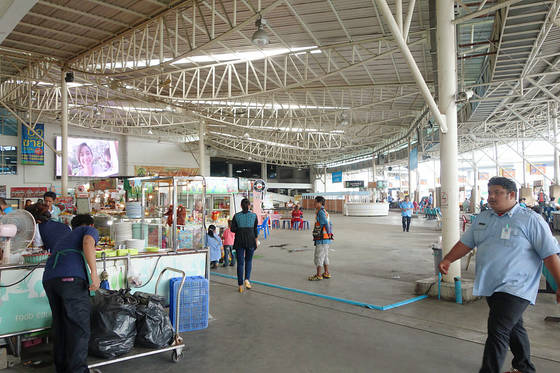 I will get on this bus. It was written as 68, 1 hour 30 minutes to Hell Temple, 43 Baht (about 148 yen). Whether there are many visitors to visit, the crew also kindly tells us that "Wat Pyron Houa is this bus". When I was shaken by the bus for 1 hour and 30 minutes I arrived at Hell Temple.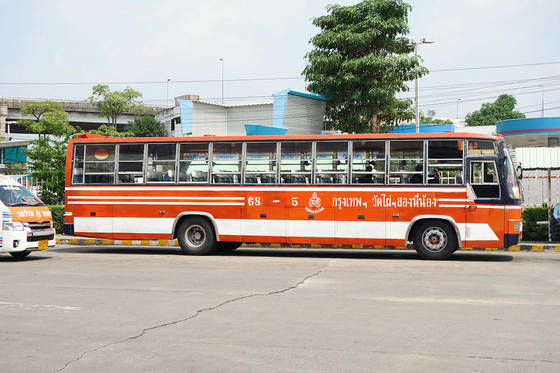 As soon as I get off, I can see a fine gate. Go through here and go inside the temple grounds.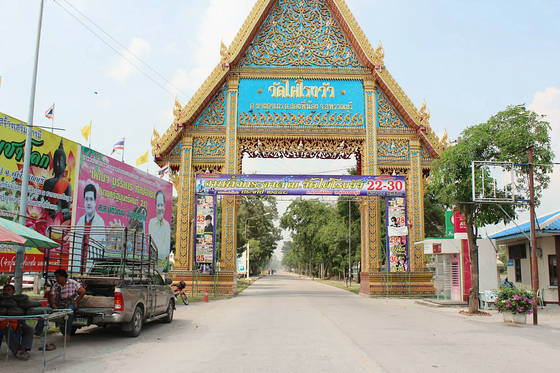 As I got through the entrance a bit, I met a rough dressed Buddha statue. "Well, often came, often came, please look slowly" was a welcome atmosphere.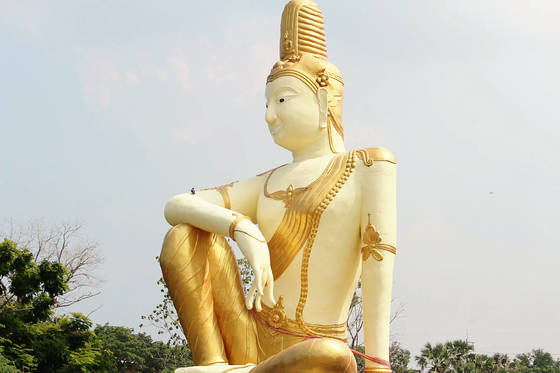 Temple of Thailand with a different architectural style from Japan.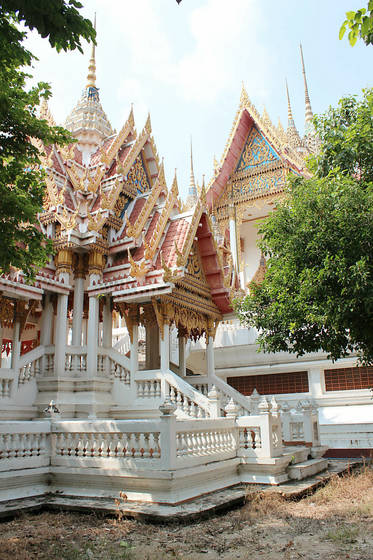 Spectacular colors that gold is dazzling, sculptures that make the exterior glittering, roofs with sharp inclines, spiers that pierce the sky.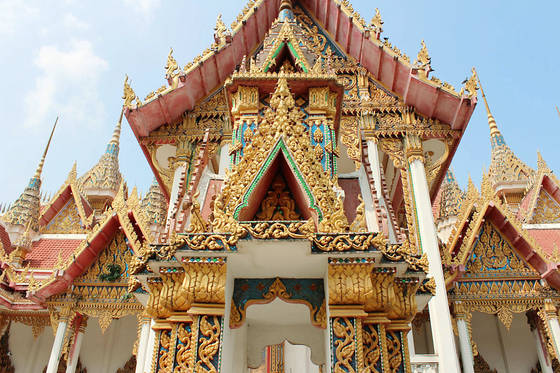 The Buddha was enshrined, Thai people were visiting.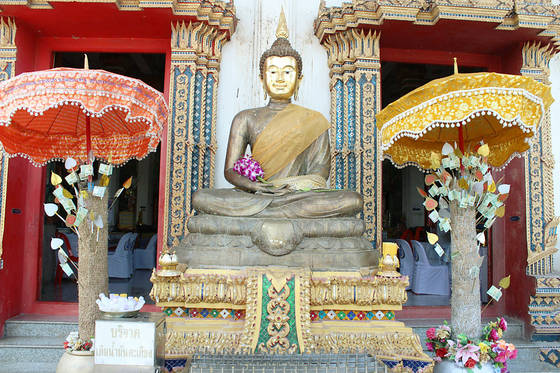 It is dedicated across the offering to a bar that is supposed to be a lotus bud.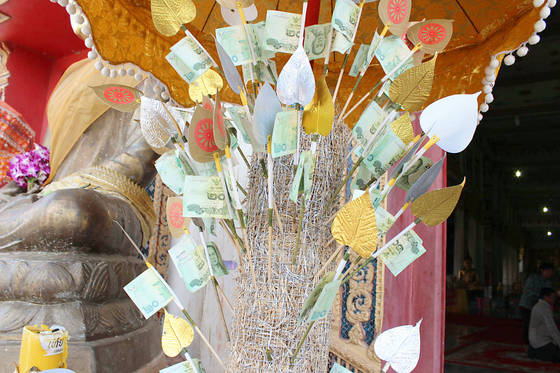 ◆ paradise
Going further, it rushes into the area where many Buddha statues lined up. Cloudy We are organizing a zen meditation with a gentle expression without one. Just watching, the world where the mind is resting is just paradise. There was a blue sky, it was a cozy place like heaven.

The word "the frontier of the Buddha" overlapped, a somewhat restless appearance.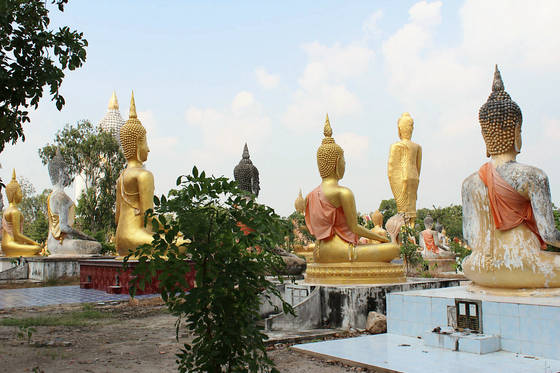 Every Buddha has the same pose in the same pose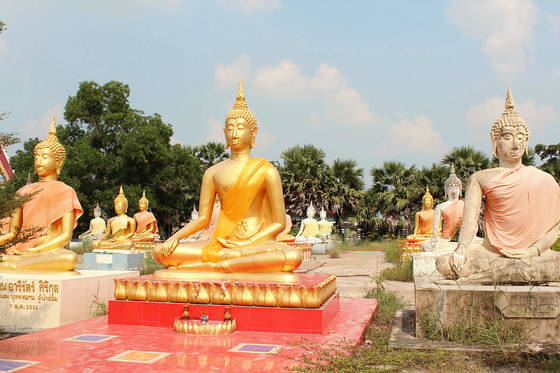 The Buddha like ordered at regular intervals.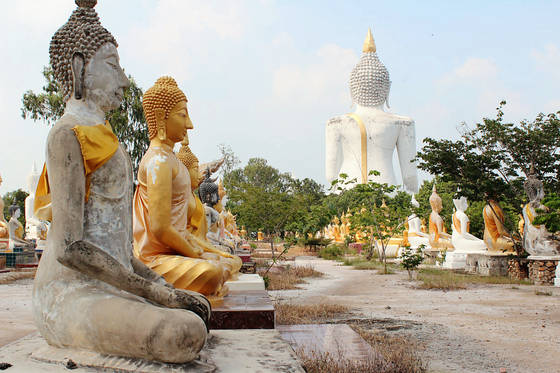 Behind the Buddha statue is the god of the snake of IndiaNagaIt is protecting.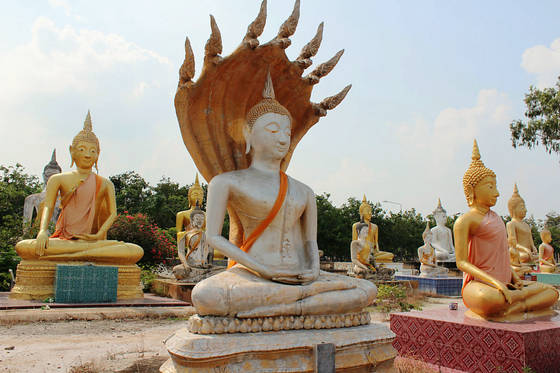 Various sizes of Buddha were meditating at the same pose.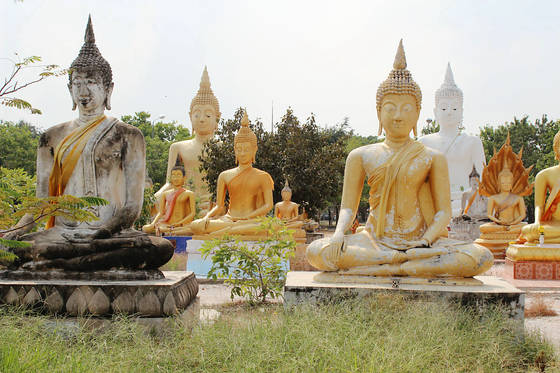 This big big back with this reliable ... ...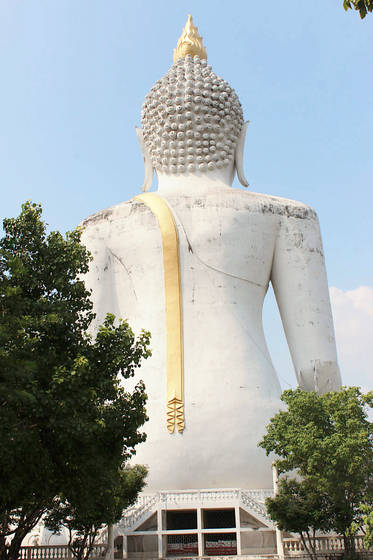 It was a huge big Buddha statue watching inside the temple.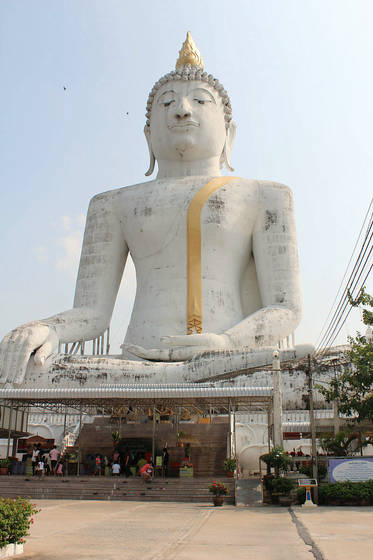 A crime
The next thing I found was a variety of objects with surreal faces. From the drawn scenery it seems to express the commandment that "You must not do this".

You must cherish the sacred elephant.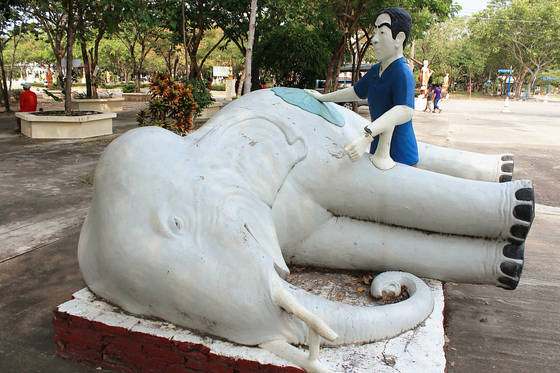 Wait a while and do not put your trousers down.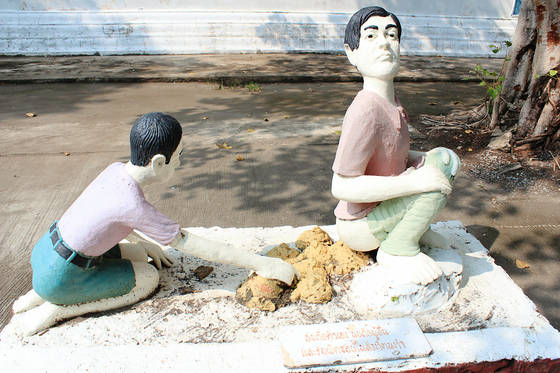 "Different, misunderstood, please understand" Dad appealing. They were two like female fighting.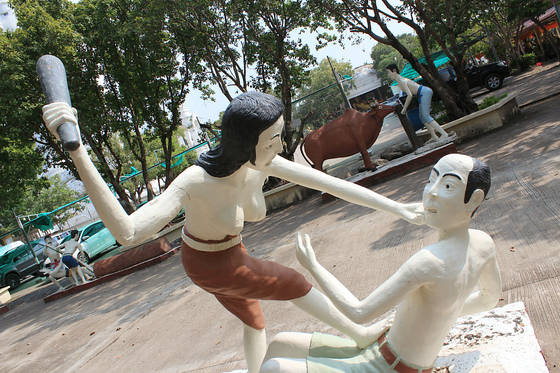 Daruma turns ... ... If it is not, it seems to be killed. Is it such a place that you should not hurt your monk?



There are objects which are just meaningless.

Raw hawk, rice, a big pinch of desperate situation.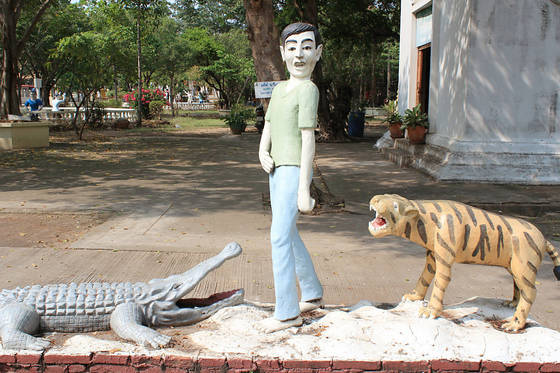 For some reason, the tiger and the lion were fighting each other.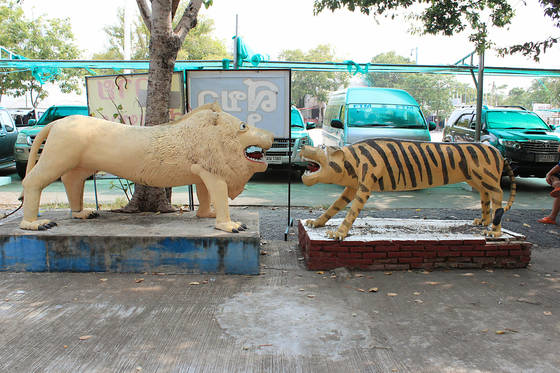 ◆ Hell picture
※ The object in front of this is just a hell picture, it is a creature but blood and internal organs will come out, so please be careful to browse.

And I will enter the hell area. It is just a picture of hell that seems to be full of unfathomable 魍魎 魅. At first glance, I do not know what it is. Although there are rare explanations, I can not read it because it is Thai only. Just a little research, it is consistent with the general hell world. It seemed that those visiting after preparing in advance had a better understanding of the world of hell.

Unlike the Buddha's area, it is clunky so you can stir up anxiety.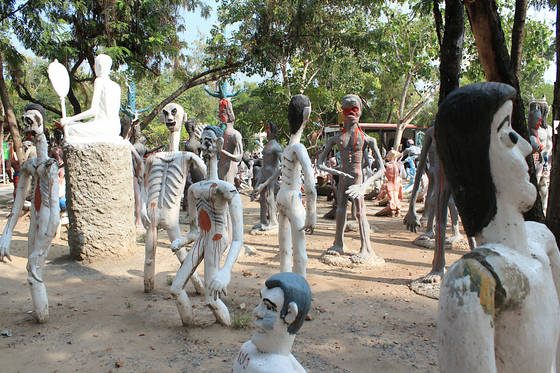 The figure that can not feel animation is exactly hell.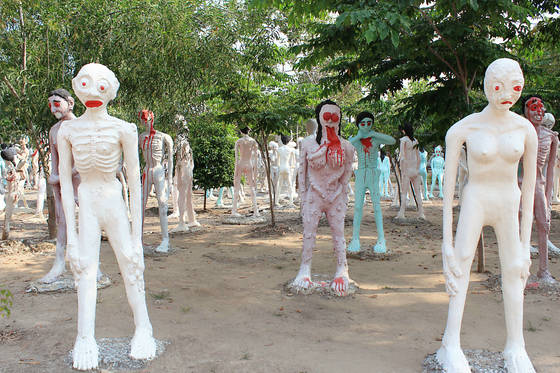 Tentatively, I tried mixing.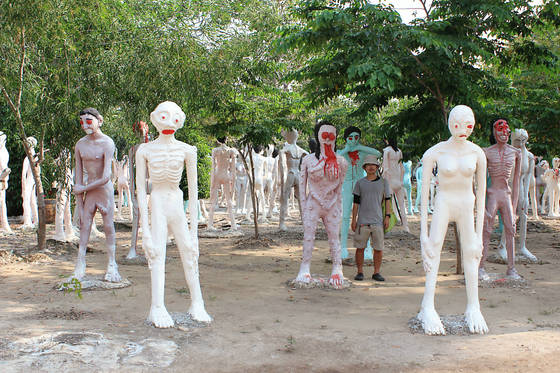 As you can see, they do not have the same face.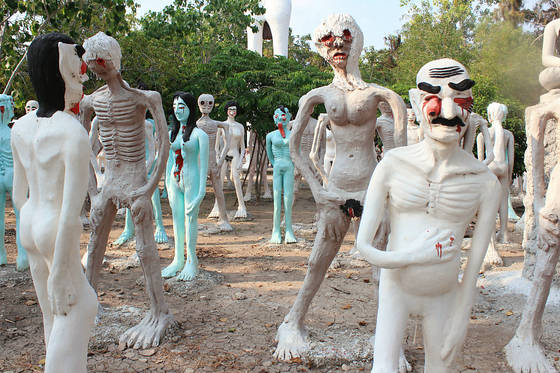 Every image is as impressed as if the child had graffiti, but it further highlights fear. Due to the lack of the same face, various facial expressions were emerging.

Especially the one with a strong impact is a group of four, carrying boxes containing corpses, for example.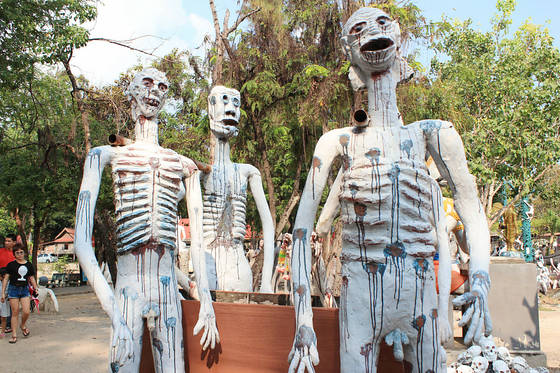 A skeleton human whose muscle fiber has emerged.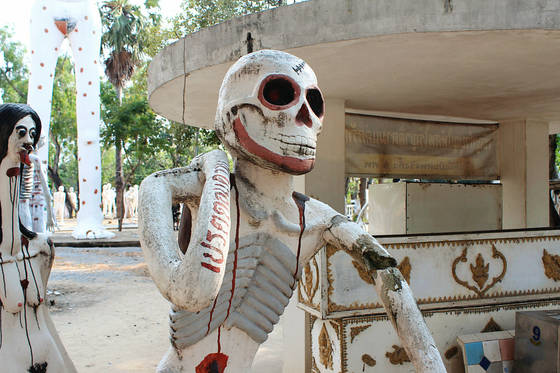 Both hands are getting bigger as I can fly the sky.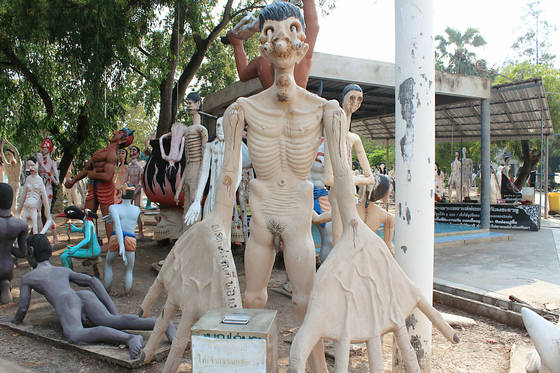 A gigantic face that seemed to be lonesome and fiddling.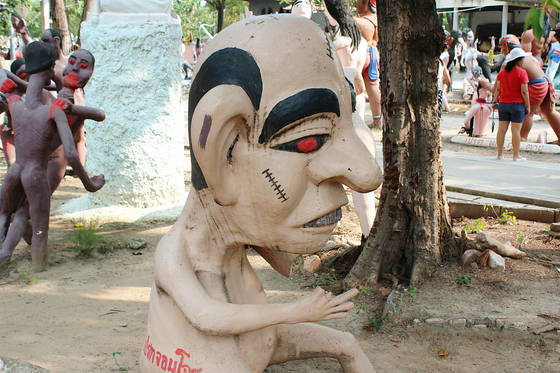 The red cheek and the nose resembled that hero, so I ran over and took a picture.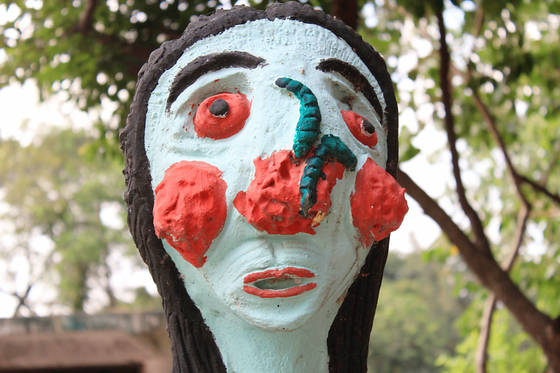 The statue whose feet are facials has a sad expression.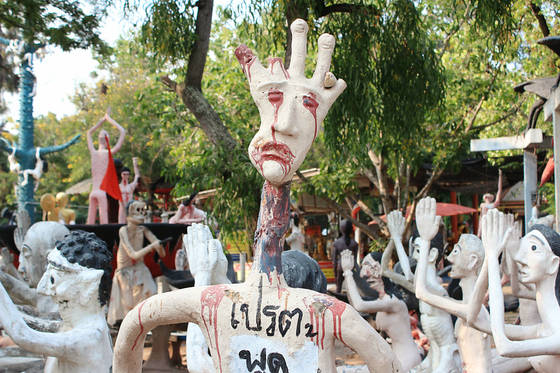 Toy story also comes out "Mr. potato headAppearance like.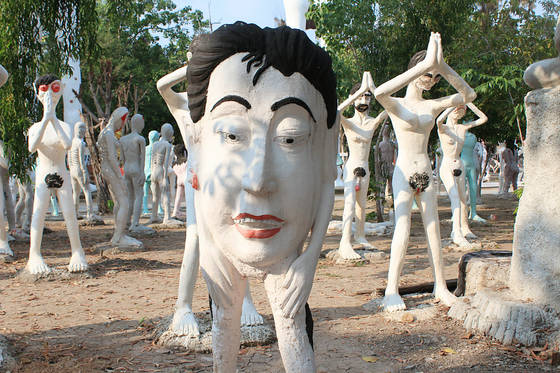 I seemed to be bitten with sugarcane, I became interested.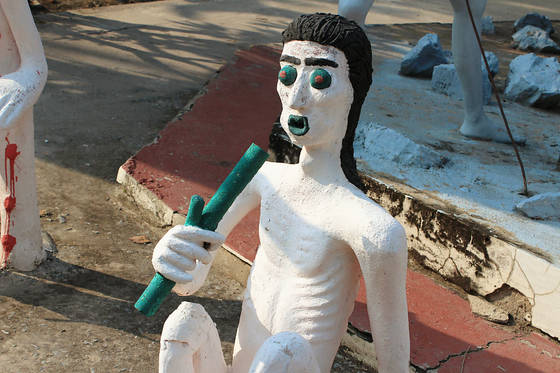 The giant statue of 2 boys and girls draws an eye out even on the premises. Pose to push up hands together in the sky, increasing eeriness. If such a huge giant attacks, it is unlikely that you can put out both hands and feet.



Around here, people were fighting with each other. People who fell in "the active hell" agree with the scene that kills each other without believing.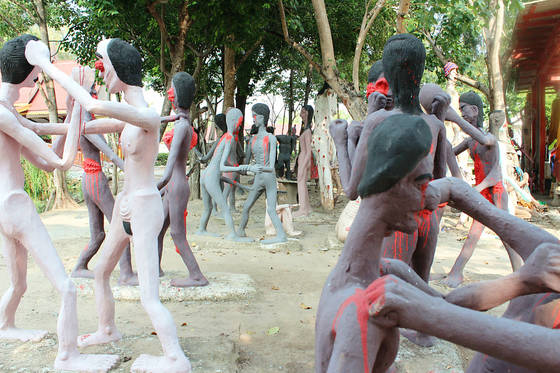 Also the figure of a fallen person.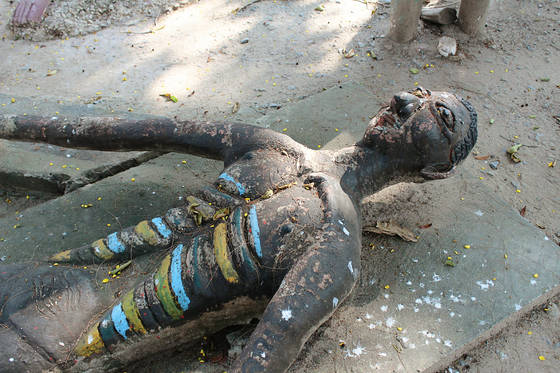 It seems that it will decay and dissolve on the ground, but in hell it will revive even from this state, so you have to suffer endlessly.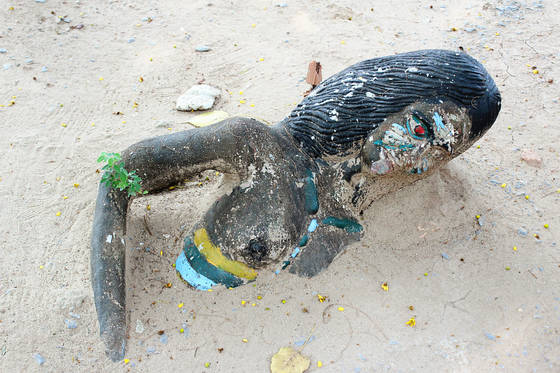 The deceased of hell seeking salvation from a monk.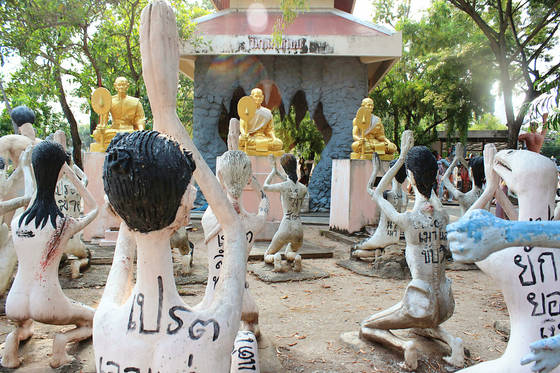 · The appearance of visitors
Despite this remote place, it was crowded as it was. There are also a lot of Thai people and it may be a well-known spot for locals.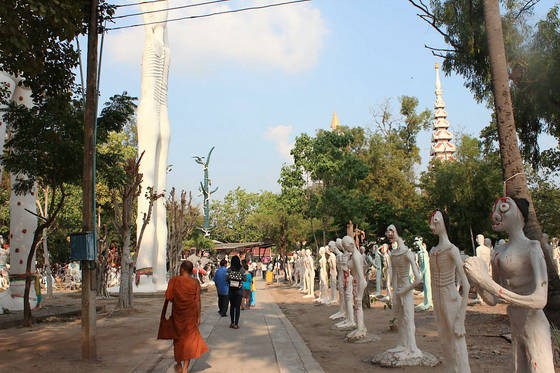 Children roaming around the premises after all.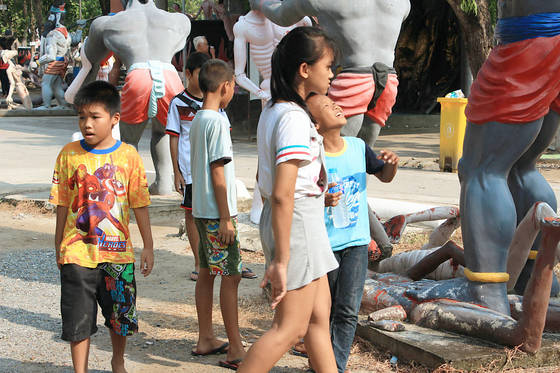 When I get tired, I sit on a bench and take a break. You can do it slowly if you do not mind even surroundings.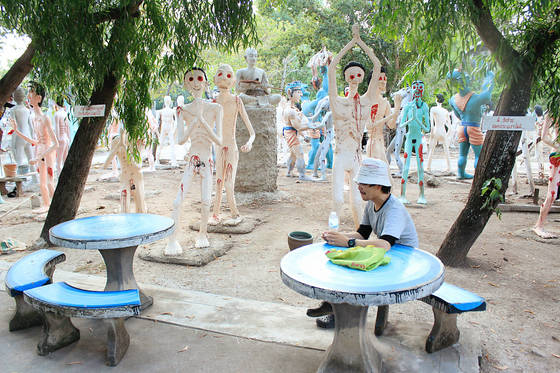 · Reincarnation
In Thai Buddhism it is important to do "Tambun" (to accumulate virtues) and believe that unless this virtue is missing, it will be born again into lower animals. The so-called ring regeneration. Even here in hell, Thai people 's view of life and death was packed.

Animals Human beings who hold hands with your monk. Is it a scene that hopes for relief?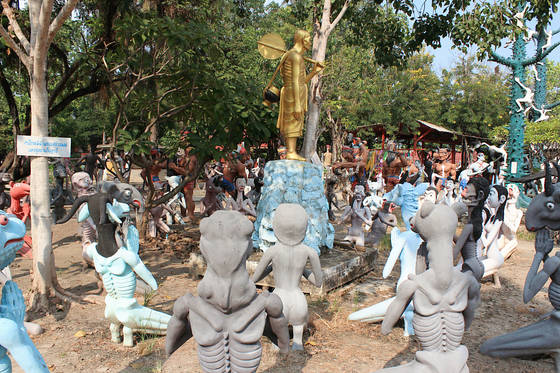 Everybody is a human being, the head is an animal.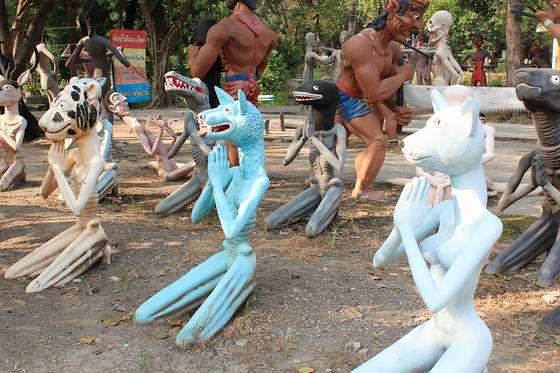 Reindeer who gave a splendid corner.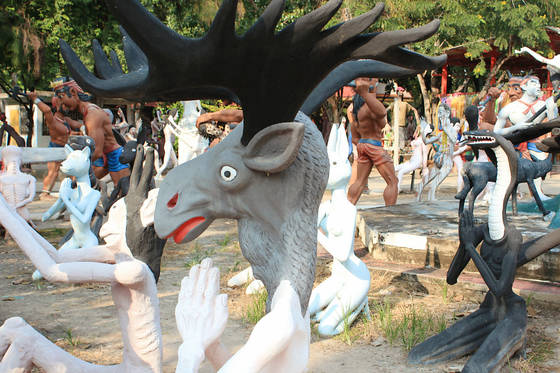 Serpent human beings appear to be even in the mask riders.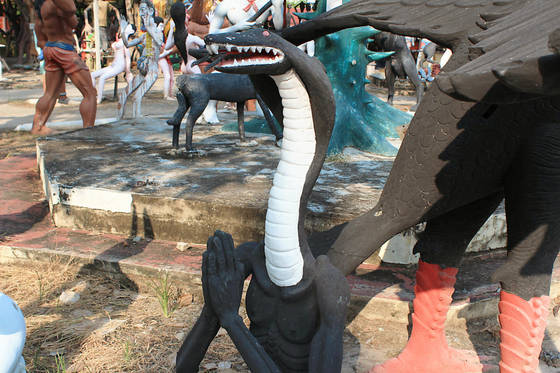 Kirin also longed his head and was dedicating prayers.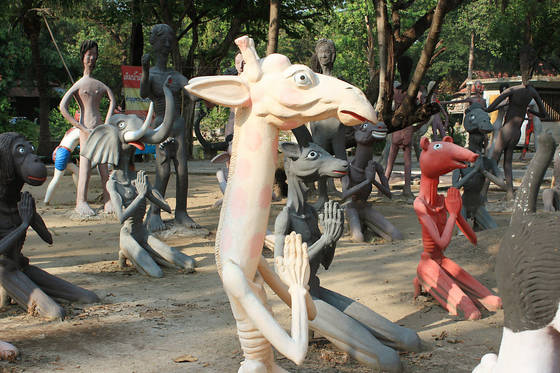 There are not only here but also other statues of animals.

The mermaid of the fascinating fascination that has been defeated.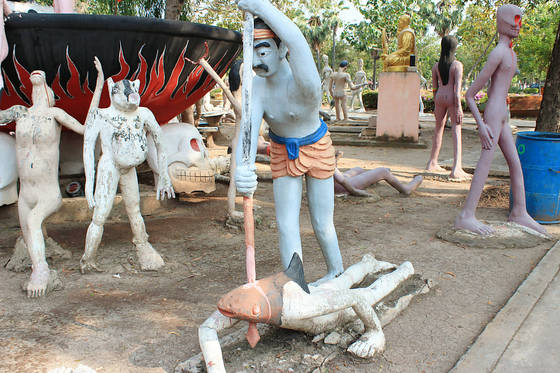 If it was a tortoise human being who was bullied, did Taro Urashima hand out?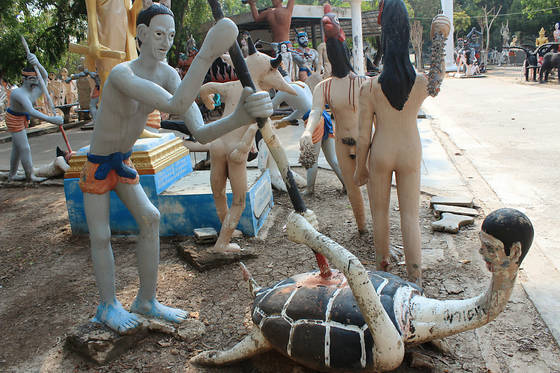 There is also a long elephant with a long nose.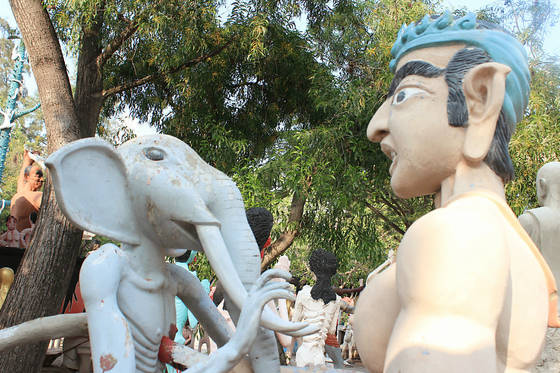 I can also see Mohawk, but a young man with a chicken combo.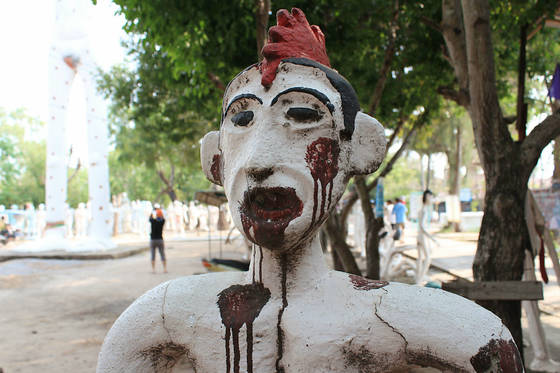 · Demons and Beasts
Sinners are not alone in this hell. Demons who blame the people who fell into hell also work under Enma. The demon's work not treating people as people is exactly devil. There are animals, but there is nothing to be able to be friends and become friends anyhow.

In Japan it is said that "If you tell a lie, you are pulling out a tongue to Enma," but that work is what the demon does.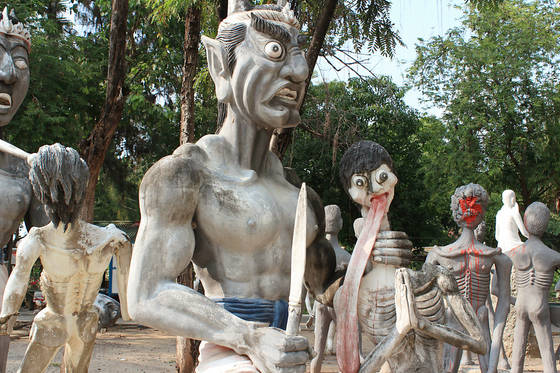 This is a huge saw and it has its neck cut.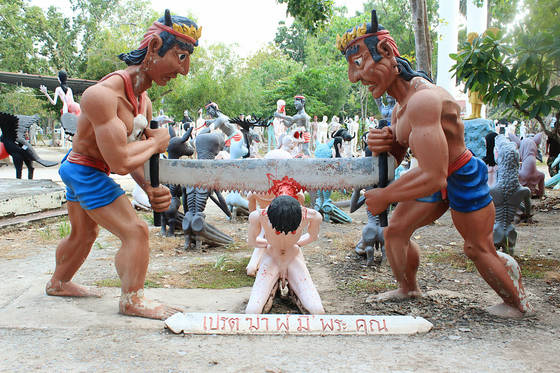 Although it became clear at the site well, when looking it looks like an act of pouring molten copper.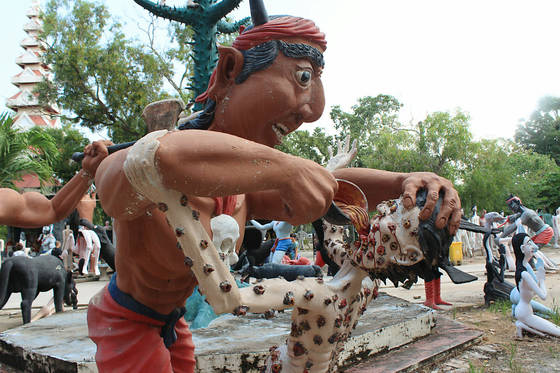 It is connected to the chain and it seems to be entrained.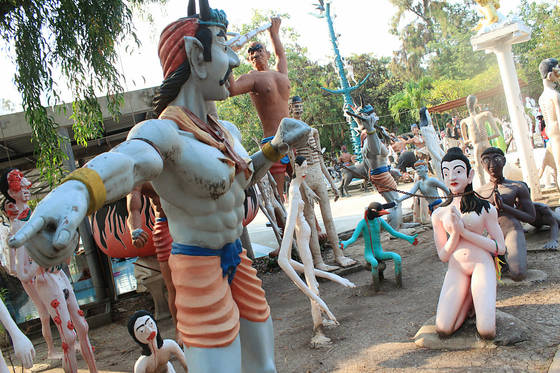 Vulture's sharp beak is aiming for the suspended sinner.



Flesh that is messed up by vultures and crows.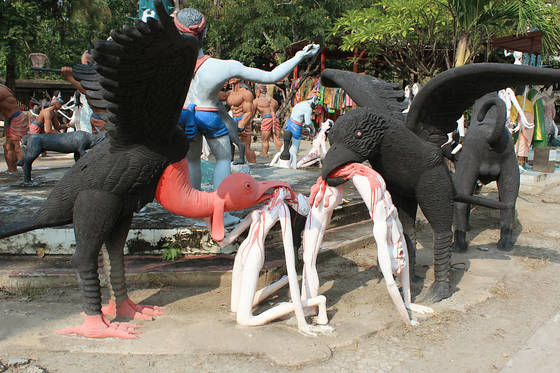 A crow gnawing the built-in of a man who fell on the mountain of a needle.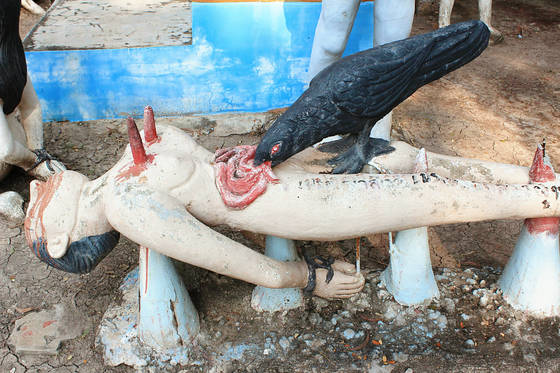 The dog of this world is scared, too, but the dog of the other world seems rough. You must be careful.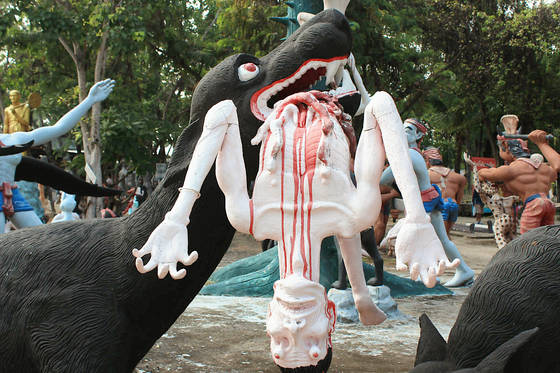 · Kabutsuki
A mountain of needles and a blood pond that we imagine hearing as hell can not be found here. Instead, there were a lot of kettle boiled kettles.

A huge pot which was boiling. It is frightening that the foundation is to support the kettle, and that it is three skulls.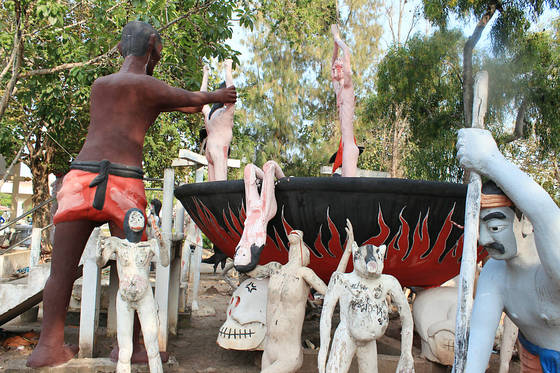 In the kettle, sinners were suffering from boiling water. Outside such a tragedy, a number of bowls are fully automatic. A worldly specification that can throw virtue to accumulate virtue.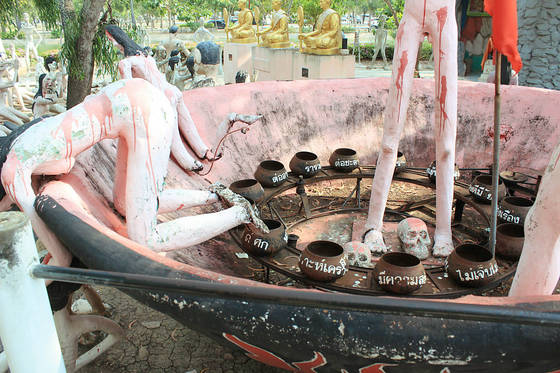 A big demon twice as many as a sinner had thrown humans into a kettle.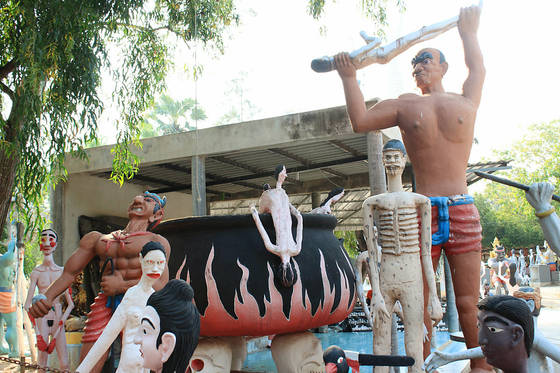 There is a small kettle with only one person in it.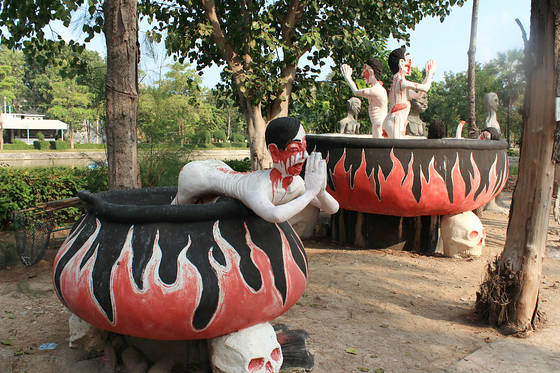 There was no mountain of needles, but sinners were going up with a painful needle tree just by looking.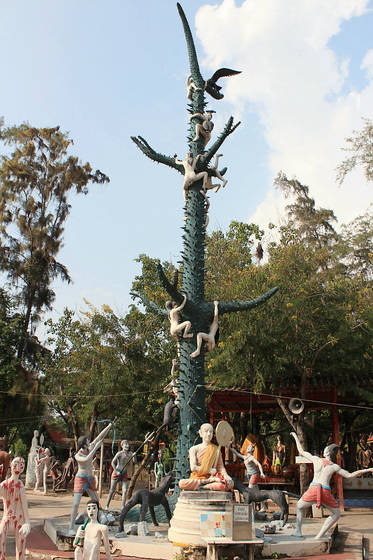 ◆ In a vast temple
The charm of this temple is not only in the hell area. There are various temples in a large wide premises, and various Buddha statues are enshrined.

It is a temple that exudes the atmosphere like India from its appearance.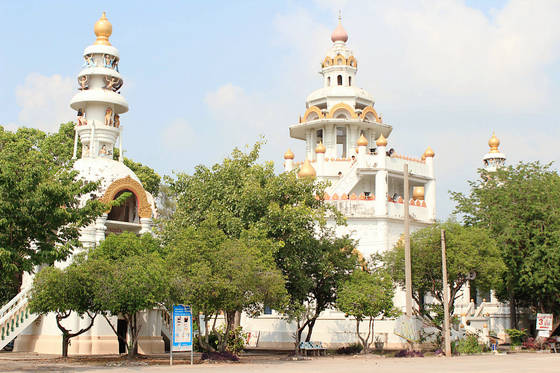 Because it is a holy place, clothes with severe exposure of the skin are not suitable and can not enter the temple. I LOVE YOU drawn on CROP TOP shirt, Thai quality is not graffiti. Why do you stick with that?!?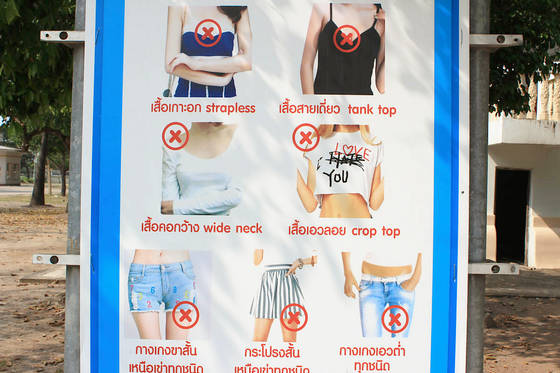 Because I am impatient, I am going to visit. Pay 20 Baht and pick up lotus buds, incense sticks and paper packets.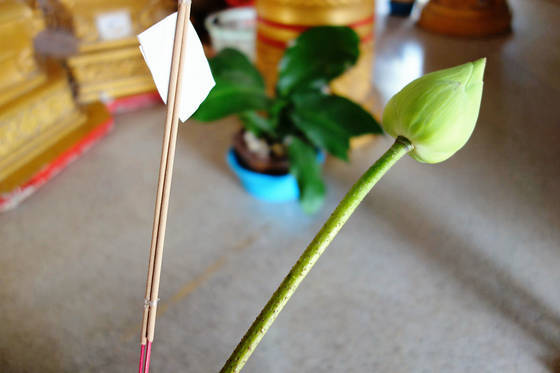 Since gold leaf is contained in the paper wrapper, paste this on the Buddha statue. It was a thin thin gold foil that flew by one sigh.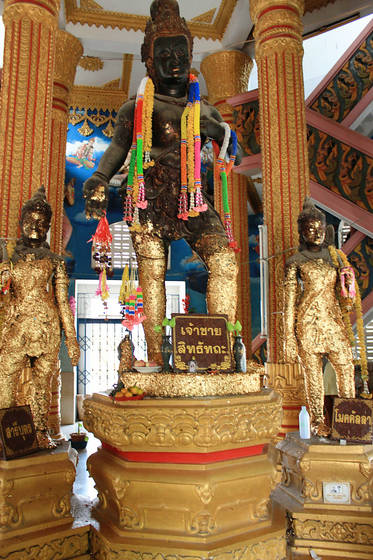 People who are enshrined in this temple have a face like Indian somewhere.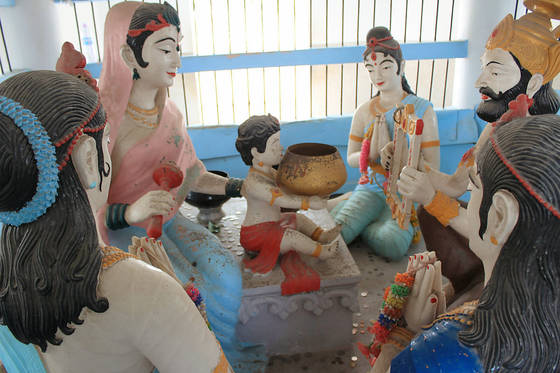 Decoration that had a comical look stopping her legs unintentionally.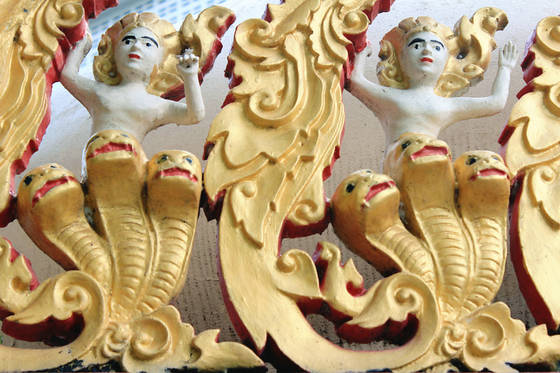 Discomfort with no arrangement of Buddha statues, no engagement with pose.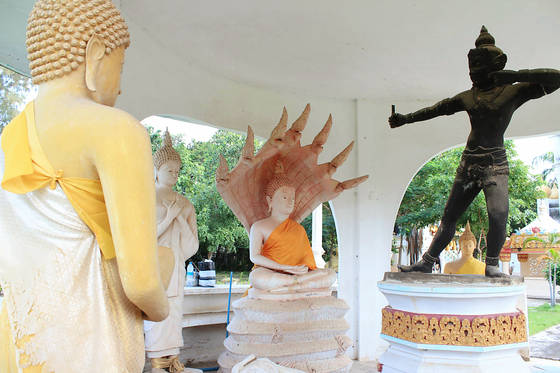 A couple who had a badly burning face.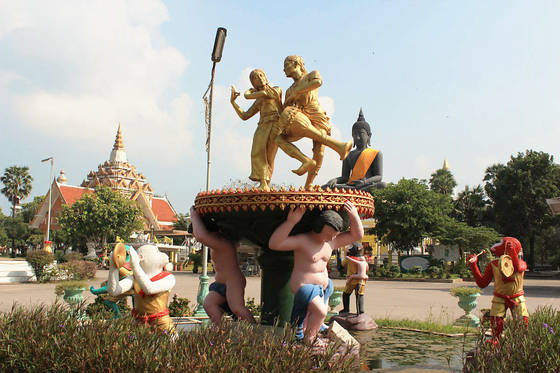 In Hindi god who faced the elephant which is widely targeted for faith in India "GaneshaIt is also worshiped by Thai people.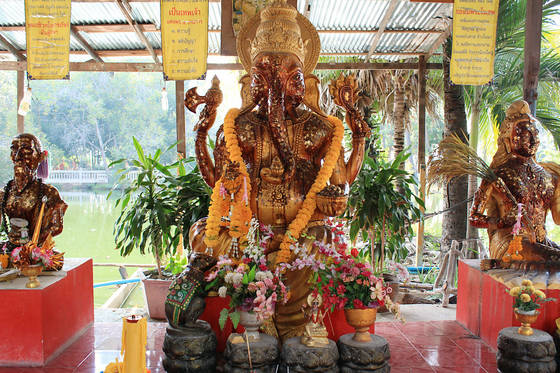 Mr. Buddha like a golden sleep.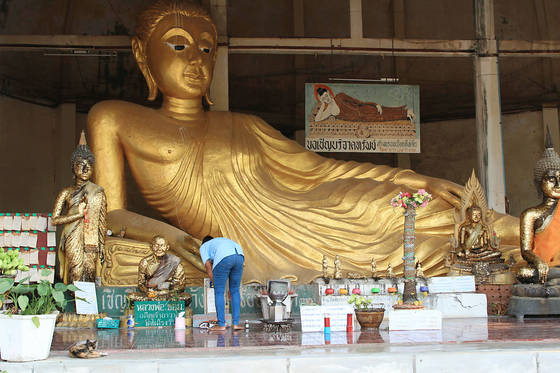 ◆ Recommendation of visit
The majestic royal palace and historical ruins are nice, but how about visiting hell temple when visiting Thailand? You should be able to learn Thai religion and life and death view as well as just a story.

There are many objects and buildings in the vast site.



Look at the hell area from the outside.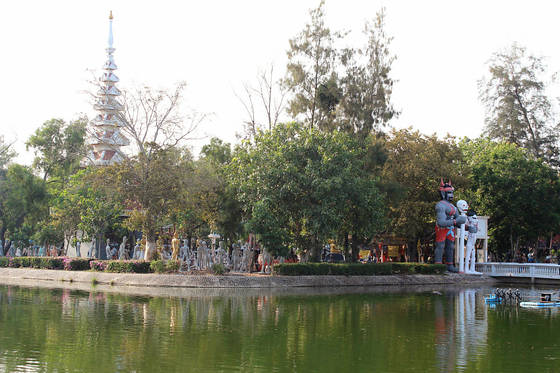 Since there is such a guide map, let's walk around the temple on this reliance.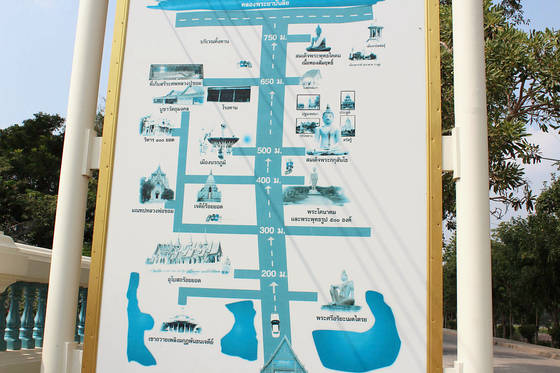 (Sentence / photo: Takuya S. Narou Charriderman
Cycling around the world for a bicyclehttp://shuutak.com
Twitter@ Shuutak)