I saw a paradise in Tonga, Fiji, Vanuatu, Solomon Islands, the South Pacific island country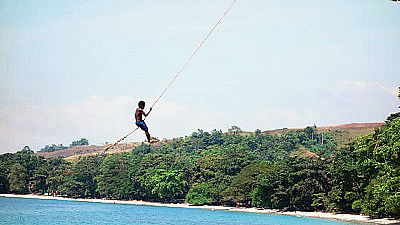 Because there is also bad security, "It's not all good" can not be said, but it was an unforgettable memorable experience. A small island floating in a wide wide Pacific Ocean. Even in such a place, the fact that there are people who run daily life. I went to a wonderful place, so let me introduce by all means.

Hello,Takuya Sudo @ circle around the world bicycle @ Charridermanis. The south island which I had dreamed of coming with a lover at the end of a round of the world. Unfortunately I could not find the other party. Instead, I brought a folding bicycle. The day when I ran relaxedly under the palm trees while looking at the sea. The unbelievable sight comes into play, so the tension also rises.

◆ Basic Things
·access
After all, it was access by airplane. This time, I have been flighting eight times from Australia, New Zealand, Tonga, Fiji, Vanuatu, Solomon Islands, Australia and Singapore based on Malaysia. The total amount of air ticket fee is 187 7392 yen.

Breakdown is

| | | | | |
| --- | --- | --- | --- | --- |
| Airlines | date | Point of departure | Arrival point | Amount of money |
| Air · Asia | 2015/07/09 | Kuala Lumpur | Sydney | 20,298 yen |
| China Airline | 2015/07/13 | Sydney | Auckland | 20,859 yen |
| Virgin Australia | 2015/07/21 | Auckland | Nuku'alofa | 20 2031 yen |
| Fiji Airways | 2015/07/24 | Nuku'alofa | Suva | 20 1170 yen |
| Fiji Airways | 2015/07/31 | Suva | Port Villa | 46,680 yen |
| Fiji Airways | 2015/08/04 | Port Villa | Honiara | 〃 (Suva → Buy with Port Villa at the same time) |
| Virgin Australia | 2015/08/06 | Honiara | Brisbane | 33,552 yen |
| A scooter | 2015/08/08 | Gold Coast | Singapore | 22,100 yen |
It has become. Australia was the country that I visited the very first time, and I did not have to drop in as soon, but since LCC arrived and departed from Southeast Asia, I also visited this trip. I wanted to make a schedule early, so most tickets are purchased at the end of April.

Fiji Airways used three times.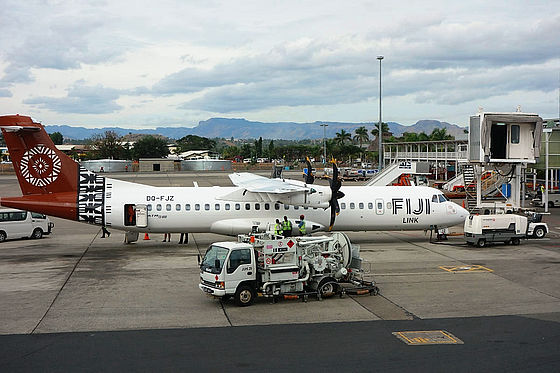 A flight connecting the south islands.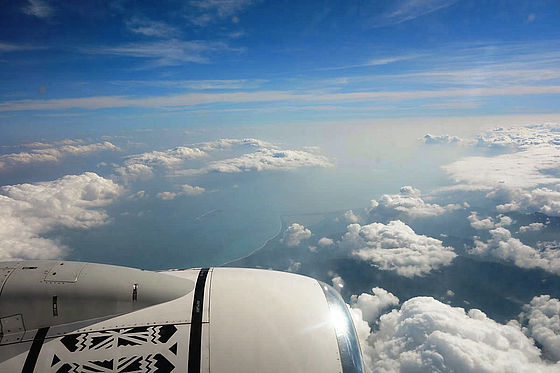 At Tonga and Vanuatu airport, cheerful music was ringing as a welcome ceremony on arrival.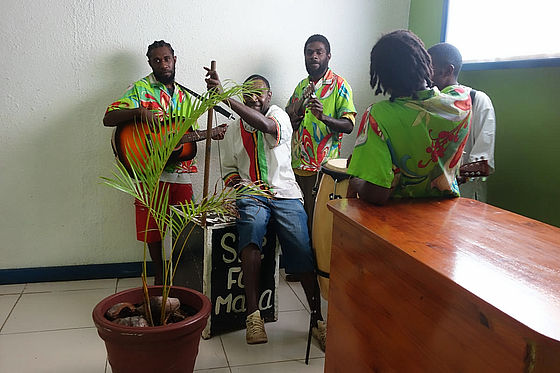 ·money
There are ATMs in every country, but it was a traveling crying place that requires a fee of about 500 yen for one withdrawal. Since Tonga, Vanuatu and the Solomon Islands were short stays, exchange Australian dollars prepared in Australia. Fiji, which has been in a week, has found an ATM that does not charge a fee, so I use it.

Fiji dollar.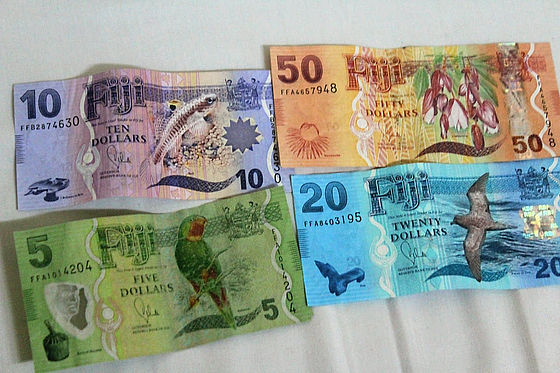 ANZ Bank, Bank of Westpac Bank and Australian Bank Widening the Width, ATM of BRED Bank that did not charge fee.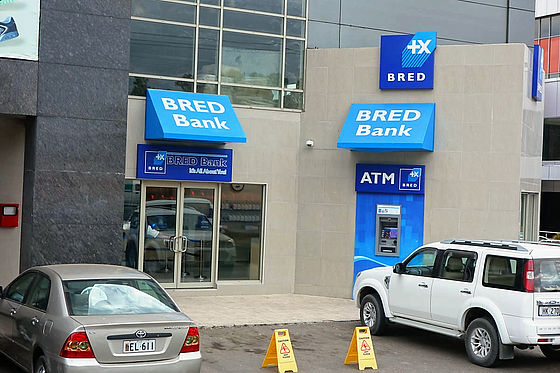 ·Lodging
From the price level, I felt overall expensive. If you give the same price in Southeast Asia, you can stay in a more nice room. Still, it was easier than the Caribbean island country where there are only high lodgings. In Fiji, Vanuatu, there is also a dormitory where you can share a single room with several people. It is about 1000 yen in Fiji, about 1500 yen in Vanuatu, I stay overnight. Even Tonga seems to have an accommodation with a dormitory. When I was a single, I stayed at a cheap hotel between 2000 yen and 3500 yen.

Room of Tonga was 50 Paanga (about 2800 yen).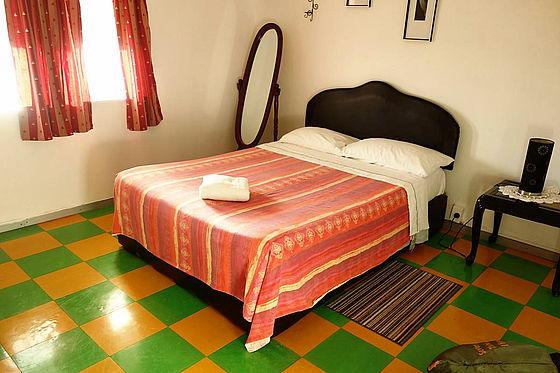 In the place where we stayed at Nadi in Fiji, there is a building with a dormitory room at the end of the resort hotel. Price of 15 Fiji dollars (about 900 yen) per night. Hot hot showers, with a buffet type breakfast, Wi-Fi in common areas are also connected.



The cheap hotel in Solomon Islands was a notation called dormitory at the time of booking, but we were able to stay alone. In the old room with the age, the wall is missing with a bottle. Only shower gets water. Nevertheless, the sad reality that it will cost 3500 yen per night. Countries that do not have a choice of cheap accommodations are pretty tough.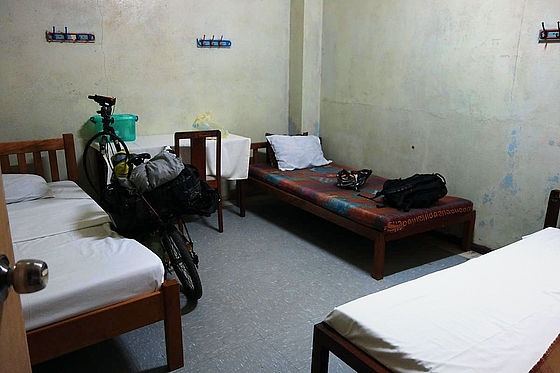 A meal
The restaurant for tourists seemed high, but if it is a general dining hall, you can eat out at around 300 yen to 400 yen. Because cost performance was good, we used only the dining room that the Chinese manages. They serve rice and side dishes in parallel.

Bukkake rice made by Chinese people.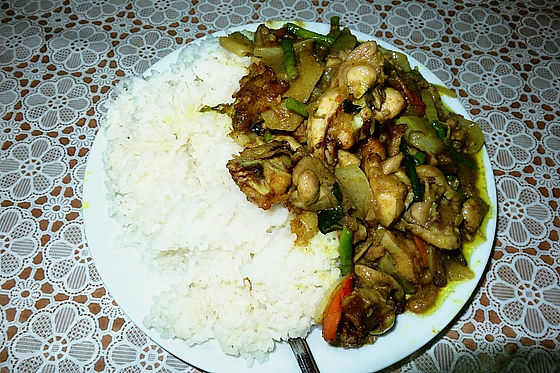 As Indian people live, Fiji can eat curry as well.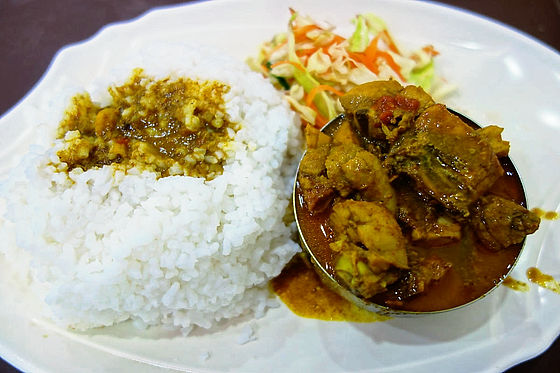 Fish rice with plenty of volume in the Solomon Islands was 30 Solomon dollars (about 460 yen). A local aunt burns fish with deep-fry on an iron plate. This was also an amazing amount and I ate some fish even this.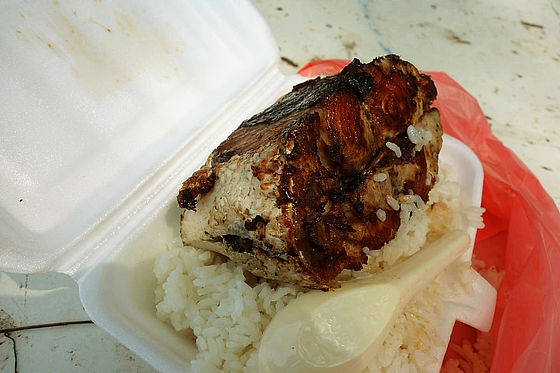 Security
In contrast to the calm image of the southern state that we hold, it was a place that needs attention. You do not touch the item over the wire mesh or covering the outside of the shutter with a grill of iron, the way of security of the shop is also strict. In the room of the cheap hotel that I stayed at Suva, the capital city of Fiji, there was also a note that "travelers were attacked on the road in front of me, so be careful enough".

The window of the Fiji was also covered with wire mesh.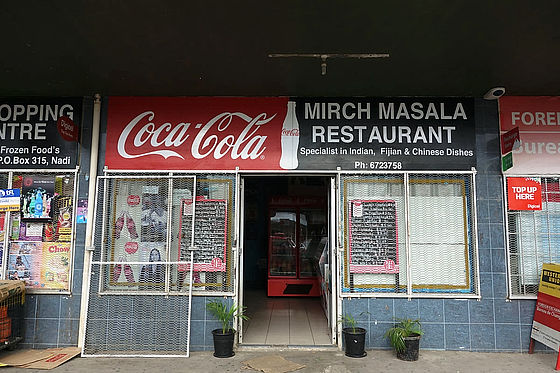 Shops in Solomon Islands were strict guards outside the shutter called Iron Goddy.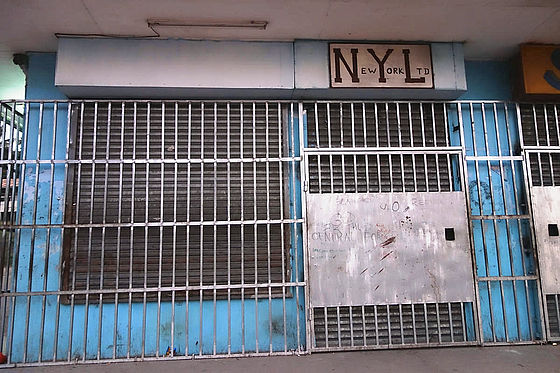 Fiji and the Solomon Islands especially cared. Fiji had a change in flight time and arrived at the airport of the capital city Suva was at 9 pm. Taxis that we do not use as much as possible can only be helped at this time. It seems to be dangerous to look it up in advance, I could not think of running the city at night by bicycle. In Solomon Islands, the shopping street of Chinatown is closed as the sun goes down. At the same time, people are crowded and I will draw it. I had to finish my job while I was cheerful. The appearance of the shop is enough to fuel the feeling of crisis.

◆ Use of wheel gloves
Because there was a folding bike, it was necessary to deposit a big luggage at the check-in before boarding the airplane. The oversized plastic pack purchased in Thailand, which I used when I went around the island country of the Caribbean, is discarded because it becomes an obstacle to traveling in India. After that, there were several flights, but I was substituting an oversized stuff bag to put in rice or beans. However, in the next trip to the South Pacific, there are eight flights to go. During my stay in Kuala Lumpur, I found out that there was something good, I found a big bag of 65 ringgit (about 2200 yen). Although I was worried whether the size would fit or not, I fell within the pits.

At first sight it is a small bag ... ...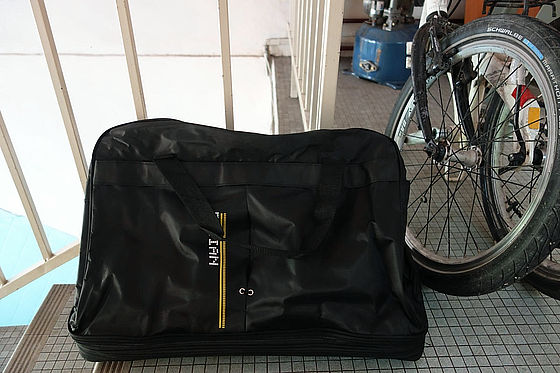 When it gets bigger, folding bike enters.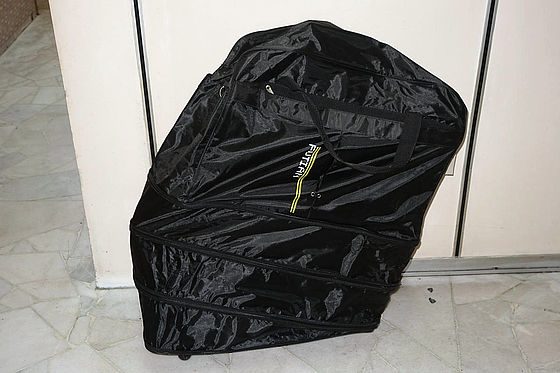 The secret of size adjustment was three fasteners on the side of the bag. When flighting, open the zipper, make it bigger size, and put a folding bike. When running on a bicycle, close the zipper, make it compact size, and place it on the platform.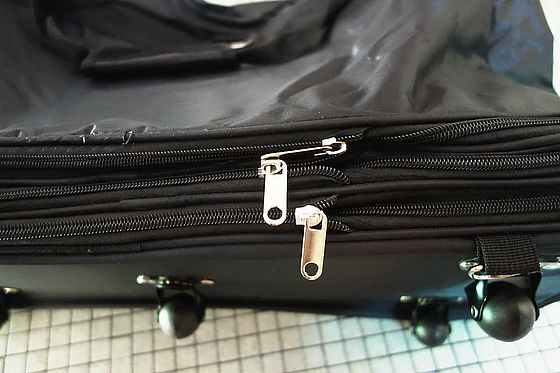 I was attracted to this caster, but when I put a folding bike in it, it was heavy and I could not get a balance and it was almost useless.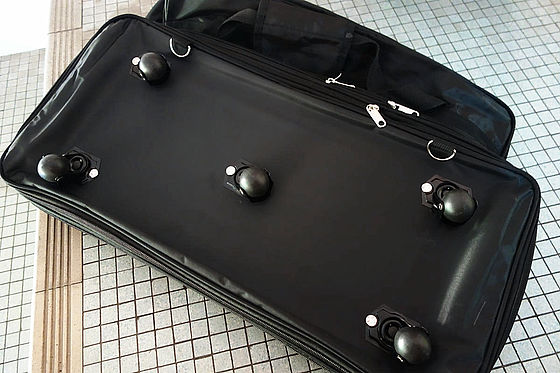 When traveling around the Caribbean islands, there was also the influence of the US using pounds, so we could deposit up to 50 pounds (22.67 kg) at check-in, but the flight to the islands in the South Pacific is Up to 20 kg, conditions became strict. Prior to the start of the flight, cups, washbowlers, bunny bags and old items are disposed of one after another. Nevertheless, it was always barely weighed, it was just cold sweat. The cheap tent was also disposed of in the road. I throw out old clothes also for throwing away. As a result, somehow without charge for excess fee.

The bicycle body will be smaller so far. I removed the pedals with crank.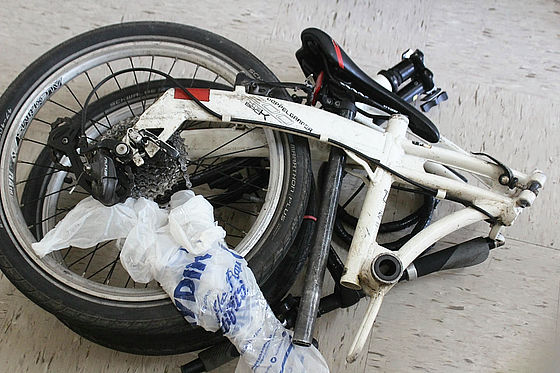 A state before check-in.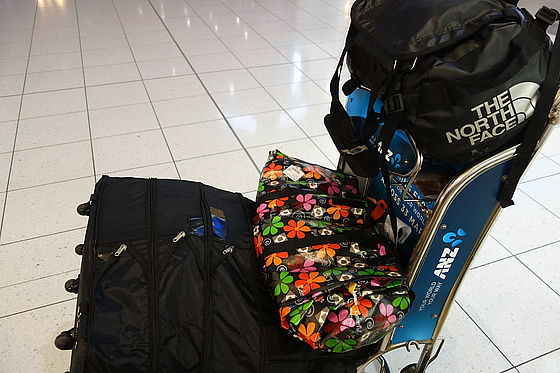 The expected crossover caster was far for practical use, after packing as usual, I was walking with heavy luggage in both hands. It's almost like a punishment game, no training. I was worried about excess size, but there were also a lot of people rolling over big suitcases, nothing in particular was told. As bags are torn each time they flight, the fabrics are torn, holes are empty, fasteners are broken, and gradually get hurt, so it seems good to divide it as consumables to the last.

A running style at a certain time.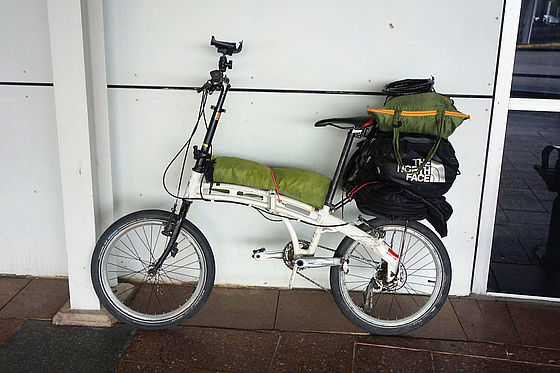 Stop at the dining room on the way.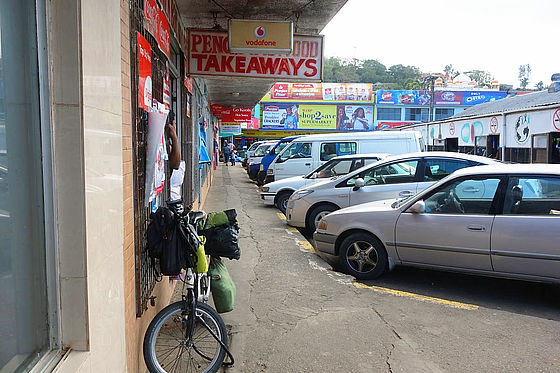 It was about 1000 km in the whole process, but the South Pacific island country was able to run by bicycle. If you have a bicycle, the range of action will expand. There is something only visible there, so I can not stop my bicycle trip.

In Tonga, I feel tropical land in a grave decorated with colorful flowers.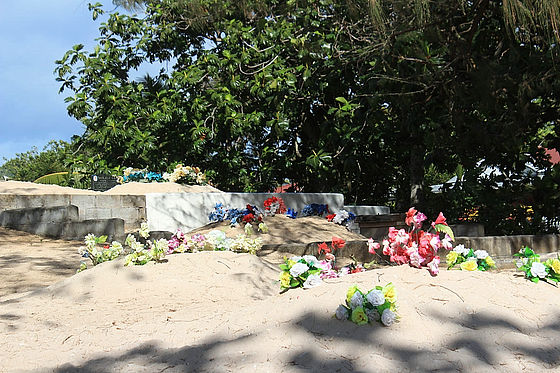 In Fiji, running while watching the crystal clear waters.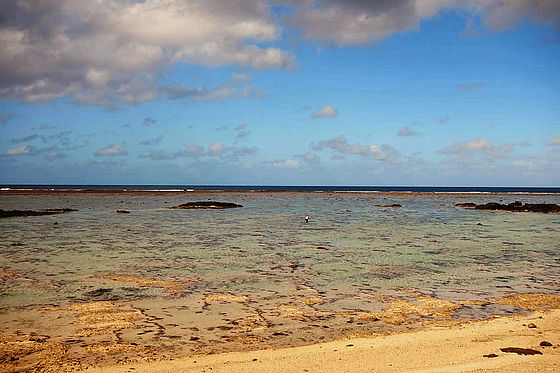 In Vanuatu, I looked up at a huge tree like ghosts and I was breathing.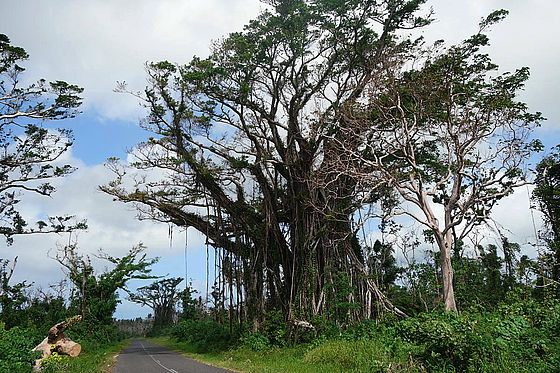 ◆ Fiji Market
About 900 thousand people, Fiji had a population that was outstanding among the Pacific countries. That is why the capital city Suva was crowded with many people. A commercial district that turned around from nothing Tonga, where everything seemed to be complete. When I was walking around such a city, there was a fish market.

Road street stalls.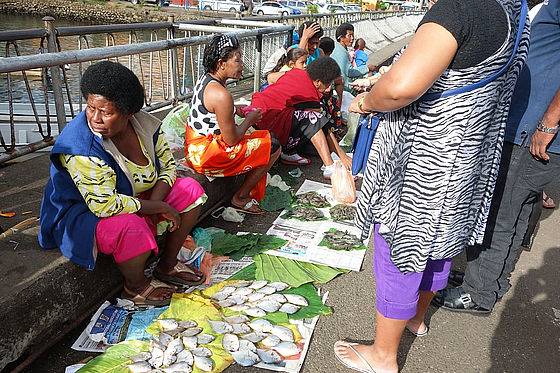 Huge lobster which rounded eyes like a monster. Even local people raised amazing voices. It is said that one animal will cost around 10,000 yen.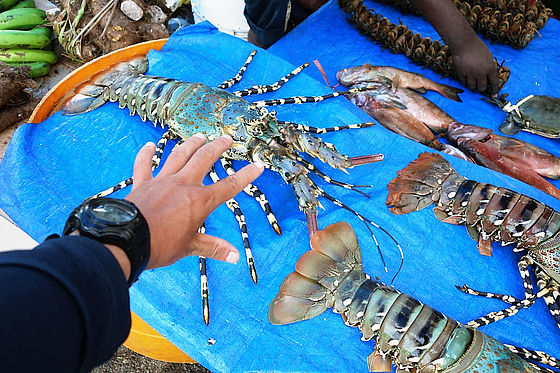 Octopus with noumenume. It is ecology that big leaves are used to arrange.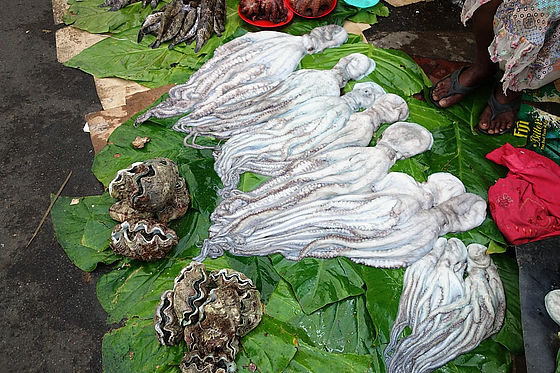 The local people were picking fish with a serious expression.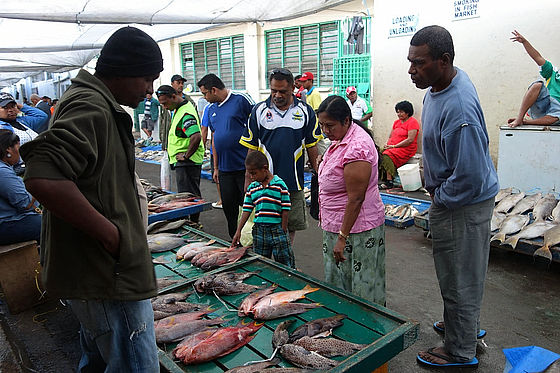 An elongated fish like a tattoo.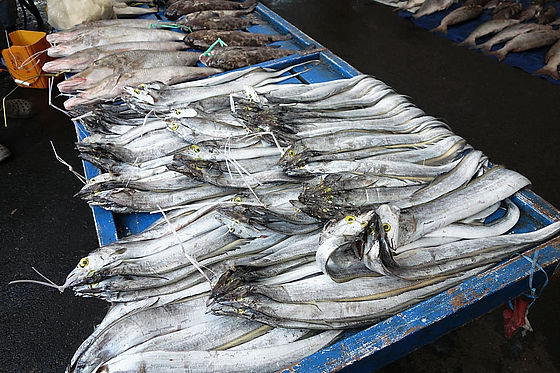 We also found a local market where vegetables and fruits were sold. A crop with a deep color like a southern country remains in the impression.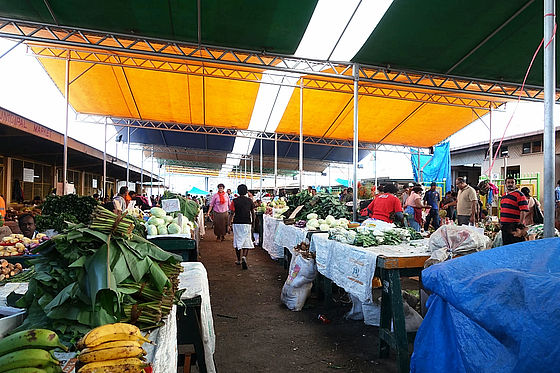 Is this an unfamiliar vegetable, Taro?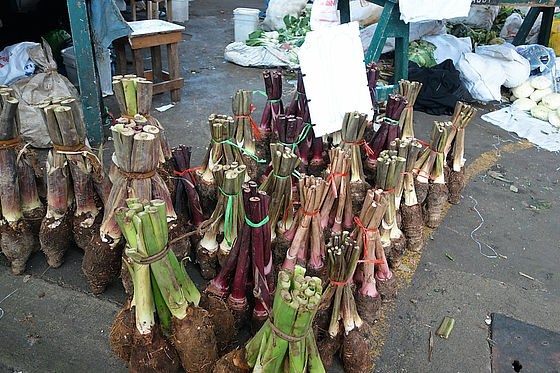 Since I was tired of walking, sugar was refilled with a specialty juice of 0.5 Fiji dollar (about 30 yen).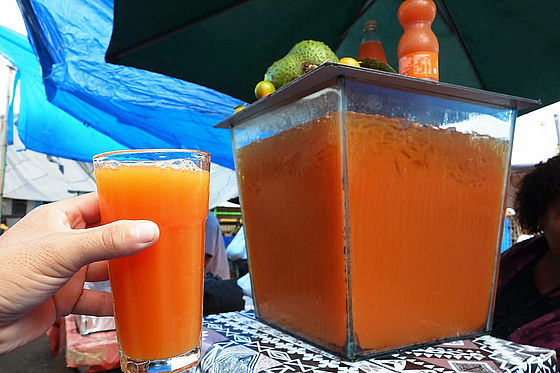 ◆ The seaside of Vanuatu
The accommodation in Port Vila, the capital of Vanuatu reserved on the Internet, was about 4 km from the city center. Instead, as soon as you leave the hotel, the sea. It was a windy day, I did not swim, but just walking through a shallow can enjoy it as it is.

Shallows spread before the inn.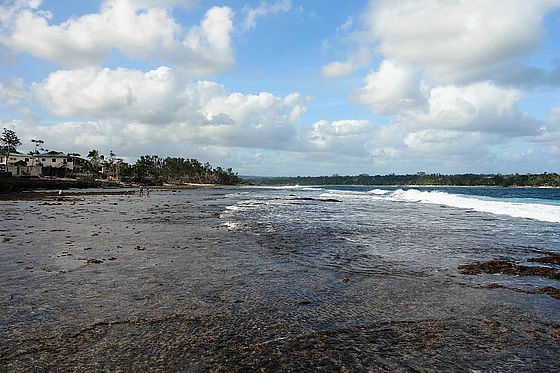 It was a sea of ​​considerable transparency.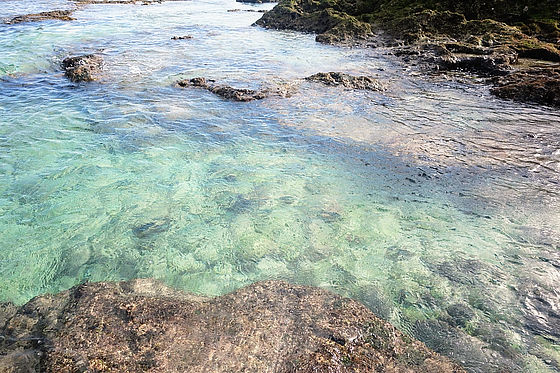 Yeah not to say it, it seems like a sea cucumber that puffed up.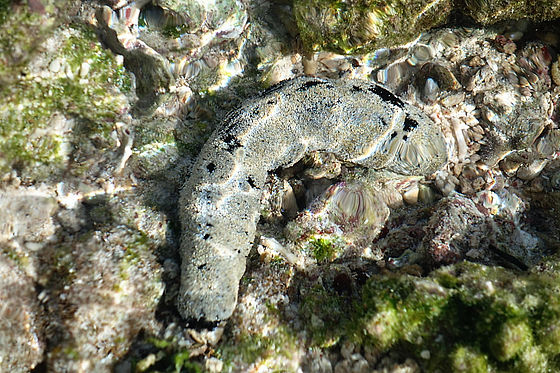 A star-like starfish is hiding under the rock.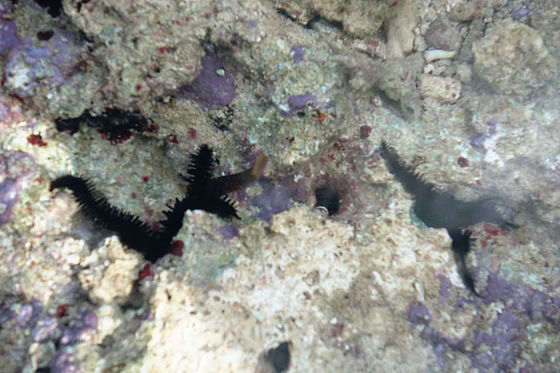 A sea urchin which had been lumpy was also discovered.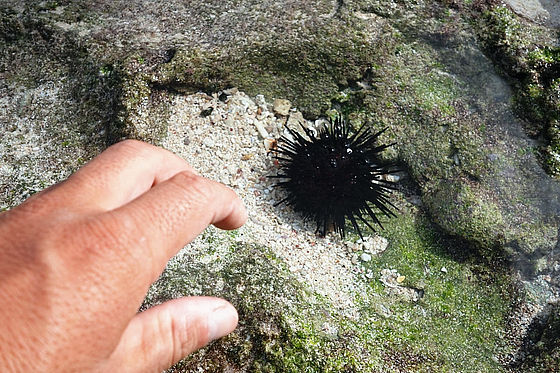 I tried fishing the beach to see if unusual shells were falling.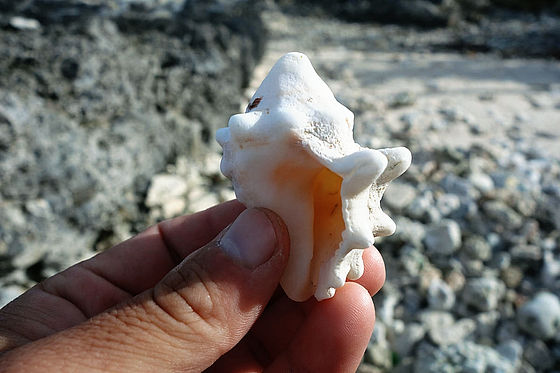 White coral.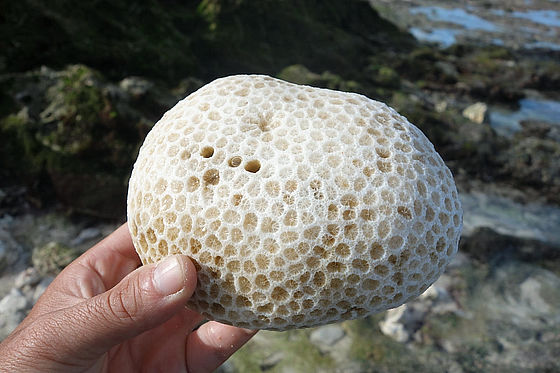 This was when I went around the island, but a huge shell was placed in front of the shop and I doubted my eyes. When asking the husband, "How was inside, did you eat?", I nodded, but I am concerned about the figure when I was alive.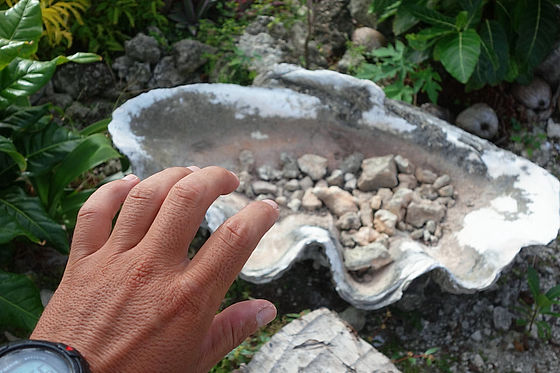 People in the South Pacific
Aunt who laughs with face crumpled and children who are gazing at the big eyed crow. Even reflecting a mild climate, the looks of the people who lived were also soft. That is why he may be looking back on being fun. It was good to have communication in English.

· Tonga
This country seems to be a division of Polynesia, people living near us as well as those of Asians. The color of the skin is similar to black straight hair. However, it was a sharp double eyelid, plump and big lips, and somewhat southward atmosphere. A figure like Urashima Tarou wrapped around the waist from the top of the clothes is also shocking. It seems to be a traditional costume.

Ewa Island of Tonga where pigs were full, there is no worry of suspicious human beings? Only the children of this order were running around in the field.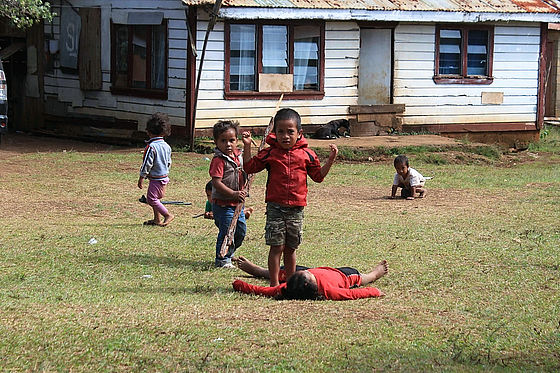 His decision pose is hip hop.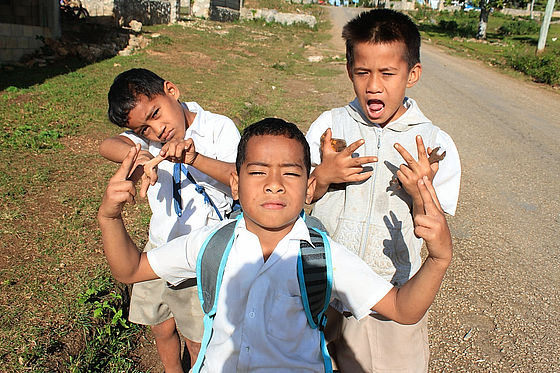 Girls students who got along well for a while. Tonga girls have a braid trend.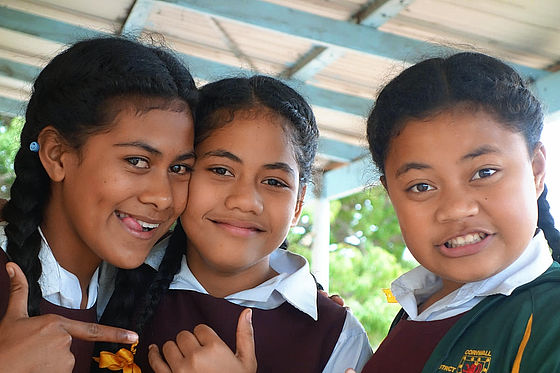 · Fiji
Regardless of age and youth, it is this country that made the most greetings. It is possible to say that you are passing each other by saying "bula (pot)" which is running on a bicycle. A light greeting like a heart bounces. I was also surprised by the change from Polynesians who are similar to Oriental people to Melanesian people who are close to Africa. My hair became chilly and Afro hair's astonishment was surprised.

There are lots of blue and pink uniforms.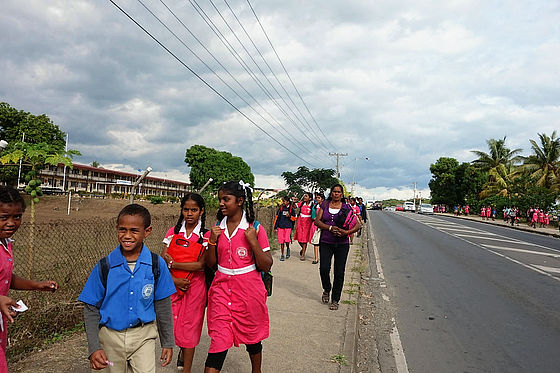 Catch the child back from school.



One frame of a bus stop that I stopped without thinking. I was drawn to the robust appearance of mother and the dangling legs of children.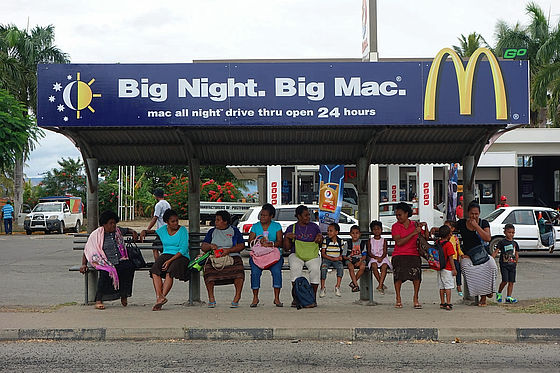 · Vanuatu
A slide with a tunnel. The children playing in the park are full of energy.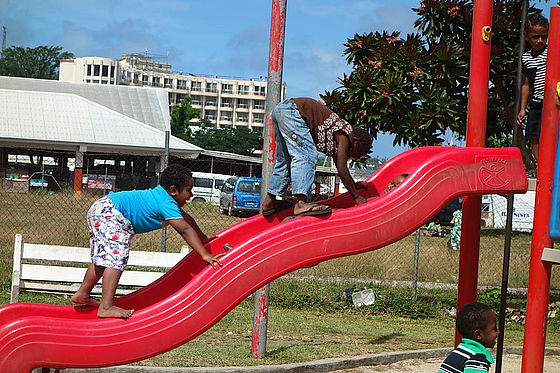 A girl who was watching over with a flicker.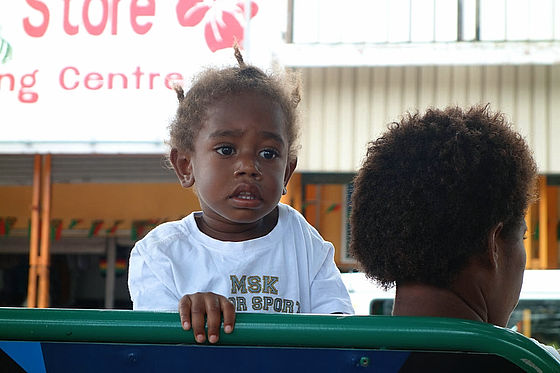 A boy who had a gentle atmosphere.



Happy seaside.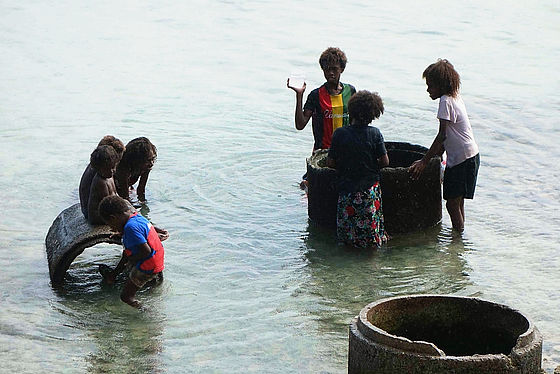 On the way home from school.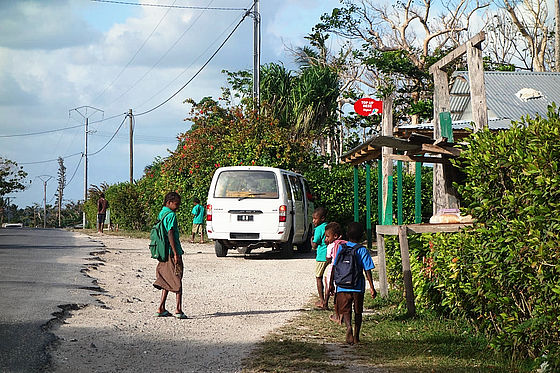 · Solomon Islands
I was looking for an outdoor war museum on Guadalcanal Island, but I got lost because I did not have any signs. When it was funny, I finally went through while tilting my head and finally found a house. As I approached to ask the way, I can hear a foolish voice. It seems to be singing even a song. Laughter sandwiching between. I stopped for a while and wanted to listen carefully. Do not be surprised, as you face, mothers and the appearance of four children. I live in a poor house and I do not look like a rich life. Still, there was warmth of the family who can not buy with money, it was enviable and there was no choice.

Form of a family that I longed for.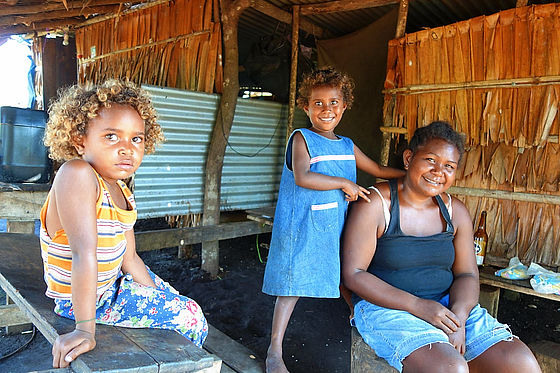 A schoolgirl under school. Girls in the Solomon Islands are trendy dumpling hair.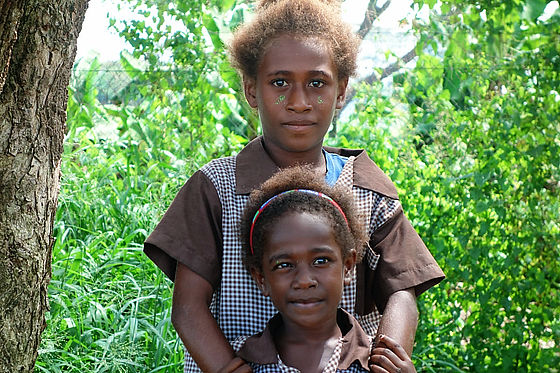 This friendly and friendly Mr. Chibi is hide and seek.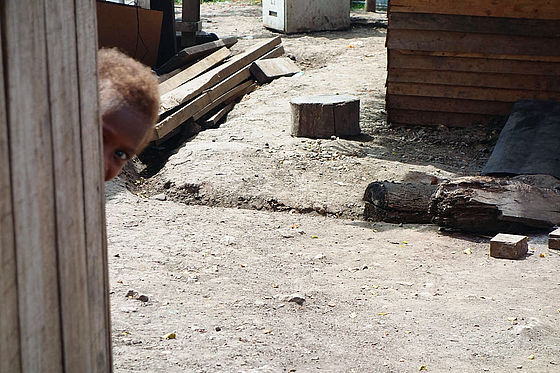 I finally got a picture but it was a funny smile.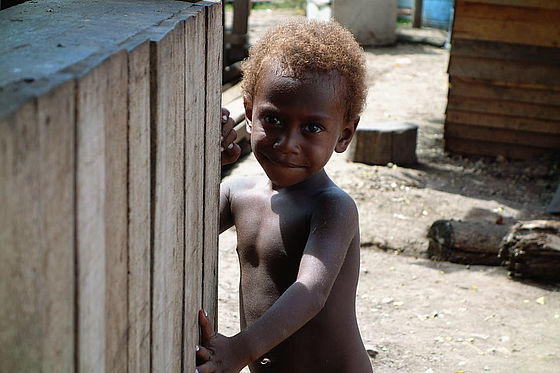 The child here did its best, but from the beginning to the steep face.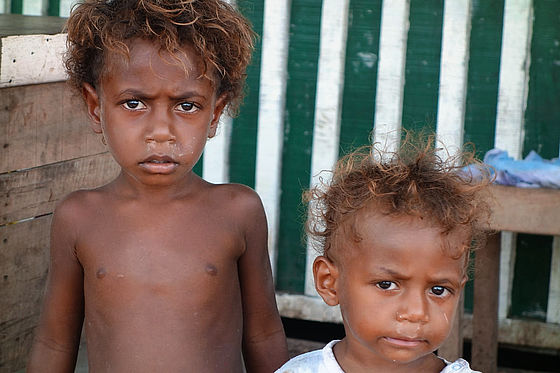 A girl playing at the beach.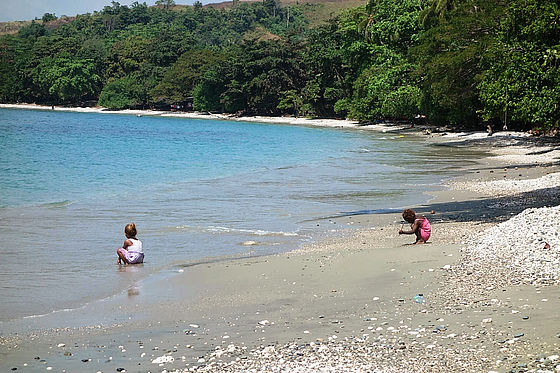 Speaking of boys ......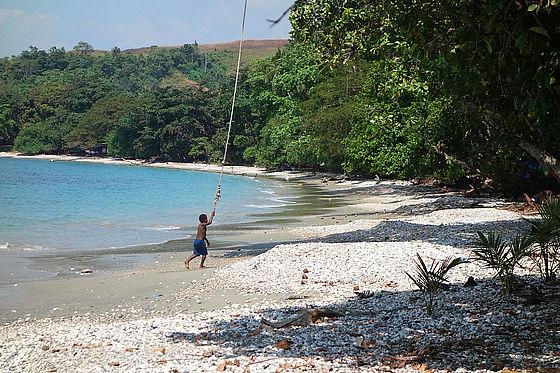 I played with rope playing Tarzan. After I went up to the tree, I pulled the rope hanging from the branch, and then, ~ A ~ ~ ~ っ て. While turning back and forth like a pendulum, try it upside down, freely on top of the rope. When the speed becomes gentle, it will land on the beach so that it collapses.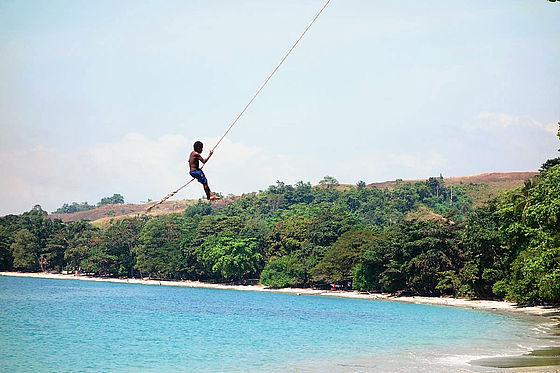 Solomon Islands boys playing Tarzan playing images of paradise overlapped - YouTube


In this way the islands in the South Pacific remained curious about curiosity. Countries where soft wind blows in warm sunlight. When I am a little tired in Japan, a nice world spreading slowly feathers is spreading.

(Sentences / Pictures @ Takuya Naoto Takuya @ Charridman
Cycling around the world for a bicyclehttp://shuutak.com
Twitter@ Shuutak)