"Tag", "Bear", "Toilet" etc. I would like you to pay attention to when visiting Taiwan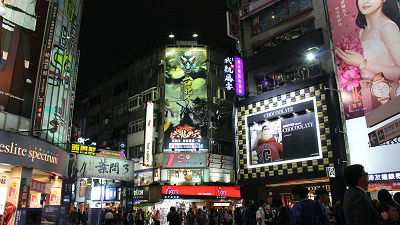 Taiwan may be the recommended country for the first overseas trip. Because it is a kanji country, there are few words walls, so you do not have to worry about security so far. I can spend almost the same feeling as Japan. EverythingJapanese culture penetratesIt was enough to forget that you are in Taiwan when you are distracted.

Hello,Takuya Sudo @ circle around the world bicycle @ Charridermanis. I stayed in Taiwan for about 1 month since 11th November 2015. Prices in Taiwan are a bit cheaper than in Japan. Especially dining out is affordable, and delicious dishes are lining up. I had a fulfilling day with friends as well as Taiwanese chariders. When I leave Japan, I am regrettable. Taiwan is one of the countries I want to visit again someday.

I would like to introduce the stimulated scene in my stay in Taiwan this time.

◆ Traditional Chinese (old font)
As in Japan, Taiwan is one of the countries where kanji are used, like the former Japanese fontTraditional ChineseIt was used. From the complicated font with many strokes, you can study the origins of kanji. If it is "greedy" it is "慾", and it was scales from the eyes that I knew that there was a heart inherently.

"School" is "school" ...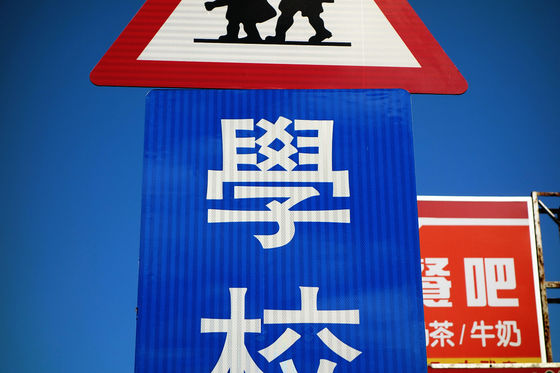 "Art museum" is "art museum".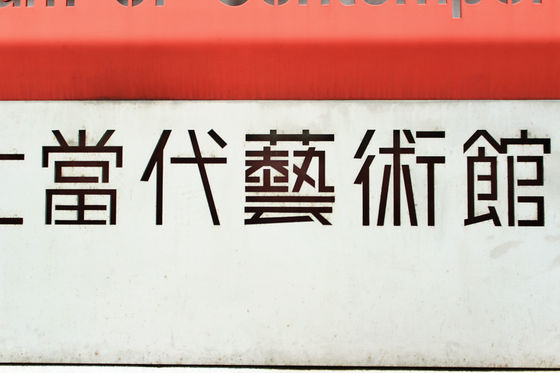 On the contrary, in China, reduced strokes, simplified,Simplified charactersKanji that is used is used. I was excited over there over there like going to the future.

It is a privilege unique to the Japanese that can identify kanji. As Arabic and Thai, it was comfortable during traveling without having to decipher local characters. I can write it when it comes to work. However, pronunciation is far from the same kanji, right? I am sorry that relationships that I can speak Spanish in Italy are not in Japanese and Chinese.

Signs full of traditional letters.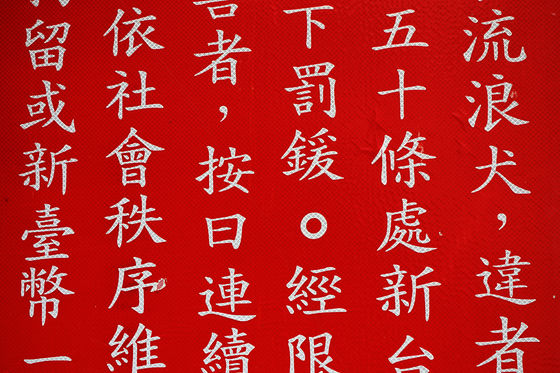 A recruitment guide I saw in town. You can read the rough meaning.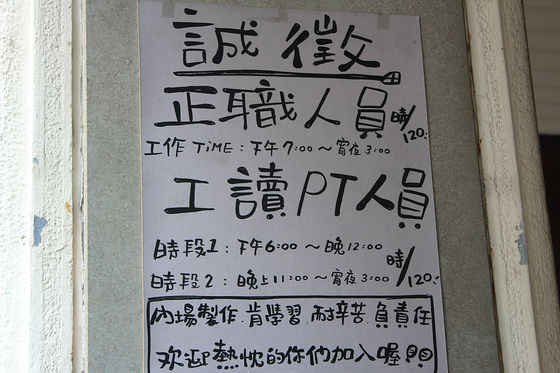 Announcement that refusal without permission is prohibited.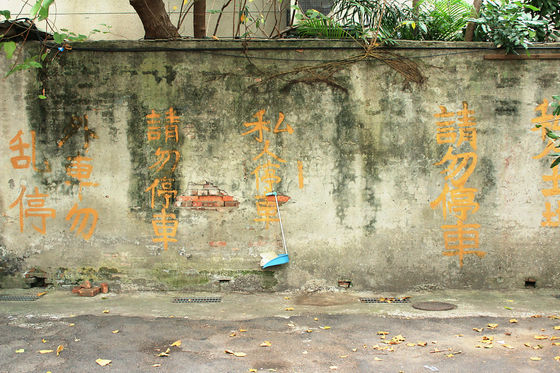 The PC keyboard was fun because the kanji is full.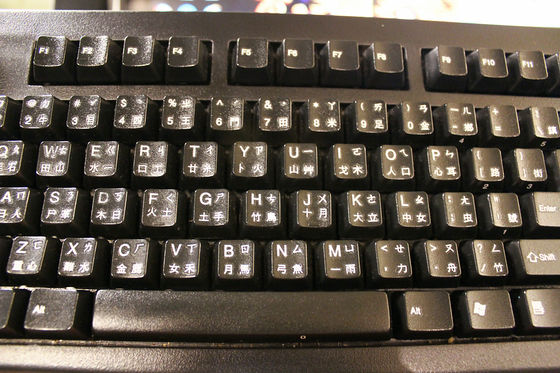 By the way, because in Taiwan English can not communicate well, I was using Chinese to communicate. It was deep emotional that I could use the Chinese language I had traveled once. There are also many things I do not understand, it is a language skill to the extent that tea is muddered, but I am pleased if the words can communicate. There were also people who speak Japanese, mainly from elderly people.

◆ Road sign
Because it is a charrider traveling by bicycle, I am concerned about signs scattered on the road. Taiwan used rare Chinese signs in the world. If foreigners see for the first time, they seem to be in trouble.

"Chron" means slow.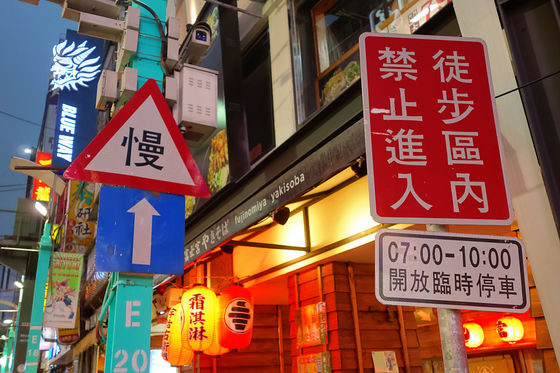 Is not it "yield" to give way? This sign stands in the place where it merges with the big road.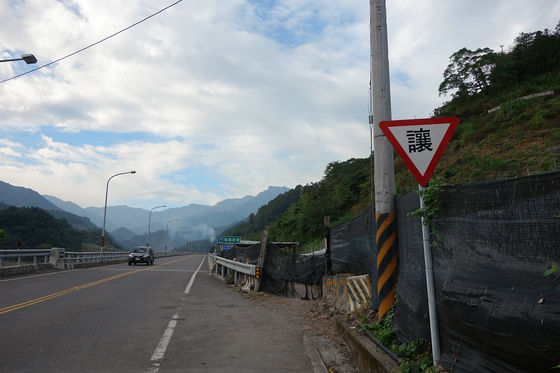 Besides that there is attention to "Monkey Mr.". Central Taiwan is a mountainous area, I actually saw monkey from the road.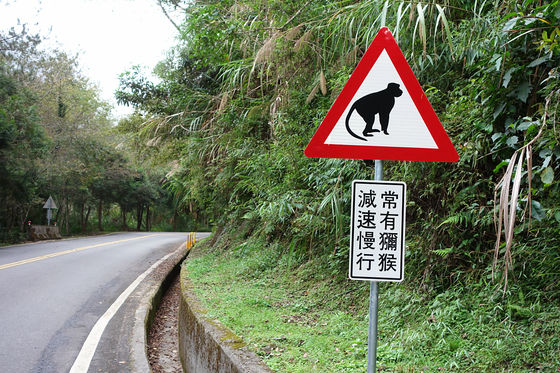 On the seaside road is a sign of "crab".



Also note "fruit" and fruits falling from branches of trees. This is also a sign of a rare illustrative form.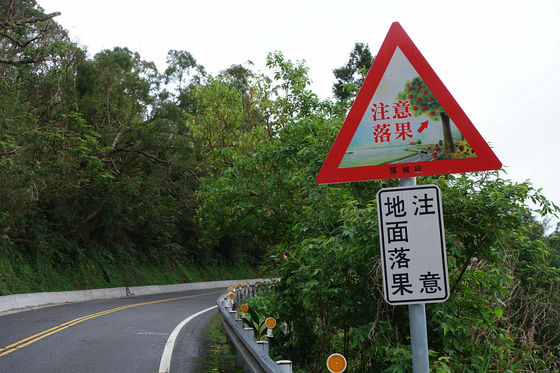 There was also a typhoon coming up "swimming prohibited" and it was taking on reality.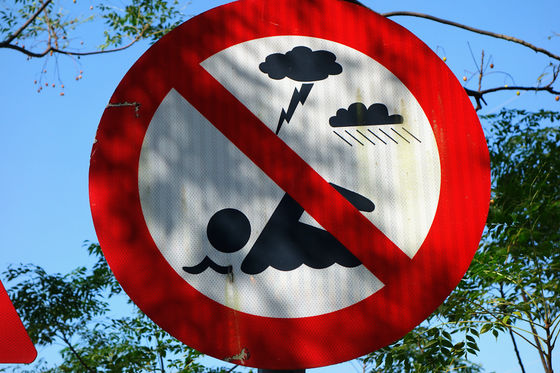 By the way, the road in Taiwan is wide because there are moped lanes, even if running on a bicycle is comfortable.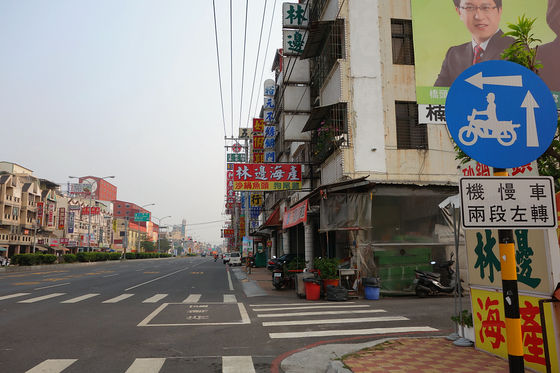 You can go around the island by crossing round cycling course scattered throughout TaiwanKohoshima 1 lineThere was also a bicycle route with a total length of 939.5 km.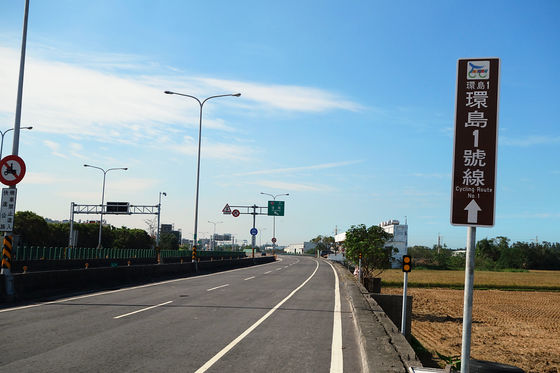 ◆ Bear character
Taiwan Asian black bears inhabit the mountainous area in the center, and the bear characters are very popular in Taiwan. In various parts of Taiwan, I have found various kinds of bear characters. It is full of bear characters to the extent they can be laughed.

This "喔 熊 (Oh! Bear) isPR Character of Tourism in Taiwanwas. Having a managerial position as Gokoku Bureau super high grade mission group chairman. I guess it's a loose character, but she has a slightly surreal face.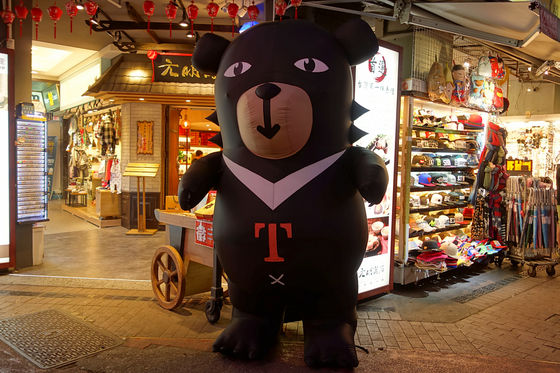 This "Kaohsiung Bear" is a mascot character of Kaohsiung City in southern part of Taiwan. This was a cute look.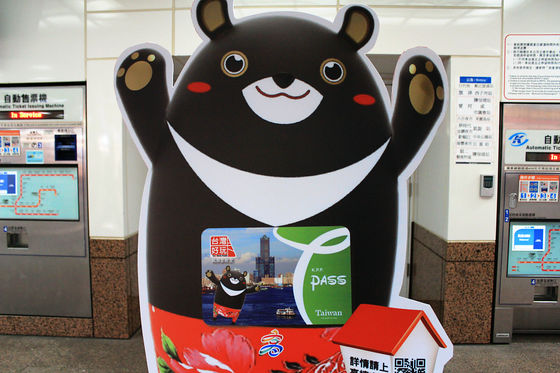 Taiwan's leading department store, Pacific Sogo also named "ThanQ"Bear characterIt is active.



Manga drawn by Taiwanese peoplecharacterAlso appeared.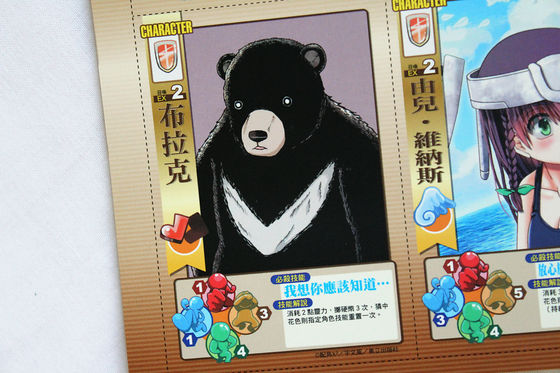 There seems to be an animation of the protagonist of three bears.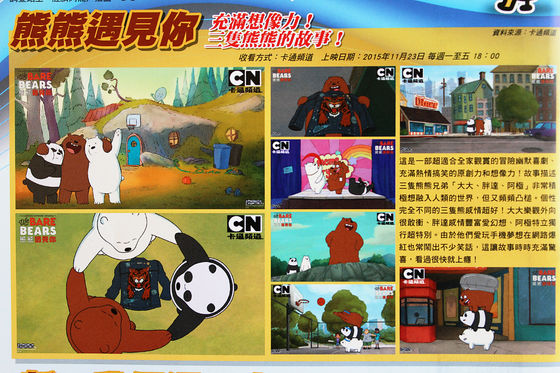 Illustration of the bear which made backpacker into the room of the hostel.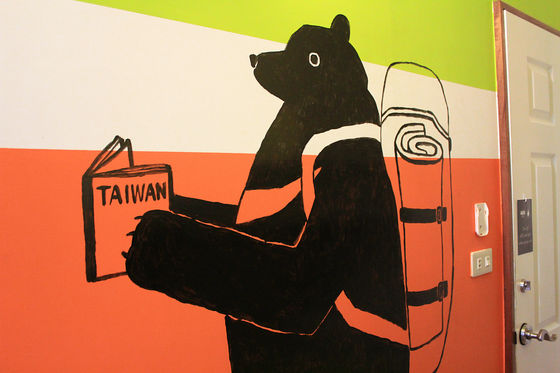 Rilakkuma in Japan seemed to be popular, and it was made to be smashed by the stuffed toy seen from the window glass of the taxi.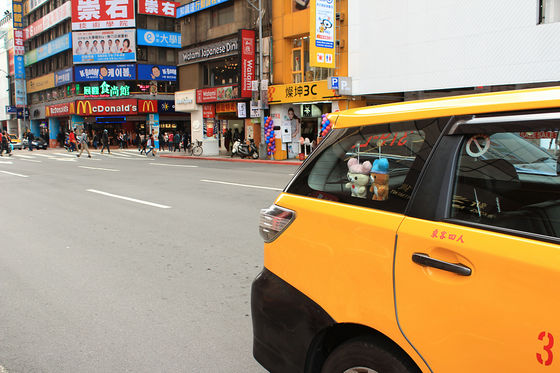 · Kumamon
"Kumamon" which is representative of Japan and Kumamoto, sales manager and general manager of Kumamoto prefecture is also popular in Taiwan. Character goods are on sale at supermarkets. I was running a riverbed on the day I left Taipei City, but the embankment was overflowing with cute Kumamon illustration.

Behold, this bearish paradise.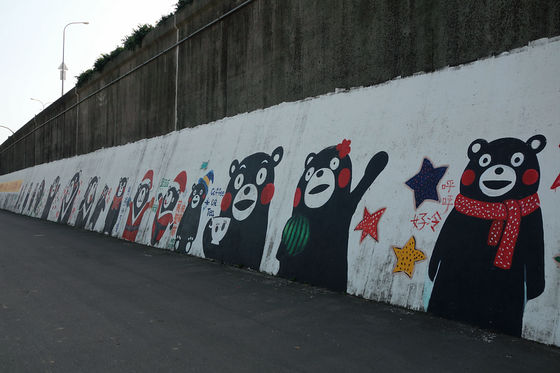 Speaking of this loveliness ... ....



I was signing to thumb up, "Uhufu" and putting my hands on my mouth.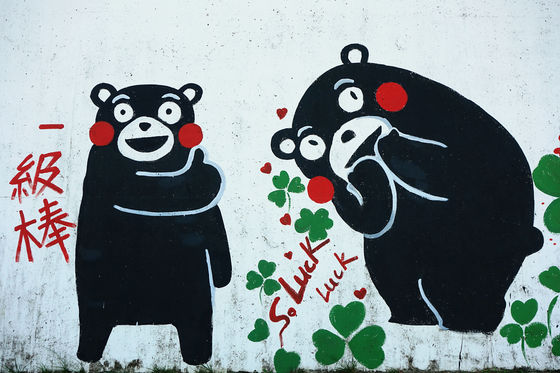 Would you like a cup of tea with Kumamon?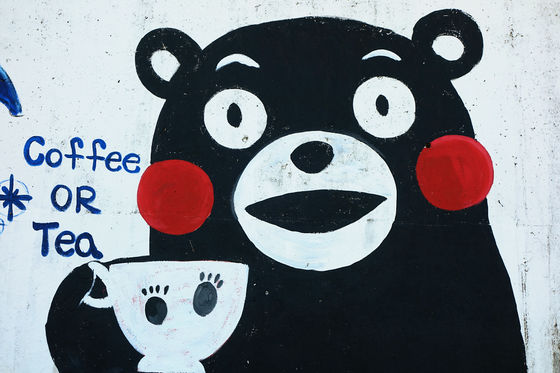 Smile, Smile.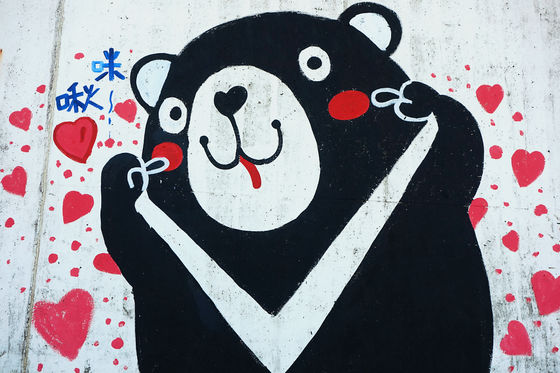 I thought that it was all cumammons, but the last photo had a V - shaped white pattern on my chest. This is LCC of TaiwanV Air (Warrior)Mascot character. People like Taiwan do not know how to stay like bear.

◆ General services
·toilet
Taiwan was the toilet free country lining Japan in the world. A clean toilet is one of the measuring instruments of local security. But there are not many European or public toilets. It was the level of Italy or "Where is the toilet seat?" From that point of view, toilet circumstances in Taiwan were heaven. You can rent a toilet at a convenience store or supermarket. Even if it is an old toilet with an age, everyone uses it politely, so it will not be uncomfortable.

A Seven - Eleven mark that can rent a toilet. Sometimes it can not be used in urban stores.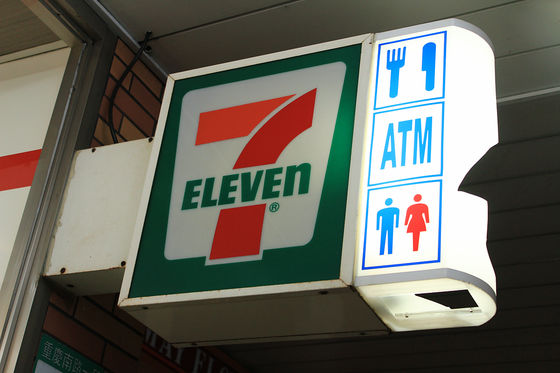 The toilet was at the entrance of the supermarket.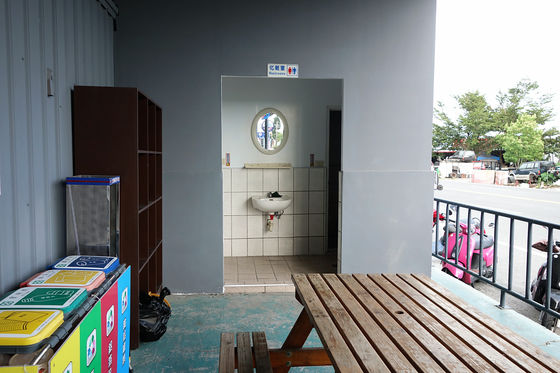 Carrefour
French capital with stores throughout the worldCarrefourHas also entered into Taiwan under the name "family entertainment". The store is bigger than the supermarketHyper MarketIn the form of selling everything from daily necessities to DIY, clothing, toys. When traveling, I am traveling to Carrefour in the world such as Argentina, Georgia, Jordan, but Taiwan stores have unique services.

Ice service for cold insulation similar to Japan.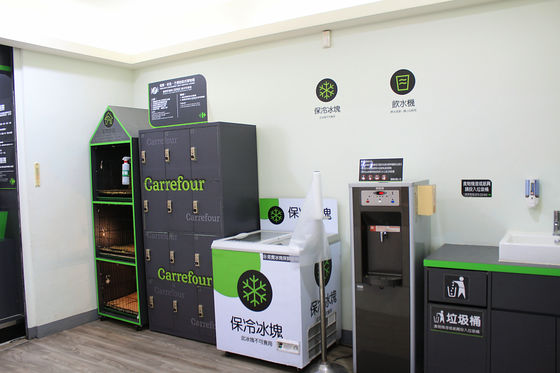 There is also an eat-in corner with a microwave oven and a water heater. A comfortable space was prepared as much as you wanted to sit forever.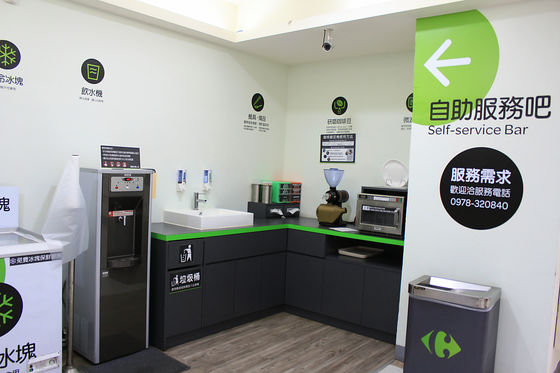 · Eat-in
If you have an eat-in space in the supermarket, you can eat either dish or ice cream immediately. It seems that there are an increasing number of stores to introduce in Japan. In Taiwan it has already been generalized, there are desks and chairs in the convenience store that I can say without fail. There are drip coffee as well as in Japan, so depending on the store there is also a cafe-like atmosphere. When I had a break, I often dropped in.

Eating in Seven - Eleven.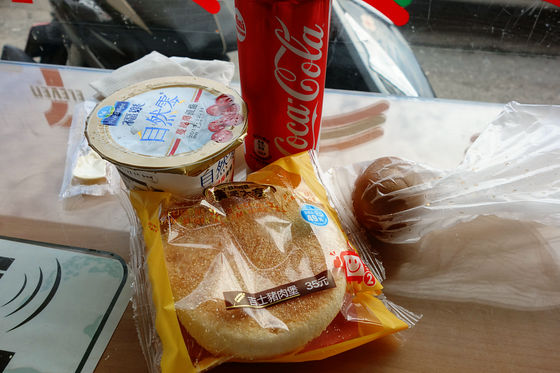 ◆ Safe country
Whether the country visited is dangerous can be judged from the lives of local people. In the Philippines which was in front of Taiwan, there were security guards for theft and robber prevention, goods, money through exchange of iron bars, even convenience stores. But in Taiwan it turns around and there is safe air. Like in Japan, it is common for products to be displayed outside the store. Hostel in Hualien city on the east coast did not bring down the shutter at midnight, so it was enough to worry that "When the window glass is broken, a PC or the like is stolen."

Although it is a local city, the moped bike helmet is left unattended.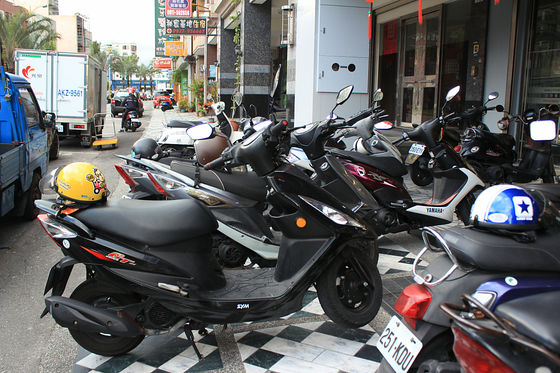 The atmosphere of the night was the same as in Japan.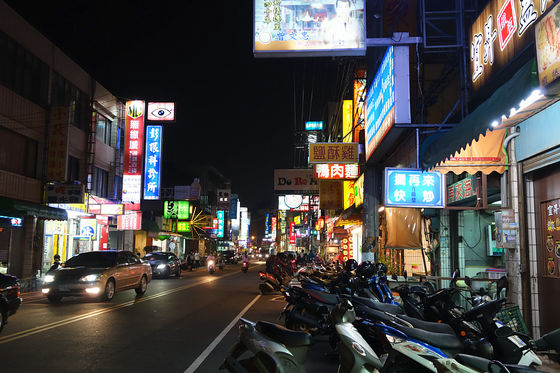 Matrix arrangement is also beautiful.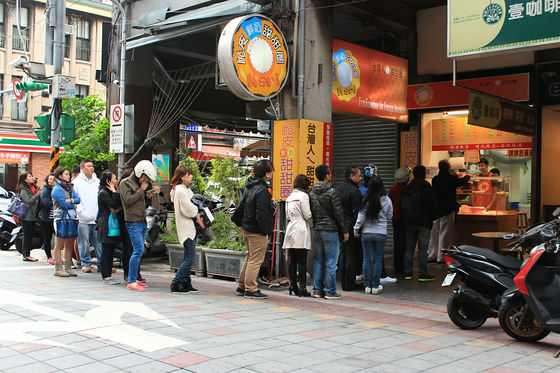 Coastal cleanup activities by kindergarten children.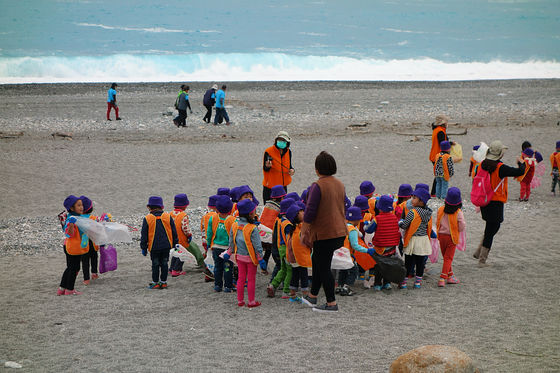 I fell in love with Taiwan to the low back of the illustrations to inform the construction site.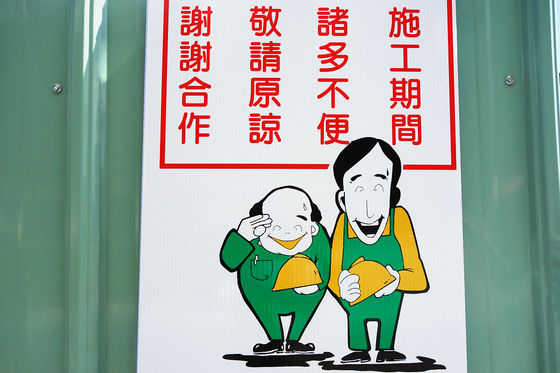 An orderly society is maintained by Taiwanese people who have manners.

◆ Election
And the election campaign was the most fresh. Toward the presidential election and the legislative committee election held on January 16, the candidate signboards were raised throughout Taiwan, and it was around the time of the fierce battle. Speaking of Chinese related to politics,Propaganda by the Communist Party of ChinaThere was no memory, so it took a lot of shock to vote for democratic elections.

Democratic Progressive Party who achieved government change.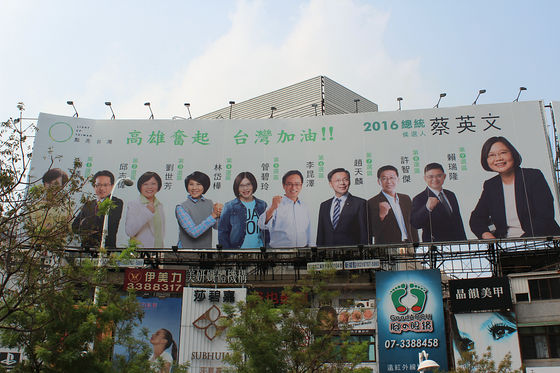 A huge panel of the parent population that appeared in the downtown area.



With this kind of feeling, it was Taiwan who made various discoveries. If you have the opportunity to visit Taiwan, please also pay attention to these scenes.

(Sentence / photo: Takuya S. Narou Charriderman
Cycling around the world for a bicyclehttp://shuutak.com
Twitter@ Shuutak)

· 2016/01/22 19:42 Additional note:
This article caught the eyes of Taiwanese people and became an article beyond.

Japanese nurse TANAMI Aya: 繁體字, security, 廁 所 | immediate newspaper | 20160122 |
http://www.appledaily.com.tw/realtimenews/article/forum/20160122/780935/