Interview with Odai bound estate photographer Kenzo Sato who talks about "the last spectacular sight one day will see someday" at over 120 super high resolution photo books "SATELLITE" photographed from artificial satellites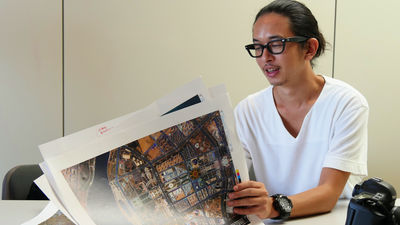 Ultrahigh resolution photo books taken from artificial satellites over 120 locations including tropical islands, deserts, volcanoes, planned cities and industrial areas "SATELLITE (satellite)"Will be released on Friday, September 18. Author Mr. Kenji Sato will become an exceptional bestseller as a photo collection "Ethnic heritageAlthough recently published the TBS line "Crazy Journey" has expanded the range of activities such as appearance, once a long-established news site that gathered the strange phenomenon of the worldX51.ORGIt was also known as president of. So we had an opportunity to interview Mr. Sato before "SATELLITE" was released, so I was talking about various things.

This is the cover of SATELLITE.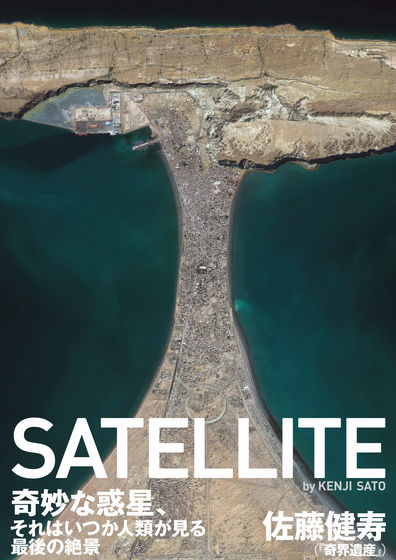 A part of the middle side of the book is as follows and the island surrounded by the beautiful transparent sea is Dry · Tortugas National Park in the south part of the US · Florida Peninsula. Although it was made as a fort (defense) to protect Florida from the pirates of the Caribbean, it is preserved as unfinished without being used.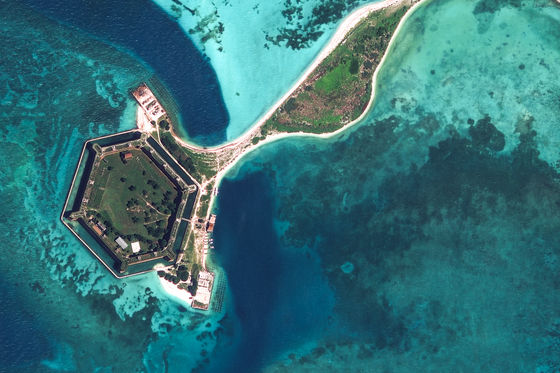 The one-sided green mosaic pattern spreads is a huge farm made in the Delta of the Yangtze River in China. It seems that about 140 million people living nearly the same as the population of Japan.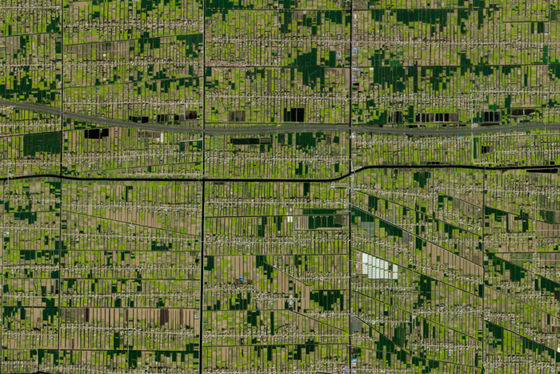 GIGAZINE (hereinafter, G):
How did the planning of the book progress in this process?

Kenji Sato (hereinafter, Sato):
Originally published in 2014 "Ethnicity heritage 2"As the image symbolizing the 20th century world, I took the ruins called Chernobyl and the Baikonur Space Station. Then in early 2015 "Ruins of the world"Although I was able to develop books about" ruins ", I was thinking about how to approach the" space "in the future. In such a case, Mr. Tanino of Asahi Shimbun Publishing received a message and it became a form.

Editing charge Tomohiro Yano (hereinafter referred to as Yano):
There are various factors in the establishment of the project, but as I was reading all X51.ORG and it was a fan of Mr. Sato, "I was thinking that I could work anyway with Mr. Sato" started Speaking is a start. Mr. Sato's established "odd-bound heritage" brand is a work that hit unexpectedly in the price and format of that book. In recent years, it is difficult to publish expensive books, but I think that Mr. Sato's idea and achievement have made it this way. It is our feeling that we are watching the net at the beginning of the 2000s "We are Mr. Sato of X51.ORG", but the young people are by far the feeling "Mr. Sato of the odd boundary heritage".

Sato:
That's right. When talking about UFO at a talk event, there is a time when everyone is going to be Pocarn.

G:
(Lol)

Sato:
"Oh, you do that sort of thing, too."

G:
Indeed, the generation is one more advanced. In this book, how did you do the process of selecting photos? I do not think we all look forward to seeing it all in Google Earth, but have you looked for it with Atari to a certain extent?

Sato:
Well, it's that "no way". "Today, I will see the desert in Africa, so please look at the coast."

G:
That's great! (Lol)

Sato:
"Southeast Asia's coast is quite interesting, so please take a moment to see it," or saying that it was Zakkuri, or "I will look for few photos in the Middle East." Of course there are also some famous places such as pyramids from the beginning, but I searched from the others for others. The location of the front cover was found at the end of the last.

The location of the cover depicts a unique topography like an hourglass when viewed from the sky. The answer of "Where is this?" Is written in the book, so please have a look at the book by hand.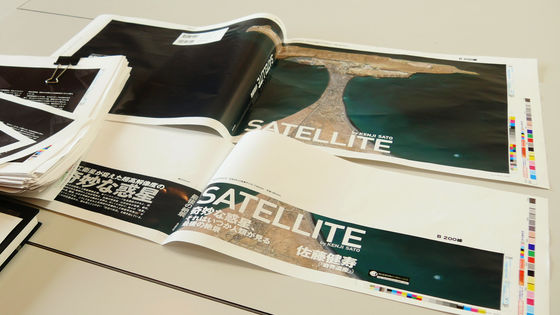 G:
When I first saw the manuscript, I started from "Where is this is this?", I thought that it was amazing to see a place where I never saw or heard none at all. It was only the place of how I could find such a place, but I was really looking for it in the same way.

Sato:
Thank you very much.

G:
Even GIGAZINE has written articles on satellite photographs so far, but I was surprised to see almost no overlapping places.

A satellite photograph image of Nepal attacked by an earthquake of magnitude 7.8 is on sale - GIGAZINE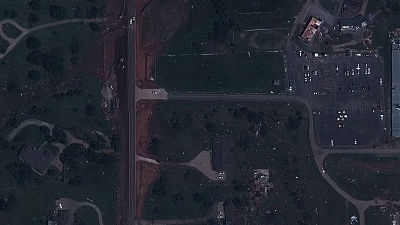 DigitalGlobe Inc. makes it possible to check the degree of damage on satellite photos immediately after the explosion of Fukushima No. 1 nuclear power plant Unit 3 - GIGAZINE



Sato:
Of course, since I think that there are a lot of articles on the net that "I found such an interesting place in Google Earth" or "You are so beautiful when you see the earth from outer space", it means that you have to differentiate it from such articles, after all Lastly it was work "Looking at the steady". Mr. Tanino has the experience of doing backpackers in the past, and the talk of maniac is established considerably. Normally, even though it is said to be "Arabian Sea", I can not imagine the location of the breath, but I was able to do it as soon as I could talk about that.

G:
As I read it, the things like "I do not normally write this kind of thing" are written smoothly even while the explanation of the picture is short, so it was very fun to watch. Even just looking at photos, it was interesting and it was a pretty interesting composition, as it explains briefly about photos as they read plus sentences.

Sato:
Regarding the sentence, it became a format called Oh that I wanted to show a large number of places and a picture as large as possible anyway. I think that the viewpoint of seeing pictures and knowing the answer in sentences is also interesting. Then I sticked to not having anything that was arranged in "somehow" or "atmosphere" from the package as a whole book, cover to cover, cover letter. I hope you also see the perfection degree as a book itself.

G:
Although books are outstanding momentum, such as 1 book in January, 1 book in May, 1 book in May, 1 in September, and this book, since entering 2015, Do you happen to be coincidental, or are you targeting out this year?

Sato:
I do not aim (lol). In 2007 "X51.ORG THE ODYSSEY"Came out, after three years vacant and in 2010"Ethnic heritage"The first book came out and the second book was vacant for four years, so I thought" I will do it at such a pace ", but since the end of 2014 it was a babbat.

G:
It is feeling that TV program suddenly started appearing as a drama.

Sato:
I had been out for quite a while, but it is certainly from 2015 that I started on TV regularly.

G:
There is an impression that it breaks suddenly.

Sato:
It is not even a break, but what overlapped variously overlapped.

G:
I will return to the story of this book this time, was the chapter settled from the beginning? Was it classified as I looked at various pictures, or was there a different reason, what is the reason for the chapter?

Sato:
Well ... ... In the beginning, of course I was concentrating on categorization without being aware of categorization. While I am making several books like this, I gradually become aware of categories, but there are various sceneries such as "place where people live", "farmland" or "nature" It will also fall into some category. As it got it, it is a book of this number of pages so it was decided that it would be easier to see for those who categorized as much as possible. At first there was a story saying that it is okay to pass through without categories at once, but as I was watching it, I guess the one who organized to some extent is easy to convey. After classifying it once, on the contrary it was feeling "Since this category is small, I will focus on it as much as possible".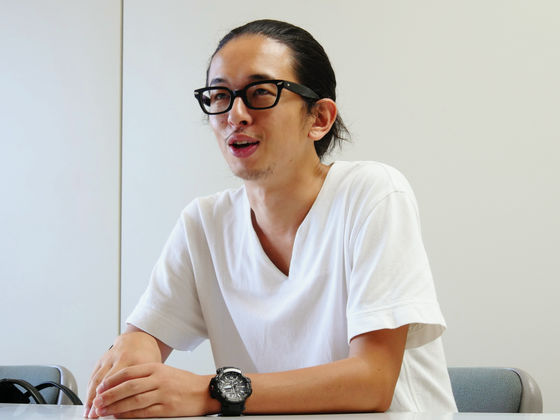 G:
How long does it take from the beginning of the project to actually completing it?

Sato:
How long is it?

Yano:
It's about seven to eight months since half a year.

G:
It takes a lot of time.

Yano:
As time goes by, usually when you use satellite images, the price is very high.

G:
That's right. "Digital Glove CompanyI was surprised to hear "the image of".

Yano:
This time I heard from Digital Grove Company that "Mr. Sato", so I think that it is not a book that can not be done elsewhere.

Sato:
This time, I used the word "superb view" for the band and the foreword, but there is also a place like "dare" for this.

G:
"Dare" is said?

Sato:
When a spectacular boom came out around the world from around 2010, when I go to a bookstore, there are as many "magnificent books" as there are as many people as possible, and everyone in the net easily sees words like "I want to go on a death" on a curator media site You are turning around, are not you? If something goes fairy it means that you want to cast a stone against similar books and similar formats, media where catch phrases are mass-produced without conservation. That's why I did not want to use the word "superb view", but in the sense that it is quite different from other mass production-type scenic books, I used the word wonderfully worn out. Actually, this time we cooperated fully with the digital glove, but if we tried to make the same book in the correct way, it would take tens of millions of yen perhaps just with the photo usage fee. Even in that sense, I think that it is becoming a book with a considerably uniqueness that can not be imitated by anyone.

G:
When I heard a story from Mr. Tanino, I did not know what kind of book it was, but I asked them to send me the real thing, read all and thought "This is amazing". When I arrived, I thought that I should look at it for the time being, since I turned the first page, I saw it to the end when I realized that "I wish I could have more pictures on it", but this time Is there a photograph which became a violation in the book of?

Sato:
There is. At the end I was crying or I had no choice but to scrape. About 3 times with map code, after adjusting, I am watching the number about twice. In addition, the satellite photograph is essentially a picture of the whole earth, but there are many clouds depending on the day, the situation is completely different, so please look for a picture in good condition, stay till the endTianjin explosionI put in some pictures of it. Before Tianjin I thought that the Spratly Islands was the latest, but since the explosion of Tianjin occurred just before the school, I immediately found the coordinates and put it in barely. Besides, some sticking to the last end even in the same place, I found a new place in the morning to bring it to the printing office, and there was one that suddenly switched over in the end.

G:
Do you have pictures that you choose and impressive, or are you surprised? Even if you go abroad, what about 'What is this unique to satellite imagery'?

Sato:
It is sort of a kind, like the concept of a book, for example, I do not know if the location of the cover is interesting even if actually going to town. However, the shape is interesting because it is seen from the satellite. Ordos on the first page of the book, planned city in China ... ....

For example, the fortification city of China · Kokusai (Tetsuzu) is an octagonal city made based on the ancient Chinese tradition.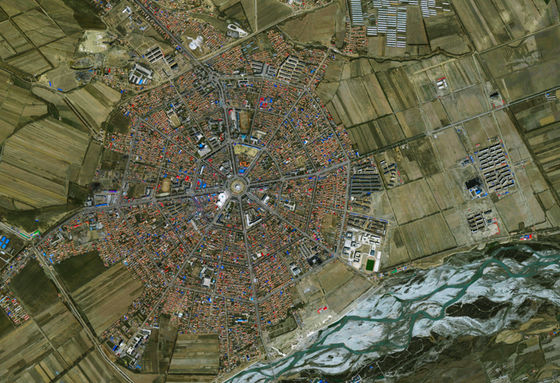 G:
Until we saw the book, I did not know there was such a planned city.

Yano:
In the latter half of the work, Mr. Sato is already "planning city mania" (haha)

G:
(Lol)

Yano:
At first, gathering magnificent nature gradually began to gather all the planned cities in the world.

Sato:
Perhaps the scenery is normal even if you actually go to this place, there are lots of sceneries like "I saw from the top". Even Google Earth, of course, you can see low-resolution ones, but there is no high-definition, high-resolution photo that much.

G:
I was amazed at the clearly clear picture. I thought that the impression was different at all and I felt like "photo".

Sato:
Basically, I always assigned a location, Mr. Tanino got the image and had it joined it was a lot of maniac work. When you specify in the area, an enormous image of 10 GB or more is sent in the state that it is divided into 100 or more, sometimes, so Mr. Tanino combines like a puzzle and I drop it to about 25000 px, It is work to do it and send it back. In the latter half, I just saw the picture, "This is probably,WorldView-2Because it is a photograph,WorldView-3Is not there a picture taken with? "Or the artificial satellite that was taken just by looking at the picture could be distinguished (* WorldView-3 is the latest high-resolution artificial satellite launched by Digital Grove in 2014). I was told by the people of the digital glove, but I think that it is probably the team who is most familiar with satellite images in Japan. Well, I do not think anyone else will do it (laugh).

Yano:
Speaking of great views comes outUyuni salt lakeIt was so wide that we kept piling white blocks all the way so that there was no clearness. Friendship phrase, "It is useless to be disappointing", it became vain.

G:
Looking at the ground and seeing from the sky are different stories after all.

Sato:
I first worked at MacBook Pro, but I bought MacPro after thinking "I can not do it anymore" in the second half of work.

G:
(Lol)

Sato:
Since the resolution was too high, it is not enough if the memory is 16 GB, and it finally got it at 64 GB.

G:
I was wondering how I joined the photos, but it was really a human tactic strategy. Even at GIGAZINE, the digital glove provided the image at 3.11, but the image size was too big to post. Although it took time only to resize, in this book I heard that images were synthesized and it feels like "seriously?"

Sato:
Mr. Tanino was already really "a craftsman", did not he?

Yano:
I usually work from my personal Mac on my computer, but first I received an image acquisition lesson about 5 years ago on a MacVRAMThere was not enough and the screen turned black. I thought that 'I can not work without buying it', I went to buy the highest MacBook Pro the next day.

Sato:
So for this project both of us are newly hiring a Mac (laugh). When I saw an image of 200 MB or so, I almost thought that it was "Oh, it was a bit small," the feeling has really gone wrong.

G:
(Lol)

Sato:
"This is a bit insufficient resolution". It became a strange feeling that it can not be relieved unless it is about several GB.

G:
Even if it is listed in this book, the original data has become a tremendous amount, is not it?

Sato:
I agree. I used it while downsizing until the required size, so I finally did not go to TB (terabytes), but it is a considerable amount.

G:
Even in the place I saw or heard, there were so many things I saw high-definition pictures for the first time so far. Indeed it is said that clouds are usually applied if you are told.

Sato:
For example, if it is a tulip field in the Netherlands, flowers are only blooming for 3 to 4 weeks throughout the year, but finding the satellite image at that time is hard to find, even if it is found, it is pretty damn careful It was a task that was far away. Besides, even for funny pictures, there are quite a few places without a place name in the first place, so there is no use for it, so searching from nearby place names, analogizing it from the place, and finding the place name were often like that.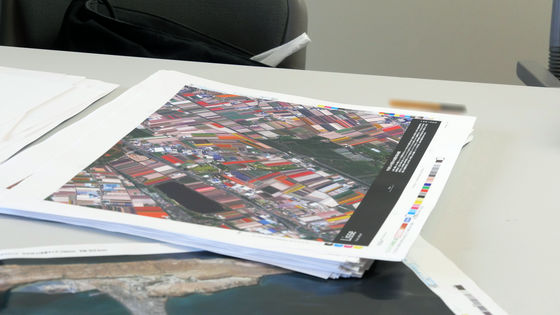 Yano:
Mont-Saint-MichelI thought that it would be better for a place closer than Mont Saint-Michel to think for a moment.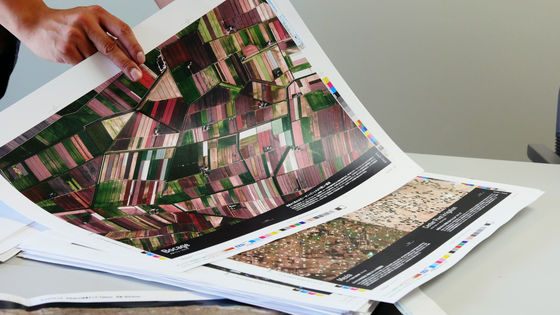 G:
I thought that the picture in the Chukyo industrial area is "China or not?" And looked at the explanation text, "I think it is in Japan!" I was shocked to see if it looked like this.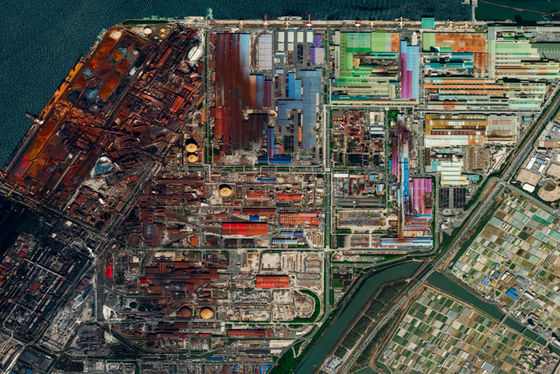 Sato:
I'm not quite sure what kind of book this book is transmitted to, but depending on the viewpoint I think that it is interesting for children to watch, I think that it is interesting for adults to see it.

G:
It seems that it seems to be the talk of story when people are watching.

Sato:
I would like you to see geography teacher by all means. I think children are interested.

G:
Because each picture is too scenic landscape, it is the impression that if it is told, it is the ultimate superb view. I can not see from an airplane, but I can not afford to get on the satellite, but indeed the image from the satellite is the ultimate form.

Yano:
The band copy wrote "One day the most spectacular view that mankind sees".

Sato:
That is also the concept of books. I also write in the commentary, the famous "1968 year"Global catalogThere is a magazine called "Whole Earth Catalog", but the founder, Mr. Stewart Brant, took the trouble to expose the satellite photographs taken of the Earth until the lobbying to NASA, and uses that picture as the cover of the first issue . Until then, NASA did not publish photos of the earth, so he seems to have selected it as a cover from the idea that if you can see the earth objectively from satellite photos, the consciousness of mankind might change. I think there is intensity in the satellite photograph that will transform such human criteria and recognition.

G:
I did not imagine "the last place" such as a ship or an airplane graveyard, but there are lots of things that certainly there are such places somewhere, it is a great book I thought.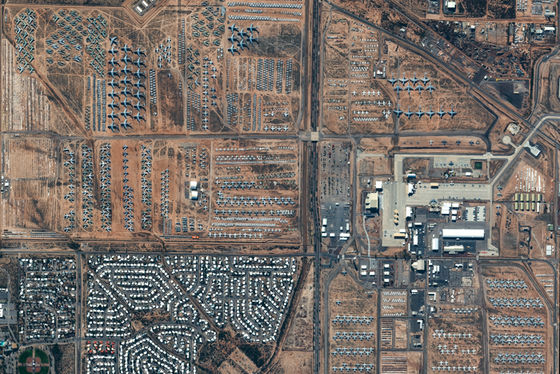 Sato:
A picture of a warehouse exploding in China and Tianjin, I have not asked anything, but Mr. Tanino said "Although it is Tianjin, today was not yet a hole, we will continue to check" A message came.

G:
To show the power of the new "sunflower"Demo photoIt was just a picture of the hole in Tianjin, so I was surprised that "Japan Meteorological Agency will upload such a picture". Although each photo posted in the book was done as a story of GIGAZINE's article, there was a place called "Do you look like this from the sky"? I am surprised extra. Since there are satellites that can take such interesting pictures, we thought that we want more satellites like this.

Sato:
In the future, it seems that some kind of use as an ultimate drone is also considered, for example, listening to the story that a service of shooting with a small satellite launched in the case that one year's data of farmland is desired It was.

G:
That story is also exactly Kickstarter, there was a project "If you invest, you get a chance to release the shutter 10 times in a year, move the population satellite to the specified coordinates and take it from the sky". I thought I was going to make a capital investment, but after that the same kind of project came out, so now I am waiting to see which one will survive. Even so, if you designate the point on the map with the smartphone application from the ground in the past, it will take about 10 photos taken when the satellite passes over it, There are some places to go just before launch, so I think that it is amazing.

Sato:
Perhaps I think that drones will be in that direction. Based on the trend of privatization of the space project and generalization of space travel, we will post a copy of this book "Human beings will see someday". However, I think that there is no high-definition photograph so far as it is a Kickstarter-type artificial satellite. The digital glove artificial satellite seems to be about 800 to 1200 Mbps maximum wirelessly because the communication speed is so fast. Books use different ways of expression, but it seems that artificial satellites do not shoot the earth, they are scanning the earth and sending data, it is a little different from the concept of photographs we think Right.

G:
I make it from data, so I feel rather like "development" rather.

Sato:
I agree. The easiest to understand is that "Scanner is moving with the Vienna over the Earth" is close.

G:
What I was most impressed with GIGAZINE was the artificial satellite project that Google is doing, which is to receive real-time video and show it. Although I could not understand the meaning for a moment when I saw the release, I had a service saying that I was receiving the satellite image in real time and processing it now, saying, "Are you watching real-time video! I was shocked. It looks like a picture, but when you look closely it is moving a small shadow and you know "This is a car!" "Although it's limited at this time now, if you can increase the resolution to zoom in, you should be comfortable with various things" and it is just like "Google Earth that moves", is not it?

"Skybox" enabling you to see images from artificial satellites in real time - GIGAZINE



Google bought a satellite manufacturing Skybox, aiming for improved Google Maps and original satellite design - GIGAZINE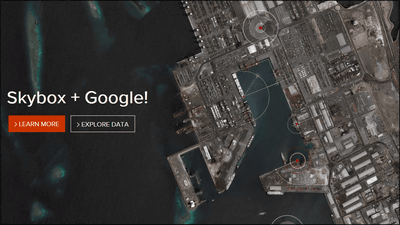 Sato:
I was not speaking on behalf of it, but after all I was told that privacy and security issues will come up. Now it is permitted to photograph up to 31 cm square, but there seems to be some places banned beyond military purposes to capture with more resolution. In fact it can be done with higher resolution, but there seems to be a provision that high resolution photos can not be published to that extent.

G:
Just when I saw this book I was feeling that "I can see the ground with such quality." In theory there was a photograph of the digital glove company when I was 3.11, but I knew it, but it was the first time to see it blatantly so far. Certainly these books are unlikely, do they?

Sato:
That's right. That's why the experts were surprised to the contrary when the finished form was visible to a certain extent.

Yano:
The rest is the power of Mr. Sato, but there are also methods of adjusting colors and colors. I do not say "I am making colors", but the color of the satellite image seems to be special, I feel like I got here hard enough to make it look like this on paper.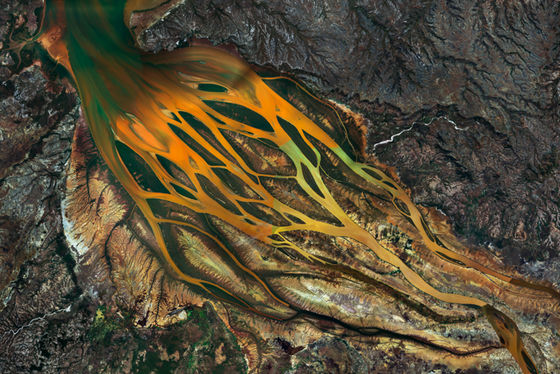 Sato:
Satellite images are huge and the area is so enormous that we do not need much color information actually. So it is reducing the capacity as much as possible before dropping data to the earth. What is that, there is a huge area of ​​tens of thousands of pixels, but the image quality itself is narrowed to the limit, for example, if it is a RAW image, there is a range of correction, but the satellite image is adjusted The width is fluent. Correction is really difficult because it is made by cutting out data other than the visible range, such as falling color as soon as the color is corrected slightly, or skipping white.

G:
There were a lot of unbelievable photos that I have never seen before.

Sato:
People shooting satellite images say "There is no correct color". It seems that you talk about which wavelength to take away.

G:
It is completely the same idea as the Space Telescope.

Sato:
It was such a truly special work that there was no such range of correction. For example, although the resolution is only thousands of times better than the current consumer camera, the dynamic range is a strange image like the iPhone or less. Identification of "the presence or absence of an object" is the most prominent proposition, and since color taste is not very important data in the first place, it seems that it has been narrowed down to the extent possible.

G:
Because I do not understand the content of the explanatory note by looking at the picture, it was like touching the title, thinking "ふ ん", reading the explanatory note, seeing the middle picture again and doing.

Sato:
Of course, taking that into consideration, I first thought about placing the explanation on the upper side or putting it down, I had the feeling that I read the explanation sentence at the end after seeing the picture as early as possible.

G:
Depending on the photograph, it is an area of ​​"wow" past "interesting".

Yano:
I want you to look closely to the corner of the photo. There are towns and people 's houses reflected, and the scale is different depending on the photograph.

G:
When I saw the last picture written "Fujiyama", I thought "What is Fujiyama? Oh, Mt. Fuji!"

Sato:
Separately "Mt. Fuji" was also good, but the end is feeling that I made it to Japan with attachment and humor. By going back to the world around the world and finally returning to Japan, I made it to have the reality of "This is the earth on which I am actually living." If the child sees it, it might be full of amazing places and there is no reality. But if there is Mt. Fuji at the end, it seems that even a child can feel that "it is the place where I am living." There were places of ambiguous place names around the world, and there were quite a lot of places where I could not understand the official name well.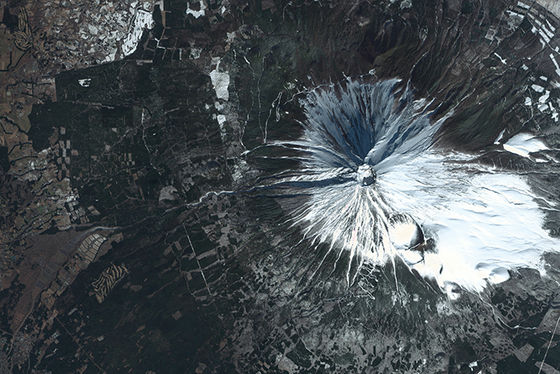 G:
Next, the site where Mr. Sato started in 2003 "X51.ORGAbout the matter. X51.ORG is a site that should be said to be "the origin of wonder information site", the number of accesses has increased to nearly 300 million page views in total, but I would like you to tell me the history of opening up. As far as I looked at the past interviews, the 2008 sauzeauinterview"It was 2003 that I opened the site, but at the time there were no sites that gathered strange news and information, so I tried to make it myself", and furthermore webDICE'sLong interviewThen, "When the university students started the web just started to get in. When the word blog still did not exist, the blogs were talked about a bit overseas, so let's make it in a new blog format system When thinking about content, I started talking about UFOs and paranormal phenomena because I liked the story the most, "but I'd like to tell you a little more about that area.

Sato:
It is almost as in the past as the interview, but it is not that I started up with a purpose consciously.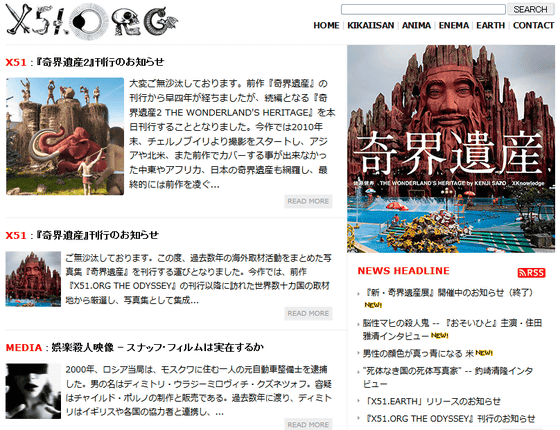 G:
Are you feeling interested in such information since childhood?

Sato:
When I was a child, I like everything occult. It also affected the fact that there were many such TV programs in the 1980s and 1990s. Today, for example, even in ordinary news programs, topics such as "meteorite fell into a private house" are quite mixed, but there was no such news in Japan's dawn of the Internet. I think that news without commercial value was not translated so much, much more, much less "Japan's grandmother received something from a ghost" or so-called overbearing speech came almost to Japan It was. I like that kind of news very much and I started handling it on the site, but since about two years passed, Reuters'Speech of the world(oddlyEnough) "section was taken up by exciting news. Perhaps, exciting news began to take up spilling stuff I think that people who were doing individual blogs started to handle it in the company. Such news are relatively accessible and I think that it was around 2004 - 2005 that companies began to admit that "PV worth getting". It is about the world that gossip news center is the center now, but at the time there was not such a news at that time. I lived in the United States at that time and there was always a feeling that foreign news is more interesting than Japanese news.

G:
I talked about living in the United States,WikipediaI wrote that "Mr. Sato opened X51.ORG when living in North America", did he originally lived in North America? Or have you been to North America from Japan?

Sato:
Originally after I graduated from college in Japan, I went to an American university around 2003.

G:
So that's why you were closely watching American news sites.

Sato:
I agree.

G:
I have been reading from beginning of X51.ORG until updating stops, but what does it mean by all "X51"?

Sato:
Thank you very much. There are various origins, but "Area 51The presence of "is the largest. Well it is said to be "retrofitting?", But it is from the beginning (laugh). In the meaning of retrofitting, there is only a way of showing as "a debate of a contestant and a deny" in a supernormal phenomenon program broadcasted on television then at that time, as my stance is "Fifty Fifty, but I believe about 51% It means that it means the meaning or various meanings. Besides, there is a story that an X-ray photograph of which DNA structure of human DNA was found was a "51st" photograph which happened to be photographed, I thought that I will pick it up someday at the site and have not taken up yet .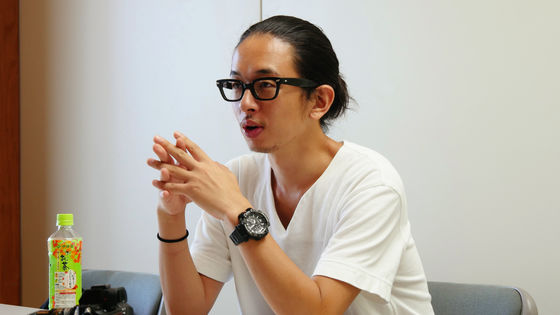 G:
How do you read the site name "Gotouchi" or "Gijuichi"?

Sato:
There are things that the reader is called "Gotouchi", but I think from "Area 51" I think that it is "Jiyuichi".

G:
What I was always concerned about reading X51.ORG is that the three letter domain is very rare and how I took it. Were they normally vacant?

Sato:
You were normally free. I felt it was around 2002 in my life.

G:
When I took the domain, did not you think about the details of the site yet?

Sato:
Originally, I was talking about making a bulletin board that graduated from university in 2001 and can contact even if I break up with everyone after graduation. At that time I was doing web-related bytesPerlSince I could write it, I modified the script of 2channel and made a bulletin board. However, since the content is otaku on 2channels, it was a day of graduation ceremony of the university that I talked with my friends about talking with a friend saying "It would be fun to create a bulletin board dealing with so-called art or WIRED topics" did. Then, as people gradually come to the bulletin board, it seems that it seemed that it was better to take something domain or not and it happened that the three letter domain was vacant. Since blogging became popular, I installed a system of blogs, but at the beginning I was making something like a 2-channel message board.

G:
ASCII'sarticleTo "X51.ORG update systemMovableTypeI was using ", but what standards did you choose MovableType? I think that Movable Type was the most popular at that time, but what is the actual reason?

Sato:
Rather than being fashionable, there was only MovableType at the time. There were a lot of well-known and unknown systems, I tried a couple of them, but I felt the flow that Movable Type, which was still version 2 or 3 at that time, became the most standard. In 2003, for the first time at WIRED in WIRED news came out that "weblogs and blogs abroad are on the rise", and among them seemed to be MovableType looking for server installed type. The system of GIGAZINEExpressionEngineAre you using it?

G:
I agree. At the time, when I looked in the same way I thought of whether to make it MovableType or ExpressionEngine. Mr. Sato was unable to endure if all past GIGAZINE logs are thrown into "CPU at the time of reconstruction" which was answered in just the previous interview, but if it is made into dynamic generation WordPress, the usual time resources Because it became necessary, it seems that you chose it because the system like semi-dynamic generation was ExpressionEngine then.

Sato:
Even before ExpressionEngine, there was something.

G:
It was the name "pMachine".

Sato:
Yes Yes. That neighborhood fought at that time and became Expression Engineine, Expression Engine is quite expensive, is not it?

G:
Initially it was tens of thousands of yen, but when I bought it suddenly went down to the 10,000 - yen level, so I chose it.

Sato:
I also tried ExpressionEngine around 2007, but as the site was completed, it was difficult to convert, so after all I abandoned it because there were not so many third party plugins. I tried CMS quite a lot.

G:
I see. Subsequently, I do not want to hear such a thing, but I can not ask you that it is not such occasion so I will ask you a question. On 25th March 2014Article of X51.ORGIt says that "I think that one wishes to restart the site somehow and to integrate X51.ORG with the odyssey heritage and create something that I do not know well," and ASCII's 2007interviewBut I answered "I'd like to return to the web at the end", but the reason why X51.ORG update stopped came because there was something motivational reason other than busy work. Is not it?

Sato:
Well ... Well, for the moment, "I will eat on a blog" or "I will manage a news site and do it at work" is a story that is true, but I wonder if it will work with work in 2007, when I quit updating I was rather ambiguous. Because old site administrators and bloggers are like YouTuber for now. It is still an experimental period that overseas "experimental bloggers are established" and experiments by a person named Jason Kottke famous for kottke.org and working the website on a global basis are still experimental think. When I started publishing a site that I do not know whether it is personal news or corporate management news, in my case I was doing it especially by one person, so the site itself, one work or something like making a book Even though I thought about the contents of the news, I could not think of a direction like organizing and going for coverage with everyone. That's why, "I wonder how it will be when I continue this way," there are things that I could not see until then. Afterwards, when all the cat lolks became the net, there was a feeling like "if it was paper".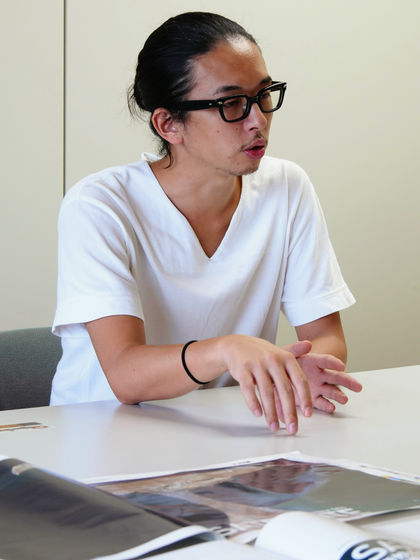 G:
It is like 'reverse tension'.

Sato:
I agree. Before this, the paperback version of "To the town where the flying saucer crashed: X51.ORG THE ODYSSEY North / South America"When"Searching for a snowman in Himalaya: X51.ORG THE ODYSSEY Asia versionI wrote the story in the postcard of the sentence, so please read it if you like.

G:
Although we talk a bit,Twitter,Facebook,InstagramI have an account at, and it has been upgraded tremendously. Even if it looks back to around 2014, it continues to be updated all the time, but when did you think to update it from around time?

Sato:
I think that it is not such a momentum momentum. Lately a bit more recently? That's about it. I registered Twitter around 2007, once confirmed I think that it is a considerable early adapter at the same time as Daisuke Tsuda (laugh). However, the number of tweets finally exceeded 1000.

G:
Recently there have been suddenly many updates.

Sato:
I think that it is few people compared with general users because Instagram has only posted about 150 since Tweets increased by announcement.

G:
Maybe it seems so because the contribution per one is rich.

Sato:
It is common for me to leave just as taking accounts for the time being.

G:
It is amazing that all accounts are also "X51". It is the impression that it took quite the first person.

Sato:
SNS has switched from the year 2013 to 2014 to the direction of announcement.

G:
Instagram says "While shooting books in Thailand released in September, taking the next book"PostI was there, was it a style of doing work directly at the site while visiting all over the world, or just happened to have had to work on the road?

Sato:
I have no intention of being a "nomad worker" (laugh), but for this book I went to Chernobyl in May when I was in work and moved around in Europe, in Easter Island during June, Vanuatu And I went to Tahiti, and in August I went to Thailand and Taiwan, while working in various places, I inconvenienced Mr. Tanino considerably. Since the request for interview of the magazine entered during the making of the book by all means, it became the wind that it necessarily worked at the visiting place inevitably. Easter Island was really hard.

Yano:
It was a strange day that Easter Island would call me if I was in the park on Sunday. A message like "When the night is over, the net is bad" came.

G:
The net is not good?

Sato:
It is also an ironic story, but a strange situation continued that relies on artificial satellites to make books of artificial satellites. Easter Island and the remote island of Vanuatu are connected to the Internet via artificial communication satellites, and the net does not connect throughout the island during the time when the satellite enters the shadow of the earth. Basically the speed was extremely slow, feeling like sharing a huge parabola antenna throughout the island, and data exchange and galley could not be confirmed.

Yano:
The book in this time has super high resolution image and stupid capacity. There was a work that was ridiculous, such as downloading 64 GB pictures one overseas, adjusting it and sending it to Japan.

Sato:
After that, when I was on Easter Island, for example, "Since the volcano here is interesting, I will send coordinates so please check with satellite photos", and I contacted Mr. Tanino and asked me to find a picture.

G:
That's amazing! Mr. Sato had his title changed for every interview and the most recent interview was written as "Photographer of Ethnic Heritage Site".

Sato:
I do not say "photographer of the odd boundary legacy" as I said, I think that the TV program was attached. Basically I am not stuck with titles, and I usually say "photographer".

G:
Is it the base of activities to go to the site and shoot?

Sato:
I agree. In that sense, the book this time is like "editorial" rather than "photographer".

G:
I was wondering what kind of equipment I'm using for taking pictures when I saw photographs actually taken around the world.

Sato:
Today I brought the actual equipment, but I have not used anything strange. In most cases, Canon's EOS - 1 D X, Sony 's α 7 R II, and Leica M - P are used separately.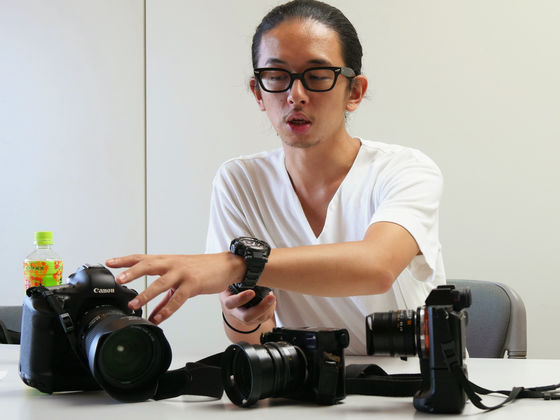 G:
You use quite a lot.

Sato:
Canon can be taken with almighty, it is strong against rain and wind, continuous shooting is fast, sensitivity is strong, it is the most frequently used because it can take anything and draw pictures without snow. When you are asked for tasty pictures, such as travel magazines, you will only shoot with Leica. I am attaching a Leica lens to α 7 R II ... ... Is it okay to talk about such a maniac?

G:
No problem.

Sato:
As the adapter evolved and canon lenses became usable with Sony cameras, basically we will bring two out of these three. I think that it is quite otaku about cameras. I occasionally write review articles in camera magazines, and I also contribute to Leica's books.

G:
How was it until you got to the current combination?

Sato:
I have been doing at Leica or Canon forever. Perhaps the most unique camera on the market and the most versatile camera. Just a few years ago I was thinking that "I will be in the Sony era from now on" is really going on. When it comes to digital from film, after all the camera is also "home appliance", so the household appliance manufacturers are still strongly strong parts. Canon and Leica are advantageous because there are a lot of old lens assets, but because there are too many, the lens can not keep up with new sensors and it is hard to update the lens. Nikon is the same. Conversely, since Sony has no asset and it is making it from scratch with Minolta's asset and Zeiss license, the lens quality is also high to some extent. In the consumer as a whole it is still safe and Canon is strong, but the demand for cameras for high amateurs seems to be that the attention degree of Sony has increased considerably. I still feel like I am avoiding professionals because I do not know the color or individuality as Canon or Nikon.

G:
From Sony "The body is a lens type cameraYou are out, too.

Sato:
That QX 100 was made to do shooting for promotion just around the Caribbean Sea, but it was rather difficult to master it because it was innovative (laugh).

G:
(Lol)

Sato:
When there is a moment that must be suppressed in harsh environments such as volcanic eruption and jungle, Canon 's EOS - 1 D X, this time Tahiti or Vanuatu etc, persons such as this time and Leica MP when taking documentary pictures, I am going to bring Sony's α 7 R II, which both lenses are attached to, is the current style. Because I use film occasionally occasionallyCP32There is also a developing machine called, but recently I do not use it almost at work. The rest is an 11-inch MacBook.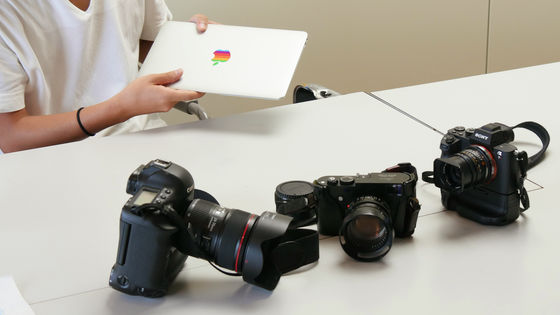 G:
Oh.

Sato:
Separately it is not such a thing as to say "Ooo", but (laugh)

Yano:
I saw that apple sticker for a long time (laugh)

G:
Have you been a Mac fellow for a long time?

Sato:
When I was a university I had both swords and I used both ThinkPad and Mac until around Vista. It is one Mac since OS X got better.

Yano:
Also, recently, Dr. Dolone has become a weapon for Mr. Sato.

Sato:
"DJI Inspire 1"is not it.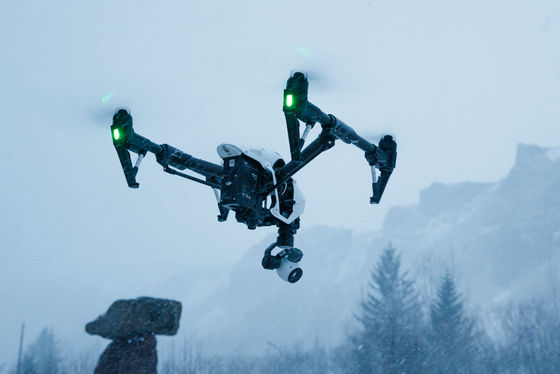 G:
I think that I am going to buy Inspire 1 also in the editorial department, but when did Mr. Sato think about using a drone?

Sato:
It's been in 2015.

G:
Actually using the drone for shooting, what kind of impression is it?

Sato:
Like a TV, you can use it on a medium that does not require resolution so far, but aside from the movies, the picture is still a bit weak or not. Since it is about "good photograph taken with a condenser", it is impression that it is delicate whether it can use up to a photo album. But I think that is also a matter of time.

In fact, Mr. Sato took a picture using Inspire 1, a picture of a sky taken of a tropical port is as follows.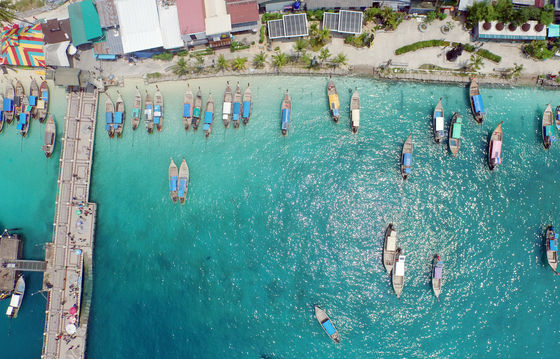 G:
What kind of things did you want to try using drone when you took it?

Sato:
There are many situations like that indeed. For example, in the past, even though I thought that I could charter a helicopter and think that I could do aerial photographs, I often asked, "I can do the aerial shots but the cost is so high that it is impossible". I think that it would be nice to have a drone at that time.

G:
In January 2015 listed in cakesinterviewLooking at it, I mentioned that I also use GoPro, but what kind of place do you use GoPro?

Sato:
GoPro sometimes brings it depending on the place of interview, but I have never used it as a picture so far.

G:
What kind of usage is planned for GoPro in the future?

Sato:
It's in the cave or in the water.

G:
I see. It is a policy to use new equipment such as drone or GoPro.

Sato:
I agree. I like fresh things. When I say "pro", I think that it tends to be conservative. When young people are using drones or GoPro, it is often said that "such things are not pictures", but in reality high amateurs are actually taking interesting pictures. For example, in Russia there is a picture of a person hanging from a high place, a discussion of whether it is a good photograph or an interesting picture is kept and I pay close attention to the fact that "I am taking pictures that I have not been able to take until now" I would like to keep it.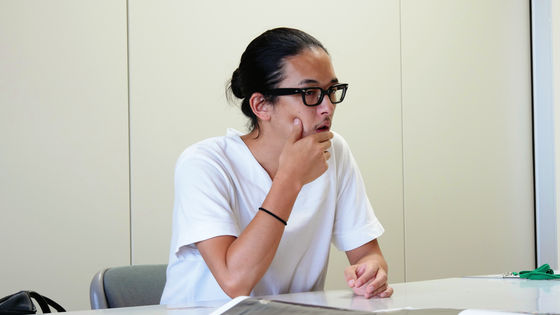 Sato:
The Japanese photo industry is clearly conservative, and now everyone can take pictures by digitization so now some people are filming only to keep the identity "photographer". But recently how far we call "photographer" work is much ambiguous. For example, can you call photography with a drone as a photographer, or can you call it a photographer's job to edit without taking pictures? Famous in the world of contemporary artAndreas GuldskyYaThomas RufuI also do stitching and editing photos taken by artificial satellites just like this book, and publishing it as a work. Even in this work, I intend to take a bit of context on such a trend of the photography world. So, as for me, there is something that I want to try variously with a good meaning.

G:
TwitterPost"In the old days when I thought about going to area 51, I saw the post written on a suspicious bulletin board in the US and finally found how to go, but now it's okay to go cranky with smartphone GPS" I wonder, what are smartphones using?

Sato:
It is iPhone 6 Plus. In the past it was quite PDA geek,HP 200 LXI used it from the folding PDA era and when I am in New YorkTreo 600YaPalm,Nokia 9500You also used it.

G:
That is amazing. You are walking around any and all terminals.

Sato:
As I was doing that for a long time, when I saw that it is unconditionally believed that "SIM free is good" in the world now, I think "that is ... ..." (laugh). However, in the past I had two SIM-free mobile phones and ordinary mobile phones overseas, but now that Wi-Fi has become popular, I leave the SIM-free part to the iPad. Even if you purchase Japanese iPad overseas, you can use it as a SIM free terminal if you bring it overseas. Always strangely, "Do you often go abroad like a SIM free terminal?" Is not it strange? However, if we change SIM overseas, we can not receive incoming calls from Japan. Perhaps it would be nice to go abroad with a vacation, but is everyone saying "SIM free" in some fashion? I think.

G:
(Lol)

Sato:
Regardless of backpackers or anything else, if the person goes by work, the circumstance that you can not receive any phone overseas should be in trouble.

G:
Certainly not.

Sato:
So, I think people going by work must have two mobile phones if going abroad. Nowadays it is 980 yen a day for all-you-can-eat as well, so I have a Japanese mobile phone as it is. I will buy a SIM card and put it on my iPad just for a long stay. There are other reasons for safety. Overseas prepaid SIM sometimes goes out of the service area depending on the location, packet communication can not be done if the limit is exceeded, but roaming premises can lead to any carrier as roughly as long as there are radio waves, so by any chance I think that it is safer to secure a domestic line in case of emergency, such as getting lost at a place without it and needing a map.

G:
From the stage of seeing X51.ORG indeed it seemed like something like "I do not understand it" but that is what it is. On the other hand, on Twitter "Area 51 is a trip to Las Vegas recently, although it seemed to be somehow felt to hear how to go on a suspicious UFO bulletin board abroad when I went for the first time more than 10 years ago, Even now security is naturally tight, posting was striking, "a fine of $ 650 will be taken if the signposted sign is passed by a little, and $ 1,200 will be taken to remove the car." Is there a place where it became easier to go because it became possible to collaborate with GPS of the smartphone etc?

Sato:
Area 51 is also so, it is now rude, even if it is a place without mountain or address in the first place it will be out of coordinates.

G:
Rather, how did you locate the place in the days without GPS and smartphone?

Sato:
It is really only a map, is not it?

G:
Although it is blatantly known now that it is "Coco" in area 51, it seems that "I managed to find something on the bulletin board", it seems that it is fighting with information on the map.

Sato:
It really was. Go around, listen, walk again ...... It is iteration. Approximately approaching local people say "Oh, you can come here."

G:
What was it like when you first went to area 51?

Sato:
Well ... I really liked it at that time, only the people who liked UFOs gone, so the tension was amazing. There was also a sense of tension, and there was also the impression that "Oh, there really is ... ...." For now, there is not such a rare feeling, but how many people did not go at that time, I wrote to Flickr I saw a picture of the restricted place in area 51 Wikipedia editor in English Wikipedia, I have contacted me as "I want you to use it." So, now my pictures are posted on Wikipedia's "Area 51" page in the world (lol)

File: Wfm x 51 area 51 warningsign.jpg - Wikipedia, the free encyclopedia
https://en.wikipedia.org/wiki/File:Wfm_x51_area51_warningsign.jpg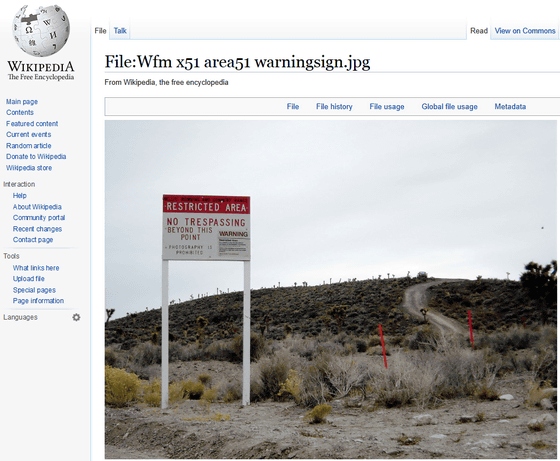 G:
Really!

Sato:
In other words, what I wanted to say is that there were not many people doing that straight. Moreover, it can be said that it is a "rare place" because the photograph was not properly taken.

G:
Certainly the content of X51.ORG at that time was a lot of content like "I actually took a picture and I took a picture" and there was a feeling that "Oh great, really I'm going" from that time. As for the reader of today, it may be thought that "What is amazing?" As you said, then it was hard to "go with your feet actually" at that time?

Sato:
Well, it was serious.

G:
I think that such difficulties do not make much sense to the current young people, but on the contrary when did the hurdles come down?

Sato:
When will it be ... ... As soon as the overseas boom happened on television etc from around 2010, so-called "superb view" started to become popular, the reason why the book of "odd world heritage" was sold is not unrelated. What I guess is wrong ... I guess it is probably not only in Japan, but everyone can see the great scenery abroad over the net, for example, a researcher making a TV program sees such a scene When it is put on a TV program, the viewer wants to go, and the publisher looks at the place like that and searches for the stock photo and becomes a story like "Let's make it a single volume". I think that there is no direct kikake, but it seems that the fact that "there are beautiful overseas sceneries" was exciting in the world vaguely by the net. I think that there is also an influence of social media.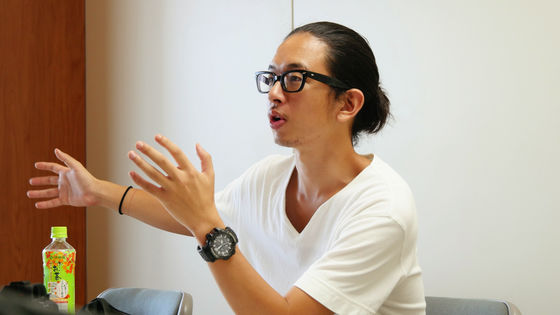 G:
Surely it is said that GIGAZINE suddenly began to abruptly increase the number of inquiries into scenic landscape articles about GIGAZINE, and that kind of contact is still coming now. In the case of GIGAZINE, there is an original source in the article, so say "Do not come to get GIGAZINE to obtain permission, please contact the original source".

Sato:
I am kind enough to return the correspondence. I almost disregard the contractor's inquiries (laugh).

G:
At GIGAZINE, when asked, "How do you use it" is being heard. In many cases, I often want to use photographs of landscapes. If GIGAZINE shoots permission, for example in the case of Wikipedia or Flickr you can use it under CC license, so " Well, I'm returning it.

Sato:
However, I think that it is very kindly just to teach it. People on TV do not understand CC licensing or high-fidelity story.

G:
If you feel like "commenting on such articles in GIGAZINE" by handling the newspaper's paper face in the wide show of the TV program, it is possible to put out in the category of rightfully GIGAZINE 's right, so do There are also some TV programs that I avoid. Also, until the previous time I was saying "Please send me the finished tape," but even if I say it, I also applied for the information "What time and when are you broadcasting at what time?" I try to have it. Sometimes I get used to FAX information from where I am accustomed. When doing that, the other side gradually becomes smarter, so the amount of inquiries has decreased since a certain time. There was a story from the reader that there was something made with only GIGAZINE's story from the beginning to the end in some 2-hour program, and it surprised me that "this kind of broadcast went well"!

Sato:
There is it.

G:
Compared to that, AD seems to have increased in common sense recently, so I feel something like progress in the era.

Sato:
There are young and net native children in AD. But, of course, there are many people who do not understand the story.

G:
Once in the past, contacts came normally at Gmail, "No, no matter where someone is even if you come with Gmail," you had a thing like seems like.

Sato:
When you get in touch with Yahoo! Mail, something will be fine (lol)

G:
Moreover, even if it is said to be "like a desk of a TV station", it was said that "How can I confirm whether it is really a television station?" Even now I am not familiar with it, since an e-mail came at 18 o'clock and I'd like to use it for news at 19 o'clock, please contact me immediately. It's like "I can not make it in time!" But in case of a news program system you want to use in haste, there are quite a few inquiries. Even if you say you want to use Twitter embedded in GIGAZINE's headline, you can only say "just ask the Twitter user". When I go to see Twitter, I'm asking a planned user, but there is no time to answer without reply, so I feel the times around that.

Sato:
There are lots of inquiries like e-mails and "Please call me here" frequently (laugh).

G:
Also, although the story is off,interviewWhile I answered "I almost went to the place I wanted to go", but still "some places I tried to go were refused, and some may be in the form of ..." I answer, but where is the place you wanted to go, but you refused?

Sato:
It is mainly a place of minority ethnic group where permission is required for entry. I have to apply, I can not make the application period in time, or it will cost me a lot of budget.

G:
Will the place around that someday want to go if there is opportunity?

Sato:
Yes.

G:
I said "I almost went to the place I wanted to go", have you been going through the places you wanted to go for years?

Sato:
I do not know if I almost gone, but I recently went to a certain extent that I could not imagine myself thinking about places. It's been around 10 years since I started going abroad since about 2003 when I started the site.

G:
It will take about 10 years, is not it? I think that it varies from year to year, but how long have you stayed abroad, if it is the year that you came back and forth most intensely?

Sato:
It used to be three months in the past, but now there are things that I have to do as it is in Japan, so I am going back and forth quite often, so I do not go for half a year at the most. I think that it is about 4 to 5 months.

G:
Still it is amazing! Do you have any equipment that you should be aware of when preparing, such as "knowledge of traveling alone" when going abroad?

Sato:
I am frequently asked, but I am a principle that as far as equipment is concerned, I do not have anything special.

G:
Do not have any special things?

Sato:
Do not depend on special gear ... ... If you make something like "Do not do this, it is scary that it will disappear." That is why it is not used as a contact lens.

G:
I see, i see. It is a feeling of using generic things as much as possible.

Sato:
That's right. "General purpose" is the key word, and substitution will work anywhere you go. Camera and that can not be helped though. Things that I always bring overseas are eventually about clothes and cameras, and other toothbrushes are bought locally. Also, I feel that it is better to take antibiotics.

G:
In short, it means that you have something you can not afford to buy on site, and you can buy what you can buy locally.

Sato:
Recently there are so many things like that. When taking an airplane, it is common to take both baggage with a small carry and bag only, without bringing both into a checked baggage.

G:
Is it felt rather easy?

Sato:
I think that it is a light-handed person.

G:
Also, I was worried about it from the previous time, but the watch is goby.

Sato:
This is made by G - SHOCK,Watch that satellites can match time anywhereBut, this does not pick up the satellite at all ... (laugh). If you push this button, you can receive the GPS data anywhere in the world and have the function that the time matches, but there is no trial that the time matched up to now (lol)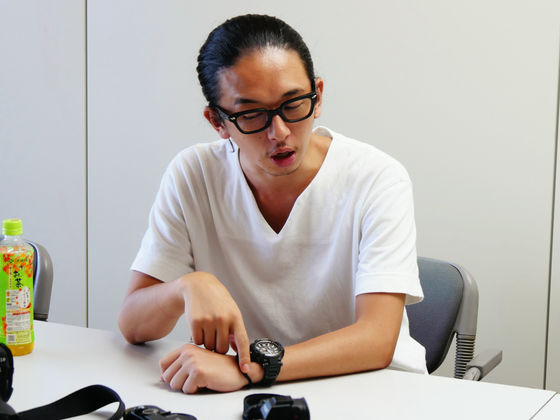 G:
(Lol)

Sato:
Before buying it had a good review to see at the price .com, there was a very angry man alone, and saying "Are you really using this overseas?" To say honestly They were criticized by the people. When I took it abroad it was as wonderful as his uncle wrote (laugh). I was surprised that reception was bad really when I actually used it overseas. Although I went about 10 countries in total for only three months from May to August 2015, it is always fitting manually all the time, it is just like a deck clock (lol)

G:
As a clock it's tough as it's tough, is not it (laugh). Speaking of sturdiness, 2010 sauzeauinterviewSo, when asking for advice when going to a strange place in the world, I answered "After all dead it is over, so do not be unreasonable and watch out for wild dogs," but the last "wild dog "Was not that something like that happened?"

Sato:
Wild dogs are quite common, but in the past there was a situation that surrounded by wild dogs when going to rural Asia. Even before this time when I went to the ruins along the sea by Tahiti, I was surrounded by a dog at the moment when I tried to return to where there was not any journey. It's like a mad dog runs from over there.

G:
That is scary.

Sato:
I'm really scared.

G:
What do you do at such times?

Sato:
Usually, I swing trees with a stick. And throwing stones, there are really only about how to deal with it. Since the dog is also a bit choked, if it takes an instant even for a moment, it will get frightened as it is scared, so it's time to show the attitude that "this is fine at all" . That's only a story, but that is really scary. Why are you scared because there is rabies.

G:
Before going abroad Do you feel like going vaccinations, vaccinations, etc. whatever you can hit?

Sato:
I am striking yellow fever and others, but it is not covered there.

G:
I think there is a place where the place to go is going, but is there anything dangerous besides wild dogs?

Sato:
An ordinary person will not go to such a place separately. For example, even if we talk about such a level, "What should we do when we go to the Middle East and ask something to militia with guns?", It will not be a reference to anything ....

G:
I would like to ask the reference level, but what if I encounter a militia with a gun?

Sato:
I do not know what to do, too (laugh), is not it funny anyway? It's important not to be bothered, or not to be oddoing wherever you go. Even if I enter a place like "Is not it masui when entering here", what is decidedly resolved when it is found is important, and when it gets scared, it is said to be "what you are doing" I will. I need something like "get used to it". I can not say it very well because I am a sensuous story.

G:
It is a basic feeling that things that do not lead us out.

Sato:
I agree. Even in places like "I wonder if you should take a picture here," I think there is a way to behave when you are taking pictures. As unfamiliar people are taking pictures while they are picking up pictures, they are surrounded immediately and are talking about "What are you doing", but if you take a magnificent shoot, it is said that at least it is not sightseeing, Will it be noted with a reasonable attitude? That story is only an experience, so I can not tell you anything.

G:
I always mysteriously reading articles in various places, but will I go to the local language after studying to a certain extent?

Sato:
If it is not for a long time, we do not do much. I try to pass as much English as possible. I am sorry I do not know if I can answer questions even if I question in local language.

G:
Is it feeling that you can communicate even with English alone?

Sato:
I agree. But when I went to South America, for example, I found a taxi driver, a girl who I met in a restaurant, a person who can speak English on the spot and said, "I will go here a bit tomorrow, but I will pay, so please come along with me As if nothing? ", It comes with a rate. There are plenty of patterns for taxi drivers to ask. When a hotel arranges for a driver who can speak English at the hotel and goes with it, the driver will be an interpreter on site. Basically there are many places where the place to go has changed, so a taxi driver says "I did not even know, so I want to go see it", so many people say that people will be translated one after another.

G:
Thank you very much for telling me a very interesting story today.

In addition, "SATELLITE" is released on September 18, 2015, at the time of article creation, reservation is being accepted at Amazon etc etc.

Amazon.co.jp: SATELLITE (satellite): Kenji Sato: book
http://www.amazon.co.jp/dp/402331420X/