8 shops at 3,500 yen for 3 hours 500 kinds of cuisine went to all you can eat and drink all-you-can-eat "


A maximum of 500 drinks & drinks will be served at 8 stores in total of 3,500 yen for 3 hours, including the Japanese food, hentai-yaki, meat dishes, seafood dishes, bistro, grilled meat, vegetables and sweets, pots, shabu-shabu etc. The largest in Japan It is possible to eat "All you can eat sideways"Is open in Osaka · Chaya-cho. I went to the shop to actually eat and drink up to the limits as to how many stores can go around in three hours, what kind of foods can be eaten.

GourNavi - Chaya-cho Eating All-you-can-drink Yokocho (Chaya-cho / Nakazaki-cho / Vegetable dish)
http://r.gnavi.co.jp/31ra5y8t0000/

The address of "All-you-can-eat Yokocho" is "Osaka Prefecture Osaka City Kita-ku Chayamachi 2-16 e Square 5 F". It is 2 minutes on foot from Hankyu Umeda Station, 5 minutes on foot from JR Osaka Station and Umeda Subway Midosuji Line.


Arriving at e-square which contains 'All you can eat' at Hankyu Umeda station.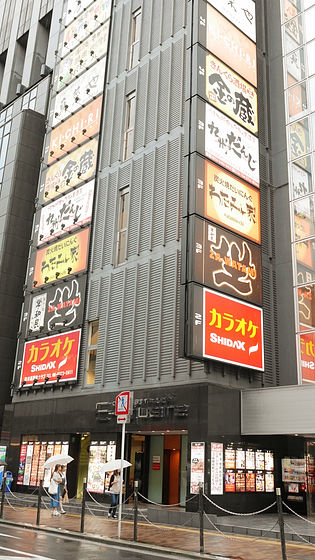 As you go to the front of the building you will find a signboard that says "All you can eat and drink all-you-can-eat" in Japan.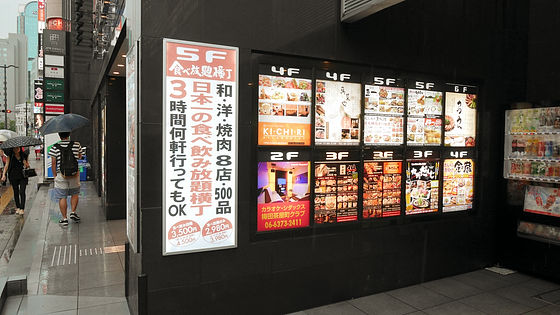 When I go up to the 5th floor with an elevator, a pub Izakaya-ko that does not seem to be in the building appears.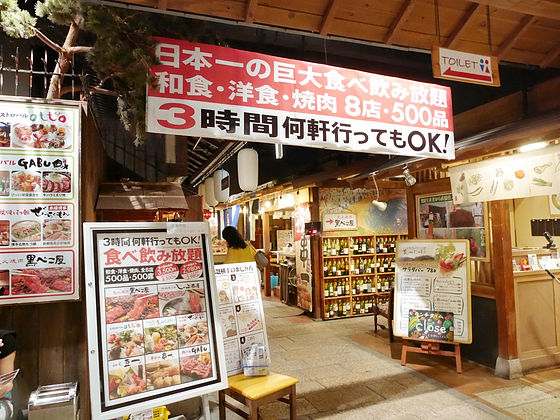 It seems like a combination of old-fashioned yokocho with the fashionable restaurant atmosphere.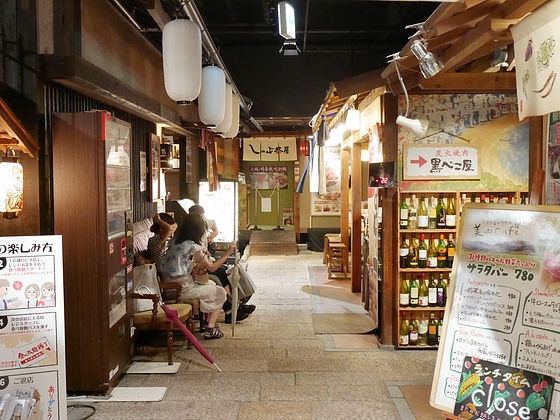 A map in the Yokochi is affixed to the entrance. Inside are Japanese food and alcohol "Bean 1", Shabu Shabu "Shabu Tea", Bistro bar "otto", Kushikatsu "Skewer", Meat Bar "GABU", Vegetable and wine "Miyama Cafe", Charcoal Fire Yakiniku "Black Bakemaker", Yakitori Yaki "Zenzorumon" 8 stores.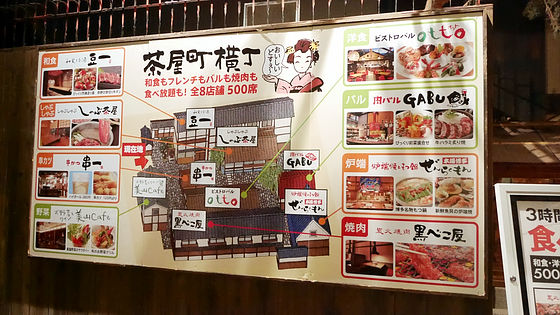 The Shinto shrine where the Seven Lucky Gods celebrated was also established.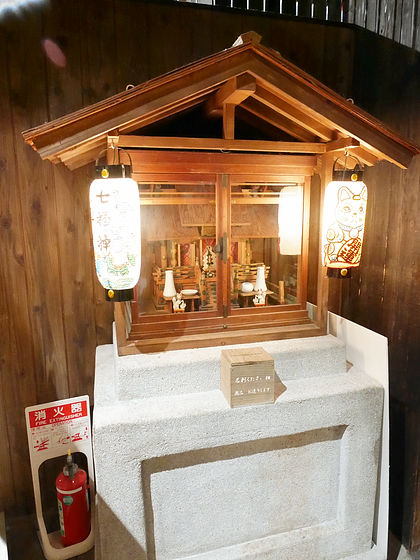 It is an interesting space that there is a kushikatsu shop next to a large number of wine bottles lining up.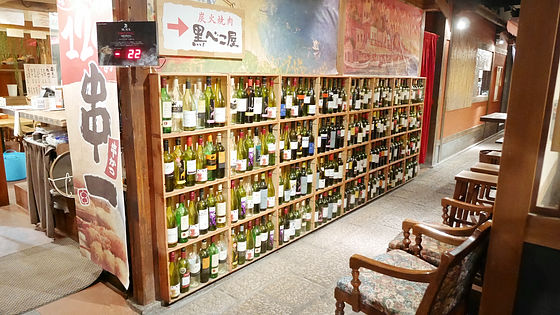 In order to start all you can eat and drink, first go around the inside of the alley and find a shop where you want to enter. When you pay 3500 yen per person as the amount of all you can eat and drink at the first store, you can start all you can eat and drink for three hours from there. Once you finish eating you can eat all you can eat at the cash register, you can use it in another shop, if you can change the shop any number of times within 3 hours you can eat and drink all you can. Last order is 2 hours 30 minutes after entering store so be careful.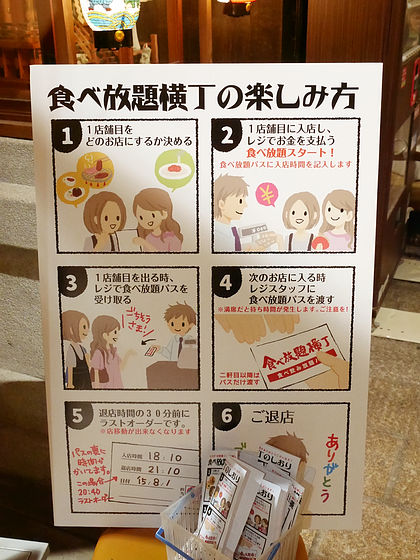 If you do not want to eat and drink all you can order it separately.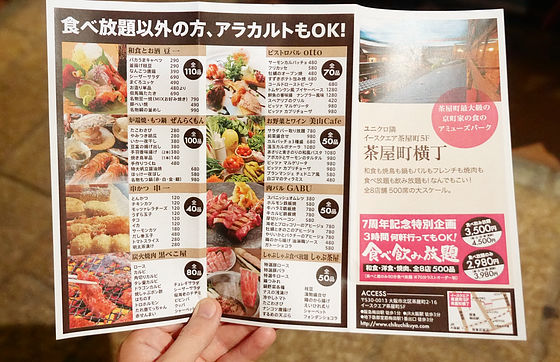 Each store has a chair for standby, and when I went a little before 17 o'clock in the open time, some pairs of customers already waited for opening. The charge is the same regardless of how many times it is within the time, but since it is the limit to go around 5 stores even though it is considered as one store 30 minutes, if you want to turn as much as possible, smooth it if you simulate it beforehand. However, even if you go around a couple of stores, the moto of 3,500 yen is a cheap price to take, so you should not lose even if you enjoy your meal slowly.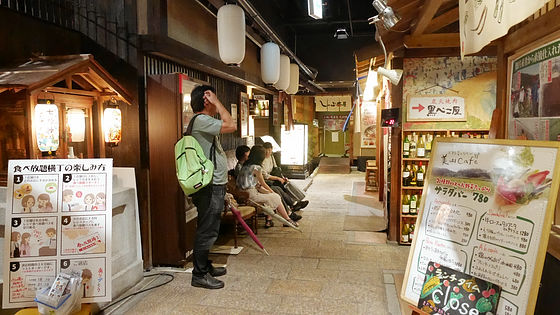 ◆ Shabu-shabu "Shabu-cho"
That's why the first one is Shabu Shabu's "Shabu Tea House".



It is a wonderful shop front when entering inside, so that you can think "Coco is really all you can eat and drink?"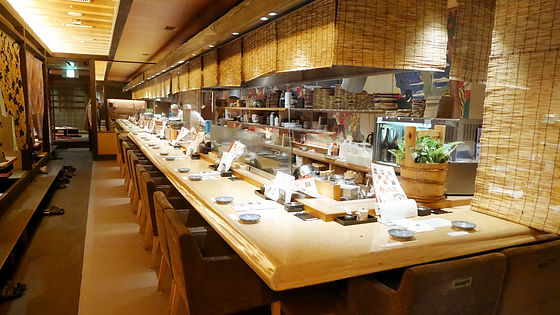 Half-room seats also ... ...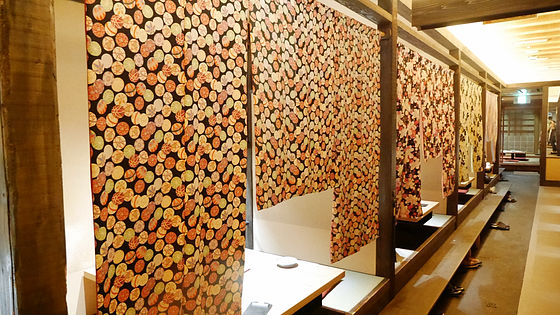 This time it was introduced to the table seat.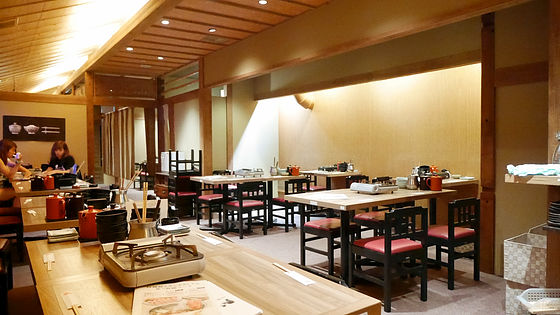 When we arrive at the table, it is the first one so we have an explanation of the system of all-you-can-drink all-you-can-eat system, then afterwards the Shabu Shabu sushi as "Kombu of the Takumi", "Three-tiered bone bonito", "Tige ni", "Horse painted tailoring" Choose from six types of "Shirayu Yuzu" and "Sukiyaki Dashi".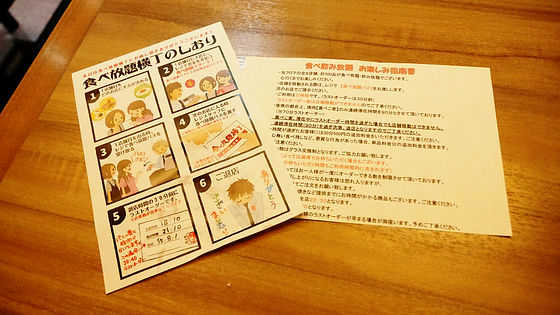 This time I tried to make "Takumi's Kombu" and "Tige".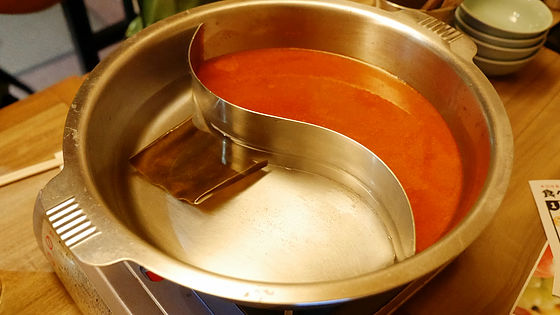 First you will receive special selection of pork roses, special pork loin and beef loin.



There are two rows of special pork loin.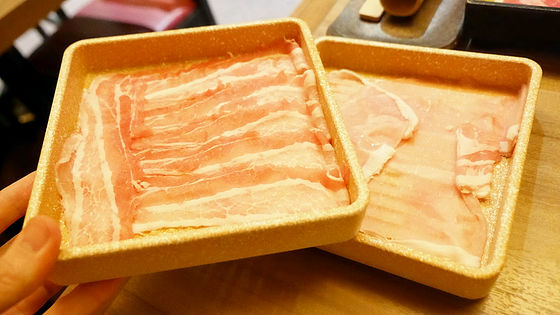 Other ingredients are OK if you bring them freely from 30 kinds of vegetable bars.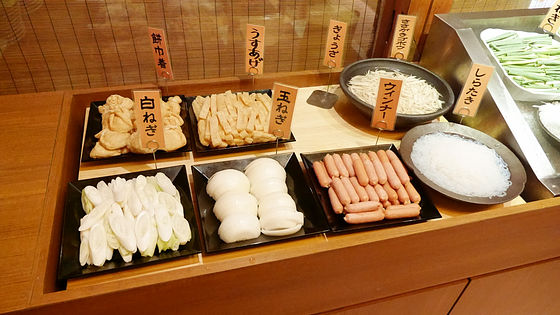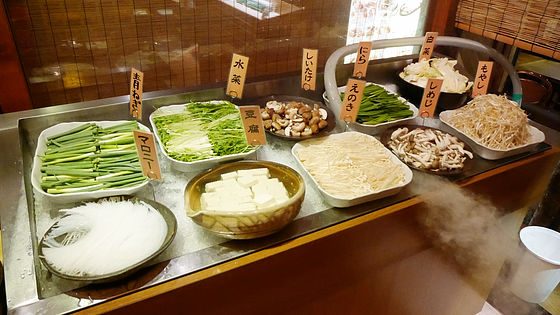 There are ingredients such as wiener and dumpling in the vegetable bar, but we are going to move in 30 minutes at one store, so I took only the shabu-shabu ingredients little by little.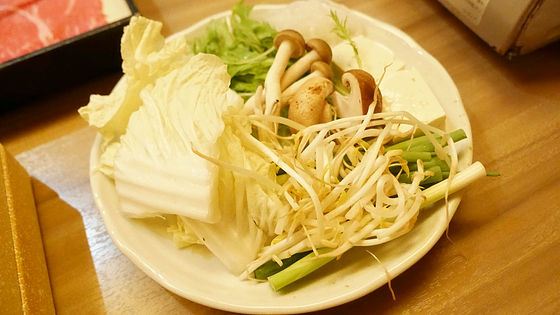 Drinks are of course draft beer.



Put all vegetable ingredients in the soup stock ... ...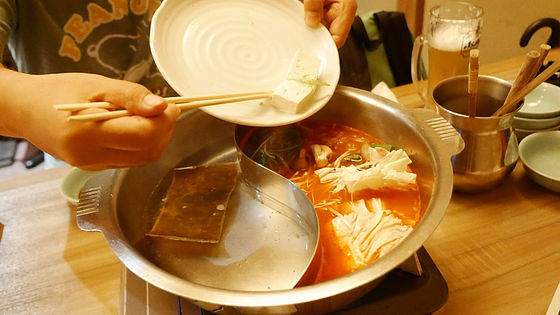 We also introduce tsukune and eat it like a tea pot.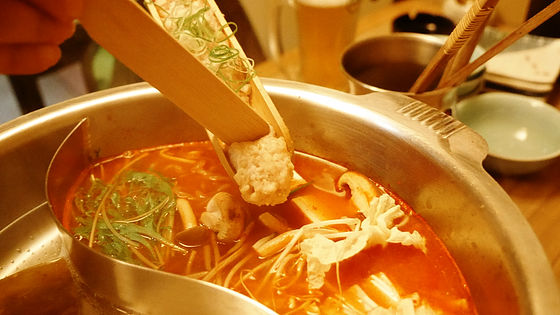 There is nothing in the kelp soup, only the meat is just baked.



All-you-can-eat meat is "more quantity than quality", but the beef is soft and soft and juicy.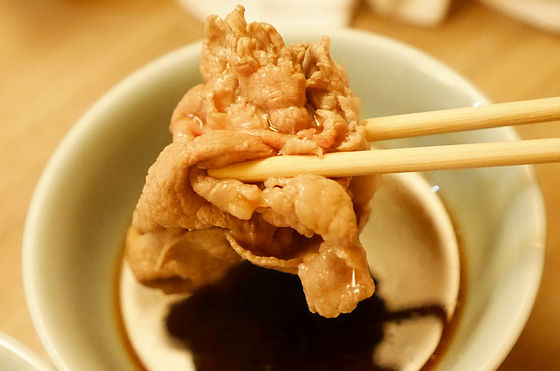 Pork is also a kelp.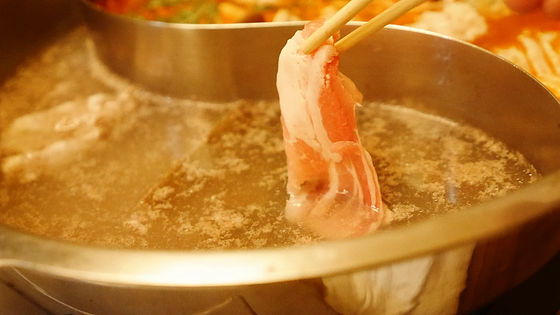 Pork did not have a bad place in the same way, and you can taste like shabu-shabu when you eat it with sesame sauce. The first meat is gone soon but it is a pleasant place to order as much as you want.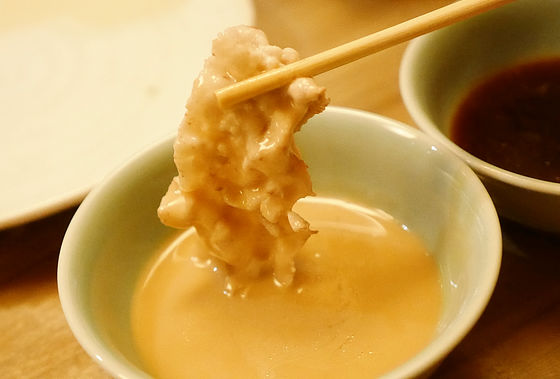 A ingredient of chicken soup has also been completed. Tsukune is a fluffy texture containing colicoli's cartilage, putting it in a spicy spicy soup stock, it is a big right answer. In addition to shabu-shabu, you can also eat barbecued yukke and china fried chicken menu so you can eat as much as you want. However, because 30 minutes passed at this point, it is a good luck charm so I will cut it up and move to the next shop.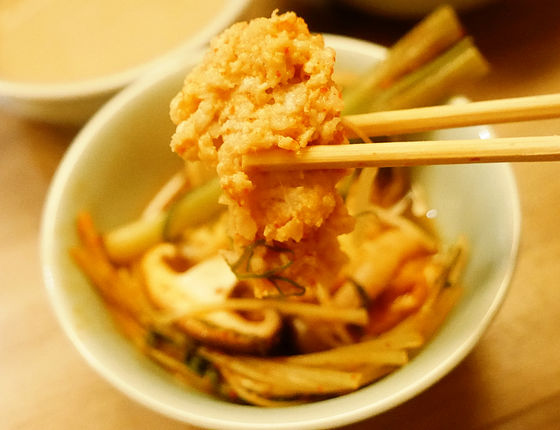 ◆ Meat Bar "GABU"
Next, I came to the meat bar "GABU" where you can enjoy meat dishes and cocktails and wine.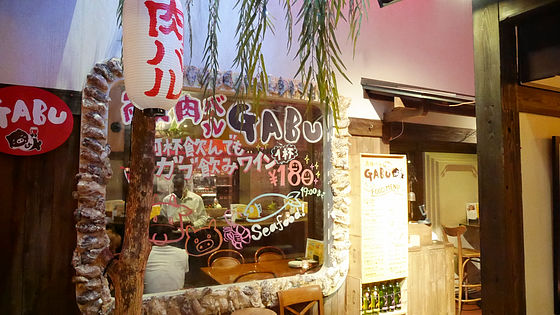 If you go inside and find a clerk, I will give you the all-you-can-eat drink ticket you received at the previous shop.



There is a counter in the middle, there are several table seats too.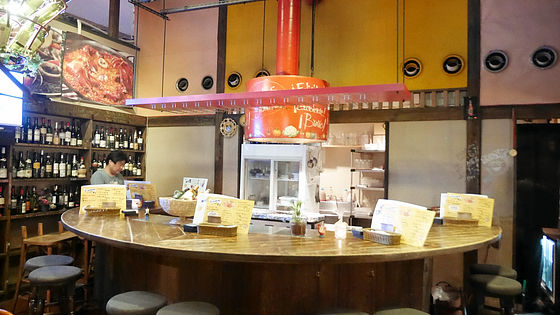 There is chandelier made with wine bottle, atmosphere that seems to be good for date etc.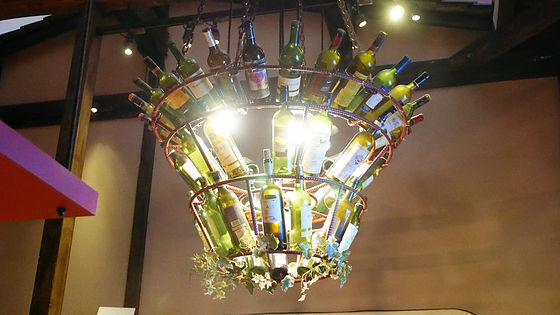 The food menu looks something like this, not only the meat dish, but also the bar menu such as fish and shellfish carpaccio and ahijo are enriched.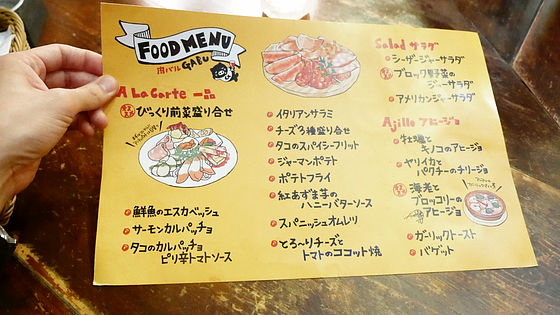 Meat menu was written on the back.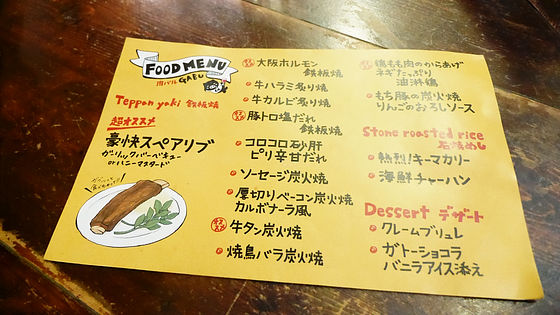 There are lots of drink menus, and since wine has several kinds of stock besides house wine, it is recommended for people who like cocktails and wine.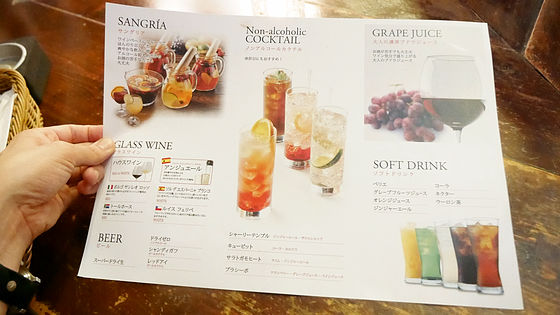 Here I tried ordering "great sparerib garlic barbecue" and "surprised appetizer platter".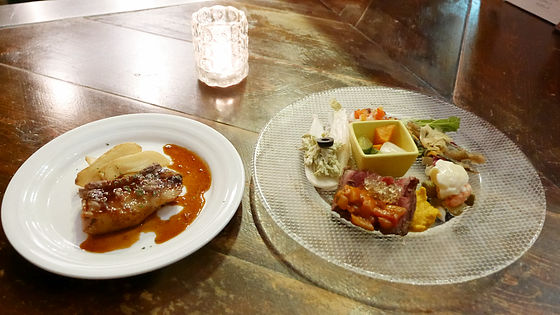 "A surprised appetizer platter" is a plate with seven kinds of tapas served, ideal for snacks.



"Great spare rib" is a carnivorous menu where the scent of garlic invites appetite. You can order other sources at Honey Mustard.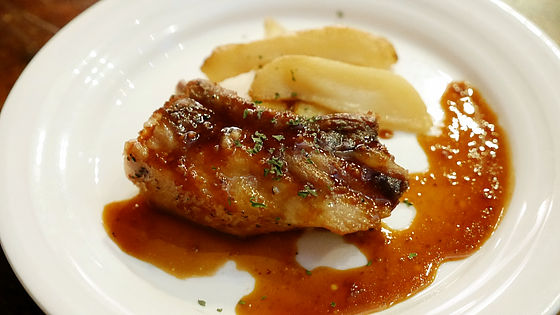 Compatibility with red wine is outstanding.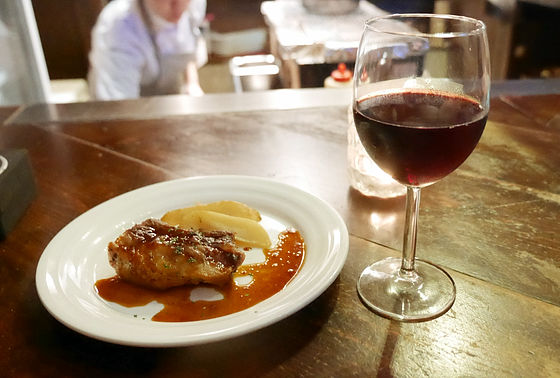 When I eat spare ribs, it is a meaty dish so juicy is too juicy, but a sweet and powerful sauce holds meat firmly.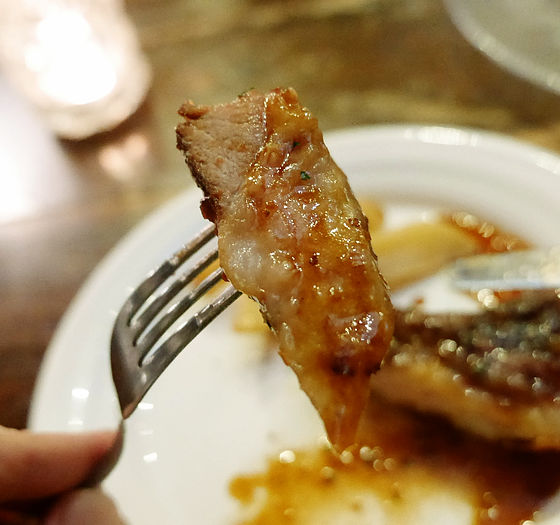 Why do you feel that spare rib bones are tasty? ....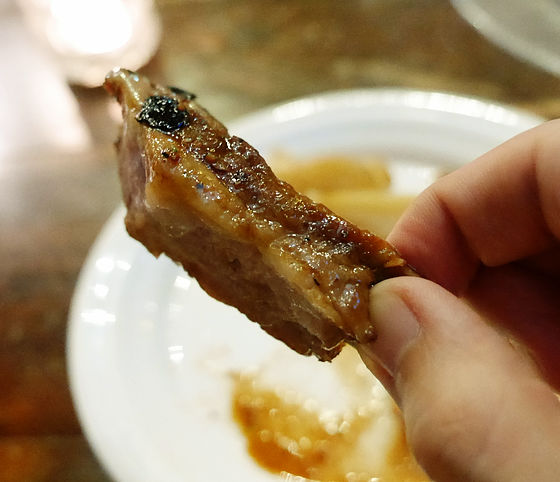 In the middle of the counter there is a charcoal grill and you can also enjoy the savory charcoal grilled meat dish, but the order of GABU stops here in order to go through as many stores as possible.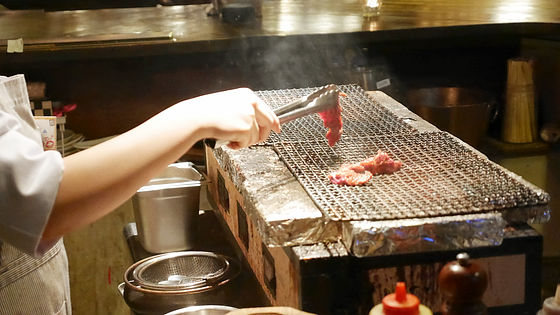 In addition, the all-you-can-eat course is like this when you leave the shop.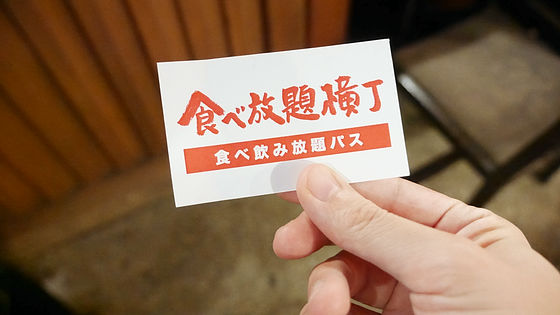 The entrance time and exit time are written, and at this time it will be the last order at 19:35.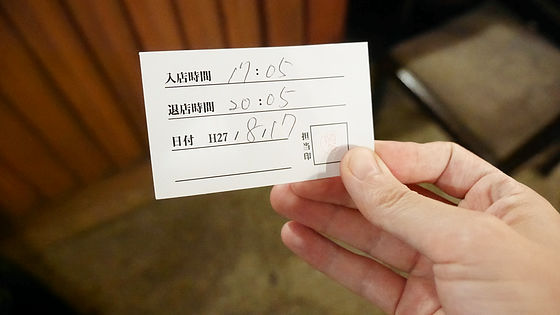 ◆ Roasted oven bow · Tankpot "Zenzorumon"
After tasting the meat dish, "Kuzurumon" which baked seafood everywhere in charcoal fire.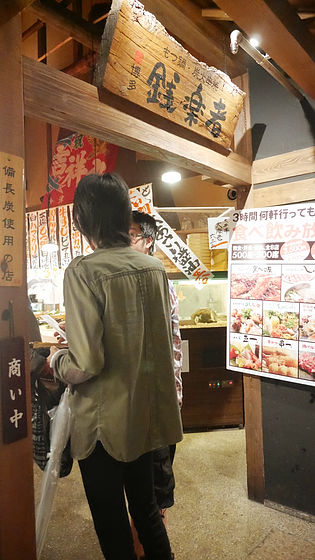 There is a chorea just after entering, a real atmosphere.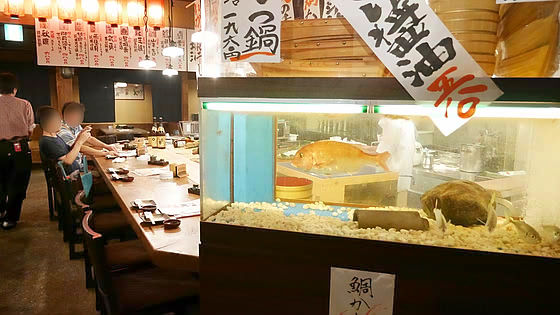 Staff are also kimonos.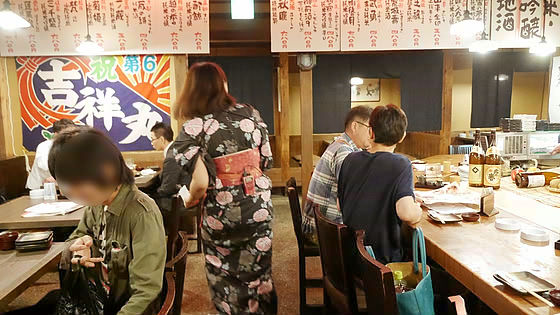 Furnace baked ingredients are placed in front of the counter seat, and you can also decide what you want to eat with your eyes. Because you can taste a completely different atmosphere every time you change shops, it is one of the advantages that you do not have to wander for people who like "ladders".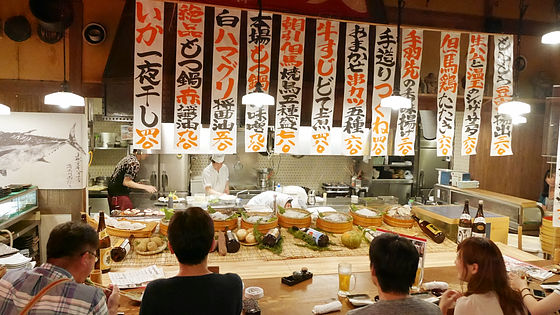 Drinks are rich in sake, and brands like "northern honor" that are not often seen in Osaka's common taverns ... ...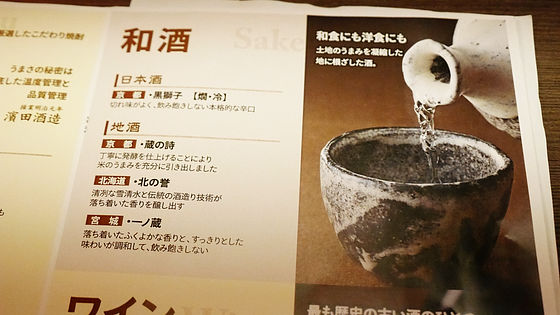 It is not an all-you-can-drink, but we also deal with local sake in Japan.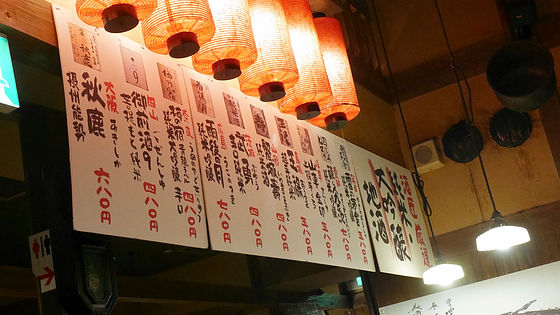 First of all, it is a combination of cold sake and sashimi of the royal road.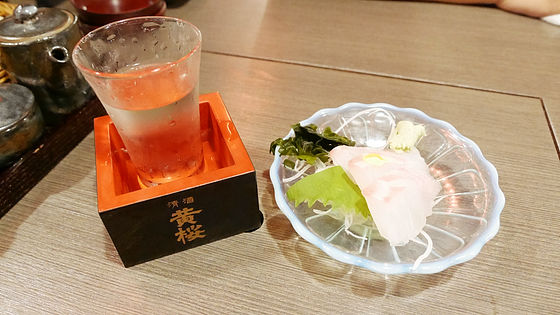 With all you can eat, there is nothing complicated if you are making this "sea bream".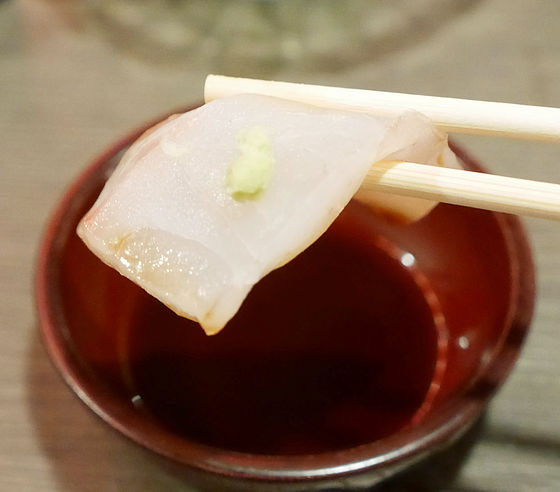 Next "Sazabeboki" arrived.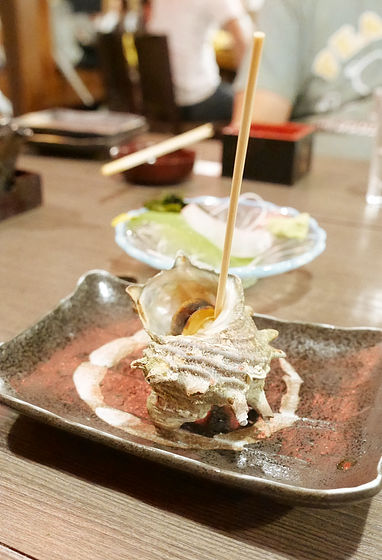 When I pulled the skewer, the body of cow and cowpea came out.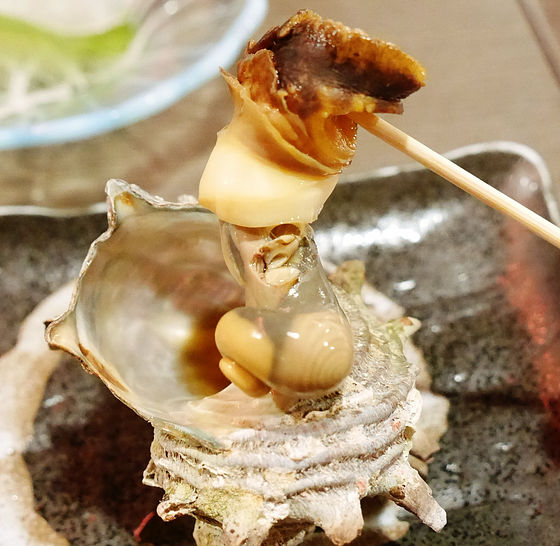 There are many people who are not good at cotton, but this bitterness well matches cold cool wine.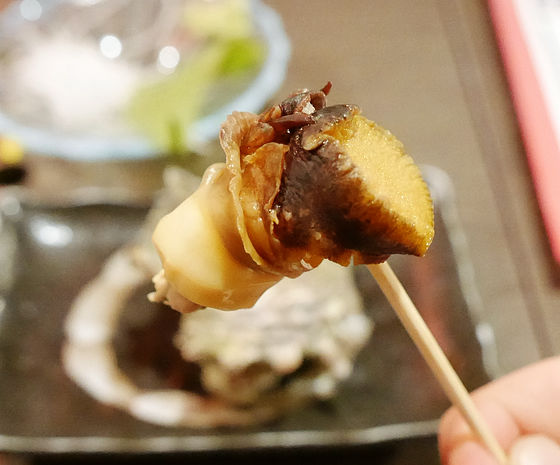 In addition, I felt the real pleasure of hentai-yaki that we eat a little bitter things such as "white clam sauce baked" "shrimp salt-grilled" "shishito" "yam". In addition, we deal with pots besides the hearth burn in "Zenzorumon". In addition, here 1 hour 30 minutes have passed, and the remaining time is half.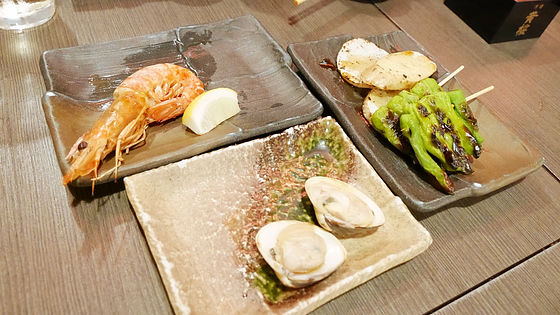 ◆ Kushikatsu "Skewers"
Turning around 3 more stores, my stomach has become satisfied, but I was concerned about the taste of Kushikatsu which I can not remove in Osaka, so I went to "Kushi 1".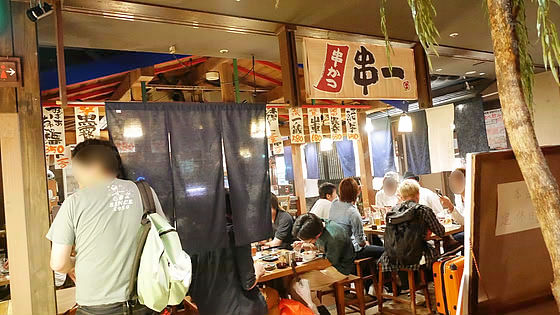 Within the shop like this, there were many papers on the Izakaya menu.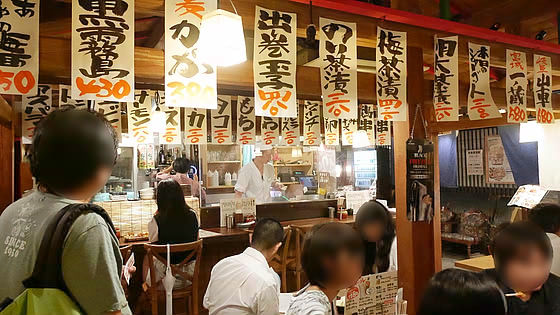 An open kitchen where you can have a meal while watching the fried fried counter seat in front of you.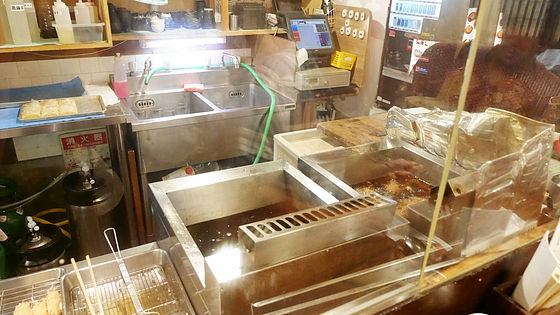 A mechanism to write orders to the clerk by writing themselves like kushikatsu. Basically, every shop has only one or two waiters / waitresses, it seems to be pretty busy to provide guidance and cooking of customers, so it was smoother to give the order on paper.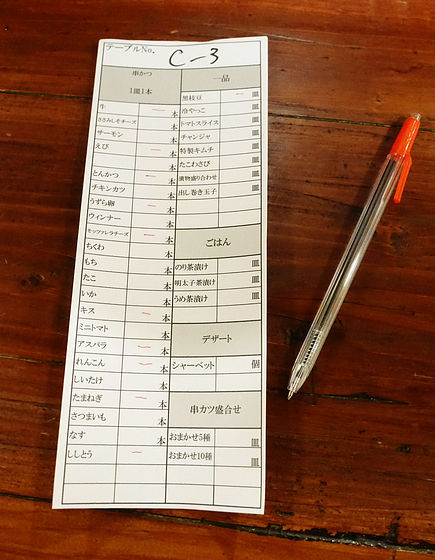 That is why I ordered this kushikashii.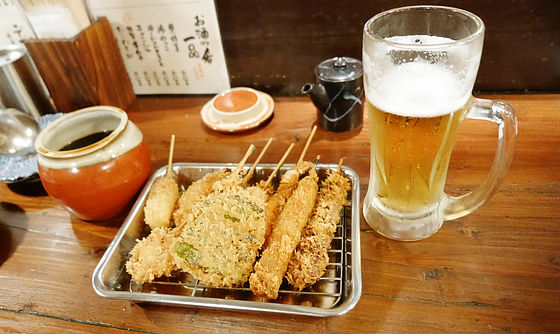 Of course it is strictly prohibited to pickle the sauce twice.



"Cow cutlet" of Atsuatsu is a taste of stability.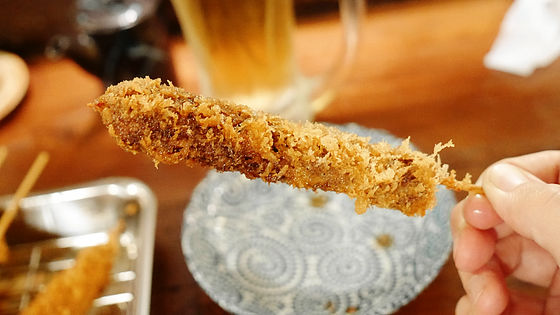 There is a method to scoop with cabbage if there is not enough sauce, but in "Kushi 1" there was a pet for cabbage.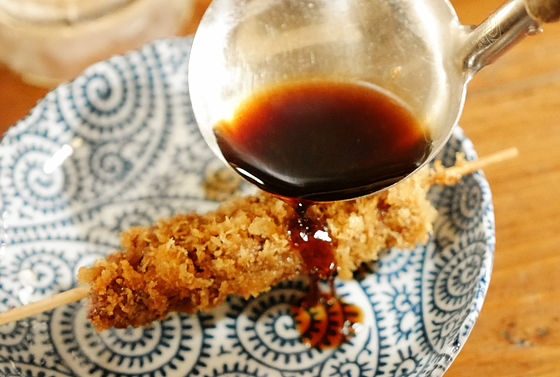 ◆ Vegetables and wine "Miyama Cafe"
It has already been 2 hours since we started eating and drinking already, so it will be the last order time at the next store. At the end I decided to shut up with "Miyama Cafe" where you can eat vegetables and sweets that you refreshed.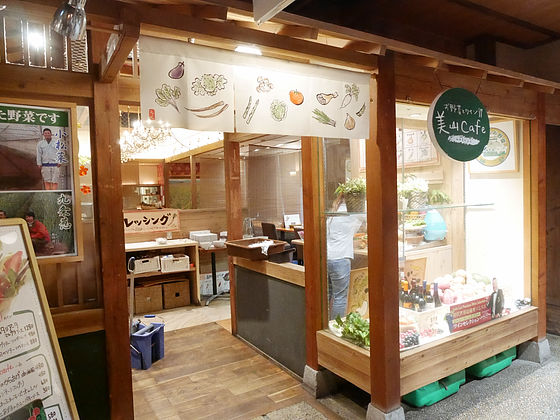 The inside of the store is bright and friendly design.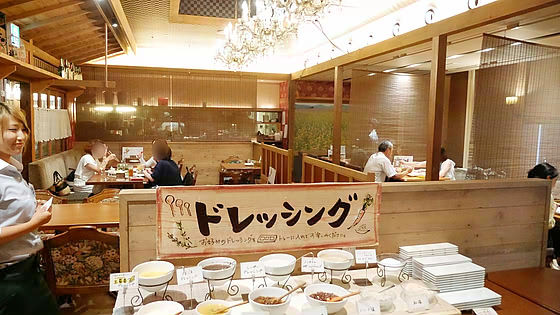 When I arrive there is a glass, and this is a bowl of a salad bar.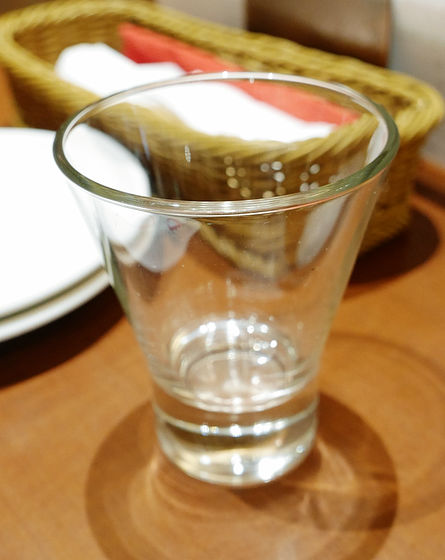 It is a shop selling wine, but since the only type of wine was house wine, ordered sangria white.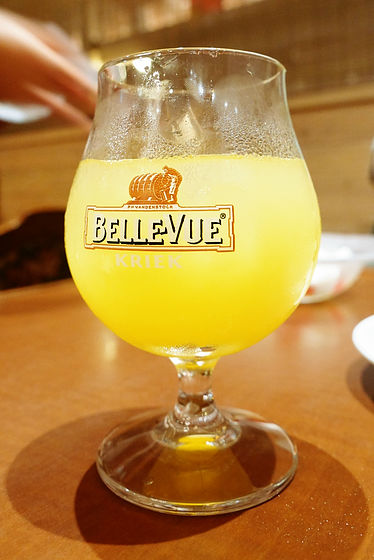 The salad bar looks something like this, you can ingest as much vegetables as you like, from what you see at the supermarkets to rare ones.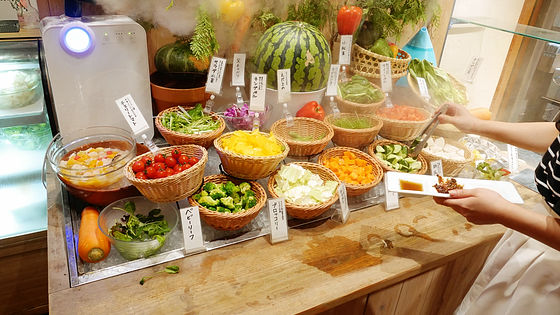 Choose from 11 types of dressing if you like.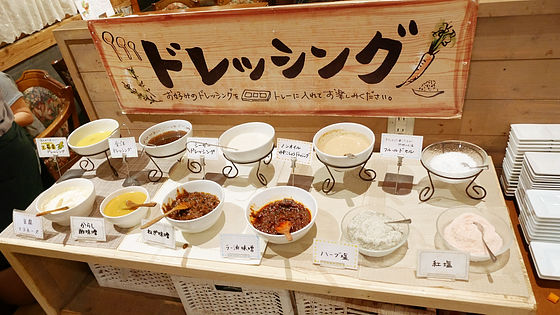 So I took vegetables and dressing. Dressing was the most popular "tofu mayonnaise" from the left, I tried to "rice oil miso" and "red salt" I tried.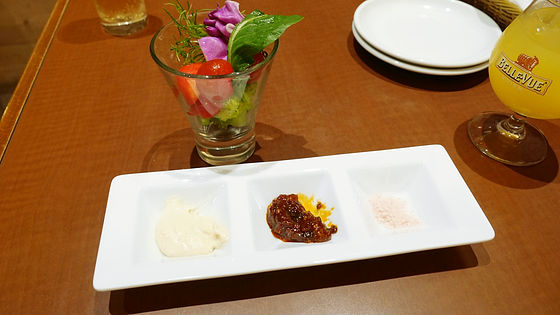 Vegetables are fresh as fresh as you can see and see.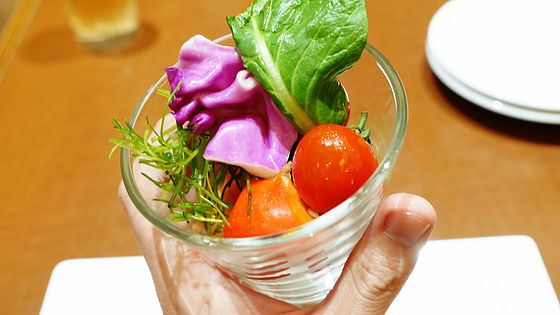 Especially cherry tomato felt sweetness similar to that of fruit, and it seemed that you could eat any number of pieces if you put a refreshing tofu mayonnaise.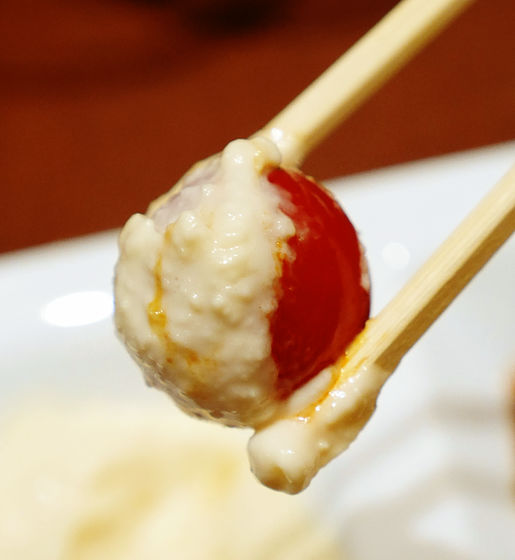 And the last of all you can eat and drink is "Bran Mangier with Macededian Ice" ... ...



"Baked apple of fire". Most of the other stores have the same sweets, but Miyama Cafe offers original sweets menu.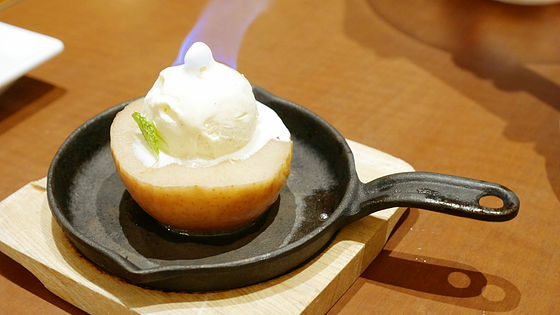 Like a white pudding with Bran Mangier Macededian ice creamBran MangierSo you can feel the smell and smoothness like almond milk. Dessert like a mellow fruit punch.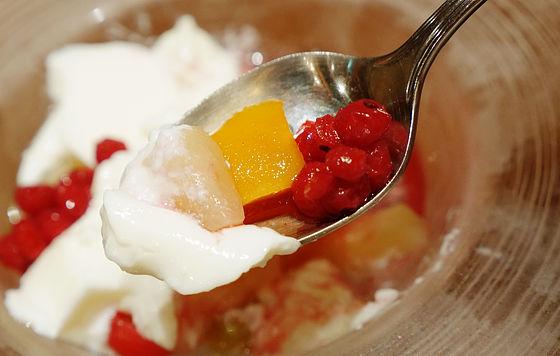 Burning the flame When you cut the apple in half, vanilla ice cools over the whole with heat.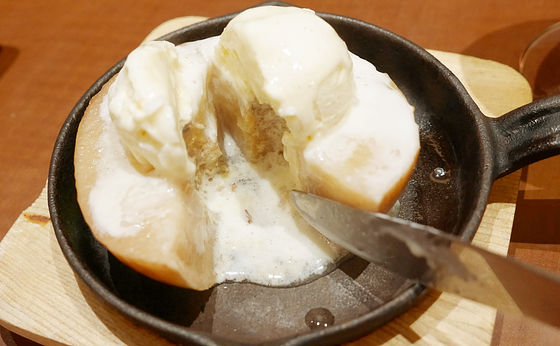 I smashed ice cream. It was not a baked apple that was firmly cooked through fire, but it was finished in such a way that a little texture remained.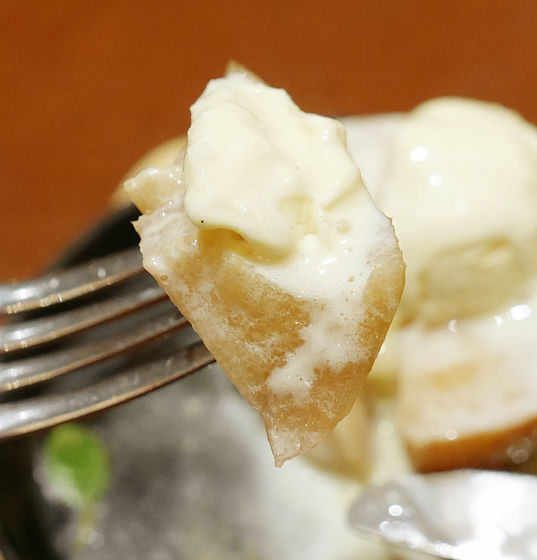 When I finished eating dessert, it was about ten minutes before the last order. There was plenty of stomach and it seemed that there was no time to go to other shops so we decided to eat all you can eat and drink in total 5. Ali is asking for drinks and so on, until you leave the store. This time I tried all-you-can-eat drinks with two people, but unexpectedly the move every 30 minutes was not as hurried as I thought, so if it works it may have gone another store.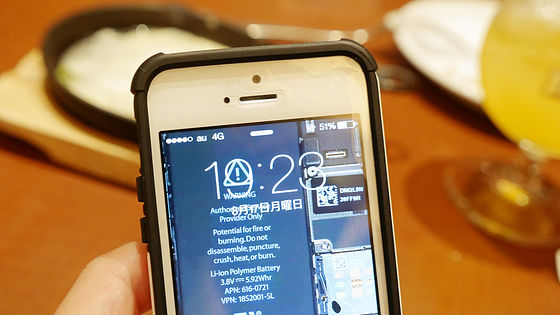 There are several shops in stores with several stores gathered in one place, but it is also true that there are many delicate places of quality. In such a situation, "All you can eat" albeit sometimes it took time to serve depending on the shops, but we enjoyed the cuisine with quality above the standard anywhere. Please note that it will be 4500 yen for Fridays, Saturdays, Sundays, holidays, and congratulations, but it should be satisfactory if the price is 3,500 yen in 3 hours. If it is all you can eat, it is 2980 yen. In addition, it is open from July 1st, but it is not limited time.