All 22 octopus grills went to the all-you-can-eat "Takokura"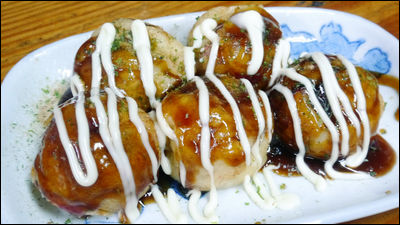 Regular curry · Tako cheese · Chicken · Kimchi · Tuna · Winner · Konjac · fried egg · pork · corn · corn cheese · rice cake · cheese · soy sauce · potato bacon · minchi kako (miso) · rye · shit · shrimp · shrimp cheese · All 22 kinds of beef straw, only cheese, all you can eat Takoyaki is in Osaka Prefecture Sakai City "Takozo"is.

Takozo
http://www.takozo.jp/

address"1-5 Minami Tawaramachi Sakai-ku Sakai-ku, Osaka Prefecture 590-0078 Osaka"is.

View Larger Map

I arrive at "Takokura". A mascot marking elephant's nose as an octopus is a landmark.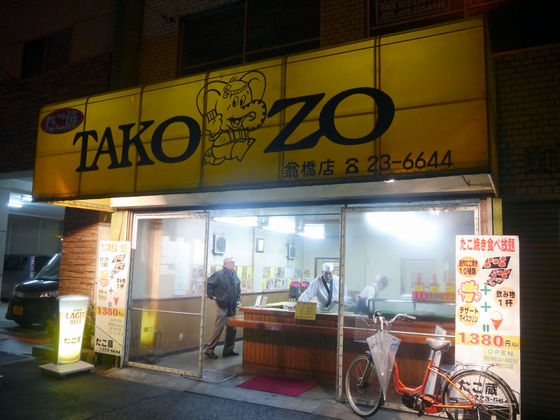 It seems that you can do all you can eat.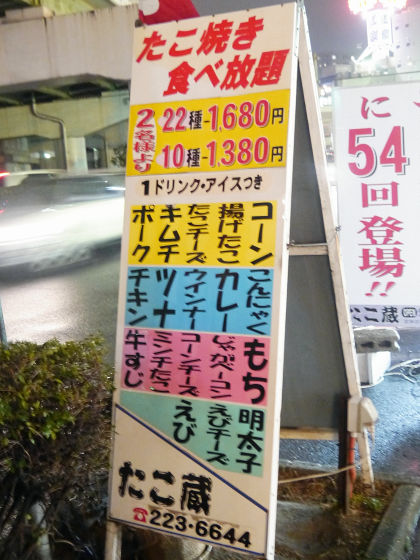 The inside of the store looks like this.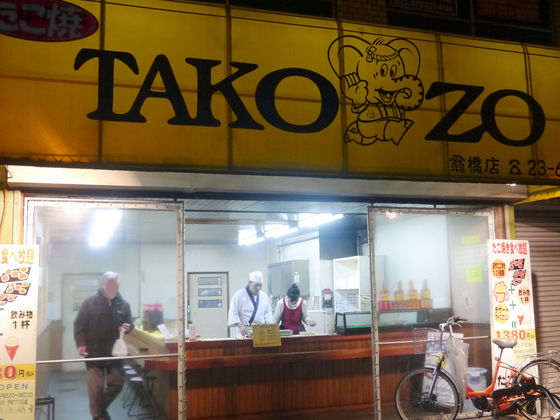 A row of steel plates arranged side by side.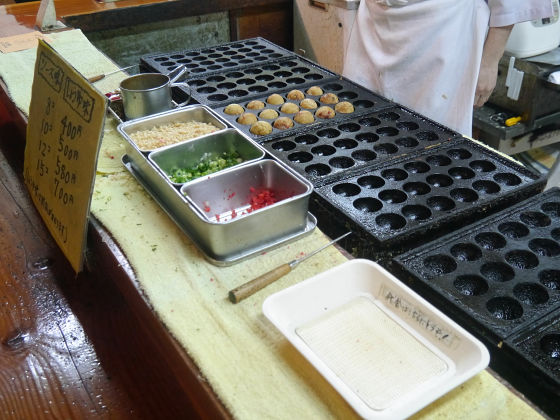 There is a counter inside the shop, you can eat it even here.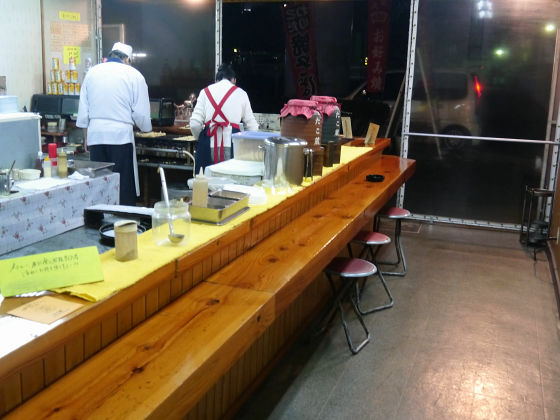 There is a table seat in the back of the shop.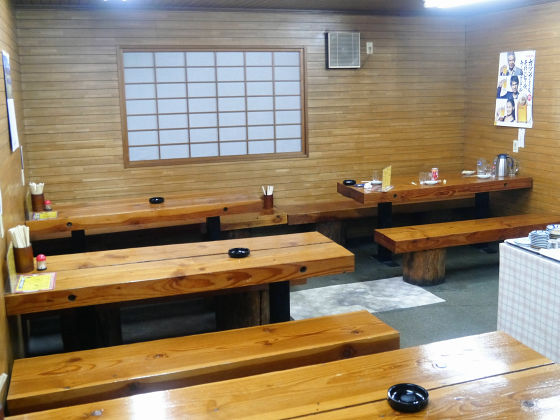 Water and a cup are placed near the seat, it is self-service.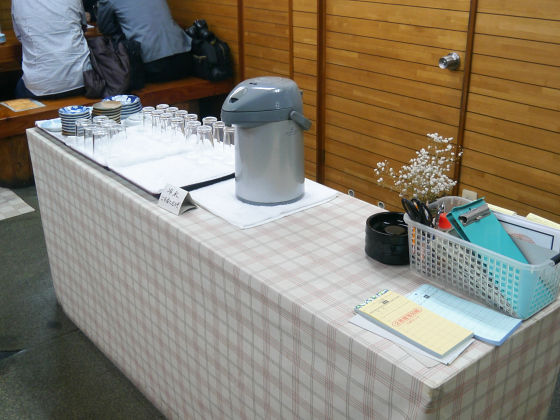 When I arrived, I found a menu. The price is 1680 yen (from 2 people) with 22 kinds of Takoyaki all you can eat, one drink, plus dessert ice cream (1680 yen will be 1,380 yen if you present a coupon at the official website). The time limit is 90 minutes. Orders can be made up to 3 times, and orders can be ordered in any number of times. However, if you are overreliable and can not finish eating, attention is paid because a fine of 50 yen will be incurred per piece.



There are 10 different versions, here is 1380 yen.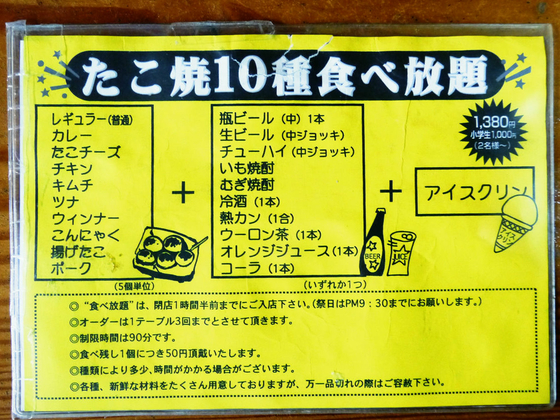 There is also a menu except for all you can eat. Regular Takoyaki is 400 yen for 8 pieces.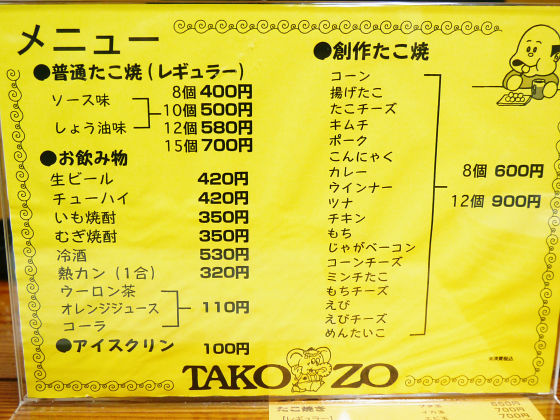 There are not only Takoyaki but also okonomiyaki and yakisoba.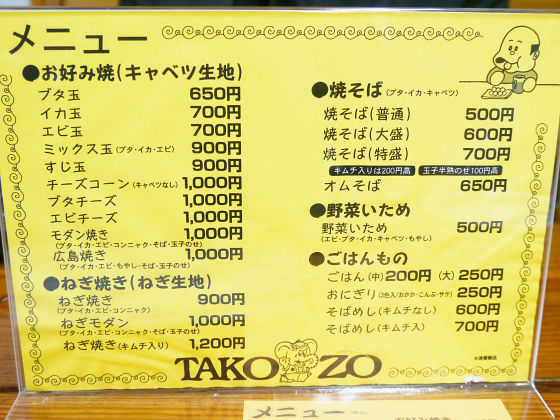 As for the all-you-can-eat menu, "I wonder how much you can eat raw if you can eat it?", But this shop says "A quick looking table of all-you-can-eat dishes". According to this, 22 kinds of all-you-can-eat and soft drink combination eat 22 pieces when you eat it.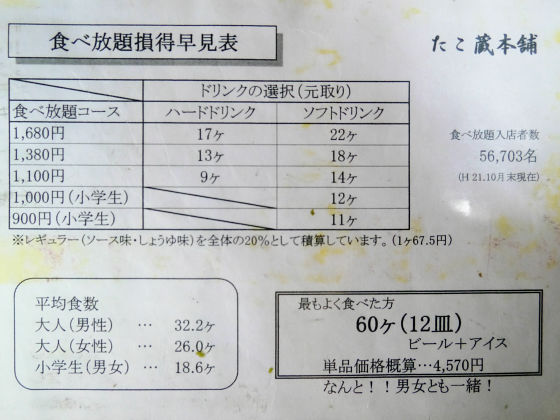 The first order arrived. This is "regular". There are five Takoyaki dishes per dish. Mayonnaise is served at your choice.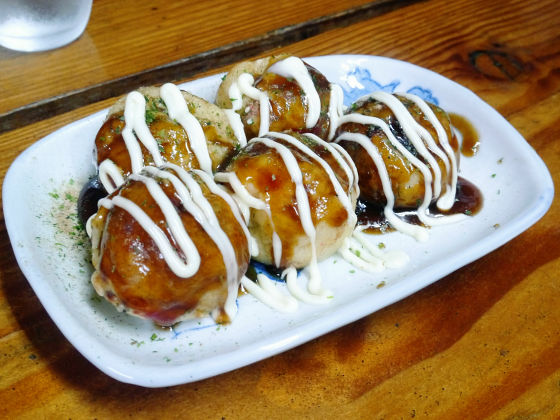 The inside is fluffy, smooth texture. The octopus contains relatively large ones and you can enjoy a crisp texture.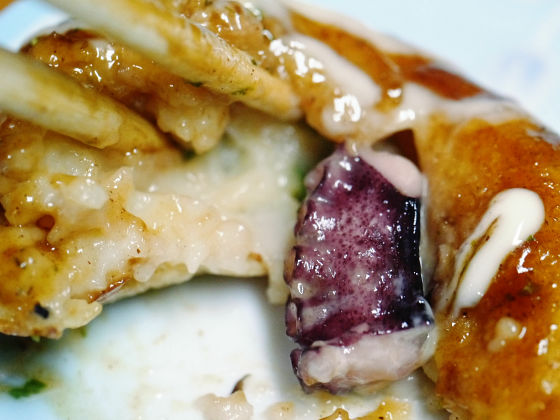 This is "fried octopus". I will get it with plum meat.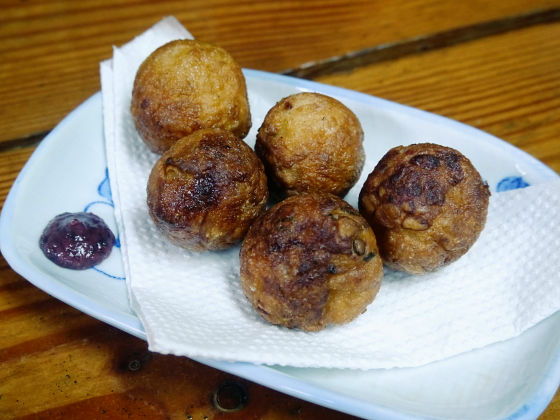 It is a crisp surface, but the contents are fluffy. The acidity of the plum meets.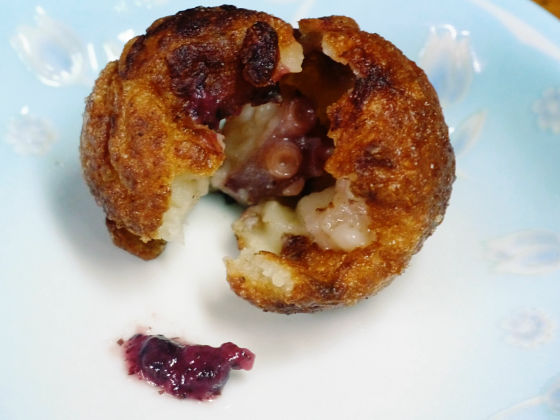 "Tako cheese" came. Cheese will be invited from the fabric gap.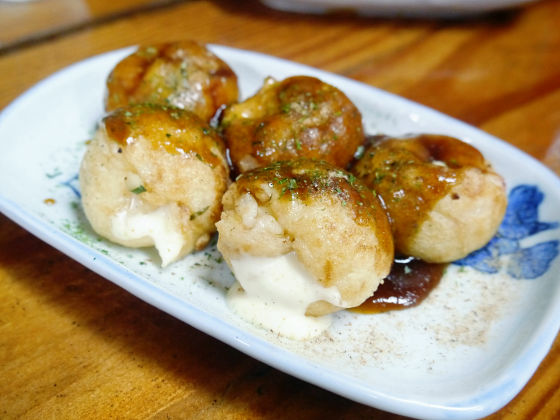 When I break the takoyaki, the tofu and cheese overflow. The cheese used is cream cheese, refreshing than ordinary cheese. I often cry.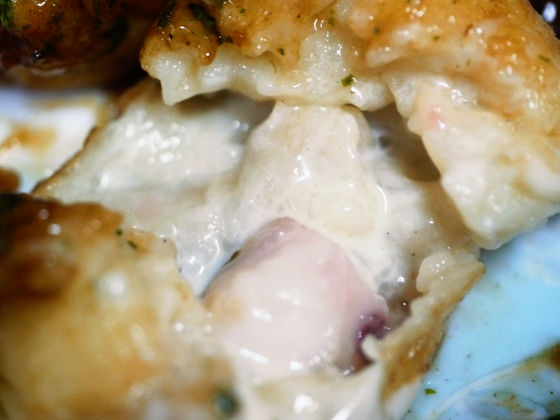 I will come and go. "Chicken" to "Kimchi" in order from the left. I do not know the difference in appearance ... ....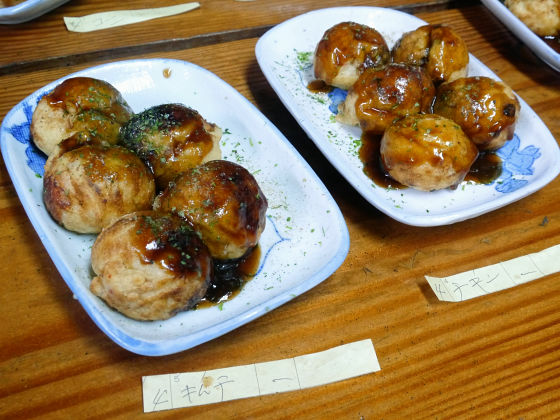 It is obvious when you try to break it. This is Kimchi. I want to try it if you think that "I got tired of ordinary Takoyaki". It might have been better if octopus was included here.



This is chicken. Because both Takoyaki and chicken are heavy, it may feel confident that they hit each other.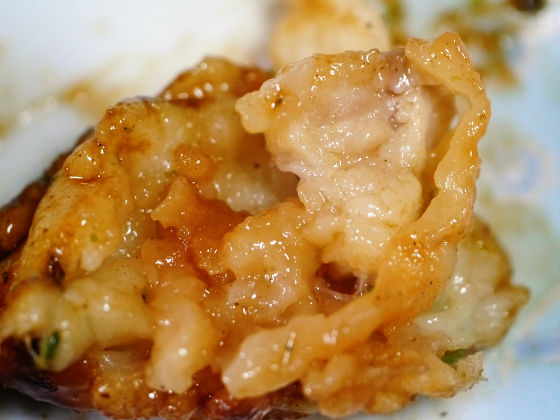 "Tuna" is "Konjak".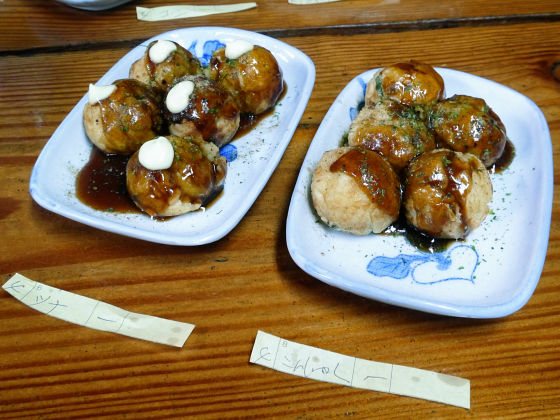 The flavor of tuna will soak into the crowd. This can be spared with this, but I do not know if I can call it "TAKOYAKI" already so far.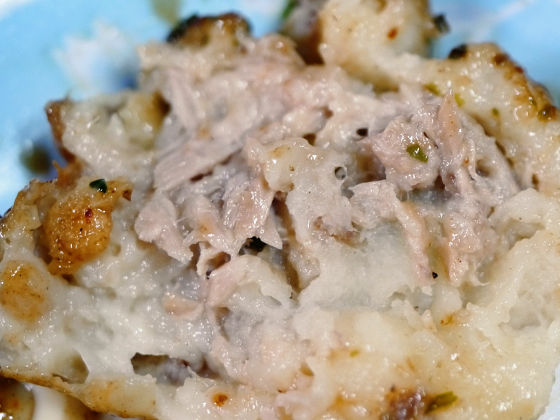 Soon it came when I missed octopus feeling, Konjac. I remember nostalgic feeling of crunchy texture. The texture is similar to Takoyaki, but maybe Okonomiyaki is closer as a taste. It is crisp, I can go pack.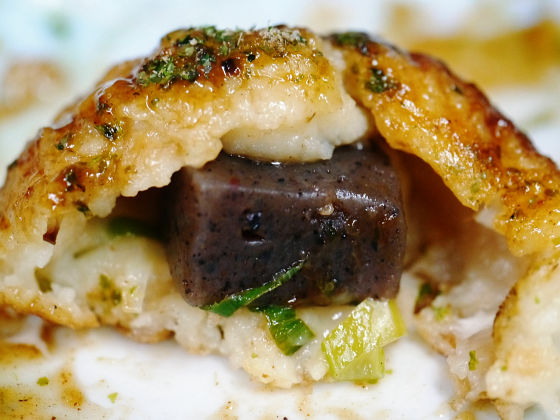 "Corn" and "Wiener" were carried.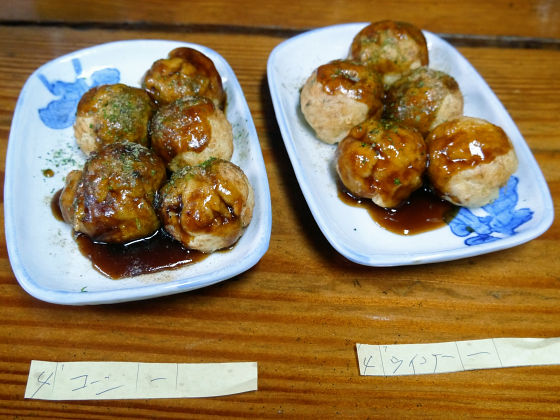 A dense sauce matches the corn as it is a grilled corn selling on a fairy stand. A combination of Takoyaki sauce and corn is also close to that. So, recommended for those who like grilled corn.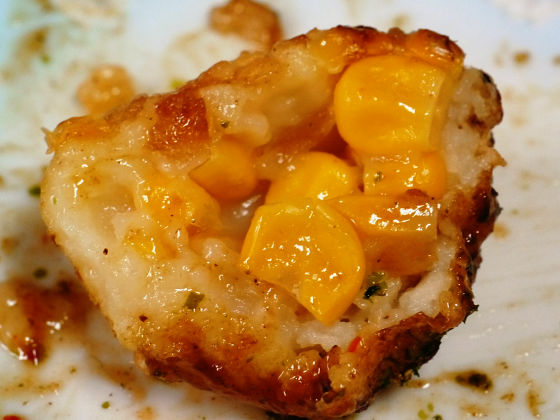 Because there is no juice in the Wiener itself, it can be felt that the taste separates smoothly and does not fit well with the dough. Since there is enough volume, you may ask if you want to get a feeling of fullness.



This is "pork".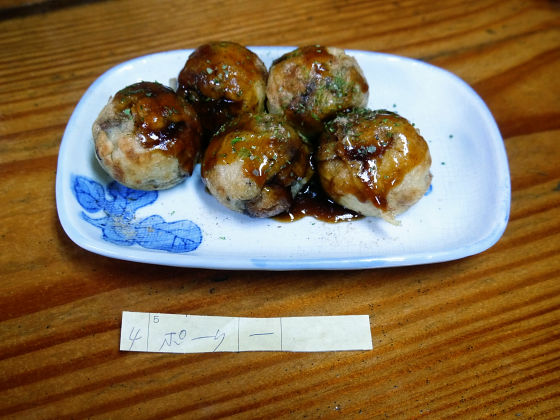 This is about pork. Completely when you come this far ... Oh no, this is also a good Takoyaki in appearance. Taste is okonomiyaki's pig grill.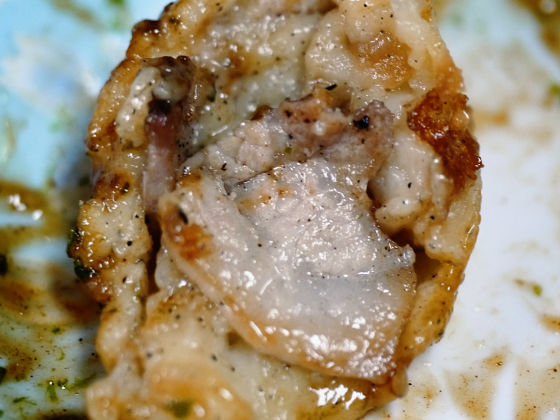 I came, "Curry".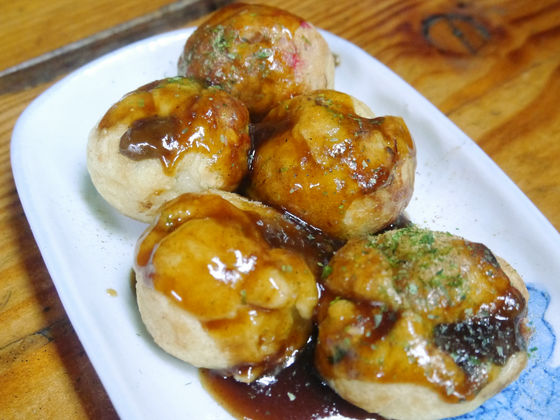 The flavor of curry is strong, and the surface of Takoyaki can be seen only in the octopus texture. It was a dish that made me think about what Takoyaki was.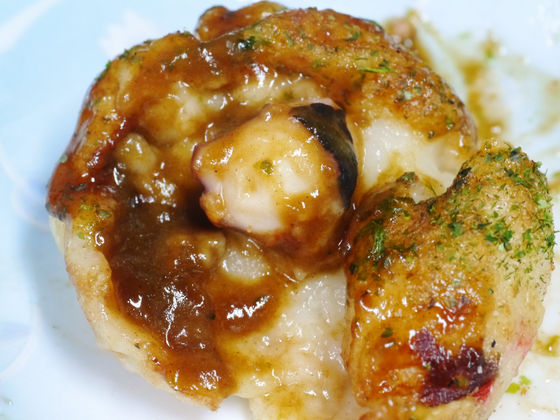 So far, I ate eleven kinds. Because we went by five people, we calculate eating 11 pieces per person, but it is still strangely like a stomach. In order to win all types, we ordered the remaining 11 items at once in the second order.

I came at once.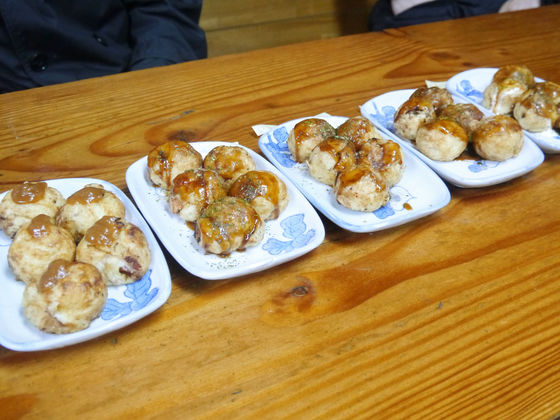 "Mochi" and "Mochi Cheese".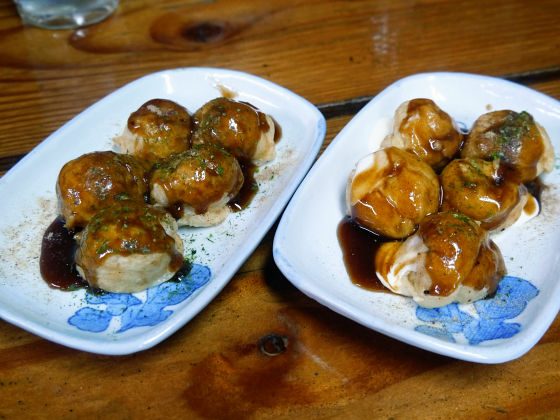 In this way, when you open the inside, rice cake comes out with stretch. I am familiar with the source of Takoyaki because it is hot.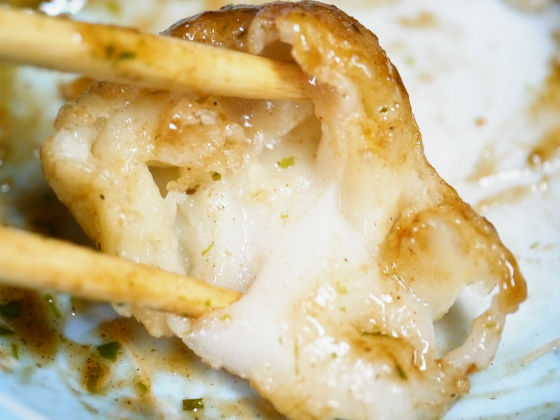 This is mochi cheese. The cheese melts with the hot Takoyaki fabric and it has a more mellow taste than only the rice cake.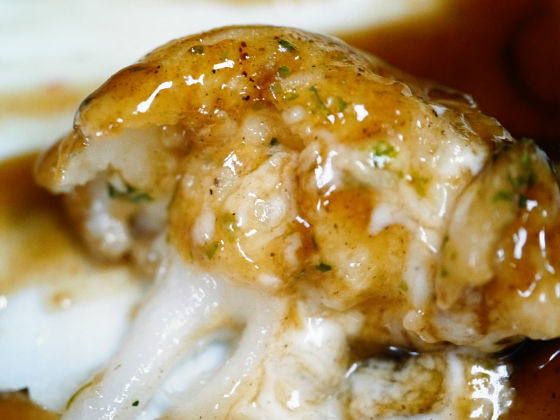 "Oil flavor" to "cattle streak".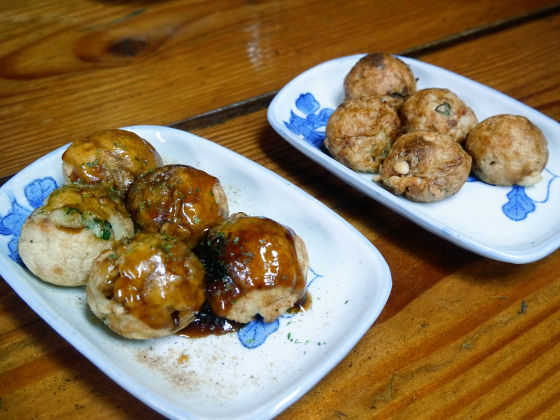 You can enjoy the crispy texture of the cow streak. The taste is stuffed with okonomiyaki.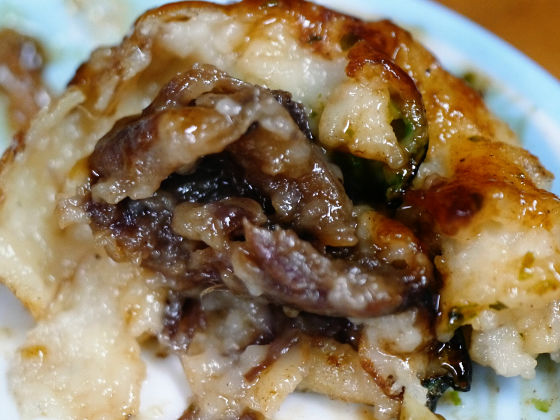 Simple flavor that confined the fragrant flavor of soy sauce. This is the reason why the taste was felt best. It is the most abundant taste in this lineup, so I would like it when it gets briefly brought.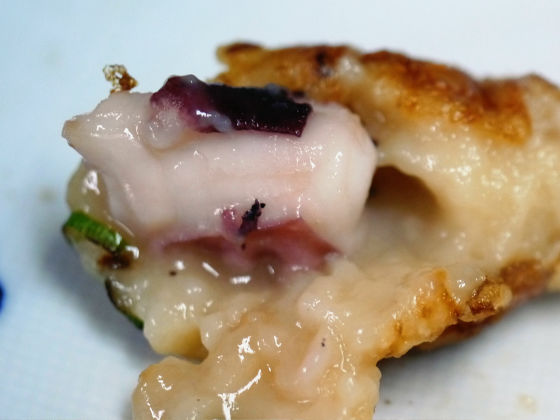 "Tako Minchi (Miso Taste)" is "Maidenko".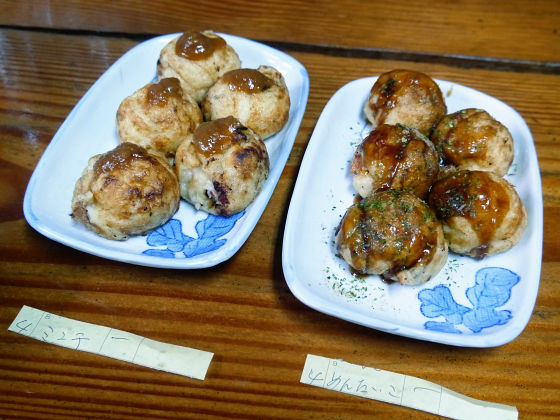 I felt that the texture was unsatisfactory when it was minced. Takoyaki is a dish that once again reminds me that the crispy texture of takoyaki is important.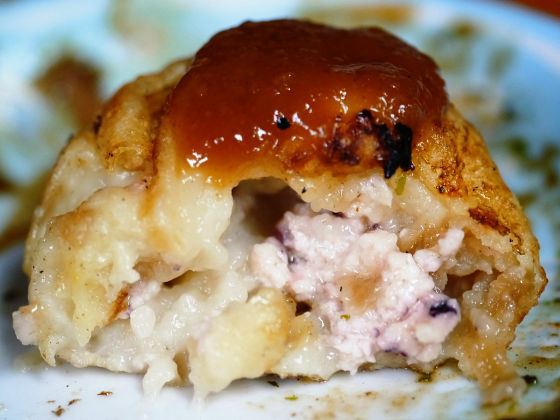 Because the ingredients are confined in hot dough and baked, if you put it in your mouth, the flavor of the noodles spreads and starts spreading.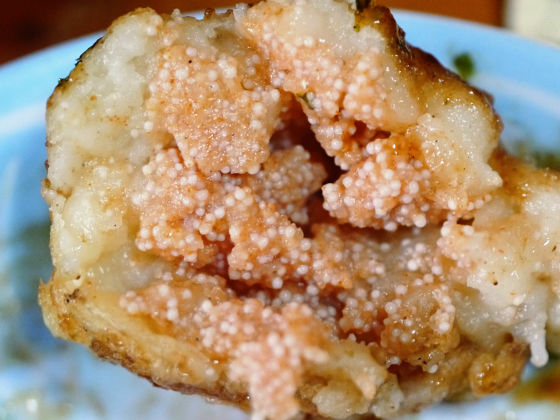 "Shrimp" and "Potato bacon".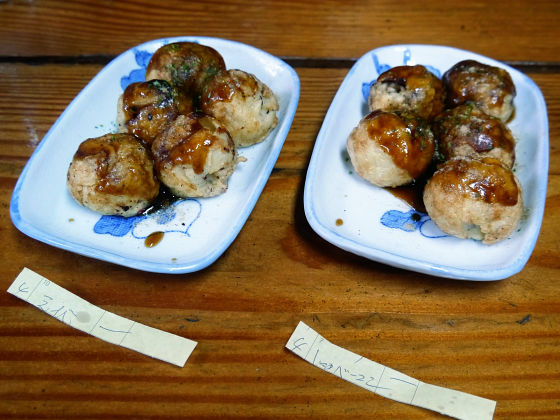 It is a shrimp with fire and cold. It was a pity that the feeling of preprint was damaged as the fire had passed by.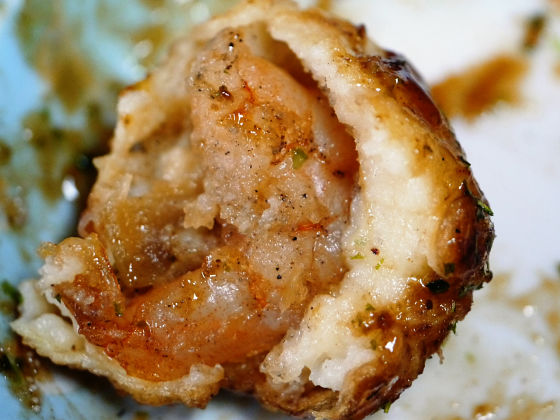 Potatoes are bacon. It features the taste of potatoes with hokuhoku.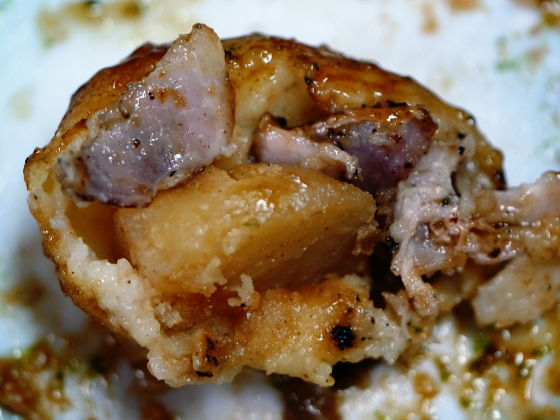 "Corn Cheese" "Only Cheese"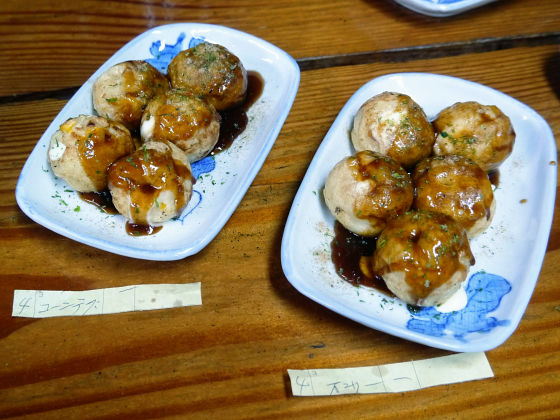 It is corn cheese. The flavor of the cheese spreads, it tastes richer than corn only.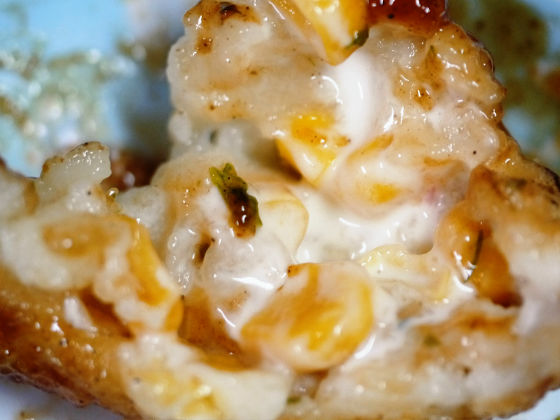 Only cheese is a groundbreaking idea that responds to the needs of "just enjoying the taste of cheese only".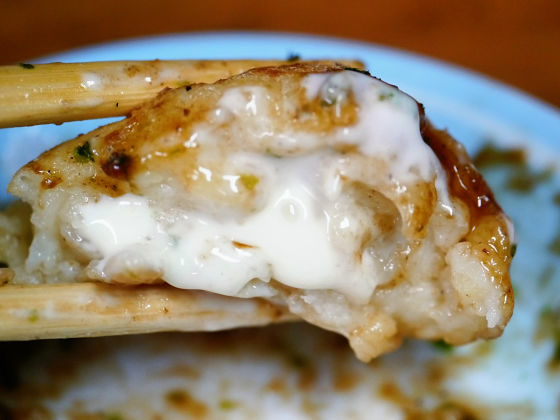 This is the last one, 'shrimp cheese'.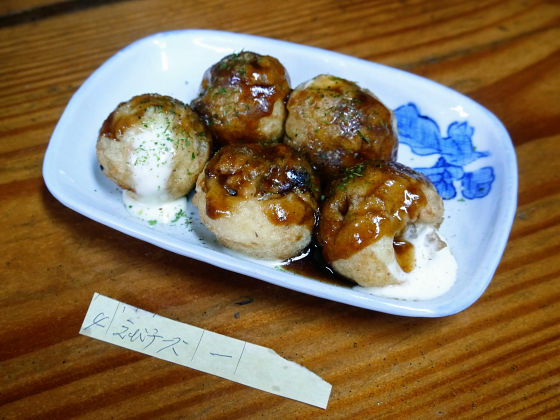 Cheese and shrimp match well as taste, but after all the fire has passed by a little shrimp. It may be because the difference between the time it takes to bake the dough and the time the fire passes through the shrimp is big enough to enter Takoyaki.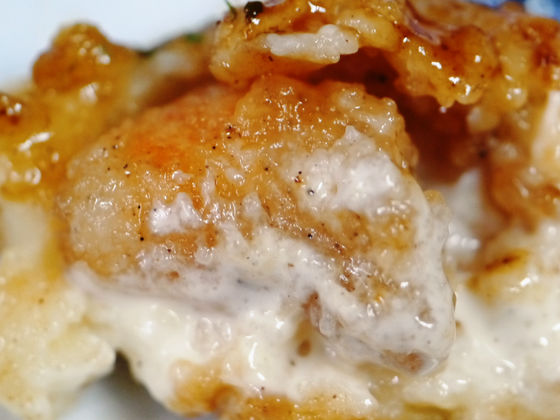 Well, I've won 22 kinds of Takoyaki in this. It is calculated as 22 per person, but it is not a painful translation in stomach-like manner but a moderate feeling. The third last order, if you order the taste you want to eat again OK. What I felt like having challenged all you can eat is that even people who like Takoyaki will have difficulty eating ordinary Takoyaki. As soon as there is no change in taste it gets tired. It is believed that "Takozura" provides 22 kinds of Takoyaki as a result of pursuing a means to realize the Takoyaki needs such as "I'd like to enjoy takoyaki until it is full by me".

Tighten at the end with icing. Thank you for the meal.