I tried 'Yoshisumi' where you can easily enjoy Choi drinks at the Yoshinoya beef bowl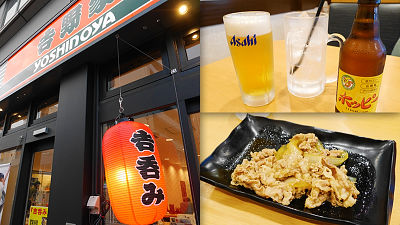 Yoshinoya, which mainly sells beef bowls, has started ' Yoshisumi ' from April 20, 2015, where you can enjoy izakaya menus and sake at some stores. I didn't have a chance to take on the challenge of "Yoshinomi" every time I passed in front of the Yoshinoya, but since it was steadily spreading its popularity, what kind of service would I actually use? I decided to try it out.

Full with choi. 'Yoshimi' | Yoshinoya Official Website

https://www.yoshinoya.com/service/yoshinomi/
Arrived at the Yoshinoya. At the store I visited this time, 'Drinking' was carried out from 17:00, but the target store and the time period of implementation differ depending on the store, so it is better to
check
in
advance on the net
.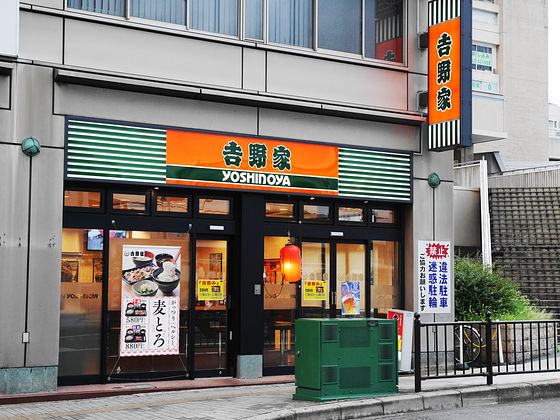 Red lanterns and Andon-style stand signs are placed at the eaves of the store, trying to attract people who come and go.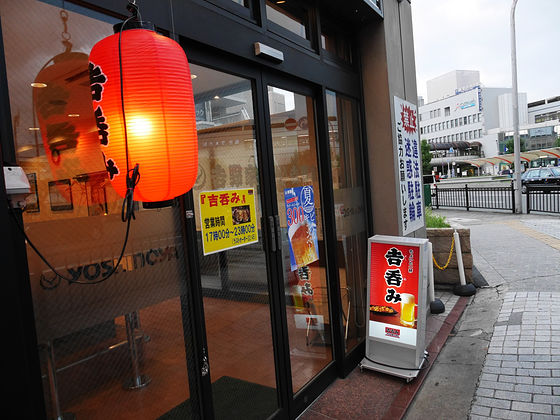 So I went into the shop and checked the menu. There are recommended menus such as 'Beef stew' and 'Boiled egg' and beef plates that are also on the regular menu, and there are other menus that are likely to become liquor snacks such as 'Komori Shishamo', 'Saba Miso' and 'Cold tofu'. I feel like a pub.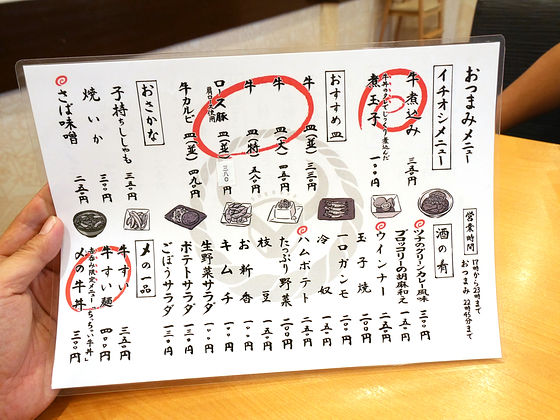 The drink menu is also fairly fulfilling. In addition to the classic bottled beer/draft beer, corner highball, chu-hi, cold sake (cold sake), shochu (barley/potato), etc., the hoppy lineup is available. People who are not good at alcohol have tea and oolong tea, but carbonated drinks such as cola were not available.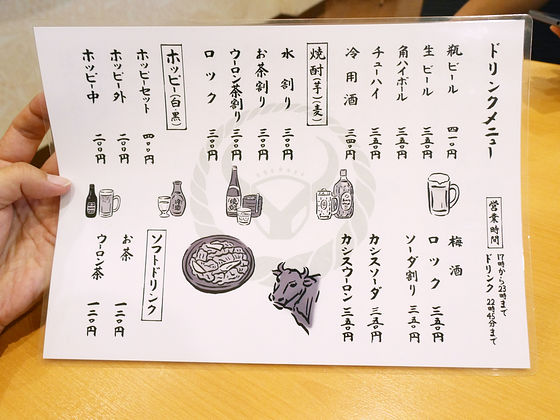 I ordered a draft beer, and a hoppy set with hoppy and shochu. Of course, drinks are served first.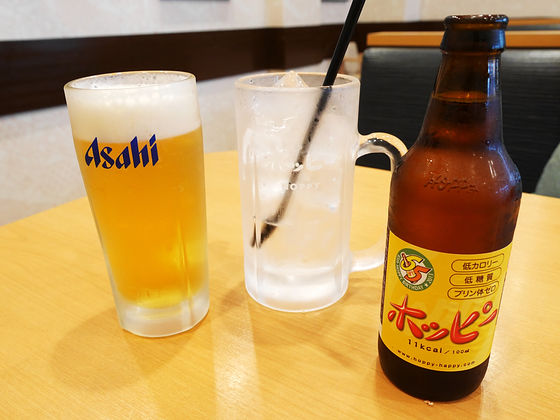 Along with the drinks, you can also start ordering a drink menu. Two people visited the shop on this day, and each menu is offered in a small bowl size, so I tried in the easy mood with 'I can eat all the menus in a relaxed time', but when I finish eating the main menu I was completely full.

・Beef stew (350 yen including tax)
Stewed beef carried in a small square bowl. Onion is placed on top of stewed beef tendon meat and hormones.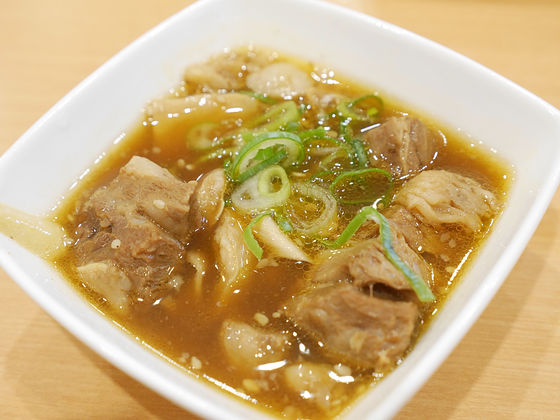 I was thinking that the Yoshinoya's 'beef stew' was the kind of taste I was used to in beef bowls. The meat was in a state where it had a crispy eating response rather than a toro.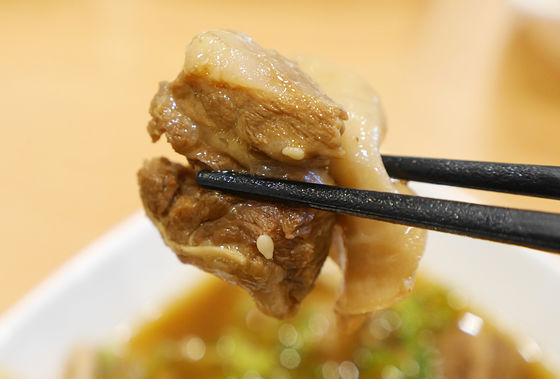 ・Beef plate (normal) (330 yen)
'Beef plate' that only has meat of Yoshinoya's beef bowl that needs no explanation. By the way, I think I often saw the uncle who drinks beef plates and bottled beer even before the introduction of Yoshinomi.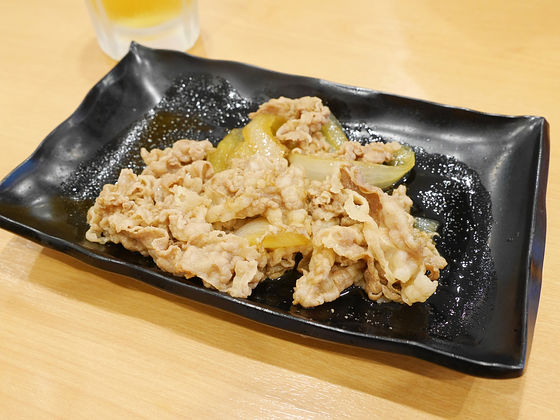 Even if you try it, the taste is stable. You can feel the taste more firmly by eating only the ingredients separately from the rice. This is the taste of beer.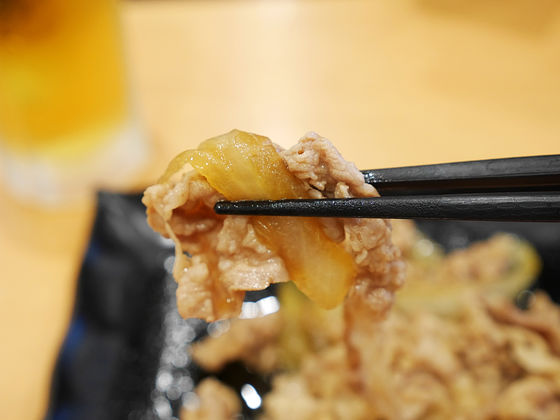 ・Children's shishamo (350 yen)
A set of 6 small shishamo and mayonnaise.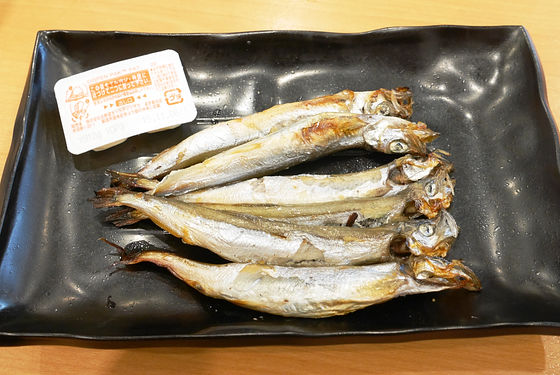 When I ate it with Pakuri, it was a little chilly and not in the freshly roasted state I had imagined. It seems that cooking at the store is not done using fire, so this may be the only way to do it. The amount of eggs stuffed in the belly of Shisha was a standard feeling, not a little or a lot.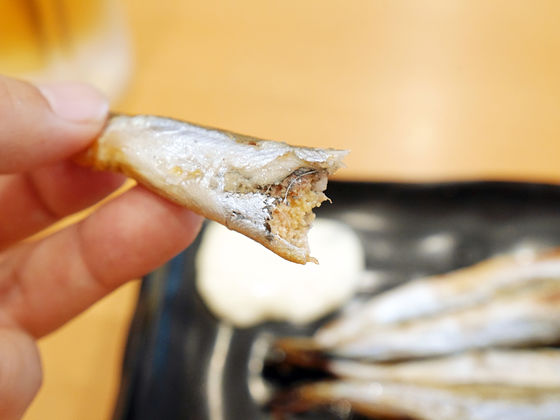 ・Grilled squid (300 yen)
A lineup of baked squid that is perfect for the sake's side dish. Mayonnaise is also added to this menu.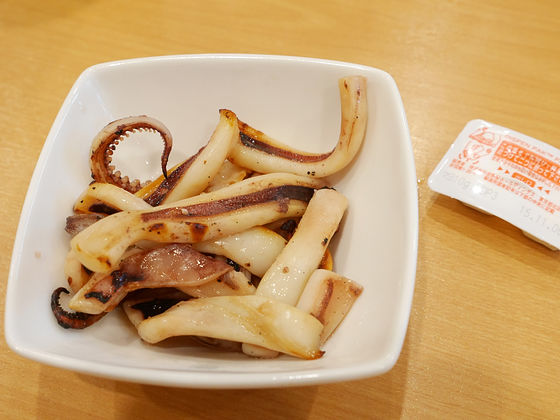 In a bite, after all, this is not hot, it is a little cold warmth. However, the sweetly seasoned grilled squid had the stable and delicious taste of 'The Sake's side dish'.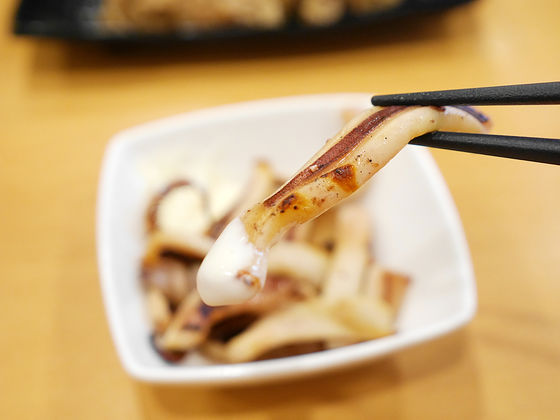 I visited the shop around 17:00, just after the start of 'Yoshinomi', but the impression was that the menu was a little cool, probably because of the preparation situation. The menus offered after this were all very warm, so it might have been a different impression if we visited a little later.

・Ham potato (250 yen)
Let's try one of our recommended dishes, ham potatoes. There are 4 pieces of ham and the volume feeling is perfect.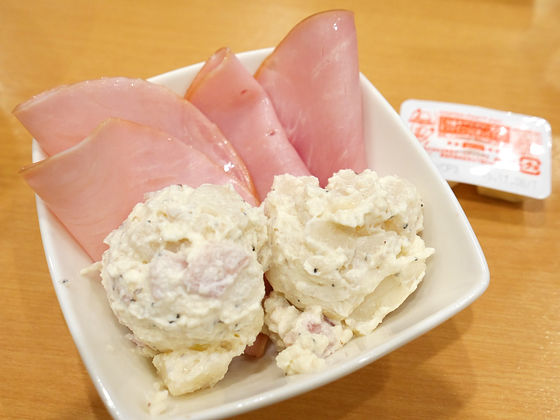 Put the potato salad on the ham and pakuri. The texture of ham and the flavor of potato salad with a bit of pepper match to create a satisfying eating experience.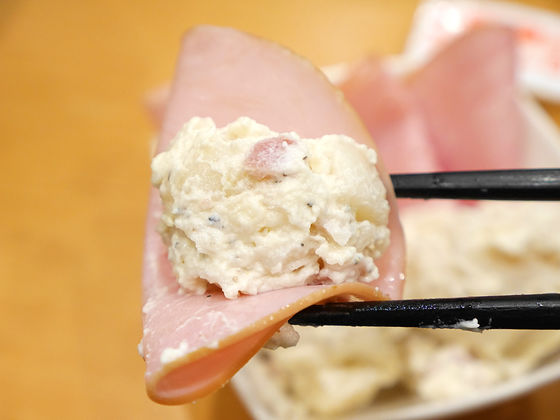 ・Egg ware (200 yen)
Egg omelet provided with 4 slices in a small bowl. It is a beautiful egg-free omelet without charring.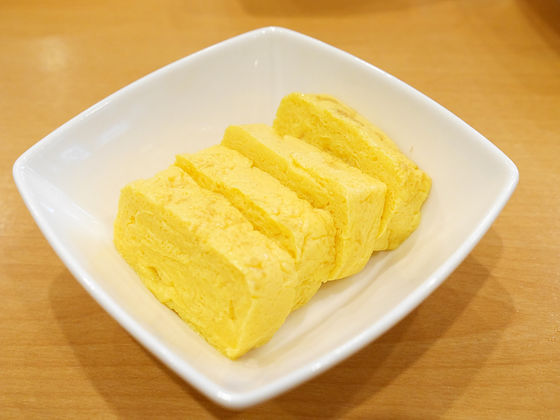 The texture is surprisingly solid, and the texture is rather firm. It is important to note that the impression is very different when you imagine the "prun" texture of soup stock eggs. And this egg omelet was also a little cool.



When you put the red ginger for beef bowl on the table and eat it, the flavor improves and it's good.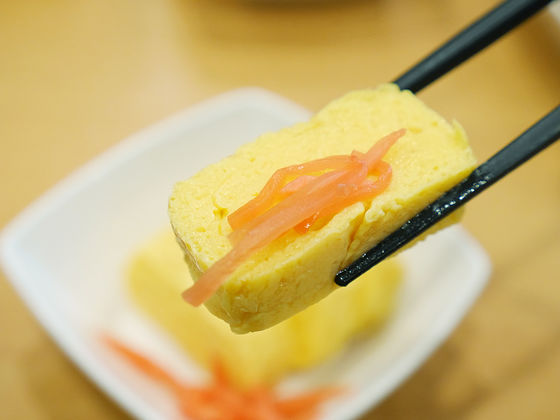 ・Bite gunmo (200 yen)
'Ganmodoki' is a lineup that is often ordered at izakaya. Silky tofu has been served in a bowl with Ganmodoki.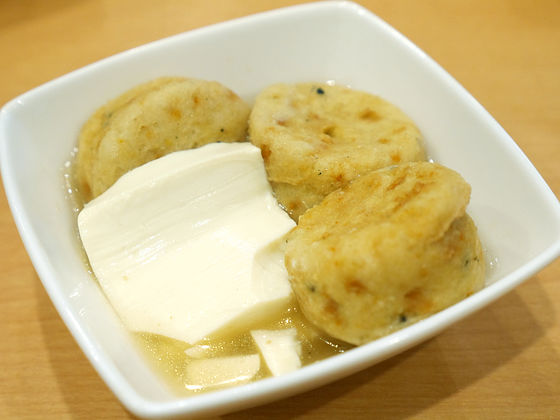 This gunmo is an orthodox school that can be said to be surprising. The dashi which is slightly sweetened is soaked in well, so every time you bite it with your teeth, the dashi overflows and it is very flavorful. The dough of the squirrel was not dry and it was a moist response. And the tofu is also soaked well.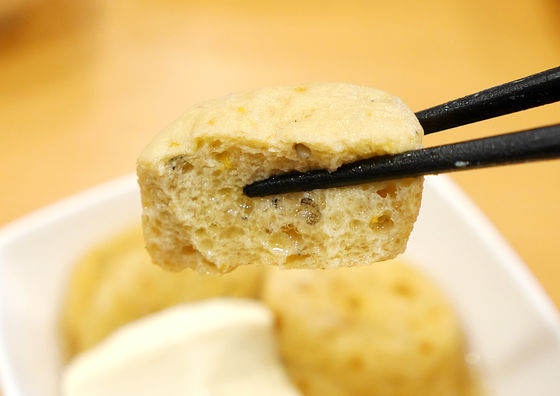 ・Boiled egg (100 yen each)
The boiled egg, which is said to have been stewed with the sauce of a beef bowl, is said to be popular among people who use sake.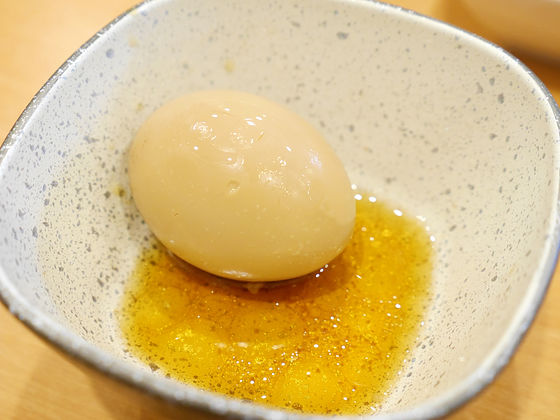 When you break it into pieces and eat it, the inside is a solid egg with a solid color, and the taste is solid. The flavor is exactly 'Yoshinoya's beef bowl', and I'm surprised that the gyudon sauce can make boiled eggs so well. It was a fascinating taste that made me want to eat two or three, not just one.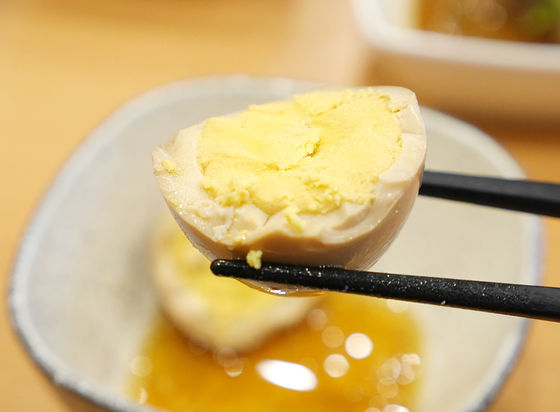 ・Saba miso (300 yen)
The mackerel miso, which comes in a sauce that seems to work well with miso, contains two mackerel fillets.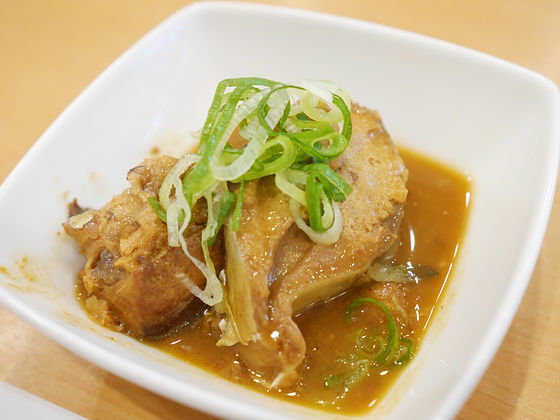 The mackerel is cooked into a bone that softly collapses, and the flavor of miso is deeply entangled. The ginger flavor has also been improved, so it seems that you may suddenly eat it in spite of its richness. This is also the taste of sake.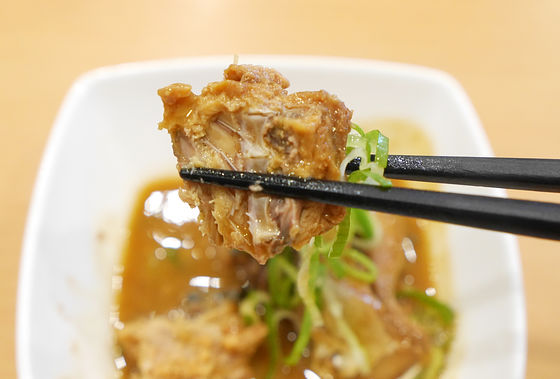 ・Tuna green curry flavor (300 yen)
What was surprising was the green curry with its authentic flavor. The curry soup is full of tuna, and the greenery of the broccoli attached is brilliant.



When I scooped it up with a spoon placed on the table, it was full of tuna. The taste is authentic and surprising, with the spicy spiciness and the freshness typical of green curry. Expressed as a compliment, it has a taste very similar to the
Inaba Thai curry can,
which is highly regarded as a masterpiece, and the satisfaction is quite high.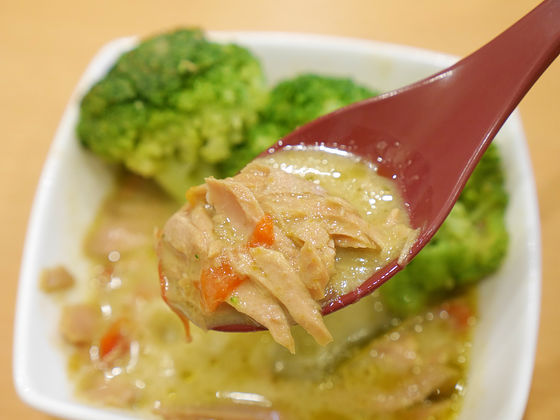 ・ Broccoli with sesame sauce (150 yen)
Broccoli cooked warmly with sesame seeds.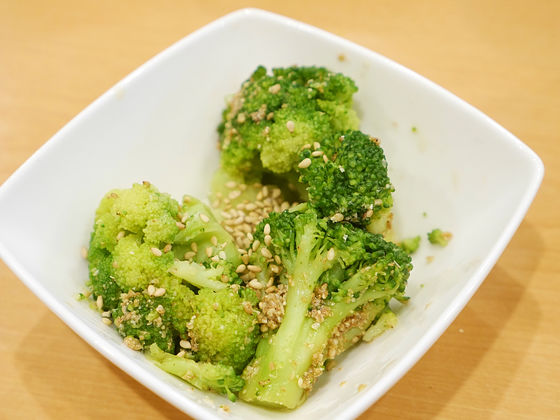 You can feel the scent of sesame comfortably with the scent of sesame dressing entwined with the warm and warm broccoli. I thought it was a really cold salad, but the warmth that was a little surprising was a fresh dish.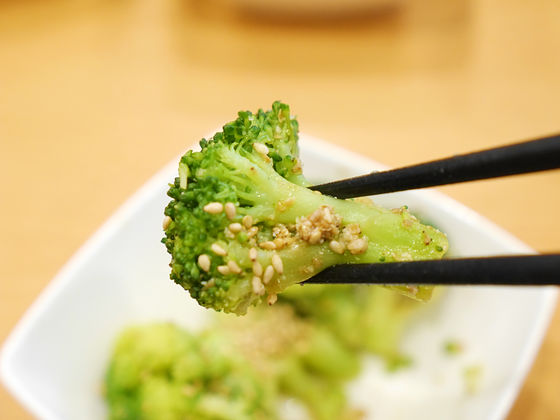 ・Wiener (250 yen)
Wiener comes in 4 pieces and comes with kneaded mustard.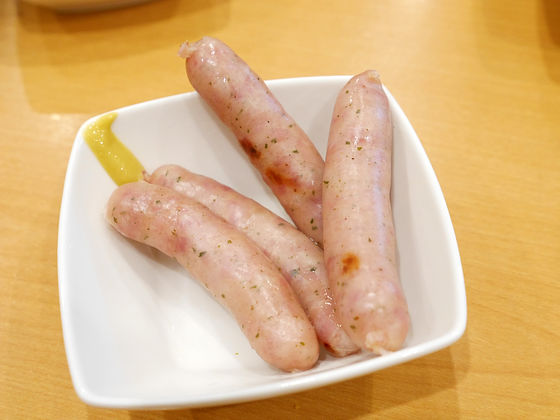 The wiener has an easy-to-use finish, and it feels like it can be easily eaten without excessive juiciness. It was a dish with a refreshing feeling, while the menu with a large volume such as beef dishes was pushed to the right.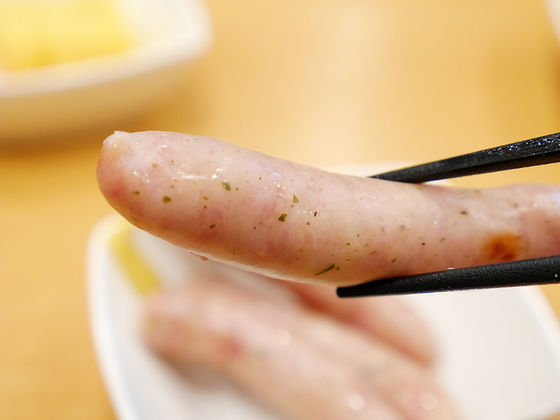 When I was eating all the good drink menus like this, I was quite full before I knew it. Basic menus such as edamame and kimchi cry through, and I ordered 'gyu-sui noodles' and 'gyu-sui' as a dish.

・Beef noodles (400 yen) / beef noodles (350 yen)
Two items of shime arrived. Tofu, beef, and onions are contained in a nearly transparent dashi, and beef suimen also contains flat noodles like kimshimen.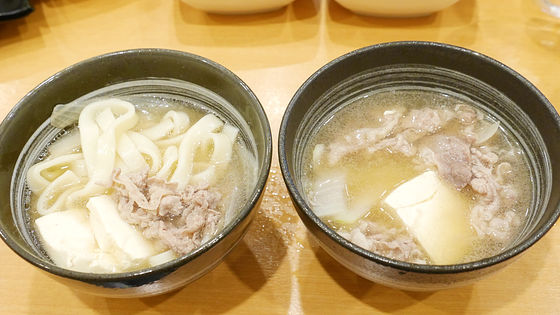 A bite of beef noodles. The bonito-flavored dashi is mixed with the sweetness of beef and onions, and while it is a bit sour, it has a rich taste that is perfect for crunching. Kishimen is surprisingly large, so I decided to eat it more than I expected.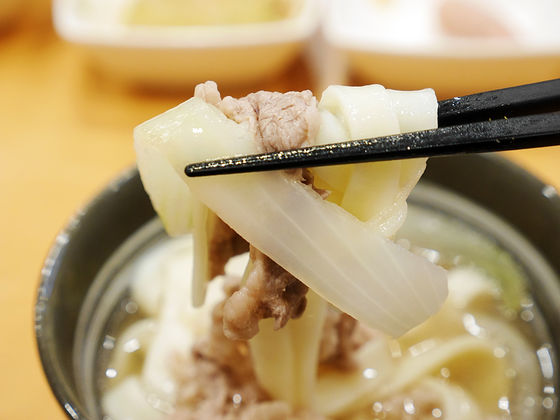 If you are already hungry by the time you reach the bar, it may be best to choose 'beef suis', which does not contain noodles. It's a nice experience that you can feel the softness and richness of the soup.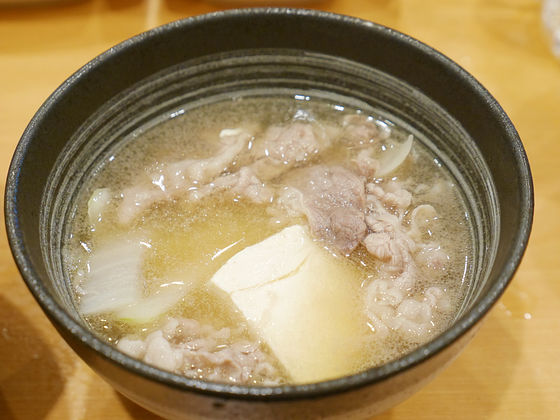 With this kind of feeling, it was a 'drinking drink' with two people, but when I returned, I was completely full. I want to eat and drink a little on my way home, but entering a izakaya is a little exaggerated, and it's a pain to go to a store that takes off my shoes.... .. It's perfect for a little bit of light entry and a light cup, so I was a little worried if I wouldn't go through it tomorrow.