I'm going for a challenge with haste while we are on the limit today for all the steak + hamburger + chicken all you can eat menu at "steak noodle"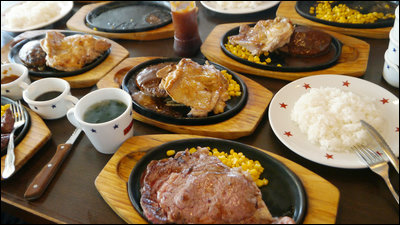 Between 11 o'clock and 22 o'clock on Thursday, August 30 (21 o'clock in Omiya West Exit Store)Steak dumplingIn all stores "All you can eat cut steak"All you can eat libro in steak"As soon as you buy a steak you can eat all-you-can-eat menus, I went to eat quickly.

All you can eat with steak!
http://www.steak-don.jp/tabehoudai2012/index.html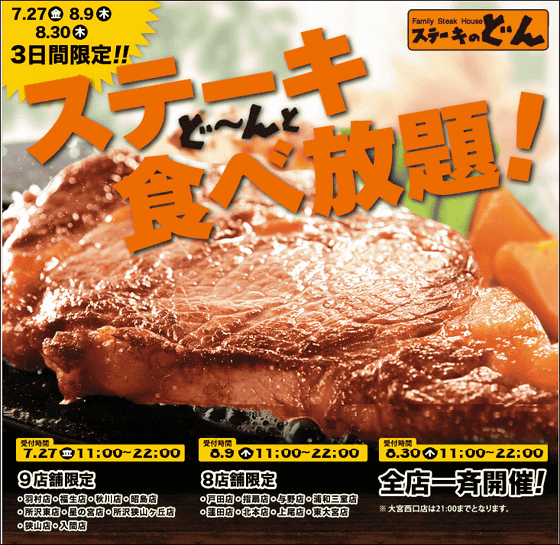 Arrived at the shop.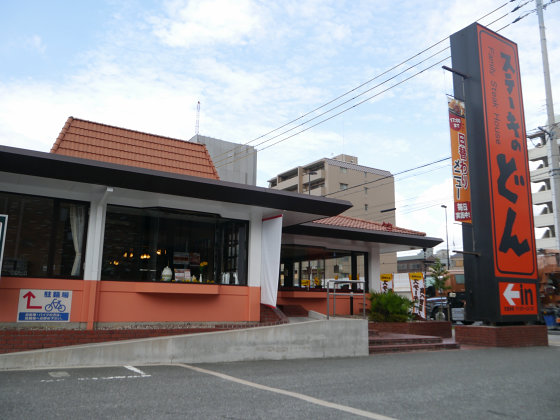 A large amount of climbing was swaying in front of the store.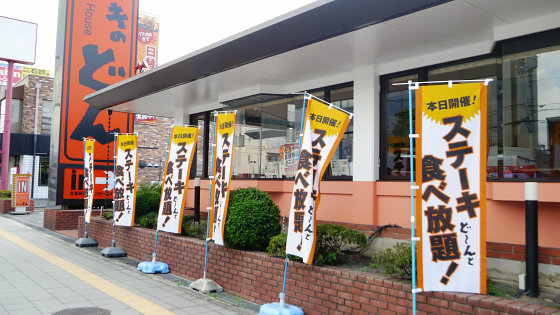 All-you-can-eat steak menu in front of the shop.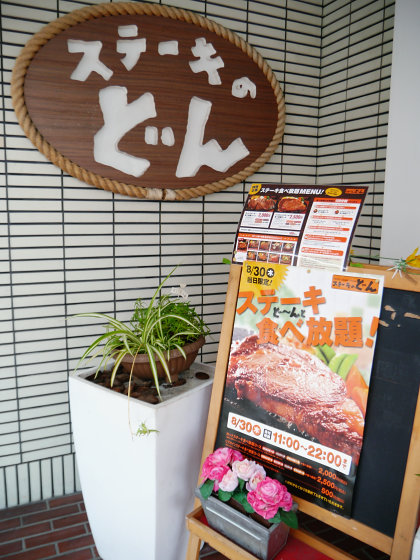 The menu is "All you can eat cut steak" (2000 yen tax included), "All you can eat libro in steak" (2500 yen including tax). In addition to the steak, you can also have "Hamburg Hamburg" and "Chicken Grilled Steak" all you can eat. Also you can eat rice, bread, soup of side menu as well.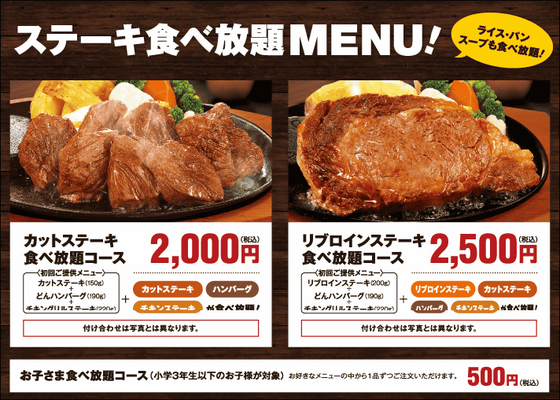 All you can eat is the 120 minute system, the first time "steaks + dumberg + chicken grill steak" is brought and the system can be redeemed afterwards. For example, if you order all you can eat libro in steak, you can order a substitute after first eating a total of 610 grams of rib rib in steak with 200 grams + hamburger steak 190 grams + chicken grill steak 220 grams.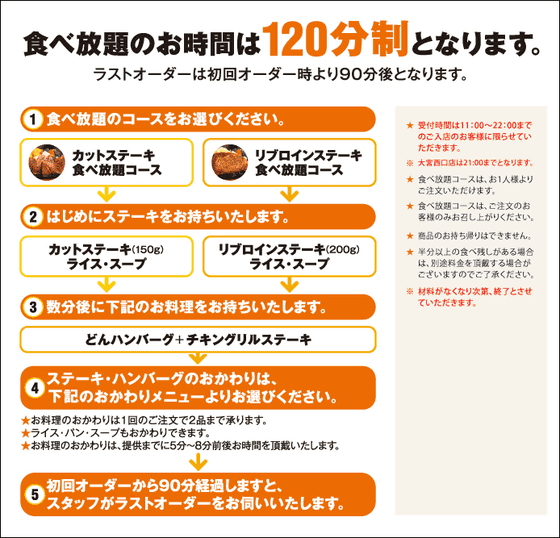 In addition, the menu which can be replaced is like this. "Don hamburg" and "chicken grill steak" are the points that have various seasoned lineups.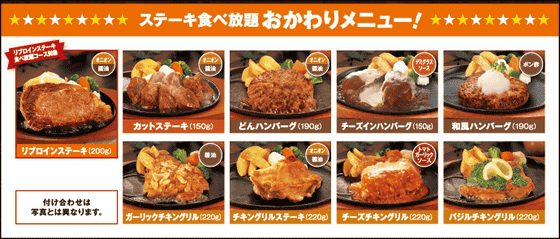 So, when you place an order, such a tag is placed on the table.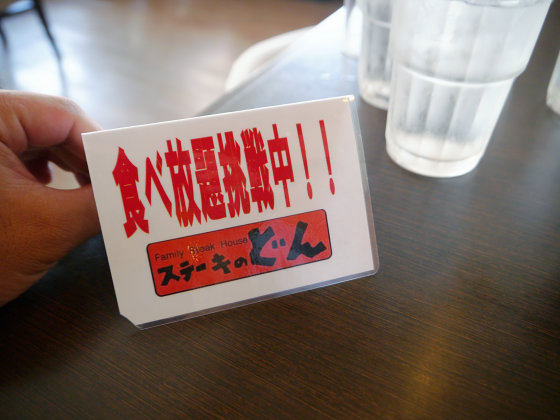 Since the last order time and end time are specified on the back side, it will not be "What time is all you can eat?"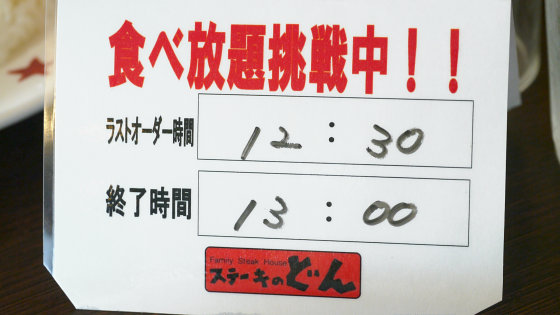 Finally came.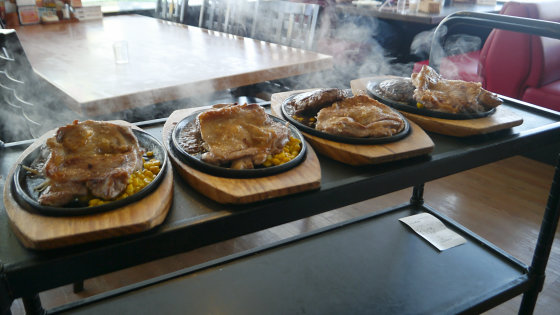 First of all, all you can eat cut steak.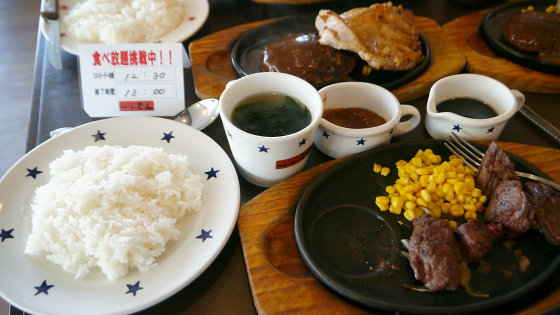 Rice is served for the first time, but you can also choose bread in case of refilling.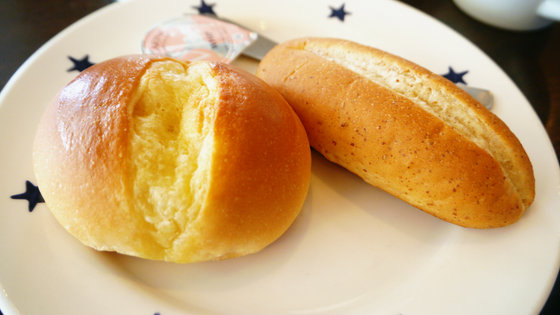 Cut steak has such a feeling, 150 grams.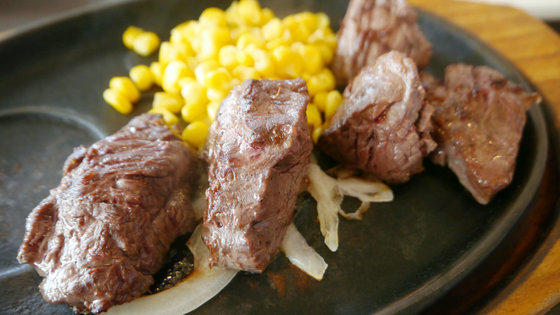 It is chewy red meat, chewing and gravy stains with juwari.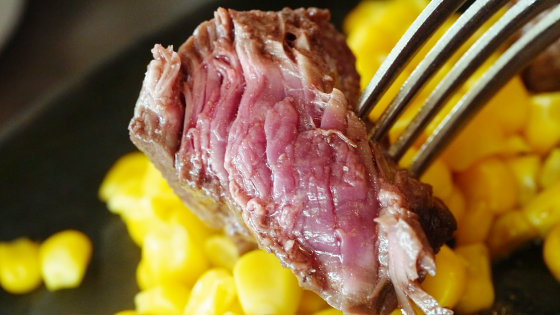 Here is an all you can eat libro in steak.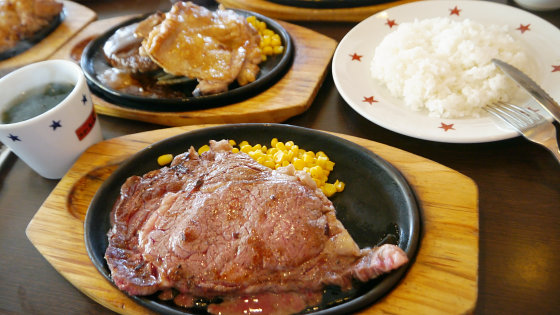 You can also order baking, this time it was medium. Corn is only garnish.



There are more lean than the fat content, I feel a strong chewy if I chew. It is a refreshing taste than it looks, so you can eat more and more.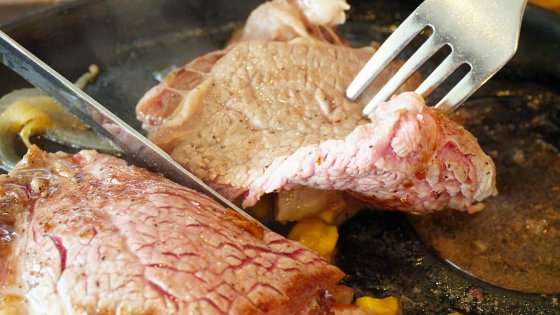 There are two kinds of sauce onion sauce and soy sauce sauce, so you can choose it.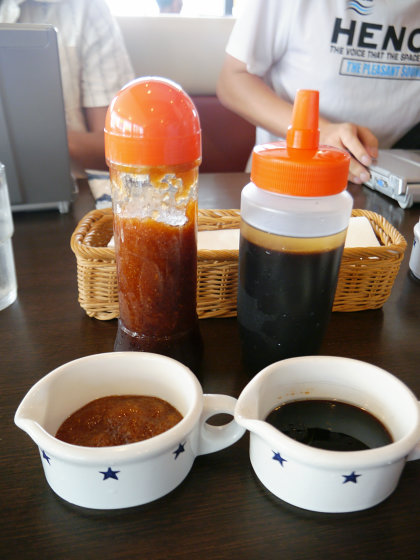 Please check the state that the hamburger steak and the chicken grill steak are burned on hot iron board in the following movie.

"Steak noodle" hamburger + chicken grill steak - YouTube


Hamburger is not pastry but juicy and soft, and the meat's flavor is good enough.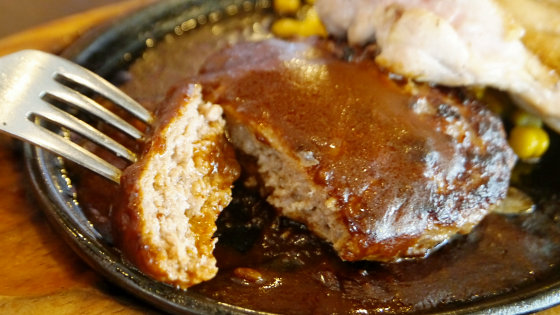 The chicken grill steak is thick and has sufficient volume, but it may be a strong enemy to those who adhere to the all-you-can-eat steak. Still, you can taste moderately fat meat that is not too greasy.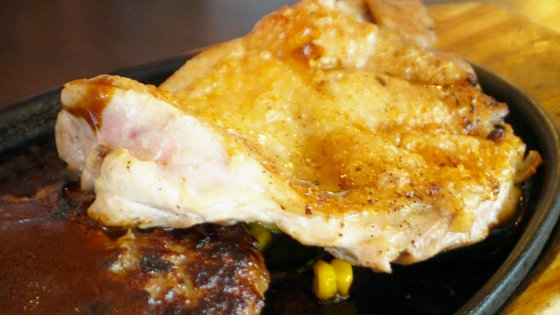 Well, I will be changing more and more. First I got a "garlic chicken grill".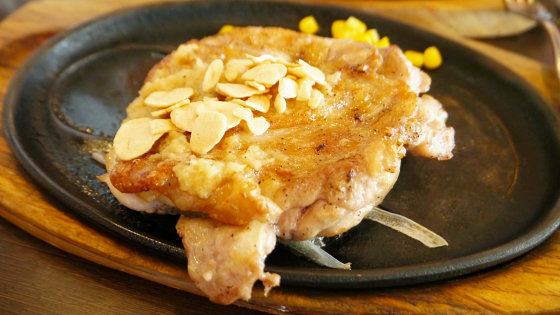 Both fried garlic and grated garlic are plentiful and fragrant, and of course it fits the meat well. However, where the salaried workers and others eat in the daytime, I want to pay attention to the smell.



Next is "Cheese in Hamburg". When aligned with smartphones the size looks like this.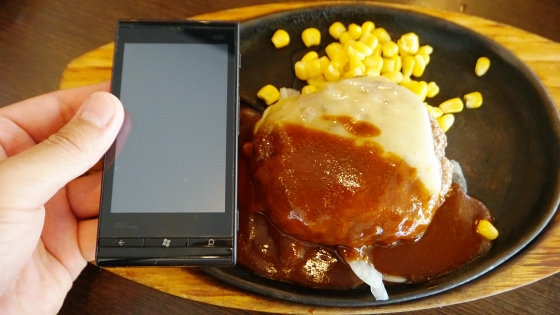 Cheese which is contained in hamburger is point, it is easy to eat because it suppresses the smell of cheese.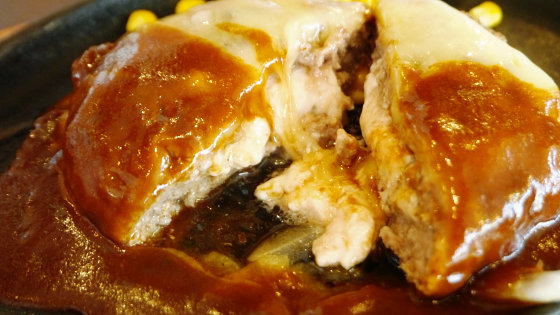 This is "Cheese Chicken Grill".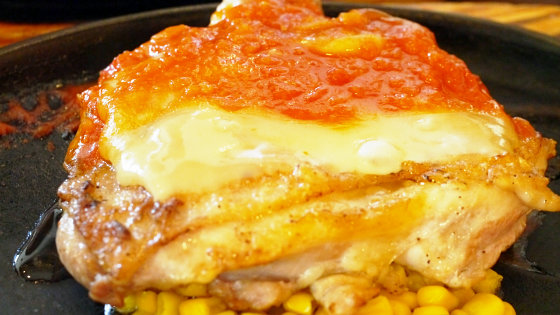 Because the sourness of tomato is refreshing, you can enjoy the refreshing taste which is not in other menu, so it feels good for accents when you get tired of taste.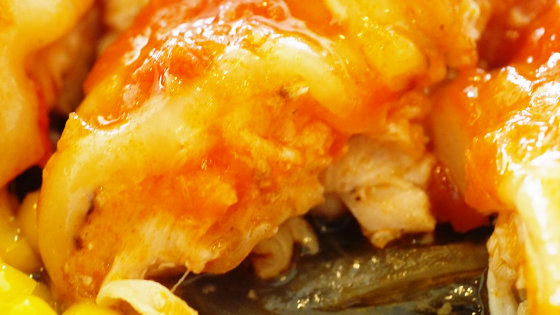 "Japanese style hamburger steak" also served.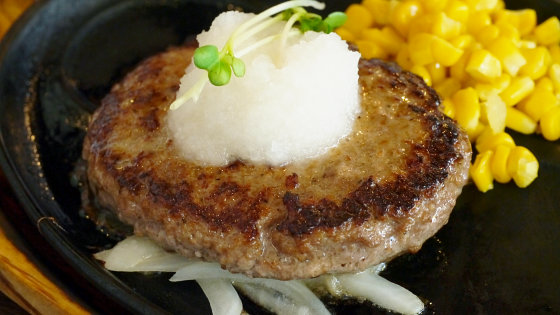 Plenty of ponzu sauce ......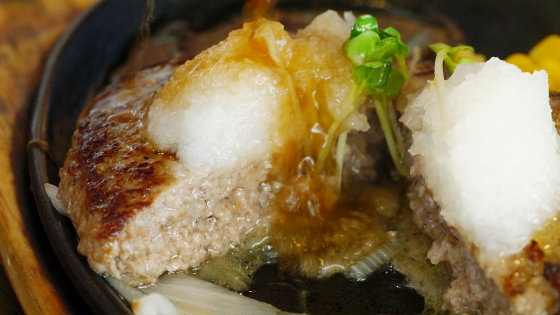 I will get you. Ponzu and hamburger steak with sour taste are no longer a combination of royal roads. With orthodox taste, there is a very eating response.



The last is "Basil chicken grill".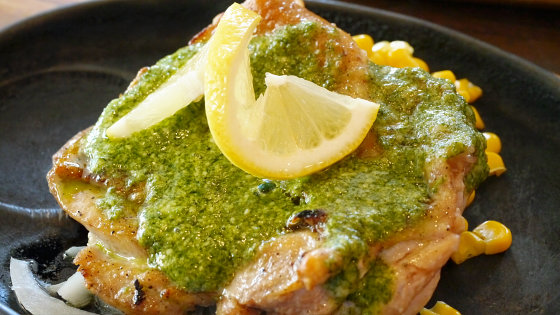 Basil's flavor is very strong and it covers the smell of chicken meat tightly, so it is recommended for those who want to enjoy the taste when they tired of the taste of meat or have a tasty flavor.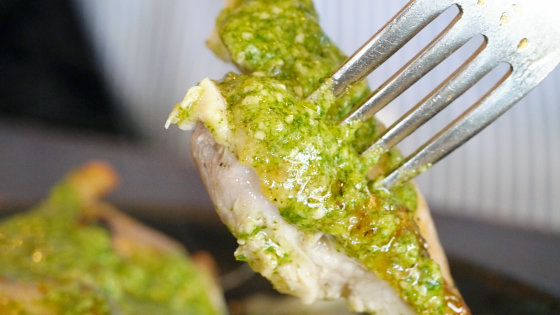 All you can eat menu is complete with this. Thank you for the meal.

All-you-can-eat steak is 2 hours, so the parking lot fee is also free for 2 hours and 30 minutes accordingly.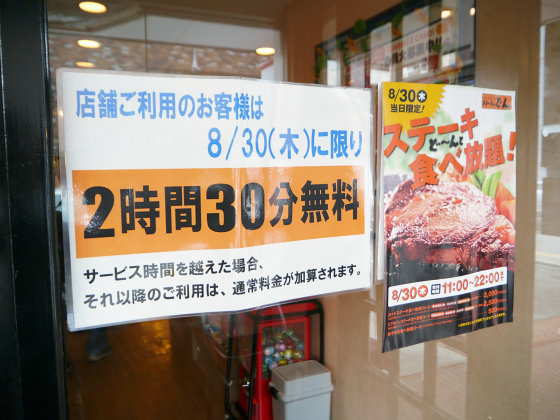 In addition, in normal menu, cut steak (150 grams) is 990 yen including tax, libro in steak (200 grams) is tax included, 1990 yen, dumpling hamburger is tax included 690 yen, chicken grill steak is 790 yen including tax, calculated from now Then the menu of "All-you-can-eat Cut steak" menu is 2470 yen including tax (2000 yen including all you can eat), the menu of "All you can eat libro in steak" is 3470 yen including tax (2500 yen including all you can eat) But it is contents which can get original enough.