Apple's iOS 9 is expected to be slightly richer update than before, new features not revealed at WWDC look like this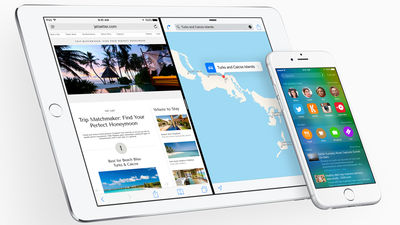 The advent of fall 2015 was announced "IOS 9"Apple official news application"NewsAnd the appearance of the official map applicationTransit guide functionSupport on the iPadScreen division multitaskingVarious new functions are added, such as. It is iOS 9 that was finally revealed to its fullest extent, but the international news mediaThe Verge"It will be a little richer update than before," and,WWDC 2015So we have taken up new features that I could not talk about in detail.

Apple - iOS 9
http://www.apple.com/ios/ios9-preview/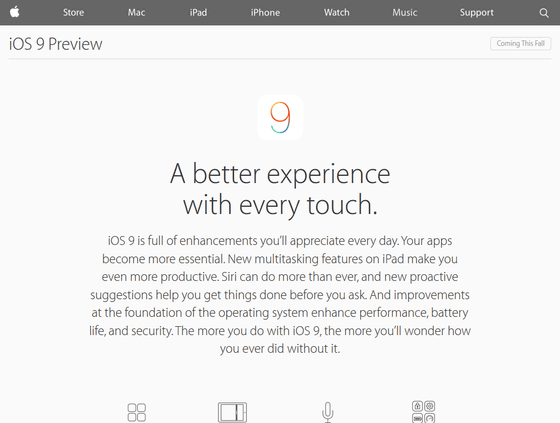 The coolest new iOS 9 features that Apple did not announce | The Verge
http://www.theverge.com/2015/6/8/8746795/apple-wwdc-2015-ios-9-new-features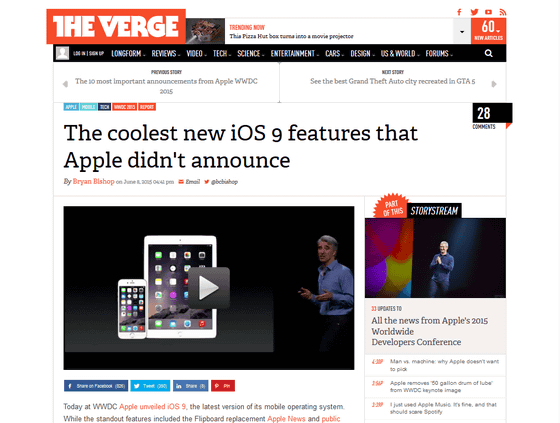 ◆ Flyover and walkthrough
Apple will support public transport transit with the new map application. However, as a possibility, it may offer even better service to users.

In some cities you can use the function of viewing a map of a city like a bird's-eye view which is already called "flyover" view. This is not just about changing the point of view, it may play an important role in the map application. If you can see the map like a bird's-eye view, you will be able to see the structure inside the building and even the guide in the building may be able to do with the map application.

Furthermore, with the new function of the map application announced at WWDC, it is also possible to have "navigate to the entrance of the subway and the station".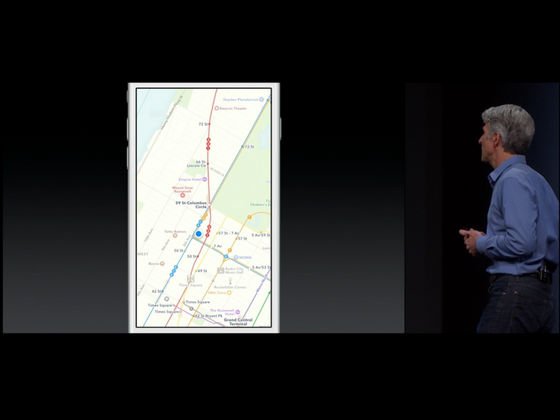 ◆ Scalability of search
During the keynote speech at WWDC, Craig Federigi, senior vice president of software engineering, announced the new function "Proactive Assistant" against Google Now. About this, Mr. Federigi briefly stated that "With search flexibility, it is possible to search from the iOS terminal to the information in the application" and "It will be possible for the application to work simultaneously with search results" It may be a very high potential function for Apple deploying services, The Verge.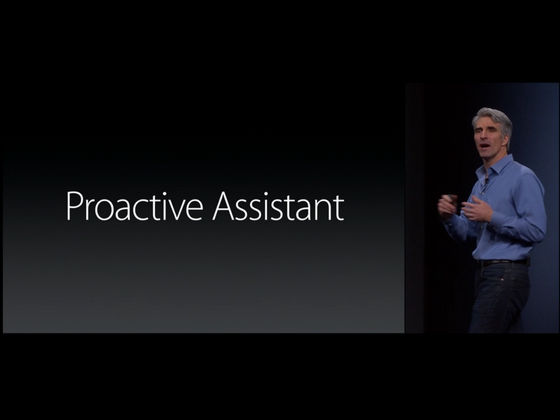 Third party notifications and notification actions
On iOS there have been notifications by third-party apps. However, it did not combine the abundant features of the notification center of Android terminal. However, Apple will announce many additional features around the notice, The Verge. I hoped that Apple Watch should be easier to use by improving around notifications.

◆ Object Oriented Contacts
In iOS 9, when a phone call comes in, OS cross-references data from many sources. This makes it possible to guess who calls from a number not registered in the phone book, from whomever you call, and display the name of the other party on the screen. The object-oriented contacts application will bring great interoperability between iOS and 3rd party applications and servers.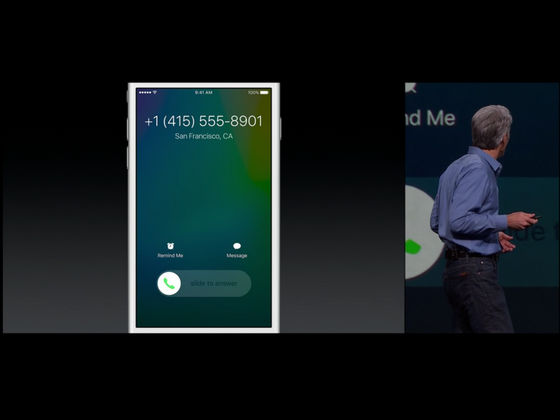 ◆ Application fragmentation
With a new architecture adopted by iOS 9, Apple appealed that the space required for installing updates was reduced from 4.6 GB to 1.8 GB. Not only the OS but also the application itself is expected to be compact size, which is limited for the main body capacity, it is very grateful for iOS terminals that do not have an SD card slot etc.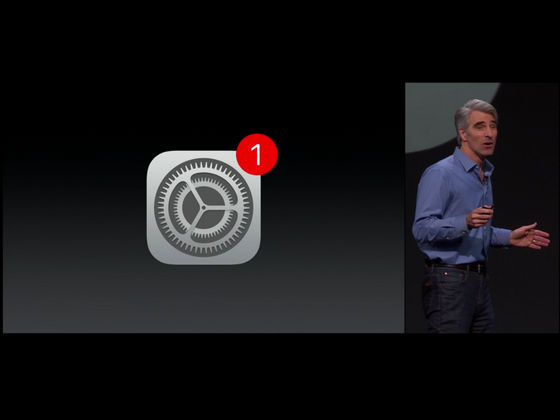 Probably, developers can build their own application package as "intrinsic code" and "library to guarantee the function", and it will be possible by omitting useless code unnecessary for building the application.

◆ Other
Other new features and features of iOS 9 that appeared during the slide of WWDC keynote are as follows.

· Mechanism on OCR accessories
· Audio unit extension
· VPN plug-in extension
· Swift 2
· Map customization
· Direct document
· UI test with Xcode
· Sensor profile
· Automated Windows profile
· New health data type
· Code coverage
· Gaming API
· Automated shades profile
· Layout guide
· Shortcut bar
· New multitasking API
· New HomeKit profile
· ICloud open in place
· Home security
· Storyboard quote
· Application transfer security API
· Stack view
· Wireless CarPlay
· Remote access from iCloud to HomeKit