We went to eat "Eggs' n Things" "5 Hanoi pancake" for the 5 th anniversary celebration of the whip and fresh strawberries / rich cream cheese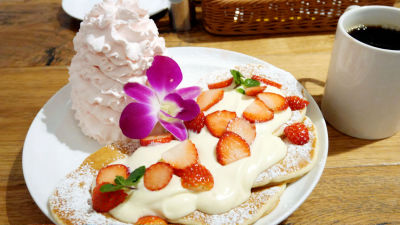 The whip cream of the heap is also called "Ramen Jiro of pancake world"Eggs' n ThingsFrom the 5th anniversary of Japan landing period limited time "Hanoohano pancake"Was released. I was wondering what the pancake using the fresh strawberry "Tocho Tome" and the strawberry whipped cream, the original cream cheese was, so I actually tried it at the shop.

Eggs 'n Things 5th Anniversary Anniversary Japan landing launch limited time from March 1st (Sun) | Eggs' n Things
http://www.eggsnthingsjapan.com/news/150223.html

The shop headed for this time is Eggs' n Things Shinsaibashi store. The address is on the 1st floor of CriceNikko Nishi-Shinsaibashi 2-10-2 Nishi-Shinsaibashi, Chuo-ku, Osaka.


Saturdays and Sundays are popular shops that are capable of queuing, but when I headed around 9:30 on weekdays, there were no people in front of the shop.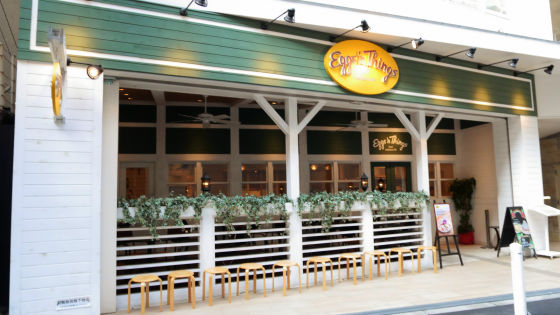 A photo of Hanoohano pancake in front of the shop.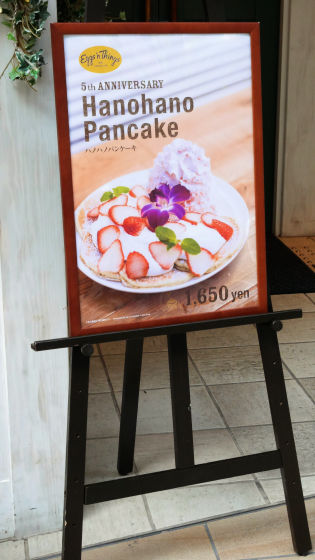 When entering the shop, it was not full, but more than 60% of the seats were buried in spite of the morning on weekdays.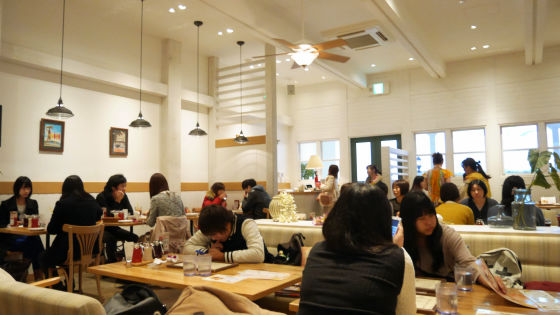 We will go through a table of the type of seat and order Hanoohano pancakes.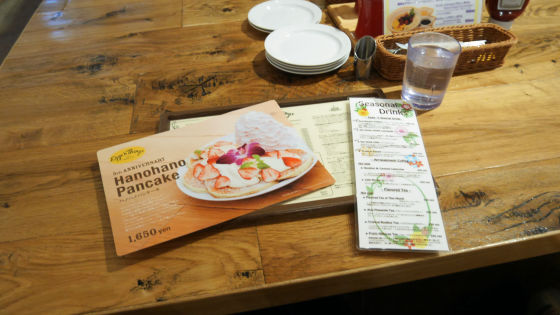 Waiting for about 10 minutes, Hanoohan pancake (1650 yen including tax) and Kona coffee blend (450 yen including tax) arrived. Because there is no set menu etc, neither is a single item order.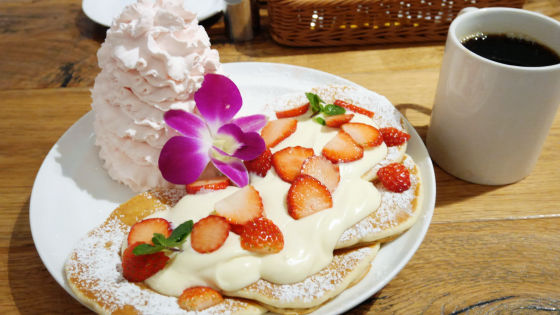 The diameter of one pancake is about iPhone 5.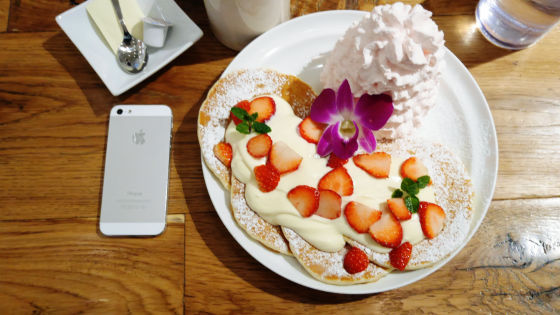 However, the height of whipped cream served is over iPhone.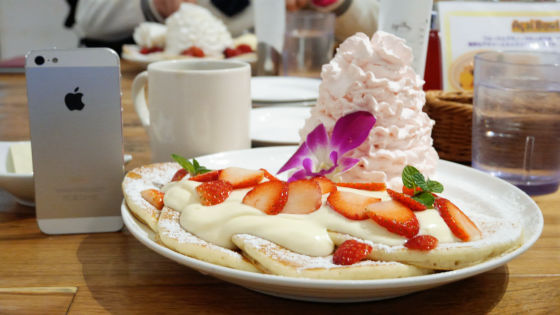 Mori.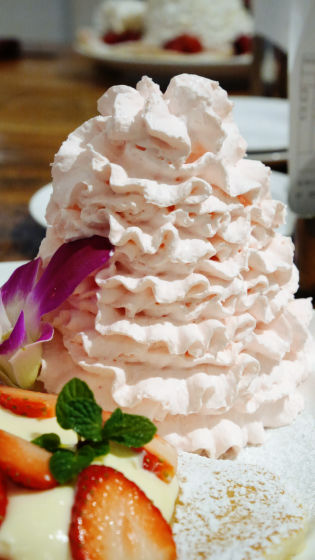 There are 4 pancakes in all.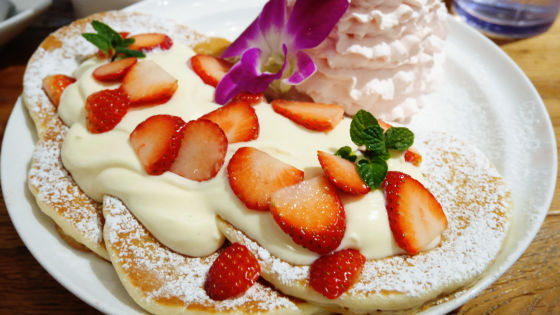 On top of the pancakes are powdered sugar sprinkled on top of which the original cream cheese using cream cheese and custard and the virgin sliced ​​like a petal are scattered.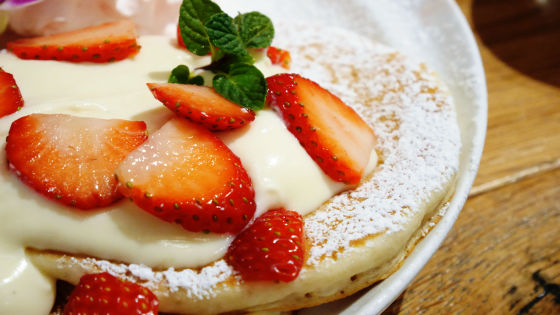 There was a southern countryish flower on the side of the whipped cream.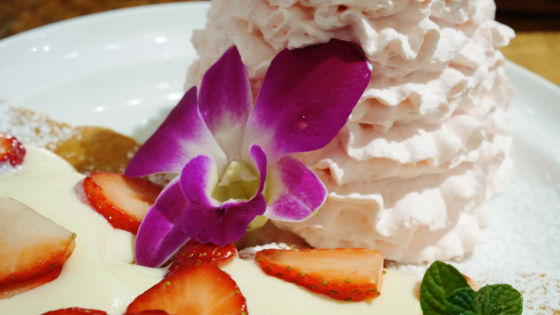 So I will add plenty of original cream cheese and try it. The original cream cheese is a rather massive cream with a combination of cream cheese and custard cream richness but cheese and citrus syrup add a refreshing accent. Because the taste of cheese is on the whole surface,"Rich cream cheese ice"If you like people like that you definitely want to try it a dish.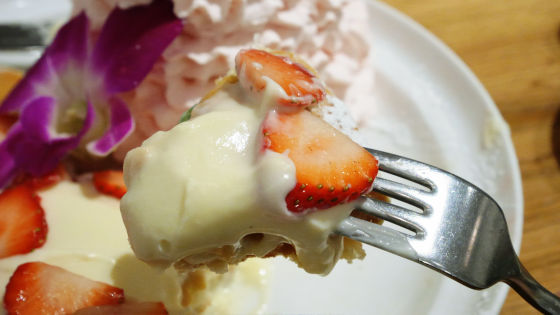 The whipped cream attached is "having the scent and flavor of fresh strawberries". It is not somewhat artificial taste, but you can enjoy springy pancake if you add lots of moderate light whipped cream to sweetness.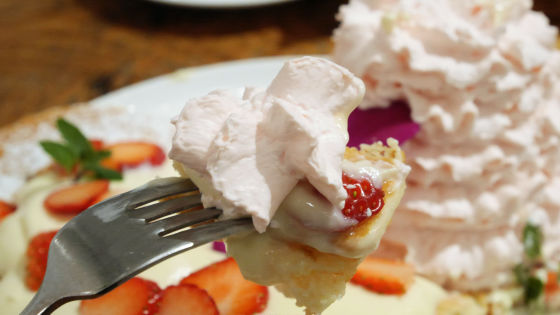 Then the virgin is stronger in acidity, but cream cheese and whipped cream are firmly sweet, so compatibility is outstanding.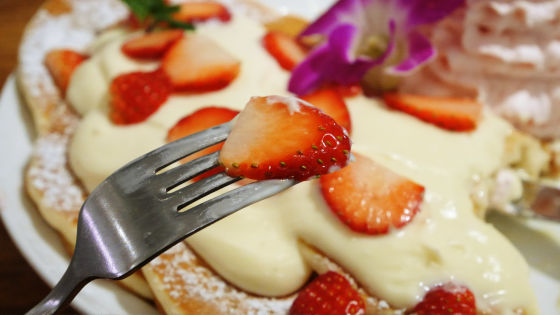 Maple syrup, coconut sauce and guava sauce are placed on the table, so people who say "lack of sweetness" wear maple syrup ......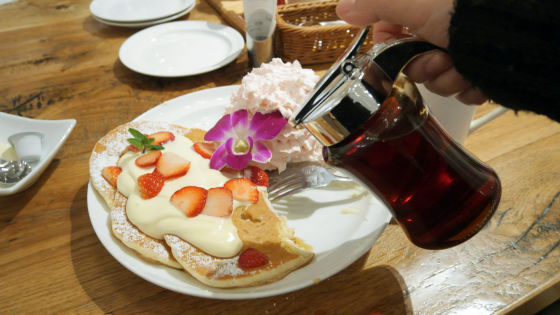 It is possible to change the taste with coconut syrup.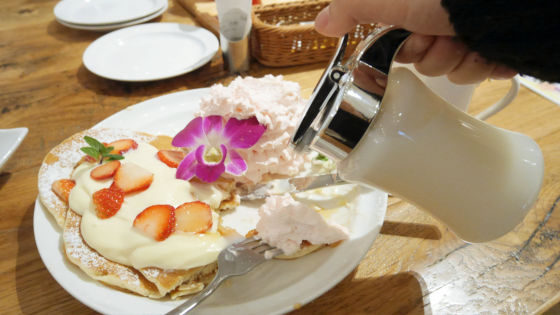 Whipped cream is a heap that does not easily decrease, so you can eat it with plenty OK. Strawberry whip was refreshed as much as there is a refreshing smell of acidity and strawberry than regular whipping cream.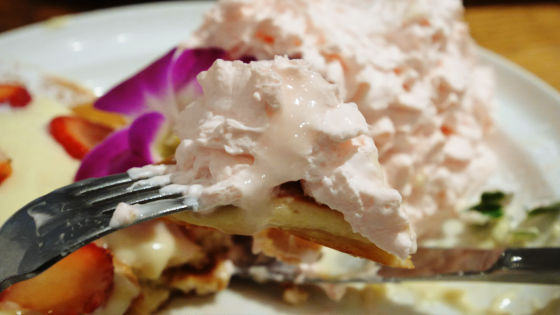 There are many types of soft drinks, including fruit juice and chocolate drinks, but considering hoes whipping, it is better to ask for sweet coffee and tea, except for a considerable sweet tooth.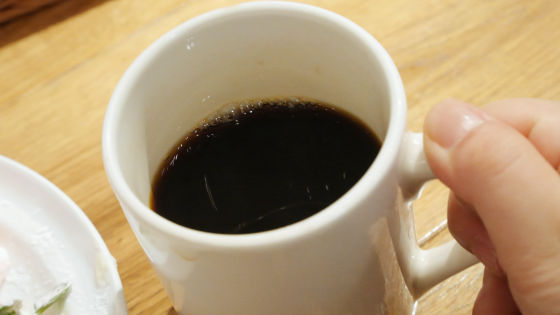 The Hanoohan pancake will be offered until March 31, 2015 (Tuesday). Not to mention people who wanted to feel the spring ahead of the other, it was an unbearable finish even for thick cream cheese lovers.