Strawberry and cheese cream has been eating with "Eggs' n Things" "Kona" tiramisu pancake "with a refreshing" strawberry cheese pancake "and coffee mixed in the dough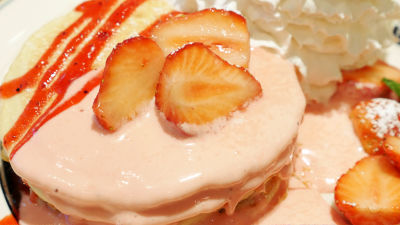 Famous for famous whipped cream pancakesEggs' n Things"Commemorating the seventh anniversary of Japan's landing from February 15, 2017 (Wednesday)"Strawberry cheese pancake"When""Kona" tiramisu pancakeWe are starting offering. I seemed to have a creamy finish with which cheese cream was used, so I ate it at once.

Eggs' n Things 7th Anniversary pancake commemorating the Japanese landing 7th Anniversary pancake Limited sale from February 15, 2017 (Wednesday) ~ 7th anniversary double campaign held simultaneously! ~ | Eggs' n Things
http://www.eggsnthingsjapan.com/news/170208.html

Arrived at Eggs' n Things.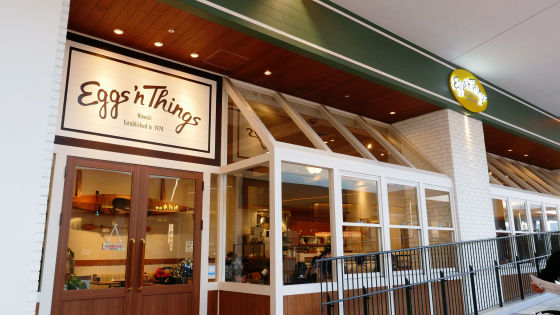 Seated ......



We will order "Strawberry Cheese Pancake" "Kona" Tiramisu Pancake "7th Anniversary Memorial.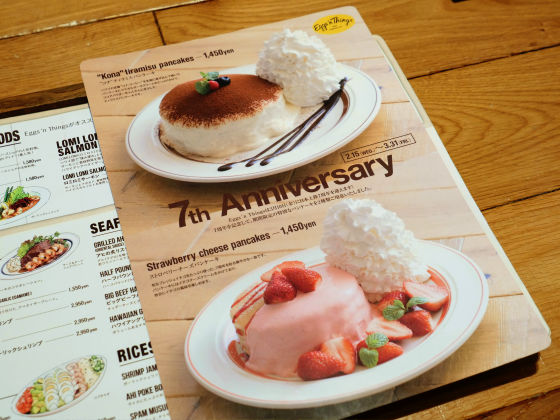 I waited for about 10 minutes, firstly a strawberry cheese pancake arrived.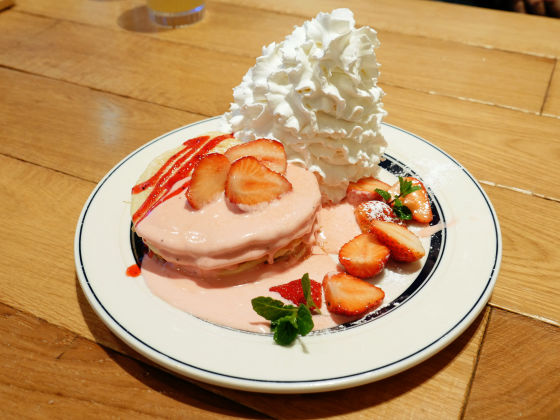 The diameter of the pancake is slightly smaller than the iPhone SE with a total length of 123.8 mm.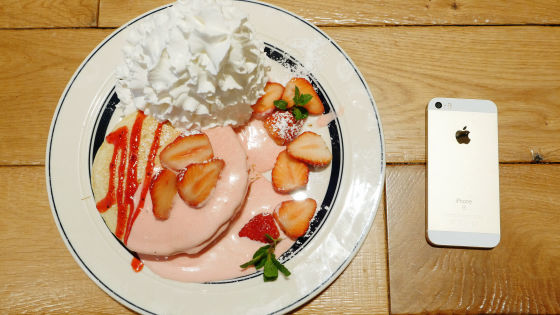 It is a four-tiered stack. Next to the pancake, the mountain of whipped cream was rising.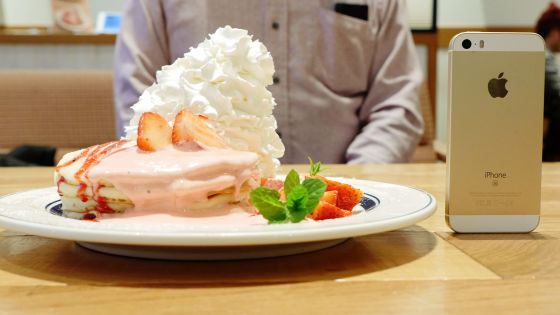 There is plenty of pink strawberry cheese cream on the pancake.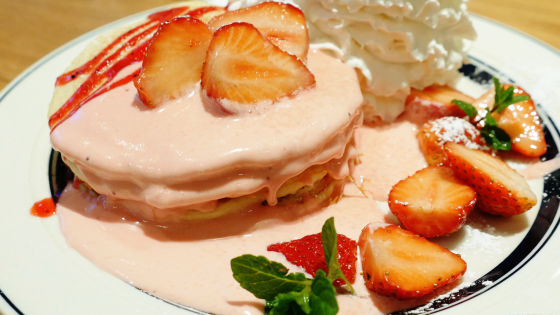 When I ate it, the pancakes are moist and soft, which is quite soft that can not be realized with home frying pan or hot plate. Strawberry cheese cream feels strawberry flavor and sourness / richness of cheese, and it is refreshing while it is sticky.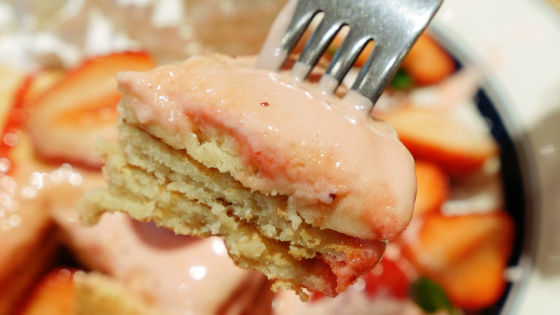 Since the whipped cream is a heap, there was never going to be lost in the middle even if you eat it with plenty.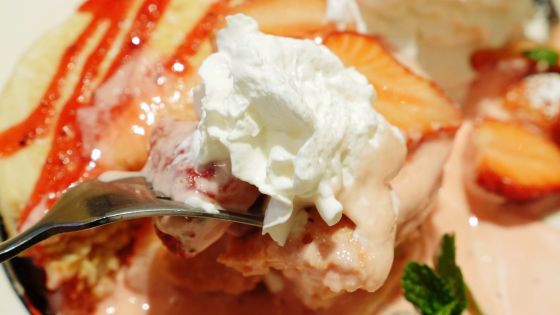 In addition, maple syrup · coconut syrup · guava syrup is included in the table ... ...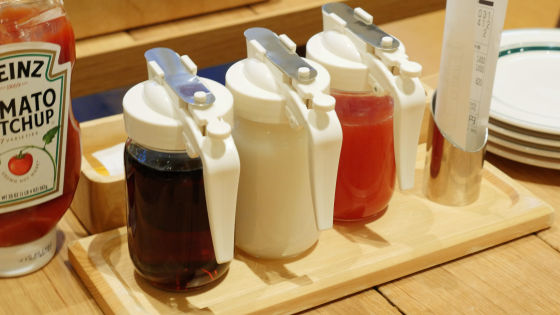 The part not strawberry cheese cream is not moderate in sweetness, so we enjoyed a simple taste with a syrup.



Subsequently, "Kona" tiramisu pancake arrived.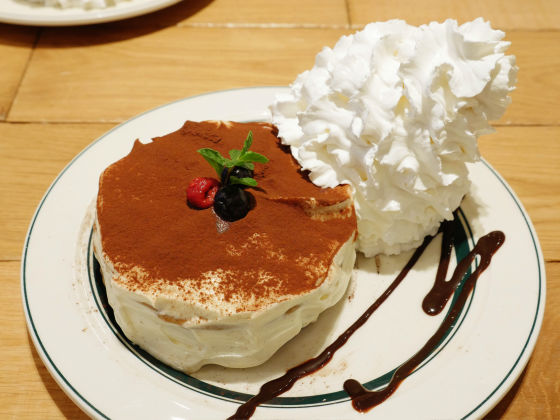 Cocoa powder was sprinkled on the surface of the pancake, blueberries and raspberries were topped.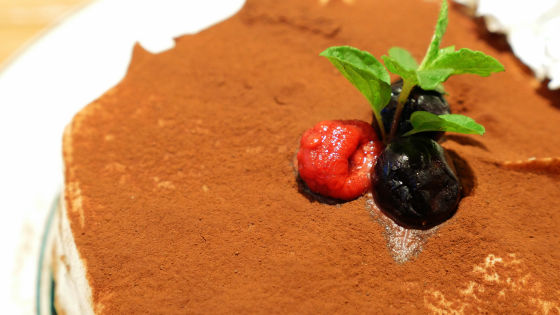 Unlike the strawberry cheese pancake where there was a part not covered with cream, "Kona" tiramisu pancake is painted with mascarpone cream throughout the pancake.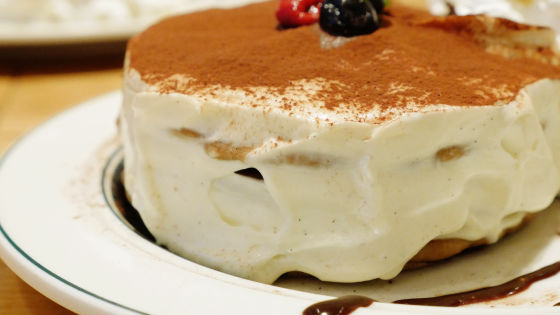 Size looks like this. With the shooting proceeding, the fall collapse of the whip cream peaked approaching every moment.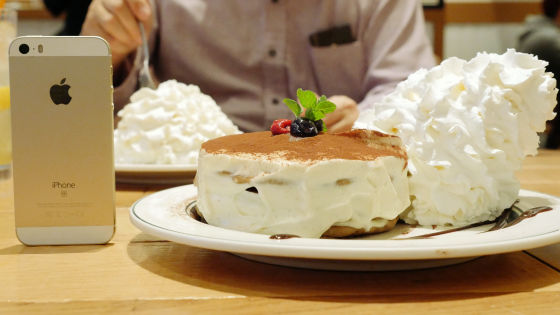 So I will hurry to eat. "Kona" tiramisu pancake is a pancake baked with Kona coffee mixed in with the dough, so slight bitterness is felt. Mascarpone's cream has a heavy cheese feeling, but sweetness is not strong, so it is an adult-like finish with modesty as a whole.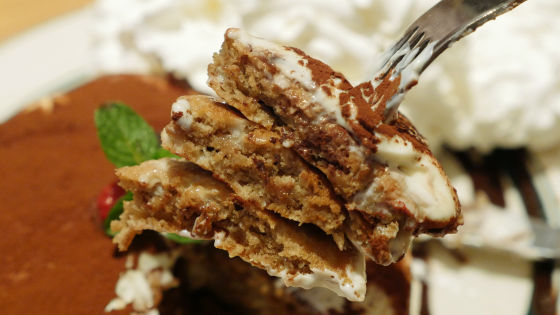 The sweet tooth party was feeling likely to be "a bit more chocolate sauce or something!", And the editorial staff was adjusting the sweetness by adding maple syrup that was on the table.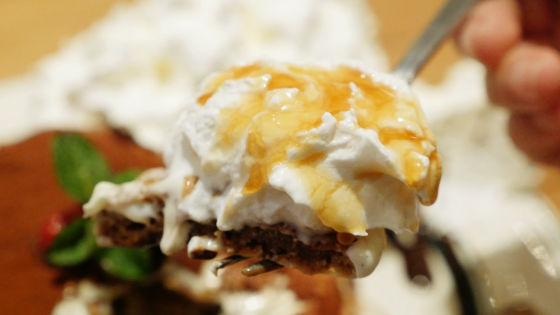 Both the strawberry cheese pancake and the "Kona" tiramisu pancake are served at 1450 yen excluding tax and are available until 31 March (Friday) 2017.

The 7th anniversary pancake can be eaten at a price of ¥ 1,000 for a person who has a name of 7 and a price of 70%. There are also campaigns that when you order the above two pancakes on seven Fridays during the period, Acai Bowl, drinks and toppings are free.

The date on which the campaign is held is as follows.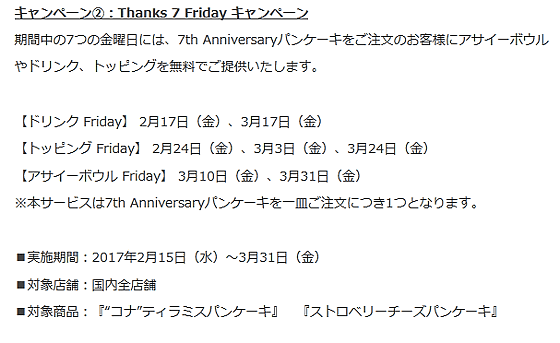 【Drink Friday】 February 17 (Fri), March 17 (Fri)
【Topping Friday】 February 24 (Fri), March 3 (Fri), March 24 (Fri)
【Acai Bowl Friday】 March 10 (Fri), March 31 (Fri)