Enjoy turkey · mushrooms egg · cranberry sauce with pancakes and eggs Benedict · Eggs 'n Things' s "Thanksgiving" menu Tasting review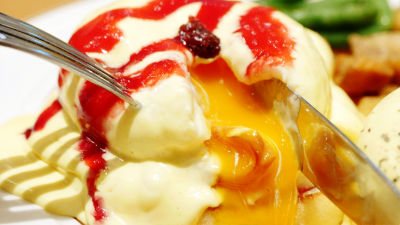 Hawaiian cuisine specialty store centered on pancake of heap creamEggs' n Things", But"Thanksgiving (Thanksgiving)"Thanksgiving Menus using Turkey & Cranberry Sauce, which is a standard combination of" Thanksgiving Sauce ", are offered on November 1, 2016 (Tuesday). In addition, at the same time, LaLaport EXPOCITY store said that the power salad style "Ekahi pancake" commemorating the 1st anniversary has also appeared, so we ate together at the shop together.

~ Eggs' n Things La LaPotto EXPOCITY Store Opening 1st Anniversary ~ Anniversary pancake of power salad style appears! Limited sale from November 1 (Tue) | Eggs' n Things
http://www.eggsnthingsjapan.com/news/16102801.html

Eggs' n Things "Thanksgiving (Thanksgiving)" menu appears! Cranberry sauce on turkey, do not you enjoy a different taste this autumn this year? ~ Limited time sale from November 1 (Tue) ~ | Eggs' n Things
http://www.eggsnthingsjapan.com/news/161021.html

Arrived at Eggs' n Things.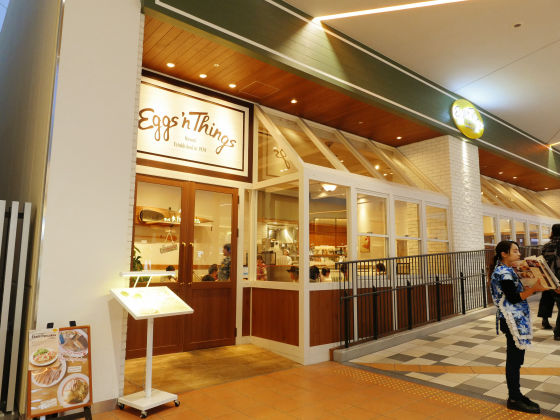 Eggs' n Things, famous for being able to do a queue, when we went around 17 o'clock on weekdays, only one pair was waiting. I was handed a menu of new items during the waiting time of about 10 minutes.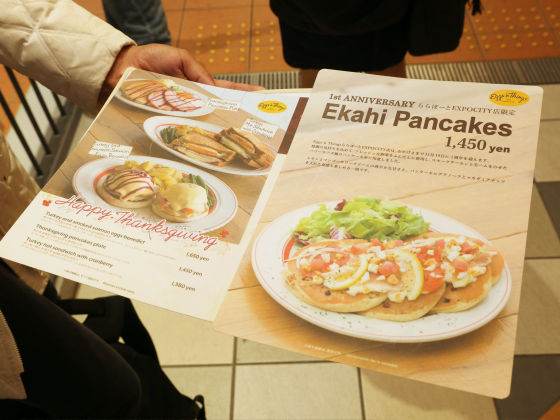 Enter the store and order immediately.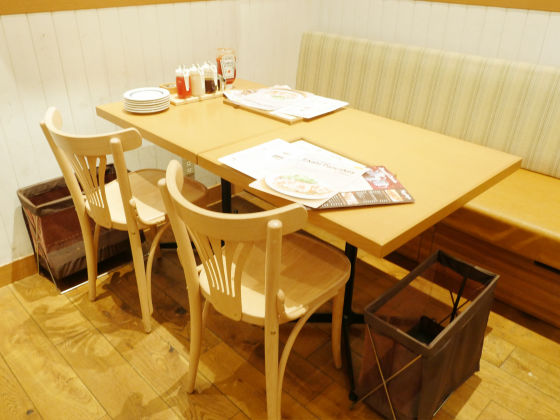 After a while, first of all, "Turkey and smoked salmon Eggs Benedict" (tax exception 1650 yen) arrived in "Thanksgiving" menu.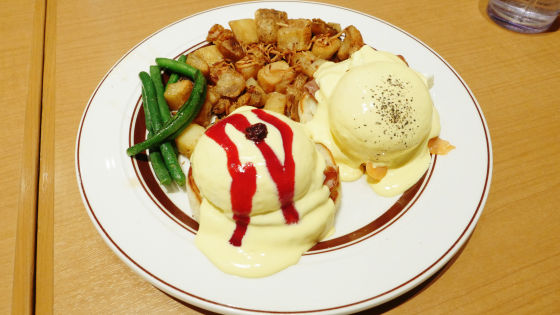 Compared with the iPhone SE with a total length of 123.8 mm, the diameter of Eggs Benedict was about one size smaller than the iPhone. In addition to Eggs Benedict 2, plenty of coconut roasted potatoes & green beans are added, and the volume is transmitted from the appearance as well.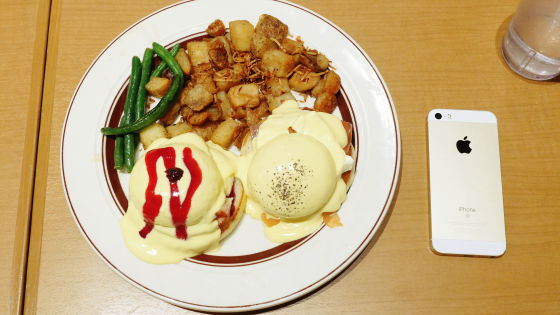 This is about the height.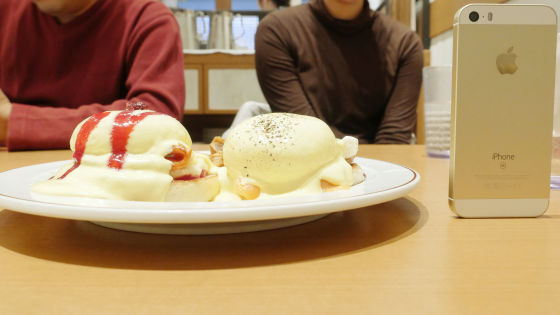 Of the two Eggs Benedict, I will eat the one with cranberry sauce first. On the top of Eggs Benedict is poppy egg of plump, with trolley and yolk flowing out with a knife.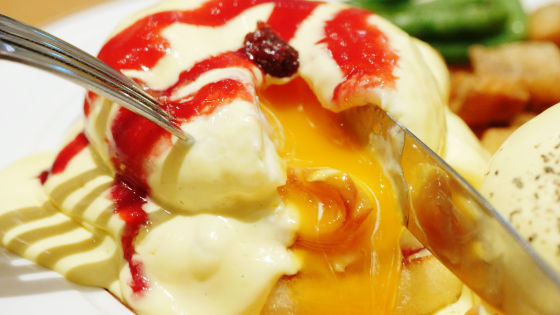 The section looks something like this. Under the poached eggs, turkey, cranberry sauce, mashed potatoes and English muffins are laid.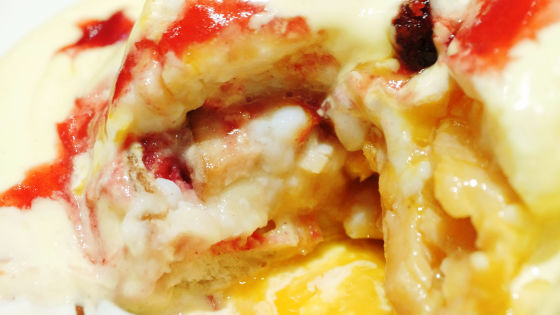 Turkey is a fleshy fleshy than bacon, but greasy and juicy. RichHollandaise sauceThe combination of thick eggs and smooth mashed potatoes is a very mellow and tight combination, but the cranberry sauce with sweetness and sourness adds ornate accent to it. However, it seems that there are times when you feel that you are "unfamiliar seasoning" if you are unfamiliar with eating.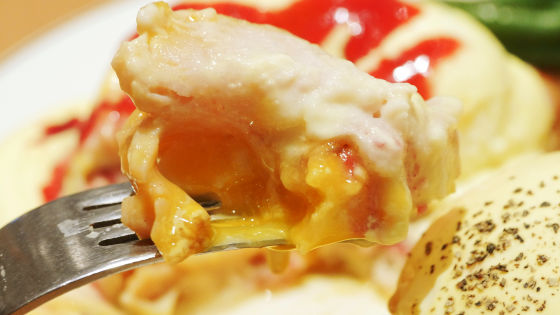 It is also a good point of this plate that you can enjoy two tastes in one dish. I will eat another Eggs Benedict. I put a knife on a poached egg and a capsapper appeared.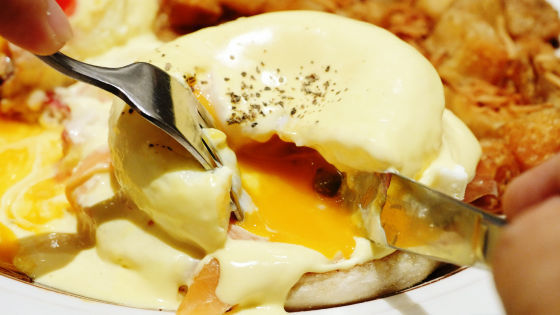 This Eggs Benedict is undoubtedly a combination of salmon, cream cheese, cupper, mashed potato, poached egg, English muffin. It is a classic flavor, so you can eat with confidence.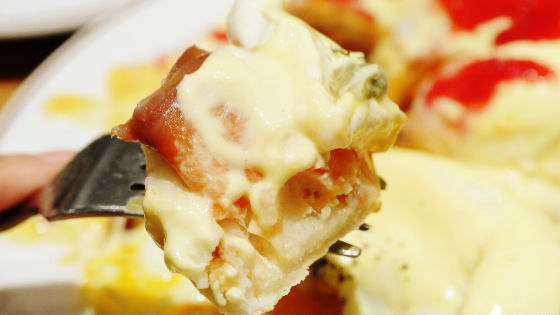 Garnished roasted potatoes are served with coconut chips.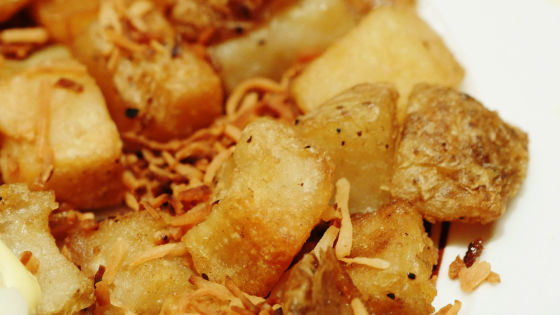 The surface of the roast potatoes are crispy, some are crispy. But inside potato is hokuhoku, it is a bit spicy, so I can keep on eating more and more.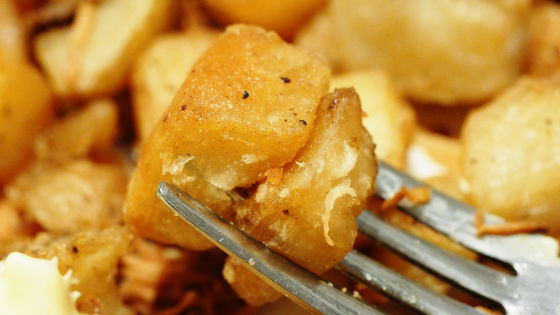 Successively appeared, LaLaport EXPOCITY store opening ceremony for LaLaport EXPOCITY shop opening 1st anniversary "Ekahi (Ekahi) pancake" (1450 yen tax excluded). Ekahi means "1" in Hawaiian.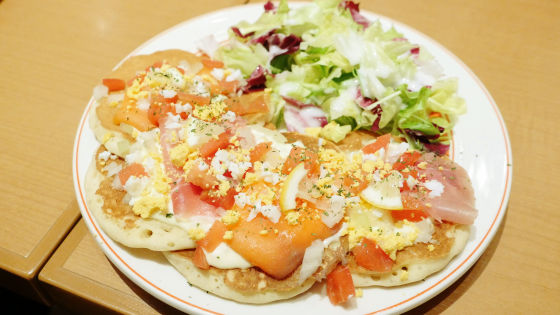 There are 4 pancakes of the diameter of the full length of the iPhone SE on the plate.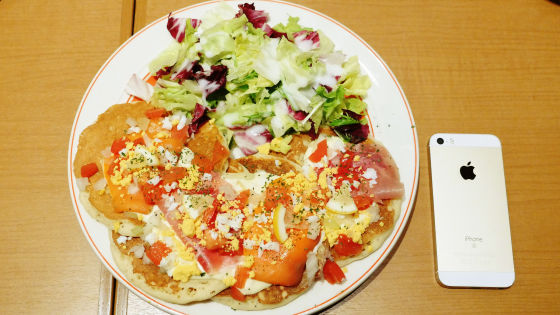 Looking from the side like this.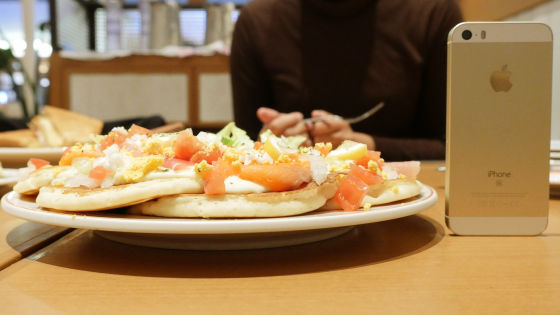 There are plenty of tomatoes, lemons, eggs, salmon, raw hams and so on.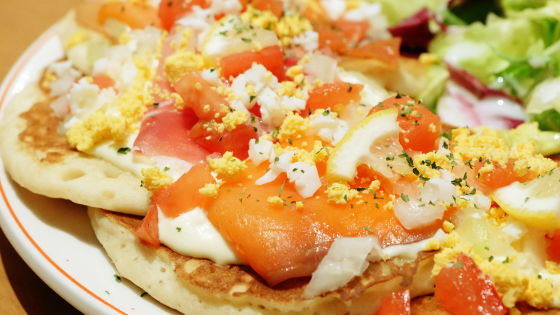 When eating, the pancake dough itself is slightly sweet, combined with the saltiness of the raw ham, "sweet and sour" delicious.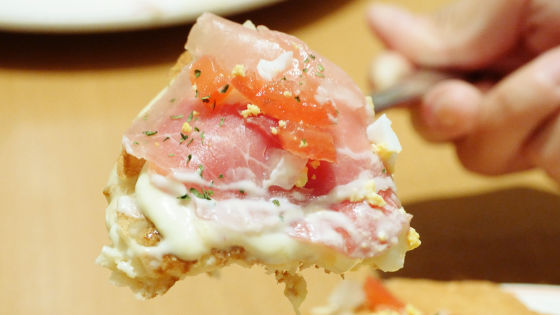 Granola and macadamia nuts are kneaded in the pancakes, and it is unique that there is a texture called polypoly. It seems to be delicious even if you apply maple syrup etc. like this ...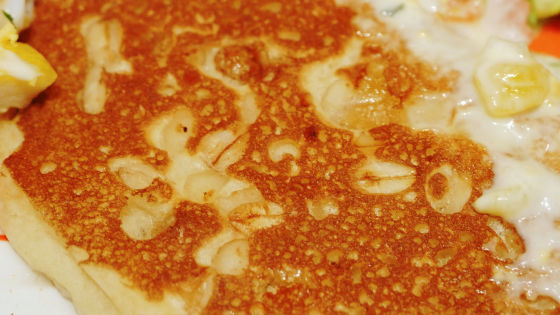 This time there is a sour and refreshing mango sour cream added. Since flavored vegetables such as onions are added, the flavor is good, and various tastes such as sweet, salty, and sour have been condensed in a well-balanced manner.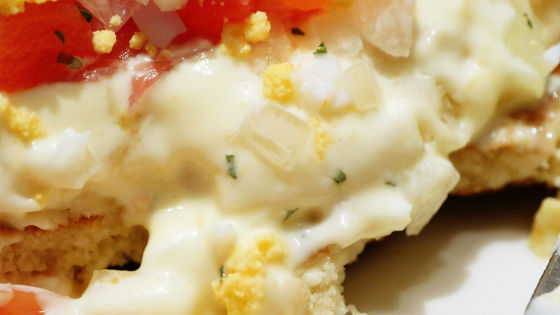 Good compatibility with smoked salmon.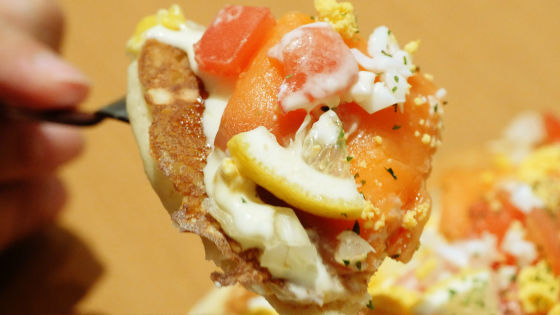 The garnish is a salad, not a coconut roast potato. Although the amount was firm, salad dressing and pancake sauce was also sour, so it was refreshingly eaten as a whole.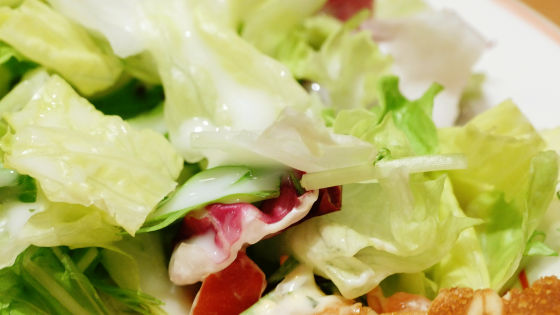 Subsequently, "Thanks Hot Sand with Cranberry" (1380 yen tax), the second item of Thanksgiving menu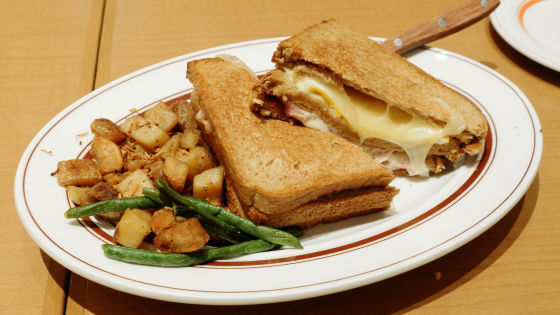 There is two sandwiches per dish, but if you take it in your hand it will have weight and you will find that it is quite large size.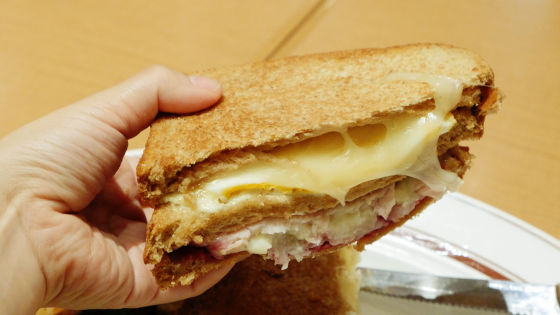 Looking from the side it is as follows. A lot of used mozzarella cheese is melting. Three breads are used in the sandwiches, and mozzarella cheese and eggs are caught in the first layer ... ...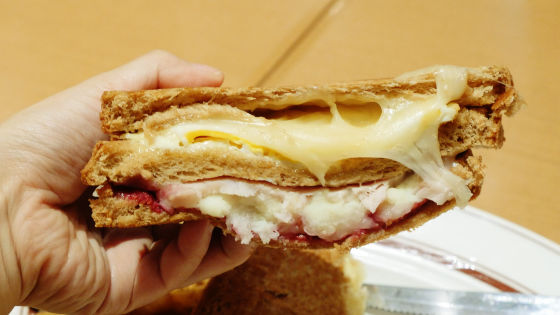 Another layer has cheese, mashed potato, turkey, cranberry sauce.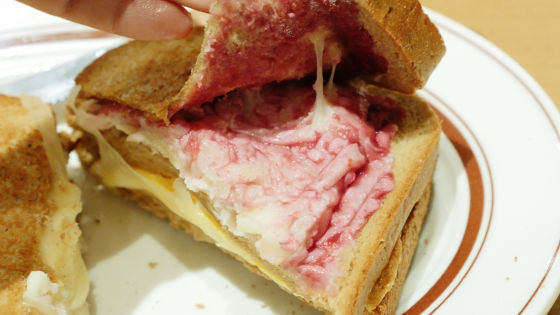 First of all, when you bite a bite, bread is crisp enough to think that you are fried lightly with oil. Butter was applied to the surface of the bread and it was baked firmly, especially the part of Mimi was a crispy texture like a cookie. Eggs, turkey, mashed potatoes, plenty of mozzarella cheese, because it is a combination of eating and sneezing, even if you eat a piece, your satisfaction is high. If it is possible for women to share one dish, it feels like. However, it seems that the weight is being alleviated a little because the sweet and sour cranberry sauce is used though it is a combination which is a puzzle. As a whole it is quite a junk dish.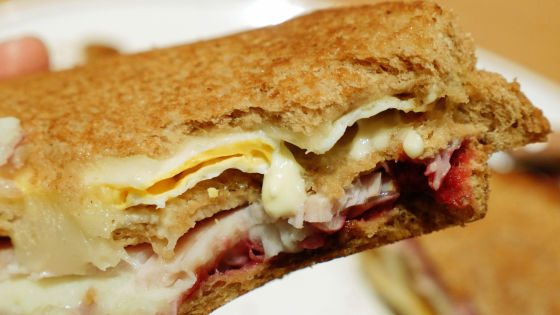 Also garnish with coconut roast potato and green beans.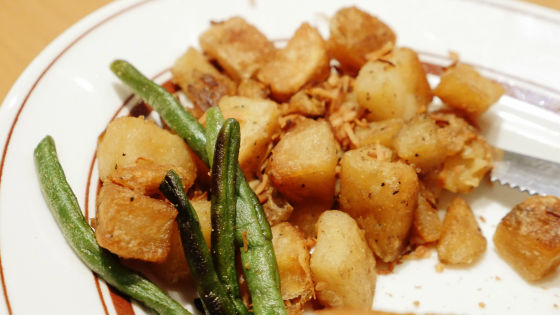 A special knife is attached to the turkey hot sandwich. Because it got sticky with oil when holding with hand, it may be better to eat while cutting with a knife.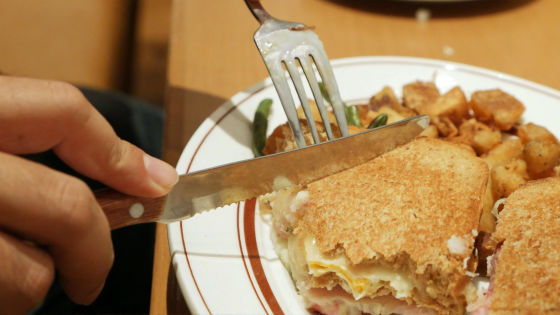 Lastly, it looks like breakfast "Thanksgiving Pancake Plate" (1450 yen tax excluded)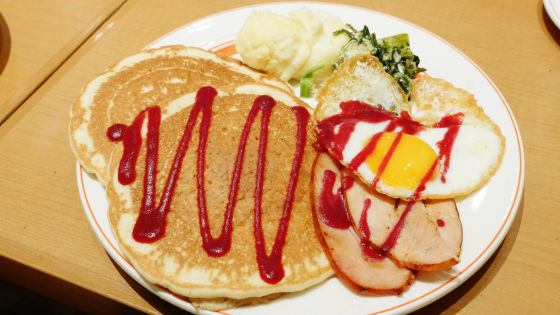 On the plate, two pancakes that are one size larger than the iPhone SE are on top, with mashed potatoes, creamy spinach, fried eggs and turkey.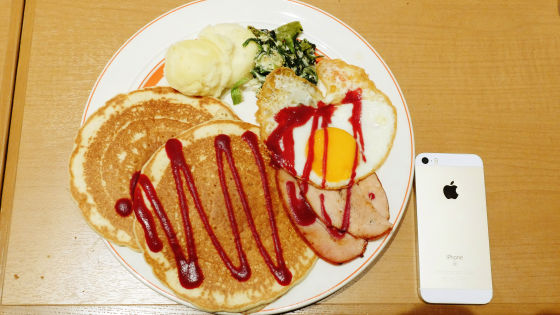 Looking from the side like this.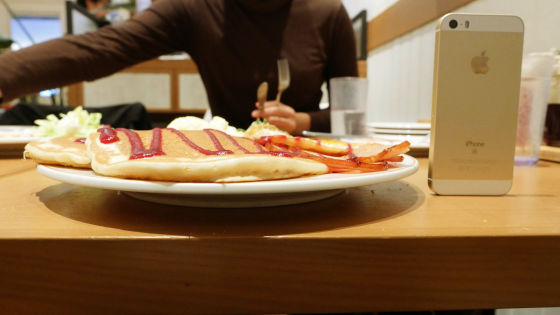 Because we had eaten Pancake & Eggs Benedict first with aesthetic look and taste, we are relieved by the simple and undecorated pancake taste. Ekahi pancakes and other fabrics were somewhat sweet, but this fabric is less sweet. It is not ketchup but cranberry sauce, but it is sweet and sour, but it does not go as far as "sweets", just like a breakfast finish.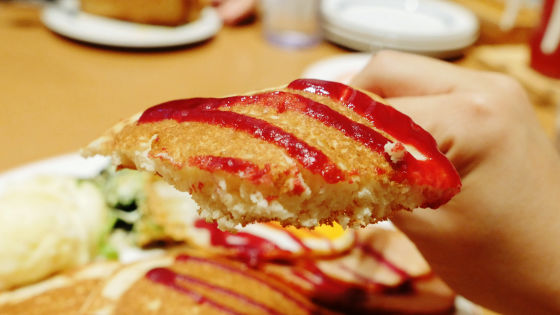 It feels good to eat turkey where you can feel fried eggs and fat taste here.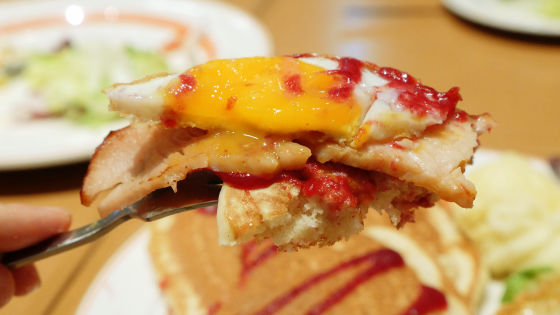 Garnish with cream spinach and mashed potatoes have a relaxed taste.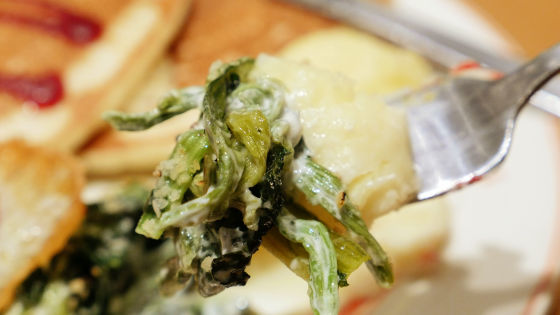 It is simple compared with other pancakes and Eggs Benedict, so it may be possible to add guava sauce, coconut sauce maple syrup etc. prepared in advance at the table.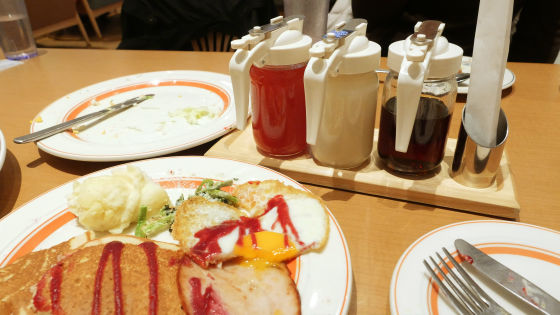 When applying maple syrup, finish pankake with balanced sweet potatoes is completed with sweetness of turkey's salty and maple syrup & cranberry sauce. It was rather a dish recommended to those who would like to enjoy the taste of the pancakes themselves.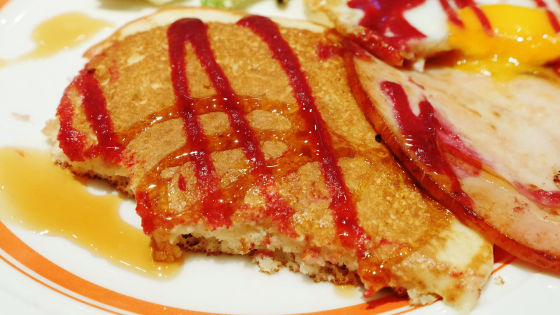 "Thanksgiving menu" can eat a combination of turkey, cranberry sauce and egg in various variations, but when you want to enjoy various flavors "Turkey and Smoked Salmon Eggs Benedict", enjoy the taste of simple materials When you want to eat junk things, ask "Turkey Hot Sand with Cranberry" when it is time to ask "Thanks Giving Pancake Plate". Also, since there were quite a few volumes of side dishes that I ate this time, it is also recommended to share with someone and order it with a pancake of dessert type and eat it.

Both menus are offered until November 30 (Wednesday).