Eggs' n Things Umeda Chayamachi branch, such as Meringue's "Egg in Cloud" pancake, opened, so we ate restaurant limited pancakes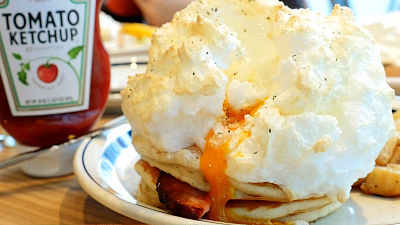 Eggs' n Things Umeda Chayamachi branch is open from Tuesday, March 21, 2017. This shop is in a building that houses the university 's campus and it is dealing with original pancakes etc not in other Eggs' n Things, so go to the store and see what kind of feeling I checked it.

"Eggs' n Things Umeda Chayamachi Store" Open on Tuesday, March 21! "Hawaii Passport Campaign" is held! Present "Hawaii entry passport stamp" within 1 year and original pancake is 1 dish free! | Eggs' n Things
http://www.eggsnthingsjapan.com/news/170309.html

Eggs' n Things Umeda Chayamachi branch is located on the 2nd floor of OIT Umeda Tower 1-40, Chayamacho Kita-ku, Osaka-fu Osaka prefecture.


This is OIT Umeda Tower. Osaka Institute of Technology's Umeda campus is included.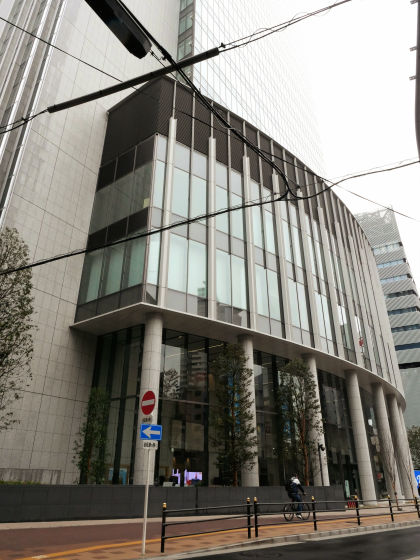 Inside is like this.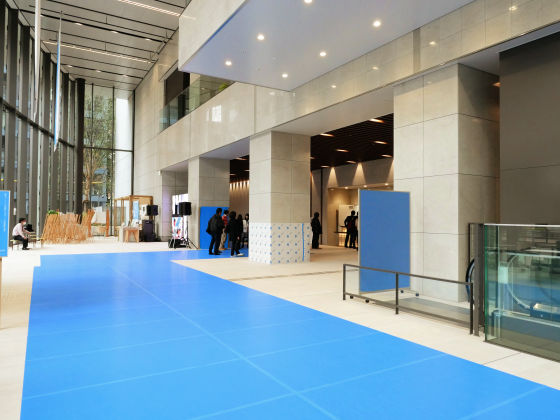 Really here is Eggs' n Things ... ...? While thinking to the second floor. Looking around the aisle ... ...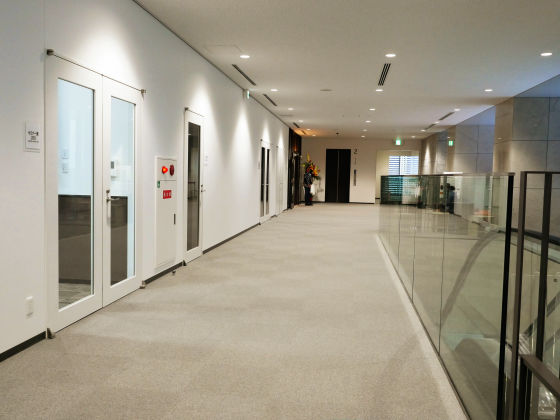 I found the entrance of the shop.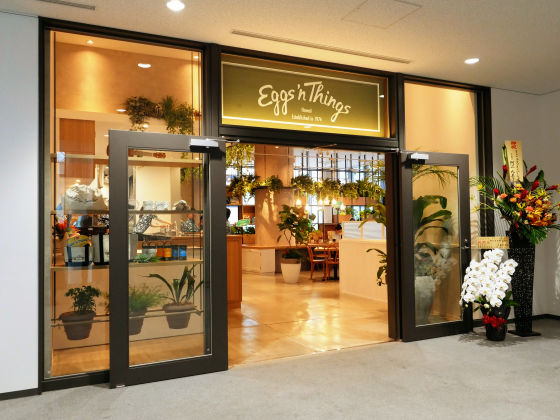 When entering the shop, it was introduced to the table seat.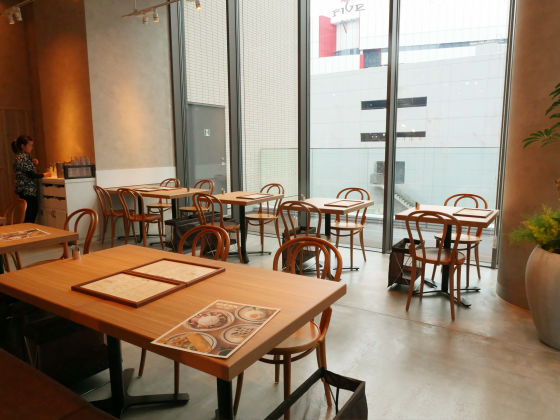 When you sit down, you can see the FEP wheel of the HEP FIVE.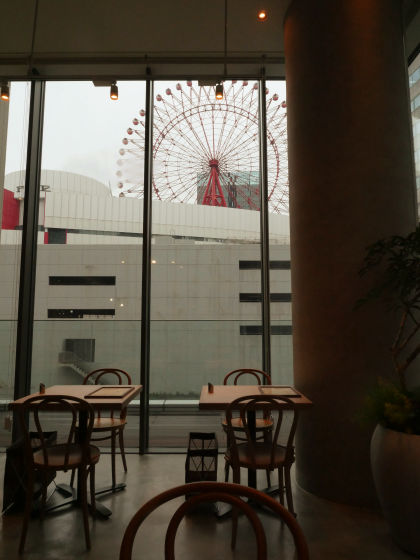 At first glance the menu seems like any other Eggs' n Things, but the original pancakes are treated, the characteristics of the Umeda Chayamachi branch.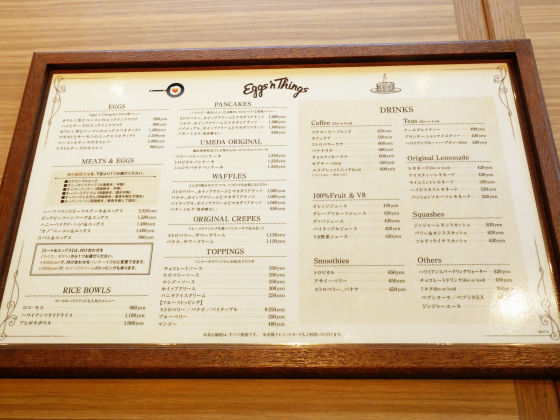 "Ham and cheese Egg in Cloud" and "Chocolat Banana Pancake" on the received free paper are such as the original menu of the Umeda Chayamachi branch, so I will order.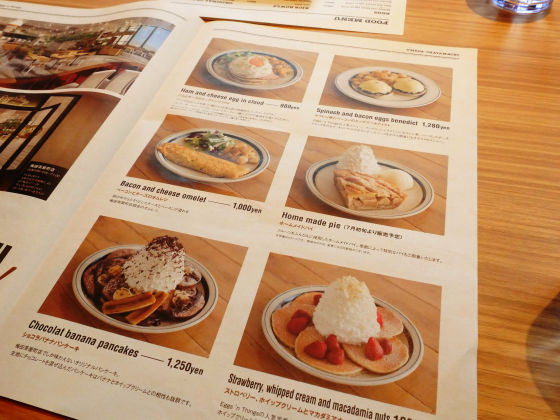 Waiting for a while After arriving "Egg in the cloud of ham and cheese" (980 yen including tax). Bottle of ketchup was also delivered together.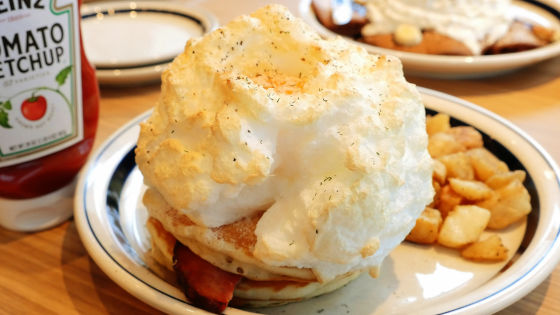 Compared to the iPhone SE with a total length of 123.8 mm, this is about this size. I can not see pancakes at all from the top.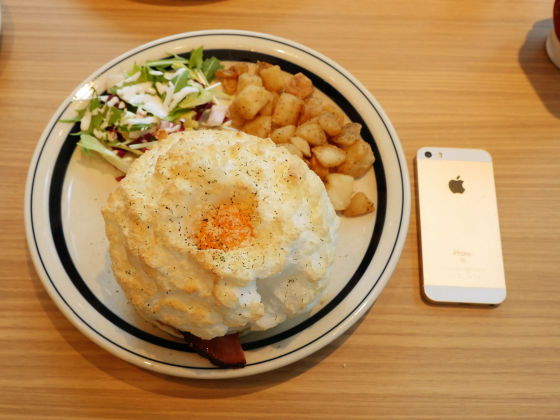 This is about the height. Eggs' n Things is famous for its whip cream, but in the egg in cloud meringue is packed.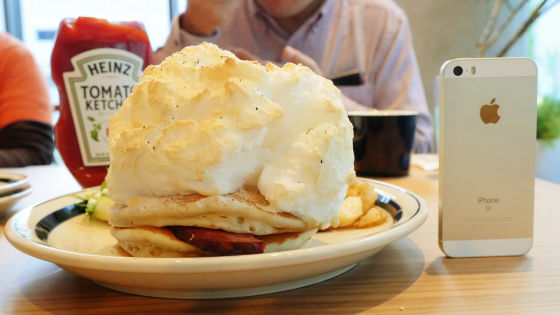 In the slightly burned meringue, egg yolks are buried, and powder cheese is sprinkled on the surface.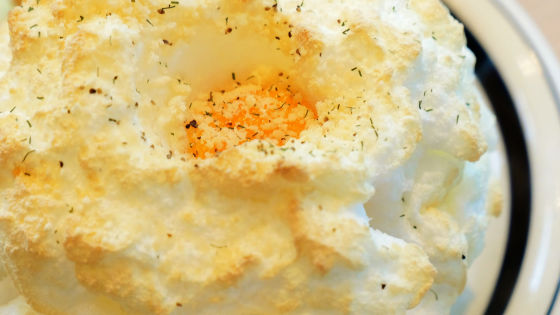 Egg in ham and cheese How well the meringue of cloud is fulfilling can be confirmed from the following movie.

Eggs' n Things "Humm and cheese Egg in Cloud" at Umeda Chayamachi Store - YouTube


Yolk is mature, piercing with a fork, it has flowed out as a trolley.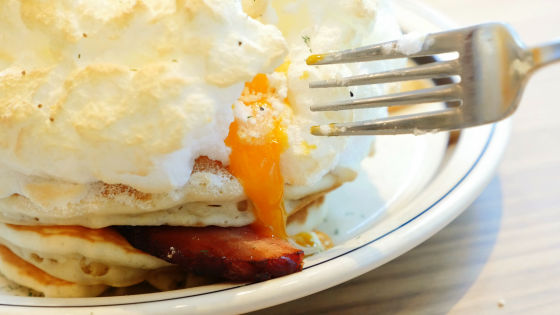 The surface of the meringue is slightly browned and it has a crispy texture, but the inside is soft and fluffy. It is slightly salty and it can be eaten by itself because powder cheese is sprinkled on the surface.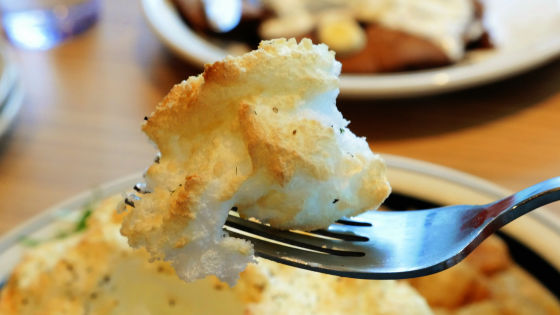 The pancake dough under the meringue is moist and fluffy, with less sweetness so it fits well with eggs.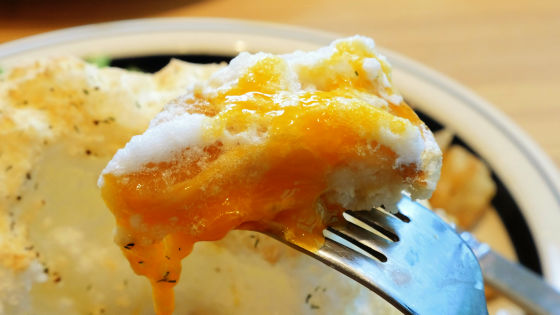 Ham is sandwiched between two pancakes ... ...



To eat and surprise you, that this ham is sweet. Strong saltiness and sweetness like honey are compatible.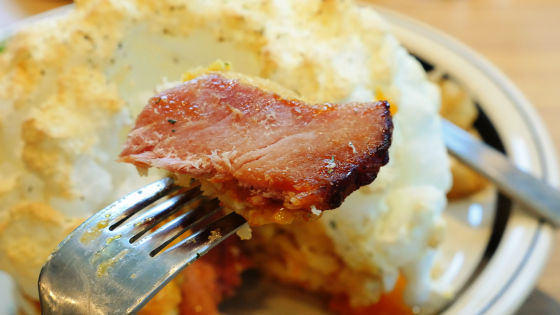 The section looks something like this. In the lower stage of ham ......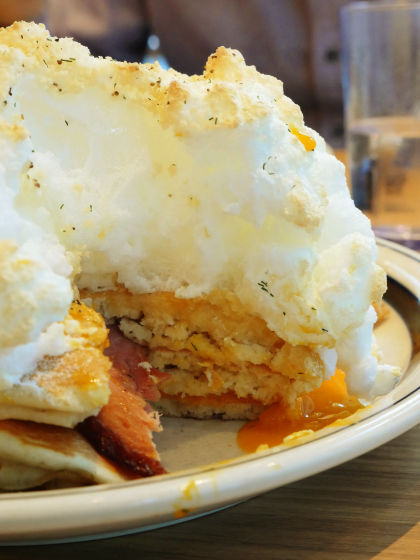 Cheese was sandwiched. Impression that it is well organized by having salty meringue, sweet fish ham, cheeseful cheese and impact material in the pancake.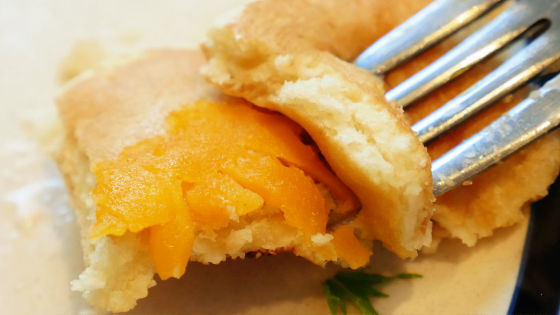 In addition to pancakes, the dishes also include french fries and ...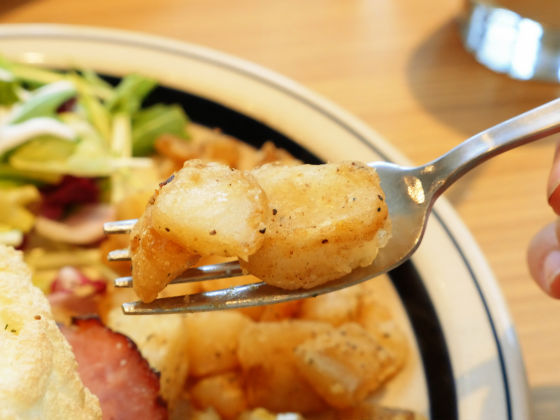 The salad was on and it was becoming a dietary pancake with a volume.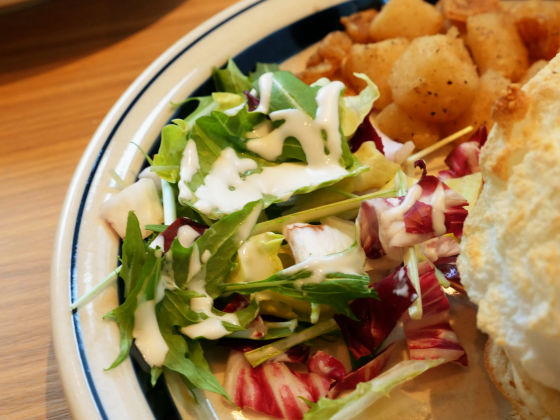 Subsequently, "Pancake of Chocolat Banana" (1260 yen including tax) arrived.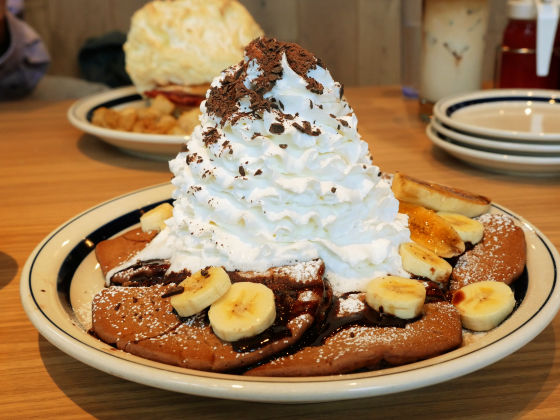 There are five pancakes, which are slightly smaller than the diameter of the iPhone SE, on the plate.



Toppings are raw bananas, caramelized bananas, and chocolate sauces.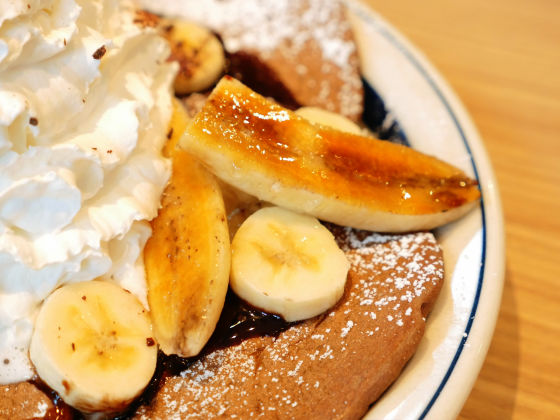 As I tried to eat it, the moist moisture is the same as the egg - in - cloud pancake, but I feel the bitterness and sweetness of chocolate, whether cocoa is being kneaded in. In the past ""Kona" tiramisu pancake"It was a bitter fabric but the chocolate banana pancakes are also sweet. Chocolate sauce is also applied, so you can feel sweetness firmly even if you eat without whipping cream.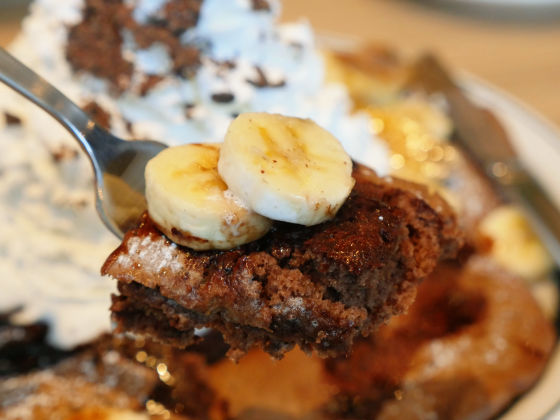 The bamboo that was caramelized can also enjoy the bitter crispy texture of bittersweet caramel.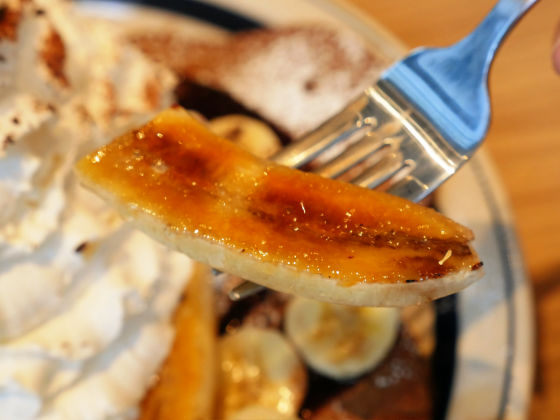 The whip cream of the heap is light, although there is a quantity, never getting unpleasant even if you put plenty. The compatibility of milk 's richness and gentle sweetness with chocolate pancakes was a good feeling.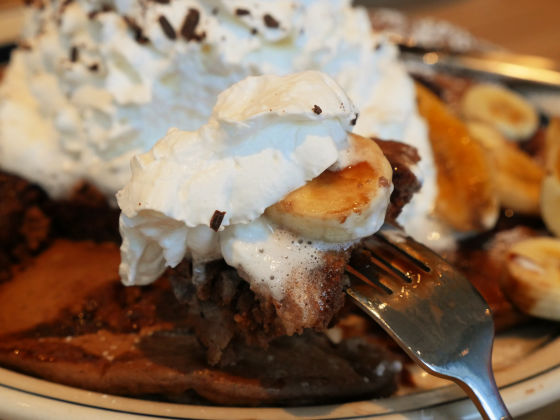 In addition, Eggs' n Things Umeda Chayamachi store says that it is upgrading the "Kona Coffee Blend" (450 yen in tax) grade at the time of introducing a different coffee maker than other stores. Savory coffee goes well with sweet pancakes.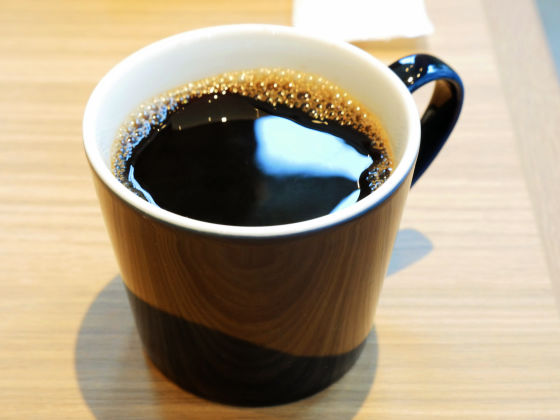 Another one ordered "Tropical Pancake" (1250 yen including tax) from the original menu.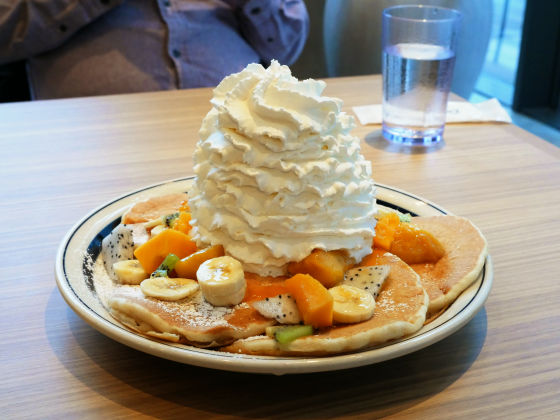 This also contains 5 pancakes of the same diameter as chocolate bananapan cake.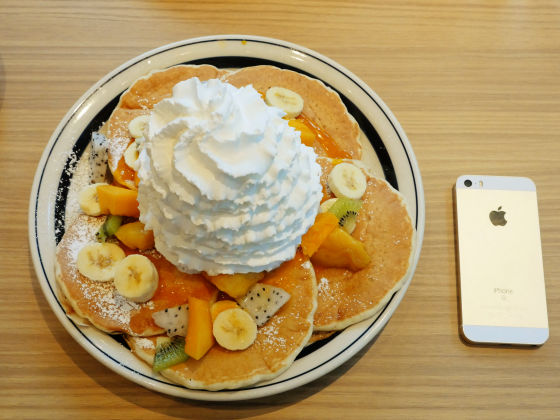 The height is like this. It is a masterpiece whenever you see it.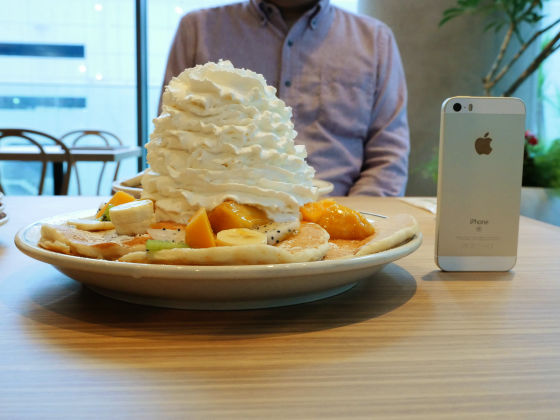 Tropical pancakes have many fruit like tropical such as mango, banana, dragon fruit, kiwi and so on.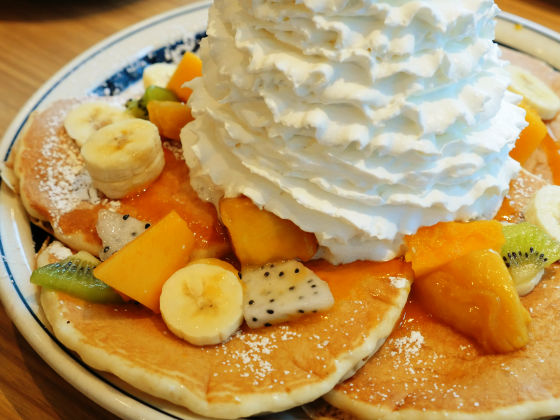 The source is mango based, sweet and sour like honey. The dragon fruit is a savory taste with a sour taste, and the freshness of the fruit is felt firmly.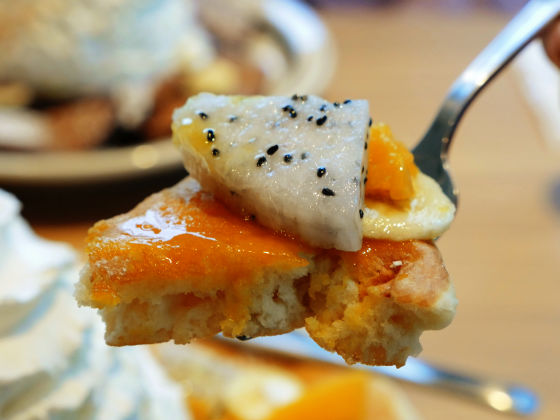 The pancake cross section looks like this. Moist and fluffy ......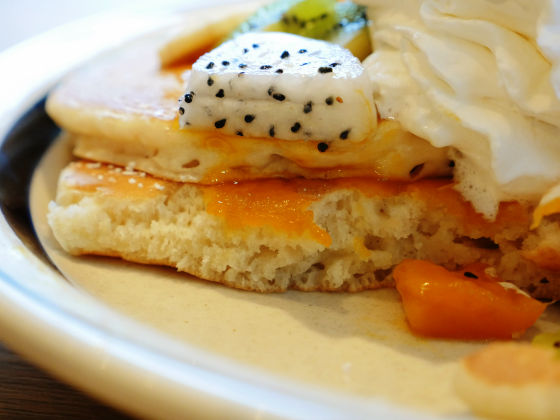 Because the sweetness of the fabric itself is modest, it is recommended to eat plenty of whipped cream together.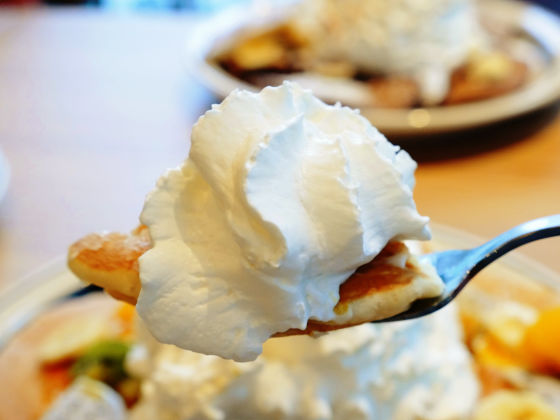 In addition, "Chocolate cookie latte" (600 yen including tax) and ... ...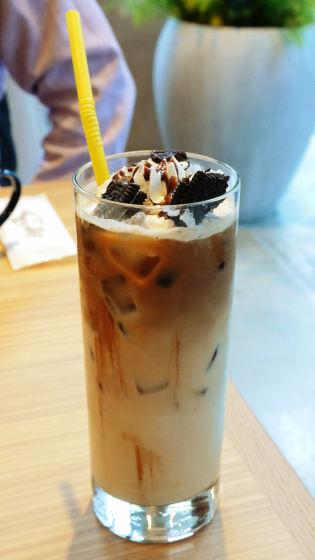 Of course, the popular classic menu of Eggs' n Things such as lemonade (420 yen including tax) is also treated.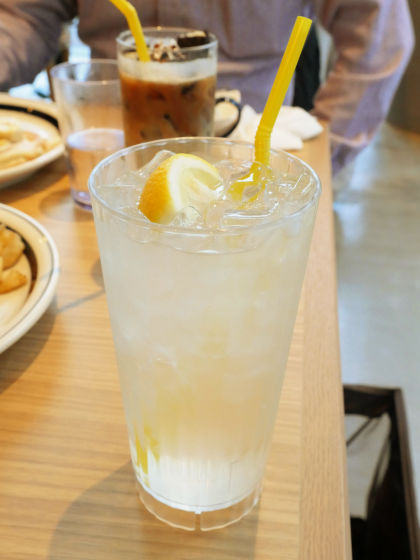 Incidentally, the interior is like this. Besides the two-seat, four-seat table seat, there is a large table where you can have a seat.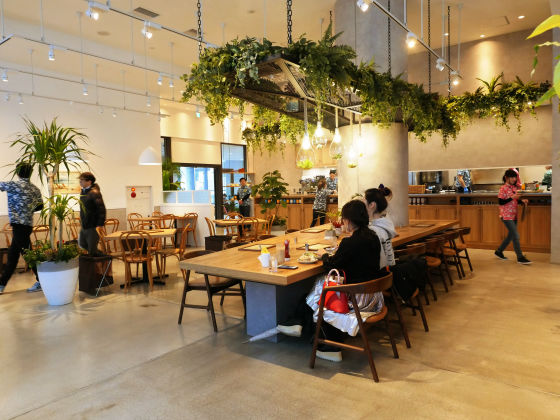 Border = "0">

Ceiling and ...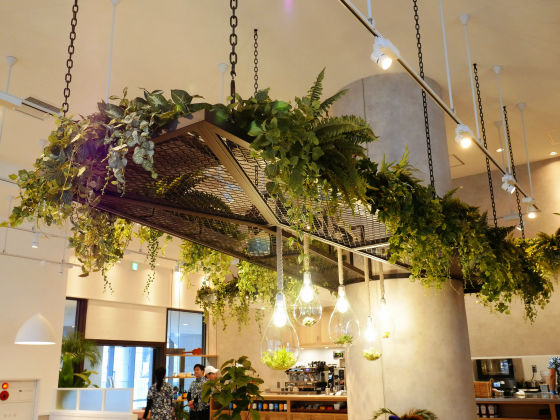 Plants are decorated a lot on the shelf etc, a botanical image.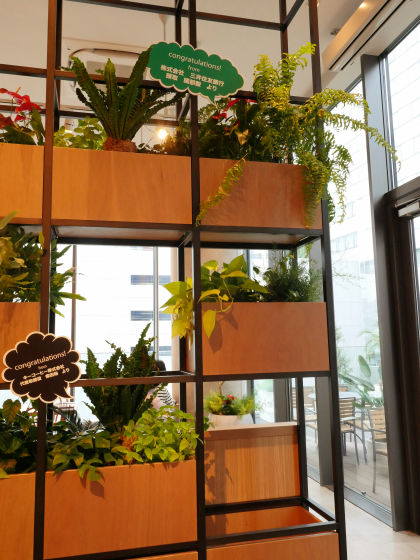 Also, depending on the seat, there are places that are equipped with outlets and USB ports under the seats, and that it also provides Wi-Fi service, so you can do the work.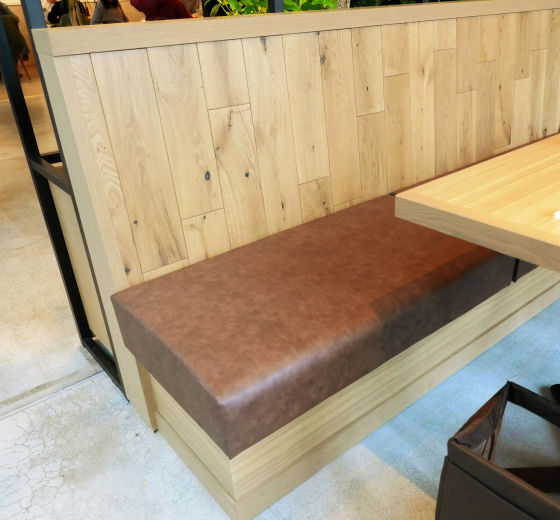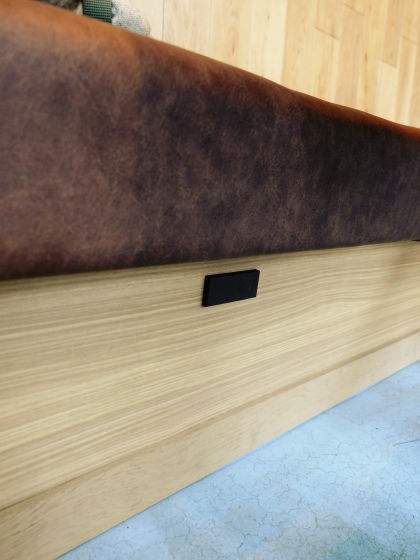 The day we visited was rainy, but there were terrace seats that seemed to be comfortable if it was sunny.