I have eaten the pancakes of the whip cream with Eggs' n Things, the first landing in Kansai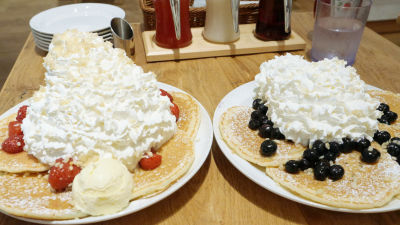 A breakfast restaurant that offers pancakes from HawaiiEggs'n Things"Opened the Shinsaibashi store, which will be the first landing in Kansai on Friday, June 21. Even now, about a month has passed since the opening of the store, a long queue has been formed and the cream on the pancake gets a lot of attention I ordered pancakes with whipped cream with bad mood and eaten it.

Eggs' n Things Kansai 1st Store Opened June 21, 2013 (scheduled)! | Eggs' n Things
http://www.eggsnthingsjapan.com/news/130508.html

Arrived at the store. I will line up in the queue.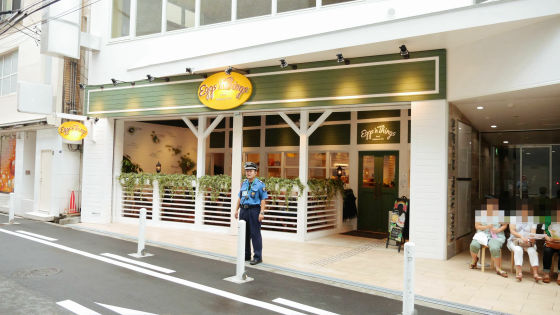 When I started to line up, the queue started to appear on the right side of the shop. We arrange according to the guard's directions.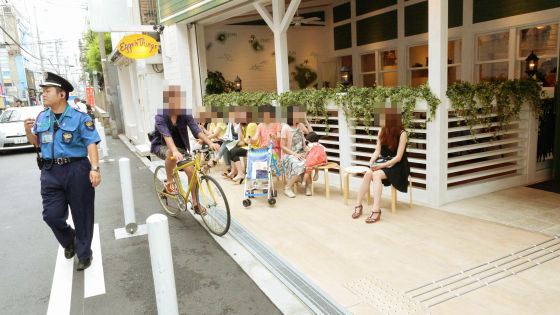 Select the menu while waiting. You can choose eggs from six different ways of baking "Meat 'n Eggs"·"Omelette"·"pancake"·"waffle"·"Crepe"The breakfast menu using eggs is slick.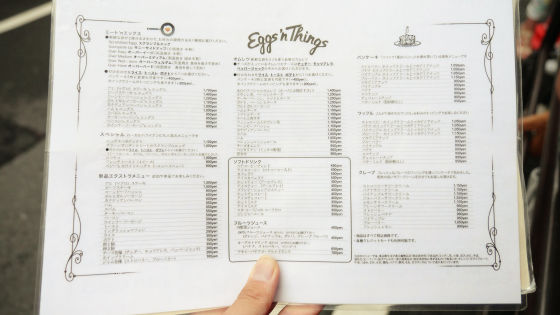 On the back side is a description of Eggs'n Things. It is 90 minutes to use the seat when crowded.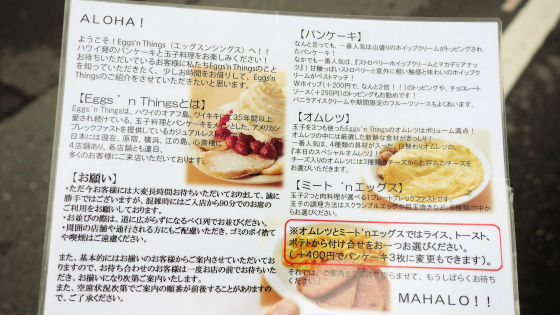 Seasonal drink for a limited time as well.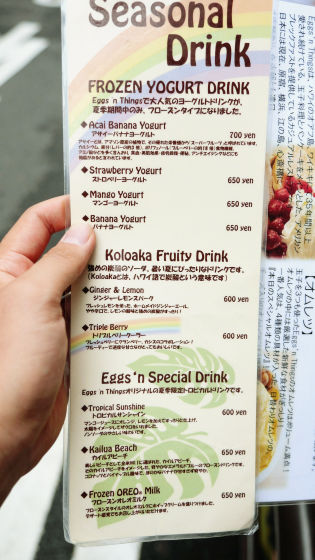 A pancake with whipped cream on the hand-drawn style signboard and a limited menu are written.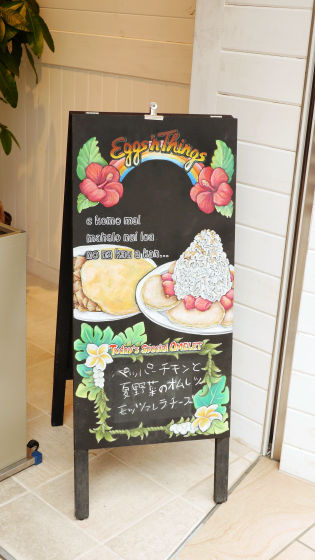 The clerk was unified with a hibiscus pattern coat.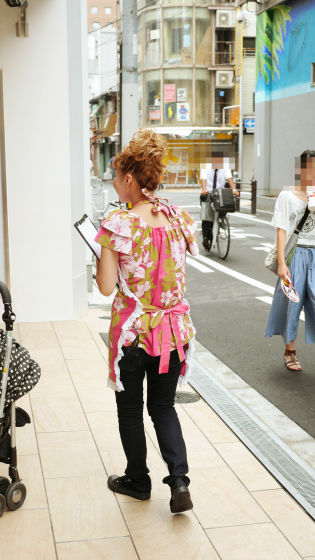 When waiting for about 40 minutes to enter the store, the clerk welcomes "Konchi Aloha". Over 90% of the shops are female customers.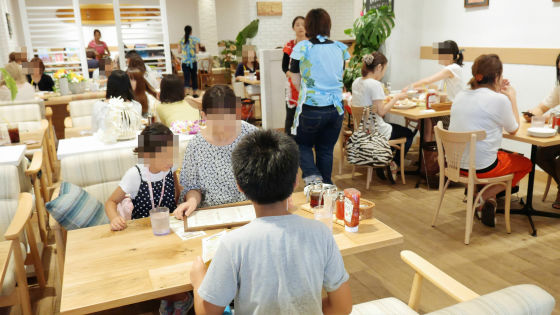 Hawaiian-like interior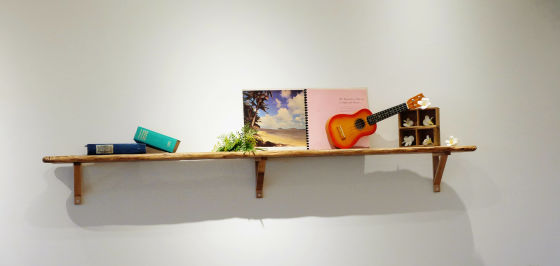 The ceiling is high, and it is resort-like and it is crowded with customers, but it feels spacious.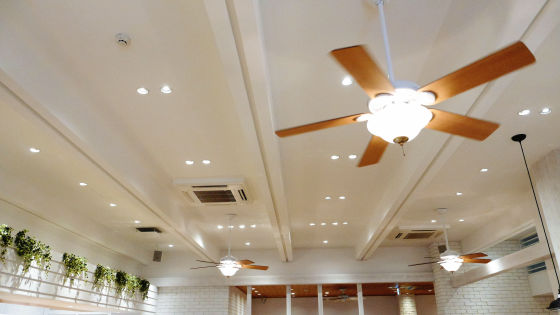 After a while there are a lot of whipped cream "Strawberry whipped cream and macadamia nut pancake + double cream + vanilla ice (1450 yen including tax)"When"Blueberry whipped and macadamia nut pancakes (1150 yen including tax)Appeared.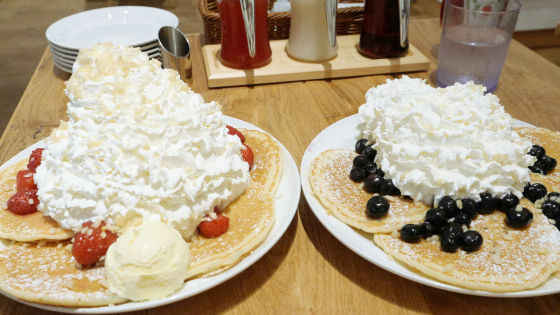 Firstly from strawberry whipped cream and macadamia nut pancake. Instantly ordered double cream can not endure height and collapsed.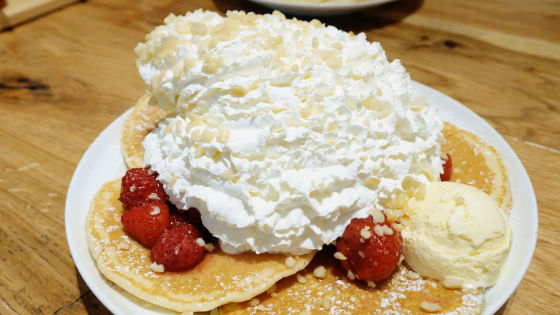 Whipped cream is on it.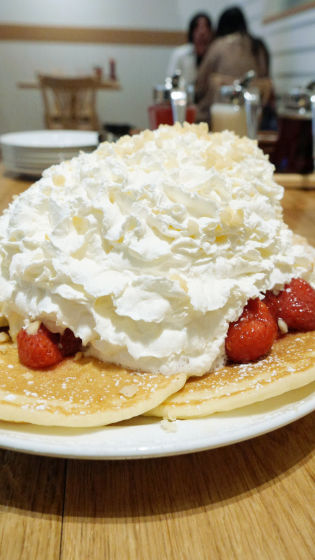 Jam and Macadamia nut with strawberry shapes are on the pancake with whipped cream.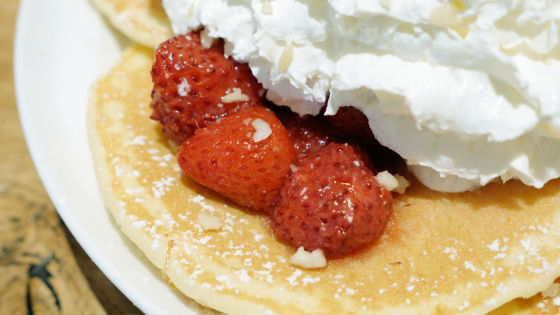 I decided to cut it and eat it.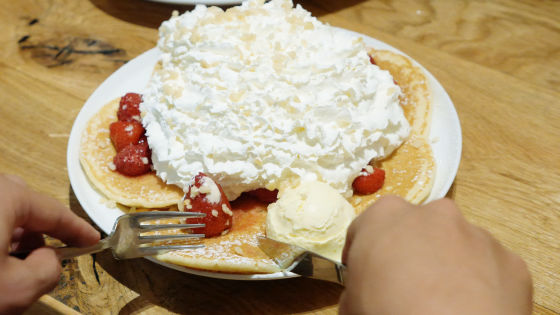 Perhaps because the cream is overloaded, the taste of whipped cream is the main pancake. Although the sweetness of the cream itself is not strong, a dish that eats whipped cream rather than pancake. The pancake is a good touch of fluffy texture, the acidity of strawberry makes me refresh my mouth.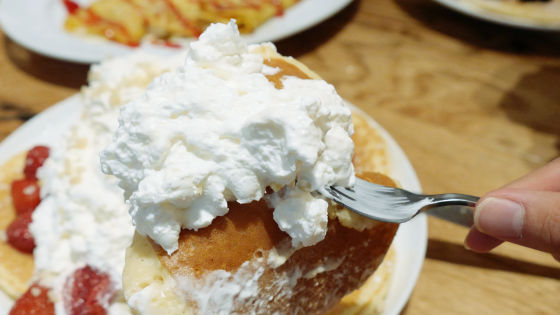 Good compatibility of vanilla ice cream and pancake with a separate attachment. Coldness makes the mouth clearer.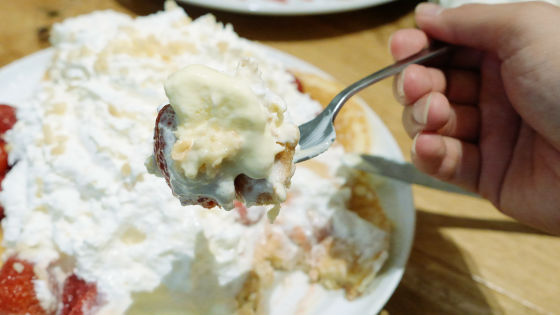 The amount of numerous whipped cream that can be eaten but can not be finished.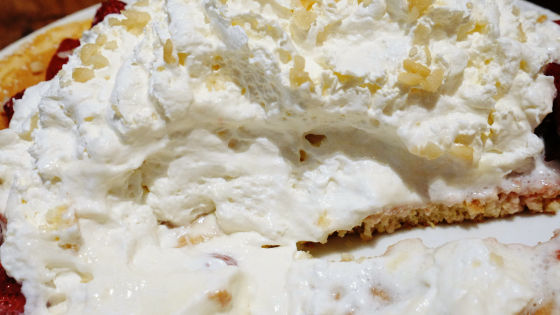 As it will get bored, change the taste.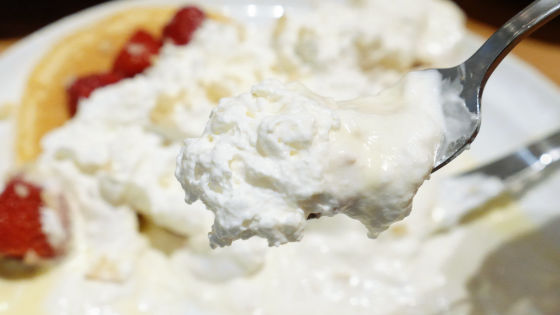 From the leftguavaThree syrups of sauce, coconut sauce and maple syrup.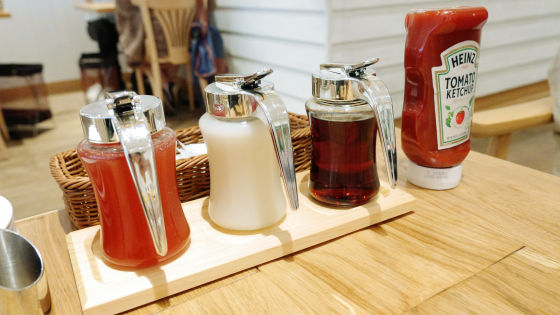 Guava sauce has a sour taste and turns the taste of whipped cream, which feels heavy when eating a lot, into something a little clearer.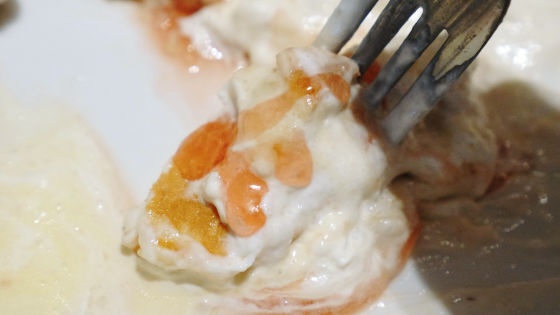 Although it is not conspicuous even if a white coconut sauce is applied to a white whipped cream, furthermore it is rich. Recommended for people who like coconut.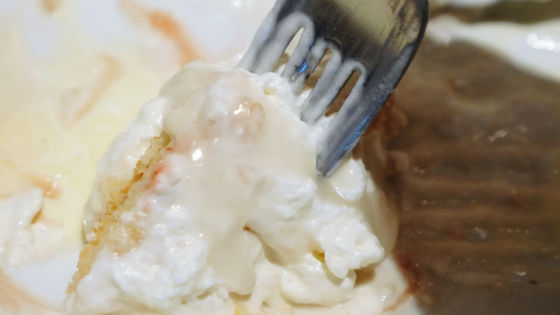 When adding maple syrup it adds a deep sweetness, making it more like pancakes.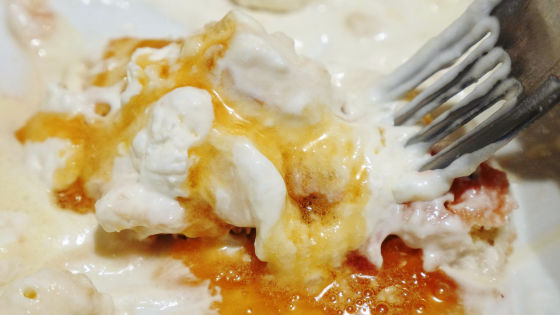 Eating a pancake alone, especially with a double whipped cream, seems to be hard as long as you do not like cream uncharacteristic. There were many people who were eating one pancake for two people who were on other tables.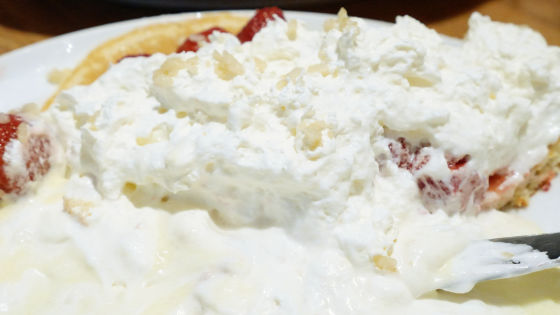 Next is a pancake of blueberry whipped and macadamia nuts. The whipped cream collapsed completely in a blink of an eye in a blink of an eye.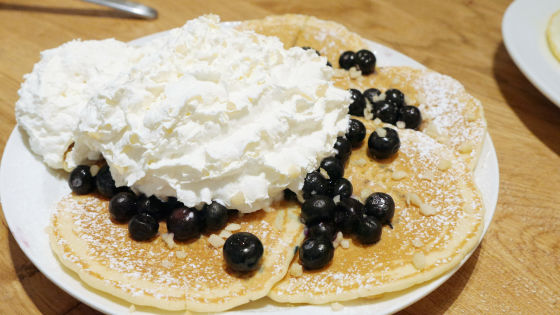 Strawberry whipped cream and macadamia nut pancake strawberry jam are replaced by blueberries as they are, making is similar.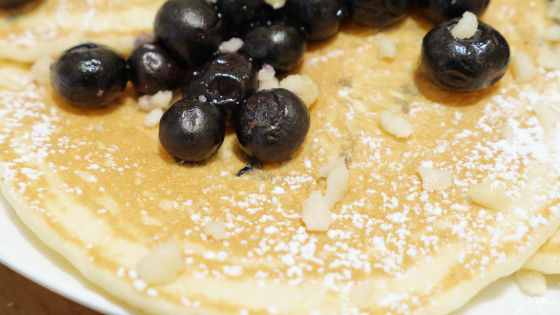 Because it is a plain blueberry which does not taste of sugar, sweetness is modest and mouth feeling pleasant. There is not much sweetness, so it seems to be okay to arrange with maple syrup etc.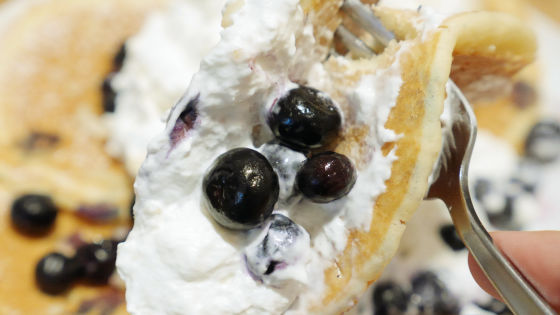 "Plain sour cream crepe (950 yen including tax) + raspberry sauce (200 yen including tax)"Plain sour cream is wrapped in a thinly baked pancake, plain sour cream · raspberry sauce is applied.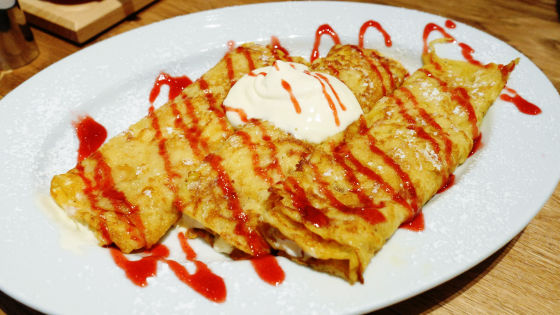 When cutting it off, plain sour cream turns. I will eat it at once.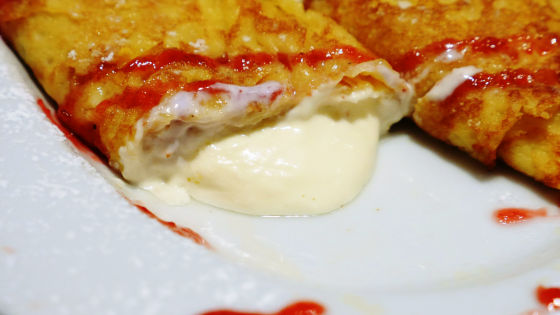 While there is sour taste, plain sour cream has considerable richness, its richness is more than whipped cream. Since the acidity of raspberry and acidity of cream cheese do not match, it is good to chose a strawberry that is compatible with cream cheese. Fabric has fluffy texture as usualMill CrapeTexture like.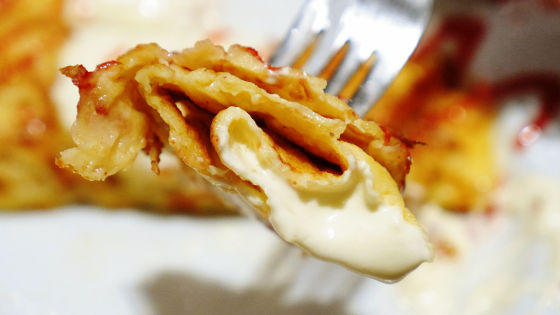 I am looking forward to having Hawaiian breakfast share and eating. It might be good to share it with a small dish like this.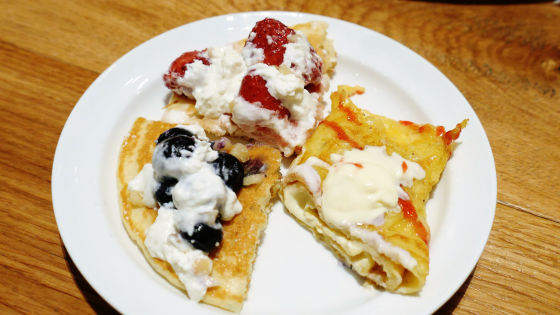 Eggs'n Things is deployed in 4 stores including Harajuku, Yokohama Yamashita Park, Shonan Enoshima, Shinsaibashi and 3 Kanto and Kansai stores. Depending on the time of day, every shop has a queue and customers who want pancakes do not ever end, but it is recommended when you mostly want to eat whipped cream. It is not a pancake shop, but rather a cream shop.

In addition, the Shinsaibashi store reached the side of the shop around noon, and a queue of more than an hour waited was made. It is necessary to prepare accordingly if it goes.