Eggs' n Things Kyoto Shijo store limited edition of bitterness and sweetness of matcha "Eat aroma, Uji matcha pancake"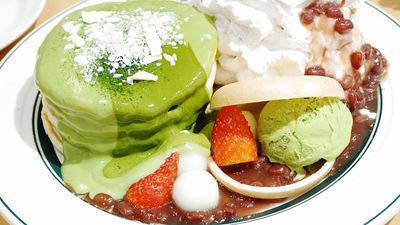 Two sources of "Matcha Custard" and "Matcha Cheese" using Uji Green Tea and a fresh strawberry is a gorgeous pancake "Aroma, Uji Maccha pancake"Appears on February 2, 2017 (Thursday) only at the Kyoto Shijo branch of Eggs' n Things. I went to eat actually whether I can feel the Japanese "harmony" because it is a pancake which imaged zenza with white spat, white rice, Uji green tea ice cream and red bean paste.

~ Pancake colored by Japanese "Waka" ~ Eggs 'n Things Kyoto Shijo store limited "Scent, Uji matcha pancake" on sale from Wednesday, February 1st | Eggs' n Things
https://www.eggsnthingsjapan.com/news/170126.html

Eggs' n Things Kyoto Shijo store is located a 5-minute walk from Shijo Subway Station on the Karasuma Subway Line and Karasuma Station on the Hankyu Kyoto Line.


There seems to be a terrace seat in a two storey store.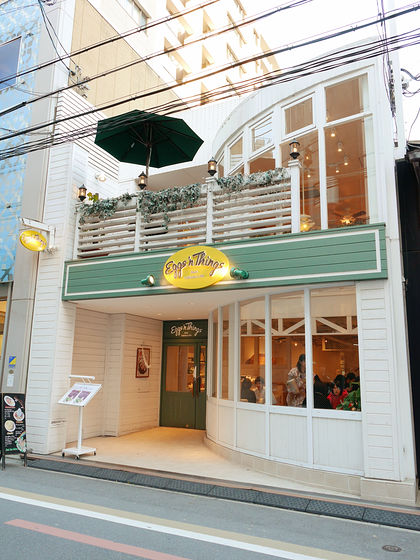 Because the inside of the store was nearly full, we got "scented, Uji matcha pancake" for about 20 minutes from the order.



There are plenty of "Matcha Custard" in plenty pancakes and two kinds of sauce, "Matcha cheese" with a dark color.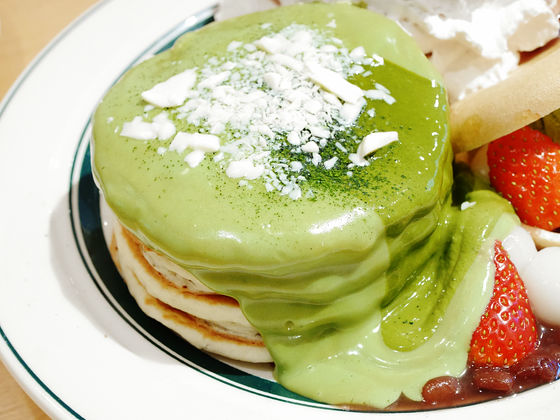 Next to that there were 2 pieces of strawberries and white balls, and Matcha iced sauce was put in the midst of it, and there was a mackerel surrounding them.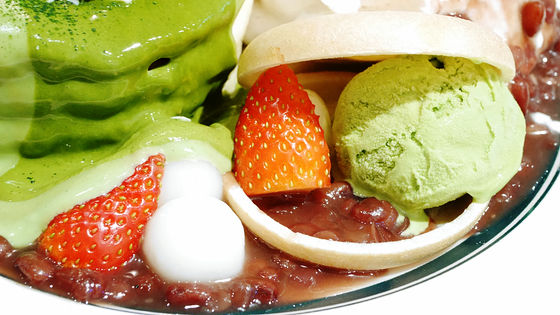 Eggs' n Things You can also say a famous whipped cream is healthy. The height was about the same as iPhone 5s.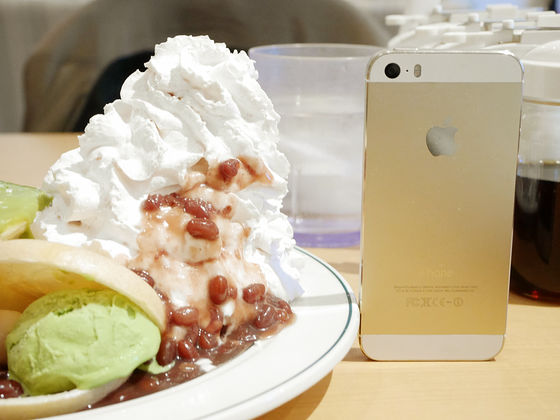 As soon as I insert a knife, I'm thrilled even just cutting the pancakes of 4 layers.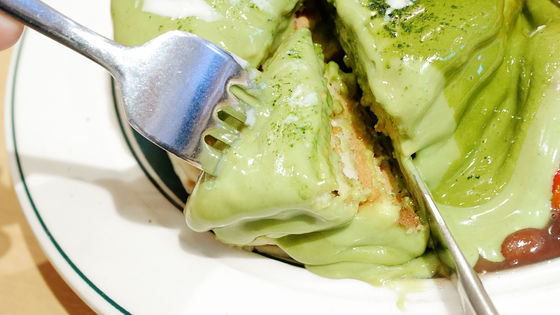 4 Matcha cheeks are overpowered, Matcha Custard is not too sweet, not too bitter, it is reasonably well matched with Matcha, creating a sense of exquisite balance as a source of sweetness using Matcha. Pancake has slightly saltiness, so it's complementing sweet sauce. On the other hand, although the flavor of cheese was not felt much from the matcha cheese part, it was a moderate sweetness source that does not exist in Matcha Custard.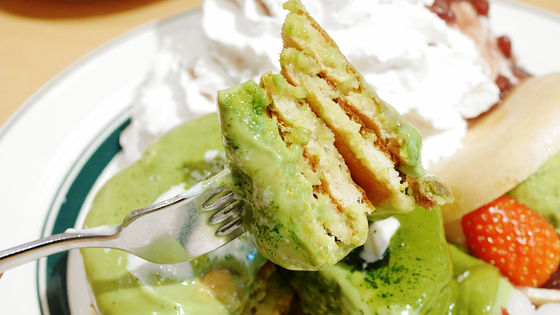 It is a little suited for adults, but if you add plenty of whipped cream, the sweet tooth will get a satisfying sweetness. Even if plenty of whipped cream is made, the taste of the two kinds of powdered green tea sauce is felt, it may be like Matcha latte in combination with the richness of milk.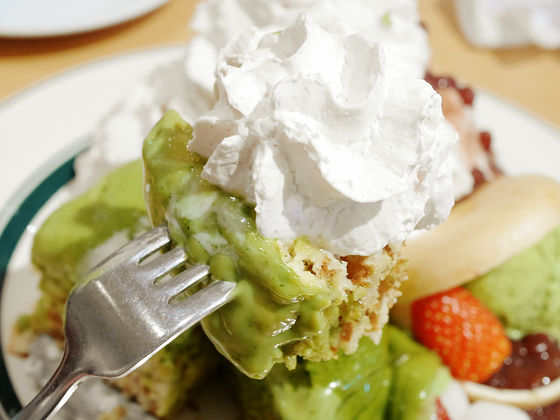 The part of the lid is crispy in the midst of it, and you can enjoy "Hitoyoshi zei" if you put on white balls and bean paste. In the middle of the floor sucks the sauce quickly and it makes a texture that makes you feel refreshed, but that's how it's ant.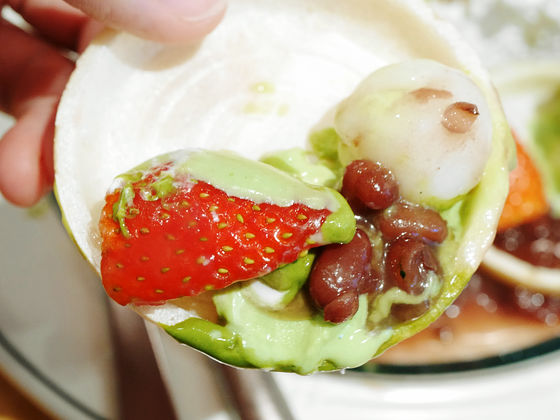 In addition, guava sauce, coconut sauce and maple syrup are lining up on the desk, but also when offering "fragrant, Uji mecha pancake", "Please also try your favorite sauce as you like" Because there was ...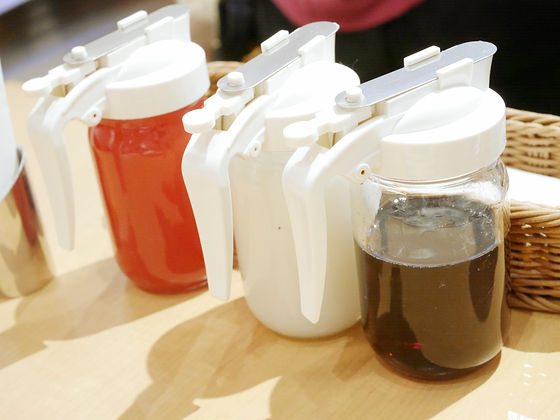 While holding the doubt that "Matcha and pancake sauce match", I tried a little maple syrup. I succeeded in placing sweetness without disturbing each other's taste than I imagined, so it may be good to try pancake sauce as soon as I get tired of the taste.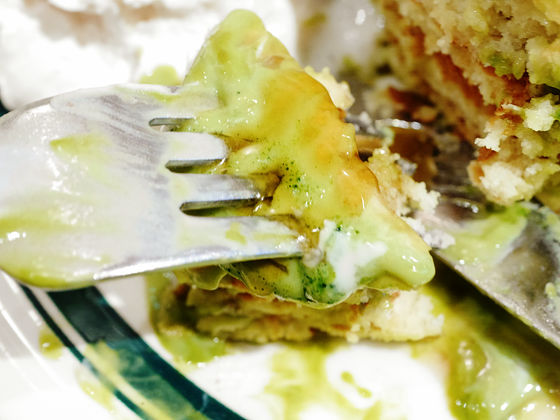 In addition, "fragrant, Uji green tea pancake" is provided only by the Kyoto Shijo store, and the price is 1500 yen, excluding tax.