22 things to know about Jonathan Ive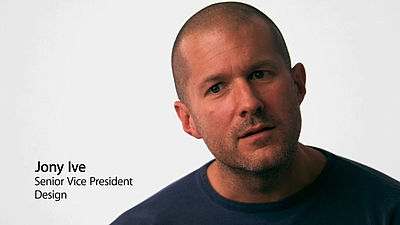 ByMarco Paköeningrat

He is senior vice president of Apple's industrial design groupJonathan IveMr. is an indispensable person for Apple who has designed a number of Apple's flagship products such as iMac, MacBook, iPod, iPhone, iPad. From the personality of Mr. Jonathan Ive, 22 things are gathered about the work content at Apple and the design team supervised by Ive.

22 Things You Need To Know About Apple's Jonathan Ive | Co.Design | business + design
http://www.fastcodesign.com/3042524/fast-feed/22-things-you-need-to-know-about-apples-jony-ive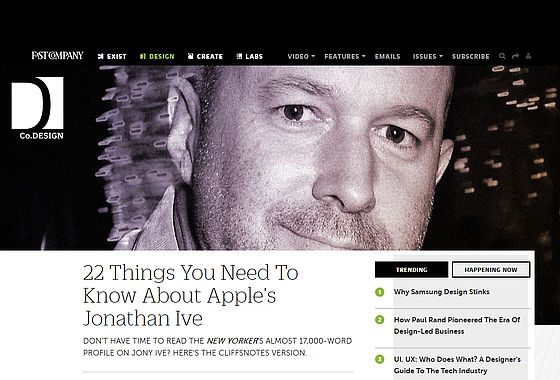 ◆ 01: Mr. Ive's design dislikes
Steve · Wozniak steam punk style clock, round smart watch like LG Watch R,Toyota · Platts, Google Glass, Apple'sJeff WilliamsofToyota Camry.

◆ 02: Mr. ive's design style
Mr. Ive is known for his creative design style with many restrictions, but his design is now recognized as being said to be the "most powerful person in the world".

◆ 03: Biography of Steve Jobs
Walter IsaacsonBiography of Steve JobsAlthough I am publishing, it is said that I do not like it because the content is incorrect.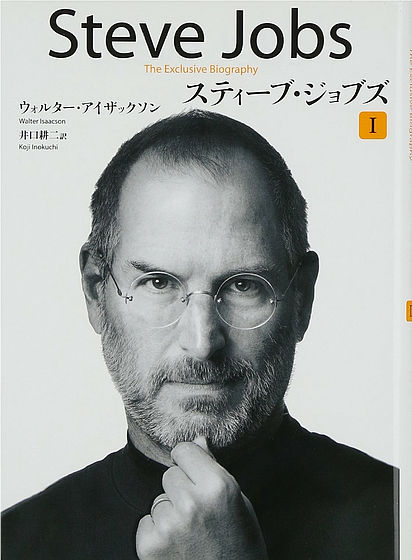 ◆ 04: Mr. Ive's bookshelf
100 pieces of the finest Rolex watch, Italy · Design furnitureKartell(Cartel shop) designerJoe ColomboBiography of the Discovery Channel Apollo Program Series "Moon Machines".

◆ 05: Ive's design sense
Ive's design sense isIndustrial designIt is based on. Antonelli of the New York Museum of Modern Art praises Apple's design as a sign of respect.

◆ 06: Mr. Ive's motivation
Mr. Ive's friendMark · NewsonAccording to Mr. said, "What we have in common is that" the lack of wealth "is the driving force, both of us do not have any special connections, so the design we have made so far, Efforts to get what I did not have when I was a child were fruitful. "

◆ 07: Apple's workshop
Speaking of Apple, you can learn how to use productsworkshopAlthough it is famous, this was born since Mr. Ive joined Apple.

◆ 08: It was Johnny Ive who made the iPad
Mr. Ive, who joined Apple in the 1990s, proposed Apple the prototype concept of the iPad. The draft was said to be a tablet type Mac "Macintosh Folio" with a stylus pen and a screen integral with the stand and capable of adjusting the angle.

◆ 09: All in one Mac
Prior to Mr. Ive designing the iMac G3, there was a strange concept Mac called "All in one Mac" in which a screen appears when the computer is embedded in the cupboard and the door opens.

◆ 10: IBM designer "Richard Sappar"
Steve Jobs, who returned to Apple CEO in 1997, wanted to hire a ThinkPad designer, Richard Sappar. Mr. Ive said he was prepared to replace the head of Apple 's design department.

◆ 11: Phantom function of MacBook
In the early MacBook designed by Mr. Ive, there was a function that "Apple icon flashes 12 times per minute at intervals like human breathing". However, because it was so stupid as to wake up a sleeping person when putting it on the bedside, this function never saw the eye of the market in the market.

◆ 12: "Fun Box" of Apple's Design Lab
Designers working at Apple's design laboratories have boxes made of parts like ABS resin lego blocks and are used to stimulate inspiration by rearranging them.

◆ 13: Apple's designer employment system
Apple has an employment team that is only responsible for designing new jobs, and one year is the best time to hire one designer.

◆ 14: Mr. Ive is reading comment on Apple's criticism on the net
Sound designer Hugo Verweij was responsible for iOS 7 sound design. Originally on my blog I wrote that "iOS's sound is big just lower" I got into eyes and I decided to join Apple.

◆ 15: Design the destination ahead
When Apple's designers are designing iPhones, iPads and Macs, they are keeping a "next next generation" mockup. According to this, it is understood that the terminal under development is not "outdated".

◆ 16: Idea to use jewelry for devices
Mr. Ive is a British luxury mobile phone brand "Vertu"It seems that Apple watch of high-end luxury routes using 18 gold is born.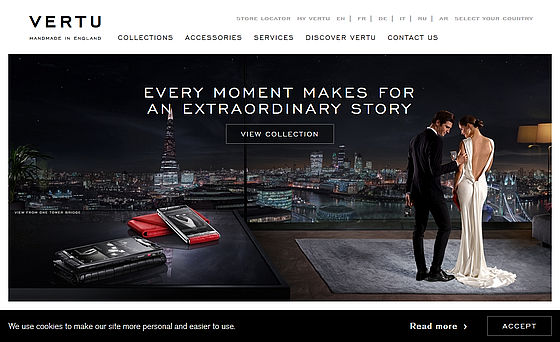 ◆ 17: Apple Watch Custom
Apple Watch allows customs that are not free from conventional Apple products, and consumers can freely select the main body and belt. Because it is an unprecedented effort, the launch of Apple Watch is a fight that Mr. Ive can not lose. From the fact that we employed Burberry, Yves Saint Laurent, Tag Heuer 's designers, we can see the seriousness.

◆ 18: Why Apple Watch is not round shaped?
Considering the function of Apple Watch, "Because there is nothing to merit to round"I tell you.

◆ 19: Mr. Ive's friend
Mark Newson said the design of Apple Watch is the first job.

◆ 20: What products Ive may be involved in the future?
A project on Apple products related to aerospace called "Airbug" is being rumored.

◆ 21: Apple products are rounded design
Mr. Ive, who dislikes the round smart watch, likes linear designs as you can see Apple products. However, Mr. Ive is a fan of circular furniture designer Joseph Frank, and new materials like curved glass are also appearing. In the interview, he says that "human beings are flexible in shape and excessive perpendicularity is unnecessary."

◆ 22: Camera lens protruding from iPhone 6
Although the camera lens of the iPhone 6 is not a flat surface, it is a design that protrudes a little, but Ive admits "a kind of wrong design".