How long will it take to put iOS 8 in iPhone 4S or iPad 2?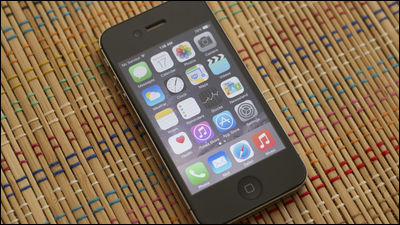 Held in June 2014IOS 8 announced at WWDC 2014The distribution finally began on September 18th. Updating to iOS 8 can be done with "Settings" → "General" → "Software Update", and at that time, about 5 GB of free space is required inside the main unit. The corresponding models are iPhone 4S or later iPhone, iPad 2 or later iPad, and fifth generation iPod touch. If you put such iOS 8 in iPhone 6/6 Plus which is the latest model, 3 gee old old iPhone 4 S and iPad 2, what happens to the operation of the terminal?

IOS 8 on the iPhone 4S: Performance is not the (problem) problem | Ars Technica
http://arstechnica.com/apple/2014/09/ios-8-on-the-iphone-4s-performance-isnt-the-only-problem/

A slide into obsolescence: iOS 8 on the iPad 2 | Ars Technica
http://arstechnica.com/apple/2014/09/a-slide-into-obsolescence-ios-8-on-the-ipad-2/

You can find out about the new features that will be available on iOS 8 that was finally updateable by reading the following article.

New features of iOS 8 that Apple declares as "the biggest version upgrade so far" Summary - GIGAZINE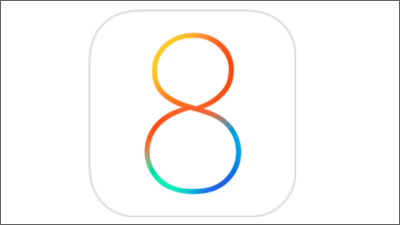 ◆ iPhone 4S
IPhone 4S is the oldest terminal among iPhones that can update to iOS 8. Although most of the features of iOS 8 can be used on such iPhone 4S, functions such as "AirDrop", "Touch ID", "Handoff function" and "OpenGL support" are said to be incompatible with hardware in 4S. Also, the iPhone 4S does not support LTE, and the performance of the Apple A5 chip installed in 4S is less than a quarter of that of 5s A7.

In the new Spotlight, in addition to contents in the device, you can search Wikipedia · Topics news · Nearby spot · iTunes Store · App Store · iBooks Store · Recommended website · Movie showtimes etc.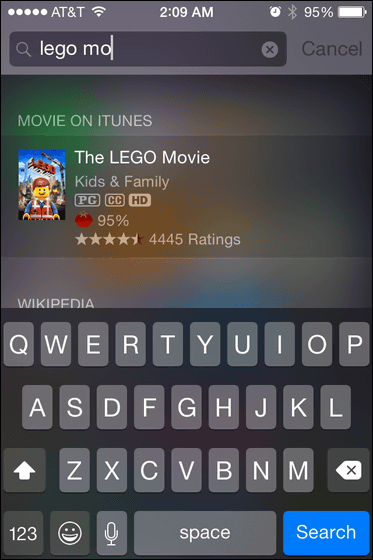 Character input also evolved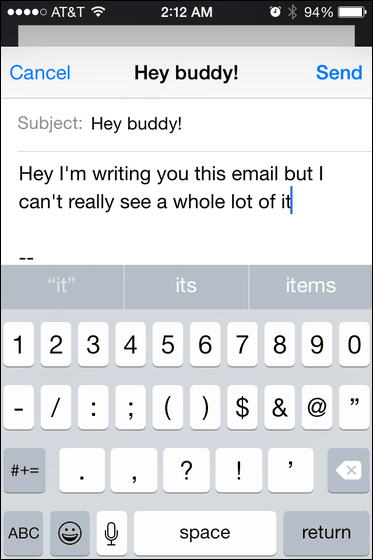 The mail application has also been enhanced.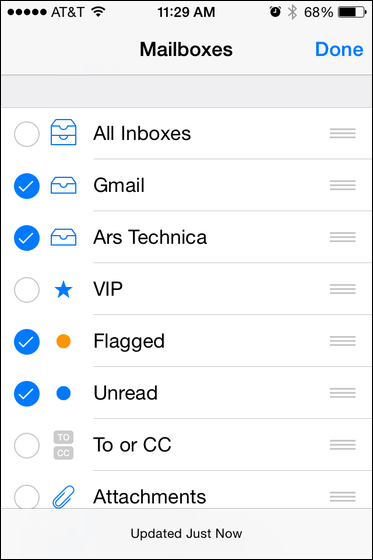 New notification center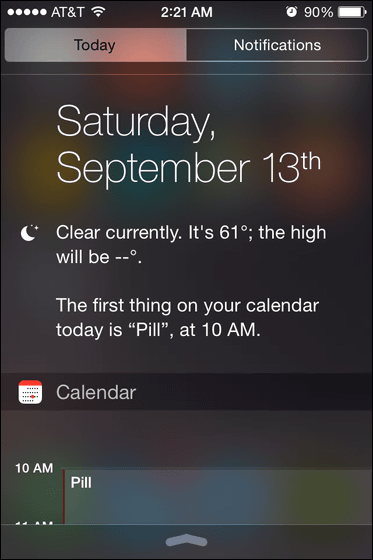 The iPhone 4S display has one less icon column than the iPhone 5 / 5s / 5c, 4 × 4 + 1 row.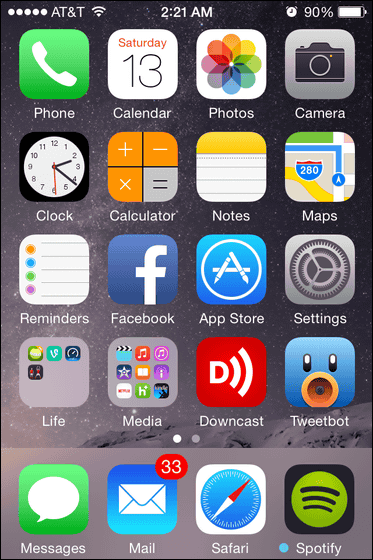 When you press the Home button twice, contacts of close friends etc are displayed on the multitasking interface which is displayed.



Ars Technica who measured the operating speed of iPhone 4S updated to iOS 8 has criticized "iPhone 4 updated to iOS 7 is bad". The figures in the following graphs took to repeat the operation of launching each application once on iOS 7 and iPhone 4S equipped with iOS 8, closing it when it became usable, and then restarting it twice It is a measure of time. Reaction time varies depending on the application, but in some cases iOS 8 takes twice as much time than iOS 7 to do the same operation. The browser benchmark test seemed to be slightly faster than 4S equipped with iOS 7, and there was no big difference in battery life.




However, the operation itself of the terminal itself seems to be very slow, Ars Technica writes that it is strange that iPhone 4S, which worked comfortably in iOS 7, will be delayed so far.

◆ iPad 2
Four features that can not be used even if updating iPad 2 to iOS 8 are "Apple Health", "Touch ID", "Handoff function", "OpenGL support".

Home screen of iPad 2 with iOS 7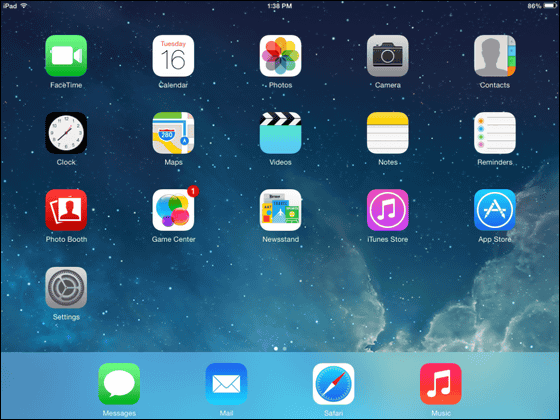 This is also the home screen of iPad 2 with iOS 7, but this is the one when turning on the "thick text" function.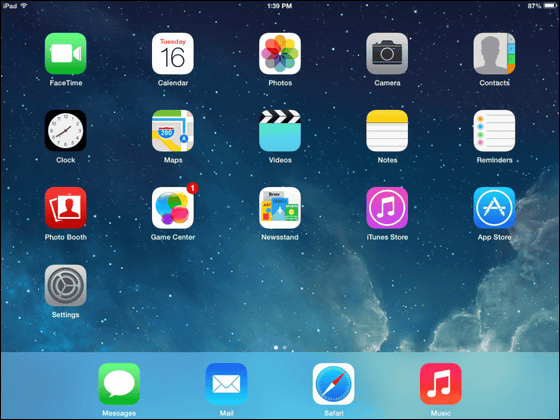 Normal display of iOS 8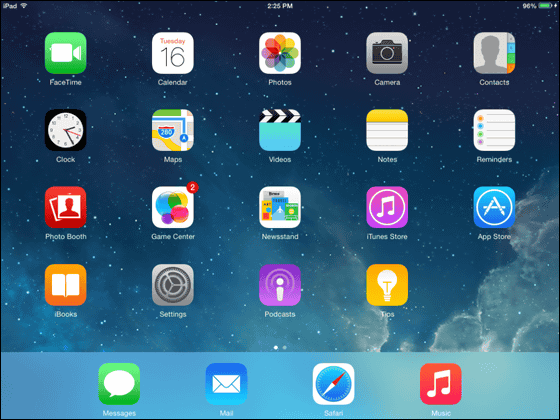 With iOS 8 you can use "thick letters" function. Changes in the clock at the top of the screen are easier to understand than at iOS 7.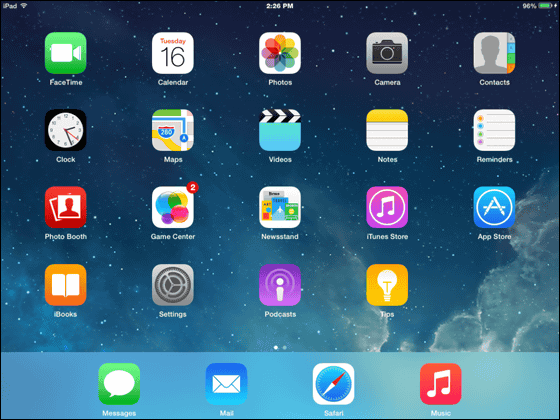 When I look at the keyboard in normal display of iOS 7, it is like this.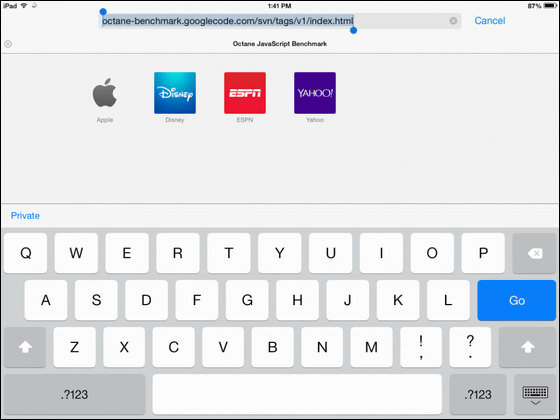 This is iOS 7 boldface display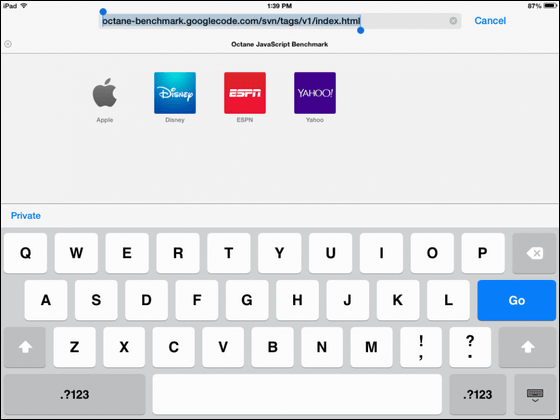 Display the keyboard in iOS 8 normal display. An emoticon key appears at the lower left of the keyboard.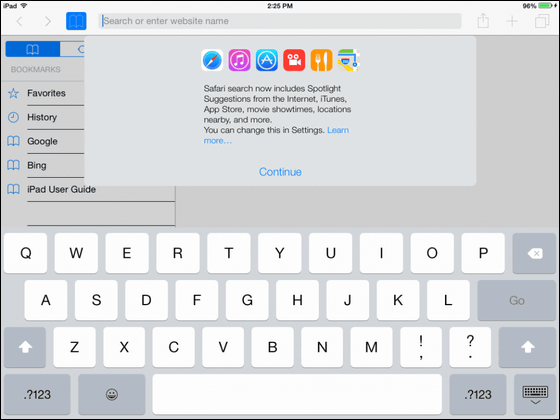 It's like iOS 8 boldface display. There seems to be no big difference with the bold keyboard of iOS 7.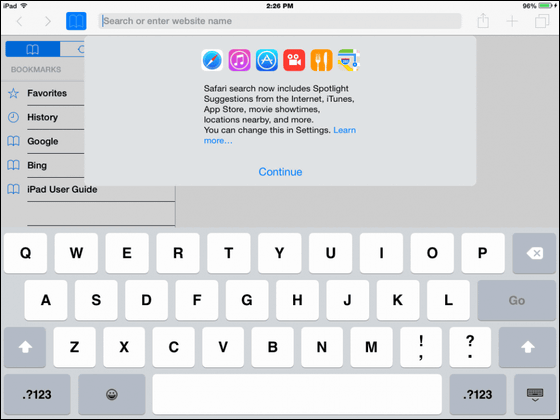 The table below summarizes the results when comparing speeds on iPad 2 with iOS 7 and iOS 8, and you can see that the operation of iOS 8 is also slower than that of iOS 7 on iPad 2. In addition to this, the response of the screen rotation when holding the iPad vertically or horizontally is very slow, and there are things that other operations do not move smoothly in part.




The following graph shows the results when benchmark test was performed on each terminal equipped with iOS 7 and iOS 8. this isSunSpider 1.0.2 JavaScript BenchmarkResults of benchmarking when using.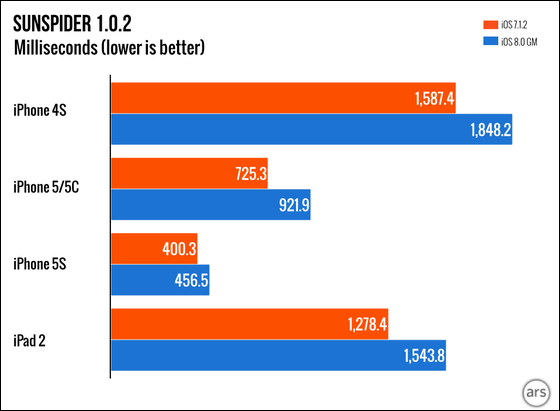 Google'sOctaneResults of benchmarking when using.



Kraken JavaScript Benchmark (version 1.1)As a result of the benchmark test using iOS 8 iOS 8 has better results than any other terminal.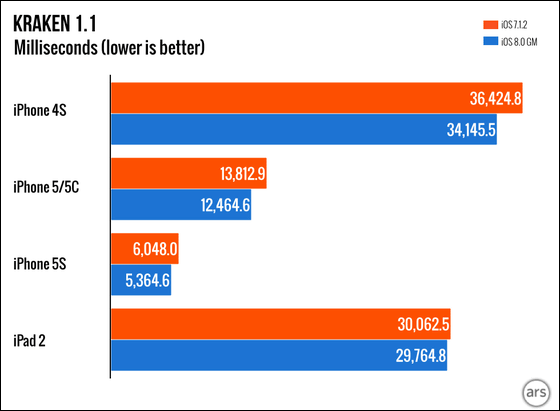 However, Ars Technica describes that the actual feeling of use is slightly slower for iOS 8 than for tab reloading and character typing.