Should iOS 9 be installed on "iPad 2" that appeared 4 years ago?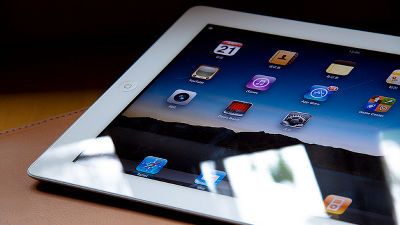 ByLeon Lee

Apple's latest mobile OS "iOS 9" is finally released. in the pastI upgraded iPad 2 from iOS 7 to iOS 8, but the speed got lagged behindThere was also a report that iOS 9 also supports iPhone 4s and iPad 2 that appeared in 2011, and it is said that the latest OS can be used even for terminals 4 years ago. So, on the news siteArs TechnicaDo you install iOS 9 on iPad 2, how much can you use it, and in fact should iPad 2 upgrade to iOS 9? It is clarifying that it is.

IOS 9 on the iPad 2: Not worse than iOS 8, but missing many features | Ars Technica
http://arstechnica.com/apple/2015/09/ios-9-on-the-ipad-2-not-worse-than-ios-8-but-missing-many-features/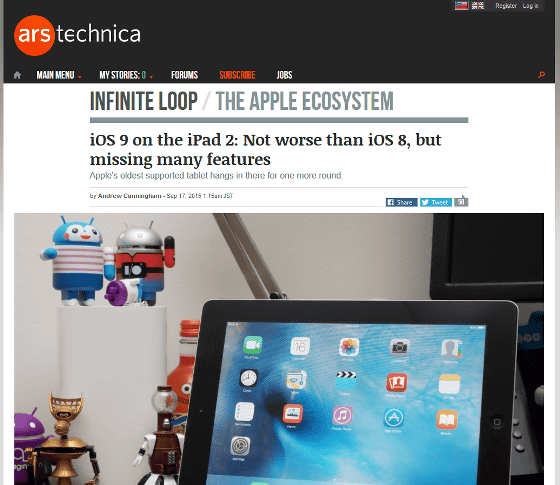 Even if you say "iOS 9 supports iPad 2", due to hardware specifications, not all new iOS 9 features can be used. Not to mention multithusking which can be said as an eye-catching feature of iOS 9 new function, not to mention that it does not correspond to Siri in the first place, it can not use the function operated by Siri, and since AirDrop and Handoff are not equipped with Bluetooth 4.0 out of service. Of course it does not correspond to Apple Pay and Touch ID, and HDR · panorama · slow motion shooting etc. can not be done in photo shooting. So, among the new features of iOS 9, examples of functions not available on iPad 2 are as follows.

· "Split View" which can be used by splitting the screen into two, "Slide Over" which can be used while switching between two applications on the same screen, "Picture-in-Picture" which can display the application at the edge of the screen as a small window In general, multitasking new functions in general
· "Spotlight" which presents information considered to be necessary for users and "desktop search" "Search with Spotlight"
· Health management application "Health"
· Handoff function
· TouchID
· Apple Pay
· Support for OpenGL ES 3.0 Graphics APIMetal
· Metal of graphics API
· 64-bit ARMv8-A architecture

But,Apple A 5If you install iOS 8 on iPad 2 using iPod 2, the response of the application might be worse than iOS 7 terminal, but if you upgrade from iOS 8 to iOS 9 you can not say that the reaction speed will be necessarily improved , It seems that it did not become much slower than before. Below is the startup speed comparison of each application of iPad 2 equipped with iOS 8.4.1 and iPad 2 with iOS 9.0 experimented by Ars Technica.




As for the startup speed of the application, there is a big difference in case of iPad 2 with iOS 7 and iPad 2 with iOS 8, and depending on the application, some iOS 8 equipped terminals take twice as long time as iOS 7 equipped terminals. On the other hand, comparing the application startup time of iPad 2 with iOS 8.4.1 and iPad 2 with iOS 9.0, there is no big difference there. Also, there is a time lag between typing the keyboard and reflecting the characters on the screen, reloading Safari, rotating the screen vertically or holding it horizontally, swiping the screen to notify you It seems that the behavior, such as making it, is as slow as iOS 8.

However, when you do a benchmark test, you can see that Apple is trying to optimize past terminals on iOS 9 as well.

First of allKraken version 1.1Results. Similar to other terminals, JavaScript performance is improved by upgrading.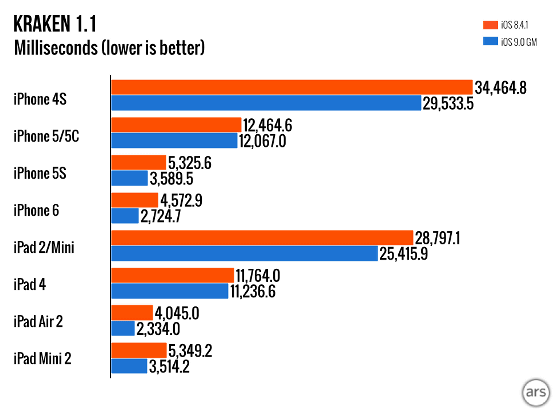 SunSpider 1.0.2In the benchmark at, it turned out that the performance was slightly lower due to the upgrade, but this is the same for other terminals.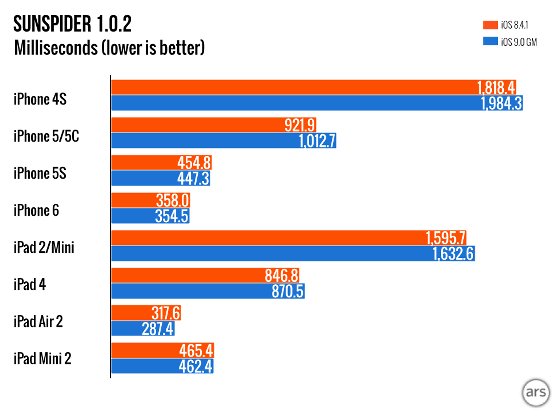 Also, the possession of the battery seems to grow by the upgrade.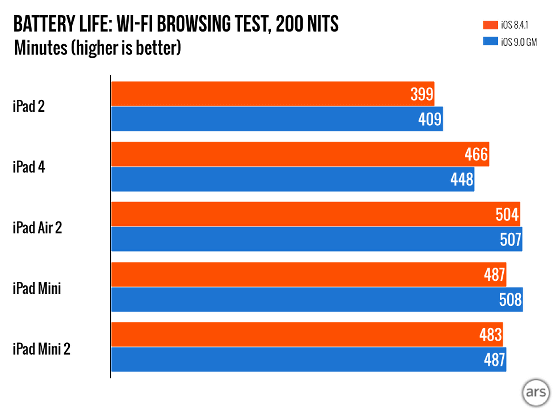 ◆ Should I upgrade iPad 2 to iOS 9?

First of all, Ars Technica's view that "If you are currently installing iOS 8 on iPad 2, you should do it." It will not be much slower than iOS 8, and some can also use convenient new features of iOS 9. And if you think that developers will gradually stop developing apps for iOS 7 even on devices equipped with iOS 7, they should upgrade to iOS 9 which is also the best mobile OS of the history of Apple.