A PSN attacked DDOS and a failure occurred, the next target of a person who names a criminal to Xbox Live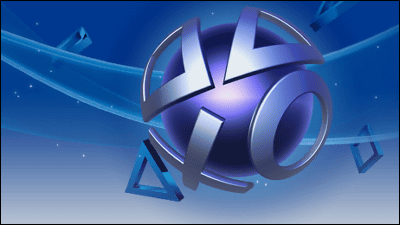 On August 24, 2014, connection failure occurred in PlayStation Network (PSN) and Sony Entertainment Network (SEN), and it turned out that the cause was due to DDOS attack. A criminal who claimed that attacks on Twitter appeared, implying that attacks were made not only on PSN, but also on Xbox Live, and furthermore, tweeted up a bomb on an airplane flying in the United States, a big stir It is becoming.

PlayStation Network Update - PlayStation.Blog
http://blog.us.playstation.com/2014/08/24/playstation-network-update-2/

TwitterPlayStationThe official account announced that network trouble has occurred around 1:00 am on August 25, Japan time.

We are keeping posted - sorry for the inconvenience

- PlayStation (@ PlayStation)2014, August 24
Several hours after announcing the occurrence of trouble on Twitter, on the official blog of PlayStation, reports that PSN and SEN were faulted due to DDOS attacks and that there was no leakage of personal information Was done.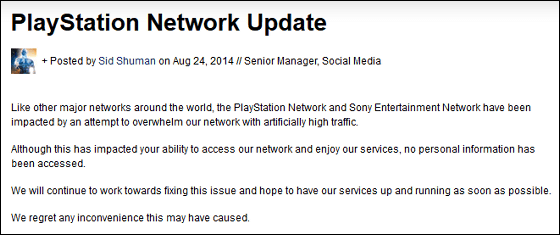 Before the official announcement of the disorder, the chairman of SCE Worldwide Studio President and CEO who received the indication from the userShuhei YoshidaWhen I retweetly said that "There is a report that DDOS attack was received"Lizard SquadThe user said that he is "the culprit of DDOS attack" and retweet.

.@ Yosp@jdtjoseYes hello i can confirm there are lizards in Sony's datacenter

- Lizard Squad (@ LizardSquad)2014, August 24
Lizard Squad further tweeted, "Muslim disbelievers can not play games until the bombing to ISIL stops."ISILIslamic State in Iraq and the Levant is a radical militant organization aiming for independence of Islamic states, which is also called ISIS (Islamic State of Iraq and Syria) in the press. On June 29th, I declared the establishment of a state as "Islamic State".

Kuffar do not get to play videogames until bombing of the ISIL stops.#ISIL# PSN#ISIS

- Lizard Squad (@ LizardSquad)2014, August 24
Down DetectorAccording to the number of troubles occurrence graph published by August 25, 2014, trouble occurred around 18 o'clock in 2014, the number of cases increased in a few hours, thereafter it is on a downward trend.




There is no official announcement that the failure of PSN and SEN was restored at the time of article writing, but it seems that recovery work is gradually taking place.

While the PSN fault is going to restore, Lizard Squad, who claims the offender of the attack against PSN, posted a tweet hinting that it attacked Xbox Live this time.

Is anyone having issues with the Xbox Live Login servers?

- Lizard Squad (@ LizardSquad)2014, August 24
Xbox Live status serviceThen, it seems that obstacles are appearing with respect to the online game currently writing articles. However, it is unknown whether the following obstacles are related to Lizard Squad's attack.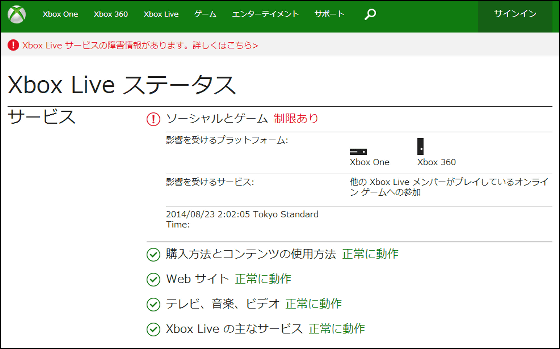 Lizard Squad who calls the criminal is not satisfied with just the DDOS attack, the president of Sony Online EntertainmentJohn SmedleyTweet that they set a bomb on the plane on which Mr. is riding.

.@AmericanAirWe have been receiving receiving that@ _ _ Smedley'S plane # 362 from DFW to SAN has explosives on-board, please look into this.

- Lizard Squad (@ LizardSquad)2014, August 24
Mr. Smedley who was actually on the plane designated by Lizard Squad said "The plane on board is changing the destination and heading for Phoenix due to security problems," the tweets said. However, as with the case of Xbox Live, it is unknown whether or not a bomb really was set up.

Awesome. Flight diverted to Phoenix for security reasons.

- John Smedley (@ j_smedley)2014, August 24
Mr. Smedley and his passenger changed to another flight at Phoenix,I headed for San Diego, my initial destination... apparently ...

◆ 2014 08/25/14 14: 14 Addendum
LizardSquad, who claims to have attacked PSN, tweeted that "this time I downed the official website of the Vatican."

Just took Vatican City offline, all kuffar shall die.#ISIS# Jihad#ISIL#IS

- Lizard Squad (@ LizardSquad)2014, August 25
actuallyOfficial website of the VaticanWhen I opened it, I could not connect.