Hacker group "Phantom Squad" performs Christmas DDoS attack on online game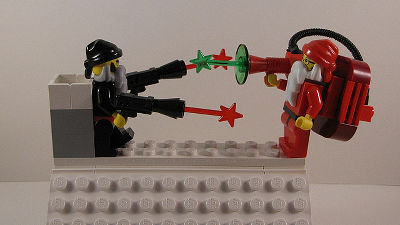 ByName of right holder

On online gaming network on Christmas dayDDoS attackA group of hackers who had predicted to doPhantom Squad"It seems that the attack actually went down, a situation where the server of electronic art (EA) which seems to have been attacked temporarily goes down has occurred.

Phantom Squad Starts Christmas DDoS Attacks by Taking Down EA Servers
http://news.softpedia.com/news/phantom-squad-starts-christmas-ddos-attacks-by-taking-down-ea-servers-498078.shtml

Phantom Squad announced on the Christmas Eve at around 17 o'clock that it was his own account, "Today is a big day, XBL (Xbox Live) and PSN will be down!"

Today's the big day. XBL & PSN servers will be down! RT for servers to stay up!

- Phantom Squad (@ PhantomRoot)2015, December 24
Electronic Arts (EA), which seems to have been affected, announced the situation of trouble on Twitter at 23:30 on Christmas Eve. I was murmuring how I was working on restoring access faults.

Apologies for the inconvenience. We are working hard to resolve log in and connection issues which are currently affecting many game titles.

- EA Support (@ AskEASupport)2015, December 24
It seems that access trouble was occurring even at the time of 0 o'clock on the 25th when the day changed.

EA games, services & amp; support may be impacted. We have working to resolve as fast as possible.

- EA Support (@ AskEASupport)2015, December 24
The trouble seemed to be solved after 1 o'clock, and recovery was announced at 1:13 tweet.

EA games & amp; services are available. Support wait times may still be impacted. For 1x1 assistance, please contact us:https://t.co/5ruQb6pQ7D

- EA Support (@ AskEASupport)2015, December 24
It seems that access trouble was diffused even by tweets of users. In the following tweets, screens that could not connect to the server are tweeted.

@ RealPhantomRaid@ Phantomsquad69PSN servers are offlinePic.twitter.com/TBH2N9qdVc

- Danish Khan (@ BruvFollowMe)2015, December 24
The relationship with Phantom Squad is unknown, but in Japan it is also announced that access trouble occurred around 20:20 on December 24th and the next 25th at 8:18 am.

"PlayStation Network" Disaster recovery guidance December 24, 2015 20: 20 ~https://t.co/9S53UybLI7

- PSN failure / maintenance information (@ psn_jp_status)2015, December 25

It should be noted, it is also a failure occurs in the early morning of December 18 in Xbox Live, which will Phantom Squad had put out a crime statement. The actual relevance is unknown, Phantom Squad has launched an attack at around 18 days 7, it has announced that it has stopped the attack around 9:00.

It is unknown what the Phantom Squad attacked for. Twitter accounts are murmuring content "Xbox and PSN need better security;]".

Xbox / PSN need better security;)

- Phantom Squad (@ Real Phantom Raid)2015, December 25