I went there because the pancake shop "MoenaCAFE" originating in Hawaii opened in Kyoto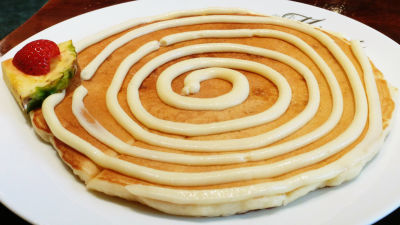 A few years ago, Hawaiian pancake shops have landed in Japan one after another, but one such store "MoenaCAFE" opens stores in Kyoto on Wednesday, August 20 following Tokyo Did. It's popular in Hawaii "Cinnamon roll bun cake"And fruit is brilliant"Fresh fruit pancake"There was an impact on the appearance, so I went to the store at once.

MoenaCAFE Kyoto | moenacafe
http://moenacafe.jp/?page_id=742

Arrived at the shop. Flowers of opening celebration were lining up because it was still open and still open.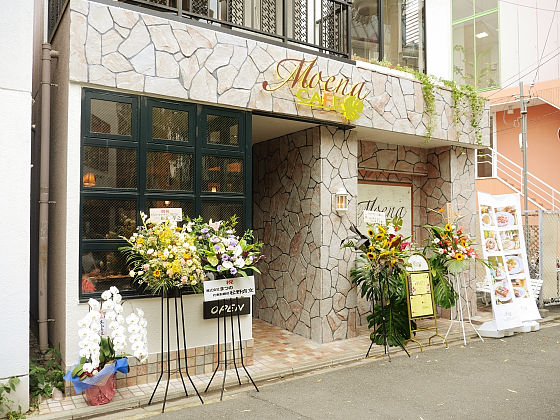 There is a menu with a photo in front of the shop, and the image feels easy to spring.



I will enter the shop.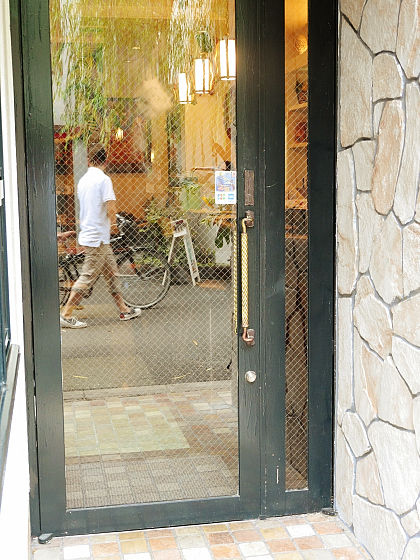 When entering the store, the clerk welcomes you as "Hello Aloha"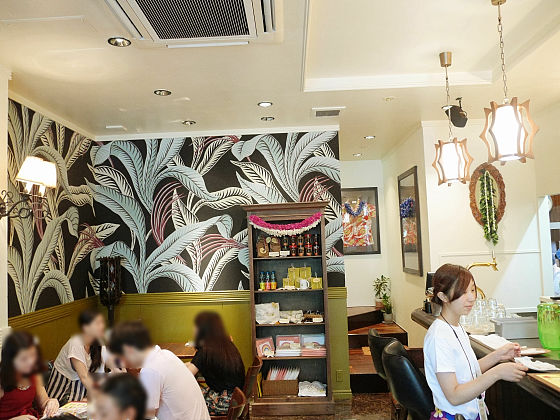 There was a counter on the first floor seat.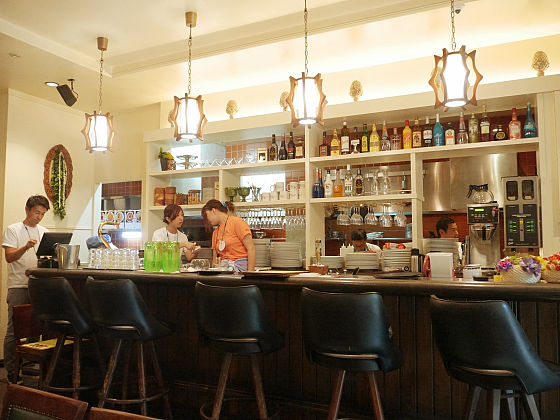 The wall looks like Hawaii somehow.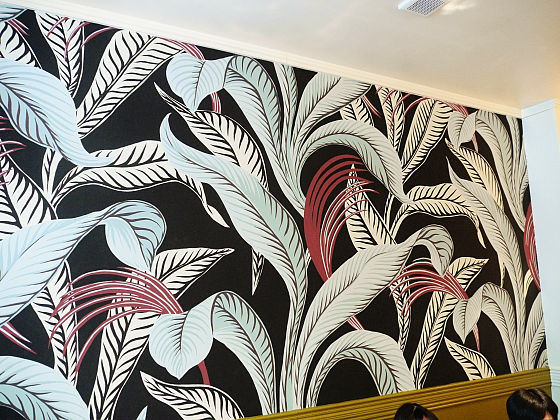 I found the "Cinnamon Rolls Cake (Regular 1100 yen · Double 1700 yen)" and the "Fresh Fruit Pancake (Regular 1480 yen · Double 2080 yen)" menu you want, so I will try ordering. Since the shop was just opened, "Special pancake of strawberry and fresh cream from Kyoto store" was not yet on sale.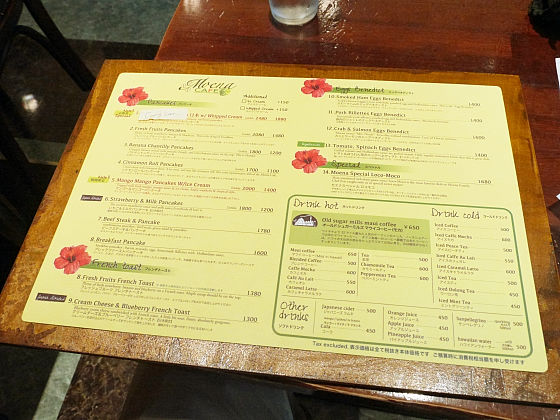 Cinnamon roll bread cake arrived in about 10 minutes to wait due to the fact that the inside of the store was not crowded.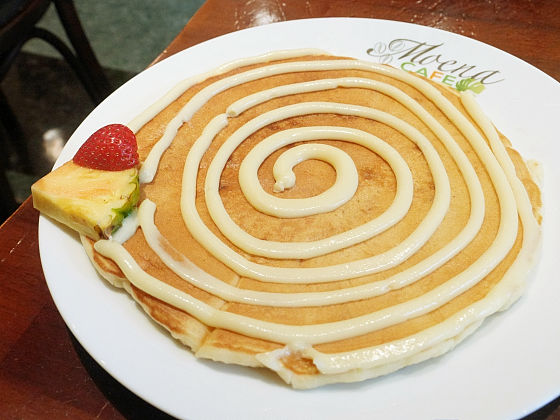 Compared with the iPhone 5, this is about this size.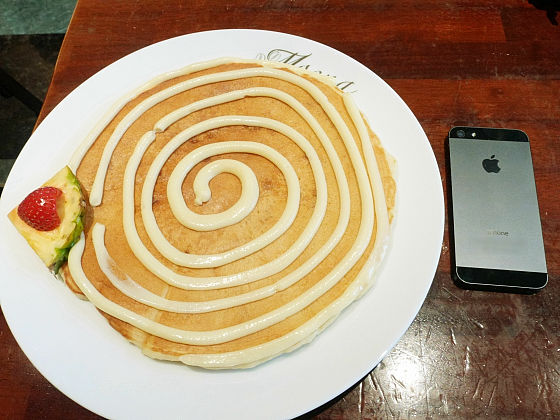 The thickness is about the same as the iPhone 5 or a bit thin.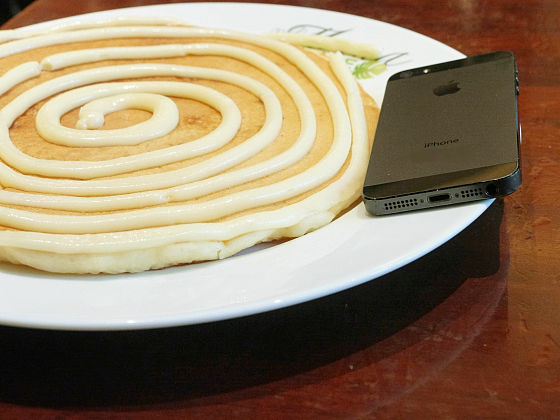 Cream cheese containing cinnamon is like a whirlpool.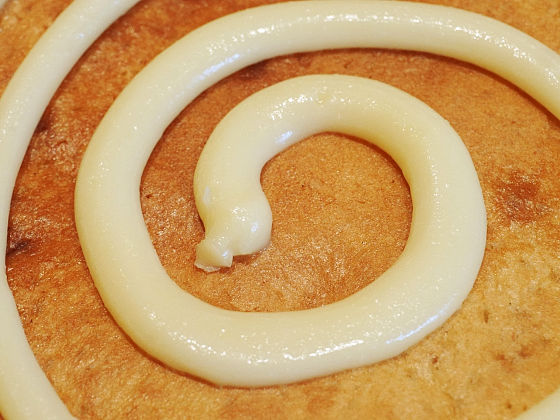 The pancake is a fry color and a good feeling of baking.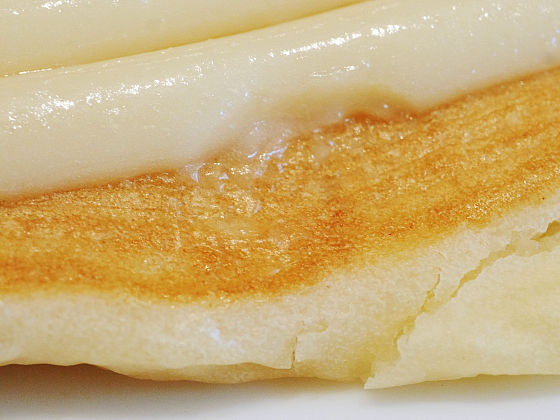 Pineapple and strawberries are also included.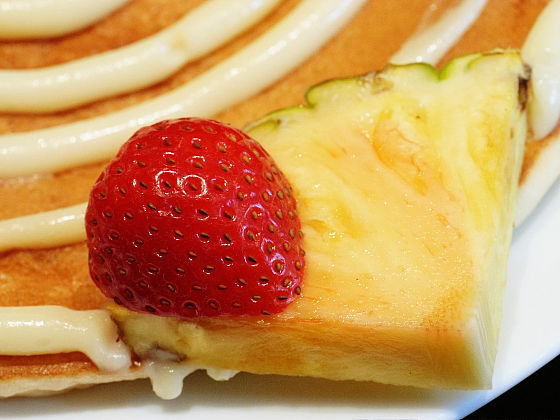 When trying to cut ......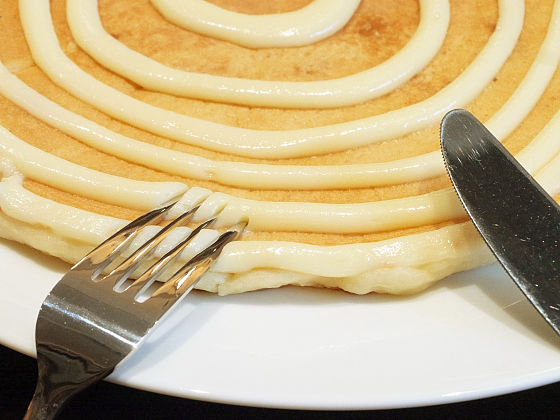 Sugar on the reverse side had become rainy.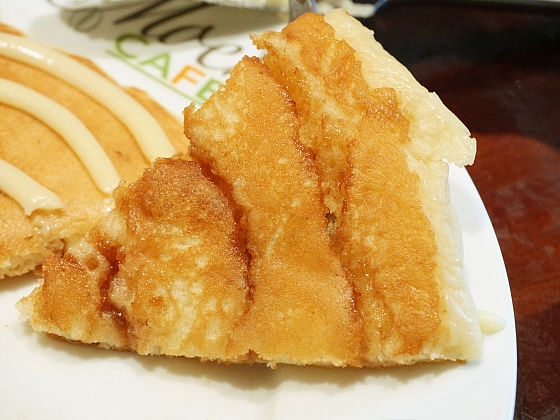 When I try to eat it, cream cheese has a heavy feeling which is close to condensed milk and has sweetness that you can not taste with regular food. Sugar on the reverse side further strengthens its sweetness. The taste of cinnamon is somewhat weak, and the texture of the pancake itself is fluffy.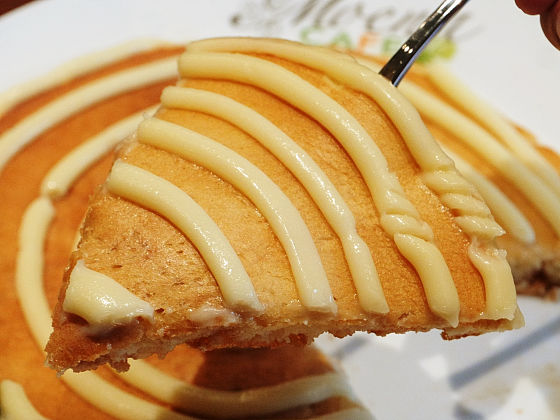 The menu was written as "slightly sweet", but it is a rich sweetness that will be pretty much done when you eat about half.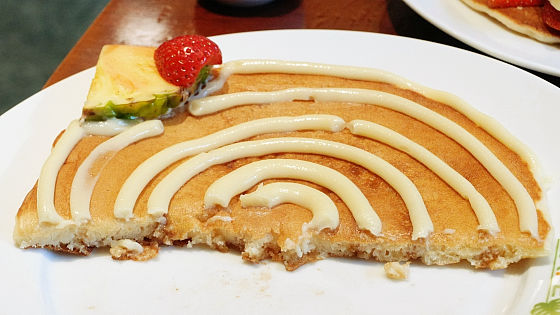 In order to change the mood, I order "Old Sugar Mills Maui Coffee (Mocha)" (650 yen including tax).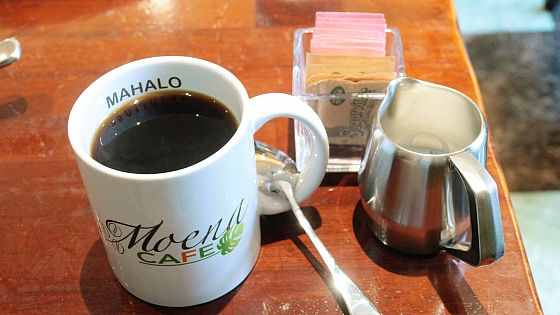 After all the cinnamon roll taste and coffee compatibility are outstanding. Even if you drink water, you will not be able to take sweetness or a heavy feeling of cream, so it seems better to have coffee.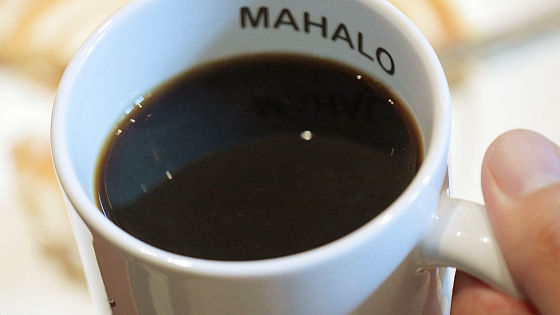 Although sweetness was strong, I managed to finish one sheet. As a snack a little volume may be.



Fresh fruit pancake is packed lively with strawberries, with maple syrup. As a banana is on top of a warm pancake, a sweet scent was drifting.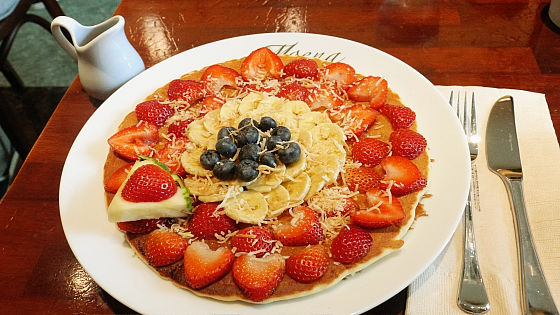 Blueberries and coconuts in the center.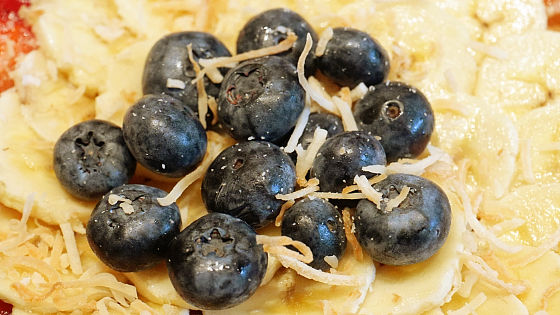 Plenty of slices of bananas.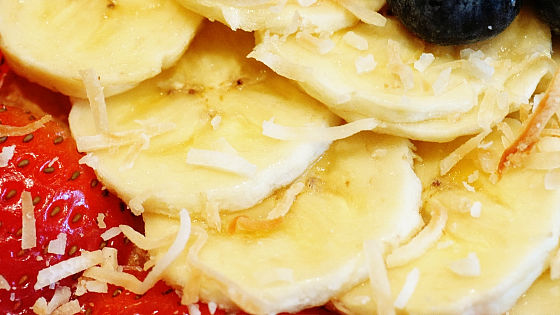 Ichigo also serves as a stopbone.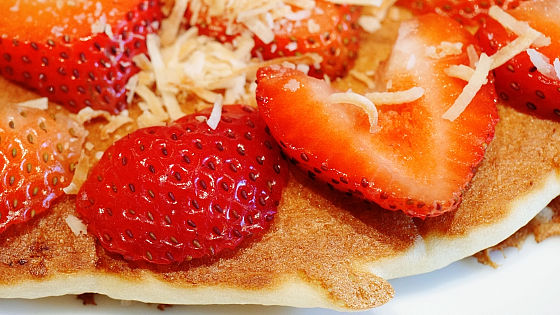 Pineapple was also on board as well as cinnamon bunpan cake.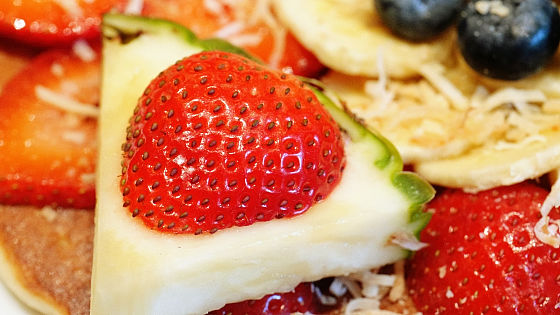 I will cut it and try it.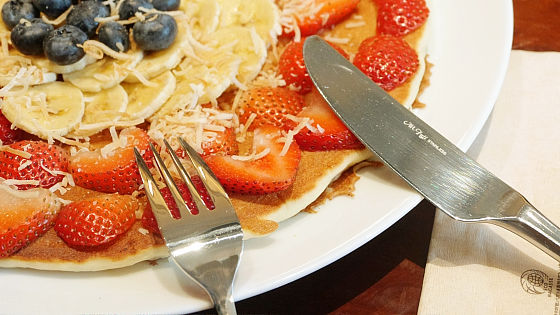 I felt sweetness sensation due to the influence of the cinnamon roll bread cake I ate earlier, and I felt the acidity of the fruit strongly although I never felt the sweetness. The compatibility of blueberries, strawberry sourness, and banana's lethargy sweetness are like eating together smoothies and pancakes together in the mouth.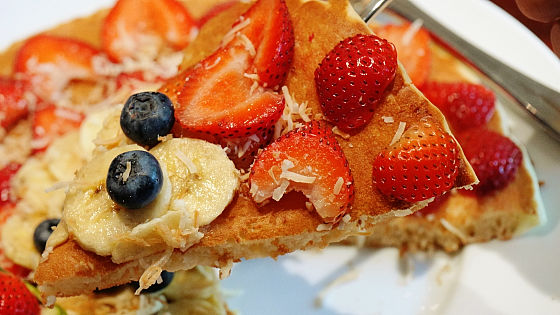 Since fruits often fall from above the pancakes, it may be good to eat them by pinching fruit in pancakes.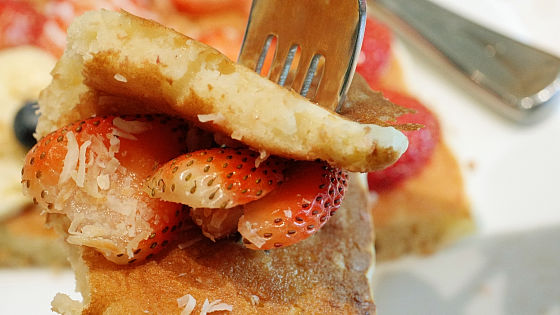 After eating a little, I applied all of the installed maple syrup.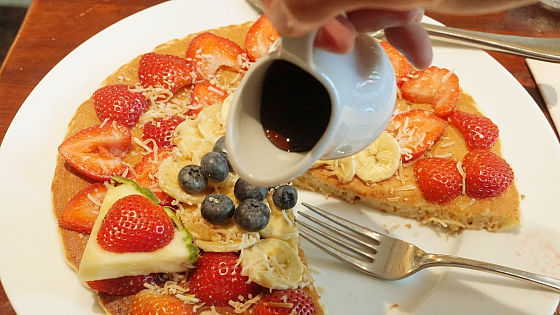 The syrup grew steadily into the pancake.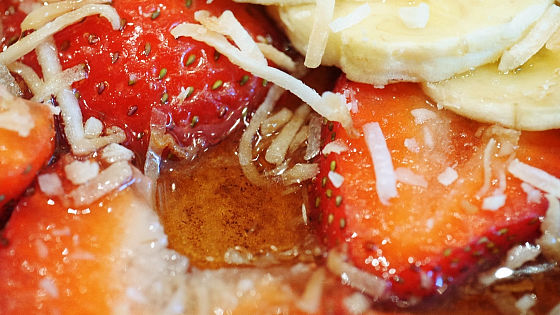 Eating syrup is quite sweet with maple, so it does not feel like the fruit sweetness is being crushed, but it looks like more pancake taste. Sweetness can be adjusted by adding amount of maple syrup, but it may be tough to eat it all in the morning, all over it.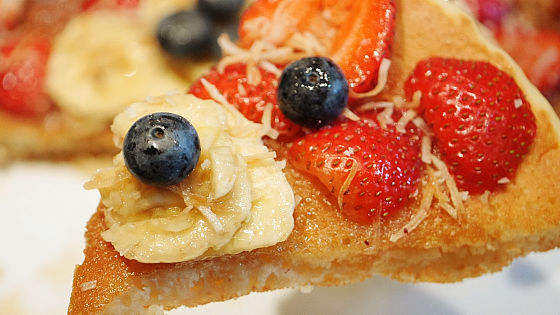 Sweetness is not as good as cinnamon rolls cake, but it was quite sweet when I finished eating about half. Coffee is not suitable for fresh fruit pancake, so if you drink a drink, water and tea seems to be good.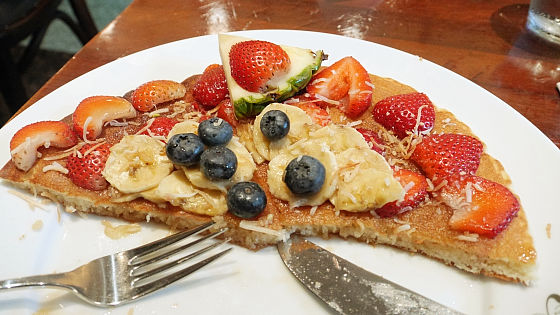 If you eat pineapple you can refresh the sour and sweet mouth.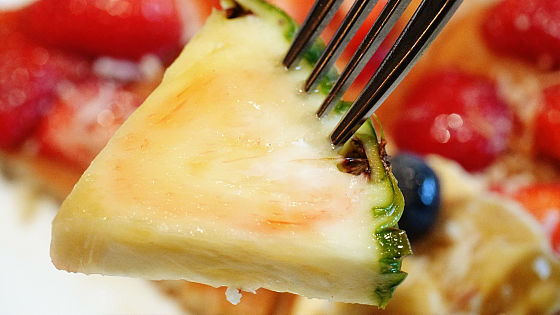 Although it finally ended up in a matter of course, the amount is large and the sweetness is intensified when all the maple syrup is applied. You can ask for a double size, but since the pancake has a feeling of inflating in the stomach, it seems better to stop asking anyone other than those who are confident in the stomach.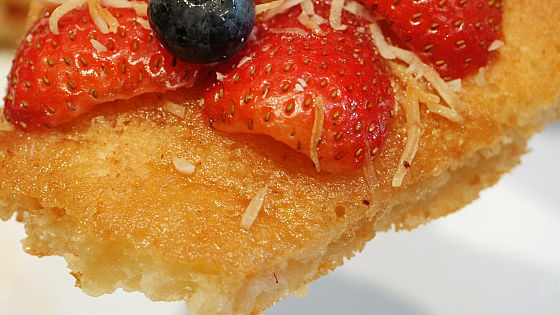 MoenaCAFE Kyoto store is open from 11 o'clock on weekdays to 22 o'clock in the evening (last order 21: 30) · Saturdays, Sundays and public holidays are open from 9 o'clock to 22 o'clock night (last order 21:30). In addition to pancakes, Egg Benedict and others can be enjoyed all day. It is more convenient for people who want to eat Hawaiian breakfast because they are vacant at the moment than stores in Tokyo.