SIM Fleece Maho "ASUS ZenFone 5" of less than 20,000 yen is at a low price smaho Maki perfection degree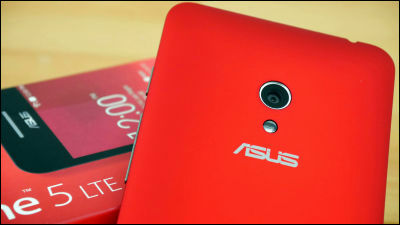 The world's second largest computer general trade fair "COMPUTEX TAIPEI 2014Since touching the real thing at this price, this texture is impossible at this price, I definitely want to use it! I thought that ASUS smartphone "ZenFone series". Among them, "ZenFone 5"Received a great impact on the quality of luxury at the level that can not be at the price of about 15,000 yen, which was crispy on a 5-inch large screen display & about 14,000 yen. Such ZenFone 5 on July 8, 2014, knowing that long-awaited 4 G (LTE) model was released, even if it can stay, even if it can be standing, if it noticed it knocks down to finding ZenFone 5 to the mainland Taiwan. I tried to defeat ZenFone 5 I got a wish to use while staying in Taiwan.

Phones - ASUS ZenFone 5 - ASUS
http://www.asus.com/Phones/ASUS_ZenFone_5/

◆Appearance check
This is the LTE version of ZenFone 5 (A 500 KL) released on July 8, 2014. In addition, LTE supports high-speed communication with a maximum of 150 Mbps downstream. The price in Taiwan is 16GB model Taiwan dollar 6990 (about 24,000 yen).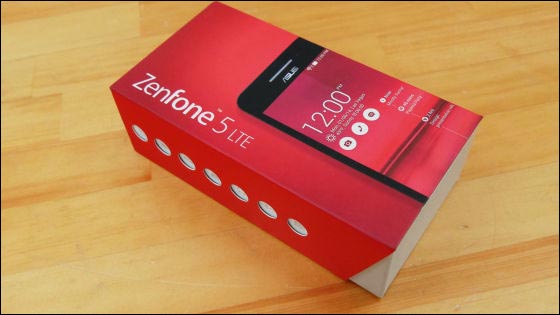 Icons that show functions such as 4G (LTE) · Bluetooth 4.0 on the side.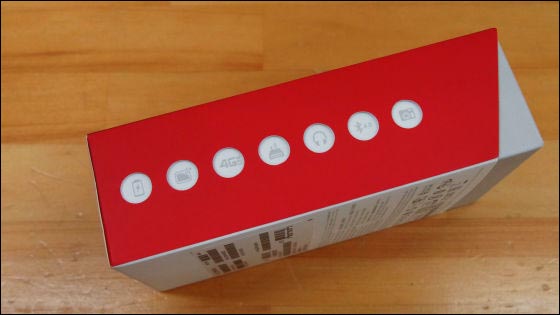 When sliding the box, ZenFone 5 (LTE) appears.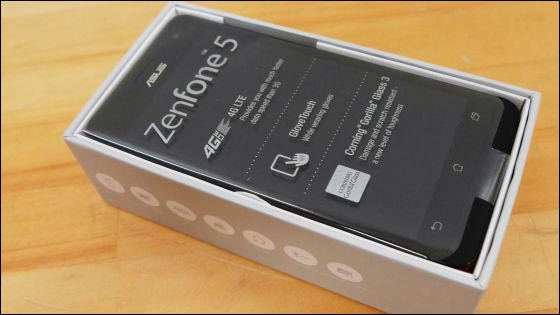 Two-tone color with black front and red red. The size is 14.82 cm in length × 7.28 cm in width × 1.034 cm in thickness and weighs 145 g. The display resolution is 1280 × 720 and gorilla glass 3 is adopted.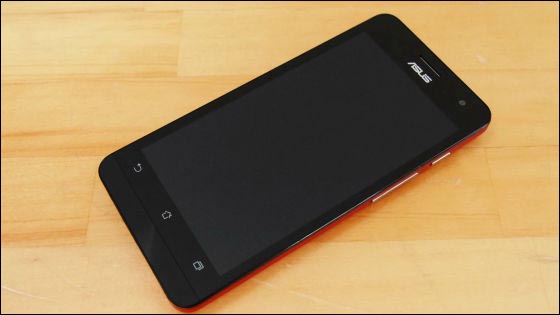 Compared to Nexus 5 (right), the width is almost the same, the length is slightly longer.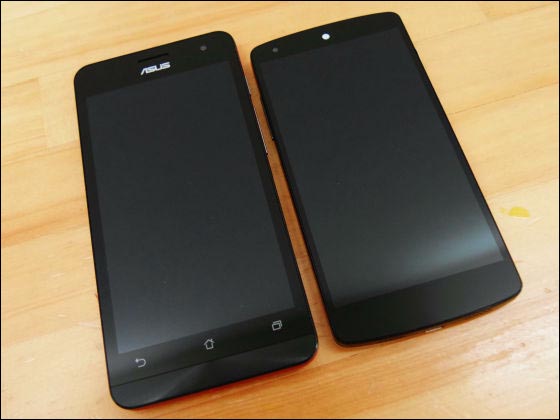 The back is a very soft material with rubber material, the height of quality is obvious from the processing of edges and processing precision of the button etc. Clearly, finished with a different level from a common low-cost smartphone.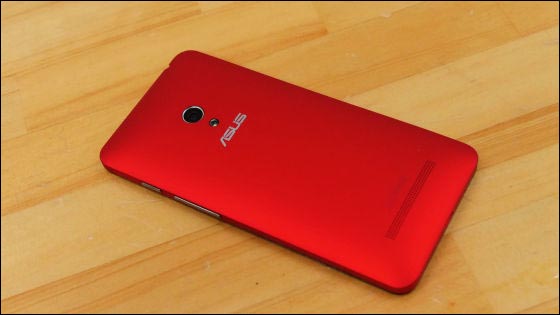 In the box there was ZenFone 5 (LTE) main body · AC adapter · Micro-USB cable · Instructions · Warranty · Canal type earphone · Replacement inner included. Although it cuts down the cost, there is no such thing as an optional charge adapter.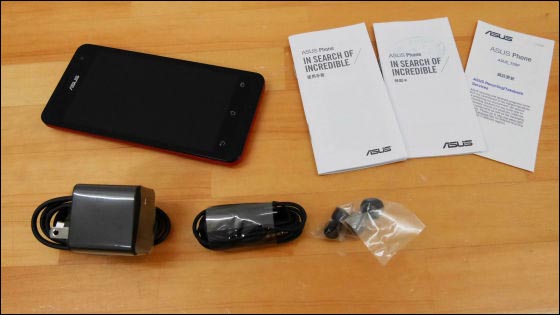 On the other hand, this is 3G model ZenFone 5 (A500CG), black which is not LTE compliant. It is the same as LTE version except LTE notation. The price in Taiwan is 1699GB model T $ 4990 (about 17,000 yen).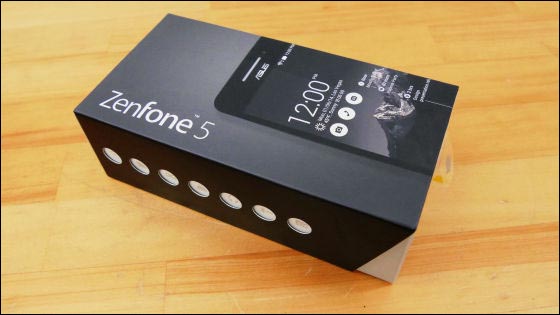 It is like this when two 3G version (left) and LTE version (right) are arranged. Same size, material and weight are exactly the same.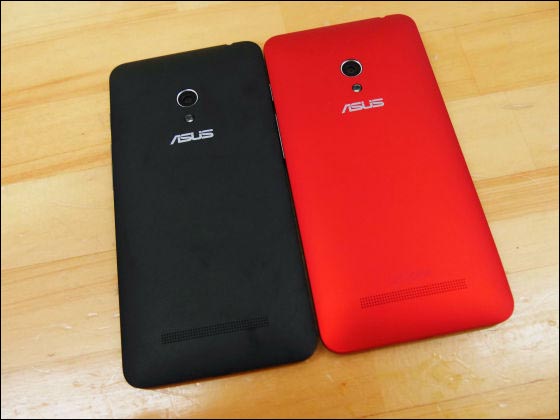 On the front upper part is a front camera with a speaker and 2 million pixels · F value of 2.8.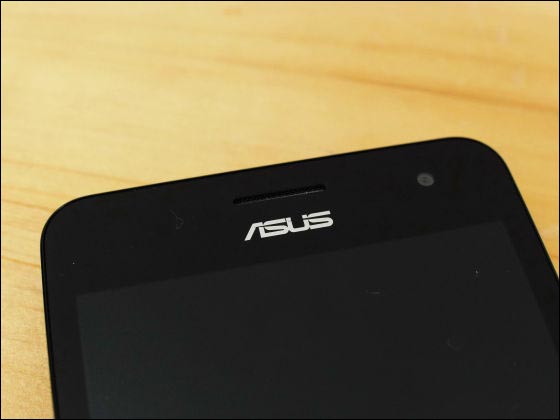 Mike and earphone jack on the top.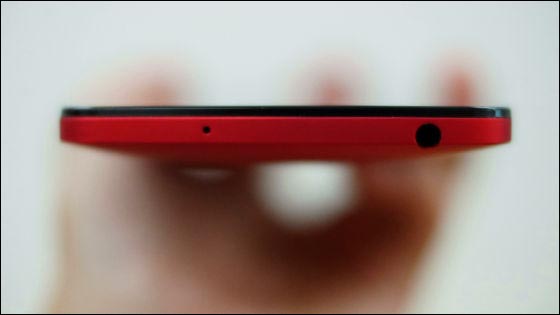 Microphone and Micro - USB terminal on the bottom.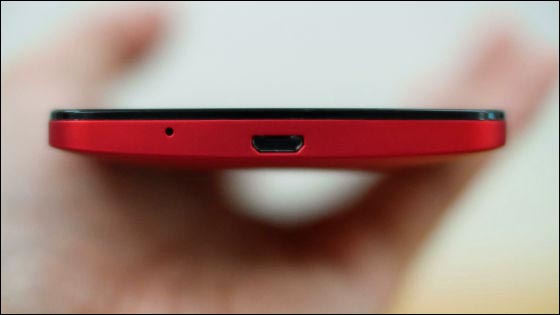 There are no buttons on the left side. Power button and volume button on the right side.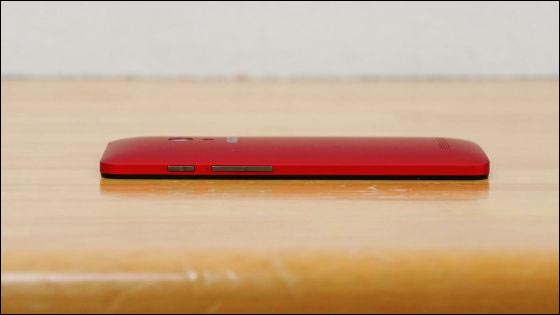 Rear camera and LED flash on the back. Rear camera adopts Sony sensor for 5 layer lens with 8 million pixels · F value of 2.0.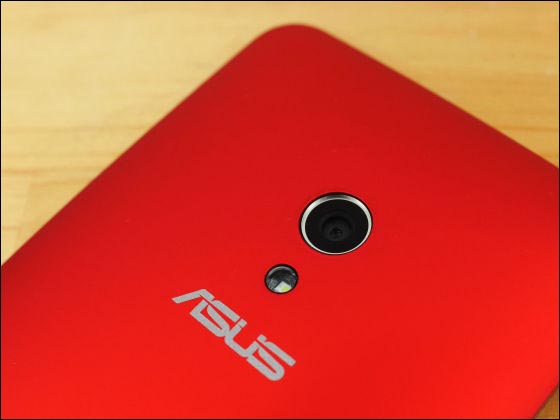 Also speakers under the back. ZenFone 5 (LTE) adopts Snapdragon 400 (1.2 GHz quad core) for SoC, memory is 2 GB and storage is 2 models of 16 GB / 32 GB. OS is Android 4.4 (KitKat)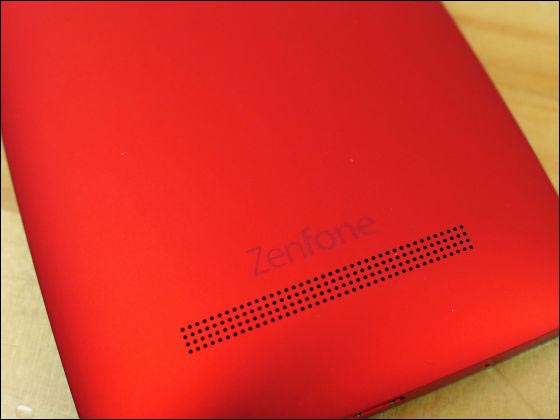 When removing the back cover it looks like this. Please note that this rear cover is hard to remove so special tool such as driver is required.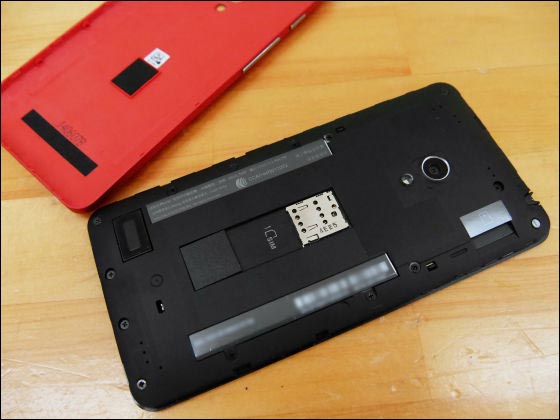 SIM card slot in the center. The card size corresponds to micro SIM.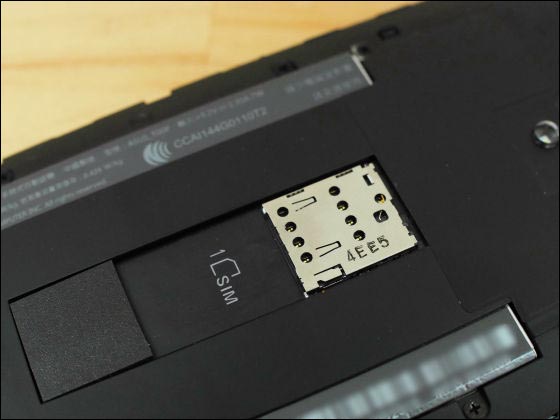 Speaker at the bottom.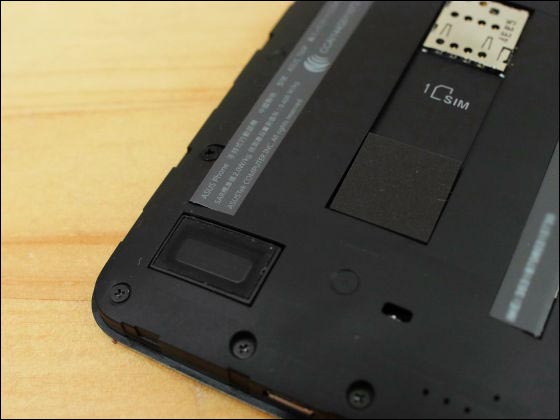 MicroSD card slot under the earphone jack. Because the back cover is very difficult to remove, it is very regrettable that the microSD is under the cover.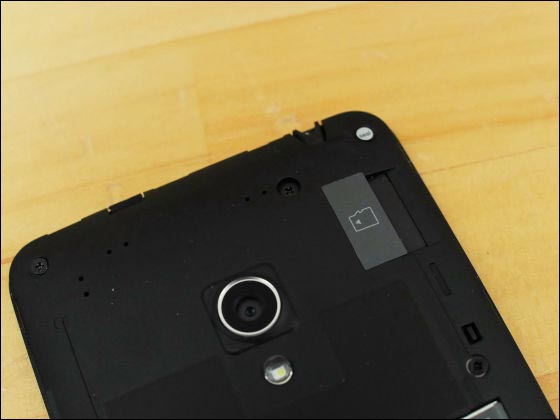 In addition, the battery can not be removed in this state, you can break it by breaking the seal on the upper right, removing the screws, abandoning the warranty and disassembling it.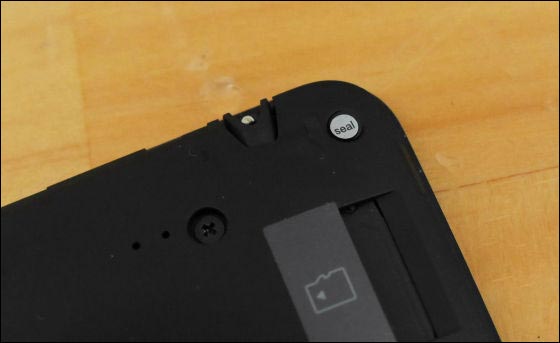 Since the button on the right side is attached to the cover, the body button looks like this.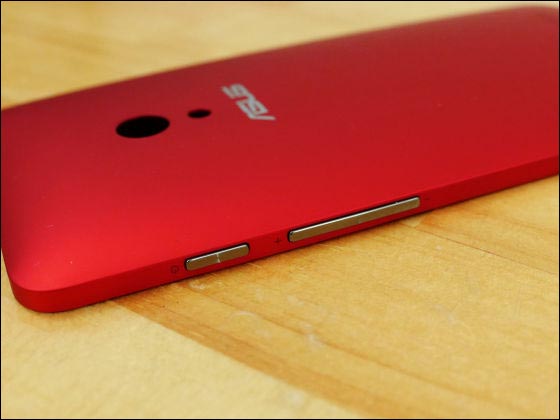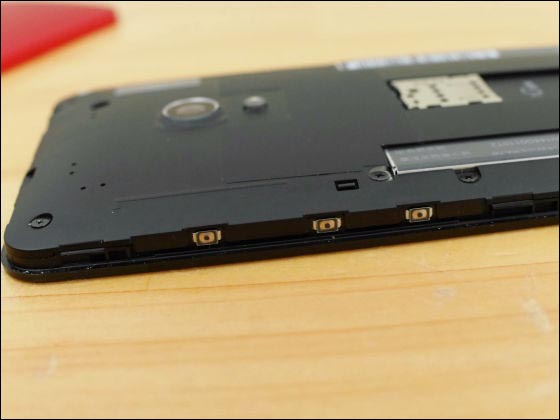 ZenFone 5 (3G) has Intel Atom Z2580 (2.0 GHz dual core) on SoC and OS adopts Android 4.3 (JellyBean). For some reason Black has no ZenFone or Intel logo.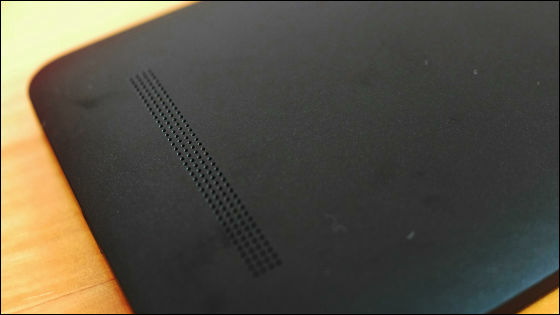 This is ZenFone 5 (3G) Red. There is a ZenFone · Intel logo securely.



In addition, ZenFone 5 (3G) has two SIM card slots, it is possible to use two SIMs separately. It is very useful for traveling across multiple countries.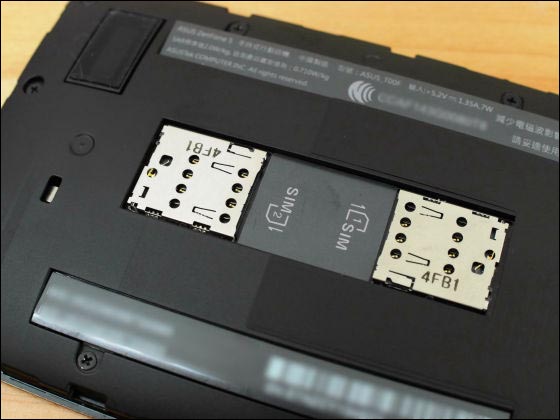 ◆I tried using
Although it is only three days, I felt using ZenFone 5 (LTE / 3G) "It is cool!" There is absolutely nothing to bear on the behavior that tends to be on low price smartphones. Although it is a low price, ZenFone 5 has the performance which should be treated as a smartphone of a class more than middle range.

This is ZenFone 5 connected to PC in storage mode. Approximately 12GB can be used for the 16GB model.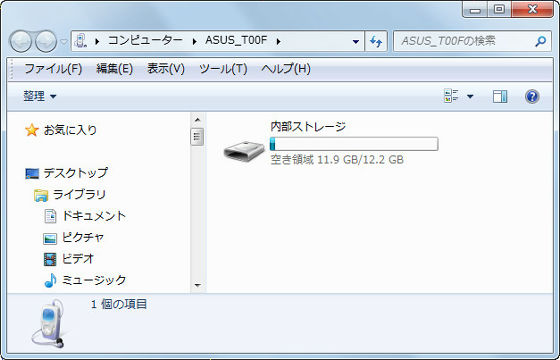 This is the home screen of ZenFone 5. ASUS originalZen UIIs making simplicity simple, the same flow as Material Design of Android L.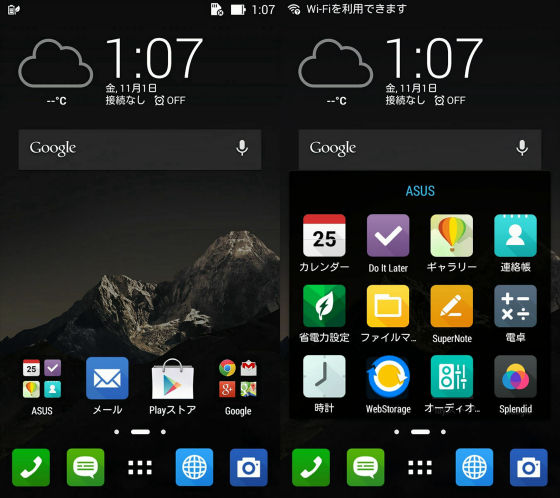 Tap on the folder containing the application to enlarge it.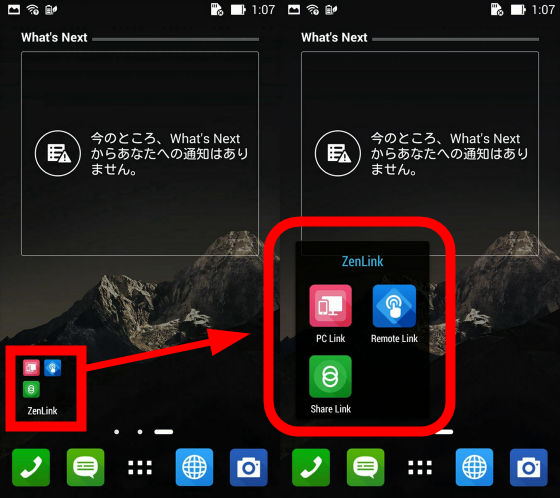 Many plain applications.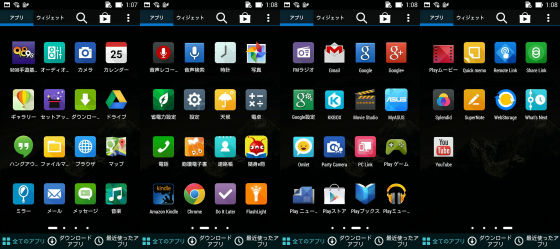 It is possible to flick input even with English keyboard. The tutorial Japanese is also an accurate description.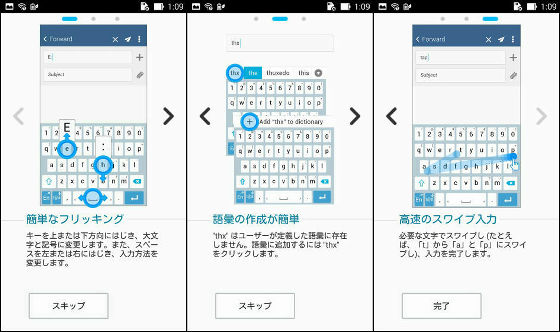 The alphabetical software keyboard (left) also has numbers. However, in Japanese (right) I could not use flick input and I felt this was fatal. So during my stay in Taiwan, I decided to install Google Japanese input. I would like to expect improvement in this part.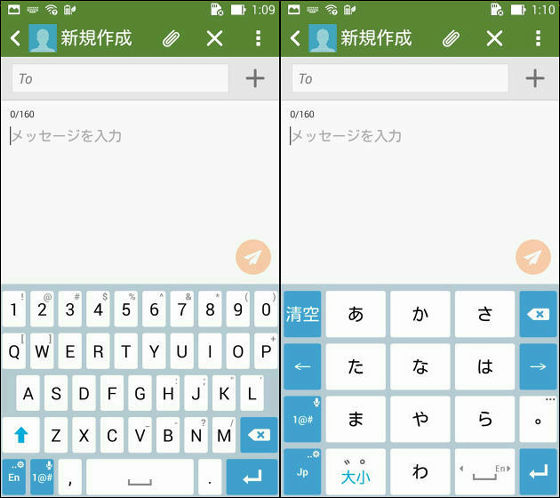 3D MarkI tried a benchmark test using. First, ZenFone 5 (LTE). The score of Ice Storm Unlimited is rather low at 4686.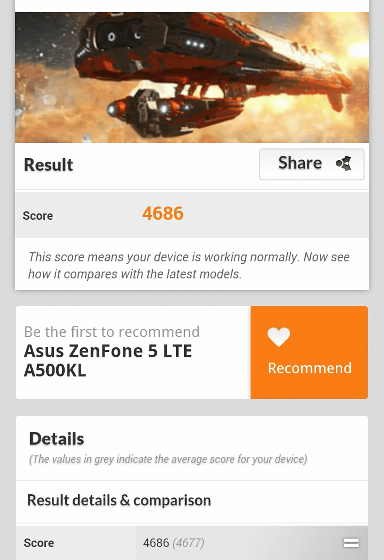 On the other hand, ZenFone 5 (3G) is 7236. The LTE version is Snapdragon 400 (1.2 GHz quad core), the 3 G version is different from Intel Atom Z 2580 (2.0 GHz dual core) and SoC, but it is surprising that this much difference will come.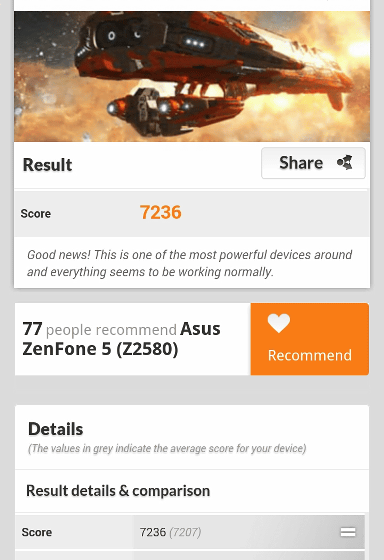 For reference, the Nexus 5 with Snapdragon 800 is 13,485. However, as for the sensible speed, since there is not so much difference between the 3 models, it seems that the benchmark results are not problematic at practical level.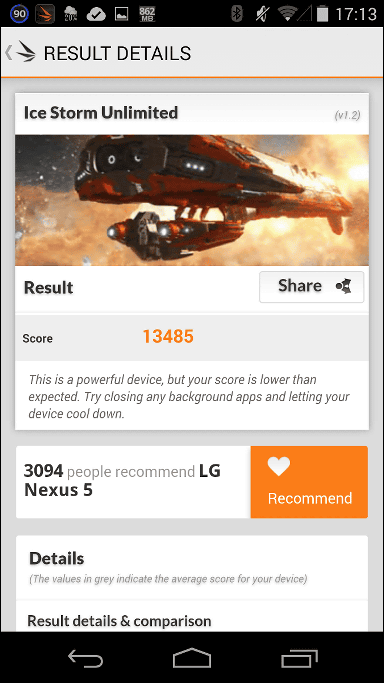 The camera application is equipped with various filters. I can take pictures with very good coloring thanks to Sony sensors while conserving the camera as 8 million pixels.



◆Summary
The impression of ZenFone 5 used for about three days is saying that it is a smart phone that can get incredible satisfaction with T $ 4990 (about 17,000 yen). Even when compared with Nexus 5 I normally use, feeling crunchy such as operability is not much different. As for the accuracy of the touch panel I felt even better than Nexus 5. Because Taiwan's 3G communication is much more connected and stable than Japan, the speed is stable, so it's super comfortable with browsing. Therefore it was a bit disappointing that I can not feel the difference that I can feel in LTE version and 3G version. ZenFone 5 (LTE) may be more comfortable with LTE line, but at least browsing speed with ZenFone 5 (3G) is not at all satisfactory. If you use it under Wi-Fi environment you should not feel any difference at all.

In addition, ASUS's unique "GloveTouch technology" adoption, excellent tool that can operate the touch panel from above gloves. I succeeded in actually manipulating the display using the sleeve of the T-shirt. Points are also high in the point that hands reach itchy places, which seems to demonstrate great power in winter.

The only weakness is that the battery consumption is fast. This was more pronounced in the LTE version and I felt a distinct difference from Nexus 5> ZenFone 5 (3G)> ZenFone 5 (LTE). Even with tethering, it was a way of using abusing over cancer, so it seems almost impossible to have a battery for a day with normal smartphone alone, which is not a fatal flaw in practical use.



As you can see, there is only one point with a battery compared to Nexus 5. It is frank thought that comfort is not inferior, and that it is rather higher than texture. However, comparing the price, the Nexus 5 is the same 16GB, the ZenFone 5 (LTE) is 40% lower than T $ 6990 (about 24,000 yen) for the Nexus 5, and 4990 Taiwan to the ZenFone 5 (3G) Overwhelming low price of dollars (about 17,000 yen) and less than half price. Furthermore, the price of the 1 GB memory - 8 GB storage lowest model (A 501 CG) is wonderful T $ 3990 (about 14,000 yen). Of course, other than memory and storage capacity, it is a high-class hardware.

Nexus 5 is also surprising ZenFone 5's cost performance is no longer an amazing area. Even if Japanese manufacturers are out of the question, is not even a low-priced smartphone maker in South Korea or China able to compare? It has reached the level of.

Also, since there is no small work such as "SIM locking", it is possible to enjoy mobile communication without problems if even bands are used even for use in other countries, and if one has travel overseas There is no doubt that it will be a big side. Unfortunately, I am silent about ASUS JAPAN's release of ZenFone series in Japan. Now that the low-priced smartphone market using MVNO is about to start up, as it seems that it will surely hit if ZenFone is issued, I can not help feeling that I want to somehow release it in Japan.

When touching with COMPUTEX TAIPEI 2014, ZenFone 5, which felt like being able to pretend that it would "ignite the low price competition of smartphones", even when using ZenFone 5 for only a short period of three days, It was a smartphone with excellent cost performance enough to make us realize that feeling was correct. "

· Continued
It was revealed that ZenFone 5 will be released in Japan at the ASUS mobile new product presentation held on 28th October 2014.

ASUS mobile new product launch report that also decided to sell Japan's SIM Fleezmo ZenFone 5 of 20,000 yen range