Review ASUS 's "ZenFone 3" awaiting introduction of the Japanese market ahead of time, and expectations for cospa and dual standby correspondence are glowing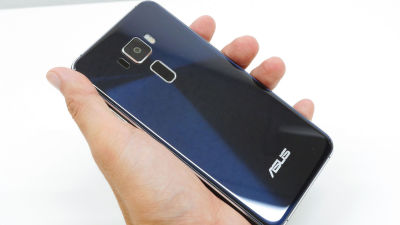 ASUS is the third generation ZenFone in Asian countries starting with Taiwan "ZenFone 3We released it in July 2016. In the midst of launching into the Japanese market, I got ZenFone 3 in Taiwan a short while ago and tried that skill, it was deki showing us the high cost performance as ever.

ZenFone 3 (ZE520KL) | Phone | ASUS Global
http://www.asus.com/Phone/ZenFone-3-ZE520KL/

◆ To Taiwan seeking ZenFone 3
In the quest for ZenFone 3 whispered worldwide supply shortage, I took a walk in Taichung City, Taiwan. I visitedNOVA · Taichung Hidei shop.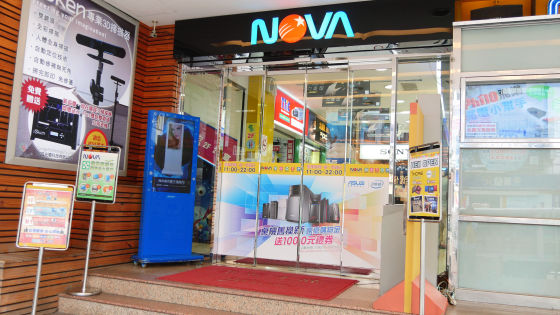 Shop handling smartphones and accessories etc. on the 1st basement floor.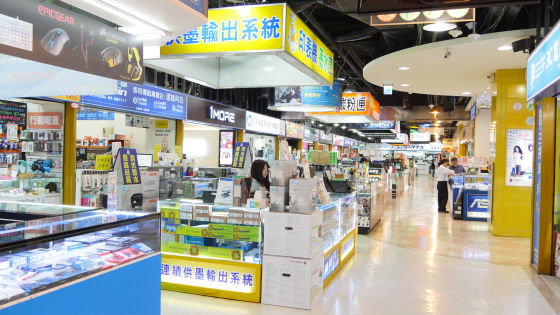 Sell ​​smartphone, a certain shop.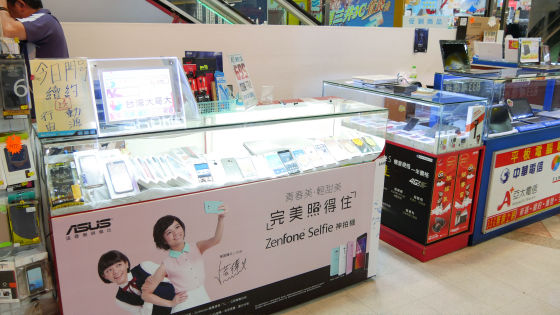 Handled second hand goods too.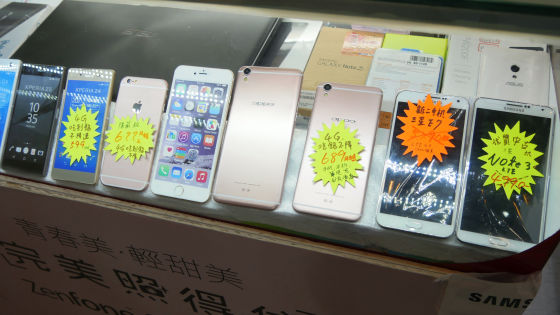 In the 2nd generation ZenFone series, we found "ZenFone 3" of only 5.2 inch model.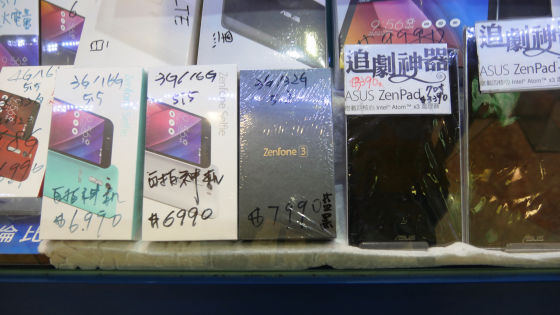 Price is the fixed price 7990 NTD (about 25,000 yen). So purchase decision. In Taichung City, only 5.2 inch standard model ZenFone 3 is sold, and 5.5 inch model ZenFone 3 (ZE552KL) And upper model ZenFone 3 Deluxe (ZS570KL), ZenFone 3 Ultra (ZU 680 KL) Could not be found.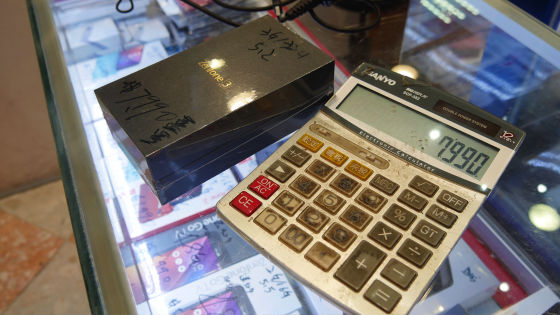 We will ask you to open it on the spot and check its operation. When purchasing a smartphone overseas, considering the risk of encountering initial failure, it is recommended to open and check on the spot.



I purchased sapphire black color "ZE520KL". Depending on the viewing angle, the glass back panel, which also looks purple, shines brightly.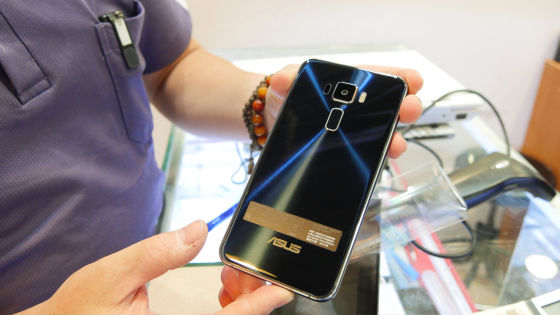 ASUS logo appears with power on. It started without any problem.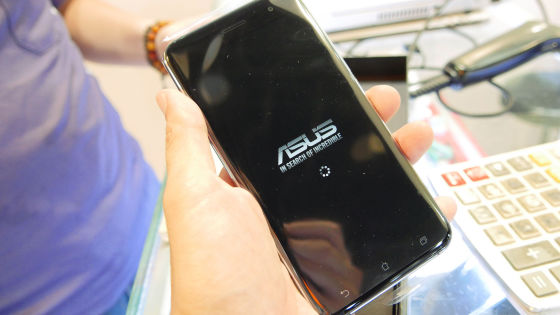 ◆ Appearance check
ZenFone 3 is a package design different from the 1st generation ZenFone, 2nd generation ZenFone both appearance and texture, which is a golden letter in black cosmetic box. I feel a shift to a more advanced model.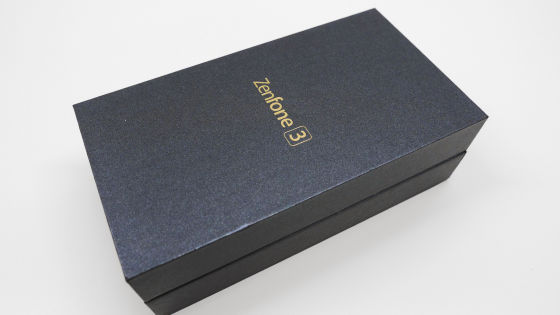 When opening the box vertically, ZenFone 3 appears.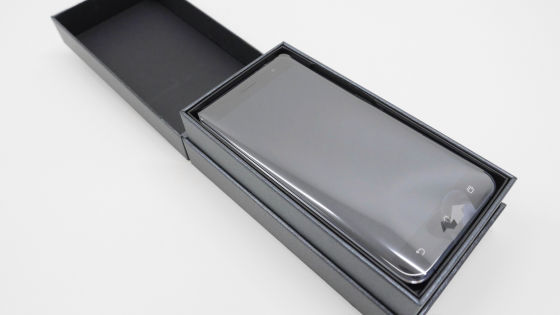 The accessories look like this. ZenFone 3 main unit, AC adapter, Type-C USB cable, earphone, instructions.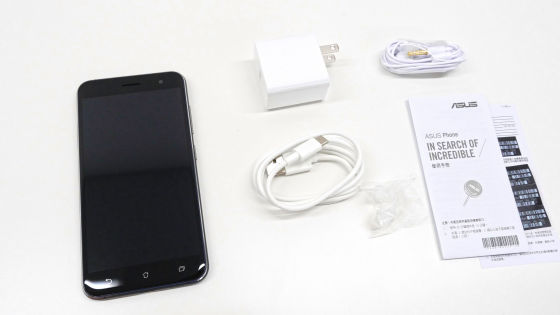 ASUS original pin for SIM slot.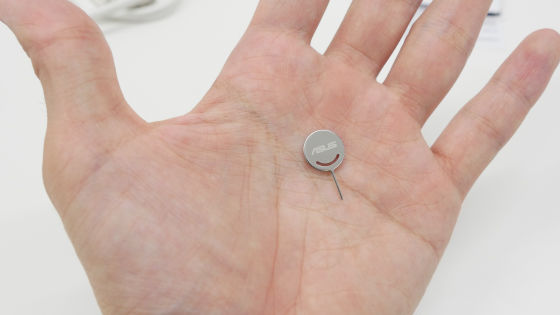 ZenFone 3's standard model "ZE 520 KL" is equipped with a 5.2 inch (1920 × 1080) liquid crystal display. The size is 146.87 × 73.98 × 7.69 mm.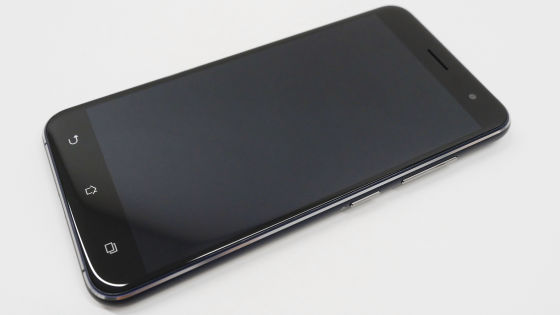 2.5D glass with a curved edge part is adopted. I get a slightly different impression from the ZenFone series where the surface was flat before.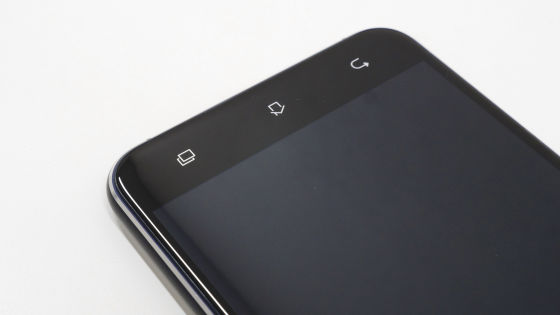 Since the back side is also 2.5D glass, it is a relatively large 5.2 inch smartphone but it fits firmly when you take it in your hand. It is a glass back panel, but the weight is 144 g and it is reasonably lightweight.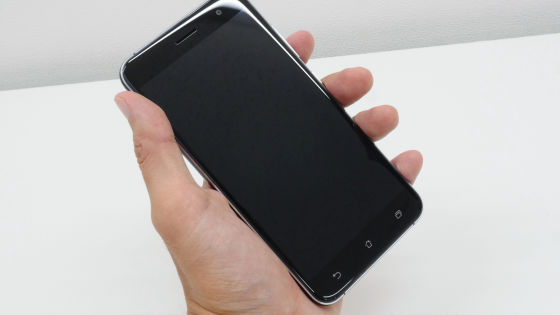 Front camera with F value of 2.0, 8 million pixels on the front upper part.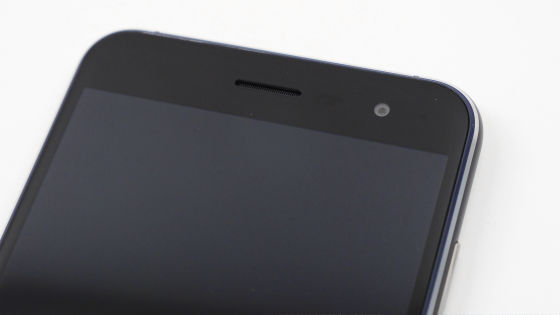 Earphone jack and microphone on the top. You can see a line for the antenna on both sides.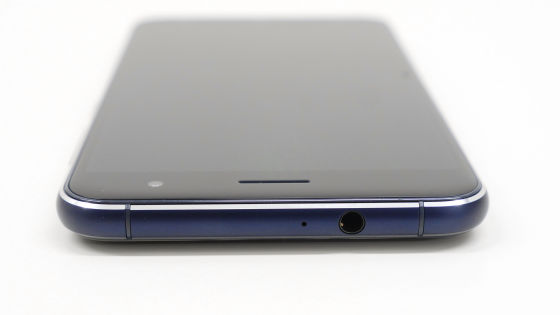 The back button, the home button, the menu button on the front lower part are printed.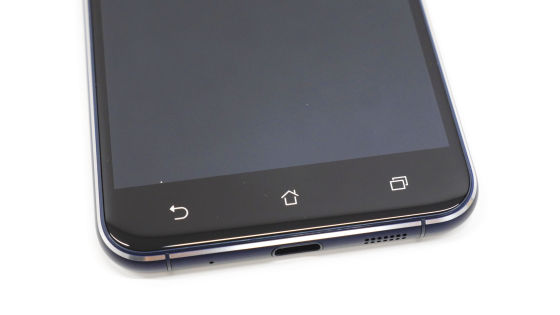 Microphone on the bottom, Type-C USB port, speaker. You can also check the antenna line on the bottom.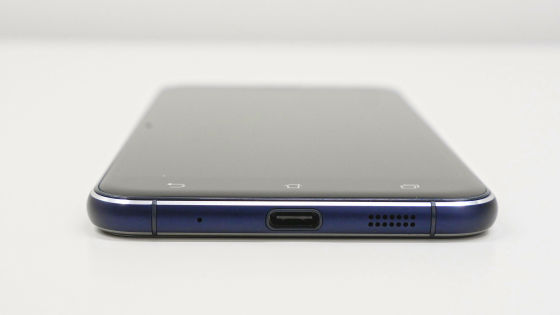 Power button and volume button on the right side.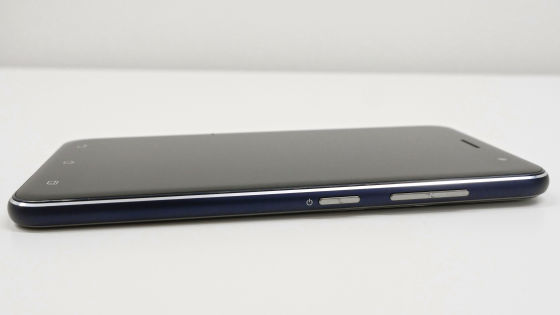 Buttons are surface processed, making it easier to find by unique touch.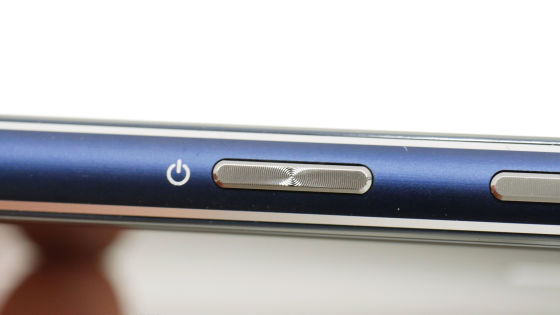 SIM slot on the left side.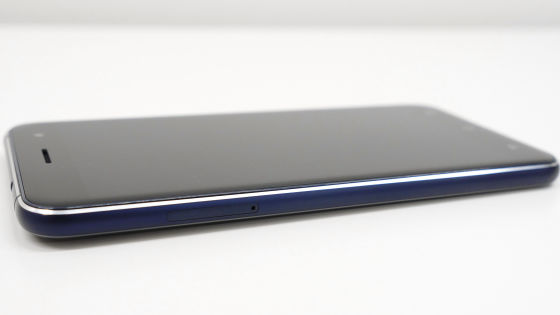 Dual SIM specification when taking out SIM card slot.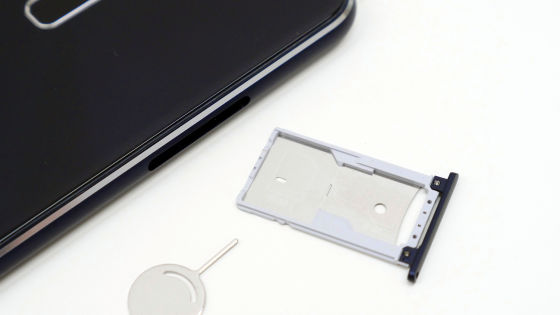 Dual slots of micro SIM size and nano SIM size correspond to dual standby (simultaneous standby). A microSD card can also be installed in the SIM 2 slot.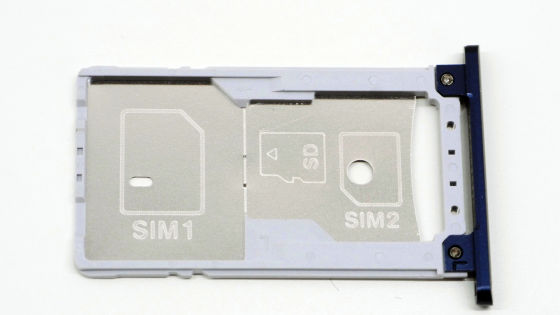 Rear side changed from conventional resin to glass. Battery exchange is not possible.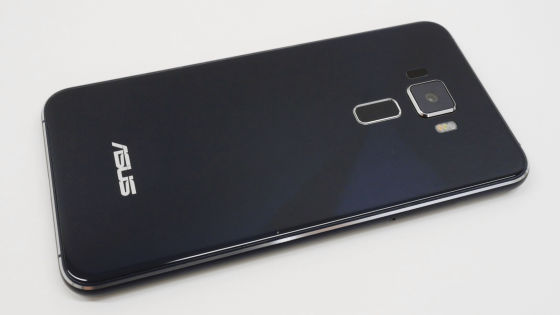 Although it is a flat glass panel, ASUS's "Zen" series of professional hairline processing like-like patterns can be confirmed, full of luxury.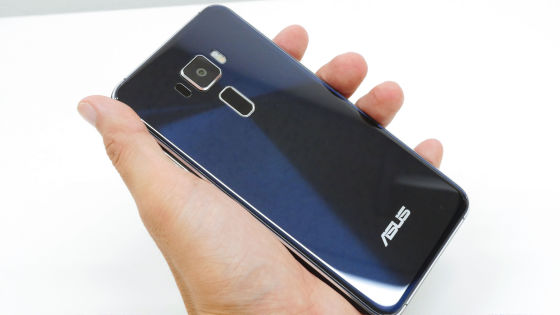 F value 2.0, 16 million pixels, rear camera with six layer lens. AF laser for the left and LED dual flash for the right. Camera performance such as laser AF function that says 0.03 seconds is powerful.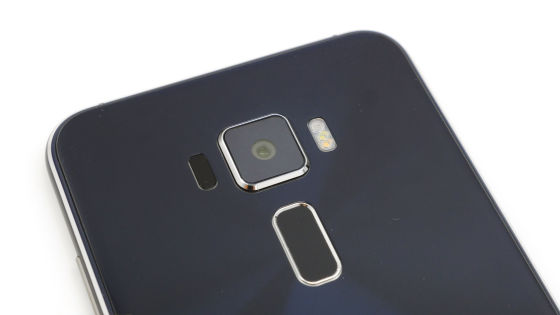 However, since the camera unit protrudes, it will float up when placed on a flat surface.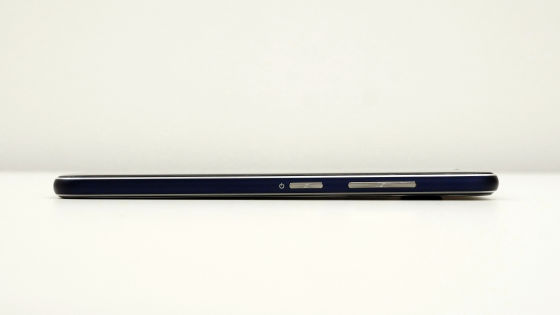 ASUS logo on the back side.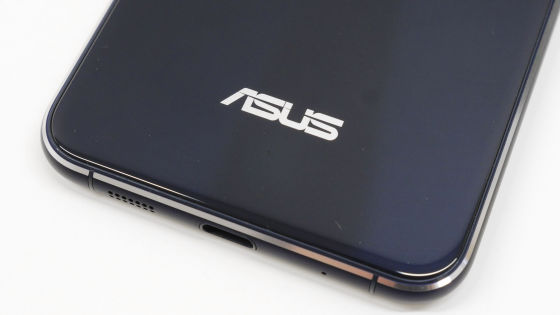 Fingerprint authentication on the back. The index finger is in a position to touch naturally.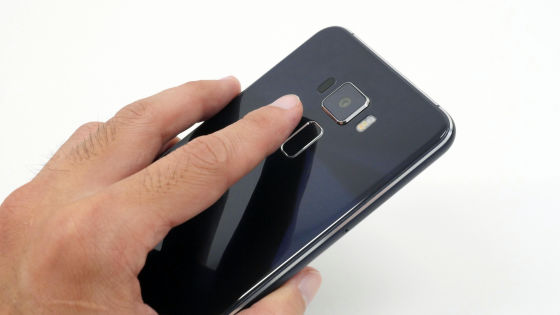 ◆ I tried using
ZenFone 3 is of course a SIM free smartphone. So I tried using ZenFone 3 in the Philippines where I am staying. Incidentally, ZenFone 3 has already been released in the Philippines, but at the time of writing the article was in stock at most ASUS shops.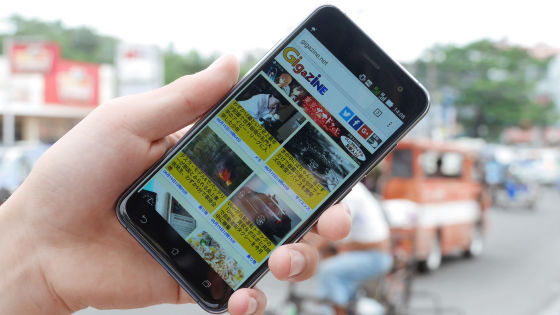 The Taiwan version of ZenFone 3 will be sold as the same model in Hong Kong and Japan. That's why Japanese can be chosen as language. Although there are multiple models of ZenFone 3 by region, the "TW / JP / HK" version sold in Taiwan and Japan includes the platinum band Band 1/2/3/5/7/8/18/19 / 26/28 and the corresponding band are wide, when purchasing abroad "TW / JP / HK" version is overwhelmingly recommended.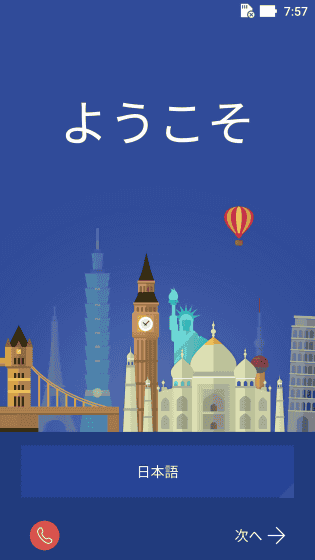 The software keyboard can also choose qwerty type and flick input type.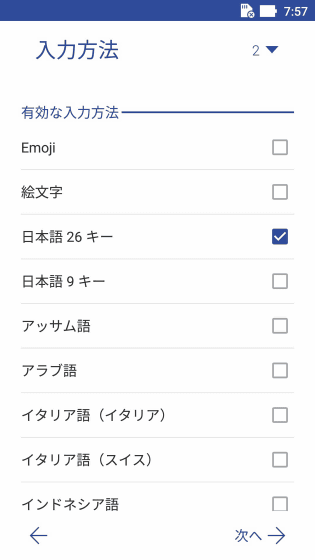 At the time of article creation, Japanese skills are unsupported. However, we can expect correspondence with software update.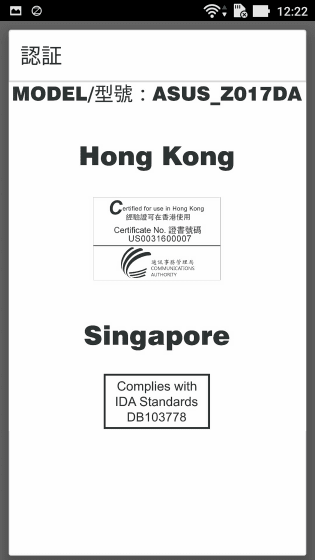 OS is Android 6.0 (Marshmallow).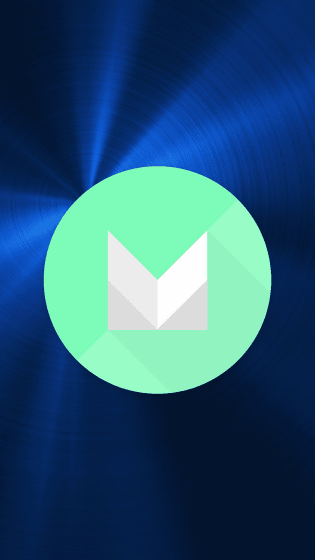 · CPU-Z
Application "CPU-ZCheck the specification with ". SoC is Snapdragon 625 (2.0 GHz · 8 cores), memory is 3 GB, storage is 32 GB.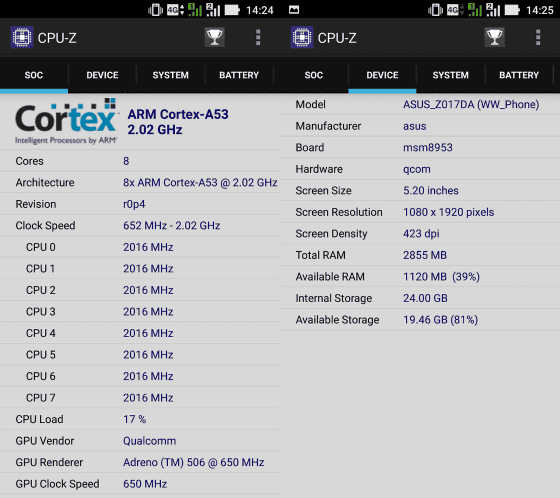 · AnTuTu
Benchmark application "Antutu Benchmark"The score is" 62014 "ZenFone 2 with 4 GB memoryWe surpassed it. With enough performance to run Android 6.0, it rarely felt stressed by actual operation.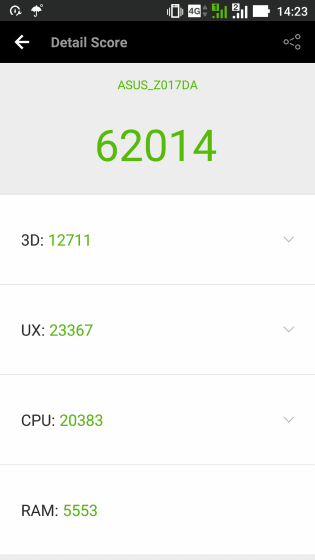 · Dual standby function
ZenFone 3 is a DSDS machine with dual SIM slot and supporting 4 G LTE / 3 G dual standby (simultaneous standby). So tap "Settings" → "Dual SIM card setting" in that order.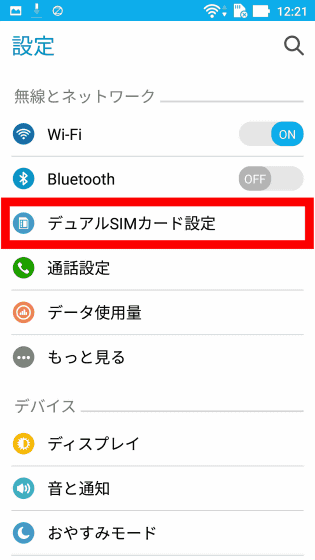 Check only "Do not display again" for the first time and tap "OK".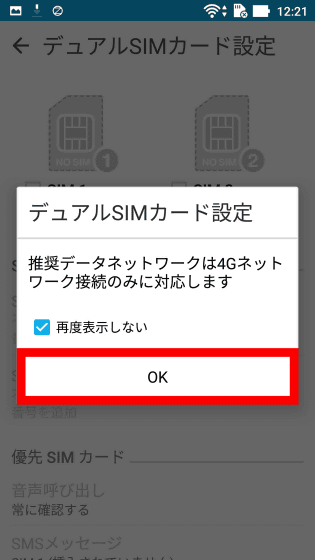 The screen "Dual SIM card setup" appears, and various settings of the SIM card are possible.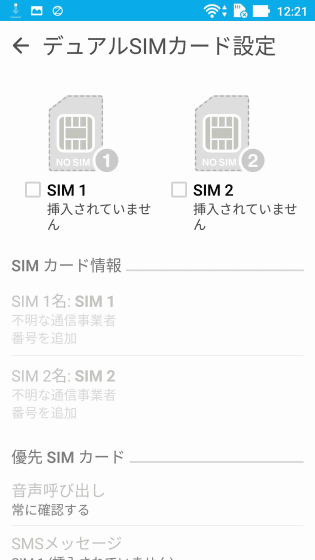 I will check it with the line of Globe and Smart which is typical in the Philippines. If you insert Globe's SIM into SIM 1 and Smart's SIM into SIM 2, you can now recognize and use the SIM card without any special operation.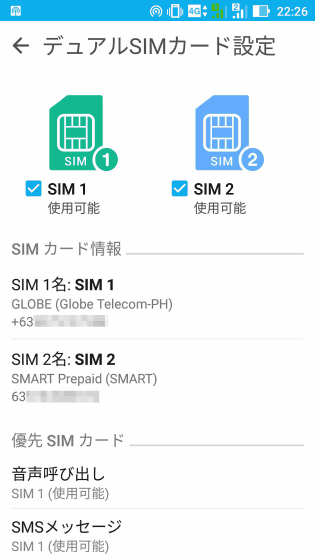 Try calling the two numbers to find out if you can call in without problems.



Also, if you set "Voice call" of "Preferred SIM card" in "Dual SIM card setting" to "Always confirm", you can select SIM card (phone number) to use for outgoing call each time.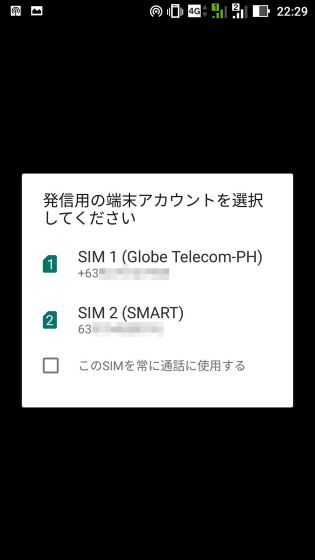 Contacts can also be stored in ZenFone 3 terminal storage, SIM card anywhere you like. So it is possible to use two different SIM cards completely differently, such as "for private use and for work", "major career and cheap MVNO", "Japanese SIM card and overseas SIM card".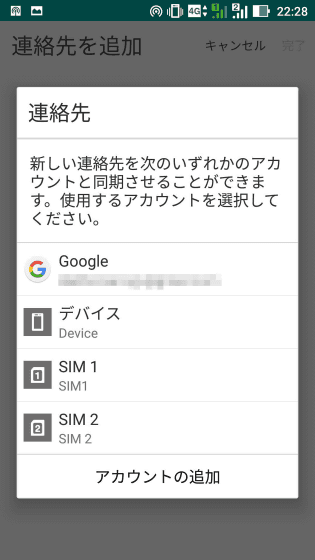 ◆ Camera performance
·Still image
I tried to compare the image quality of iPhone 6s with a reputation for being able to take clearly beautiful pictures with still images. Both pictures are taken with ZenFone 3 on the left and iPhone 6s on the right, with the setting without full HD setting full auto.

Landscape in a bright place




Shade




Places with light and dark




Subject at a relatively close distance




When taking a picture of a distant object using digital zoom.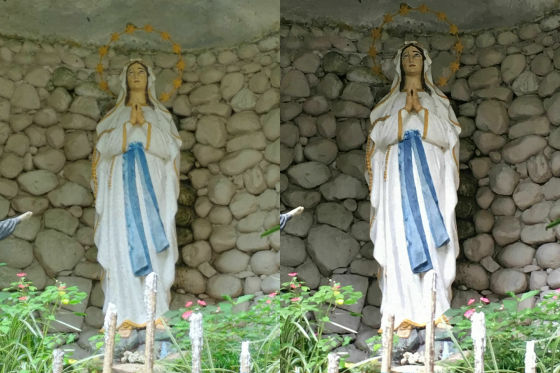 As an overall trend, the iPhone 6s was able to shoot brightly, resulting in a high resolution image quality. As far as camera performance is concerned, ZenFone 3 seems to be said to be less than iPhone 6s.

· Videos
ZenFone 3 can shoot movies in full HD. I took a picture of the streets of the Philippines and it got such a picture quality.

I took a picture of a Philippine rural town with ZenFone 3 (ZE 520 KL) - YouTube


◆ Summary
About two weeks after using ZenFone 3, the impression is that ZenFone 3 is a successor that successfully evolved from ZenFone 2. In addition to ASUS's unique functions such as ASUS's original Zen UI, touch gesture motion gesture function, single-handed mode, easy mode, glove mode, newly equipped with fingerprint authentication function. The ease of use is refining.

Unlike the 1st generation and the 2nd generation ZenFone, the design is a big change to load 2.5D glass on both sides, but in terms of luxury it has been finished to a level that does not allow the success of the successive ZenFone series. ZenFone 3 of the standard model is a smart phone showing the overwhelming cost performance as well as the successive ZenFone series, although the balance of performance & design is exquisite despite the price of less than 30,000 yen price discount.

In addition, the superiority with dual SIM & 4G LTE / 3G dual standby function is overwhelming. Depending on the use conditions it is so convenient that I feel that I can no longer do without this. If you experience the DSDS experience of 4G LTE / 3G at least once, there is comfort that it is released from troublesome SIM card replacement work and can not return to one SIM slot smartphone. ASUS that spread "SIM free" to the Japanese market may spread "dual standby" with ZenFone 3.