I tried a comfortable dual SIM with a cheap smartphone "Moto G 4 Plus" compatible with 4 G & 3 G dual standby (simultaneous standby)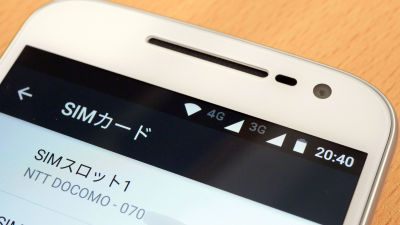 Android smartphone Motorola released in Japan "Moto G4 Plus"Not only carries a dual SIM slot that can fit two SIM cards, it also supports 4G & 3G dual standby. With 4G & 3G dual standby compatibility, it is possible to selectively use the major communication line and the MVNO line (so-called cheap SIM) on one terminal, so that it uses the voice of the major carrier "all-you-can-eat" plan and the data communication of cheap SIM at the same time It is possible to take out cousins. In the future SIM free smartphone I tried the usability of simultaneous standby of Moto G4 Plus which responded quickly to "dual standby" which seems to be a natural function.

Moto G Plus (4th Gen.) - Unlocked Android Smartphone | Motorola
https://www.motorola.com/us/products/moto-g-plus

◆ Appearance check
Moto G4 Plus is in a case based on white × blue.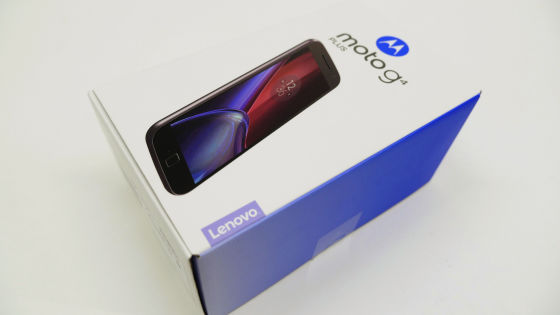 The inside of the box is Moto G4 Plus main body, rapid charging AC adapter, Micro-USB cable, earphone, simple instructions.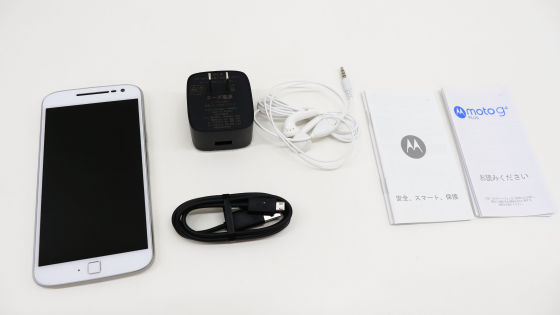 There are not only the English version but also the Japanese version of the manual, so it seems that even people who use smartphones for the first time will not get lost.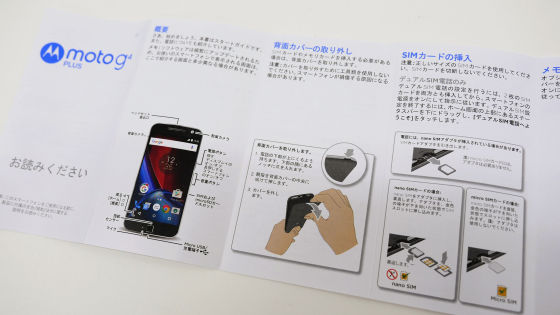 Moto G4 Plus is a smartphone equipped with a 5.5 inch (1920 x 1080) liquid crystal display.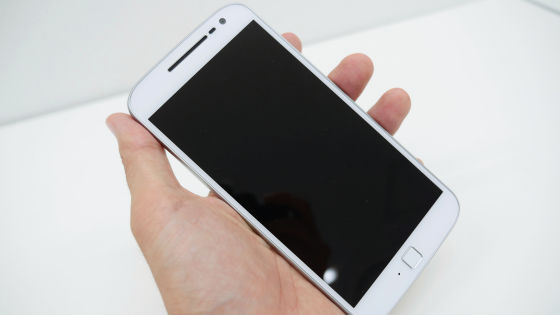 A speaker and a front camera of 5 million pixels on the top of the surface.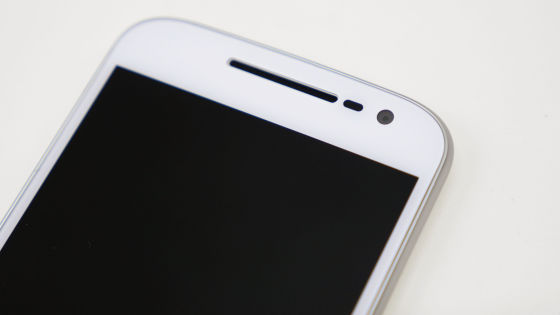 Microphone on the lower part of the surface, fingerprint sensor. The fingerprint sensor is not a physical home button.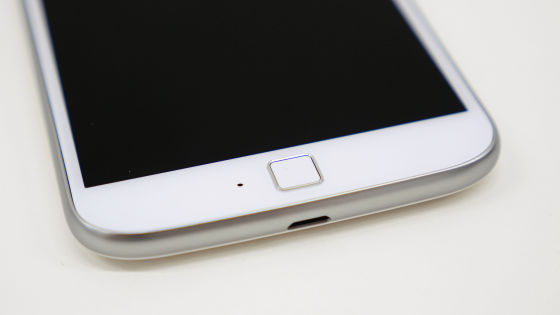 Power button and volume button on the right side.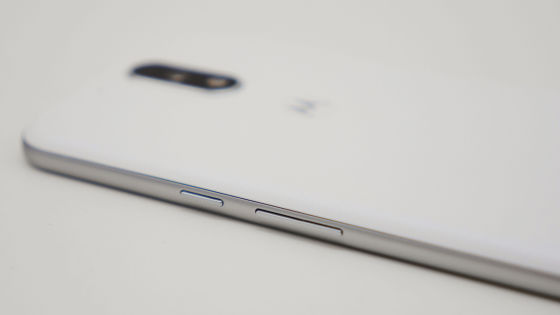 There is nothing on the left side.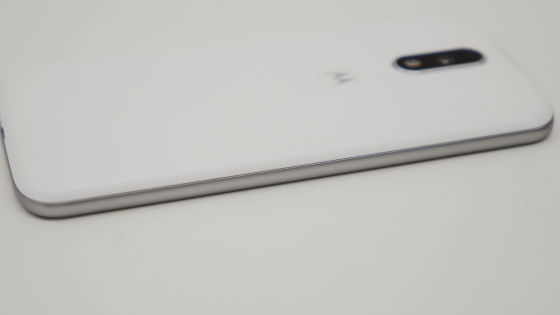 Earphone jack in the center of the ceiling.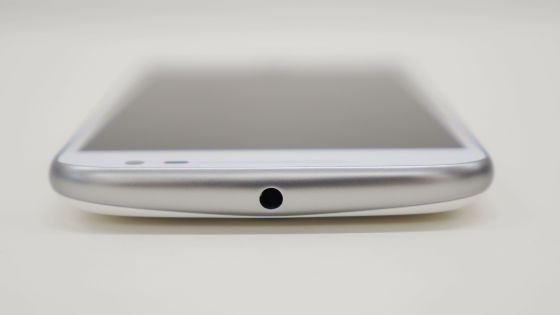 There is a Micro - USB port on the bottom and a recess for removing the back panel on the right side.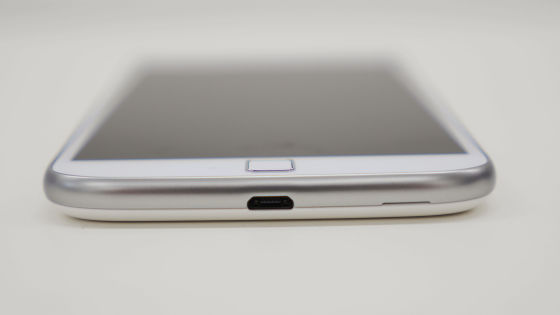 The rear camera corresponding to two kinds of AF of laser and phase difference is 16 million pixels. LED is also mounted under the lens.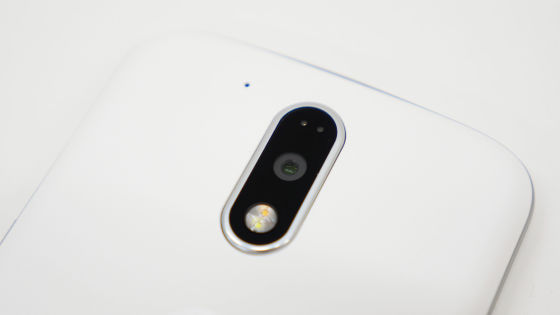 The camera part is slightly swollen.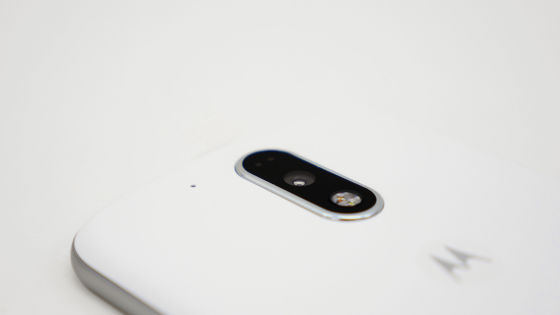 Motorola's "M" logo part is a slight indentation.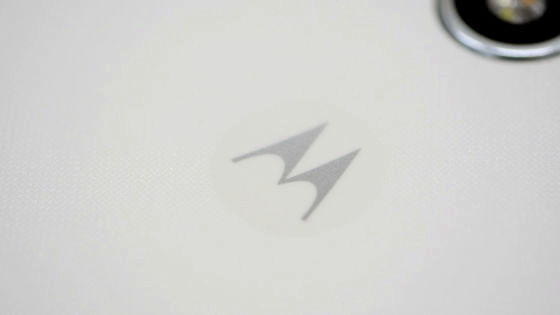 The back cover is made of plastic, textured with rough texture with a mesh pattern.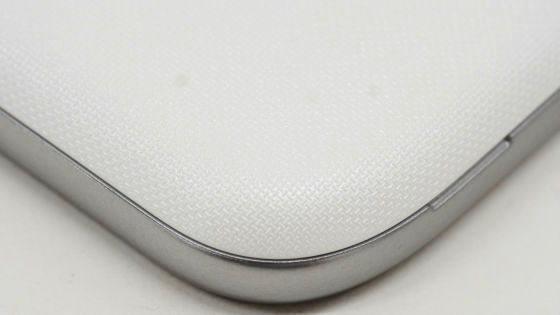 I compared it with Nexus 6 by making it the same Motorola. The size of Moto G4 Plus is 152.9 mm in length × 76.5 mm in width × 7.87 mm in thickness, but since Nexus 6 is a 6 inch display, it is one size larger in both length and width.



It is the same that there is an indentation of "M" on the back. However, since the shape of the camera and the material of the back cover are very different, the impression is quite different.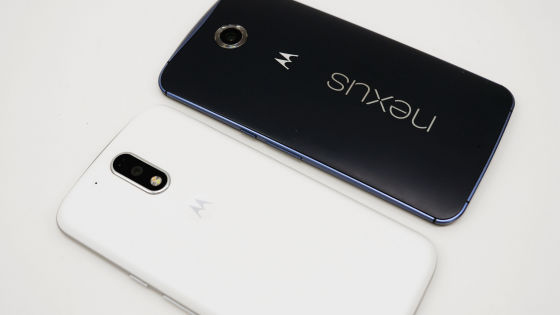 The thickness was slightly thicker for Moto G 4 Plus.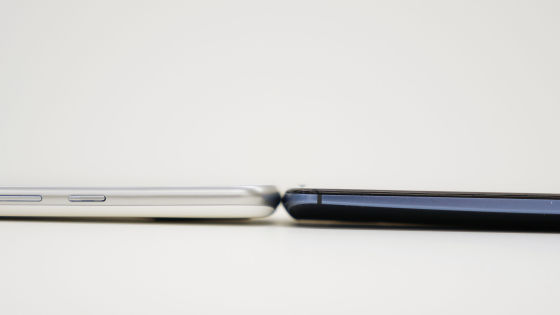 ◆ Insert SIM card
Moto G4 Plus removes the back cover and accesses the SIM card slot. Push the nail into the indentation on the right side of the bottom to make a gap ...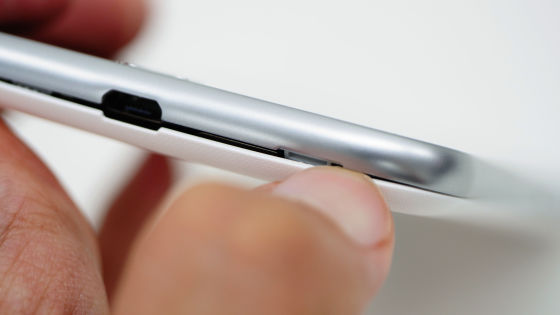 As you slide around the nail as if it makes one lap, you can easily remove the cover by snapping off the claw fixing the back cover gently with a crackle.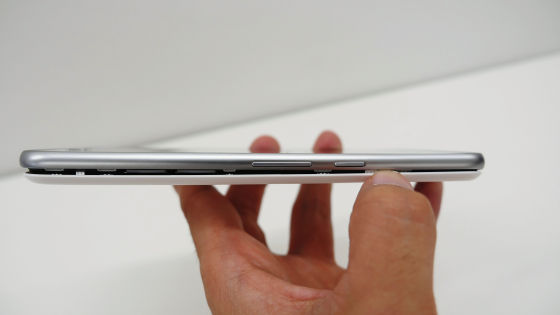 When the back cover is removed, the inside is black all over.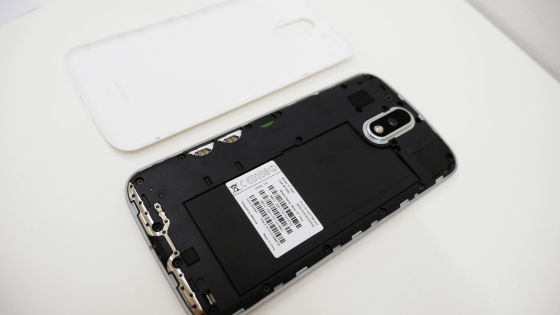 The battery was not removable.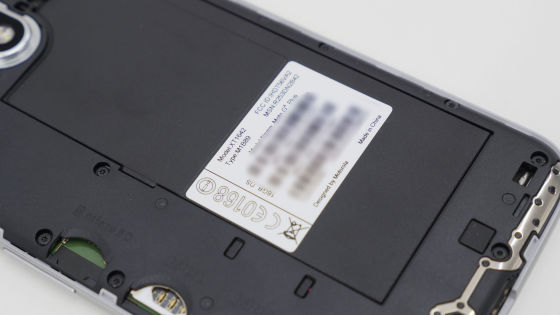 A metal antenna is mounted on the bottom.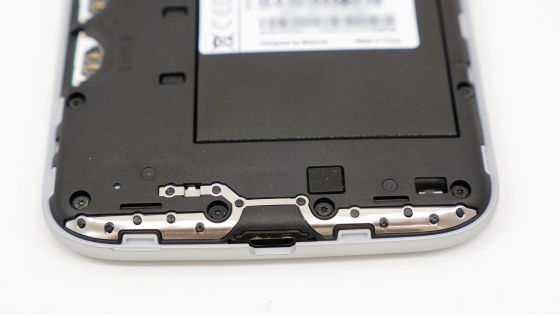 On the right side, microSD card slot and SIM card slot × 2 are carried in order from the left of the image.



Both of the two SIM card slots in Moto G4 Plus are micro SIM sizes, but adapters for using nano SIM cards were inserted. Therefore, the SIM card supports both micro / nano sizes.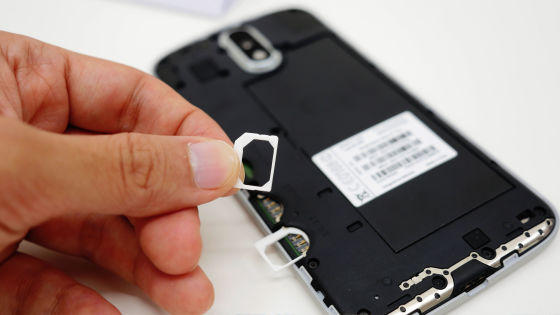 Moto G4 Plus is obviously a SIM lock-free terminal. It is possible to use so-called cheap SIM of MVNO line as well as SIM card contracted with carrier. This time, the cheap SIM's "Moto G4 Plus terminal lineup"BIGLOBE SIM(Voice call SIM)I tried using it.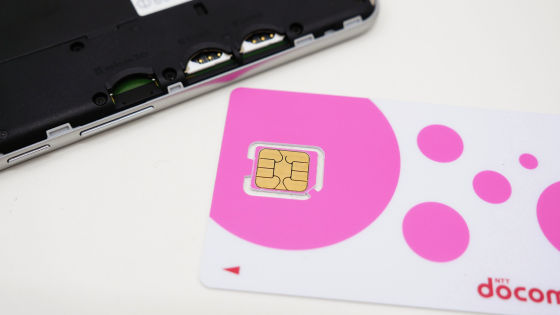 By the way, Moto G4 Plus can insert and remove SIM card even when power is on. Especially it is very convenient for applications that want to exchange SIM card frequently because it can recognize SIM card without rebooting.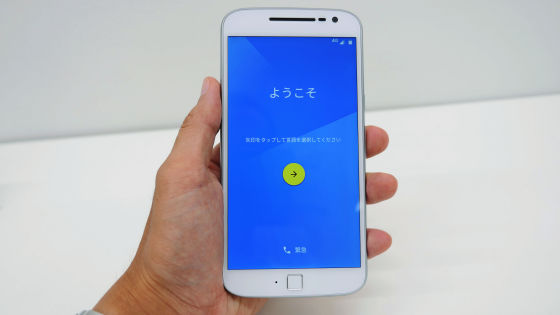 ◆ Initial setting
Setting screen appears on Moto G4 Plus at the first start, so setting work is necessary. Since it is the same as the setting of a general Android terminal, the Android user "is under◆ I tried usingGo ahead and be OK.

When you turn on the power by inserting BIGLOBE SIM, the initial setting screen called "Welcome" starts up. Tap "Arrow" icon.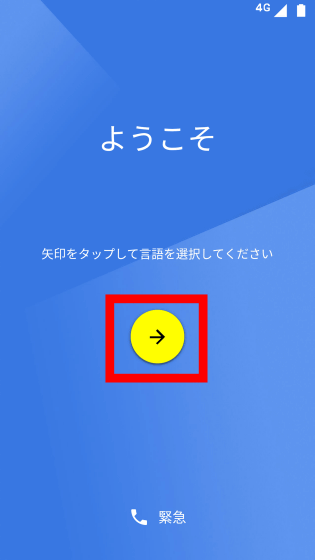 Tap "Japanese" → "Next".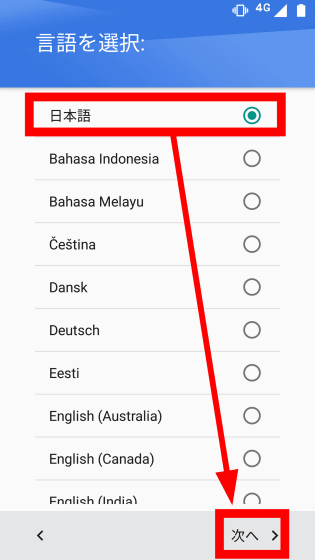 To configure Wi-Fi network, tap the target SSID. If you want to set Wi-Fi later, tap "Skip" and OK.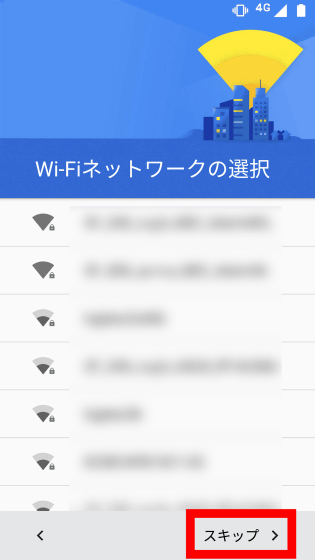 Tap "Ignore and Skip".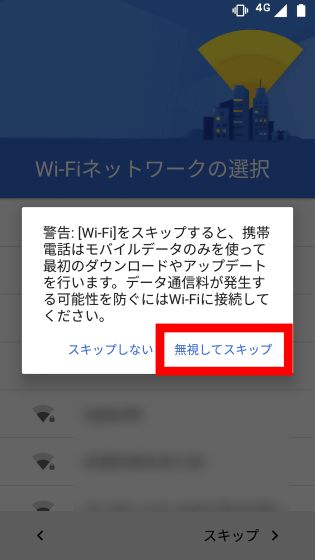 Tap Accept and Continue.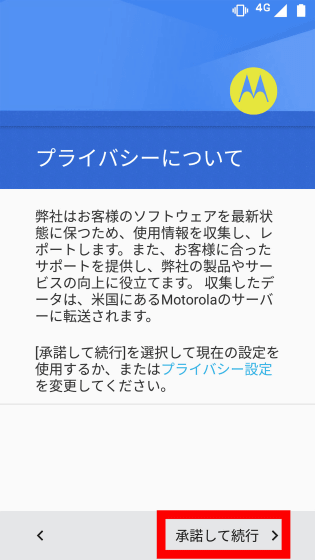 If you want to copy the setting of the Android terminal you are already using, select "Copy Google account, application, data from another device", if you use it as a completely new terminal, choose "Do not copy". For this time, tap "Do not copy".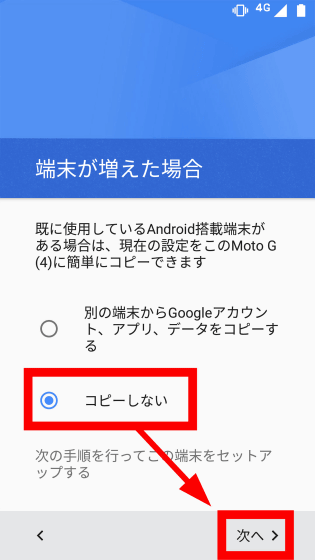 When logging in with an existing Google Account If you enter your email address / password and create a new account, tap "Create new account" to register your account.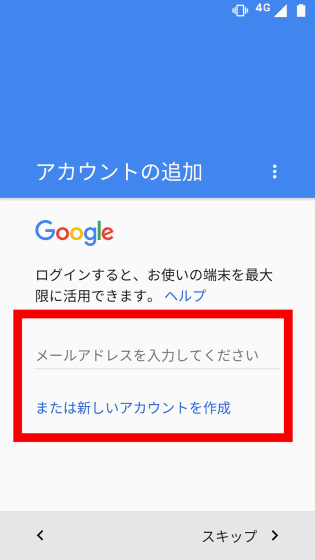 Tap "I agree".



Wait a while ......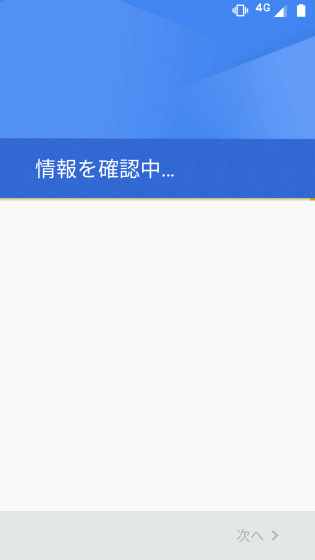 Tap "Next".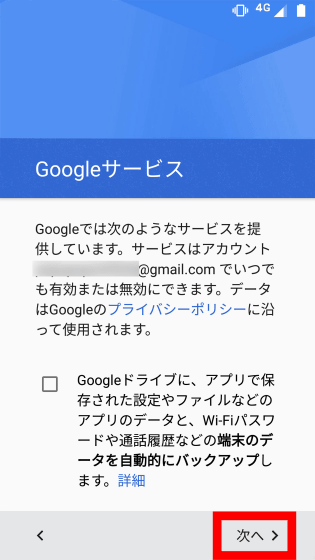 Wait a while ......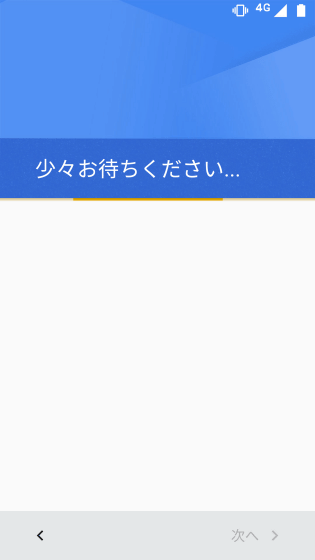 Tap "Later" → "Next".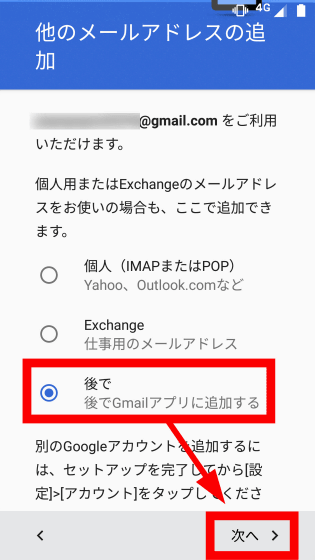 It will be a backup screen of applications and data. To restore the backup, tap "Next". If you use it as a new terminal without restoring, tap "Use last time" ...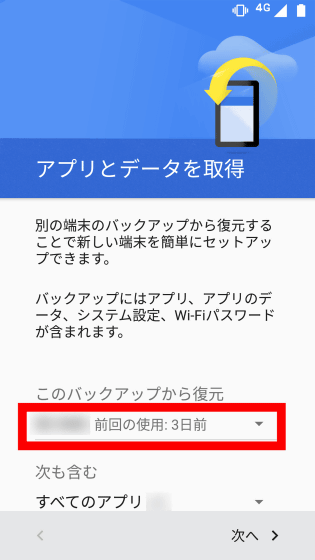 Select "Set up as a new terminal" and tap "Next".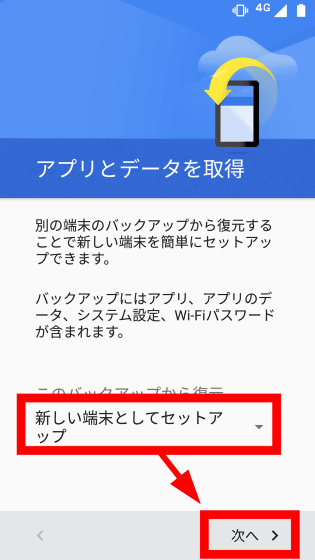 On the smartphone protection screen, you can set the unlock method of the terminal. Since I use PIN code this time, tap "PIN, pattern or password setting" → "next".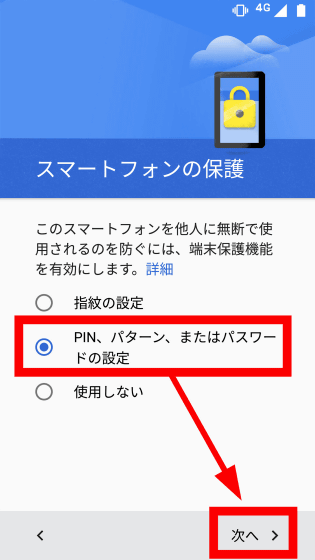 Tap "PIN".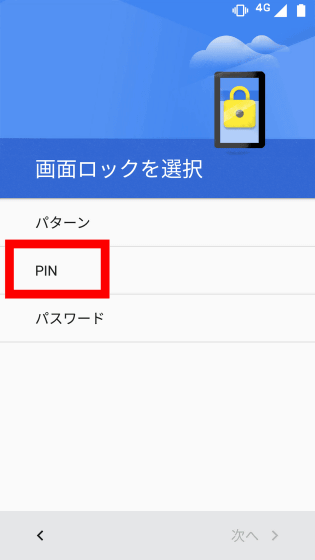 Enter a number of 4 or more characters and tap "Arrow" icon.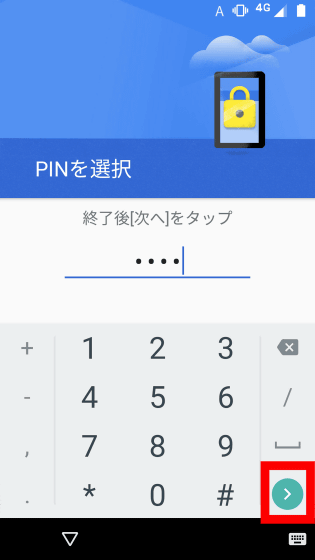 Tap "Display all notification contents" → "Next".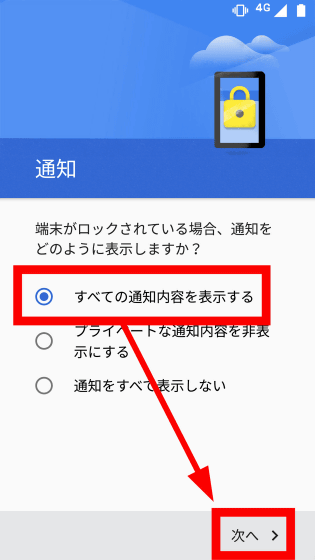 Tap the "Arrow" icon at the bottom right of the screen ... ...



Tap "Skip" → "Next".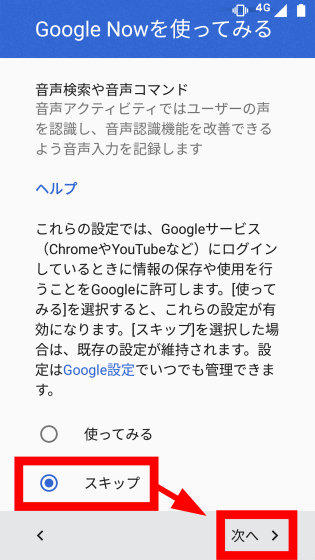 Uncheck "sign up" and tap "next" ... ....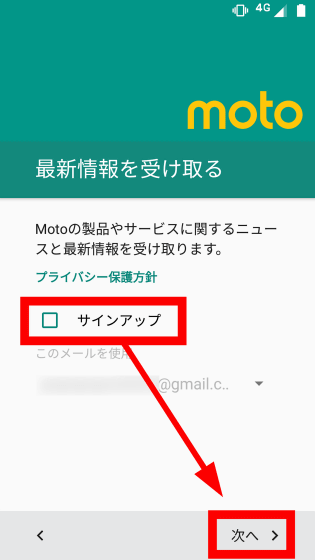 The initial setting is completed.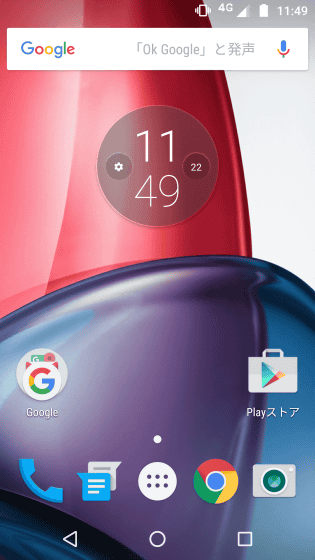 ◆ I tried using
· Moto application
Moto G4 Plus has adopted Android 6.0 Marshmallow.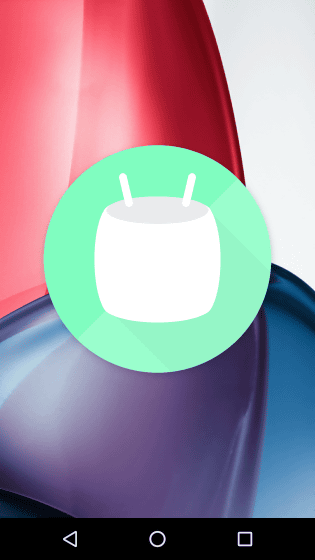 Moto G4 Plus pre-installed only Motorola's application "Moto".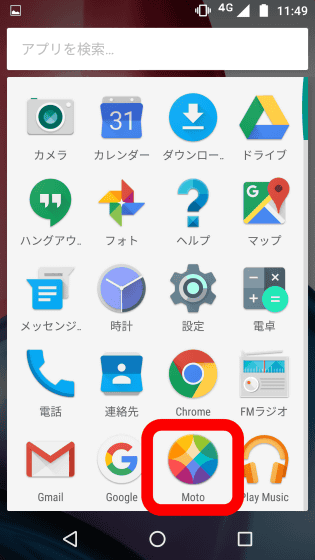 "Moto" is an application that can set special functions installed in Moto G4 Plus, so that you can understand the function while you read through the tutorial.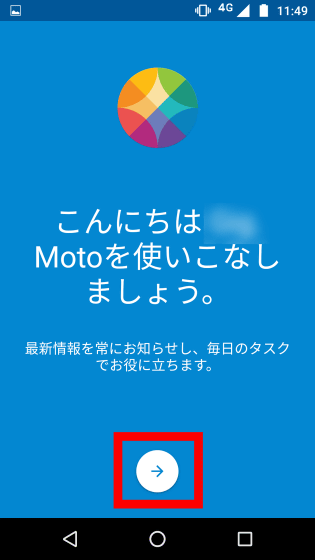 By default, turn on the LED light, "turn on the flash twice to operate the flash light" and start the camera immediately "twist the wrist and quick capture" etc are turned on.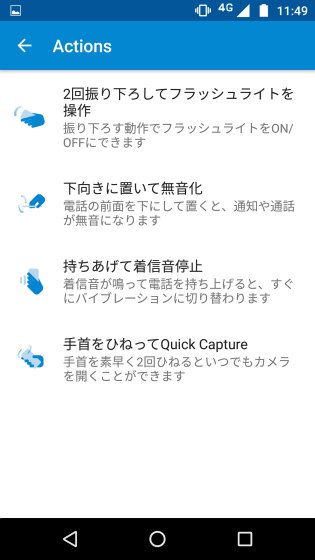 It is like this to twist the wrist twice and start the camera.

Moto G4 Plus gesture function to shoot a camera quickly - YouTube


By the way, this application 'Moto' can not be uninstalled, but it can be invalidated. So, Moto G4 Plus seems to be said to be a simple Android terminal that closely resembles Nexus smartphones.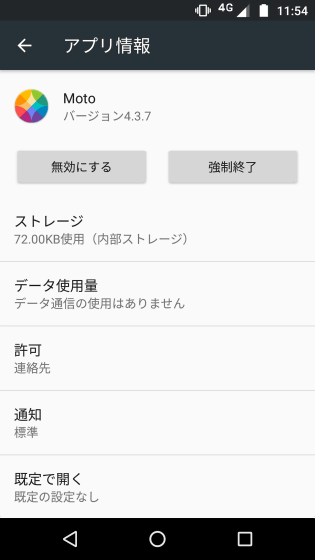 · CPU-Z
Application "CPU-Z"Check the specifications.

Moto G4 Plus has two types of SoC, Snapdragon 617 (8 cores), memory / storage 2GB / 16GB and 3GB / 32GB, OS is Android 6.0.1.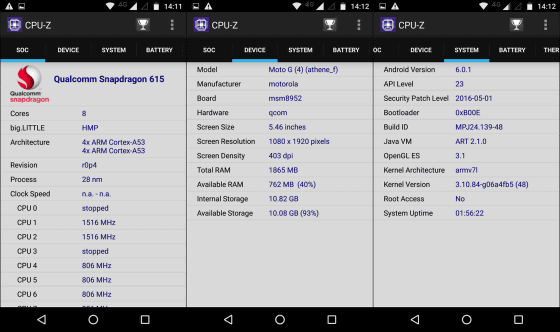 · AnTutu benchmark
Application "AnTutu 3 DBenchmark"Benchmark measurement, the total score is" 45364 ".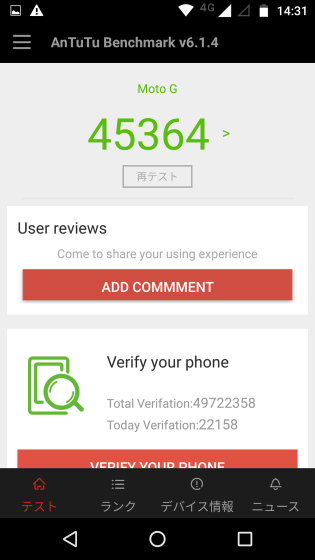 This figure is equivalent to former high-end SoC · Snapdragon 801, so it's quite good. Coupled with the fact that the plain application is only "Moto", it is a feeling "at least equal to Nexus 5" in terms of speed of experience. Even those who use Android smartphones for the first time, enough performance that does not complain is secured.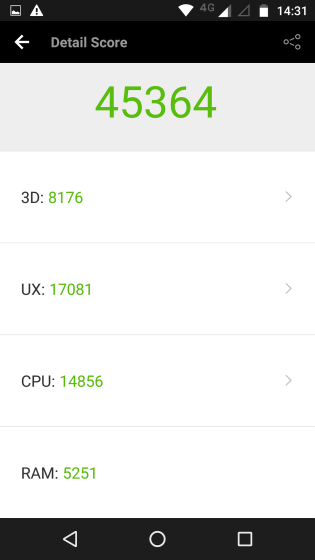 · Dual standby
The biggest feature of Moto G4 Plus is dual sim / dual standby (DSDS). In addition to inserting two SIM cards,4G & 3G simultaneous standby is possibleSo, there is a big merit that you can use two SIM cards (that is, two mobile numbers) on one terminal.

So, in order to try the dual standby function, I inserted SIM card of SoftBank carrier line in SIM slot 2 with BIGLOBE SIM inserted in SIM slot 1.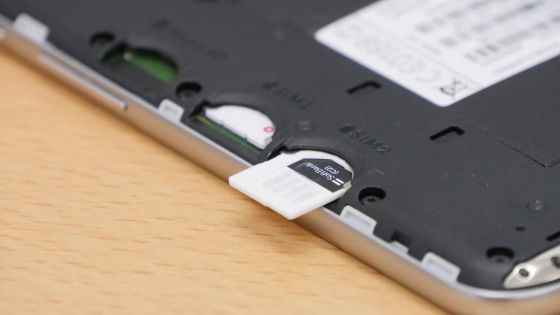 The first time you set the dual sim status, the setup screen will start. Tap "Arrow" icon.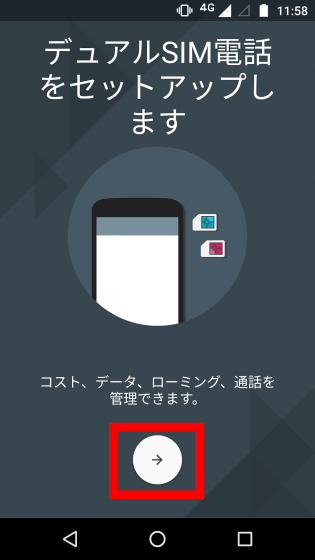 Tap "Permit".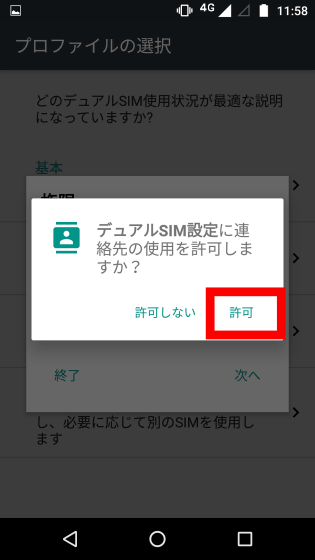 Moto G4 Plus provides four dual standby modes: "basic" "automatic" "personal and work" "main and individual". It is very convenient because it can be set according to how you use it.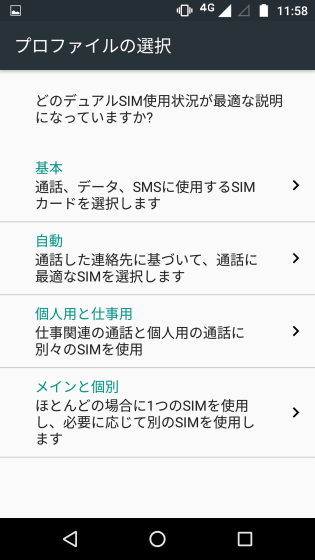 For example "Basic"...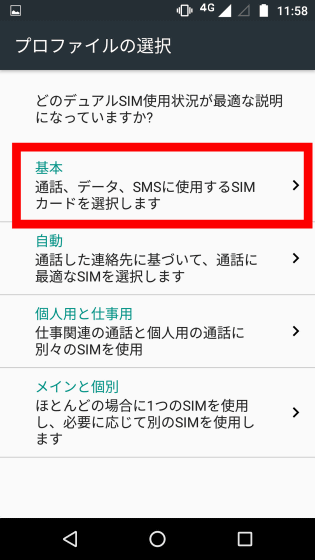 It is possible to select a SIM card to be used for data communication, SMS, and calling in advance. If you set the call to "always be sure", you can also select a number when making a call.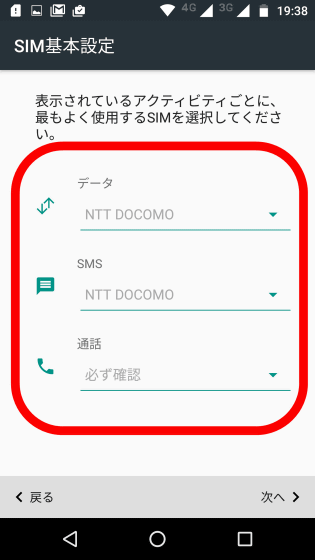 "Automatic"...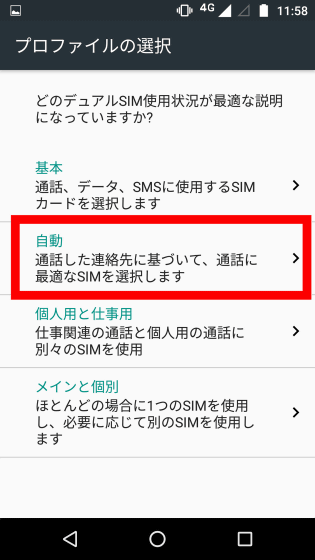 According to the database from past usage, it will select the best SIM card. If you can not define the optimum SIM card, you can also specify a specific SIM card in advance.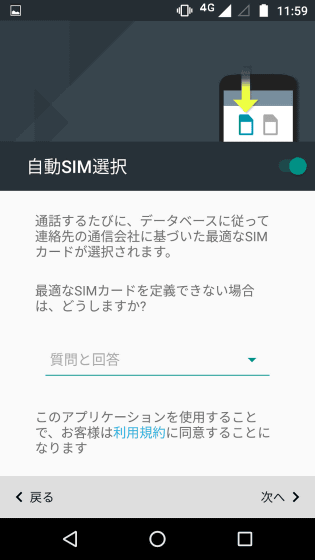 "Personal and work"...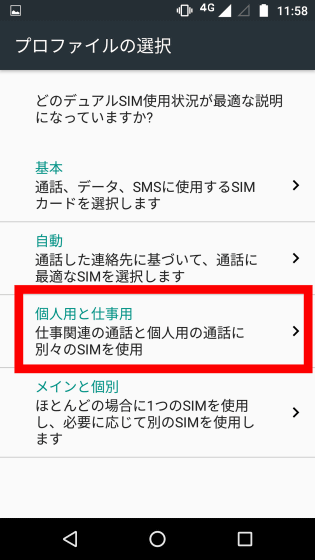 You can choose one SIM for personal use, select contacts individually, or link to account contacts.



"Main and individual"...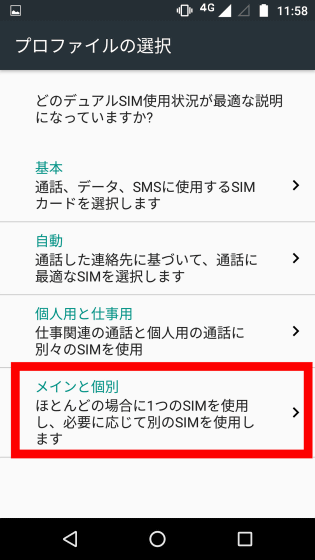 After choosing the main SIM card, you can specify the contacts to be exceptionally assigned to the sub SIM card.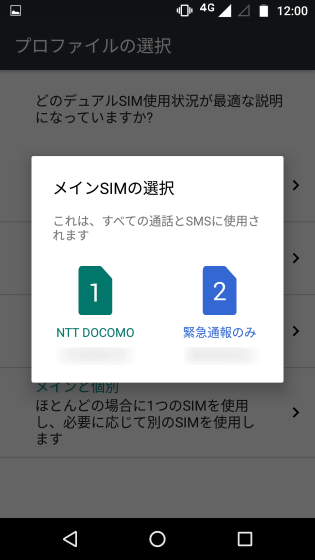 Switching modes is OK if you switch with "Usage profile" in "Settings" → "SIM card" → "Manage SIM function".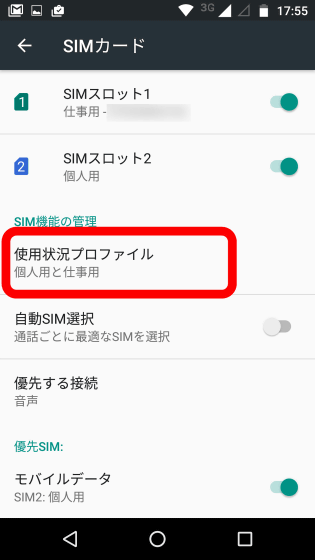 · I tried dual standby at each company's SIM
Try the call function by inserting BIGLOBE SIM in SIM slot 1 and carrier line SIM of SoftBank in SIM slot 2. In "Basic" mode, "Calling" setting is "always checked".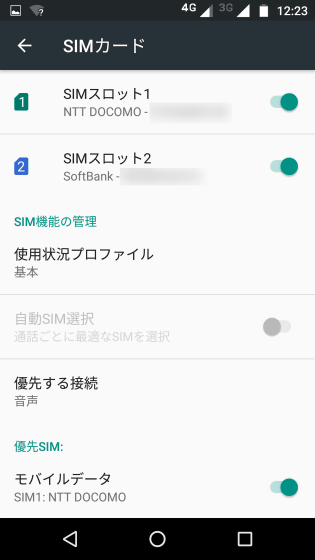 After entering the phone number and tapping the call button ......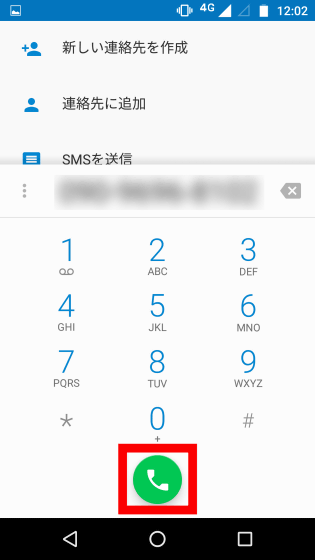 You will be prompted to select a SIM card. Firstly tap "NTT DOCOMO" because it makes a call by BIGLOBE SIM.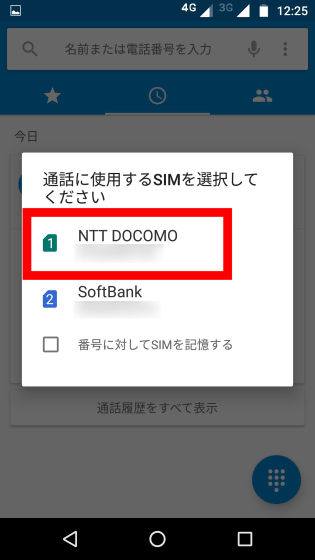 I could make a call without problems and I was able to talk.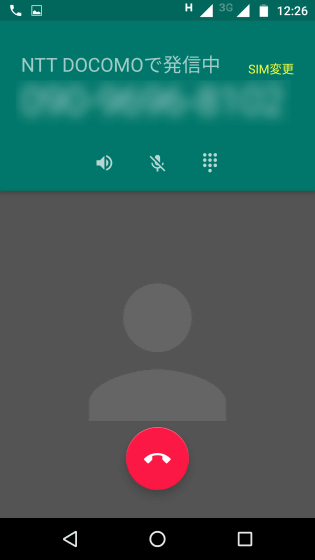 Next, select "SoftBank" on outgoing call.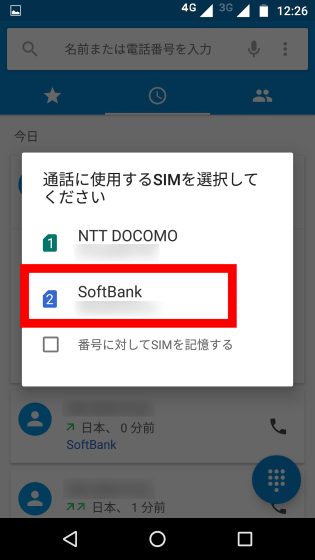 I could make a call without problems with SoftBank number. With the setting that selects the dialing number in "Basic" mode, you can easily make calls using different numbers. Incidentally,Regarding "incoming call", I was able to answer the call with either number without any special setting.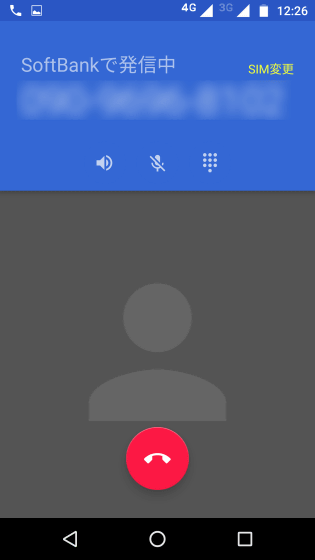 Next I will insert a SIM card of au's carrier line into SIM slot 2.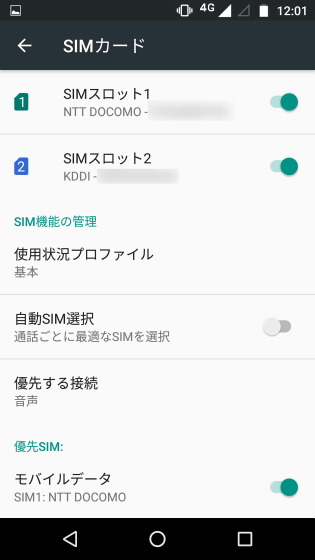 Since au's 3G line is CDMA2000 instead of W-CDMA, dual standby use with 3G is impossible. So I inserted a VoLTE compatible SIM card and tried it.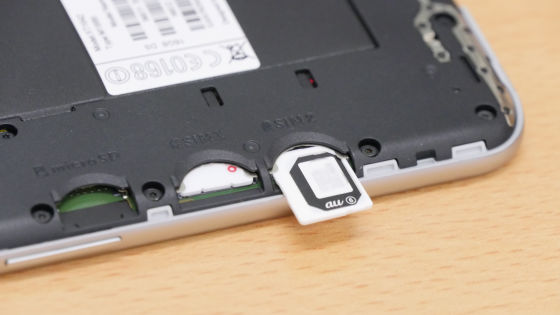 Select "KDDI" when calling.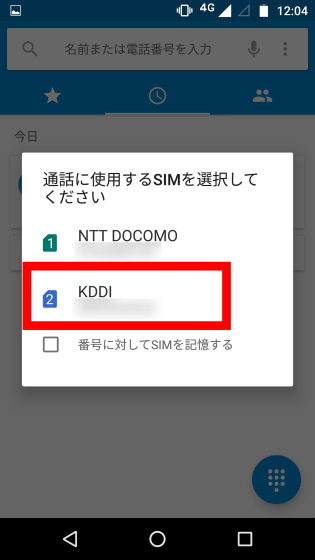 Error not available for network.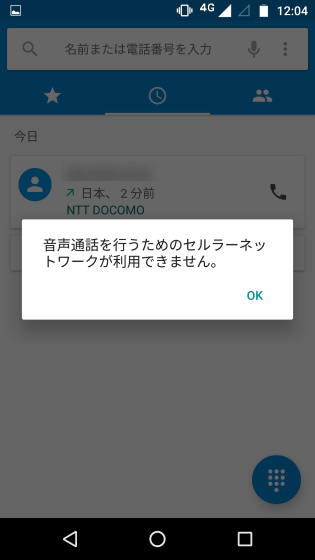 Even if au VoLTE 's APN was correctly set up, we could not connect to' KDDI 'with' available network ', and we could not make mobile phone calls or even make calls. Apparently Moto G4 Plus does not seem to be able to use au's SIM card.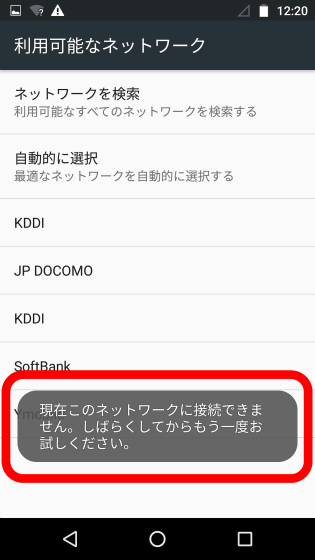 Furthermore, Y! Mobile's SIM card can be used without problems with dual standby.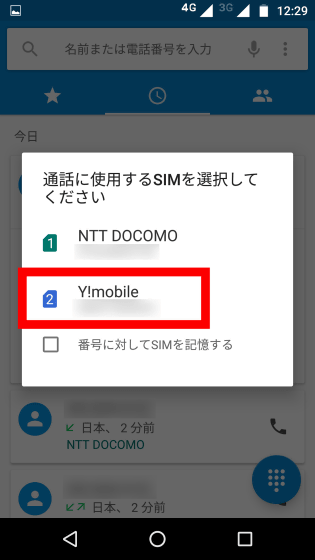 Dual standby with BIGLOBE SIM and DoCoMo carrier line SIM was also possible as a matter of course. By the way, when I inserted the SIM of 3G contract of DoCoMo with BIGLOBE SIM attached, I was able to talk without special setting.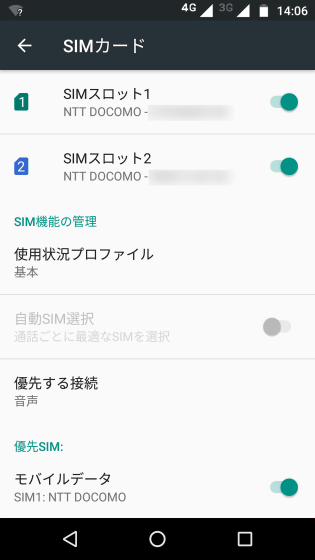 · Switching mobile communication
It is possible to switch SIM card for mobile communication with "Mobile data" in "Settings" → "SIM card" → "Preferred SIM". As DOCOMO and Y! Mobile and APN of MVNO line of docomo are already registered, mobile communication was possible just by inserting the SIM card, but setting of APN only for SoftBank was necessary.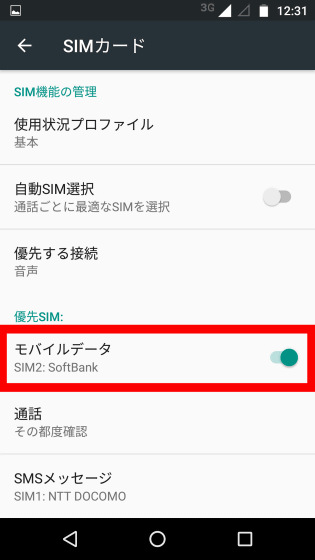 So, to set SoftBank's APN, tap "More" in "Settings" → "Wireless and network".



Tap "Mobile network".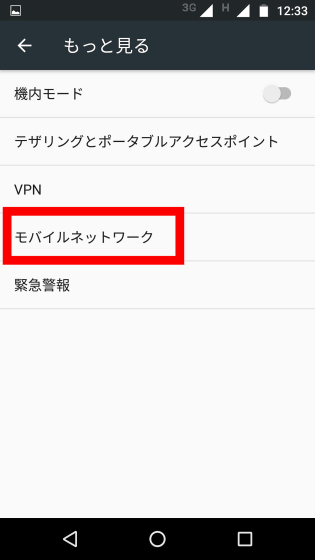 Switch to "SOFTBANK" tab and tap "Access point name".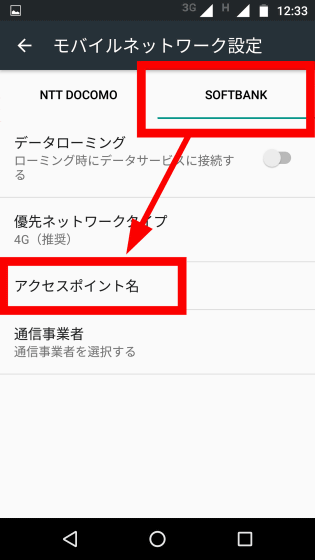 Tap "+" button.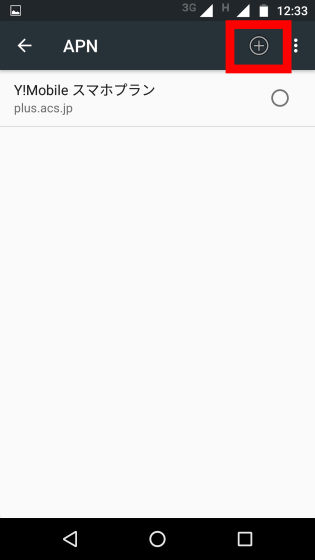 Since it becomes the editing screen of the access point, it is OK if you set APN.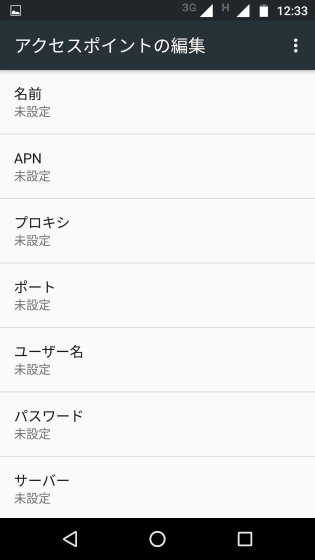 Since I was using carrier line SIM of SoftBank contracted with iPhone, enter "SoftBank" for the name, "jpspir" for the APN, "sirobit" for the user name, "amstkoi" for the password, Tap Back icon.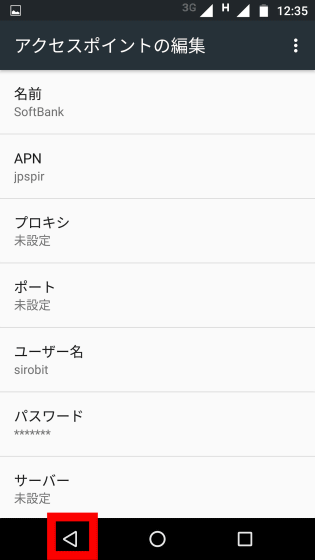 It is OK if you check "SoftBank" that you created.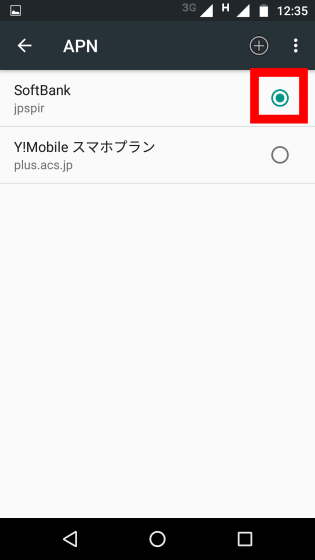 Mobile communication was possible with SoftBank carrier line SIM without problems.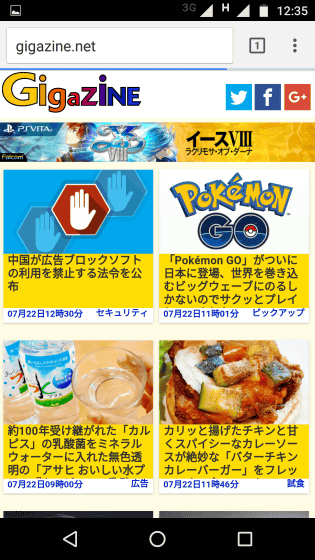 In addition, when SoftBank's carrier line SIM was inserted in SIM slot 1, communication could be done with 4 G (LTE) ......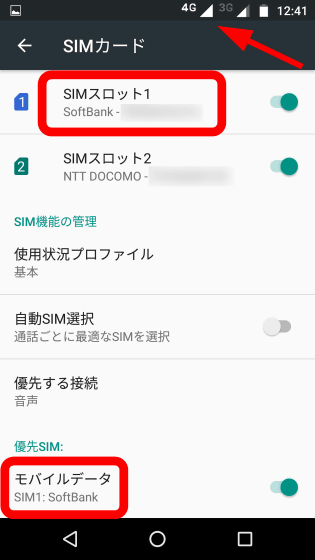 When inserted in SIM slot 2, communication with LTE was not possible.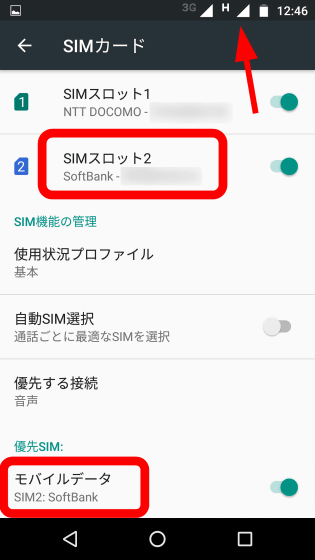 On the other hand, even if BIGLOBE SIM was inserted in SIM slot 2, communication could be done at 4 G (LTE), so there may be some restrictions on LTE communication in SIM slot 2.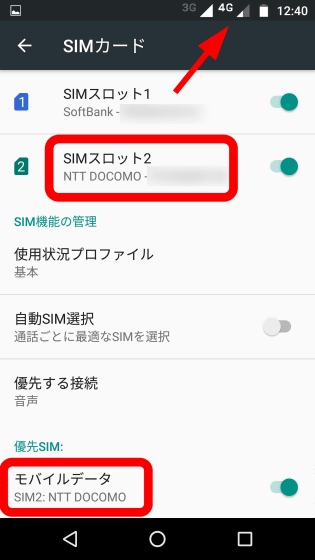 ◆ Summary
By using SIM free smartphone "Moto G 4 Plus" that supports simultaneous standby of 4G & 3G, it is possible to combine two lines into one smartphone. For this reason, even if you have "2 units" of a feature phone (Garakey) for calling separately from the smartphone, it is possible to combine it on one smartphone. Also, even if you have two cars to use it properly for work and private use, you can use each number properly with one terminal.

Furthermore, since it is possible to completely select which SIM card to use for calling and mobile communication, for example, using the number of the carrier line for the call, for example, using the cheap SIM with the cheap communication fee for the mobile communication is used as 1 It can be realized by the terminal of the terminal. Furthermore, it is possible to use it like lowering the communication cost to the limit by contracting two cheap SIMs of inexpensive plans for each of calling and mobile communication and making it a dual SIM system with Moto G 4 Plus.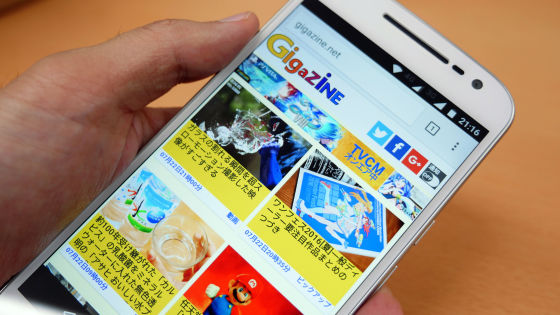 Moto G4 Plus is selling 2GB memory · 16GB storage model for 32,800 yen (excluding tax), 3GB memory · 32GB storage model for 35,800 yen (excluding tax). In addition, BIGLOBE, DMM mobile is also being sold as a set with SIM card. By the way, BIGLOBE SIM used in this review is implementing a campaign to receive discount coupon of 3000 yen until July 26, 2016 (Tuesday), so it is good to hurry people who are interested.

BIGLOBE starts handling of Motorola smartphone "Moto G 4 Plus" that supports simultaneous standby of 3G and LTE | Press Room | Big Lobe Co., Ltd.
http://www.biglobe.co.jp/pressroom/release/2016/07/160713-a