SIM fleece smartphone 'BLU', which has the top share in the United States, finally landed in Japan, what is the power of a cheap smartphone of 7980 yen?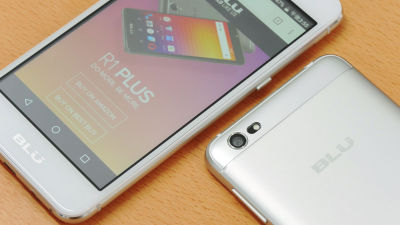 Based in Florida, USA, ' BLU (Bold Like Us) ' is a smartphone brand that boasts the largest market share of SIM fleece smartphones in the United States. BLU, which boasts an overwhelming approval rating of sending 6 models to the top 10 smartphone sales on Amazon.com, has finally landed in Japan from Amazon.co.jp. I got a super-discount model ' GRAND M ' limited to Amazon.co.jp for 7980 yen including tax and a cheap model ' GRAND X LTE ' with Android 7.0 for 12,800 yen including tax, so I got the No. 1 in the United States at once. .1 I tried the power of a cheap smartphone.

BLU Products | Bold Like Us

http://bluproducts.com/home/
The cheap model 'GRAND M' is on the left and the cheap model 'GRAND X LTE' is on the right. The black-based package is pretty cool.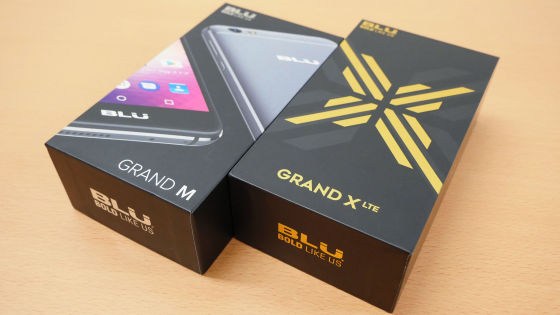 ◆ GRAND X LTE
·Appearance check
GRAND X LTE has a flashy design of black and gold.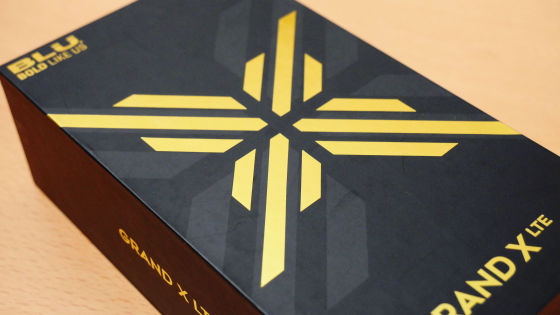 When you open the box, the main body appears.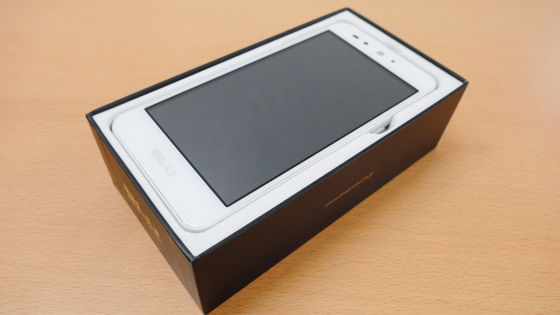 Inside is the GRAND X LTE main unit, a special protective case, a SIM slot release pin, and a Micro-USB cable.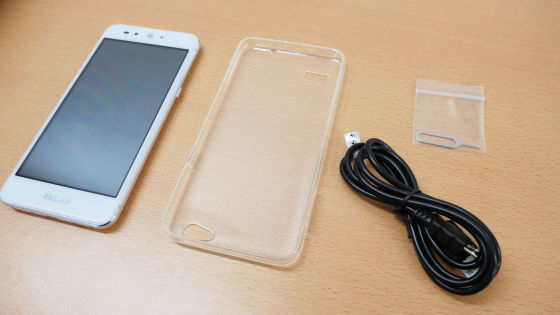 The GRAND X LTE, which is heavy when picked up, weighs 164g. The display is equipped with a 5-inch (1280 x 720) liquid crystal display, the SoC is Mediatek MT6737 (ARM Cortex-A53 quad core), the memory is 1GB, and the storage is 8GB.



Proximity sensor, 5 million pixel front camera, speaker, LED flash are installed at the top.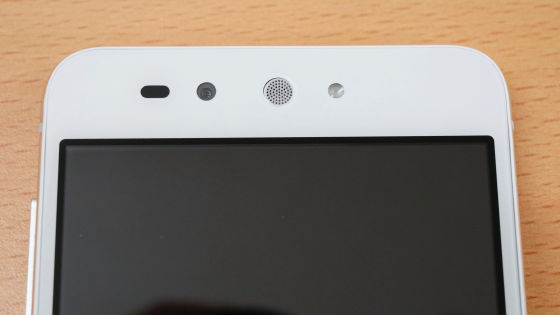 BLU logo at the bottom. The margin under the display is large.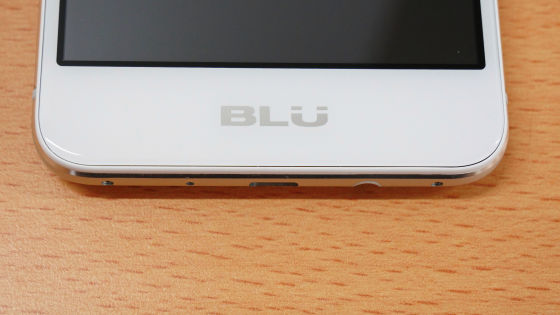 The display surface is characterized by rounded edges as if a glass film was attached. The edges of the main body are chamfered, giving it a very luxurious feel.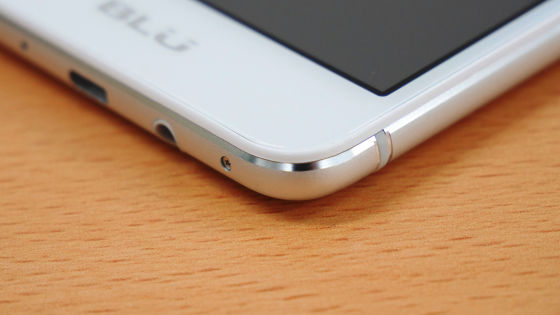 Power button and SIM card slot on the right side.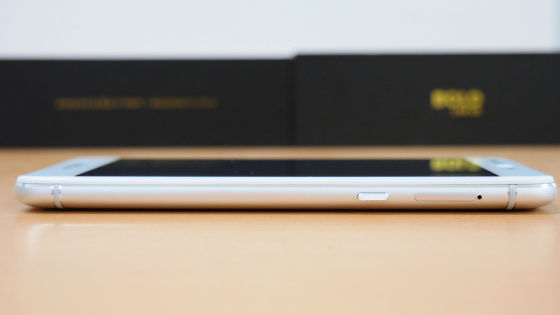 Volume button on the left side.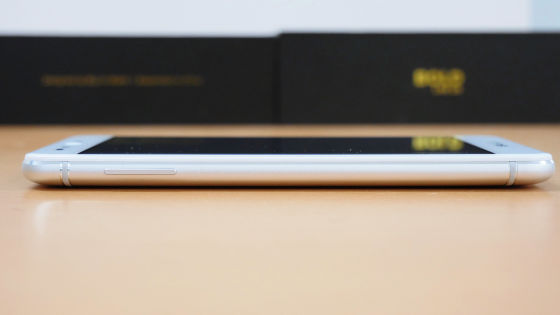 There is nothing on the top.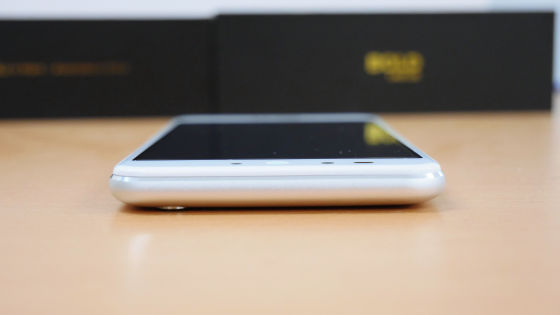 Microphone, Micro-USB port, earphone jack on the bottom.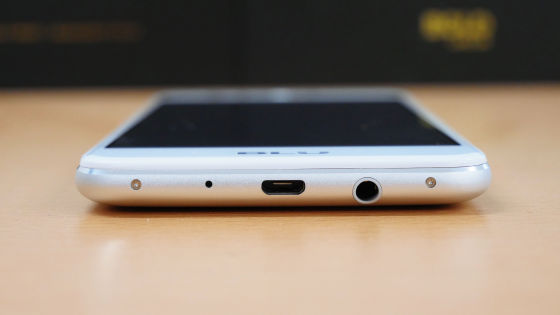 Full metal housing with aluminum back panel.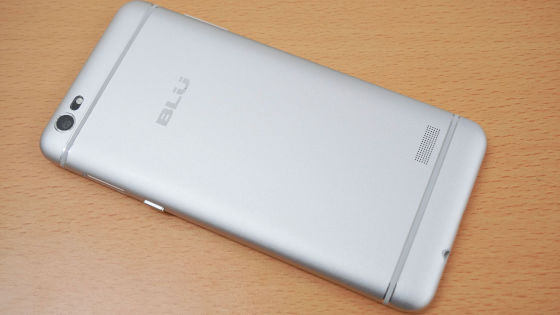 The rear camera has 8 million pixels and supports autofocus. It also has an LED flash.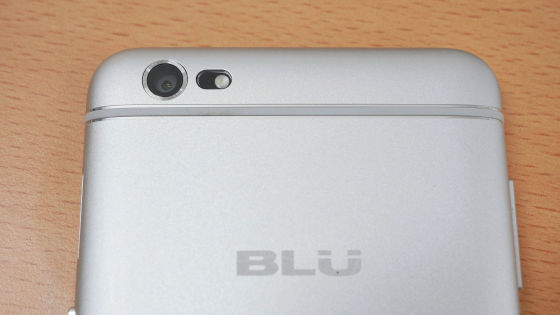 A large speaker in the lower right.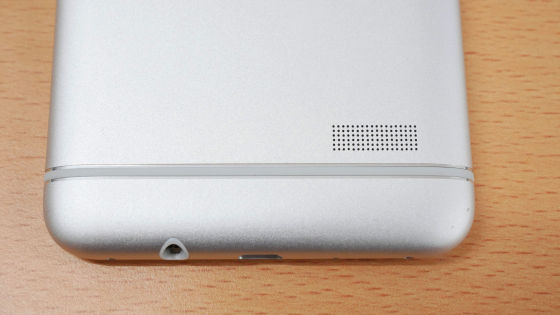 I placed the 147.0mm x 72.7mm x 9.4mm GRAND X LTE in the center, and placed the iPhone 6s Plus on the left and the iPhone 6s on the right.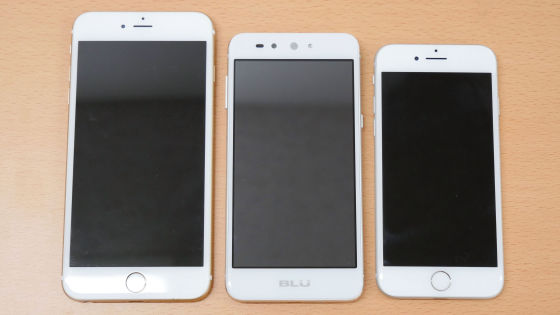 It is a little thicker than the iPhone 6s.



The full metal body housing has a rounded design on all sides, and the texture is unbelievably 12,800 yen.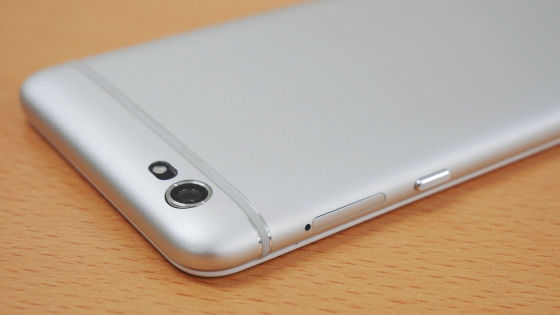 The attached TPU protective case naturally has an excellent fit.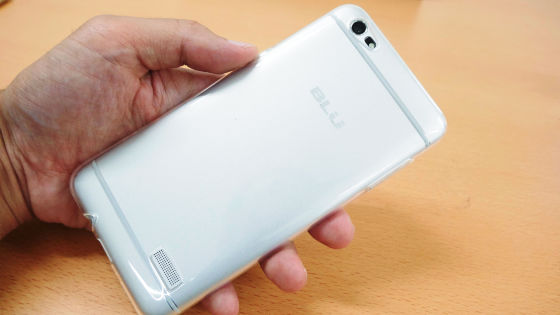 It is a good impression that the buttons are easy to press even with the case attached.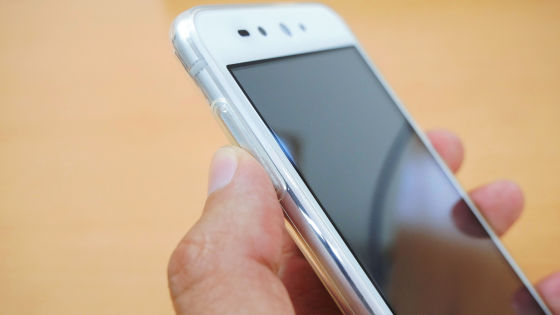 The SIM card is compatible with one micro SIM card and nano SIM card. Slot 2 is exclusive with SD cards, but supports dual SIM cards.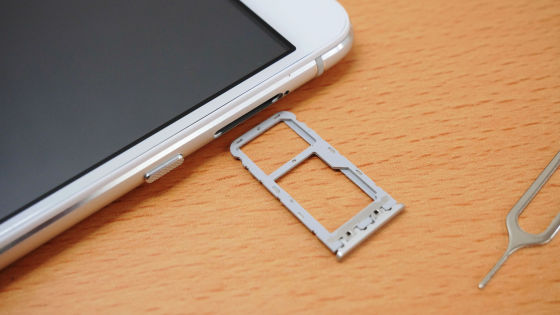 ・ I tried using it
The LTE band supported by GRAND X LTE is FDD-LTE B1 / 3/6/8/9/19. Compatible with NTT DoCoMo and SoftBank lines.

First, I installed a DoCoMo SIM card.



Set the APN for mobile communication. Tap the 'Settings' app.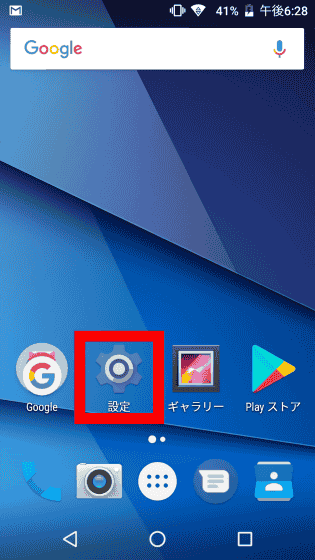 Tap 'More'.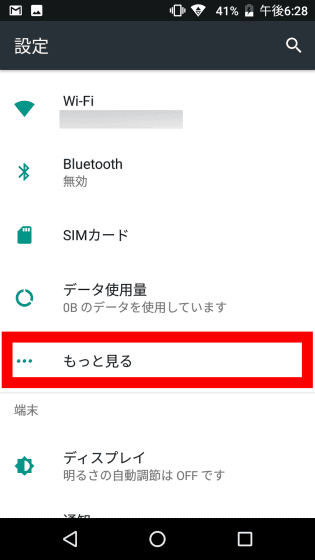 Tap 'Mobile network'.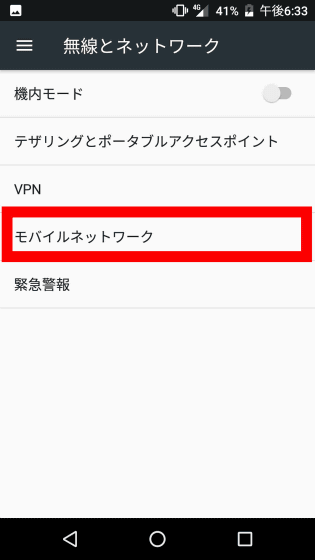 Tap 'Access point name'.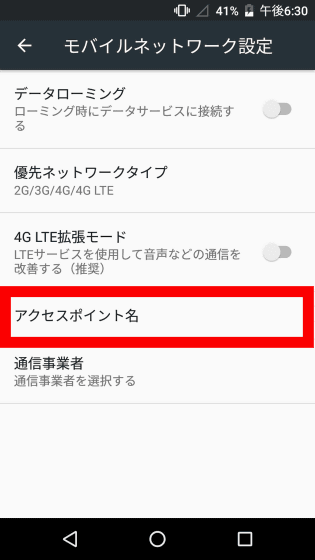 The APN settings of each MVNO company were already saved. With these MVNO lines, all you have to do is insert the SIM card and select the APN. This time, we will use the NTT DoCoMo (MNO) line, so we will create a new APN setting. Tap the '+' icon.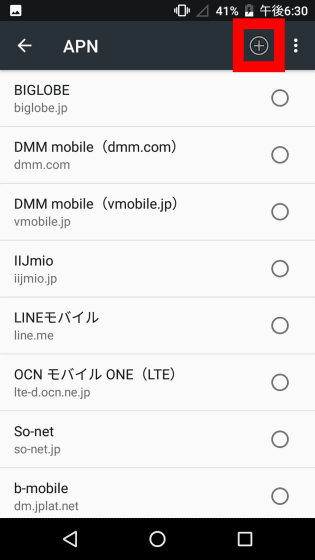 Enter 'spmode.ne.jp' for the appropriate 'Name' and 'APN', and tap the 'Settings' icon ...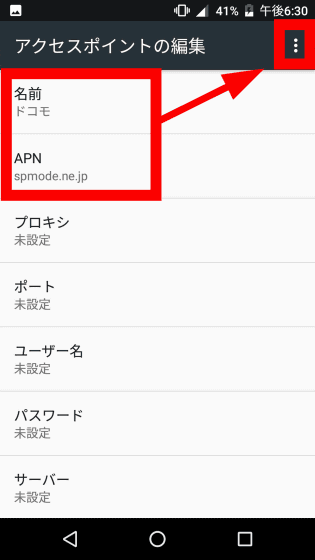 Tap 'Save'.



After that, you can check the saved APN name.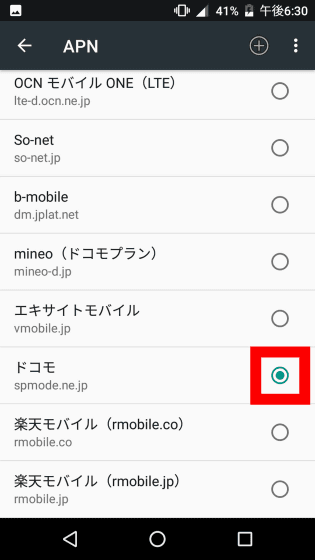 When measured with '
Speedtest.net
', it was possible to communicate with LTE at 38 Mbps for downlink and 12 Mbps for uplink.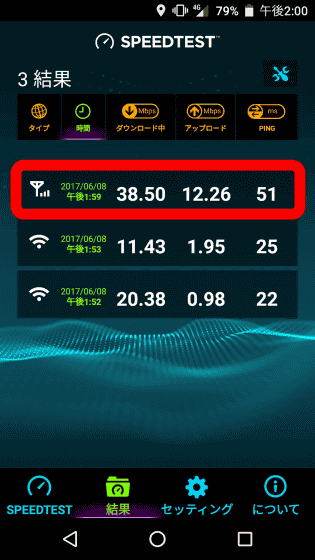 When I measured the benchmark with '
Antutu Benchmark
', the overall score was '24509'.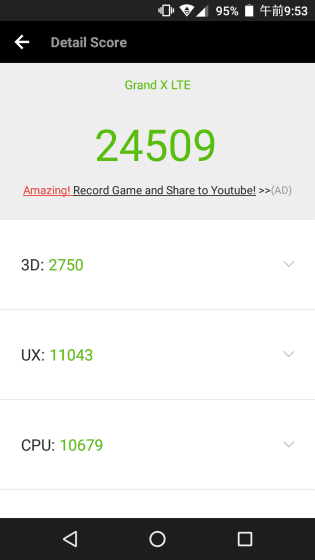 RAM is '37', and it seems that 1GB memory is pulling.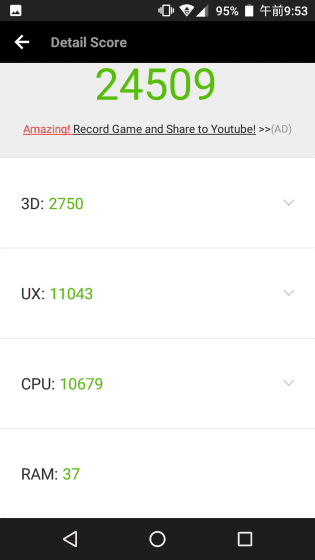 Antutu's bench score is in the 20,000 range, which is an entry class number among recent smartphones, but see the following movie to see how fast GRAND X LTE actually works and how comfortable it is. You can check it.


How do you feel about the operation of the cheap smartphone BLU 'GRAND X LTE'? I tried online browsing with docomo SIM-YouTube
There is no problem with changing settings or switching apps. However, the processing could not keep up with the loading of images and the display of embedded movie thumbnails on YouTube, and we were able to confirm that they were sluggish. However, since YouTube can be played without stopping, I had the impression that it could be used normally without causing a great deal of stress.
After all, the big merit of GRAND X LTE is that Android 7.0 Nougat is installed in the OS. It is also advantageous in terms of security updates.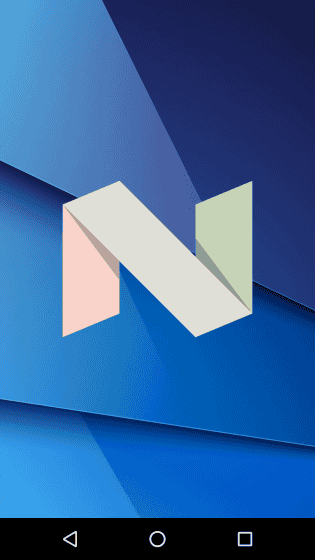 By the way, various Google apps such as Gmail, YouTube, Chrome, and Google Photos are pre-installed, and the virtual keyboard also defaults to Google Japanese input, so it was ready to use.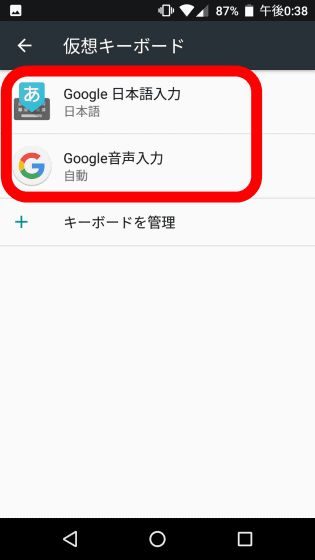 Since it is equipped with a dual SIM slot, try installing NTT DoCoMo and SoftBank SIM cards to check whether it supports simultaneous standby with two SIM cards (dual sim dual standby: DSDS). I did.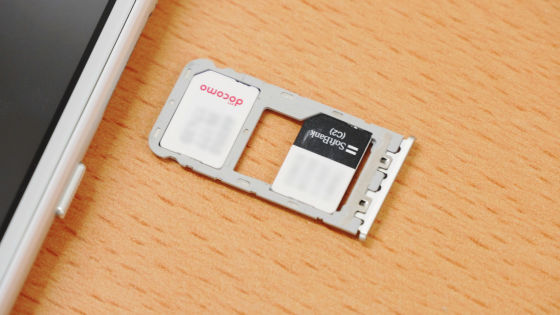 When you install the SIM card, the SIM card selection screen to be used for data communication appears.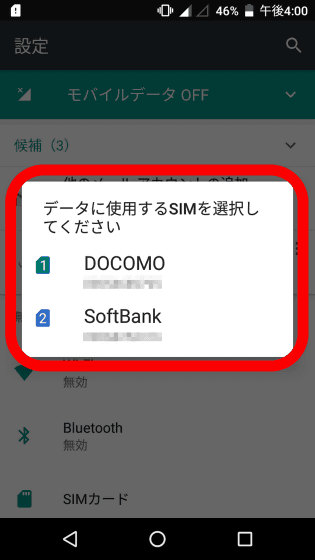 However, when I selected a card for mobile communication, the other antenna pictogram disappeared and communication became impossible. With the SIM card with the antenna pictogram disappeared, not only mobile communication but also incoming / outgoing calls cannot be made, and as a result, the SIM card is the same as one.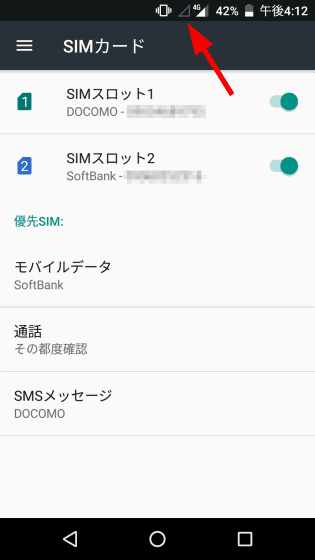 GRAND X LTE may support DSDS with 4G / 3G communication and GSM (2G). In any case, it seems that it is not possible to use a SIM card in Japan for simultaneous standby.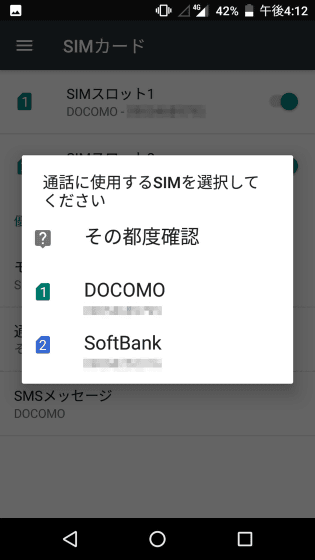 I compared the image quality of the rear camera with the iPhone 6s (right).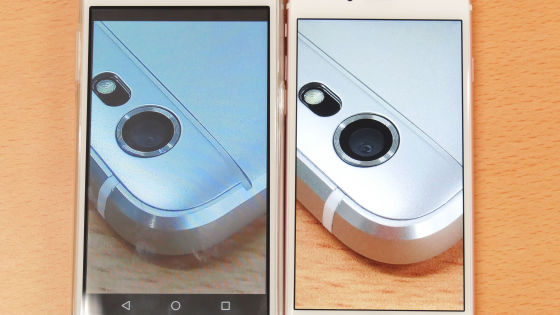 An enlarged image of a photo taken with the HDR function turned off. GRAND X LTE on the left and iPhone 6s on the right. The iPhone 6s is the overwhelming winner in terms of brightness, saturation, resolution, and low noise, but GRAND X LTE, which is one-sixth the price, should be seen as doing a great job.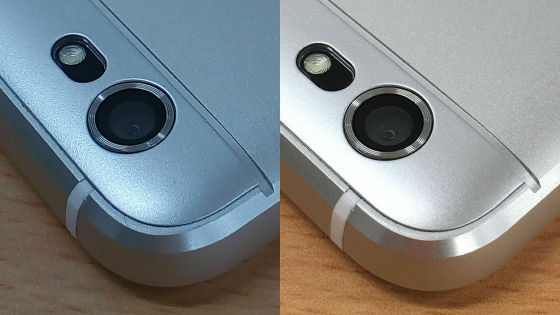 In addition, the saturation became quite close when the HDR function was turned on.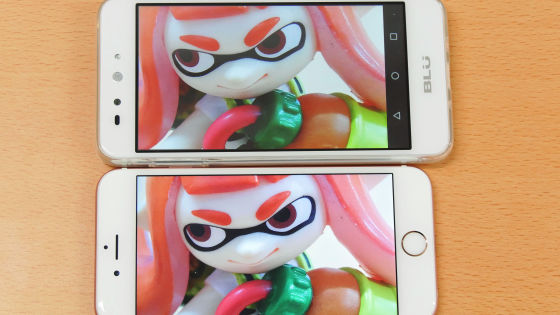 GRAND X LTE supports high-speed communication by LTE, the communication speed is fast enough, and you can comfortably surf the Internet without any special slack. The screen looks a little unsatisfactory with HD image quality (1280 x 720), but with a 5-inch size, you can't see much of it, so it's not a big drawback. However, the major weakness is that the storage capacity is 8GB. Except for the system and basic applications, there is only a little less than 4GB of free space, so it may be said that it is essential to increase the storage with a microSD card in actual use. The only thing I was dissatisfied with after touching it for a whole day was that it consumes a lot of battery power and takes a little longer to charge.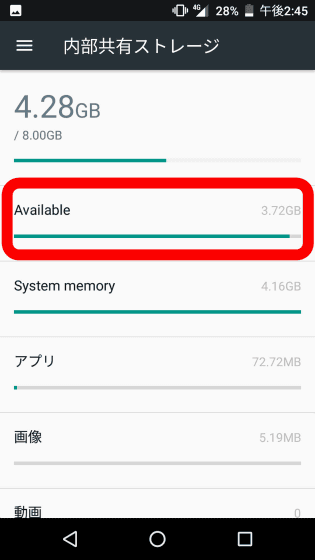 ◆ GRAND M
Next is the super-discount smartphone 'GRAND M'. What a 7980 yen.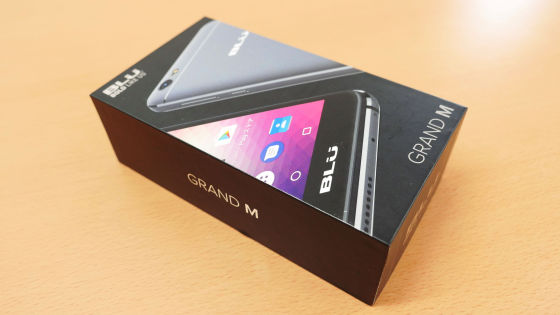 Even though it is a super-discount smartphone for 7980 yen, the metallic silver letters on a black background make you feel even luxury.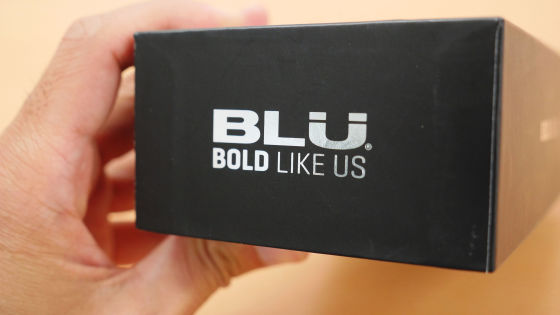 The contents were GRAND M main body, special protective case, simple manual x 3, Micro-USB cable, SIM slot release pin.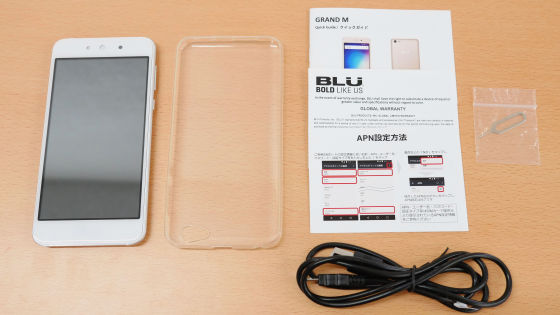 GRAND M is also a 5-inch size smartphone and weighs 171g, which is slightly heavier than GRAND X LTE.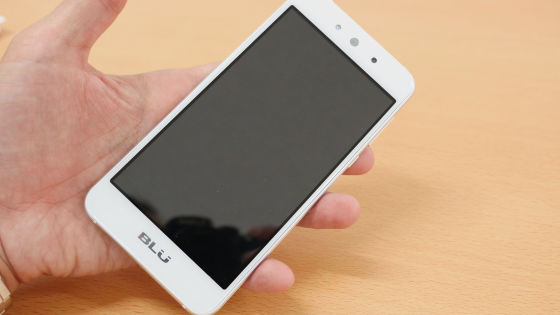 GRAND M is 144.9 mm x 72.1 mm x 9.4 mm. When viewed side by side with GRAND X LTE (right), it is almost the same size.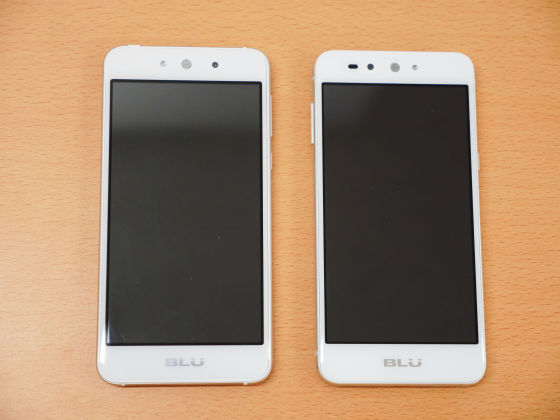 The SoC is equipped with Mediatek MT6580 (ARM Cortex-A7 quad core), 512MB memory, 8GB storage, and the OS is Android 6.0 Marshmallow. It does not support 4G / LTE, only 3G communication . 3G (W-CDMA) compatible bands can grab B1 / 5/6/8/19 and NTT DoCoMo / SoftBank lines.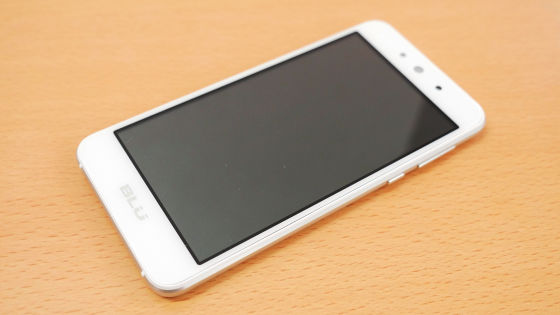 Equipped with LED flash, speaker, and 3.2 megapixel front camera on the top.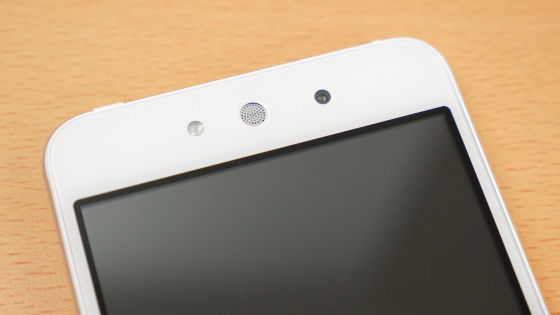 Like GRAND X LTE, the lower bezel is wider.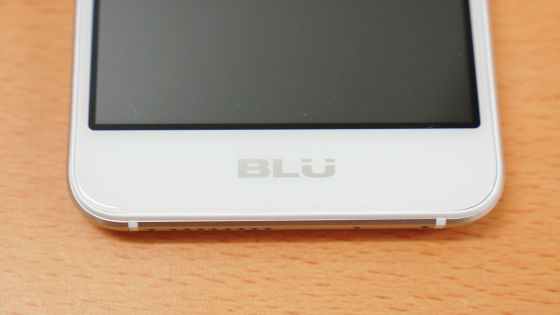 Power button and volume button on the right side.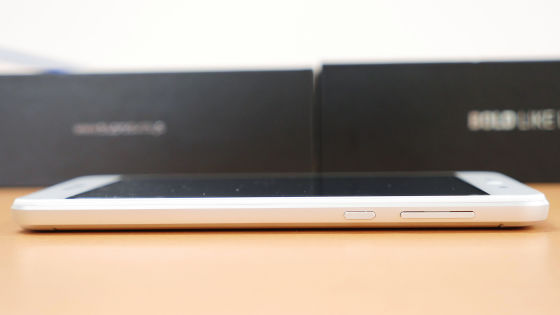 Only the SIM card slot is on the left side.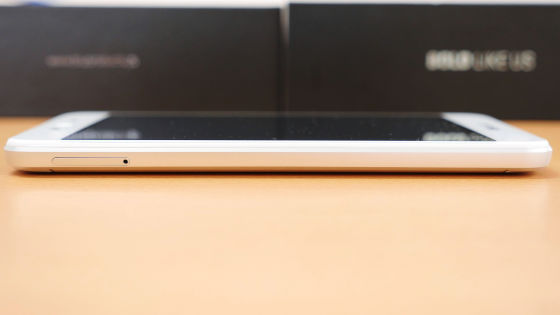 GRAND M has a Micro-USB port and earphone jack on the top.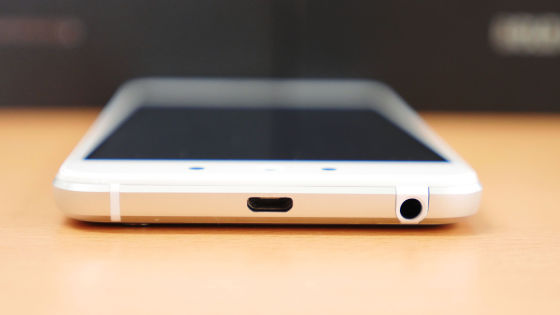 Speaker and microphone on the bottom.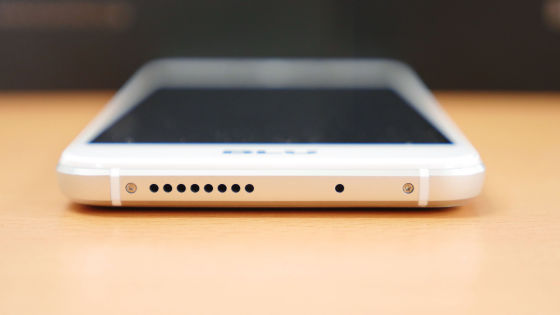 GRAND M also has an aluminum housing.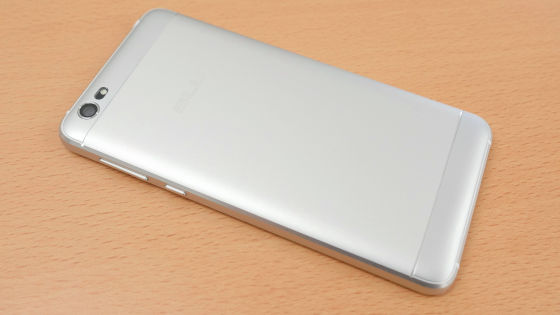 7900 yen is an unbelievable texture.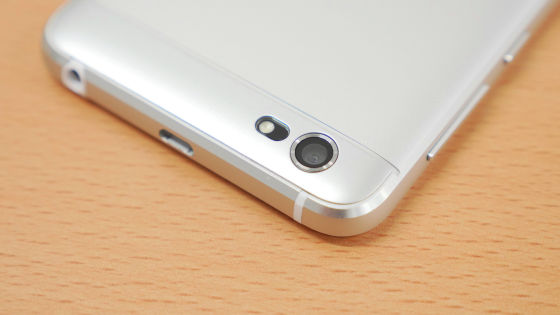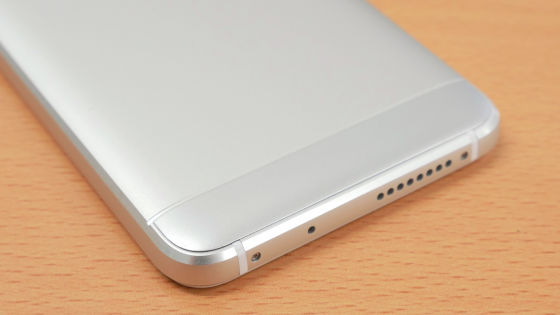 The SIM card is a dual type and is compatible with nano SIM cards and micro SIM cards. It also serves as a microSD card slot.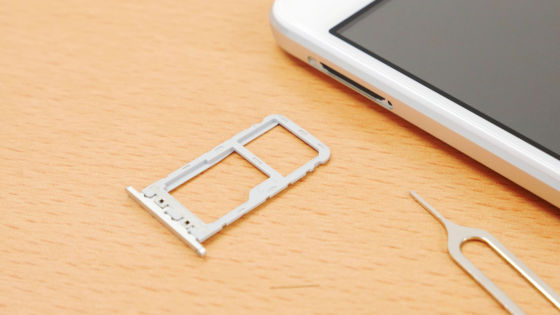 The attached protective case also had a good fit.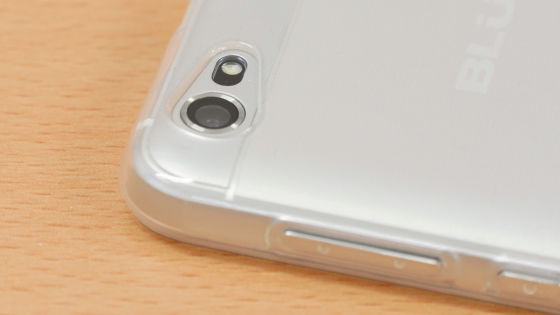 Both GRAND M and GRAND X LTE feature a thick black edge around the display. The idea is to make the bezel width look as narrow as possible.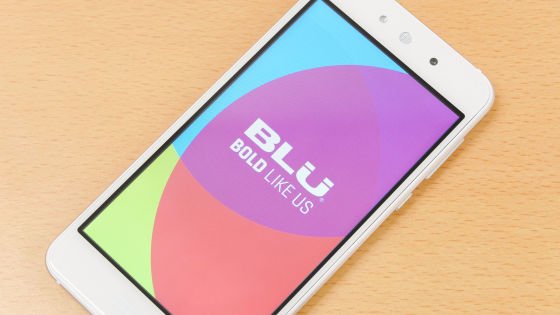 The feeling of dots is immediately felt after using it. Despite the large 5-inch screen, GRAND M has a display resolution of 854 x 480 pixels. The thumbnails of GIGAZINE articles are also displayed with the dots highlighted.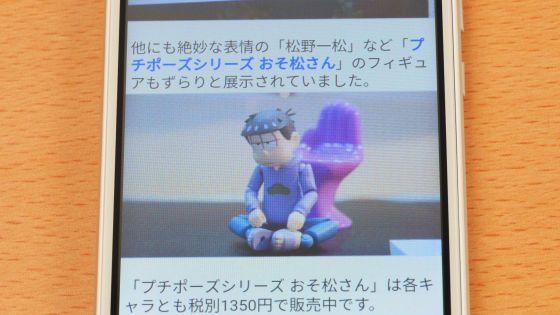 Compared to GRAND X LTE (right), the difference is clear. There is nothing unnatural about GRAND X LTE in HD resolution. After all, I feel that HD resolution is the minimum required for a 5-inch size display.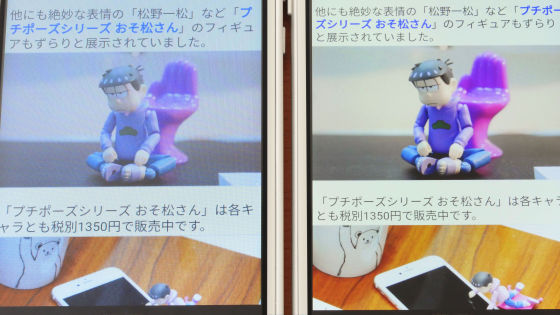 The display images of GRAND M (left) and GRAND X LTE (right) are clearly different, and I felt that GRAND X LTE was far superior in terms of brightness and vividness.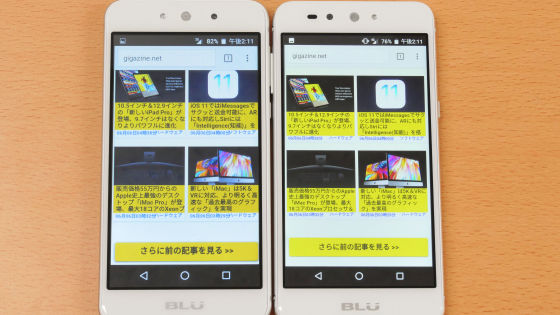 For reference, measure the Antutu benchmark. GRAND X LTE (left) was '24509', while GRAND M (center) was '18384' and was defeated. By the way, the current smartphone's highest spec '
Xiaomi Mi 6
' (right) is '169273', which is a performance difference that is hard to say.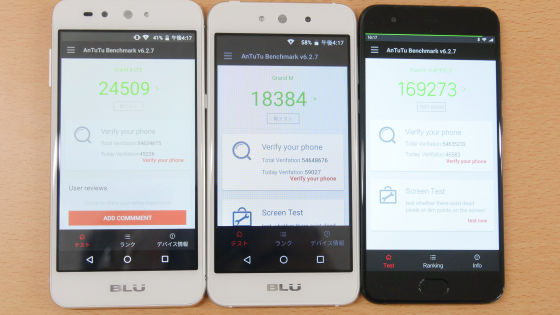 You can check how much movement the 7980 yen discount smartphone 'GRAND M' will show in the following movie.

It's 7980 yen, but can you browse GIGAZINE articles & watch YouTube movies on the super-discount smartphone 'BLU GRAND M' with 3G communication & 512MB memory? --YouTube


As expected, the 512MB memory is a SoC that cannot be said to be flatteringly high-performance, so there were scenes where it was sluggish in various operations. It's hard to browse a page full of images like a GIGAZINE article. However, surprisingly, the YouTube movie could be played non-stop. In addition, after using it for a whole day, I encountered problems such as it getting stuck and the update of the application did not finish endlessly. It seems that it is impossible to run Android 6.0 with 512MB of memory.

◆ Summary
The BLU smartphone has the largest market share in the United States, but the reason is well understood from the low price of 12,800 yen, 'GRAND X LTE'. Although it is not high performance at all, it is a terminal that can withstand practical use despite being affordable and affordable, and people who want to replace the feature phone with a smartphone for the first time, or want to try an Android terminal that mainly uses the iPhone. It is a smartphone with high cost performance that can be recommended for people who like it.

On the other hand, the 7980 yen 'GRAND M' is meaningful only because it is an Android 6.0 terminal that can be sold at that price. It is still not practical because LTE can not be used only with 3G & memory is 512MB 4 to 5 years ago, but what on earth is it with a terminal that is less than 1/10 of the price of iPhone and Galaxy S series? Can you do it? It's perfect for getting your hands on it with an interest in it. It seems that it can be said that it is a terminal for professionals and enthusiasts who refuse amateurs.

GRAND X LTE will be released on Amazon.co.jp on June 30, 2017 for 12,800 yen including tax. It is also planned to be handled by MVNO companies such as Rakuten Mobile, OCN, mineo, IIJ, and LINE Mobile. GRAND M is limited to Amazon.co.jp and will be released on June 16, 2017 for 7980 yen including tax.

Amazon | BLU (Blue) GRAND X LTE SIM Free Smartphone Silver With Special Case [Japan Authorized Distributor] G0010JJ / SIL-38 | Home Appliances & Camera Online Shopping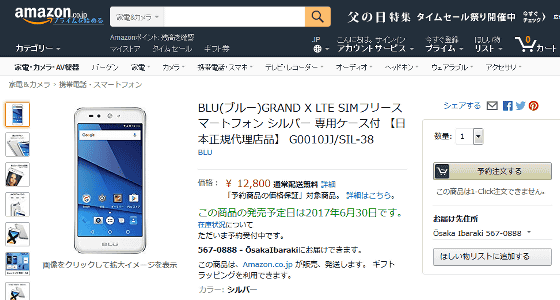 Amazon | [Amazon.co.jp Limited] BLU (Blue) GRAND M SIM Free Smartphone Silver With Special Case [Japanese Authorized Distributor] G070J / SIL-38 | Home Appliances & Camera Online Shopping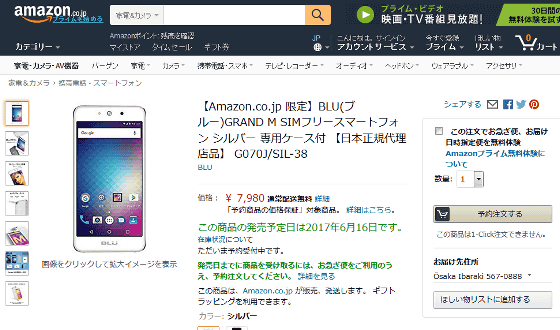 On June 9, 2017, Amazon.co.jp will carry out a BLUE Japan landing campaign in which GRAND X LTE will be 9800 yen including tax and GRAND M will be 4980 yen including tax with a cheap SIM card of IIJmio and OCN Mobile ONE. It will be held for a limited time from June 30th.