"Sunrise Calendar" application that allows you to view and edit multiple calendars for free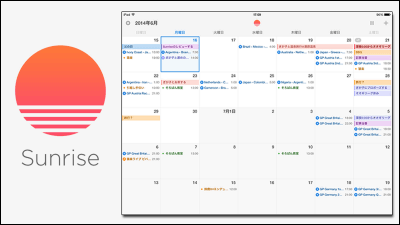 Many people use online calendars that can be checked anywhere they are connected to the Internet, such as Google Calendar and iCloud Calendar, but if you use multiple calendars, the schedule you wrote will be dispersed and management will be difficult It may become. An application that seems to solve such a problemSunrise CalendarWith this application, convenient functions such as enabling display of multiple online calendars at once can be provided.

Sunrise Calendar
https://calendar.sunrise.am/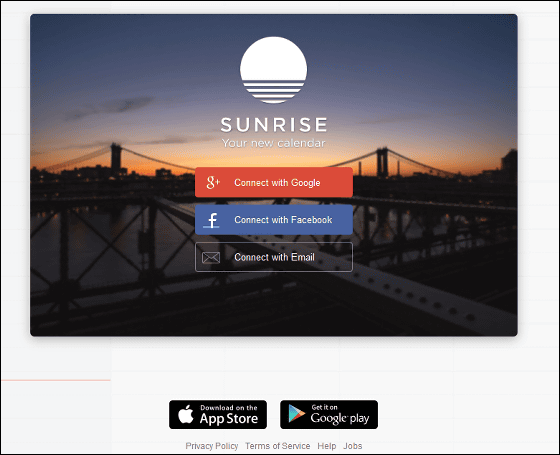 Sunrise Calendar displays information on multiple online calendars, such as Google Calendar and iCloud, in one place, and additionally displays information on holidays and event holding dates called "Interesting Calendar". Schedules created or modified on Sunrise Calendar can also be reflected in the original account, so it's quite useful for those who use multiple calendars differently.

◆ Try it on the iPhone
Sunrise Calendar is compatible with iPhone / iPadIOS versionWhenAndroid version, AndGoogle Chrome extensionThree types are released. This time I decided to try using the iOS version which released the latest version. Tap the following link to install the application.

Sunrise Calendar for iPhone, iPod touch, iPad on iTunes App Store - for Google Calendar, Exchange and for iCloud
https://itunes.apple.com/jp/app/sunrise-calendrier-google/id599114150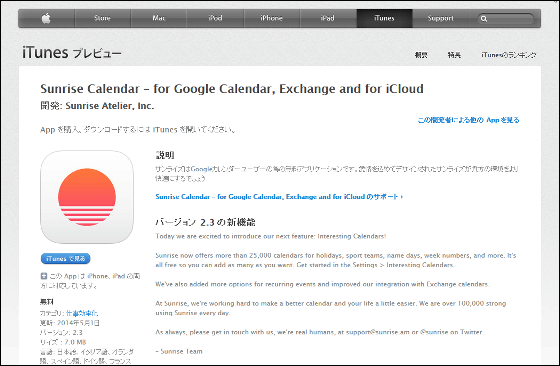 Just tap "Install" and perform the usual installation.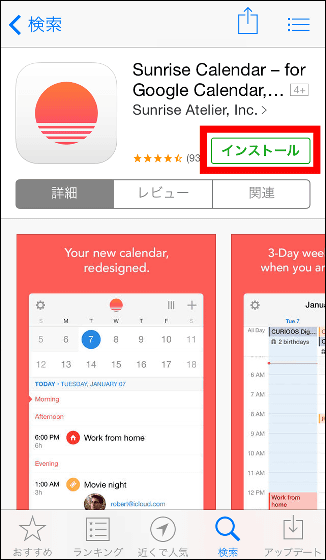 A brief description of the application will be displayed at the first start. Tap 'New user' through eyes.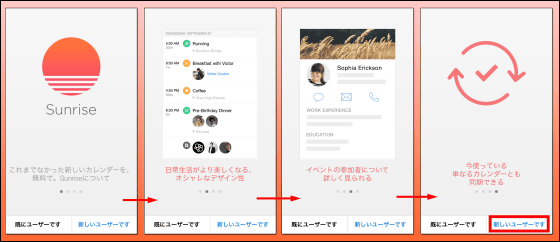 Specify the account to register for Sunrise Calendar. Since I will try using Gmail account this time, tap "Google", login with address and password. In addition, Sunrise Calendar will "approve" to use the basic information of the Google Account.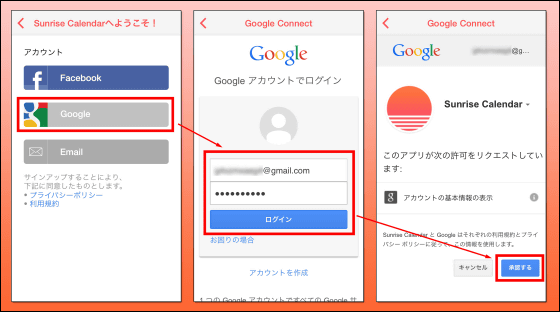 Sunrise Calendar can sync with iCloud and Facebook calendar and app information. Tap "Connect" in the desired account, log in and tap "Next".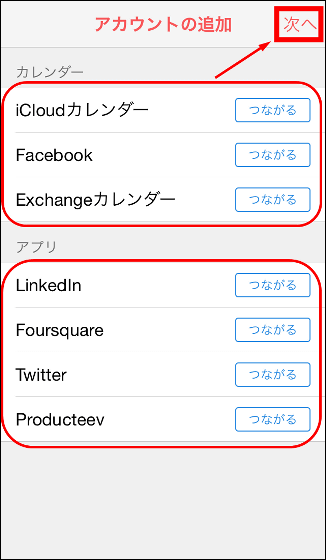 Sunrise Calendar for iOS has "Interesting calendar"Has been added and it will show the schedule named after sports, events, economics and religion as well as holidays for each country.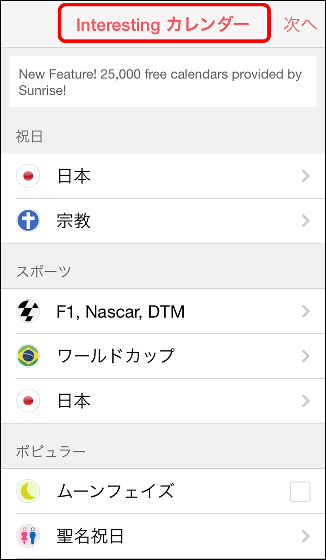 For example, if you select the item "F1", in addition to the item of "all" indicating the race itself, the schedule divided for each individual session of "race" "get qualification" "practice" should be displayed finely It is possible. The term "get qualification" means "qualifying"QualifyIt seems to have translated it by mistake, so I expect it in the future.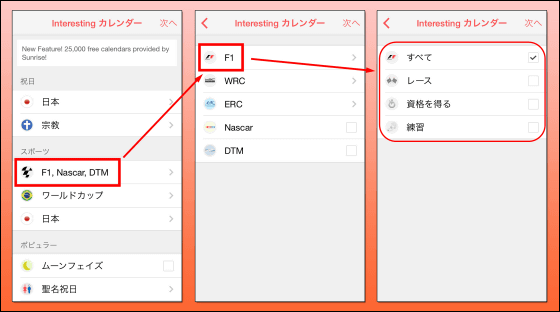 When you tap "Next", synchronization with the linked account starts and a confirmation screen for acquiring the current position information is displayed. When you tap "OK", the screen of the calendar is displayed.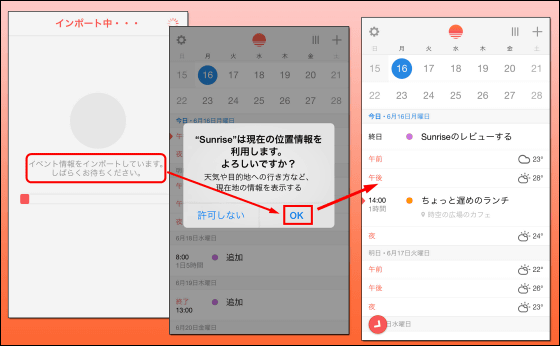 The contents of the calendar are displayed. One day is divided into three, weather forecast is casually displayed together with a rough schedule.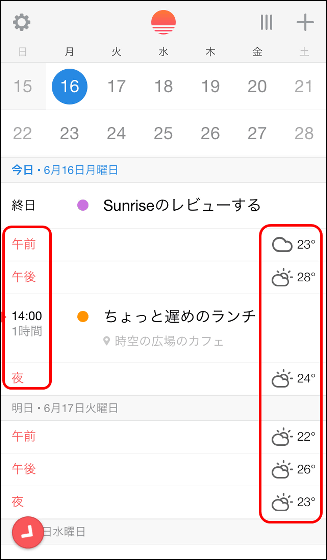 When you tap an item, the screen for confirming "Access to contact" is displayed only for the first time, so when you tap "OK", details are displayed. By tapping "Edit" and modifying the contents, it is reflected in the original Gmail account. There was also a time lag of several minutes to several ten minutes occurred in this update.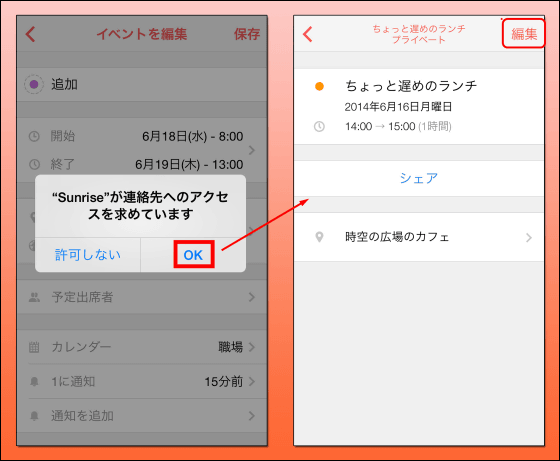 When you tap the three line icon in the upper right corner of the screen, the daily schedule until 3 days later was displayed in the timeline. You can see that the date of the F1 grand prix selected by the Interesting calendar is also displayed.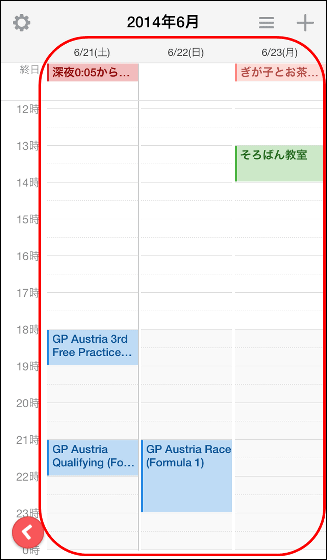 Furthermore, it is like this that the calendar is displayed in a list on iPad with a large screen size. In addition to the schedule of the previous F1 Grand Prix and the match schedule of the team selected by the football / World Cup shown in green, plans that were originally distributed in Google Calendar and iCloud Calendar will be listed on one screen became.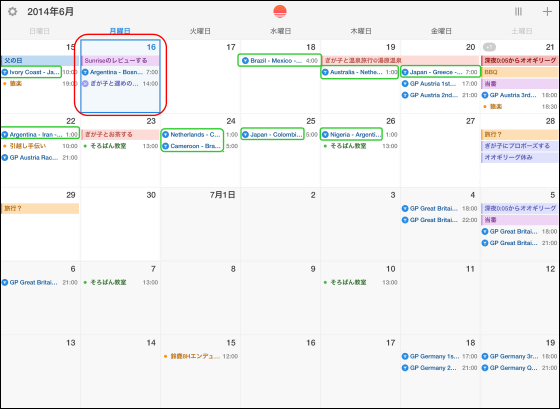 In addition, it is also possible to write schedules from Sunrise Calendar to each account's calendar. When you select an account in "Calendar" on the new event creation screen and tap "Add", the schedule is uploaded and reflected in the original calendar. Please note that it may take several minutes to dozens of minutes before actually reflecting it.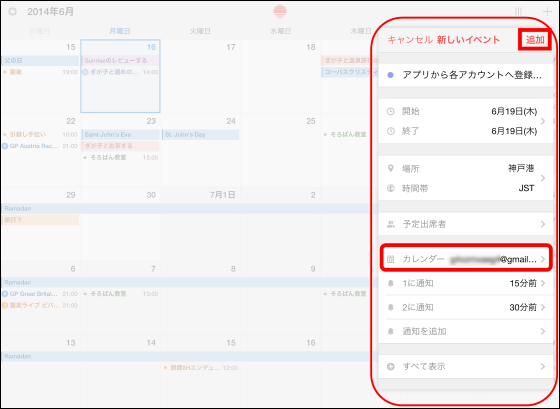 ◆ Sunrise Calendar for Android
Sunrise Calendar has also been released for Android, but it seems that at the time of article writing it did not keep up with the version of iOS version, the features of Interesting calendar etc are not implemented, various menus are not Japaneseized It was. It is a place I'd like to expect from future version upgrades, so it is also a good idea to install Android users who are interested in the app for the time being.

Sunrise Calendar - Android application on Google Play
https://play.google.com/store/apps/details?id=am.sunrise.android.calendar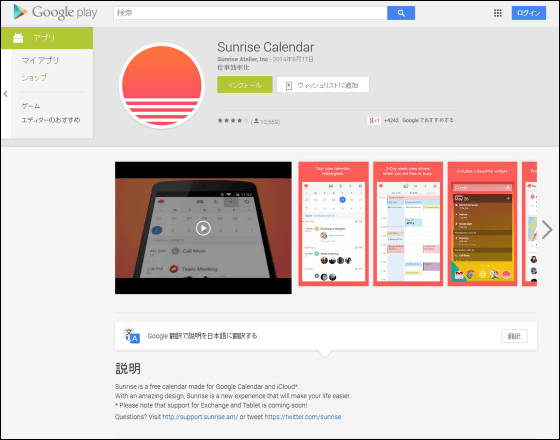 ◆ Google Chrome version
In addition, it can be installed as an extension of Google Chrome. This is also an old version, Interesting calendar etc. are not mounted yet, but I'd like to expect future version upgrades.

Chrome Web Store - Sunrise Calendar
https://chrome.google.com/webstore/detail/sunrise-calendar/mojepfklcankkmikonjlnidiooanmpbb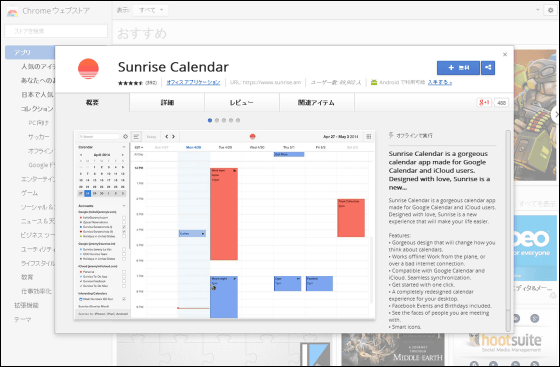 ◆ 2015/02/12 09: 45 Addendum
The acquisition of Sunrise by Microsoft was officially announced. The purchase price was said to be 100 million dollars (about 12 billion yen), but there is no presentation at the moment. Since it is also announced that Sunrise's service will continue to be free even after the acquisition, there seems to be no major impact on existing users.

Sunrise - It's just the beginning.
http://blog.sunrise.am/post/110577824529/sunrise-microsoft

Sunrise, creator of innovative calendar app for mobile devices, acquired by Microsoft - The Fire Hose
http://blogs.microsoft.com/firehose/2015/02/11/sunrise-creator-of-innovative-calendar-app-for-mobile-devices-acquired-by-microsoft/

The acquisition aim is expected to apply service provision technology on multiple platforms such as PCs, smartphones, and tablets already realized by Sunrise to Office applications that Microsoft will advance cloud.

◆ 2016/05/12/09: 30 additional recording
Sunrise Calendar which had been integrated in the Outlook application for iOS · Android after acquisition by Microsoft, but Sunrise Calendar announced that it will terminate support of Sunrise Calendar application on 12th May, 2016 Japanese time 'S blog post "It's almost time to say goodbye" has been posted. We will delete the application from the App Store and Google Play in a few days and will officially shut down the application on August 31, 2016.

It's almost time to say goodbye - Sunrise
http://blog.sunrise.am/post/144196642739/its-almost-time-to-say-goodbye