From saving articles to weather notification, I tried using "IFTTT" which can easily coordinate 59 web services easily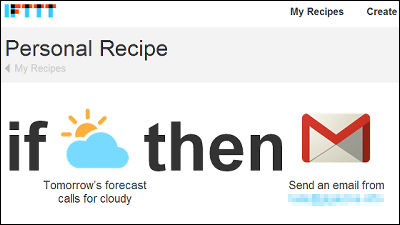 From Facebook and Twitter to Evernote to Gmail, a free cloud application that allows 59 different web services to work together and automatically perform various tasks is called "IFTTT"is. The biggest feature of this system is that it is very simple to set up the services to cooperate with each other, there is no need to write difficult codes or enter complex parameters. Since most of the settings have been completed with just a simple task of just clicking,Yahoo! PipesIt is a service that people who seems to be frustrated can use with confidence.

IFTTT / Put the internet to work for you.
https://ifttt.com/

By the way "IFTTT"Is an abbreviation for" If This and That ", and in the meaning of" feeling like sore if it happens ", triggered by the action of one web service that the user is using Web service in a brief representation of the function of letting some work.

◆Registration

To register an account:IFTTTGo to the site of "Join IFTTT" Click.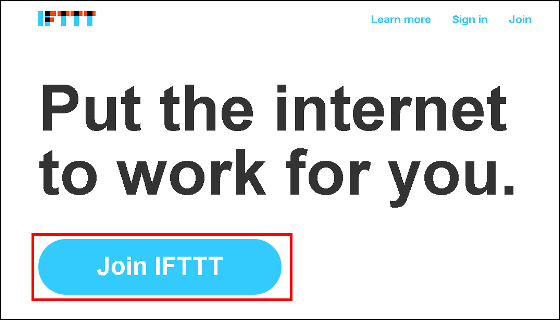 Just input your user name, e-mail address, password, it is OK.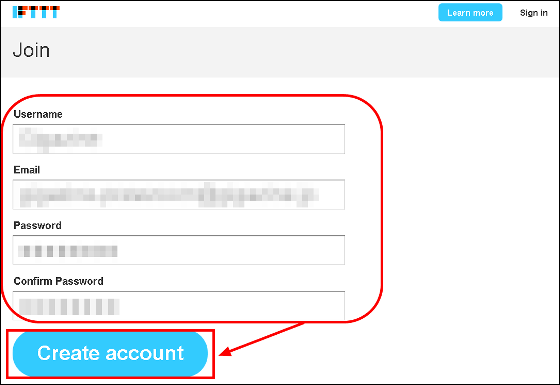 ◆Create your own "recipe" yourself

"IFTTT"The combination that links web services is called" recipe ". First of all, I will try to make a recipe (linking function of web service) "Save items with star in Google Reader to Evernote". In the following flow, it is assumed that you have registered beforehand in the service such as Google Reader, so if you do not yet have an account, please check the continuation of the article after you finish registration please look.

"IFTTTAfter you finish registering, please click "Create your first Recipe" at the bottom because the following screen will be displayed.




Click "this" to register the first service to be the first trigger to make the web service work in conjunction.



Click the "Google Reader" icon.



Click "Activate". If you did not log in to Google account beforehand, you will enter your ID and password here.




Click "Allow Access".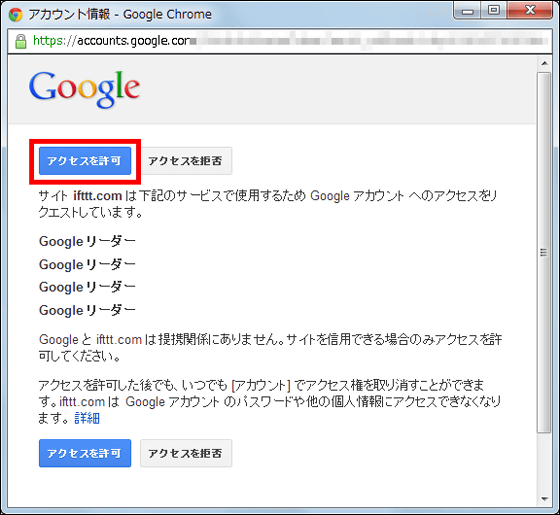 Click "Done".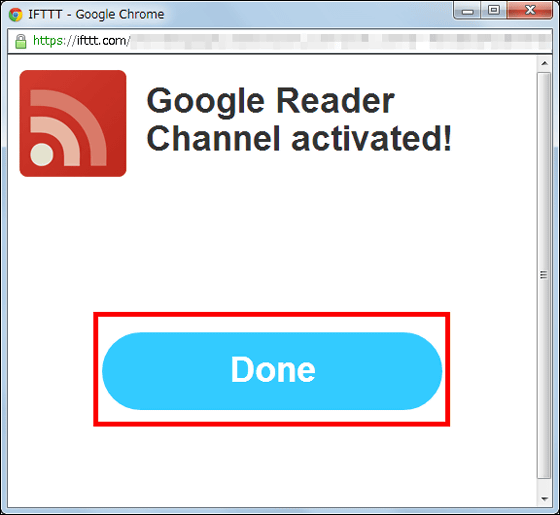 Click "Continue to the next step".




Click "New starred item".




Click "Create Trigger". With this, you can trigger the function of the web service set up next by triggering the action of "star on Google Reader".




Click "that" to register a service that works in response to the trigger.




Click the Evernote icon.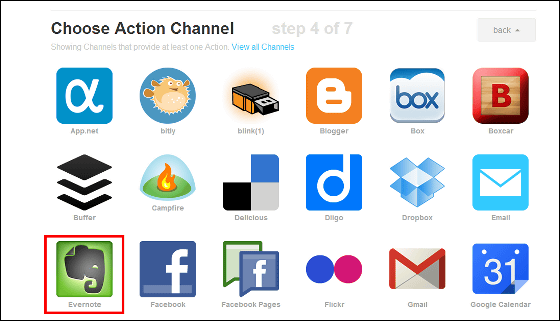 Click "Approve".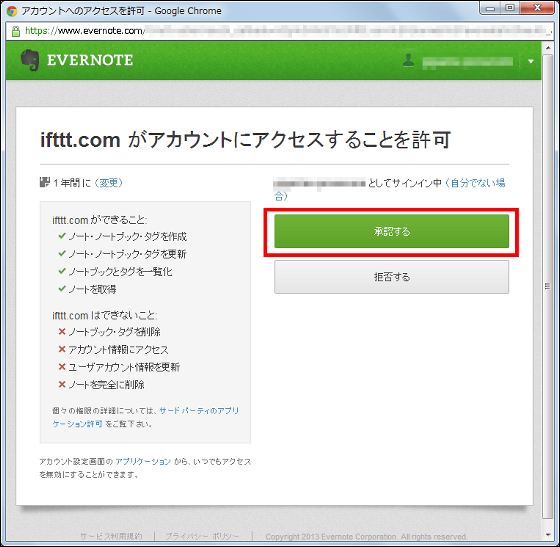 Click "Done".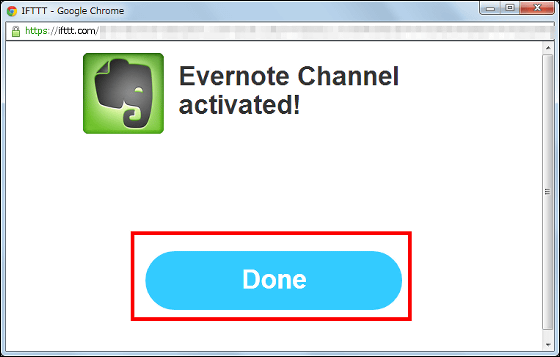 Click "Continue to the next step".




Click "Create a link note".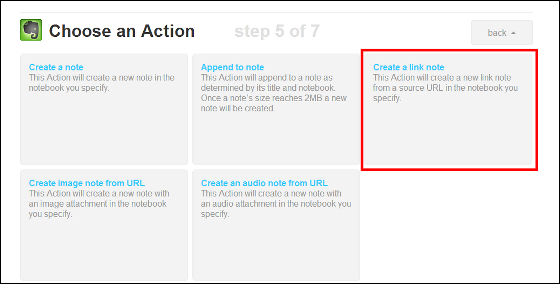 Click "Create Action".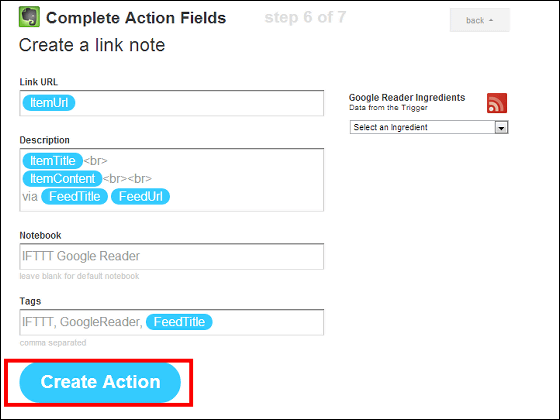 Fill in a brief description of the recipe you created and click "Create Recipe".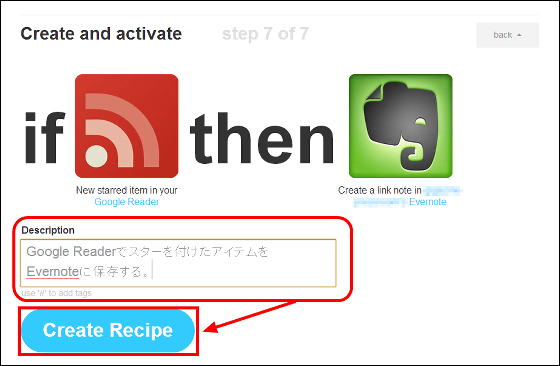 This completes the setting to link Google Reader and Evernote.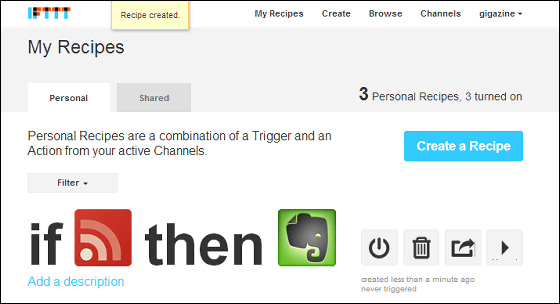 So, how does it actually work? It is as follows.

Star the items (articles) you wanted to record in "Google Reader".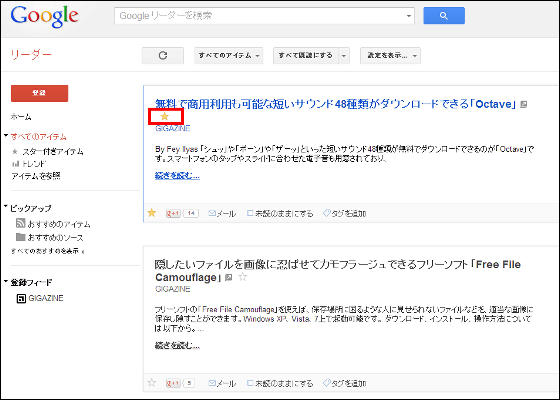 Then you can automatically save articles to Evernote.




In addition, it took about 5 minutes to create a note after adding a star, so it is not a failure even if the results are not immediately reflected.

◆Channel Activation

"IFTTTIn addition to the above, 59 Web services (channels) can be used, so if you are adding recipes in various ways, it is recommended to first make available the service you are using is.

So click "Channels".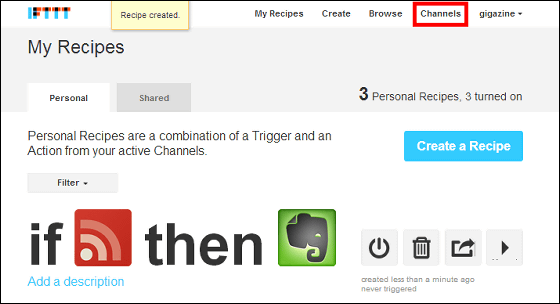 A list of web services is displayed like this. The gray ones are before activation, and those with cooperation set already are indicated by color icons. In this case, I will first activate by clicking the Gmail icon.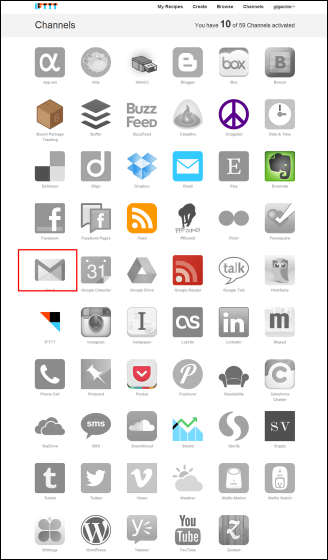 Click "Activate".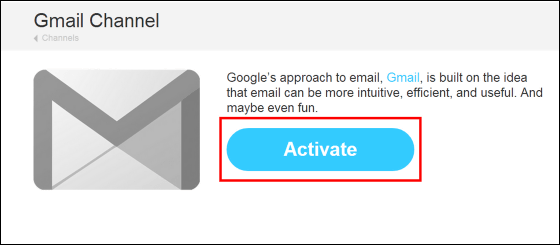 Click "Allow Access".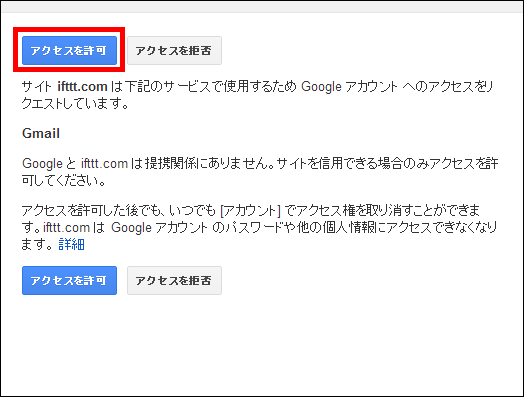 Click "Done" to complete.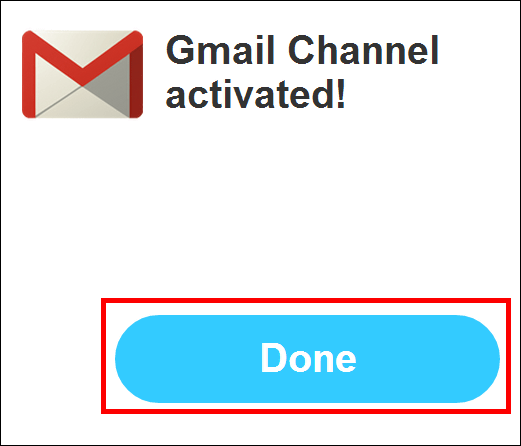 Next, click "Weather" necessary for acquiring weather related information.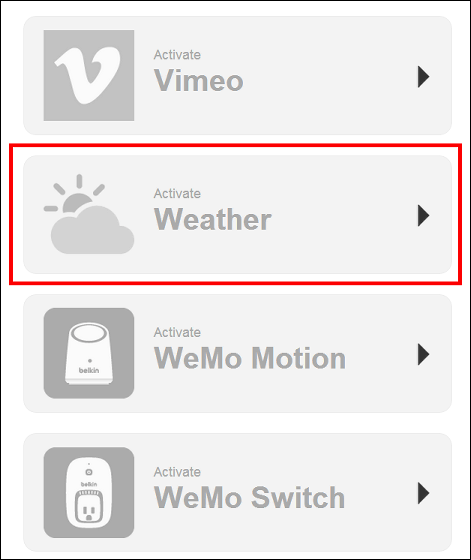 Enter the name of the area you want to get weather with alphabet and click "Search". If there is a check in the correct place, just click on "Activate" OK.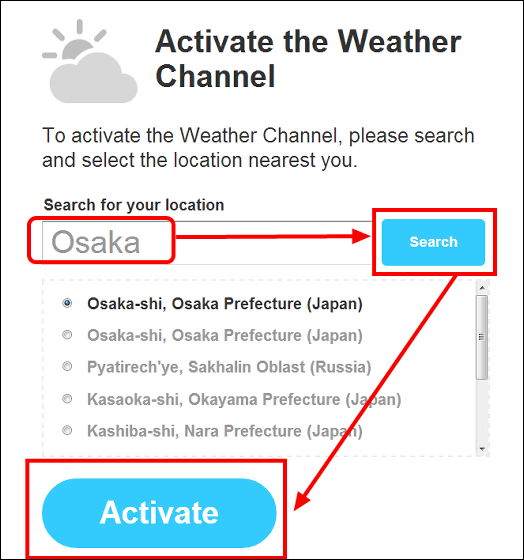 Click "Done" to complete.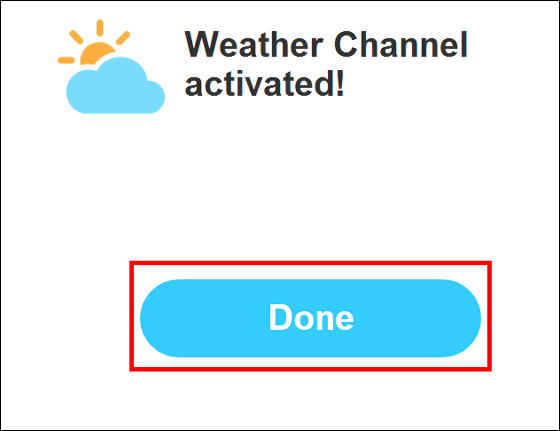 ◆Use "recipes" made by other users

"IFTTTRecipes created by other users are made public on the site of "You can easily use it as your own linking function simply by clicking on it.

Click "Browse" to find the recipe.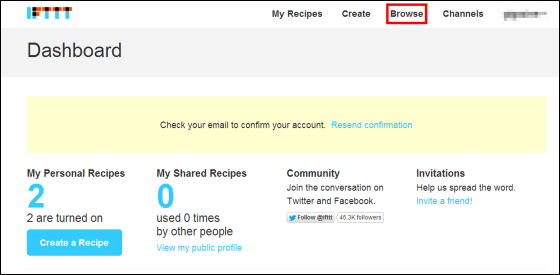 If you think "Do you have any useful features that work with Gmail?", Enter "Gmail" in the search window and click "Search".




As the following candidates came out, this time, we selected the recipe "Send mail when the weather of the next day is ○ ○".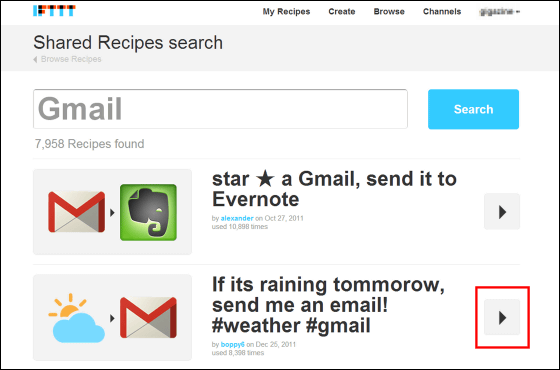 Switch to the screen like this, enter weather condition and e-mail address.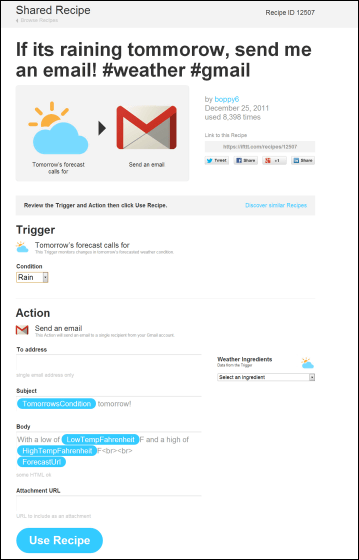 Because the weather of the next day was cloudy this time, we selected "Cloudy (cloudy)" for the convenience you have to trigger the trigger and enter the email address of the contact. In general it is convenient to prepare umbrellas and rain gear on the previous day by setting it to "Rain (rain)" or "Snow (snow)".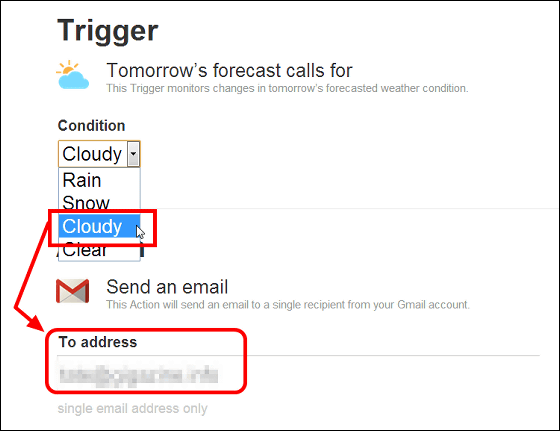 Since conditions are input as follows, click "Use Recipe".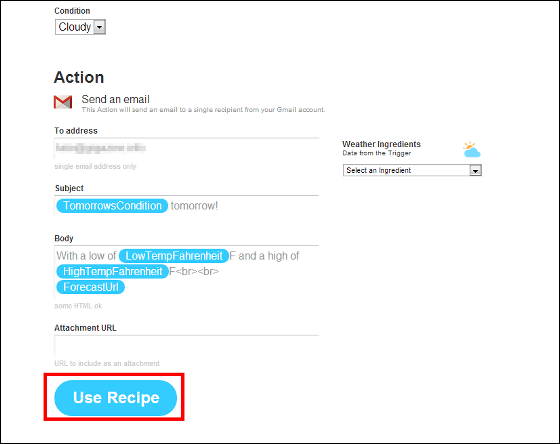 After setting, since it switches automatically, it is possible to activate the function of recipe as soon as clicking "Check now". In addition, in this case care must be taken because e-mail is not sent unless the weather of the next day is "cloudy" as set in advance.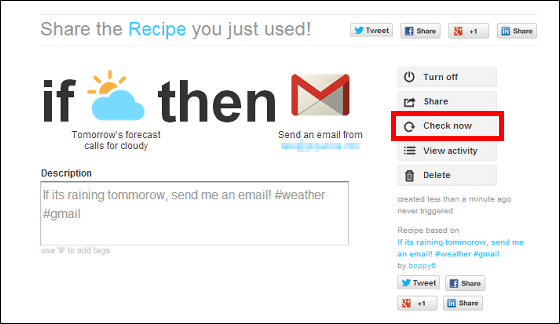 When it meets the conditions, you will receive an email saying "Cloudy tomorrow! (Tomorrow is cloudy!)" Like this.




Besides this, "IFTTT"Automatically save data saved in Dorpbox to Google Drive" "Automatically post to Twitter when updating your blog" "Upload photos to Instagram and upload to Flickr", countless cooperation It is now possible to create functions.

So, if you have too many SNS and cloud storage services that have accounts and you can not use them all, or if you want to record photos, RSS etc in a customized way you like, check it out It is service.

· Continued
I tried using IFTTT's iPhone application which can easily link 60 or more services automatically - GIGAZINE