"Notegraphy" which changes the text to be posted on SNS to more sophisticated one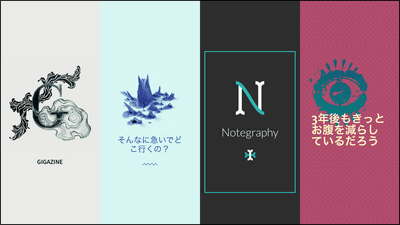 Posting to SNS tends to be monotonous in text format, but it converts it to a more sophisticated beautiful image and a free application that automatically posts to multiple SNS and net service is "Notegraphy"is.

Notegraphy
https://notegraphy.com/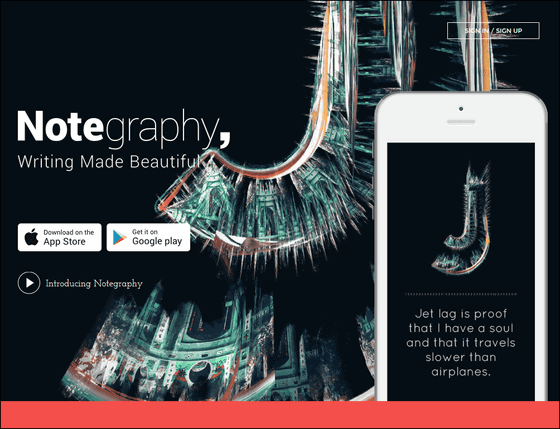 By using "Notegraphy", the text "GIGAZINE" can also be posted as the image below.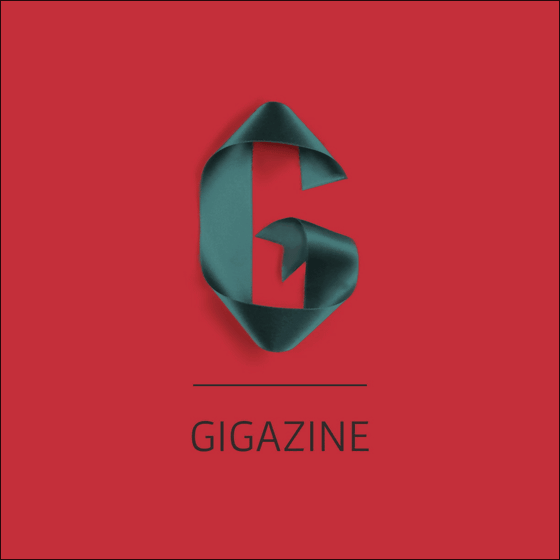 Notegraphy is an application that is distributed free on the App Store and Google Play.

Notegraphy on the App Store on iTunes
https://itunes.apple.com/app/notegraphy/id669094298



Notegraphy - Android Apps on Google Play
https://play.google.com/store/apps/details?id=com.notegraphy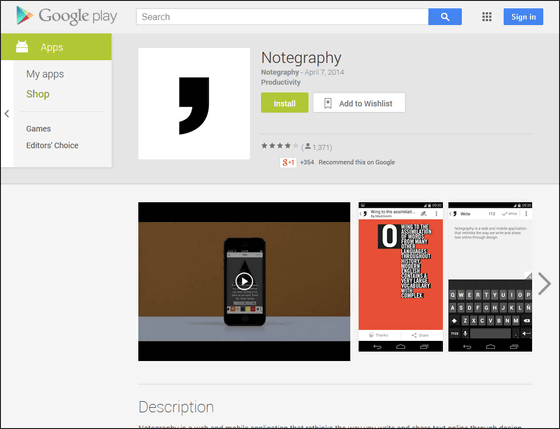 So I will install Notography on my iPhone and use it.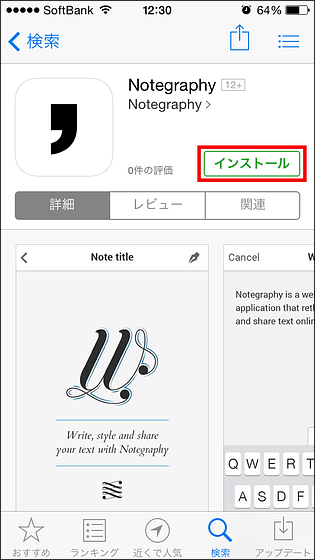 Tap "Open" when installation is completed.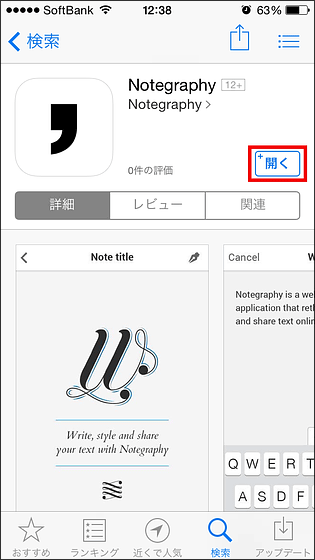 The application start screen looks something like this. You can sign in with your Twitter or Facebook account, but this time, tap "Sign up with Email" and create a Notegraphy exclusive account.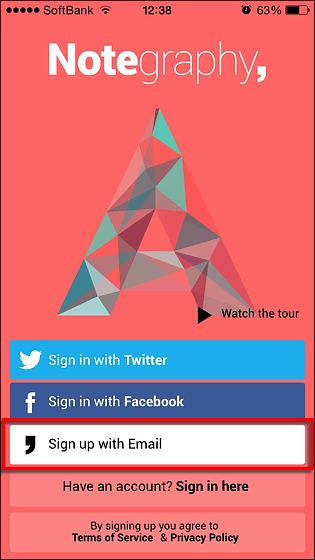 After entering user information and tapping "Done", creation of account is completed.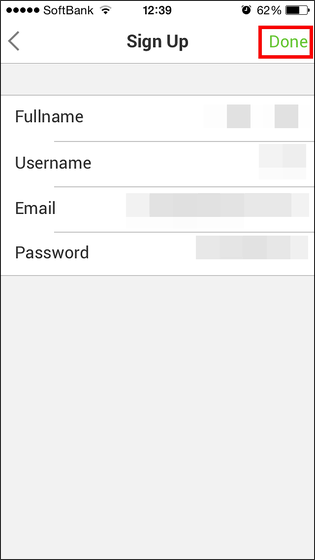 Next is Notegraphy's tutorial started. Swipe the screen to the left and the tutorial will advance to the next page.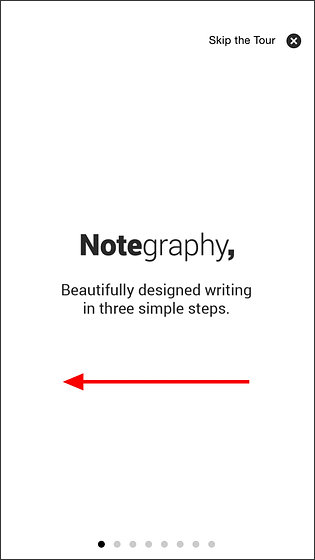 What you want to communicate using SNS is too long or too short. Furthermore, everyone needs to convey things on a text basis, and it is not a good point that individuality can not be felt.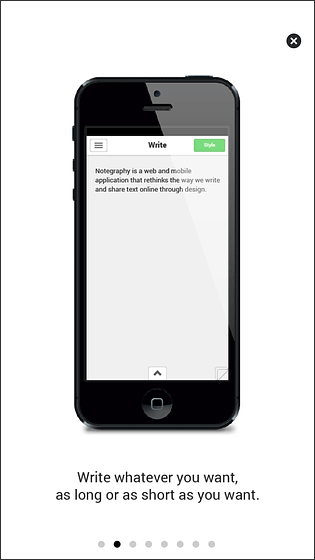 In such a case, in Notegraphy, it will make possible posting with originality by combining images and texts created by designers around the world.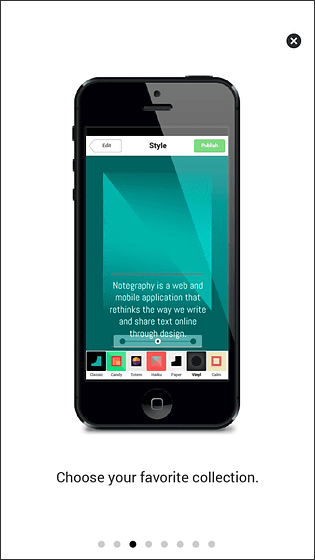 Images can be used free of charge created by famous designers around the world.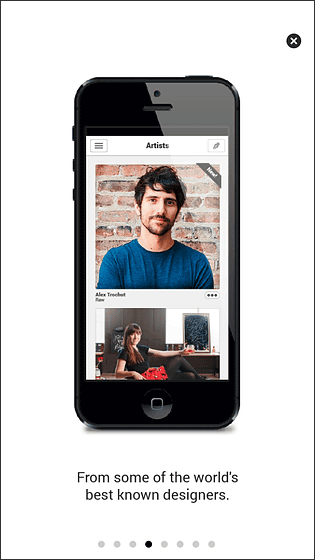 If posting to SNS using Notegraphy, you can post automatically to multiple SNSs.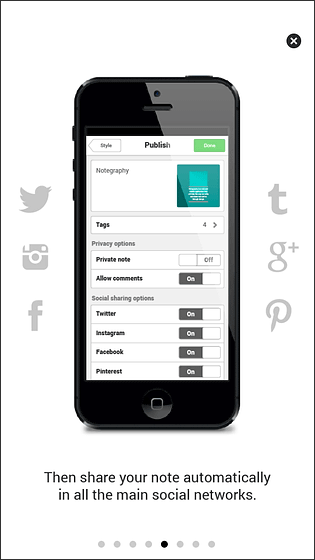 Furthermore, exchange through Notegraphy is also possible.



You can also interact with other users and find something you like from within the post.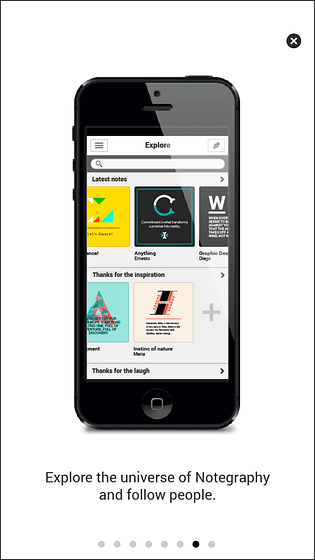 That's why when I finish the tutorial, I will tap "Make your note" and use it at once.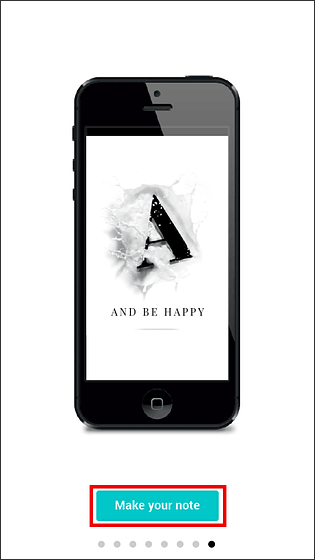 At the initial startup, a permission screen for push notification transmission is displayed here, so tap "OK".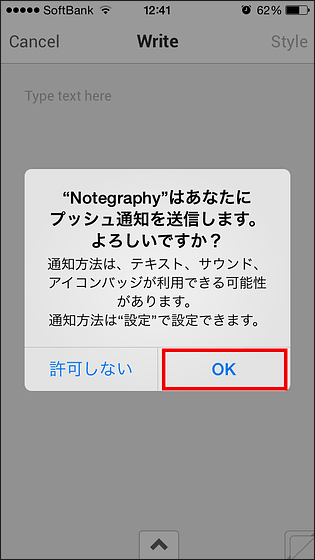 Then this screen opens. This is a screen when posting some images on various SNS using Notegraphy. So, first tap the screen ......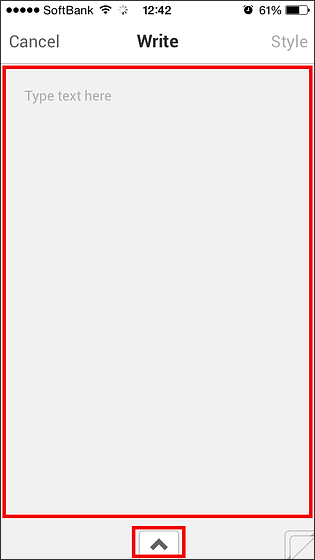 Enter the text to be inserted in the image to be created.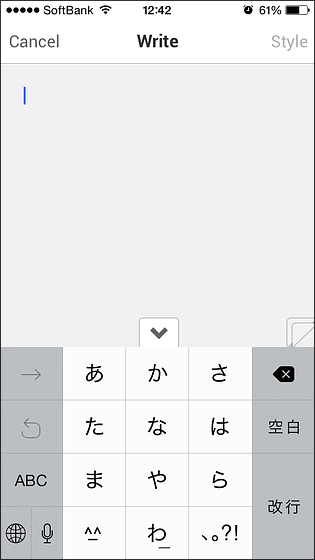 The text can be written in Japanese. After input, tap "Style" at the upper right of the screen.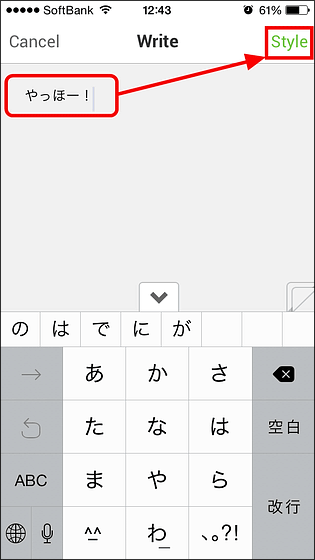 Next, I decide what kind of design image to make.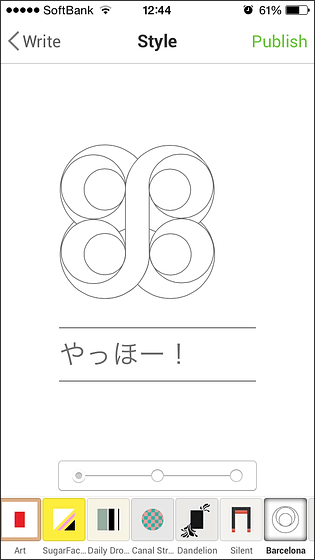 Since there are multiple design templates at the bottom of the screen, you can tap on this to find your favorite design.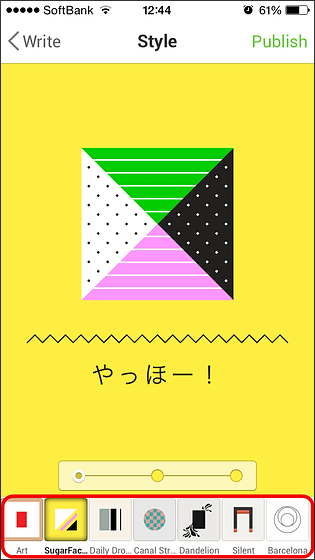 After selecting the design, you can also change the color by tapping the red frame at the bottom of the screen.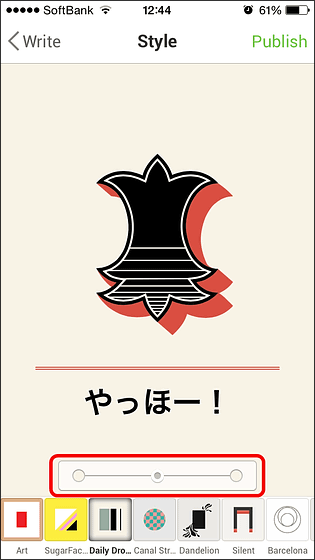 Some of the templates have eyes-like design ......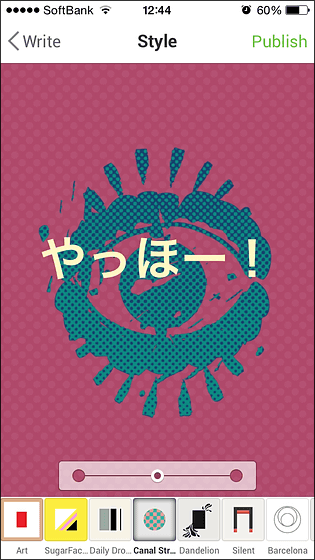 Design like a paint drawn with paint.



Something like a frog, etc etc are prepared.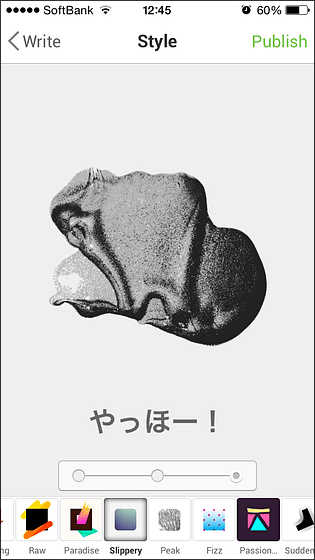 When you choose the one you like, tap "Publish" at the top right of the screen.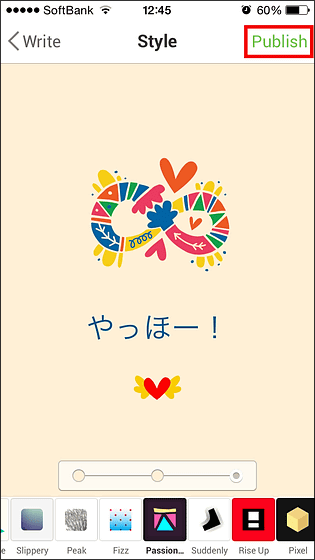 On the "Publish" screen, it is possible to select SNS to upload the created image, and to enter text etc to be input at the same time at the time of up. For that reason, first enter the text to populate the SNS along with the image in the red frame part.



Then tap "Tags".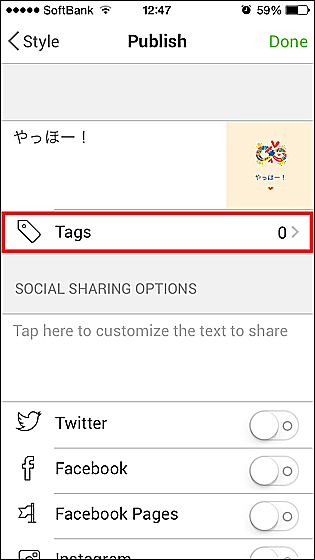 Then tag the image you want to post.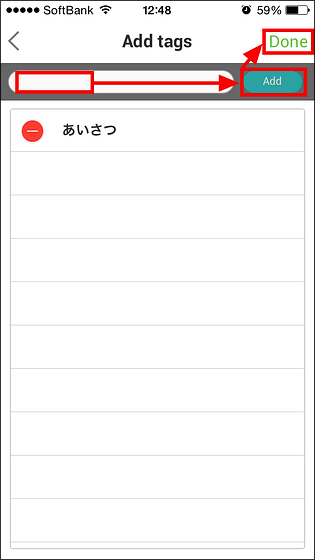 Then tap the red frame ... ...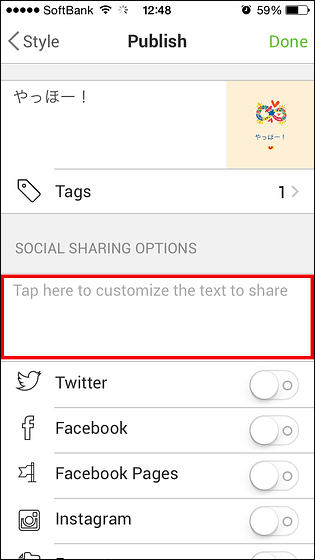 Text that will be posted on SNS along with the image will be displayed. Like this, the tag part becomes a hash tag in Twitter · Facebook · Instagram.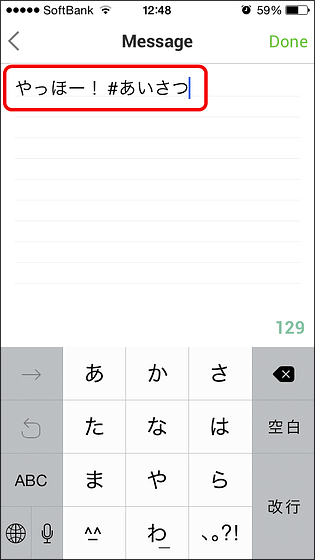 After setting up so far, select SNS to post the created image. For example, when posting on Twitter, tap the icon displayed next to Twitter and tap the account name you want to post.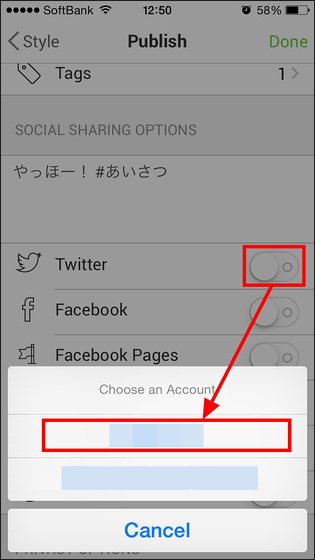 Collaboration is completed as soon as the icon display appears.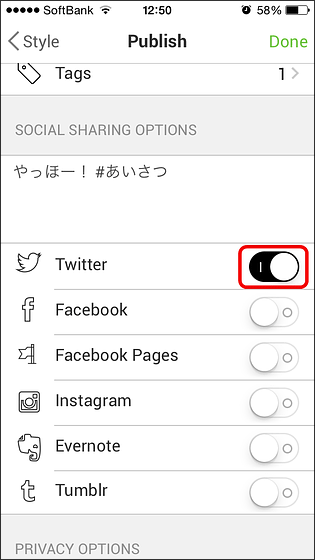 I decided to post images to Facebook and Instagram at the same time.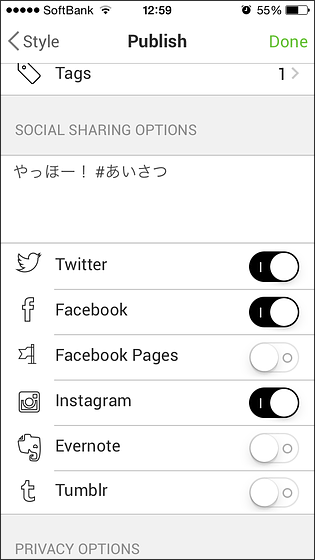 When posting, tap "Publish note" at the bottom of the screen.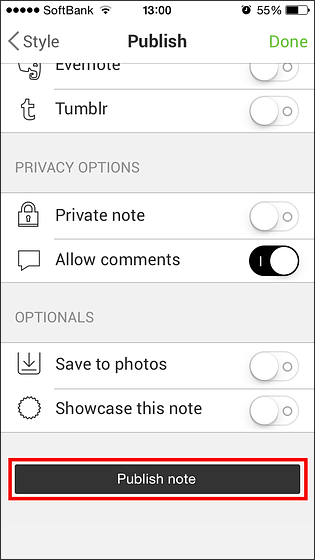 Then, suddenly the Facebook application launches and you are asked permission of posting by Notegraphy, so if you tap "OK" it will be posted automatically.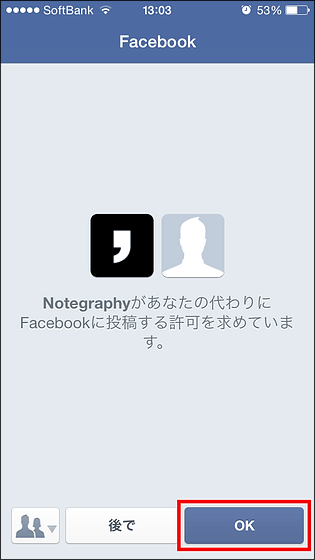 Then it will be this screen so tap "Open in Instagram". When posting to Facebook is finished it will automatically ask you to post to Instagram.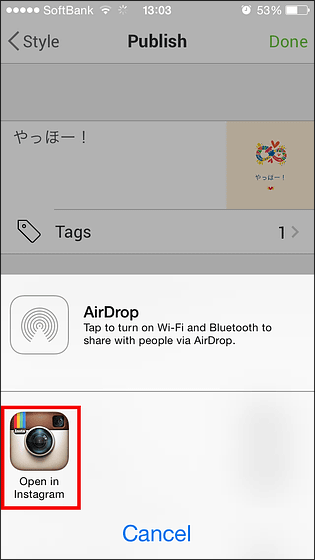 Tap "Next".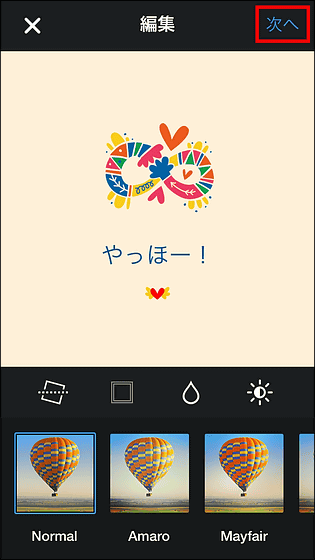 Tap "Share".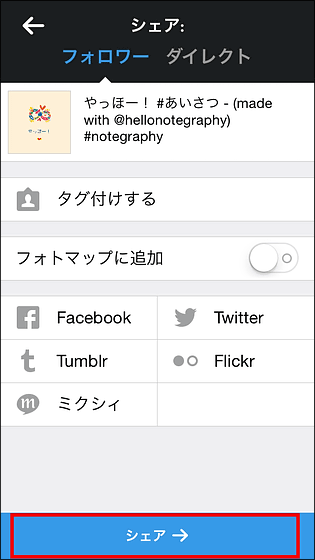 It seems that posting to Instagram is complete with this.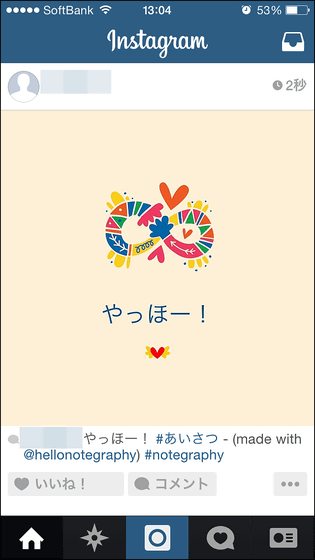 When you open Twitter · Facebook · Instagram, it is automatically posted like this. Please note that posting to Twitter is different from posting to Facebook, there is no screen to allow, so just tap "Publish note", so be careful not to make a mistake by pressing Ukari.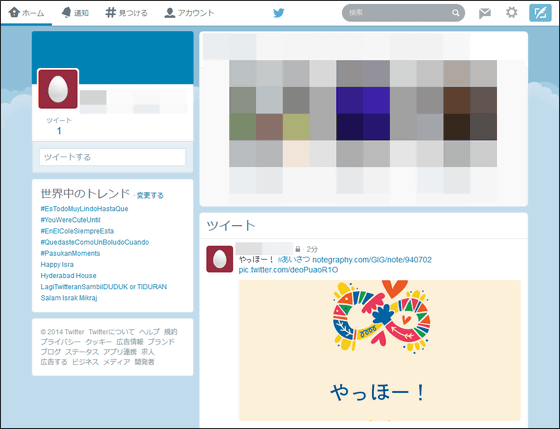 It is like this when posting on Facebook.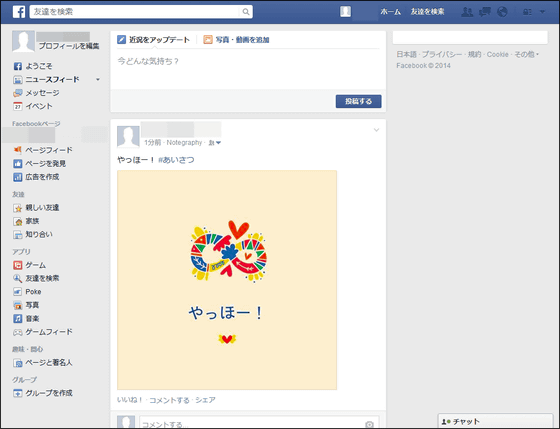 Instagram.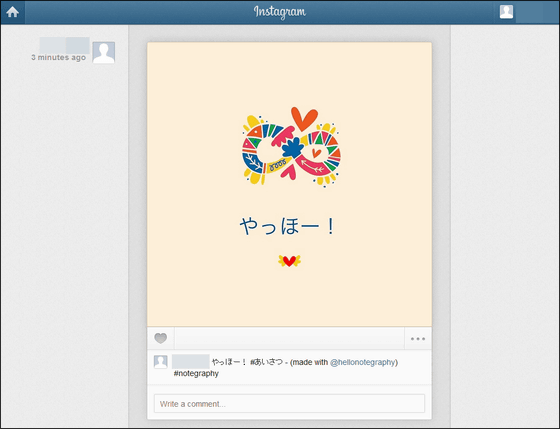 Until the post ends, Finally "Notice", the user screen of Notegraphy "My Gallery" is displayed. You can create a new post at any time by tapping the pen icon in the upper right of the screen.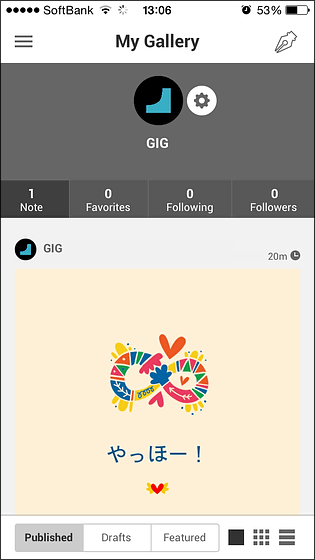 When you tap the gear icon in the center of "My Gallery" screen ......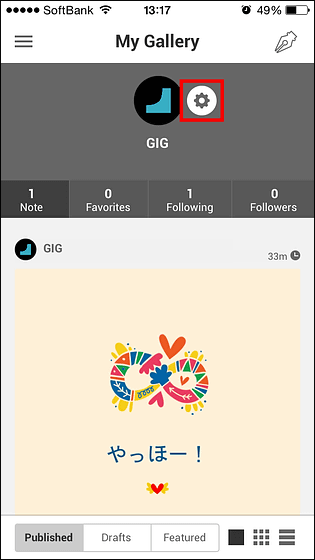 The setting screen has opened. We will create a profile and invite friends from here.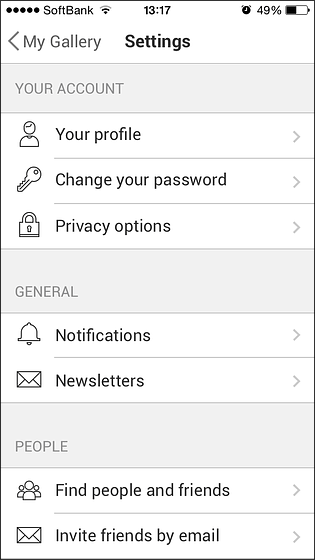 Also, when you tap the icon at the bottom right of the screen ... ...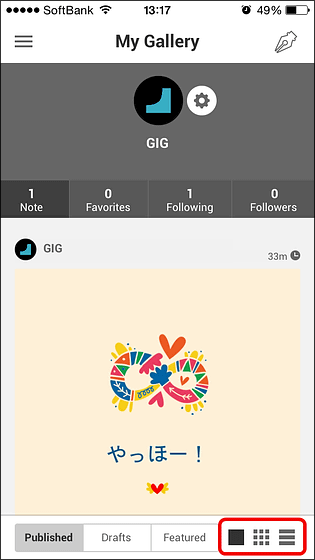 It is also possible to change the display method with this feeling.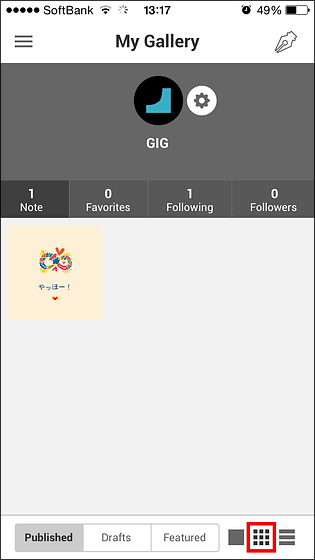 Tap the icon on the upper left of the screen.



Then "My Gallery (user screen)" "Newsfeed (display post of user who has followed)" "Explore (search for favorite posts" "" Notifications "(Notify me when there is some action on my post Display) "" Artists (display artist who created the design template) "" Settings (setting screen) "are displayed.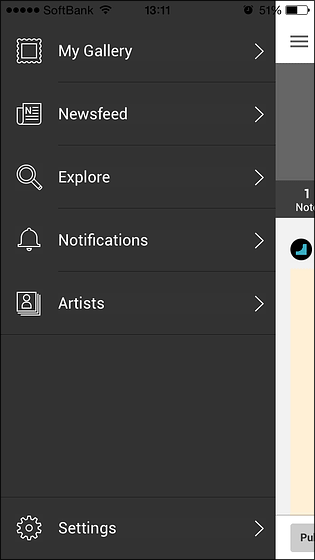 Opening "Newsfeed" without anyone following you will encourage me to look for acquaintances like this. So, tap "Find people on Notegraphy" ......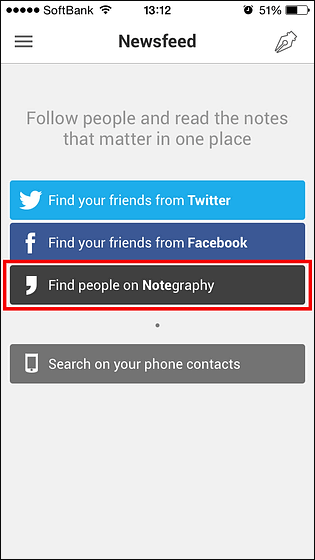 I will follow someone on the text.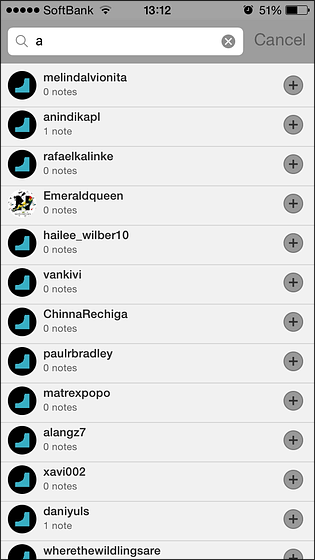 Follow tap to complete.



Then the "Newsfeed" screen will change and posts of the person you followed will be displayed.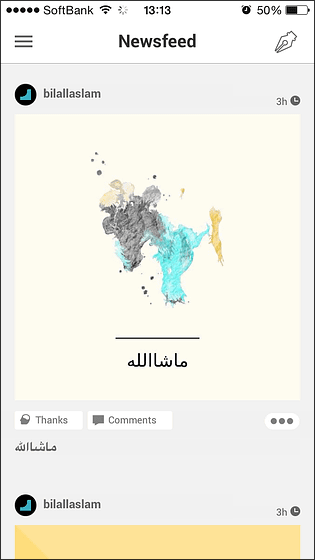 "Explore" displays popular posts. Try one of the posts shown here.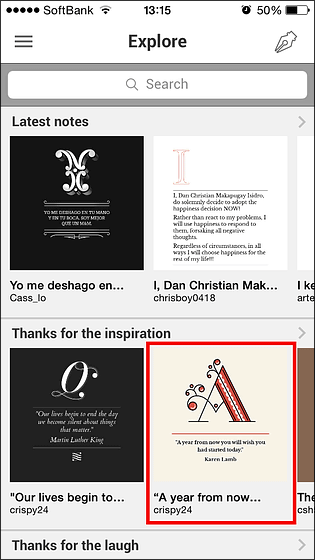 Then it is possible to display images posted by other users with such feeling. What is written in this image is "A year from now you will wish you had started today" (one year from now, you think you should have started from today)Karen LambHere is the word. If you want to interact with other users in Notegraphy, you can do it from the menu at the bottom of the screen.



By tapping "Thanks for", the "Like" button on Facebook appears. In the case of Notegraphy, it is necessary to choose how the posting liked, "Smile", "Inspiration", "Laugh", "Story" "Mindtrip" (experience of spreading mind) "" Help (help) "" Feelings (emotions and pleasures) "7 buttons are available.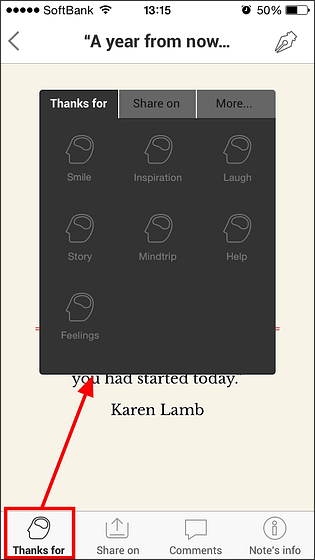 From "Share on" you can also send images to SNS and net service.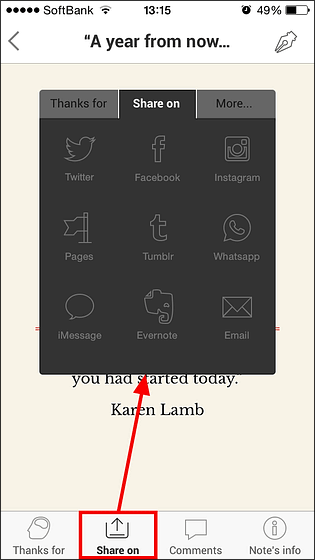 You can also save the post or put it in favorites (Favorite) by tapping "More ...".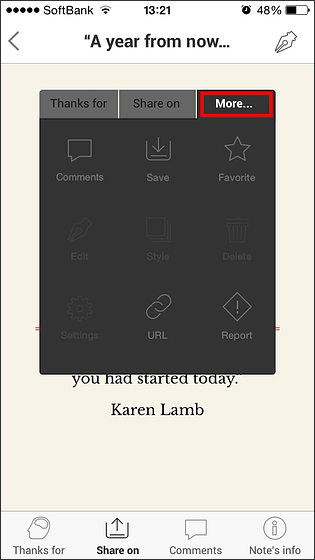 When you tap "Save", the image like this is saved in the folder.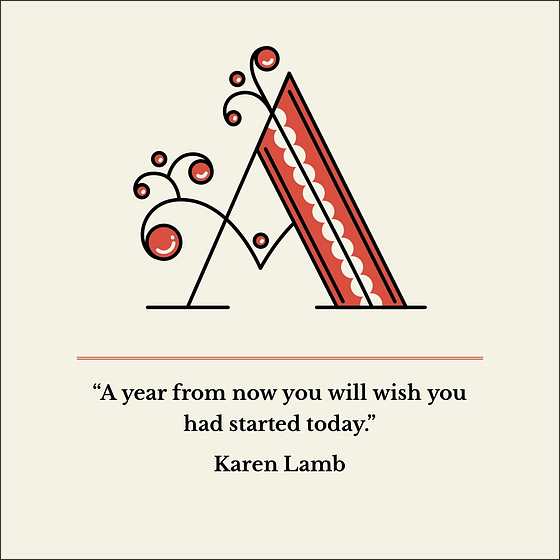 Also, if you tap "Favorite", your favorite posts will be displayed in "Favorites" of "My Gallery".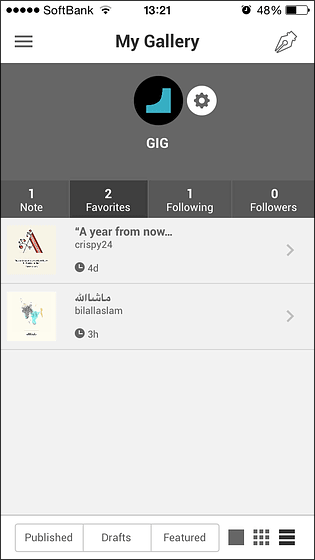 In addition to adding comments from "Comments" ...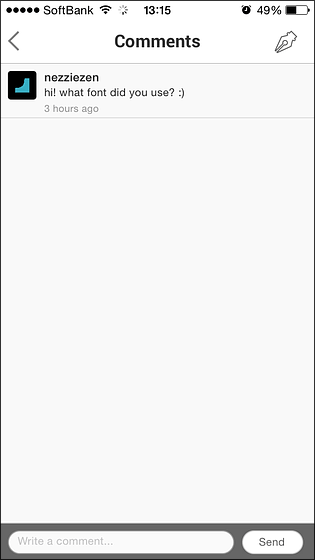 You can also follow users posting images from "Note's info", view the number of users who viewed this image, and view the "Thanks for" broken down by other users.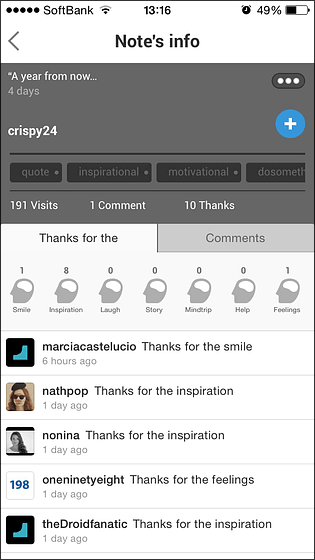 When you are watching the trend of users using Notegraphy, it seems that there is a high proportion that you share images of quotes and maxims as images.