I tried using the application "Carousel" which can automatically synchronize photos and movies of smartphones to Dropbox and easily share the data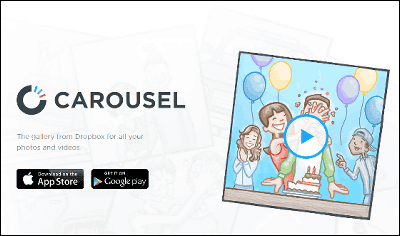 Cloud storage "Dropbox"Many people manage and save data, but all photos and movies on smartphones are automatically saved in Dropbox and you can easily send and share photos and movies you save to others An application you can "CarouselDropbox has released. Carousel is a Dropbox genuine application, and cooperation such as synchronization is very smooth and operability is excellent. I tried it at once.

Carousel
https://www.carousel.com/

◆Application installation & cooperation with Dropbox account
Carousel is compatible with both iOS and Android. First of all, I will try it on iPhone 5.

Search the application "Carousel by Dropbox" in the App Store, tap "Free" → "Install" to install the application, tap "Open" after completion, Carousel will start up.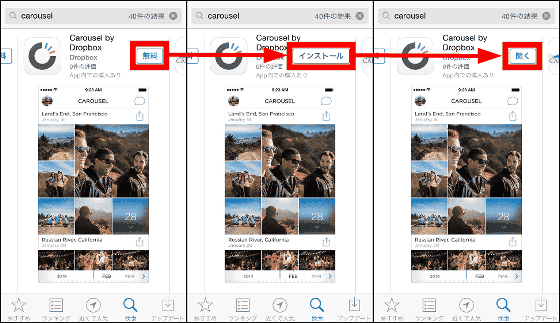 This is Carousel's initial screen. Tap the screen ......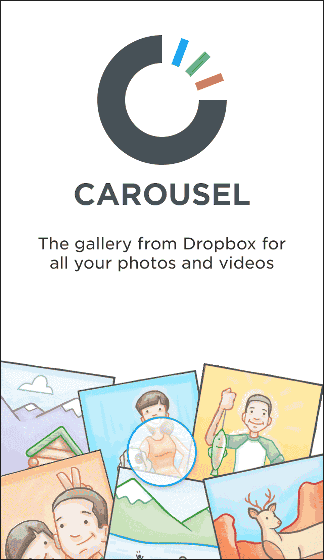 You will be asked to sign in to Dropbox. If you already have a Dropbox account, you can tap "Sign In to My Dropbox" and sign in. If you do not have a Dropbox account, you can create an account with Carousel. To create a new dropbox account, tap "Create a Dropbox".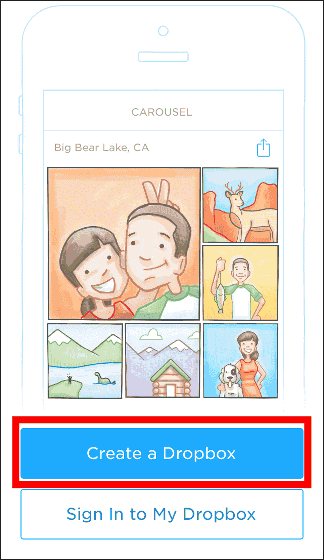 Set name, e-mail address, password and tap "Create a Dropbox".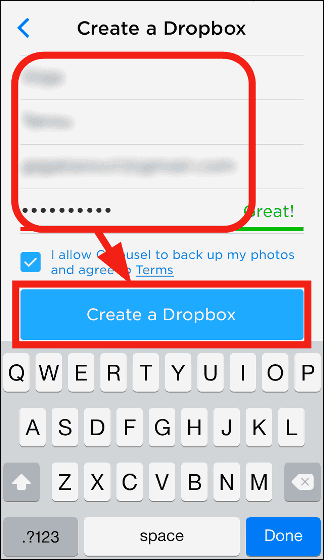 When the Dropbox account is successfully created, it will be automatically linked with Carousel.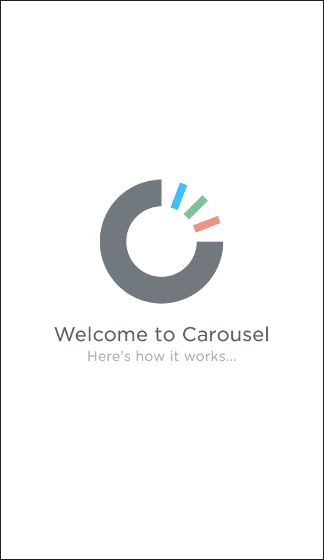 As the tutorial begins, scroll up the screen.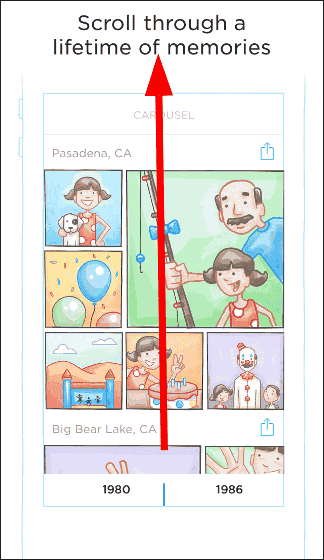 Tap Share icon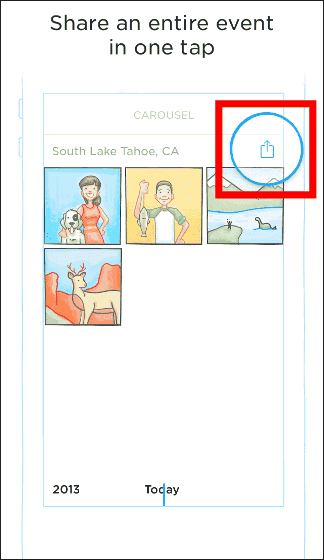 Tap "Keep Photos"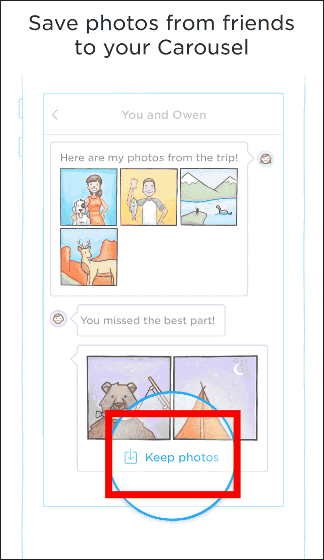 Tap "Take Carousel for a Spin" to finish the tutorial.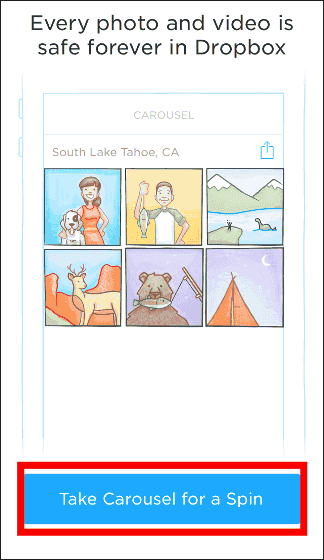 ◆I will send a picture
When the tutorial is over, iPhone 5Synchronization of photos / movies to Dropbox will start automatically. There seems no way to stop this automatic synchronization.

If you have just created a dropbox account, a "!" Icon will appear in the upper left corner, so tap it.



Then an alert "Please certify by email" is displayed. When you check the mailbox of the address you set with your Dropbox account ......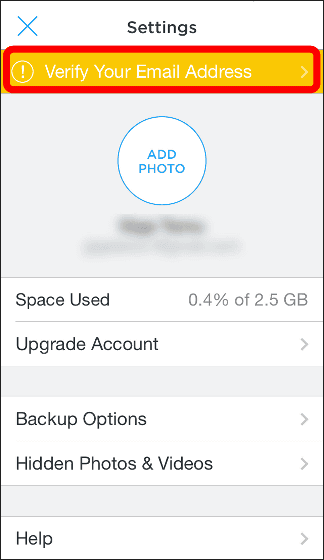 Since such a mail has arrived, tap "Verify your email" and you will be able to use Dropbox & Carousel.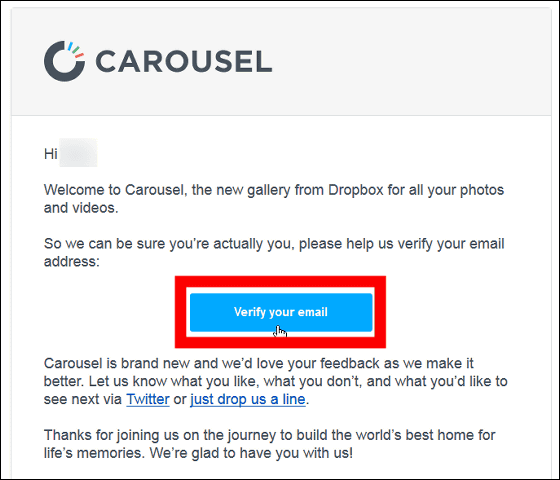 When photos and movies are synchronized, photos and movies are organized by date and time as shown below, and you can access newer photos and movies by scrolling up the screen. In addition, Carousel's excellent place is that the main screen itself maintains practical quality as a gallery application for browsing photos and movies. Since you can enlarge / play quickly just by tapping pictures / movies, it is a level that you can use as a gallery application well.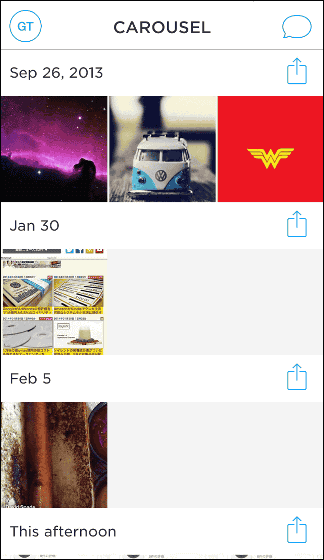 Tap the photo icon ......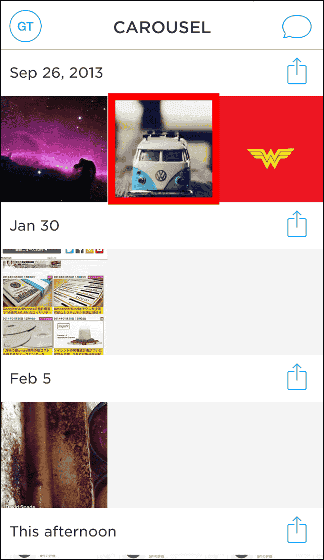 The picture will be enlarged to the full screen. Swipe up on the screen if you want to send this photo to someone.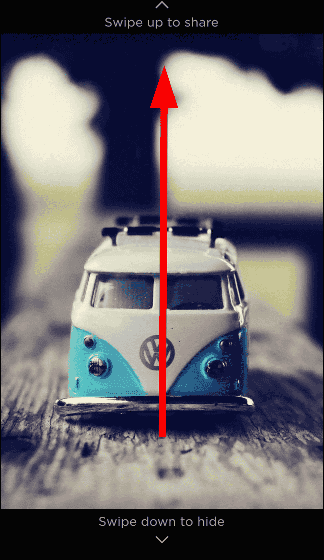 Confirm that you want to send at the top left of the screen, tap "SHARE".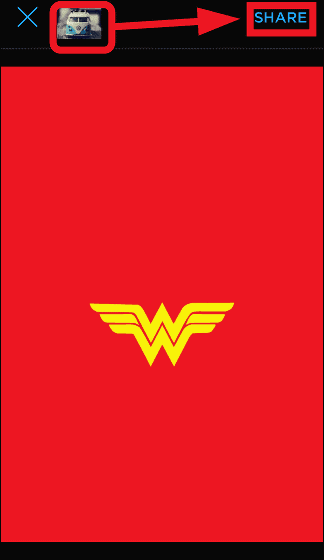 Then a mail form will appear, so enter the email address of the person you want to send and tap "SEND".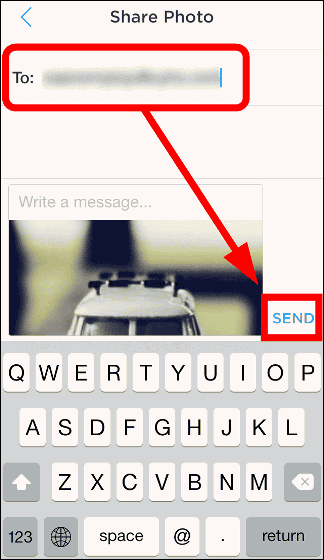 If "Just now" is displayed, you have sent a picture.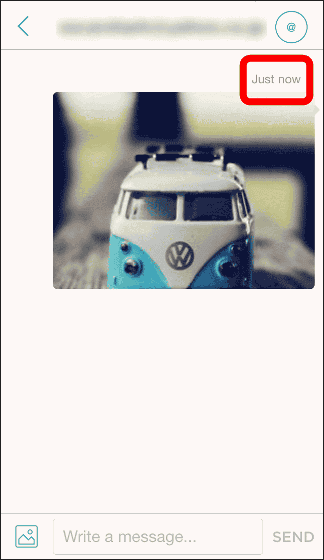 People sent a picture will receive a picture with this kind of picture. Although you can see the picture even in this state, the movie can not be played. If the sent partner has installed the Carousel application, it is possible to share the data as image files / movie files as well as viewing pictures and movies.



In addition, once the person who sent the picture or movie is registered, the second and subsequent transmissions are very easy as it is OK if you tap this address.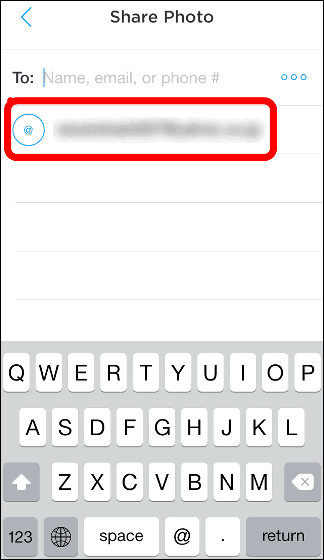 Also, it is possible to share photos and movies even outside Carousel. After selecting the photos and movies you want to share and tap "SHARE" ......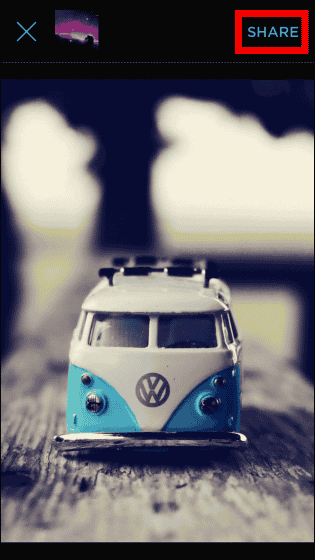 Tap "Share icon" next to the mail address input field ......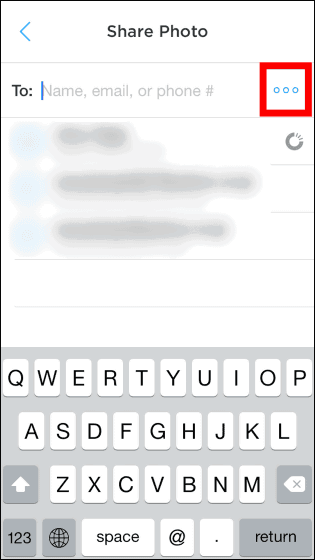 It is also possible to share with Message · Mail · Twitter.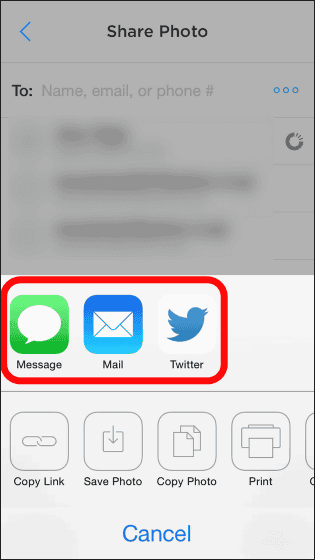 ◆Share photos with Android smartphone
People who sent pictures and movies can get pictures / movies as long as you have installed the Carousel application. So, I tried Nexus 5 to receive and share photos and movies.

Search for the application "Carousel" on Google Play and tap "Install".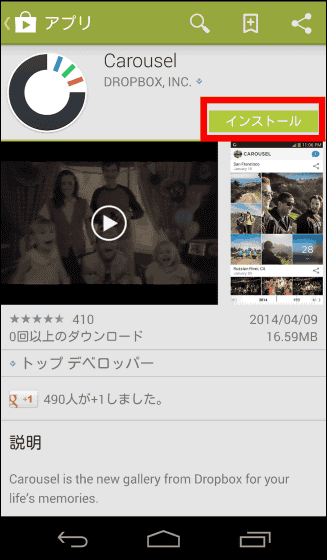 Tap "I agree".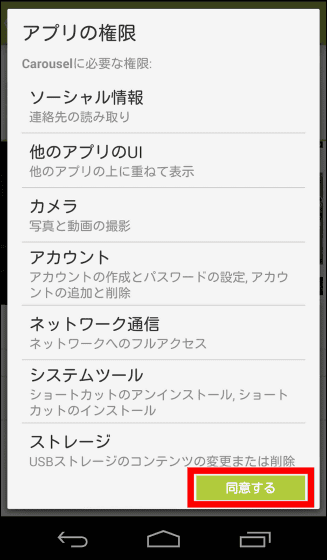 When installation is completed, tap "Open".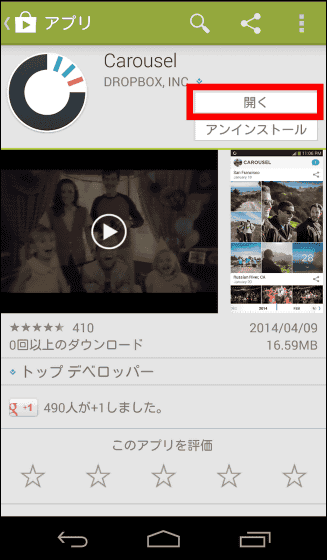 The Carousel application will be launched, so if you register your Dropbox account as before, you are ready.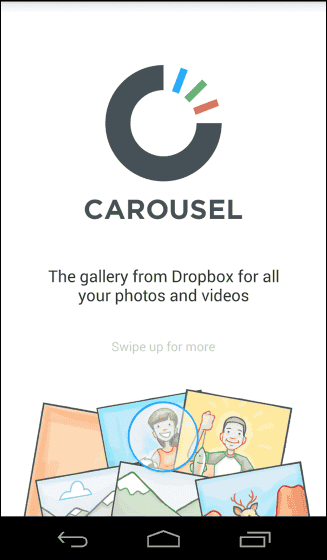 ◆Receive photos & movies
When you receive a photo or movie, an alert is displayed on the upper line of the screen, so tap the alert.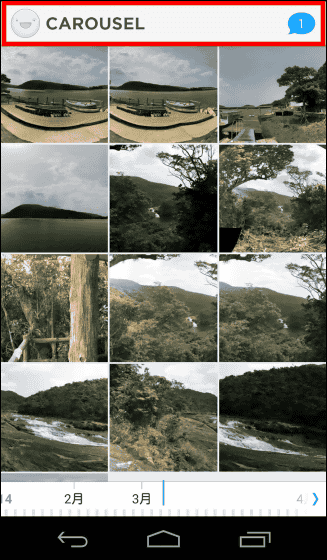 Tap the sender.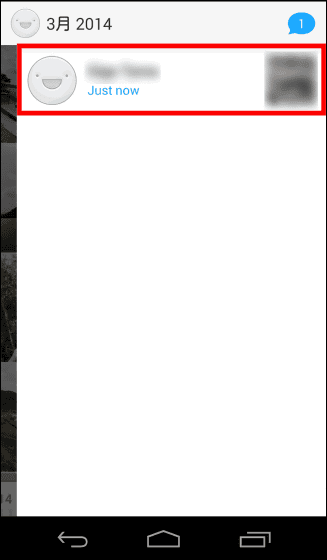 Then, the movie received one minute ago was displayed. In Carousel, a share page is prepared for each sender, and shared photos and movies are added to that page more and more.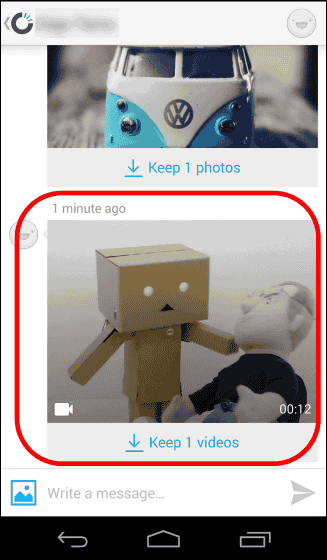 To watch, tap the movie.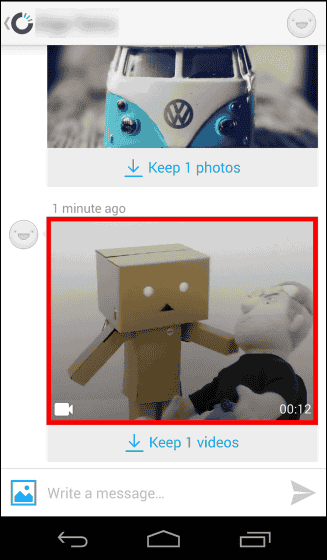 Then you can play the movie in streaming format.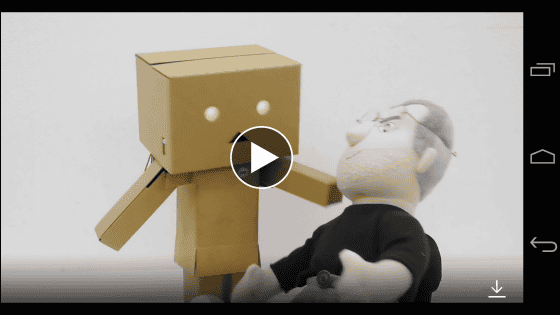 If you like this movie, you can save it in your own Carousel application (inside smartphone). To save it, tap "Keep (numbers) videos" OK.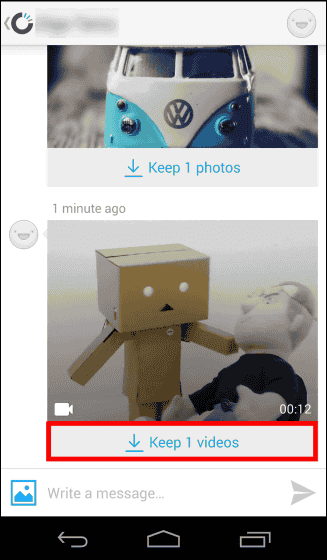 It is also possible to send a message from the text form at the bottom of the screen.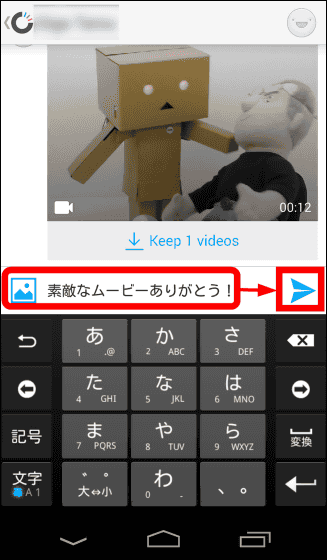 Carousel has only apps made by Dropbox, and cooperation with Dropbox is extremely smooth and easy. Viewing pictures and movies is extremely comfortable, and it is a perfection degree that can be withstood regularly as a gallery application. With Dropbox + Carousel, if you manage your photos & movies on your smartphone in a centralized way, you can easily share photos and movies with your family and friends, as well as access the data anytime, anywhere as long as you have an internet environment, and even as a measure against data loss risk Very useful. The upper limit of photos & movies that can be stored with Carousel depends on the storage capacity of Dropbox.

Carousel is a recommended app for those who manage smartphone photos and movies with Dropbox without complaining.

· Continued
Dropbox photo sharing application "Carousel" and Gmail organizing application "Mailbox" to be abolished - GIGAZINE